Learn the different ways of how to use OxiClean powder in a front loader washing machine. Now it is easy to get your clothes and unmentionables stain-free, and squeaky clean, without any of the usual annoying hassle of soaking them elsewhere when you have a front loading clothes washer.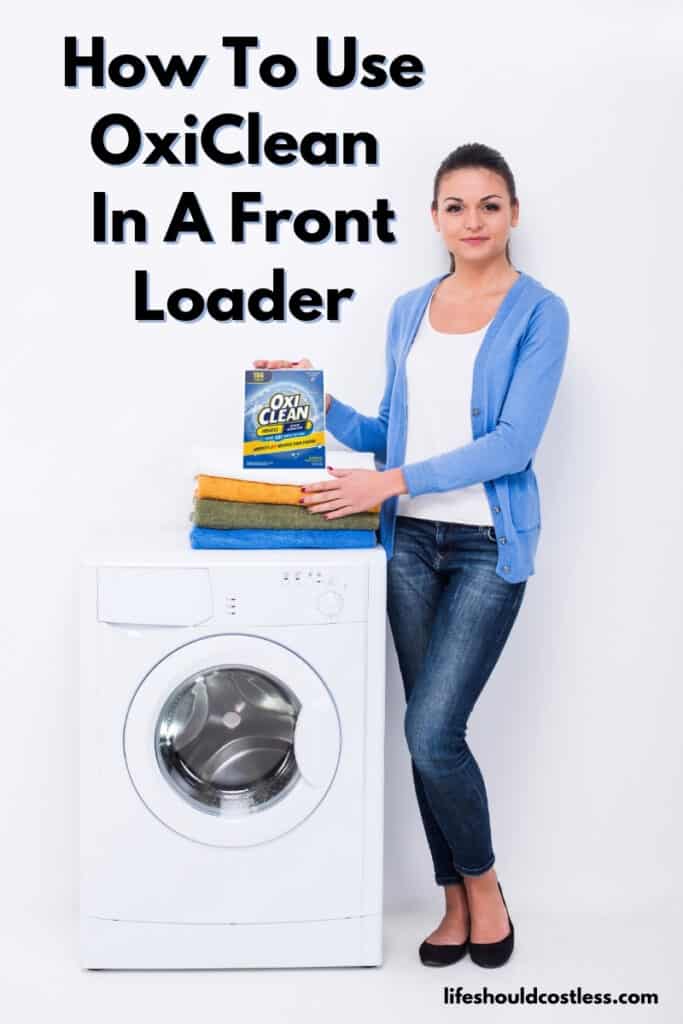 When I first got my front loading washing machine I had no idea that there was going to be such a learning curve in order to get my families clothes really clean…but there is!
It does seem to be harder to do any type of deep soaking, and since I try to avoid using bleach as much as possible, I had to find out how to use OxiClean with my "new" (to us) washing machine.
Since it wasn't already common knowledge to me, I just thought I'd share what I found with you while I was searching for an easy solution.
According to the FAQ's section of the OxiClean website there are three methods to try.
There are different methods that will allow you to use OxiClean® powder in your front-loading washer. Please just choose the one that will work best for your machine.
*Be sure to follow the recommendations of the machine's manufacturer.*
Method 1: Completely dissolve one ounce of OxiClean® Versatile Stain Remover in 16 ounces of tap water and add the mixture to the wash through an external dispenser after the machine has started to agitate. *This is the best method to use if your machine will allow it.
Method 2: If your machine is a brand that does not have an external dispenser, you may mix one ounce of OxiClean® Versatile Stain Remover with your powdered detergent.
Method 3: If you use a liquid detergent, you may dissolve one ounce of OxiClean® Versatile Stain Remover in 16 ounces of tap water and pour the mixture into the bleach dispenser. Or add OxiClean® Versatile Stain Remover powder directly to the empty tub BEFORE adding clothes.
How to use OxiClean in a front loader washing machine.
So, there you go. All of the info in one spot and no need to go searching around.
It's a bit more of a pain than I thought it would be, but at least I can still use OxiClean to remove deep stains from my families clothes.
One other tip, something that I didn't know before buying a front loader (thought I would mention it in case any of you are new to front loaders too), which you may want to know if you're considering buying a front load washing machine…
Make sure to leave the door open after you're done washing your clothes so that the machine can dry out, otherwise it will soon smell like something died in there due to a build up of mildew that naturally happens in hot wet places. Believe me, I know this from experience…ha ha.;)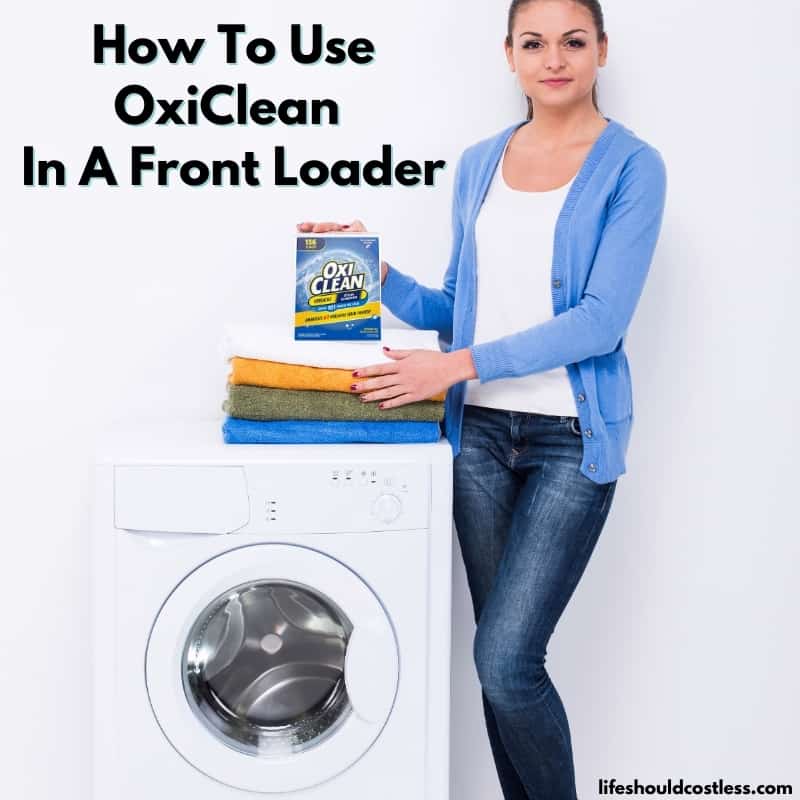 That's all I have to share with you guys today, so if you found it helpful could you please share this post via social media, or email the link to friends/family? I really do appreciate the support. Happy laundry time everyone! ~Sarah
Oh, don't forget to subscribe to my email list (found here). Also, if you would like to learn how to follow along or really show your support for this blog, go here.
Make sure to check out my entire Laundry/Cleaning section for other helpful tips.
Here are links to a few of my favorite cleaning posts for your to check out too:
For those of you that would also like another option for a "pinnable" image on Pinterest, or a different shape to share elsewhere, here you go…thanks again so much for the support!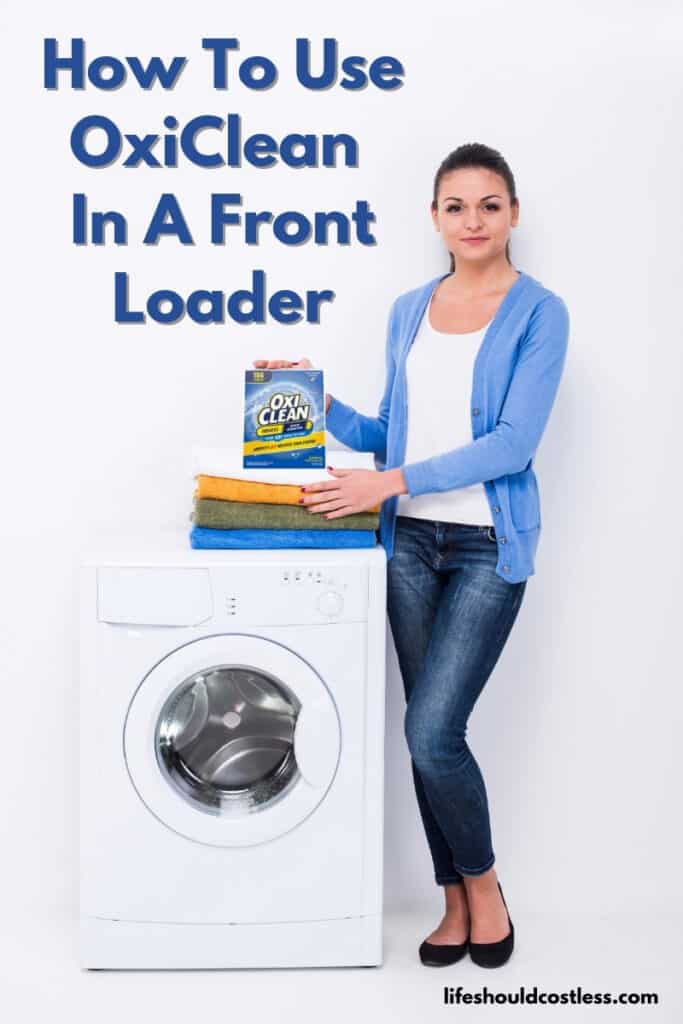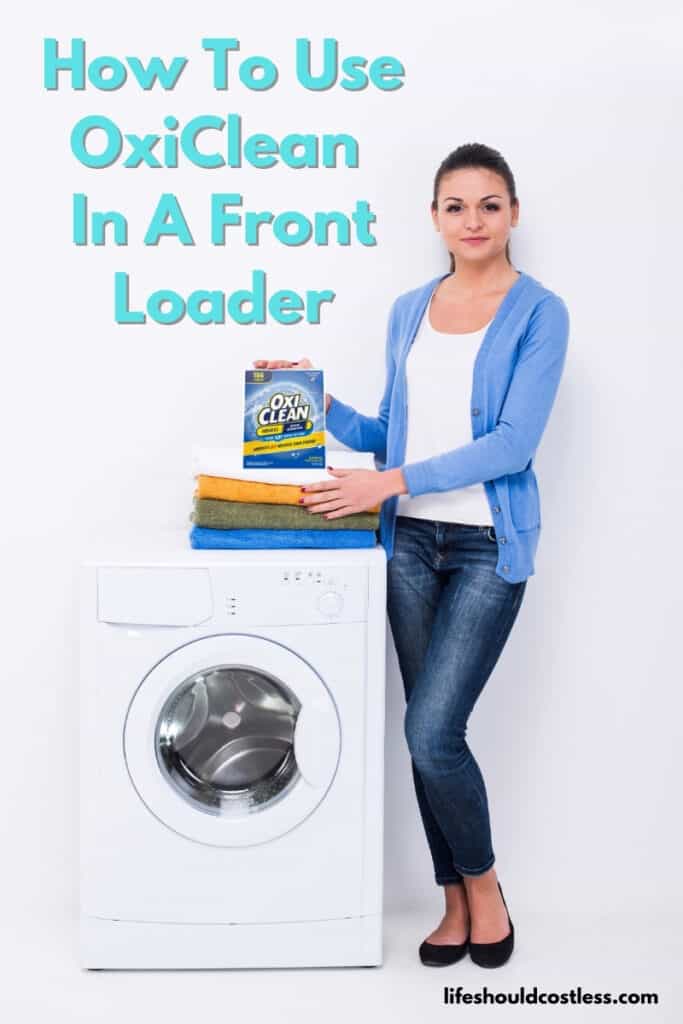 *Please note that this post was originally shared to this website on May 22, 2012 and has since been updated to become more user friendly and shareable across the social medias too.