Hey There! Meet Sarah Peterson
Wannabe minimalist, saver of money, simplifier, culinary concoctor, and single mom. My goal in life is to save money on all the little things so I can afford to splurge on the big stuff (like traveling someday and buying the farmhouse I've always wanted). That's me in a nutshell…but there's more!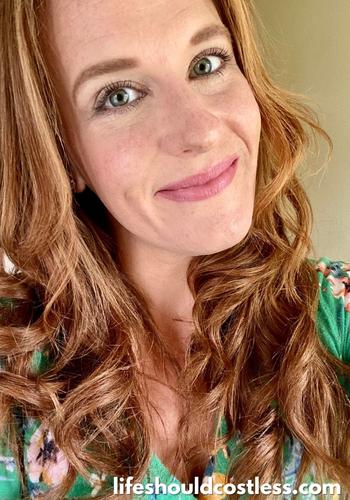 I started this blog as a coping mechanism after I became a victim of a first degree felony (you can read about that here, if you would like). I needed something constructive to throw myself into to keep my mind off of things, but still wanted to help others make their lives better while I was at it, and so lifeshouldcostless.com was born.
Why is it called lifeshouldcostless.com you may ask?
Frankly, that is because gettingmycraptogetherandsavingmoneywhiledoingso.com is a little too long ;).
That's really what this site is. It keeps me motivated to get stuff done and share easier, cheaper, or more organized ways of what I do. I do write about whatever I want, so I guess you could say that this is a lifestyle blog.
I've been working on this site since July of 2011! It has been quite the journey too. I very nearly gave up about a thousand times, but I'm so glad that I kept at it and am dedicated to continually improving both the site and myself.
I am riddled with flaws!
I'll even spell some of them out for you…I have two left feet, PTSD, battled binge eating disorder for 15 years (finally won the battle with the bulge and am currently writing a series about losing over 100 lbs and keeping it off), I can't seem to figure out how to just relax because I'm a worry wart, and I'm a very guarded person so it's really hard to get close to me. I'm only sharing this because the last thing that I want is for someone to come to my site and leave feeling totally inadequate.
Just so you know, realistically, when a mommy blogger spends the day working on a blog post…the kids usually have spent a good amount of time in front of the tv that day, and the house is totally trashed.
I know that that you may see a picture that looks just gorgeous, but just remember that right beyond that view-able shot is a sink piled high with dishes and several laundry baskets that need attention…or I had to hire someone to help me that day because I just can't do it all.
Random things about me:
I feel like I was born in the wrong era…I'd love to be a 1950's house-wife.
My favorite past times are recipe developing, hiking/working out/walking I'm addicted to fitness, decorating, DIY projects, and party prep.
My favorite soda's are Diet Dr Pepper & Peach Fresca.
My favorite candies are Hot Tamales, Snickers Almond, Chocolate Covered Cinnamon Bears, Strawberry Charleston Chews, Junior Mints, Red Vines, Twix, and about 1/3rd of the candy aisle…lol.
My favorite band is Dan + Shay. Other faves are Alison Kraus and Deana Carter.
My favorite ice cream flavors are Americone Dream by Ben & Jerry's and Cherry Bordeaux by Western Family.
I've been experimenting with recipes in the kitchen since I was a little girl. My friend, Katie, and I used to make up recipes and write them down…I just never stopped.
I am a major introvert. I'd prefer a cabin in the woods over a crowded theme park any (and every) day!
I do not care about fashion on any level… If I think something is cute, I will wear it until it is thread-bare…I'd say at least 70% of my wardrobe is even second hand.
I LOVE going thrifting or to yard sales! I literally go through withdrawals and it's all I think about if I haven't gone junking in a while.
I crave being outdoors. My bucket list goals consist of hikes I want to go on and places I want to see.
I have several kids (same dad). I don't show them much, as a safety precaution, but they are here, under my feet through every step of my wonderful journey of life.
I am in the process of making this place my dream website.
So make sure that you are subscribed to my email list, found here. I only send out one weekly newsletter and it is a recap of what five posts I shared since my last email.
Thanks so much for stopping by my site!
If you liked what you saw, please make sure to share it via social media!
Other ways to show your support are to follow and/or interact with me on Pinterest, Instagram, Facebook, or YouTube.
**Please note**: If you purchase the products that I suggest through Amazon, the cost to you remains the same, but I make a small commission on everything in your cart. Also, if you ever need to buy it again, you can always come back to my site for the link…just sayin';).
If something was particularly helpful and you would like to donate directly to my site, you can do so via PayPal, here. I'm a single mom of four, so every little bit helps.
Thanks again, for your support! ~Sarah