These five easy tips for organizing craft supplies will help you get your craft room decluttered and organized once and for all.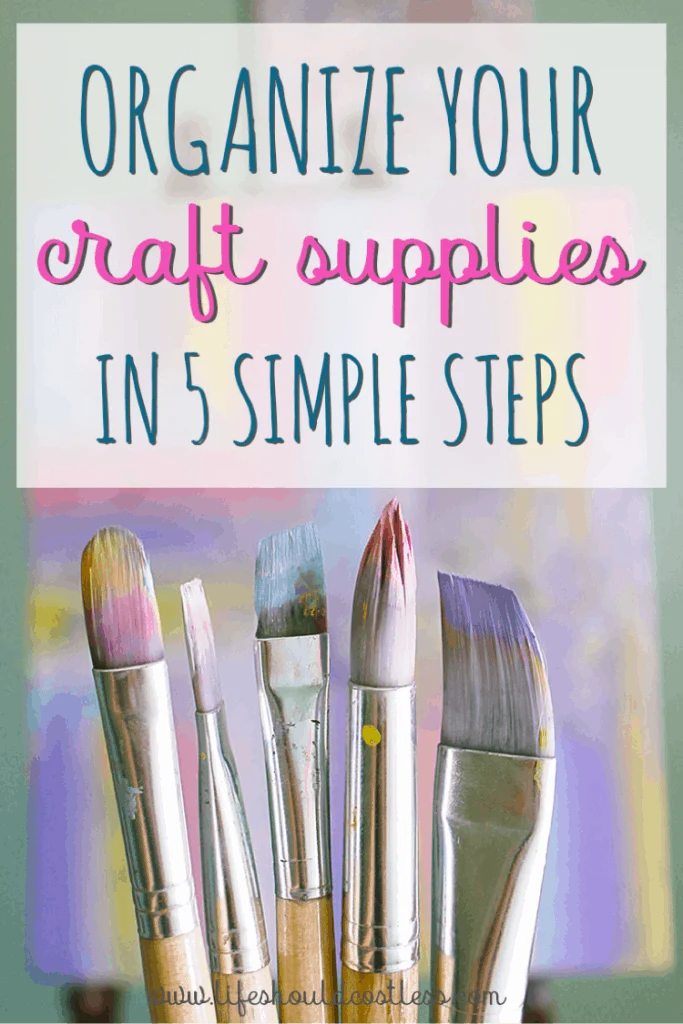 I love crafting pretty much anything, whether it's creating new decor for my home or putting together a fun project with my kids.
Though with all of the fun crafts/projects that we do, it also comes with the need for somewhere to store all of those craft supplies.
That's why one of my least favorite parts about crafting is keeping all of the craft supplies organized. If you're in the same boat, I'm here to help!
These five easy tips for organizing craft supplies will help you get your craft room organized once and for all.
Start by Decluttering
Most crafters have a ton of craft supplies on hand. Yes, that's great when you need a specific item for a specific project, but having all of those extra supplies laying around is only adding to your home's disorganization.
Before you can start organizing all your craft supplies, you need to take the time to declutter/dejunk.
That means emptying all your craft supplies from your craft room or craft storage area and going through each item one at a time. There are three different things you can do with your craft supplies as you're decluttering:
Throw away all of the supplies that are broken, ripped, dried up, or otherwise unusable.
Donate or sell supplies that are still in good condition but you have no use for.
Keep all the other items.
When deciding whether to keep or get rid of a craft supply item, first think about whether or not you'll use the supply in the near future. It also helps to think back on the past six to twelve months and consider if you even used it. If you decide to keep it, then think about where you'll store the craft supply until you're ready to use it.
Clean the Area
Before you start organizing your craft supplies, take the time to clean your storage area. It's easier to clean the space when the supplies have been removed.
So, take a few minutes to wipe down all the shelves and other surfaces, clean the inside of all the drawers and clean the floor in the area.
Then, make sure all your storage elements are clean. Wash all the jars and small containers you plan to use for storage and wipe out the inside of all your baskets and bins. Make sure they are completely dry before adding anything back into them.
Sort Your Craft Supplies
When your craft storage area is clean and you have decided what craft supplies you're going to keep, it's time to start organizing.
Before you start putting items back in your storage space, it's best to sort through all your crafting items and place them in different groups.
There are a few different ways you can sort your craft supplies depending on the amount of storage space you have available and the types of crafting supplies you have on hand.
Sort according to project. If you do a lot of different types of crafts, it may be best to sort your supplies according to project. Group all your sewing supplies together, vinyl cutting supplies in another group, gift wrapping supplies together, and painting supplies in another grouping, for example.
Sort like items together. If you have a variety of general crafting supplies in your collection, it may be a better idea to sort your craft supplies into similar groups. For example, store all your ribbon in one area, paint in another area, and paper in another section.
Sort according to use. While it would be amazing if every crafter had their own dedicated spot to store all their craft supplies, sometimes you need to store your supplies in various areas of your home. If you find yourself doing different crafts in different areas of your house, sort your supplies according to how you use them. If you paint in your kitchen, clear a drawer for paint supplies in one of your kitchen cabinets. And if your kids like to craft in the family room, create a crafting cart to store all your kid's craft supplies.
No matter how you plan to sort your craft supplies before you start putting items away, take the time to sort through each of the craft supplies you plan to keep.
Place each supply in a designated pile based on where it will be stored. After you have all your supplies sorted, you can start organizing the craft supplies.
Storing Craft Supplies
Now that you have all your supplies sorted, you can start putting things away. The type of storage container you use will vary depending on the size of the supplies and the amount of each item you have.
If you're looking for ideas for storing craft supplies, you'll love these suggestions:
Make your ribbon easily accessible by placing the spools on a paper towel holder or hanging dowel rod. Or line your ribbon spools up in a box or basket to easily see what you have on hand.
Keep fabric in clear plastic bins, in hanging file folders in a filing cabinet, or folded up on a bookcase to easily see all the patterns you have.
Store thread in large glass jars or on a spool rack on your wall.
Store paper in file folders in a portable file box, accordion files, or stackable storage containers to fit the size of the paper you have on hand.
Place your scrapbooking and journaling stickers in small stackable boxes, recipe boxes, small binders, or clear plastic envelopes.
Sort all your stamps and stamping supplies in stackable letter trays or clear stackable storage containers.
Use glass jars to sort small items like buttons, beads, sequins, and glitter.
Glass jars are also great for sorting table-top items, like pencils, pens, paintbrushes, and markers.
Keep your craft room drawers organized by using drawer organizers to declutter all the craft supplies you keep tucked away, like staplers, scissors, glue guns, and tape.
Store craft paint bottles upside down in plastic containers to easily see what color paint you have and make pouring the paint much easier.
Use labels to help keep boxes and bins organized when you can't easily see what's inside.
Hang a pegboard on the wall to instantly add extra vertical storage to any room. Pegboards allow you to hang small shelves, dowel rods, and pegs on the wall, giving you a variety of storage options for all your craft supplies.
Purchase clear plastic pantry storage containers to store oddly-shaped craft items, like long pipe cleaners, or messy craft supplies like glitter and paint.
Use the Supplies
After you have spent the time sorting and organizing your supplies, you get to have a little fun! Test your storage system by completing a few craft projects to make sure you've made the right storage choices.
As you work on your projects, keep note of any inconveniences you see in your storage arrangement…anything that just doesn't have a good flow with how you do things.
That way, when you're done with your craft, you can take a few minutes to think about how you can improve your storage system to make your next project a little bit easier.
As you reorganize your craft supplies, make sure to think about future storage solutions, too. If you notice a storage container is beginning to overflow or see that you're outgrowing your current storage space, it may be time to start the process over again.
Spend a few minutes decluttering your craft supplies to see what you can do without or find a new storage system to accommodate your growing craft supply collection.
The last thing I have to say about this is to just try not to be a hoarder. Be realistic in assessing the things that you keep around, and share the love of crafting with some younger crafter's that could use some supplies…Elementary school teachers are almost always looking for craft donations, just sayin', so the stuff you know that you're going to use can definitely be put to use with a small charitable contribution.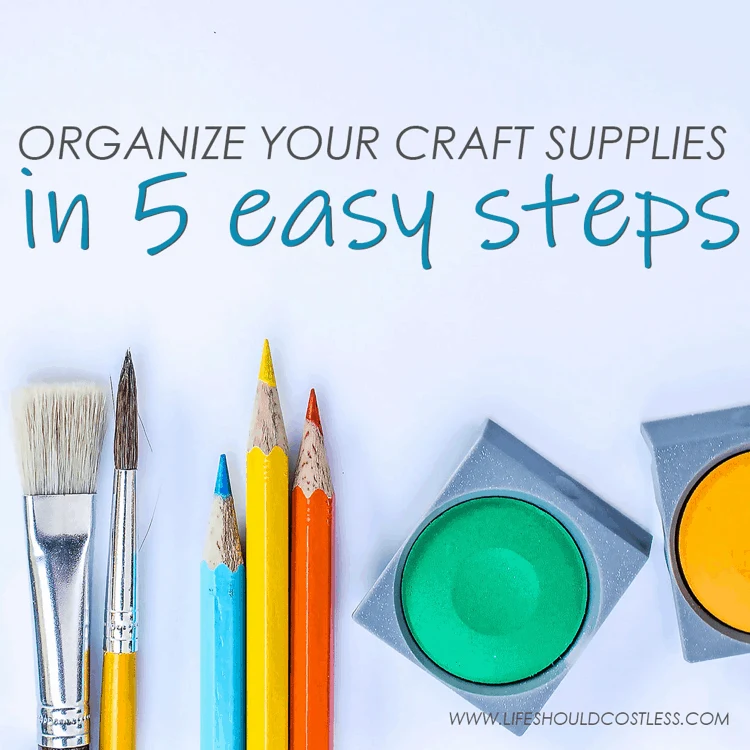 Thanks so much for stopping by my blog! If you found it helpful, please make sure to share it via social media. Thanks! ~Sarah
If you would like to subscribe to my email list, go here.
Make sure to follow along via social media, by going here.
If you would like to learn how to really show your support to this site (at no cost to you), go here.
P.S. You may want to check out my entire crafting section, I have some pretty fun projects there.
Here are links to several of my other posts that you're also going to love:
For those of you that would like the option of another "pinnable" image on Pinterest, here you go. Thanks so much for sharing!