I don't know about you, but I can rarely find burlap in the exact color that I want for crafting. Especially since I moved to a much smaller town, the one "big" craft store we have out here is really limited in their selection of colors.
I'm not about to pack up all four kids and make a special trip into the city, go through the headache of dragging those kids through all the different stores, just to see if I can find the color that I'm looking for.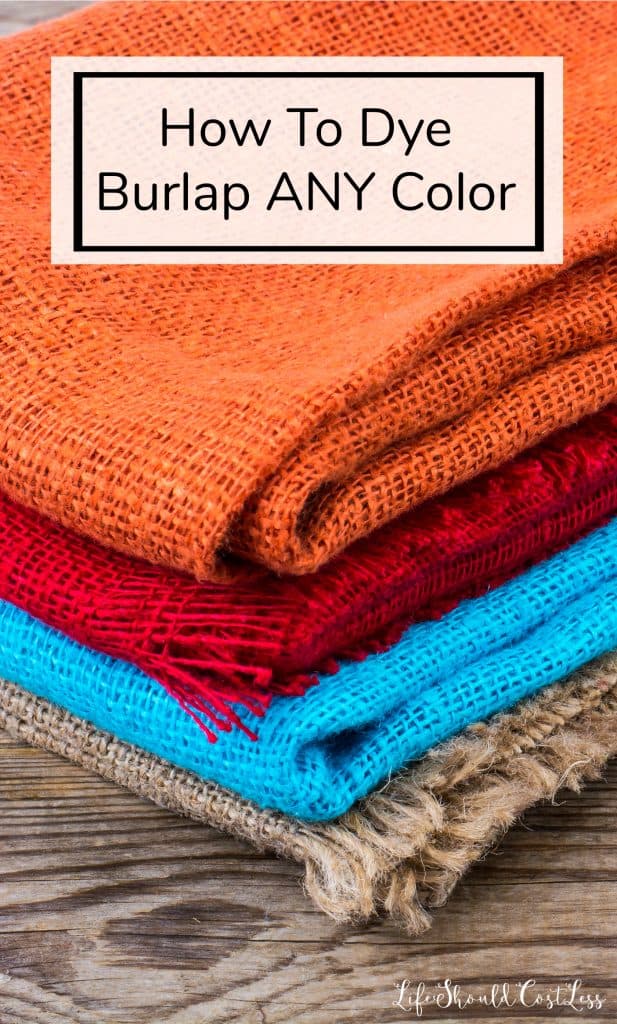 This leaves me with the option of either buying my dyed burlap online (which it's hard to tell if the color will be right just from a picture on the screen) OR trying to create it myself. I've been dying it myself for years now, so I decided that "how to dye burlap" needed a post of its own with a bit of instruction for all of my fellow crafters out there.
I needed to dye some burlap for a wreath that I'm working on currently, so I thought I'd share how I do it with you while I was already at it.
Before I show you my methods, I wanted to share with you links to five of my other posts that you're going to love too:
Now back to learning how to Dye Burlap Any Color!
Start with clean, WHITE BURLAP. If it's already bleached out, it is going to give you a much truer color than it is if you start with the standard light brown/natural color that burlap normally is.
It's the same concept as why your stylist will bleach out your hair before they try to do a different color. Then you cut the burlap down to a few inches larger that you are going to need on all sides. It frays during the dying process so you'll want to account for that.
Make sure that you're not just buying white burlap. Often times burlap can be painted white and that will not work. You can tell whether or not it's been painted white by the texture of it. Give it a good feel and if it feels like it has a coating on it, it's not the right thing. If it feels more like regular burlap it's the right thing.
You can also ask someone in the fabric store to help you find some Burlap that is bleached white if you are questioning yourself.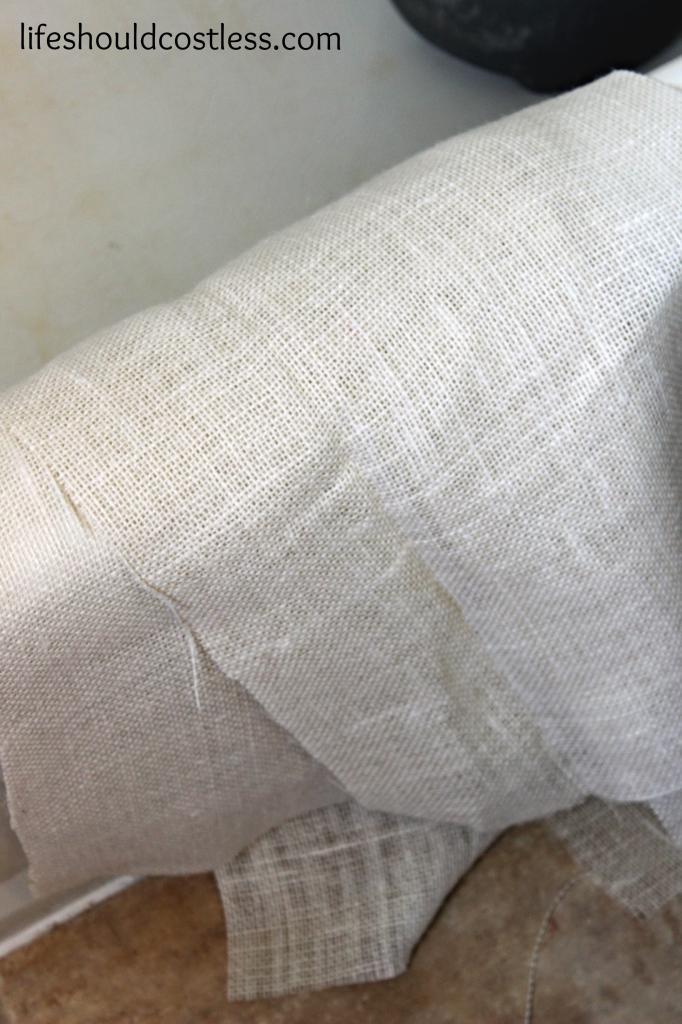 I don't have a utility sink so I use a bucket for this part.
Fill a bucket with about 1.5 Gallons of HOT WATER.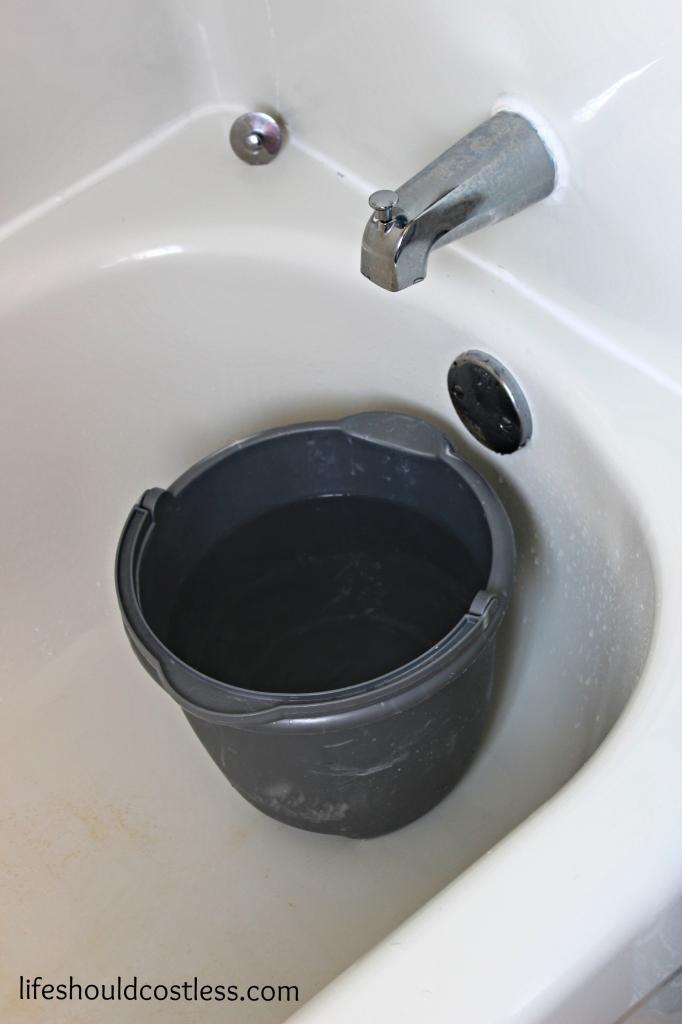 Put the burlap into the water then add: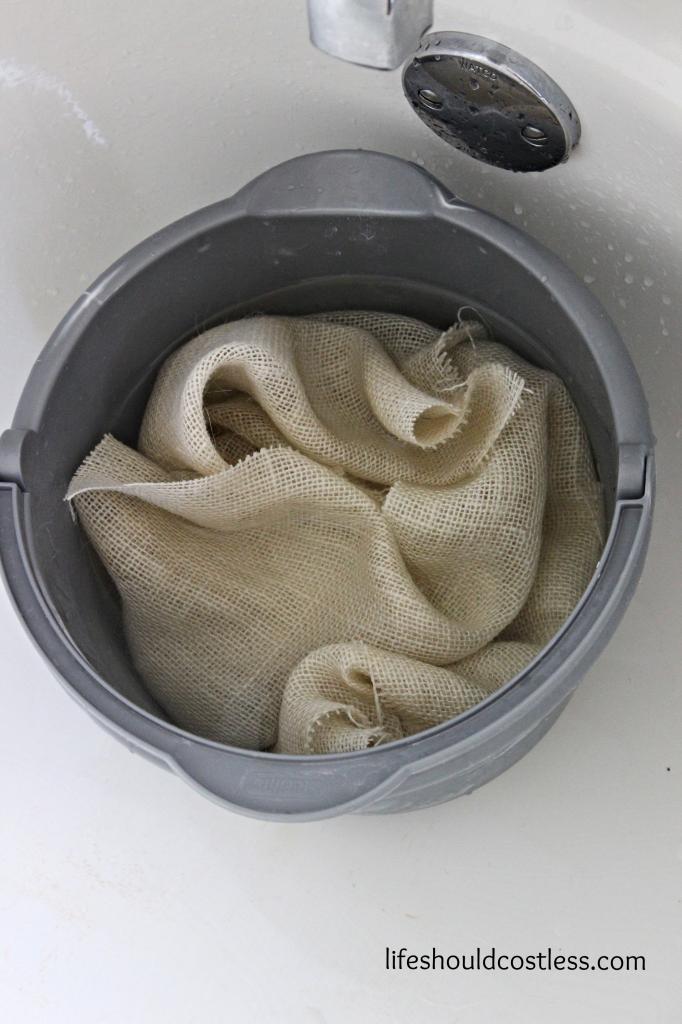 ½ Cup Salt
5-6 Caps Full of liquid Rit Dyein your color of choice.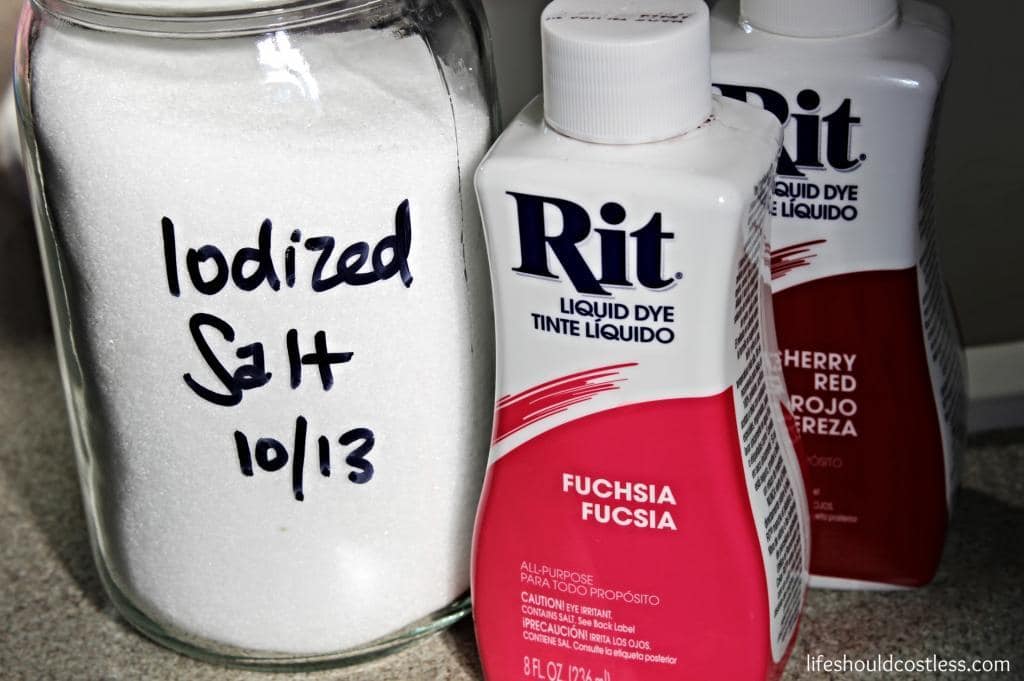 Stir well to dissolve the salt, and let sit in dye for 30-45 minutes. Stirring occasionally so that it dyes evenly. Make sure after each time you stir that all the fabric is submerged, also so that it dyes evenly.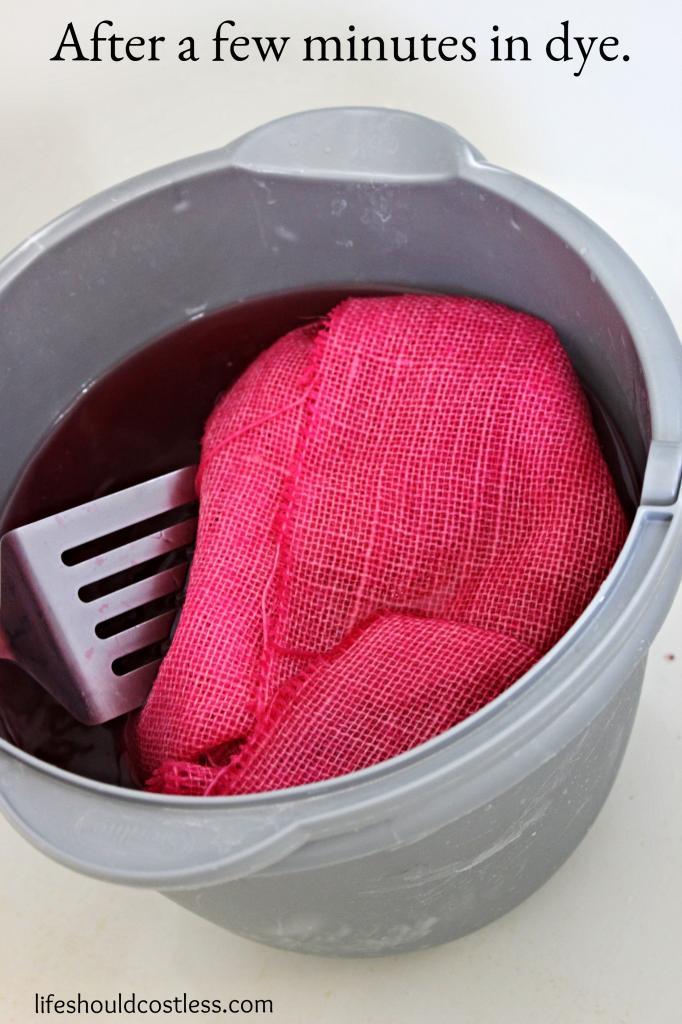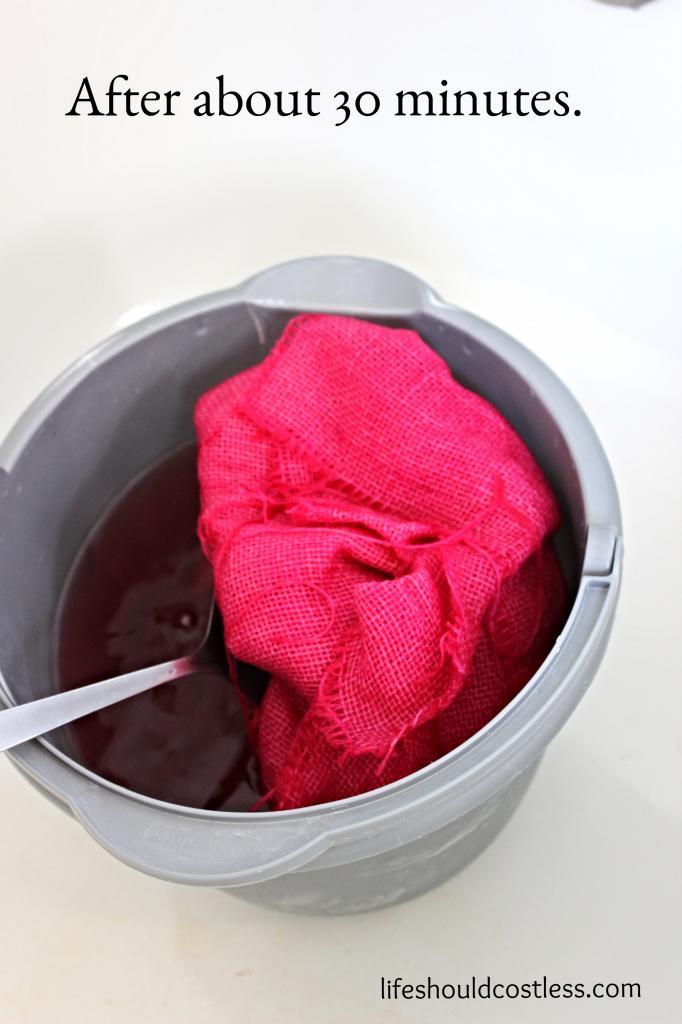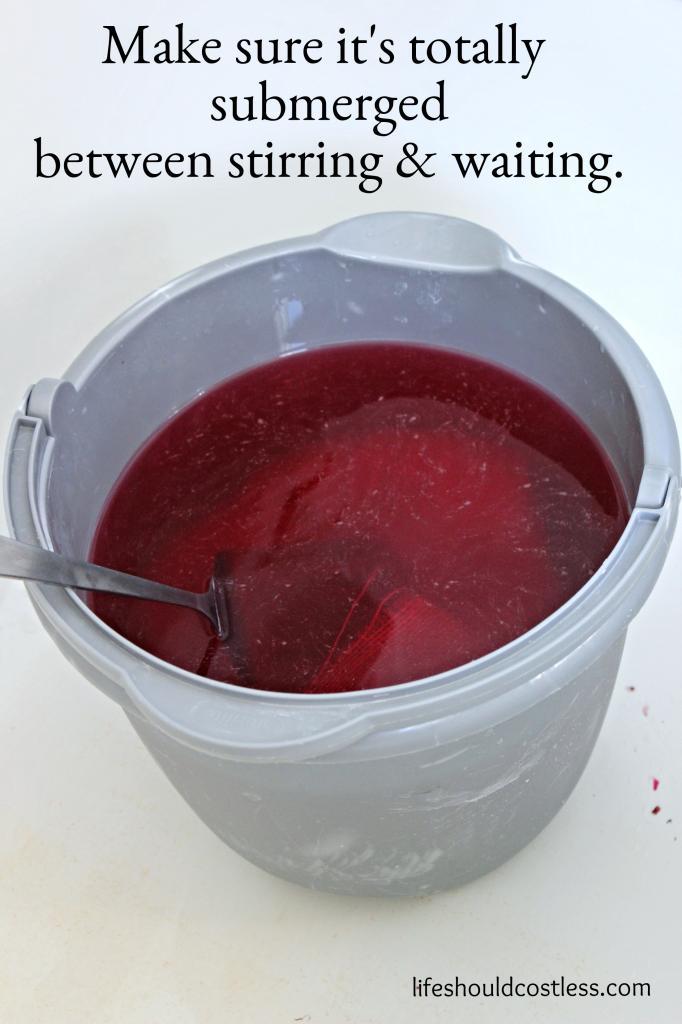 Obviously if you want it a lighter color you use less dye and for darker you use more. Also, adjust the time accordingly. I've found that 6 caps full will usually get it pretty close to the exact color that is on the bottle of Rit.
If you want to do some crazy color, make sure that you consult the Rit Dye chart on their website, Rit has a pdf you can download if you go here. They list how much of each color you need to create any color you can think of (I think there are about 500 different color options there).
This should be a good base to show you what ratio's of each color to use to create whatever color. If it comes out too dark, rinse it out in HOT water until it lightens up a bit. When you're happy with the color, rinse in COLD water until the water runs clear.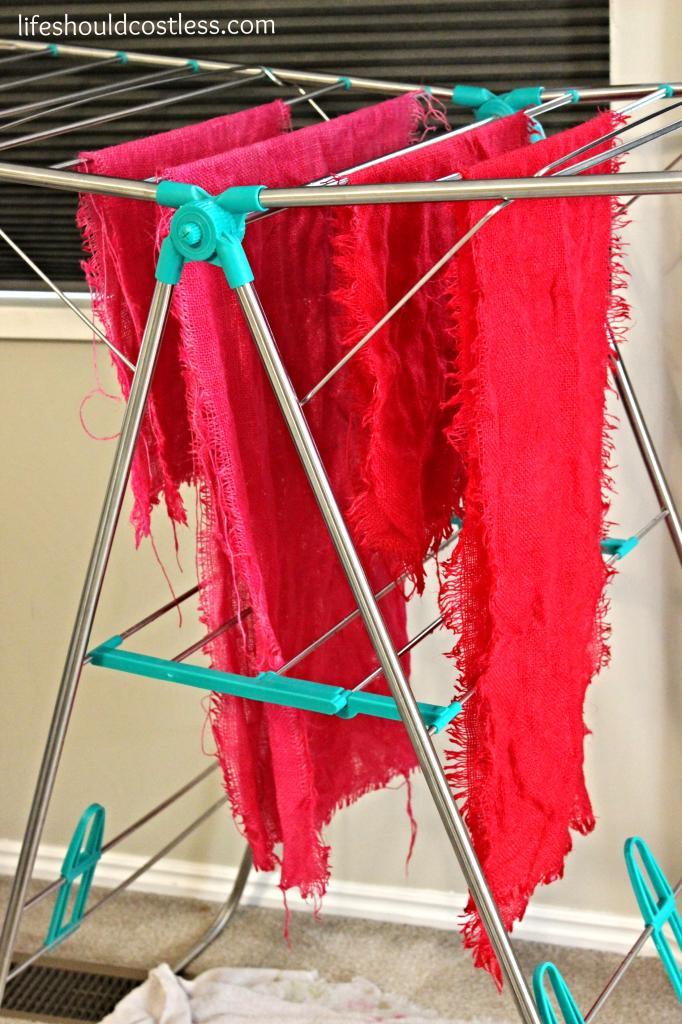 Hang to dry. I use my handy drying rack, you can get the newer version of mine on Amazon, here, if you need to buy one…I love mine!
*Remember that it'll be a few shades lighter in color once it is dry*
You may want to put a towel down or put your drying rack in the bath tub so that you don't accidentally dye your carpet if you didn't quite rinse it well enough. Even if it's already dried, and you decide it's too dark, you can still rinse some of the color out of it with HOT water and then just dry it again.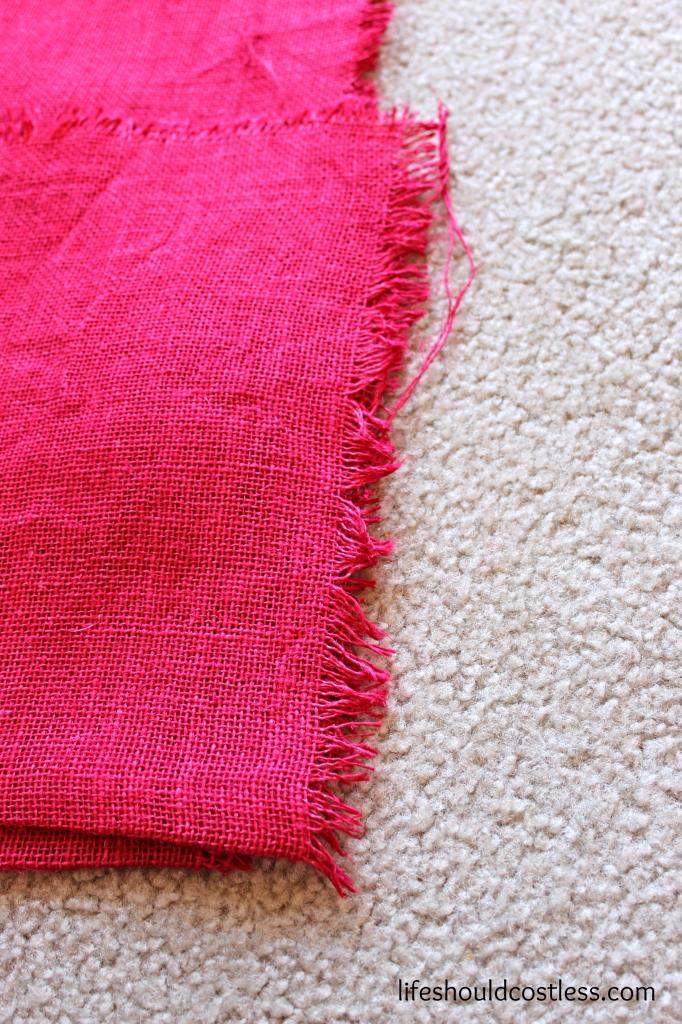 The dyed burlap dries pretty wrinkly, so you'll need to iron it. Also, cut off the frayed/shaggy ends and it's ready to use for your project!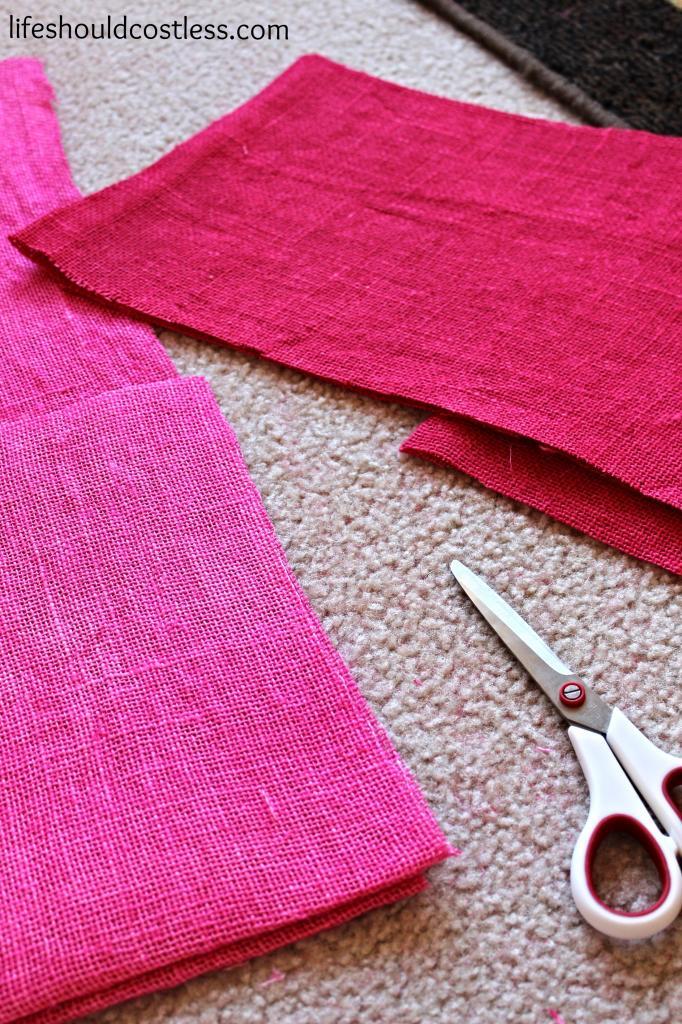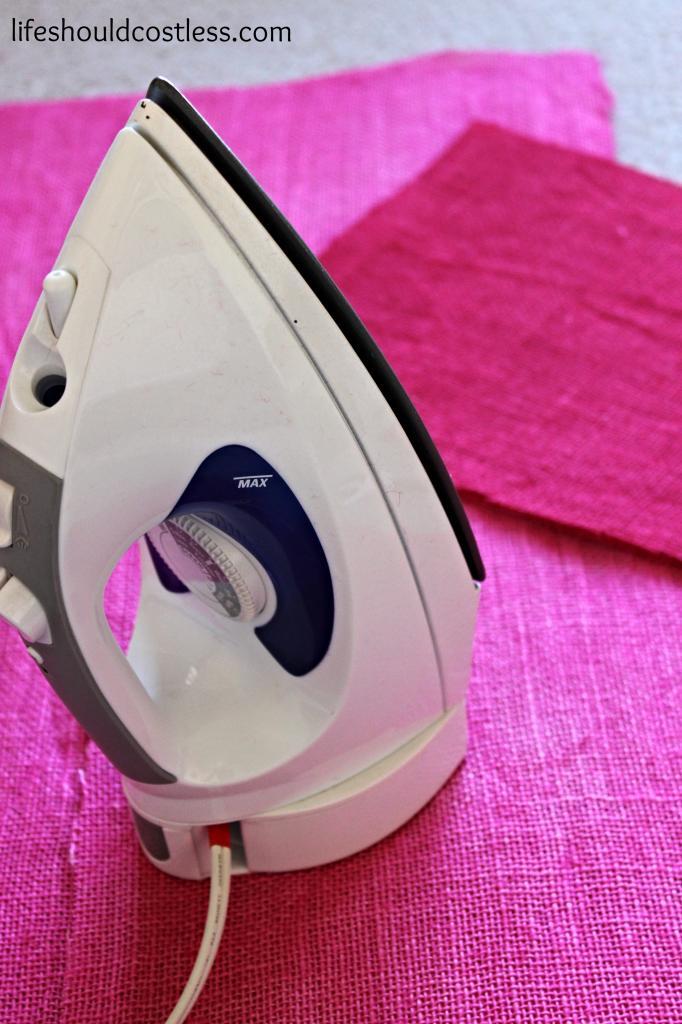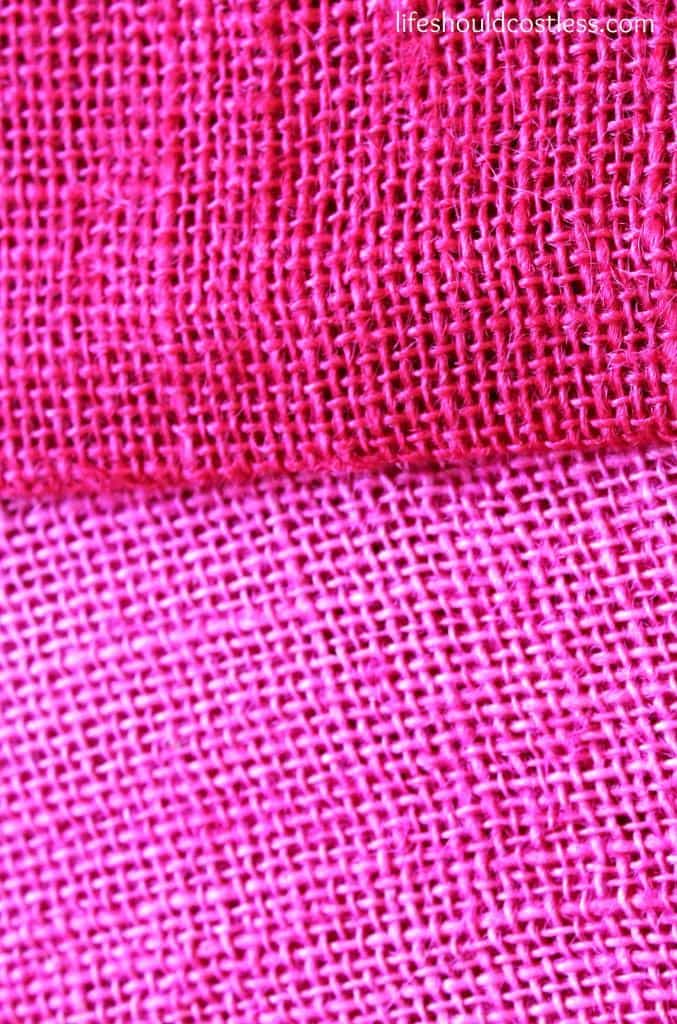 It's pretty easy, just a little time consuming. I try to do it while the kids are either asleep or preoccupied so that we don't have a dye mishap.
I love that knowing how to do this gives me countless options for my projects!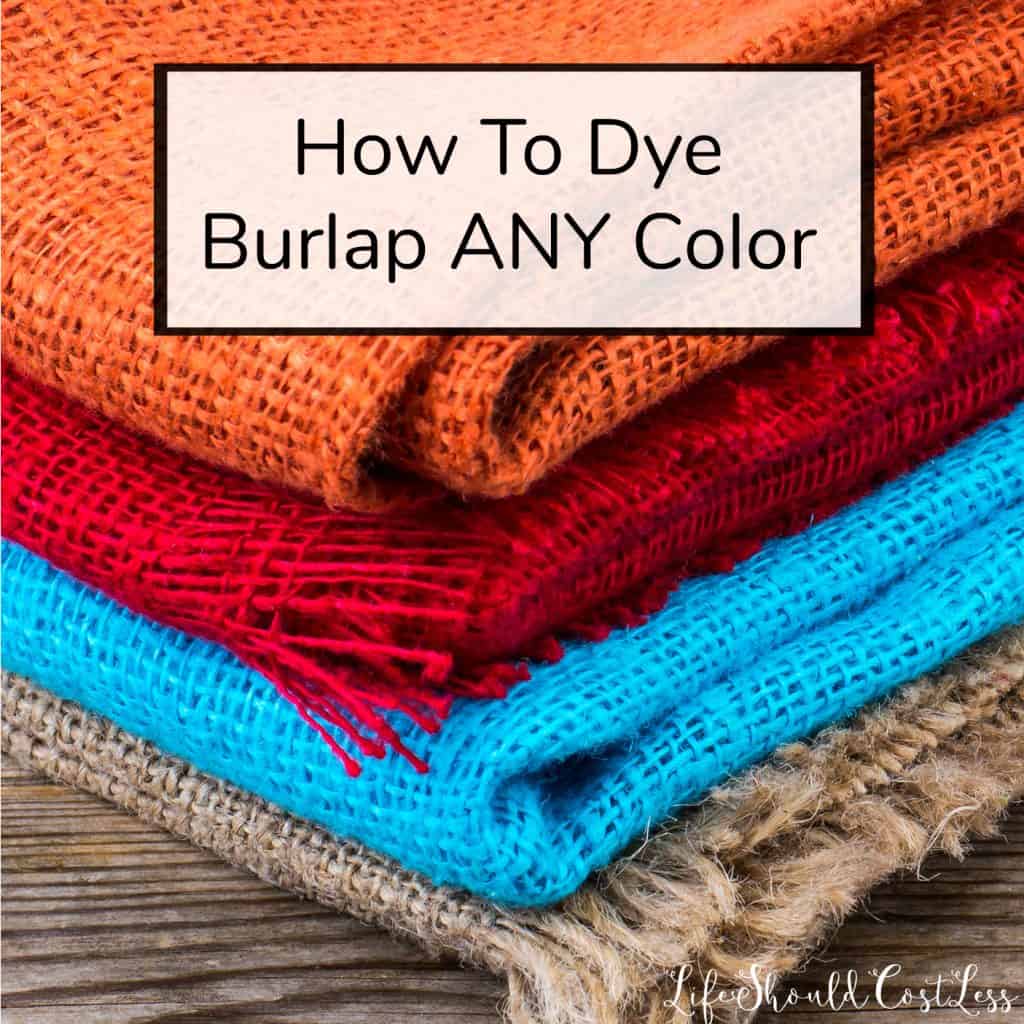 *One last tip, for dying burlap your desired color…You may want to wear gloves so that you don't get dye stained skin. Also note that, some people think that you shouldn't used iodized salt when dying fabric, but I haven't had a problem using it.*
Thanks so much for stopping by my blog! If you liked what you saw, please make sure to share it via social media!
Other ways to show your support are to follow and/or interact with me on Pinterest, Instagram, Facebook, YouTube, or by Subscribing To My Email List. If you purchase suggested products through Amazon, the cost to you remains the same, but I make a small commission on everything in your cart.
If something was particularly helpful and you would like to donate directly to the blog, you can do so via PayPal, here. I'm a single mom of four, so every little bit helps. Thanks so much! ~Sarah
P.S. You may also like my entire DIY section as well as my Life Hacks section.
Here are five of my other posts that you may like too (the pics are links):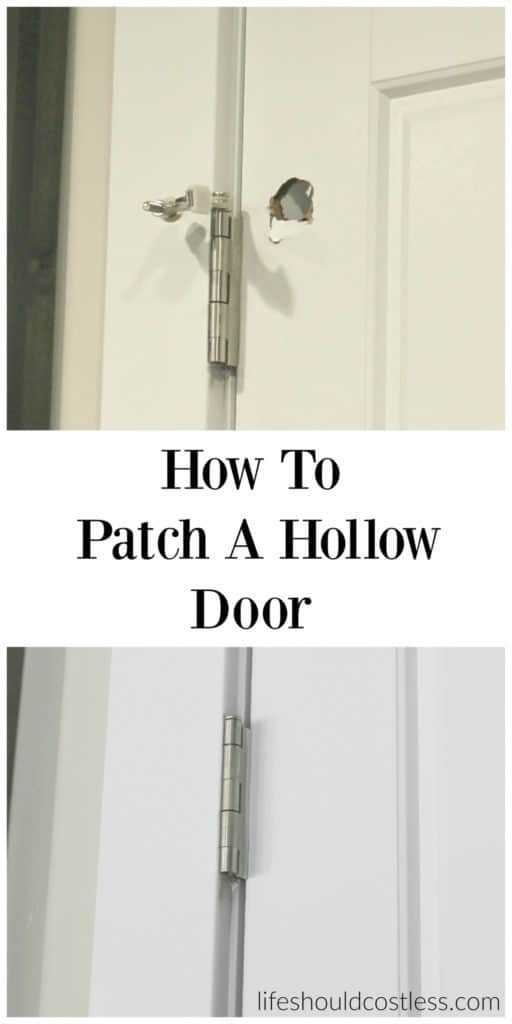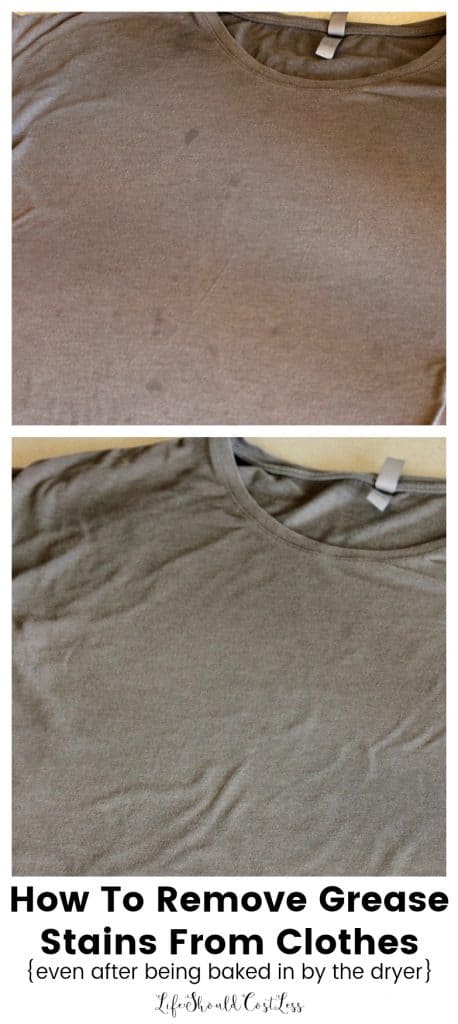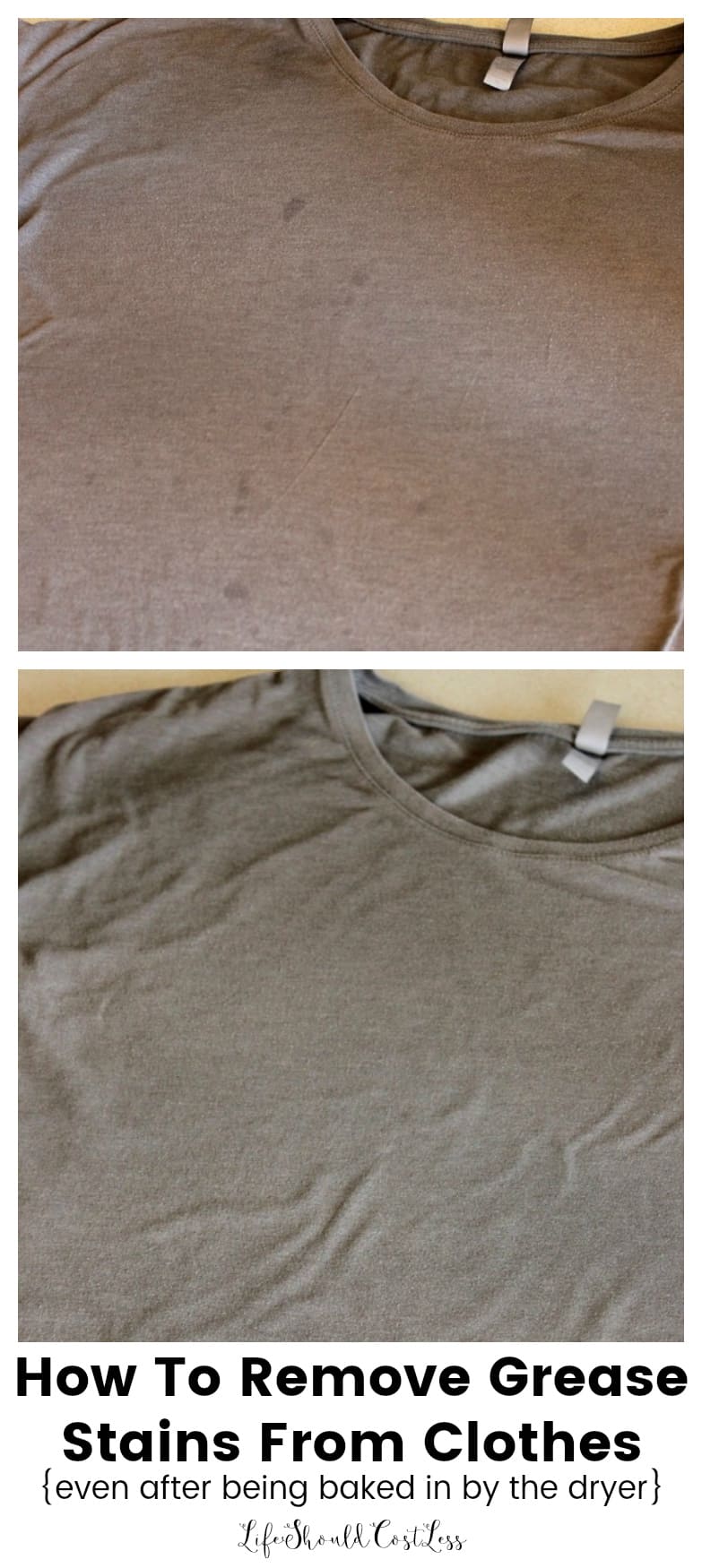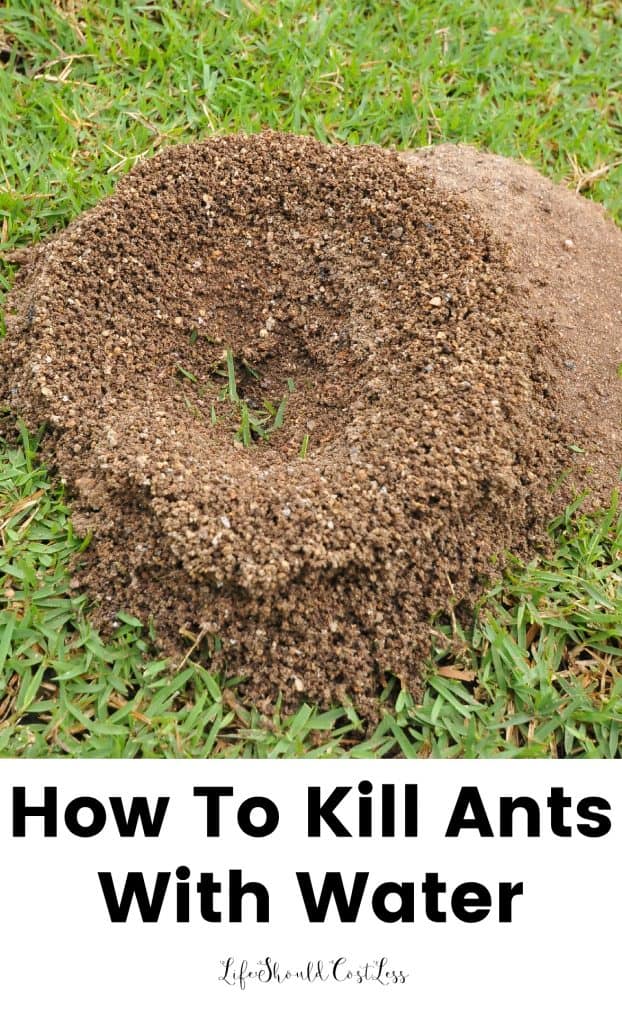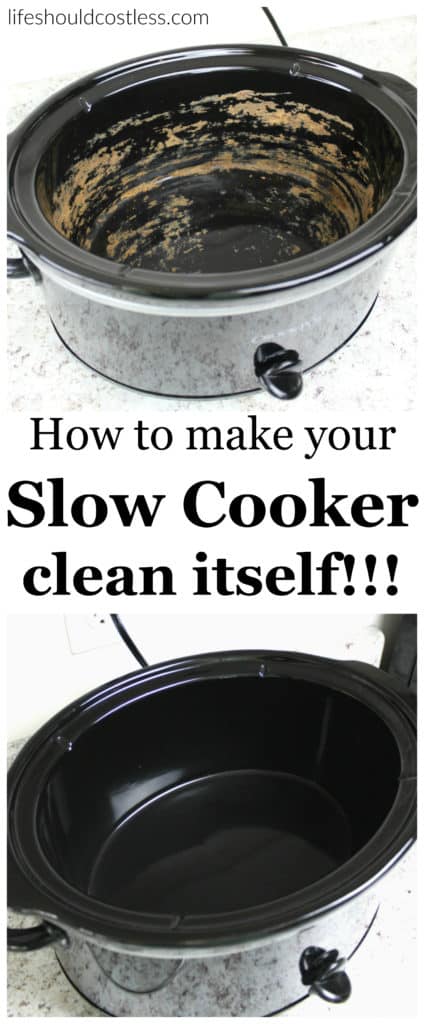 *Reposts: Please note that this idea/post was originally posted to this website on 02/02/2015 but it was in great need of a refresh so it now is more user friendly/shareable.