I am a huge fan of projects that add functionality, declutter, and add to the home's decor…and luckily, this DIY Home Beverage Station does all of those things in just a few simple steps. Whether you want to build a coffee/tea/cocoa/ or protein powder bar in your kitchen, this project will class up the Decor in your home, and make it super easy to find whatever you may need in a snap.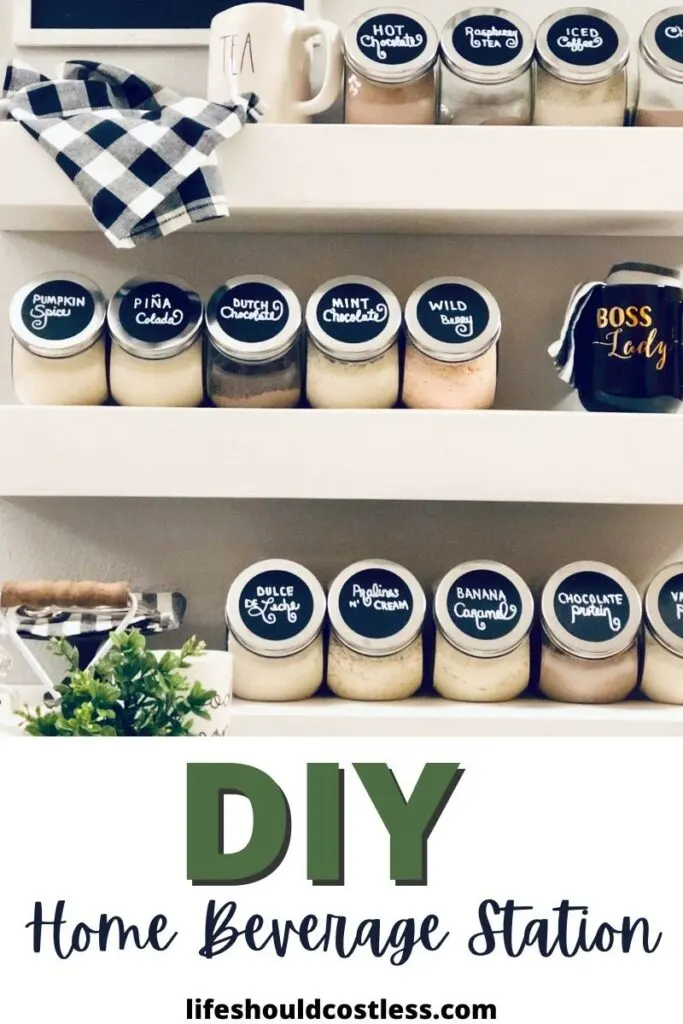 If you know anything about me, you know that I am a sucker for any project that combines organization that gives a more minimalistic look, and just plain makes the area look cuter…so I was beyond happy about how this particular project turned out.
I know most bloggers want you to read their whole life story before they share a project, but we are just going to dive right into the tutorial on this one so that you can decide if this fun project is one that would be right for your home drink station too.
Here is a little video, that I made, that shares the pics with a little instruction, and then down below I have it broken down in still images as well as a links to the products used and even one to the plans to build the shelves yourself too (or some other fun options on Amazon).
How to make a Home Beverage Station:
DIY Beverage Station/ Hot Beverage Station
What you will need for this Kitchen Beverage Station project:
Shelves (build or buy links below for both options)
Glass Jars With Lids
Chalkboard Stickers & Marker
Tea, Coffee, Hot Chocolate, Protein Powders
Optional things you will need for this project:
Syrups (great for soda too, but use them to make it "dirty" in coffee, tea, and protein shakes)
Tiered Tray To Organize
Coffee Mugs
Various Decor (gotta make it cute)
Now to see how this DIY Coffee/Tea/Cocoa/ Protein Bar got put together in still images.
Once you have decided what area that you want to create your beverage station in, you need to also figure out how you want to space everything out and kind of envision and draw out a plan…you will get much better results if you think ahead, trust me.
Getting things off of the counters, as much as possible, was the top priority for me, so shelving was a must.
These particular shelves were built using the Ana White Floating Shelf Plans (found here).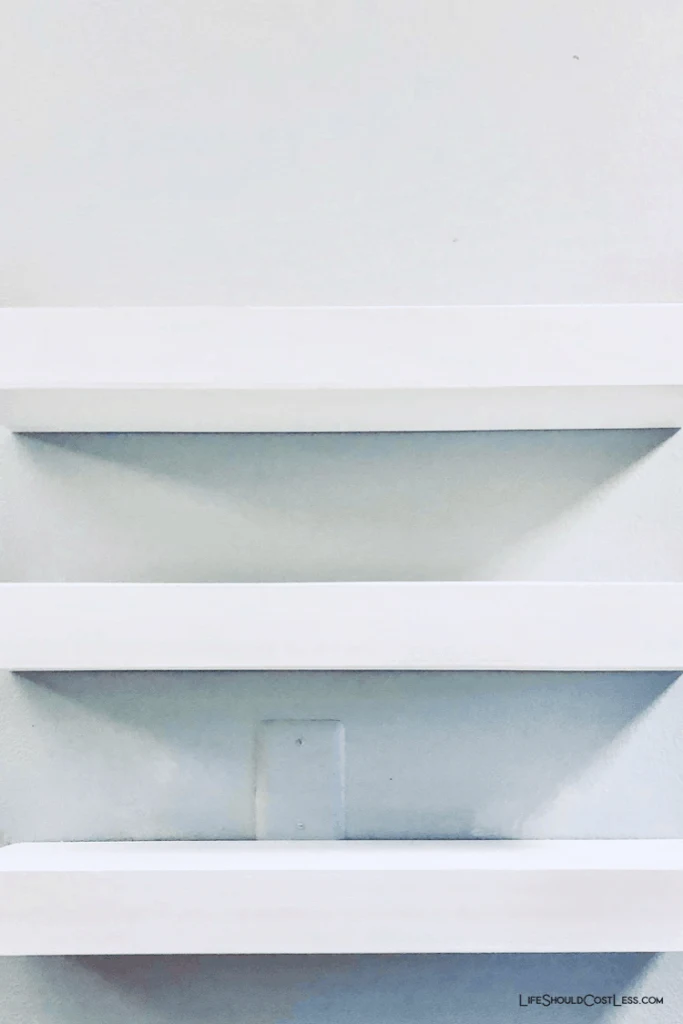 If you don't want to build them yourself, or maybe building is just not an option, here are some other good options for shelving on Amazon:
Because these shelves will probably have quite a bit of weight on them, you will want to make sure you are either anchoring them to a stud in the wall, or that you use drywall anchors if you don't have that choice.
Next, the decorative jars get filled with ingredients (Make sure that you have already washed/sanitized these and that they have had plenty of time to air dry).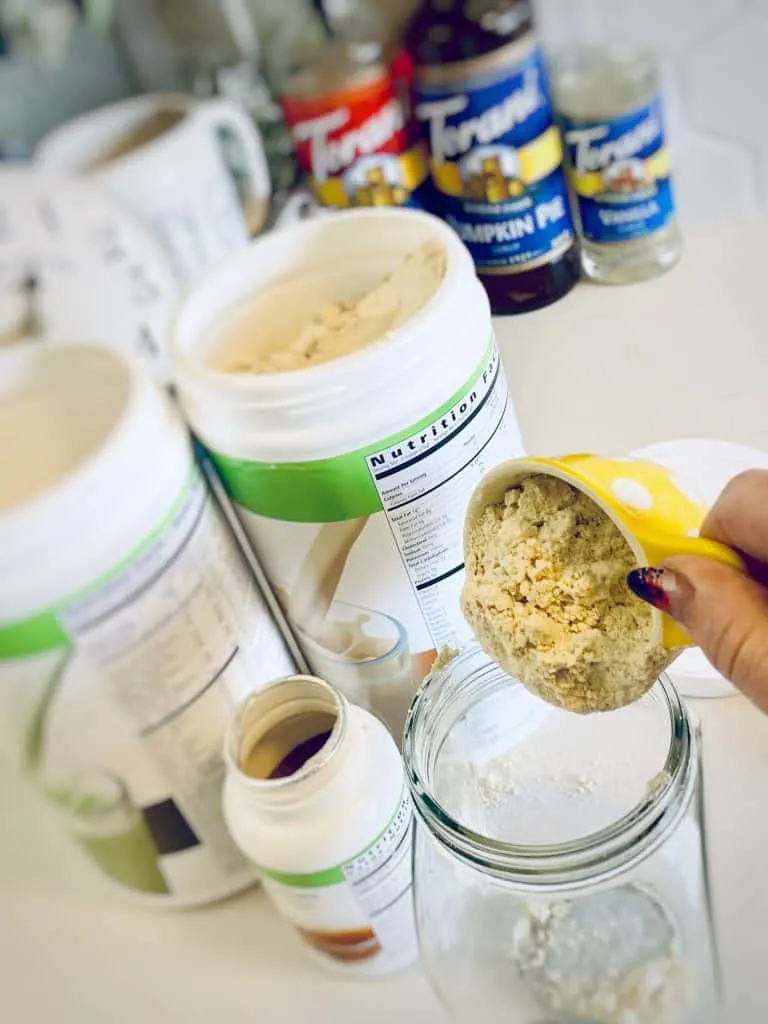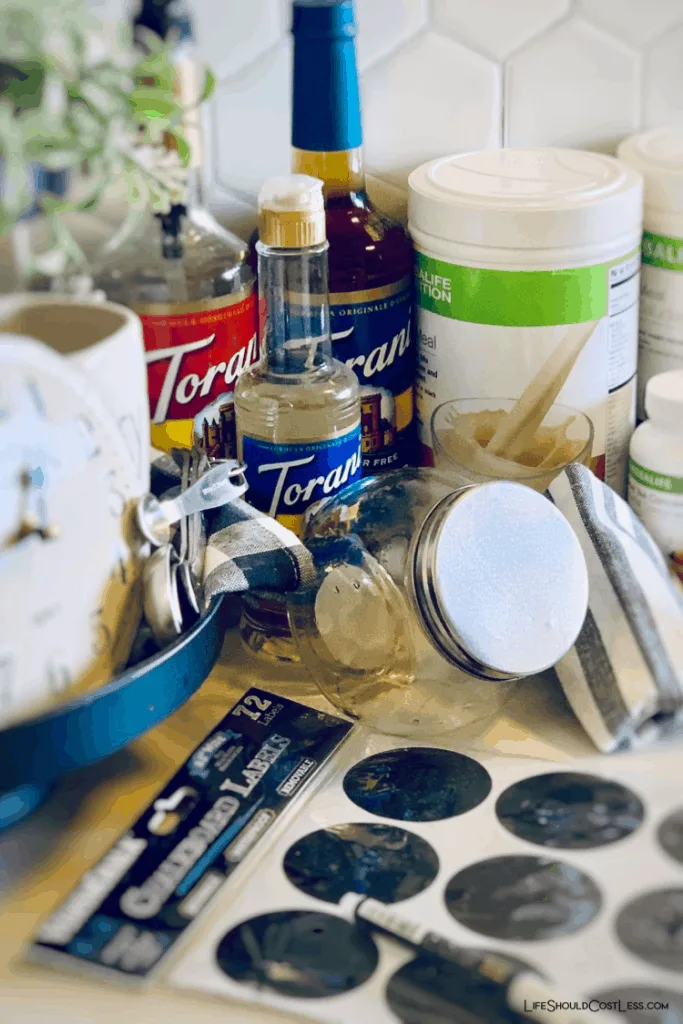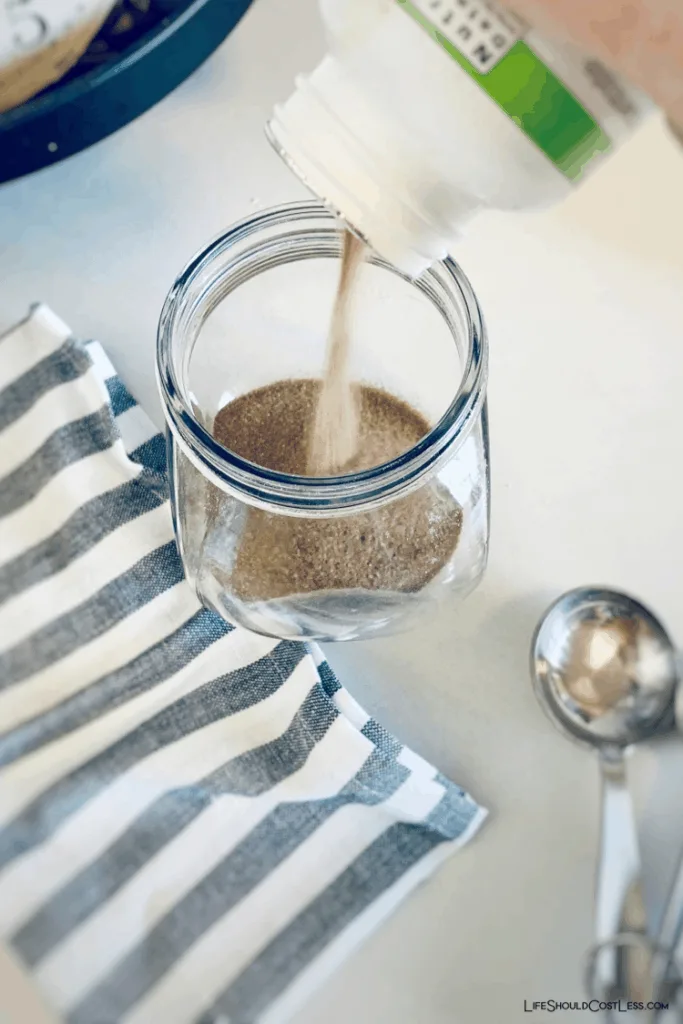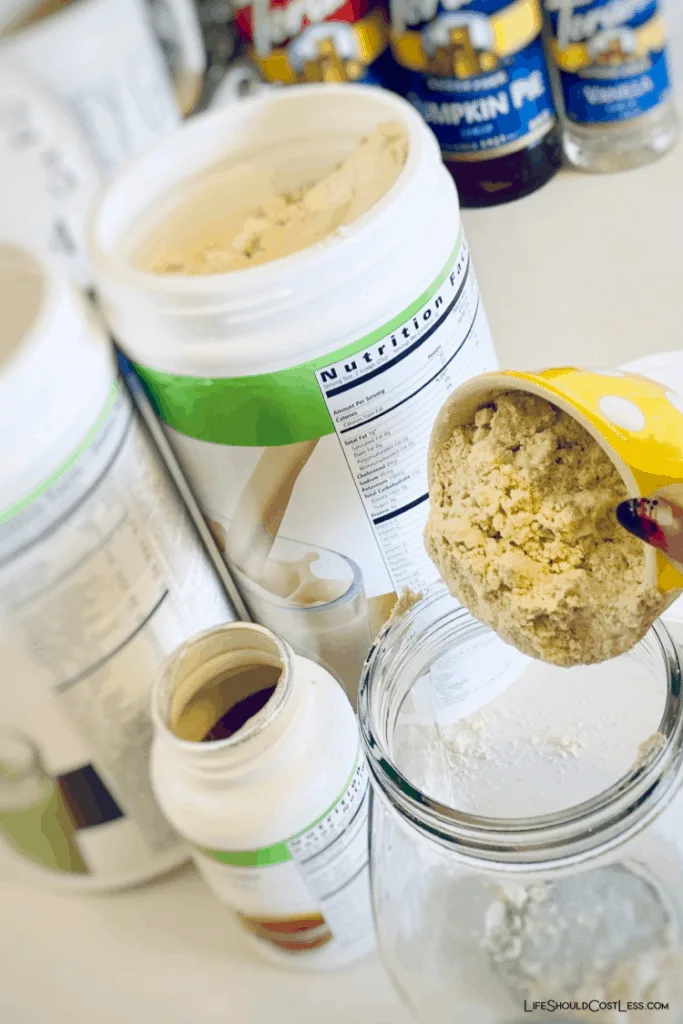 You can use a collapsible funnel to make this part a little easier, otherwise just plan on it making a little bit more of a mess to clean up at the end.
The jars used for this project were purchased at Dollar Tree.
Then, using a liquid chalk marker pen, write out the ingredients (as pretty as you can manage) onto Chalkboard Stickers.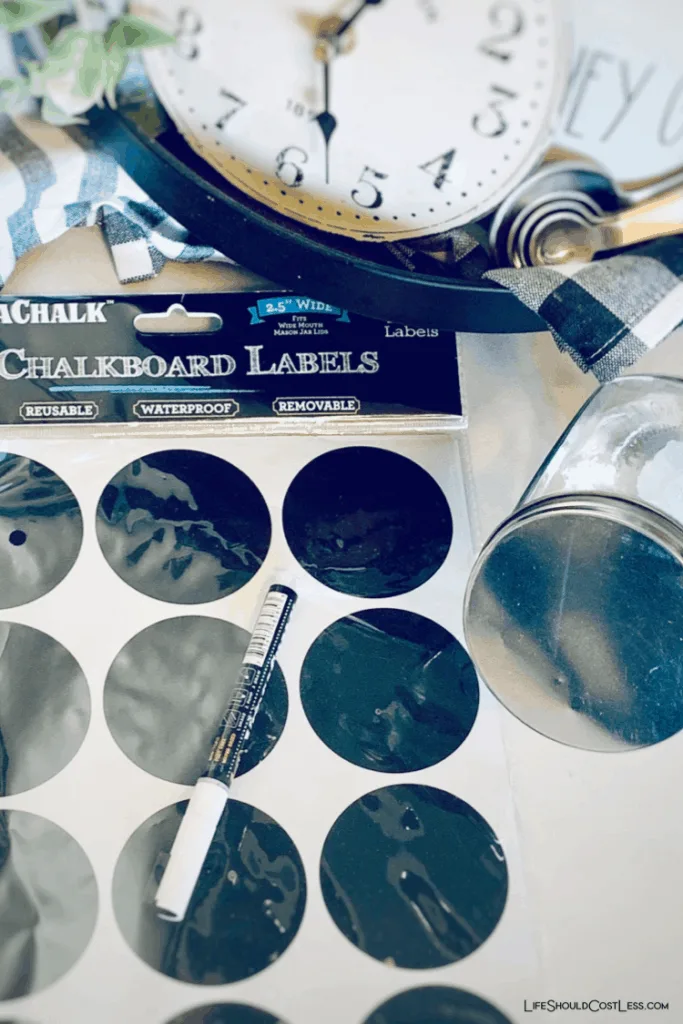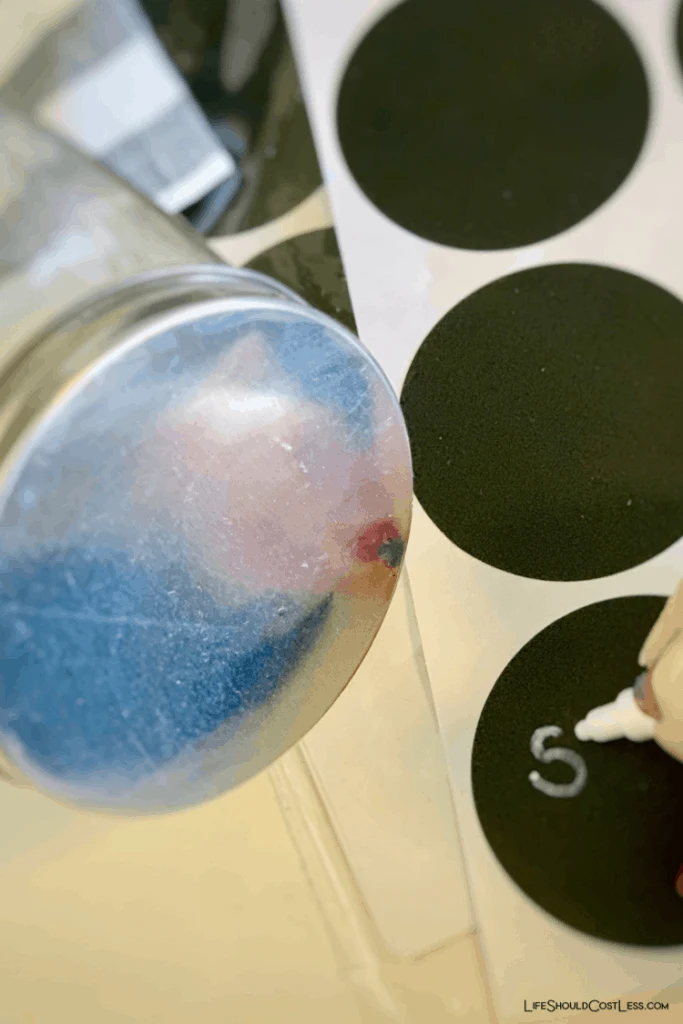 Then add them to your jar lids. Try to center them on the circle lid as best you can.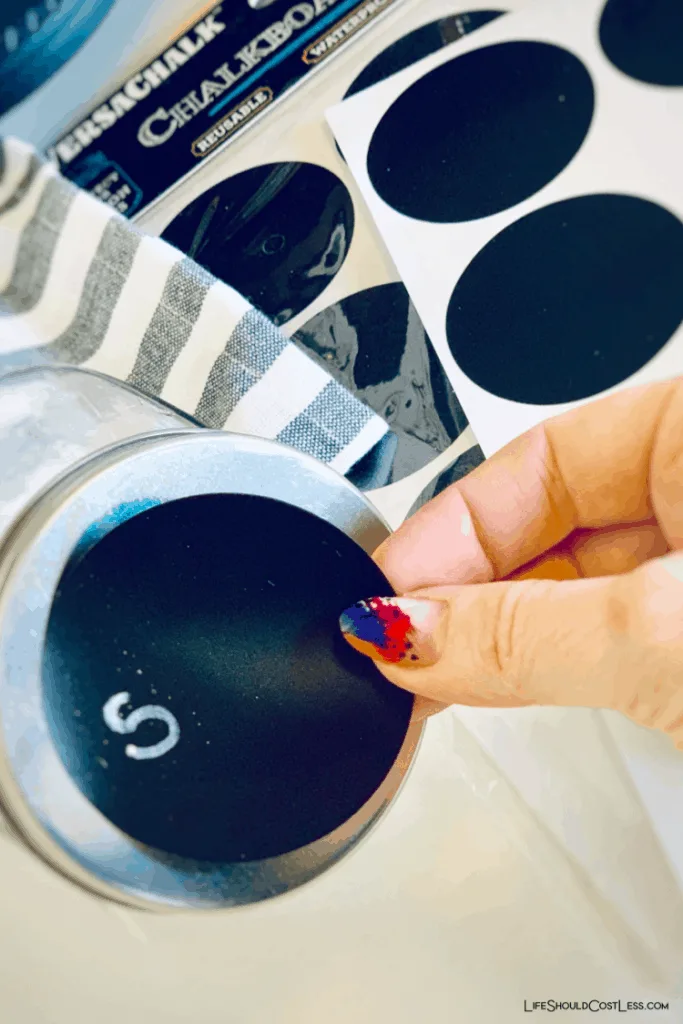 See, this one's just showing what it looks like on the jar.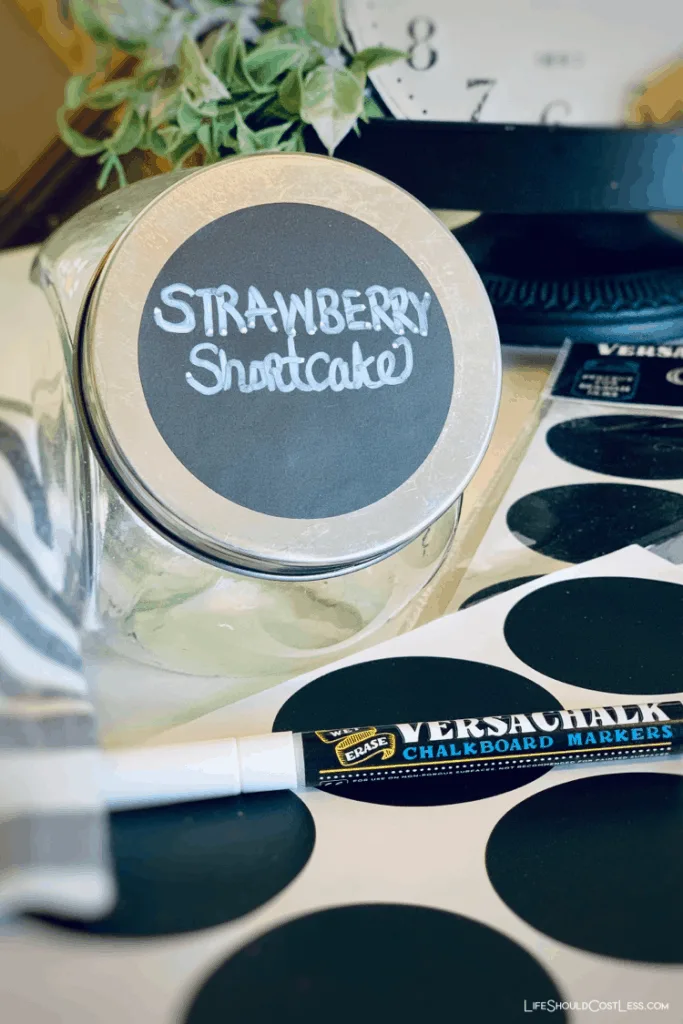 When you're done with all your labels all you do is decide how you want to arrange the jars on your shelves. I suggest putting the flavors that you use often on the lowest shelf.
Pick out and place any nick-knacks that you think will pretty it up.
Add some greenery or any colors that you want to make it pop.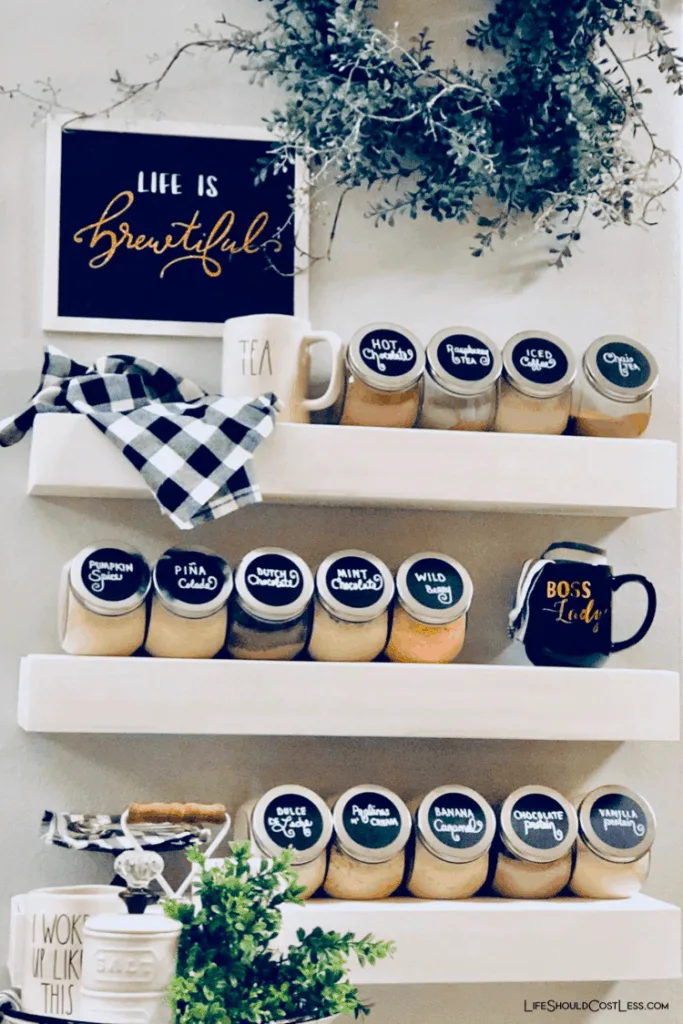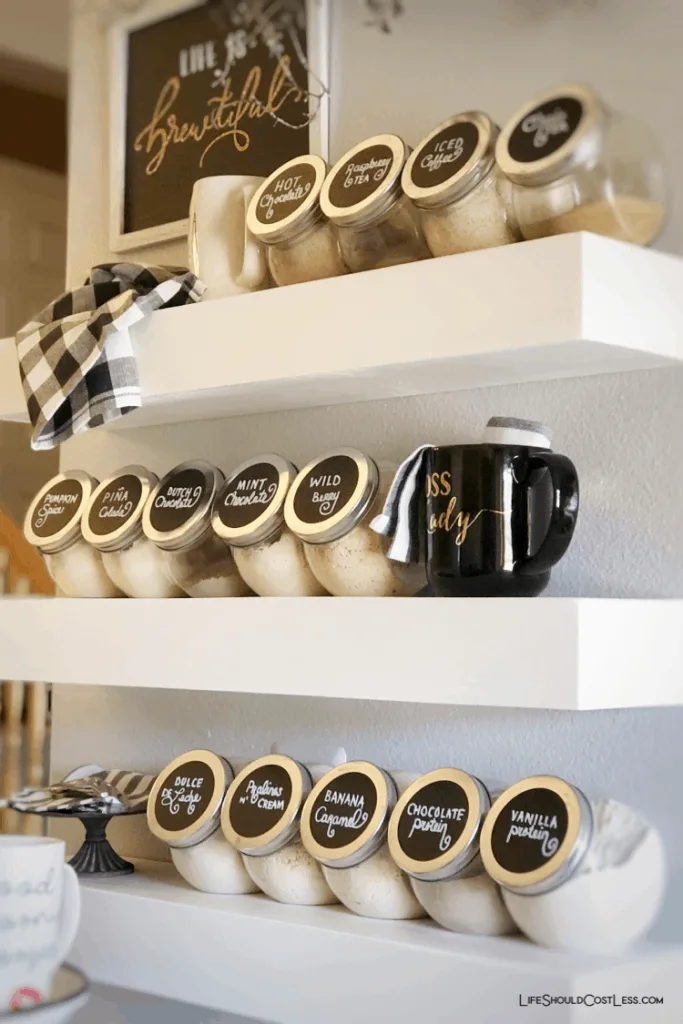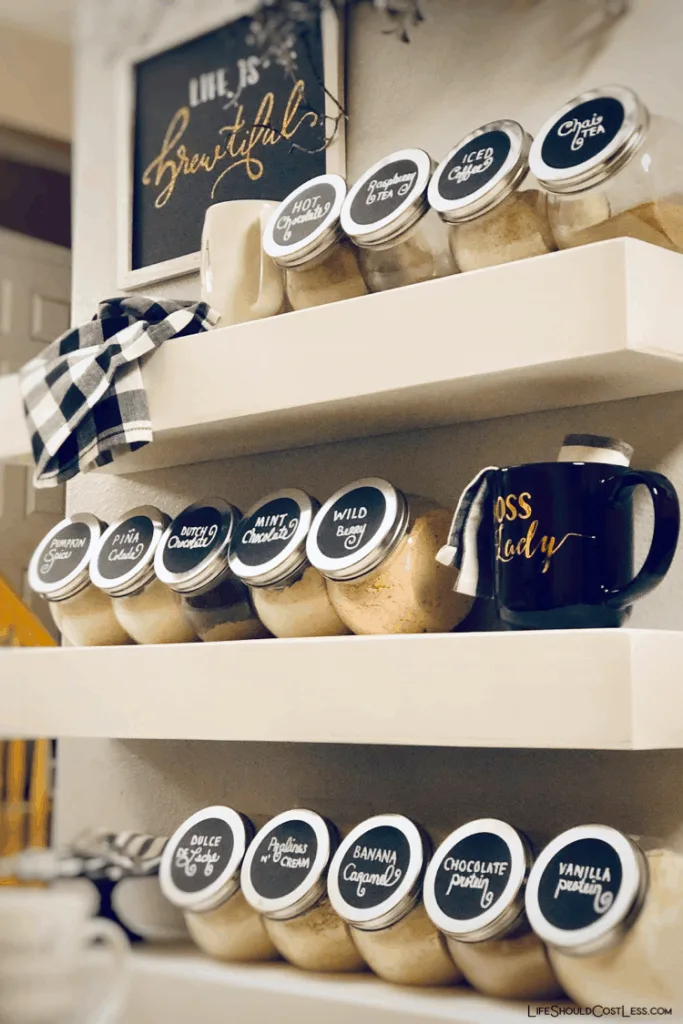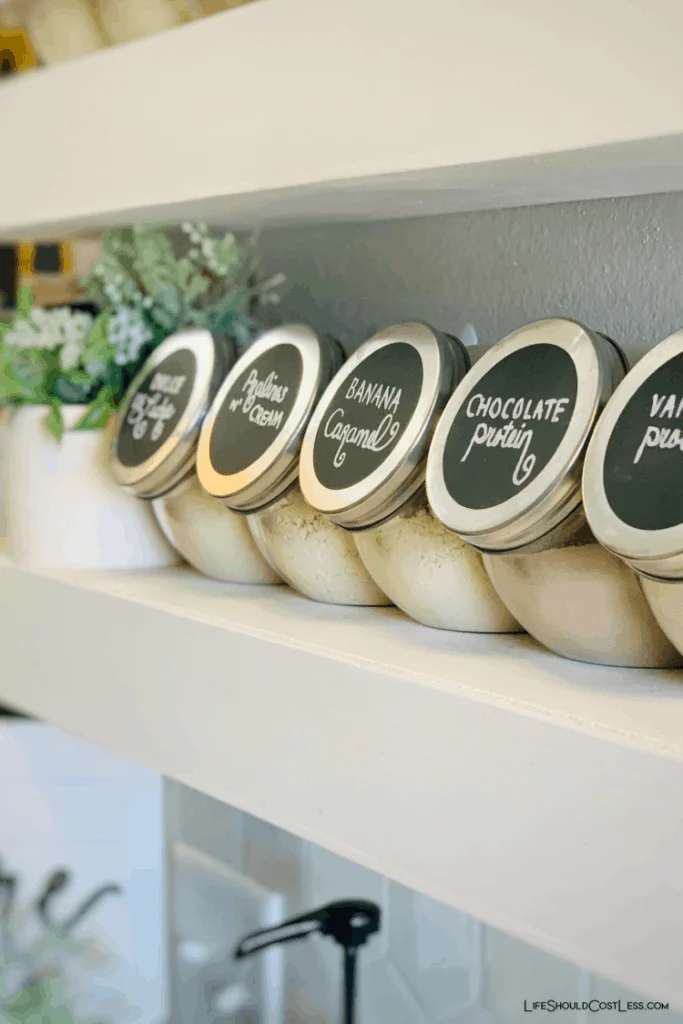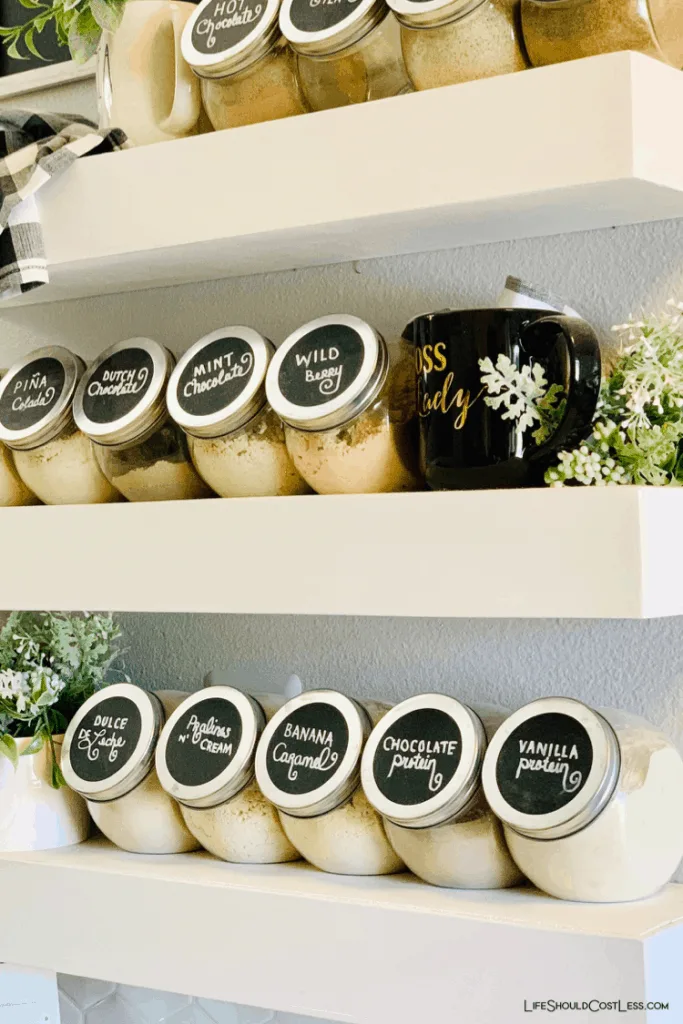 Another way to save on space, while decorating your drink station is to use a tiered tray of some sort. These trays not only make more of your supplies easier to see and get to, but it also adds a bit of charm.
The counter below the shelf is a great place to store any syrups that you may want to use too (the pumps for the syrups can be found here as well, in case you were wondering).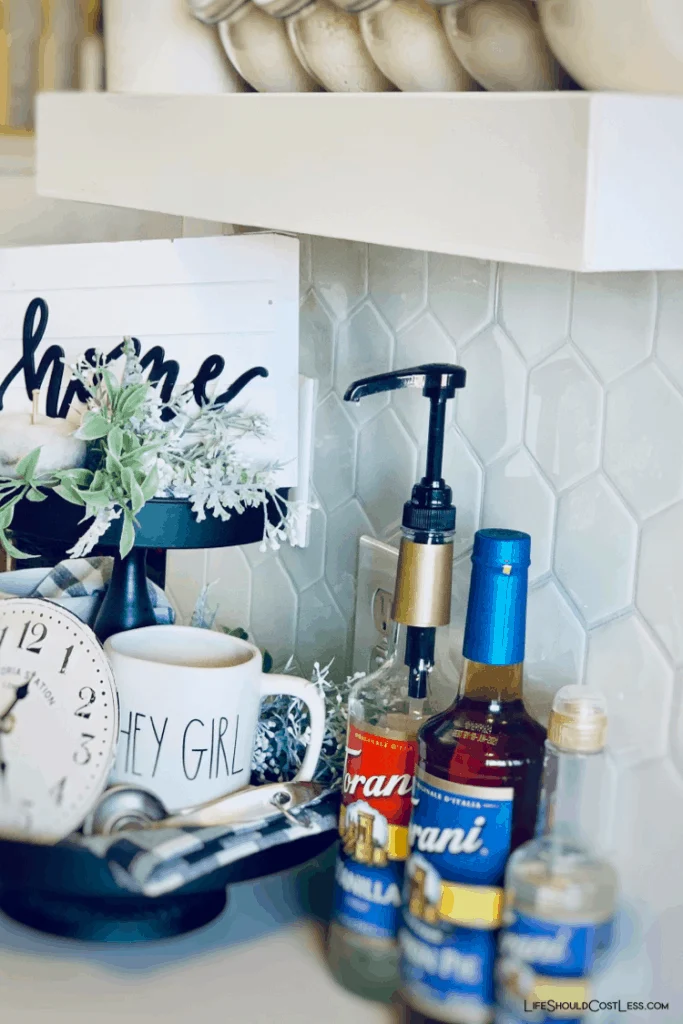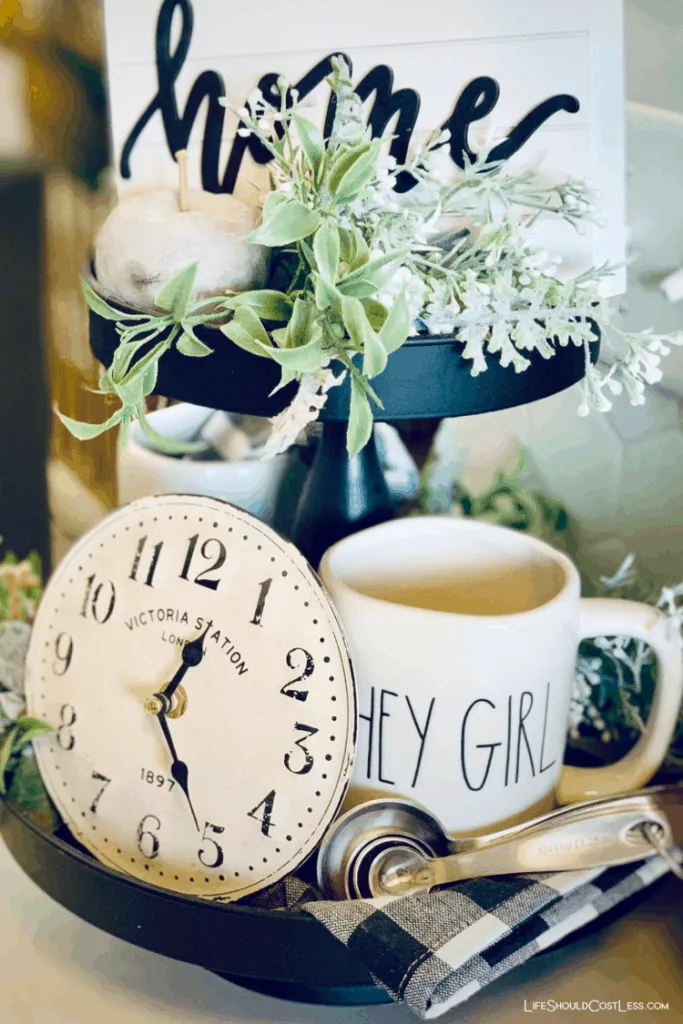 What do you think of this DIY Beverage Bar?
I personally adore this project so much! It really classes up the kitchen AND provides great organization at the same time…and we all know that minimalistic/functional decor is a total win for any home, not just for me.
Thanks so much for stopping by my blog and supporting my endeavors to make people's lives a little easier/better/more affordable. If you liked this post, or found it helpful in any way, please make sure to share it with your family, friends, and co-workers via social media…or you could even send them the direct link via email. Whichever way you choose to spread the love, I super appreciate it! ~Sarah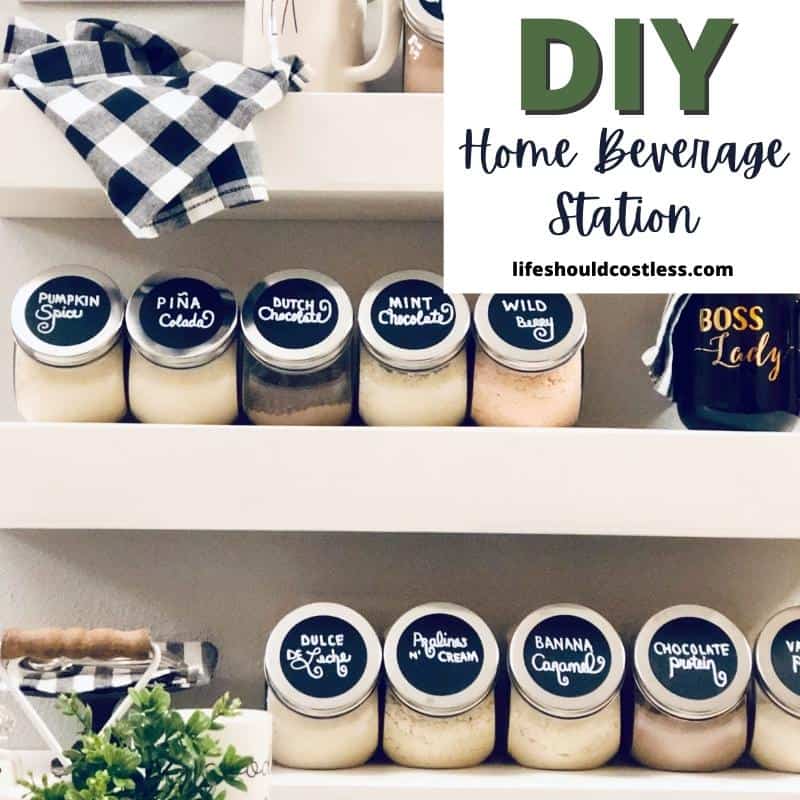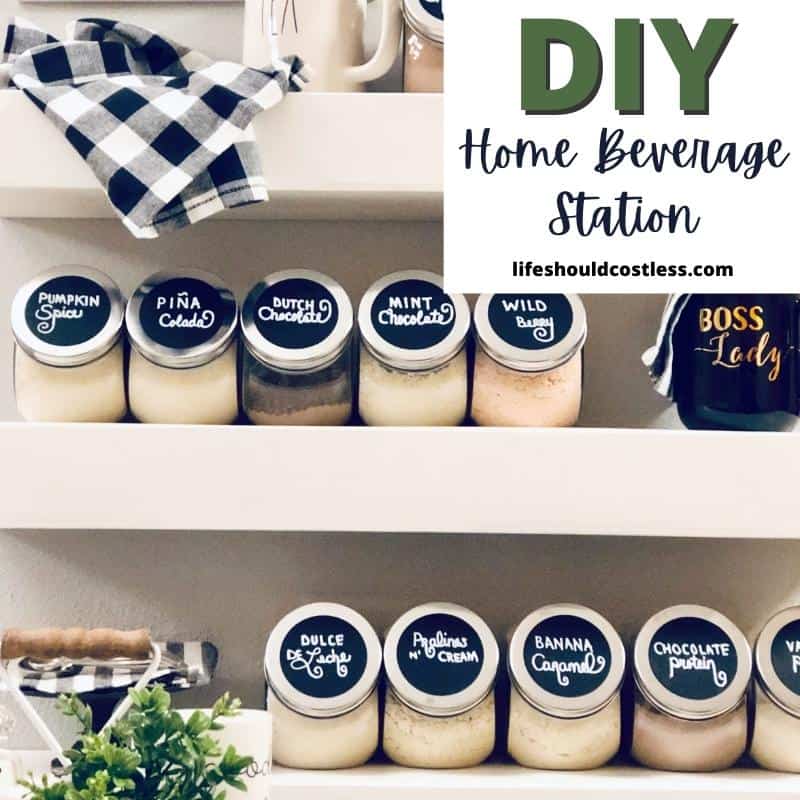 If you would like to subscribe to my email list, go here.
Make sure to follow along via social media, by going here.
If you would like to learn how to really show your support to this site (at no cost to you), go here.
P.S. You may want to browse my entire DIY section, there are years worth of fun projects there to get your creativity pumping.
Here are several of my other DIY projects that you may want to check out too: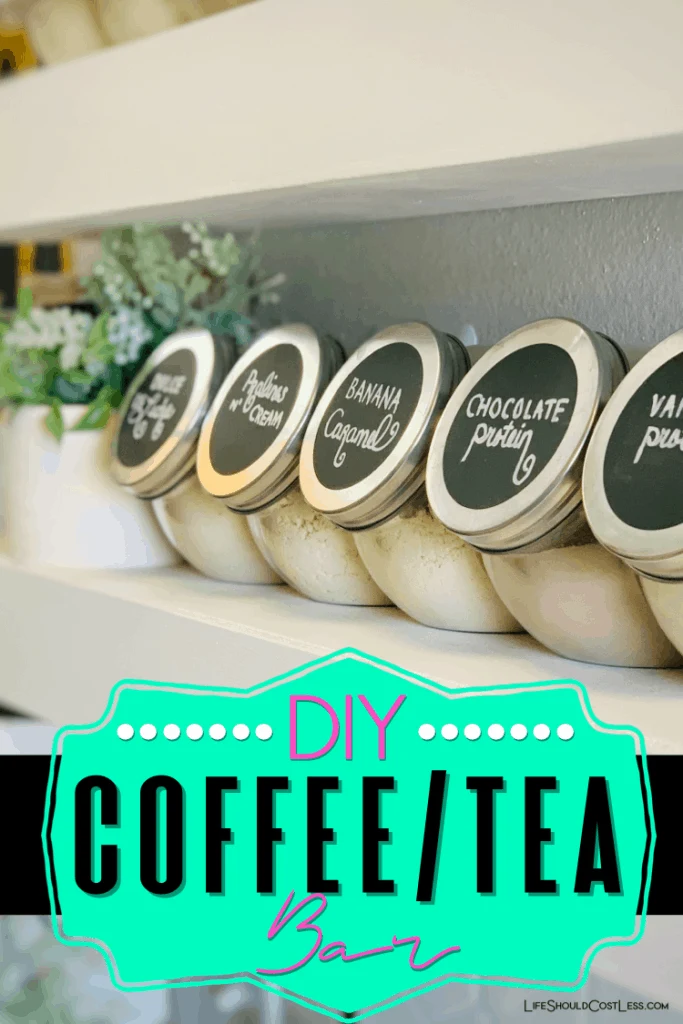 *Please note that this post was originally shared on this website on 06/27/2020, and has since been updated to improve user experience, shareability on the social medias, as well as to remain current/relevant.