If you are like me, then you probably have never thought too much about a peep hole in a door, except for thinking that it was probably too expensive and would be too complicated to install one… I'm happy to tell you that neither of those things are true. In fact, when I installed mine today it took me less than five minutes to install, including clean-up, and it cost less than $10. Seriously! If I had known it was going to be that easy and that cheap/inexpensive I would have put one in our first and second houses and frosted the glass for more privacy. Dang! Live and learn I guess.

When I painted our door last Saturday, I decided that I really didn't want to have to patch the hole that was left in the door by a non-functioning wreath hanger, it was dangling and completely useless.
So I cleaned up the area around the hole and sanded it a bit before I painted it knowing that I wanted the peep hole to go there.
If you want to install a peep hole too, it saves the most time and money knowing what supplies you will need so I am sharing a list of what I used with you:
Drill with bit in the size described on peep hole package.
Peep hole. They come with or without a little shutter on them. I used this one without a cover. The ones with a cover can be found here.
Large flat head screw driver.
Sanding block or dremel.
Safety Glasses.
Dust Mask.
Vacuum.
*Please keep in mind that I installed this on a metal door. If you are installing one on a door made out of a different material, you may need to do a little more research (like to avoid too much splintering on a wood door), but it will should be quite similar to how we did ours.
Also, make sure that you have purchased a peep hole that is made for the right thickness of your door.
That would really suck to have a hole in your door and not be able to install anything into it.*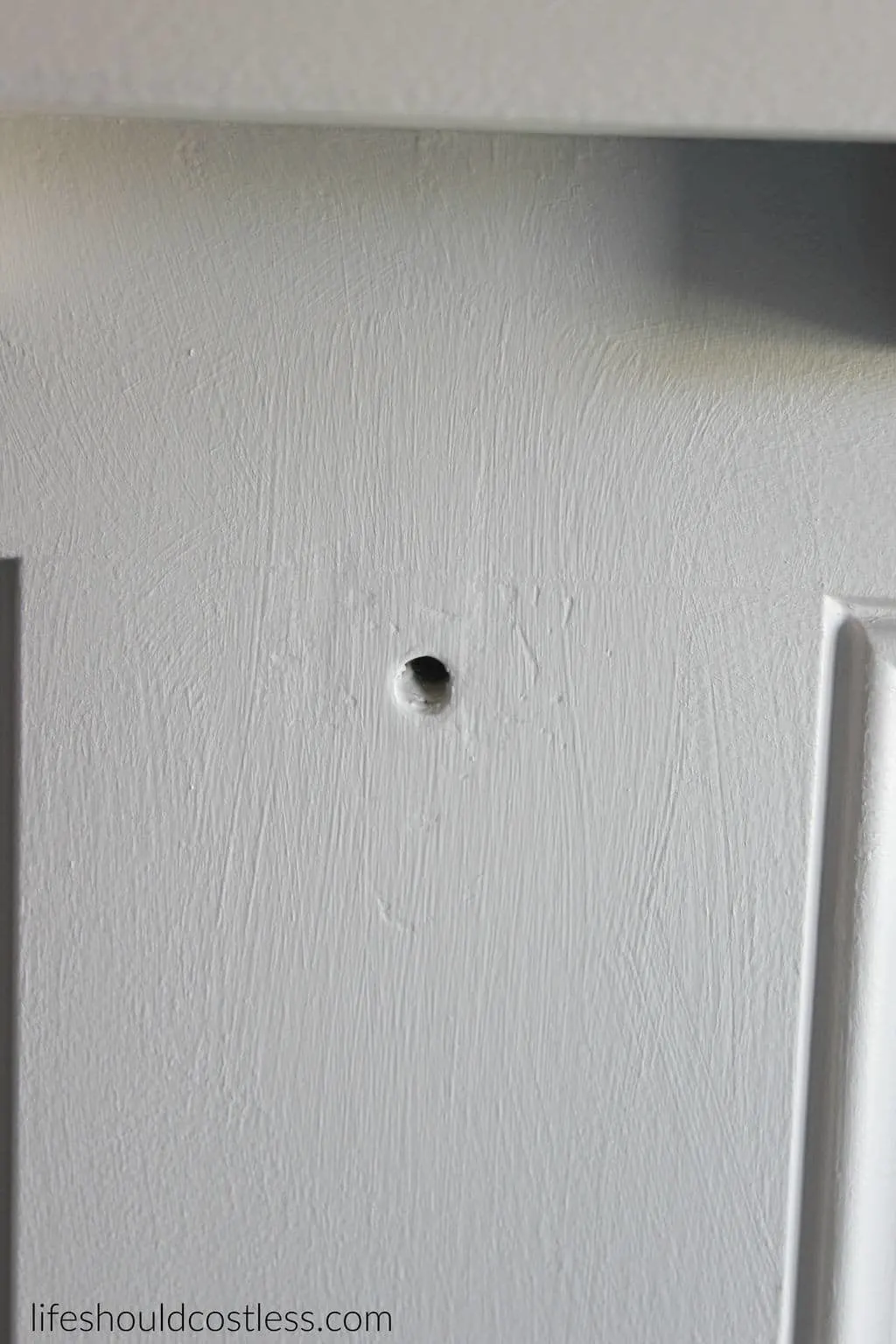 Ok, so the first thing that you do is to decide where on earth you want the peep hole. Mine was easy…like I mentioned before we put it right where the old wreath hanger was…it had been in a really odd spot on the door.
Like 1/3rd of the way down the door which would have made the wreath hang really low and would not look good for staging my wreath photo's…but it's a decent height for the peep hole so I went with the path of least resistance.
*I've got several other helpful posts down at the bottom so make sure to keep on reading!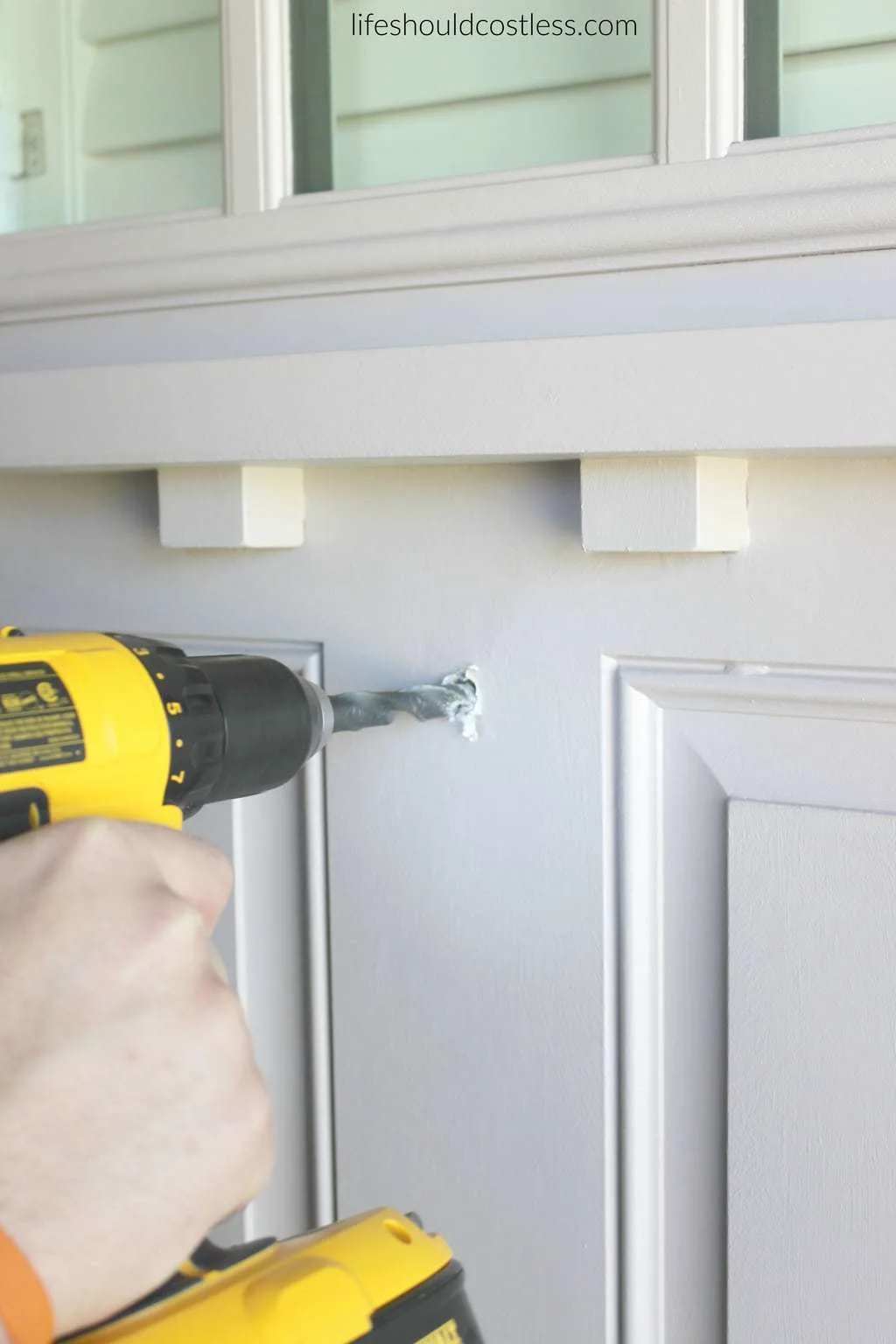 Next, after you put on your protective gear, you take the size of drill bit that was specified on the peep hole packaging and drill a hole through the door in that spot that you decided on. Make sure to hold the drill straight so that the hole is even on both sides of the door.
Even with a metal door, it still caused a little bit of "splintering" which was gently sanded. I could not find my dremel micro anywhere (thanks kids, it would have been the perfect tool for this), so we used a sanding block to lightly clean up the edges.
You only need to do that on the inside side of the door though because the larger side of the "peep" part covers it all on the outside of the door.
I'm going to be repainting the inside of the door sometime before the freezing temps hit, so I'll clean that side up even a bit more as I am working on that.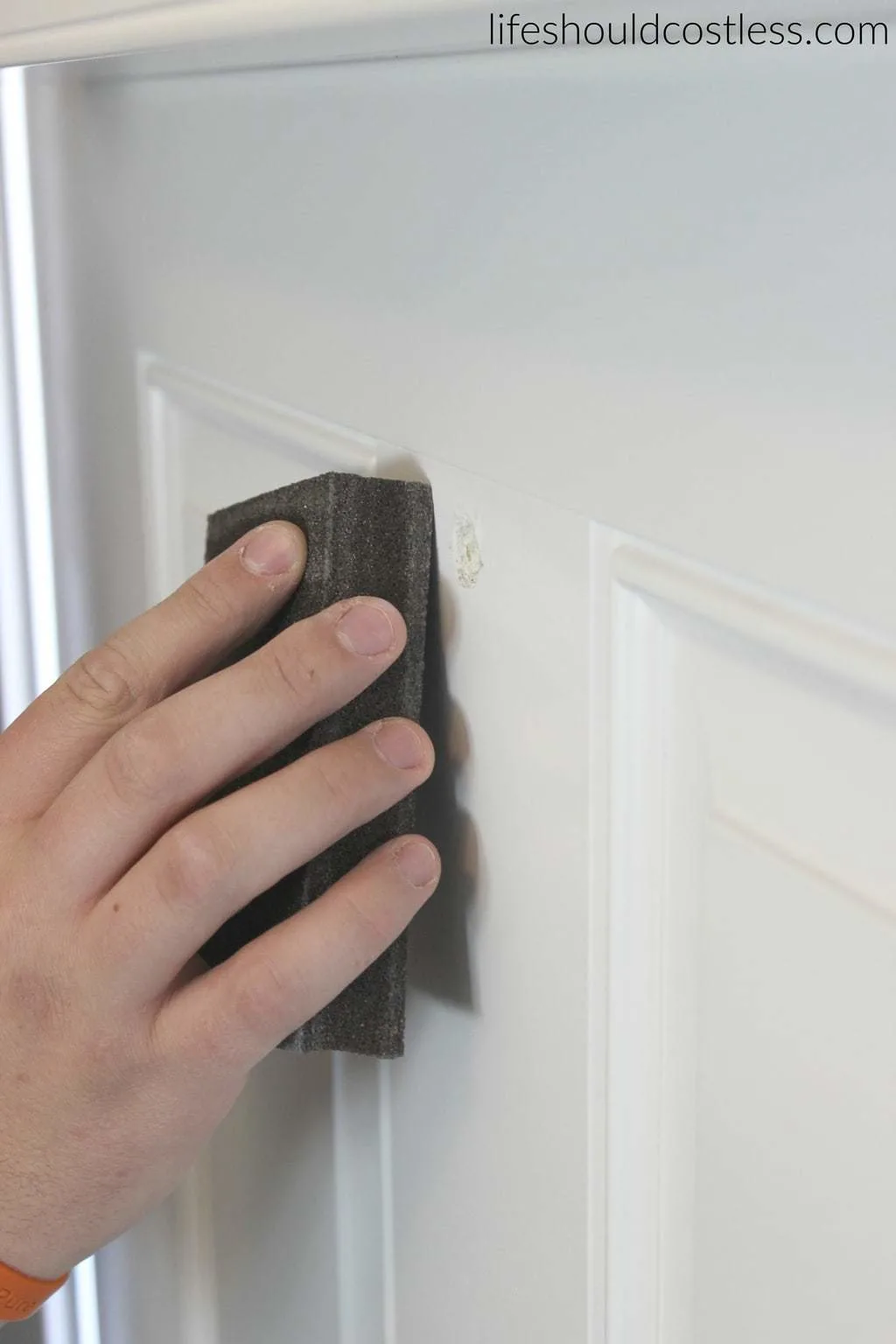 Now you take the two pieces of the peep hole, the larger one goes on the outside, and they just screw into each other… then you use the flat head screw driver to tighten the inside piece a little bit more while holding the piece on the outside….and you're done.
All that is left is to clean up the mess. I did mention needing to use a vacuum! It makes a little bit of a mess, but it's not too bad.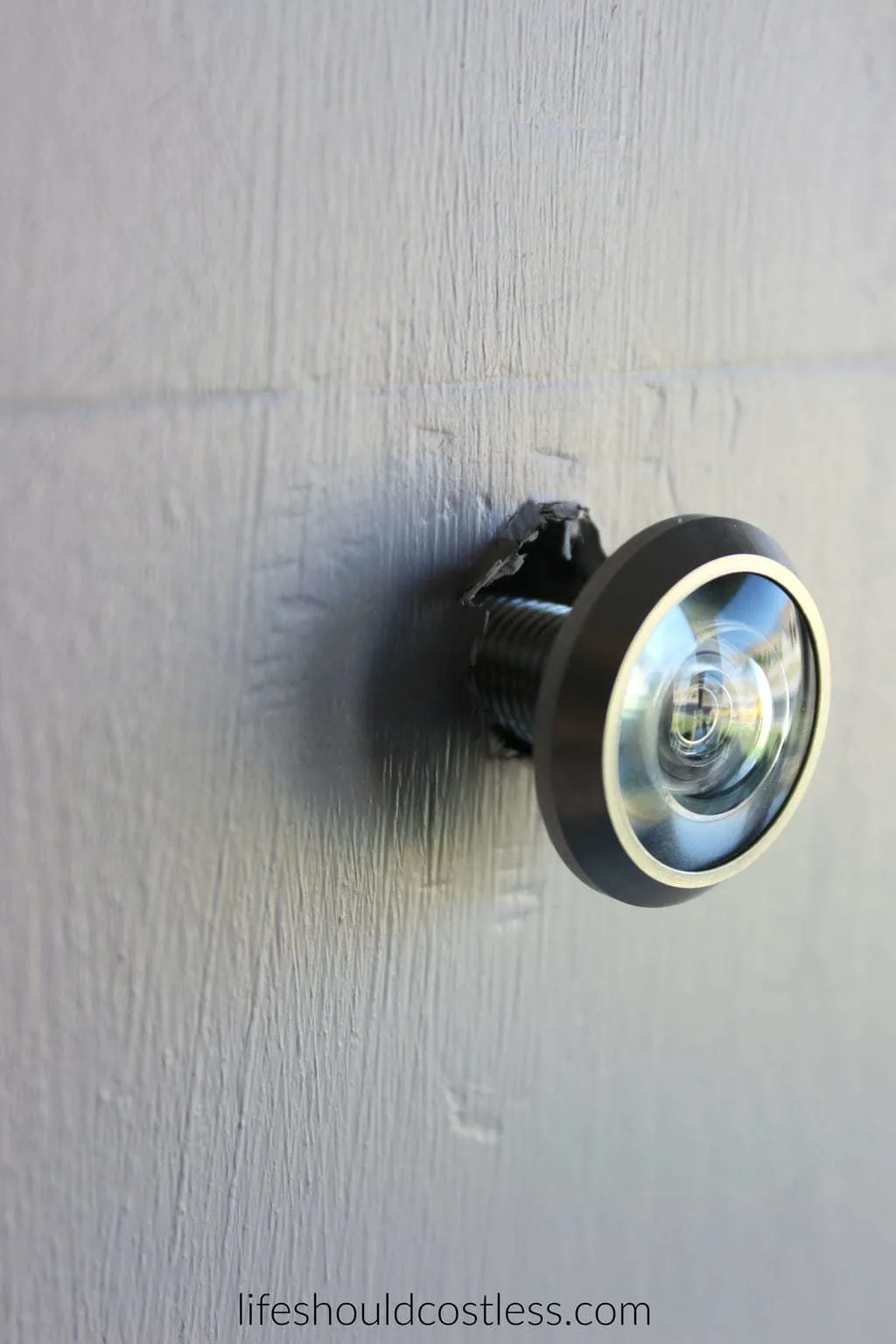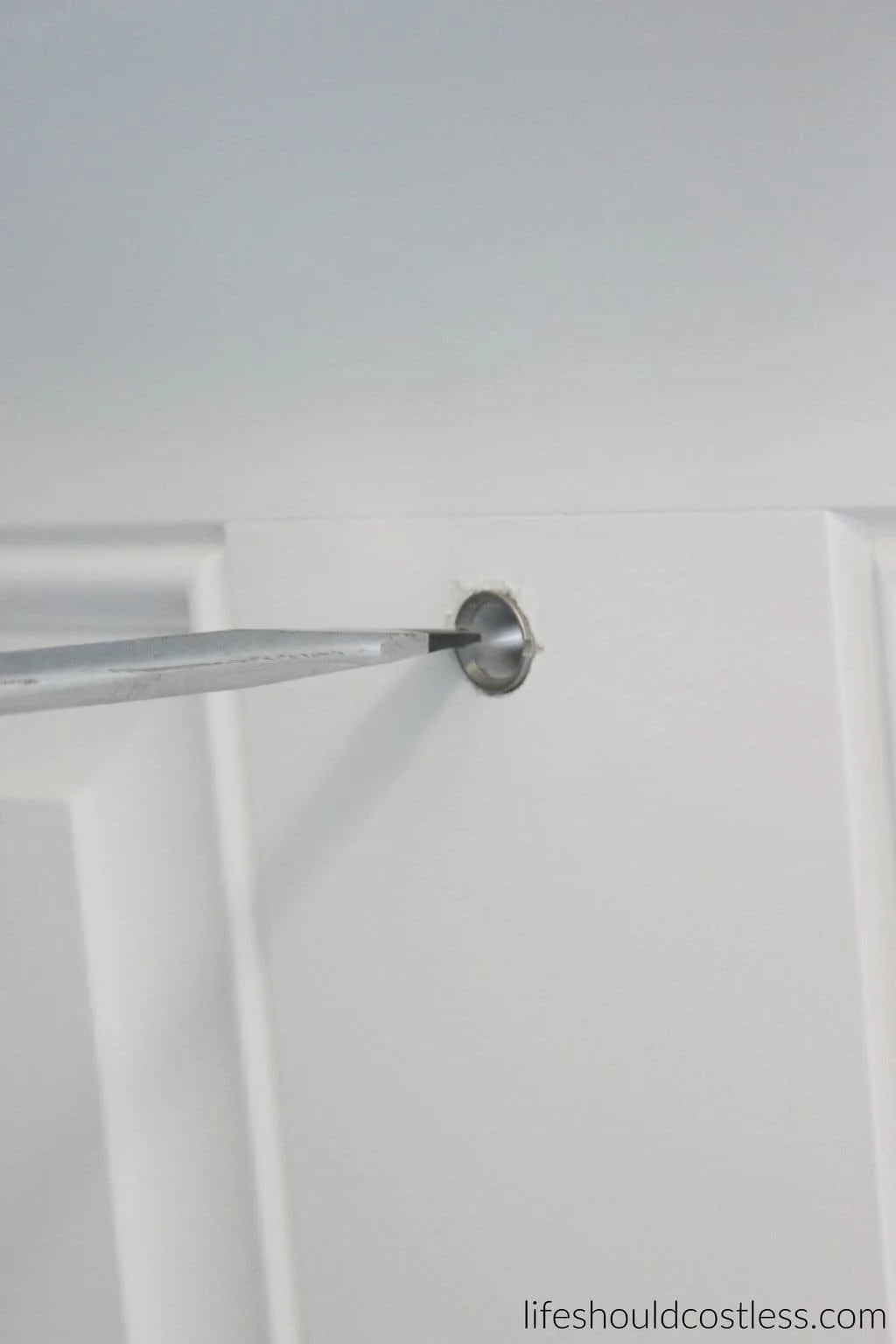 I could not believe it was this simple! Seriously! It is literally so cheap and easy that when I finally build my kids their playhouse, that I have been promising them for two years…cough, I may put one on there just for fun.
This is something that could easily be accomplished during a child's nap time…hint, hint. Make the most of that down time and still have time for yourself.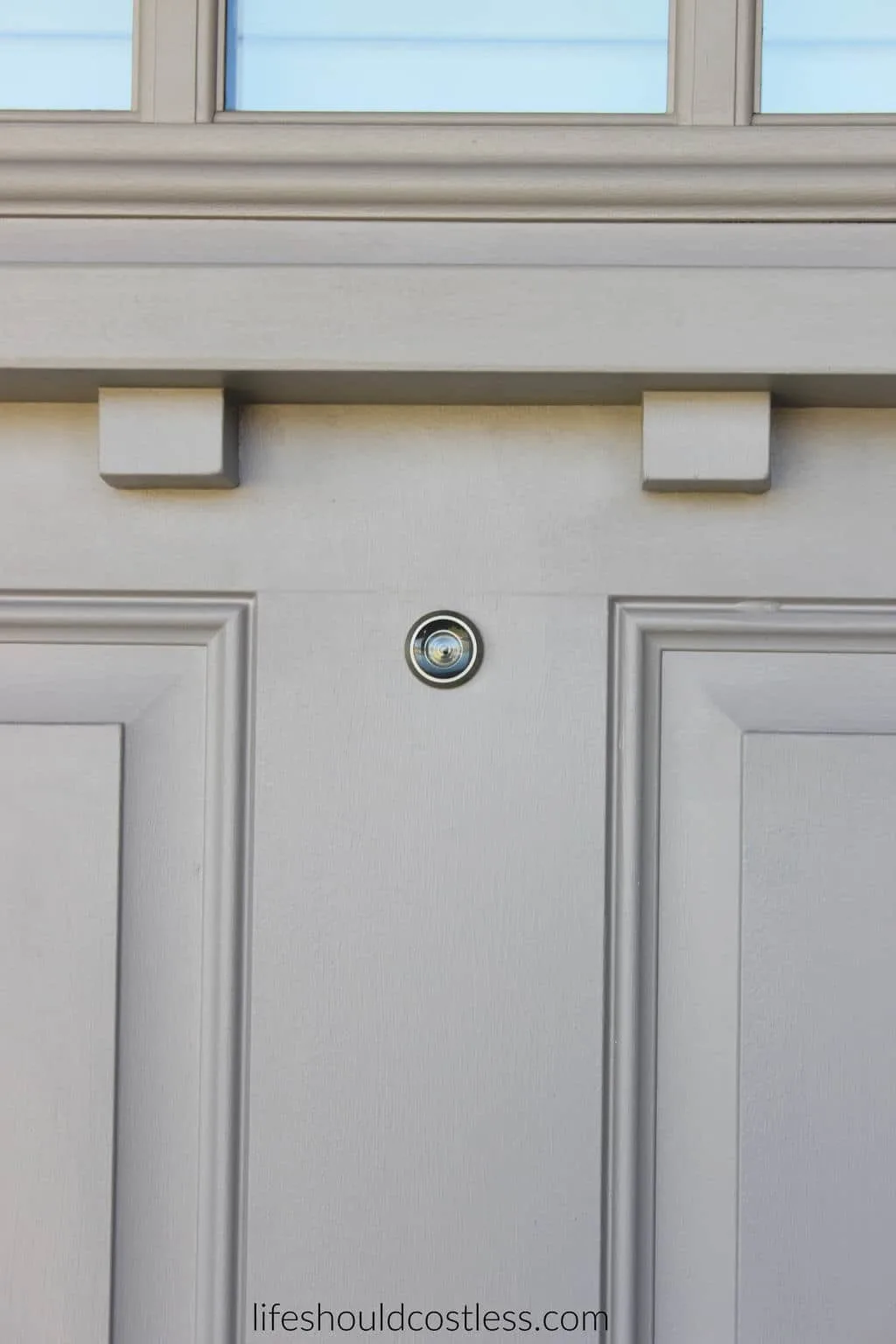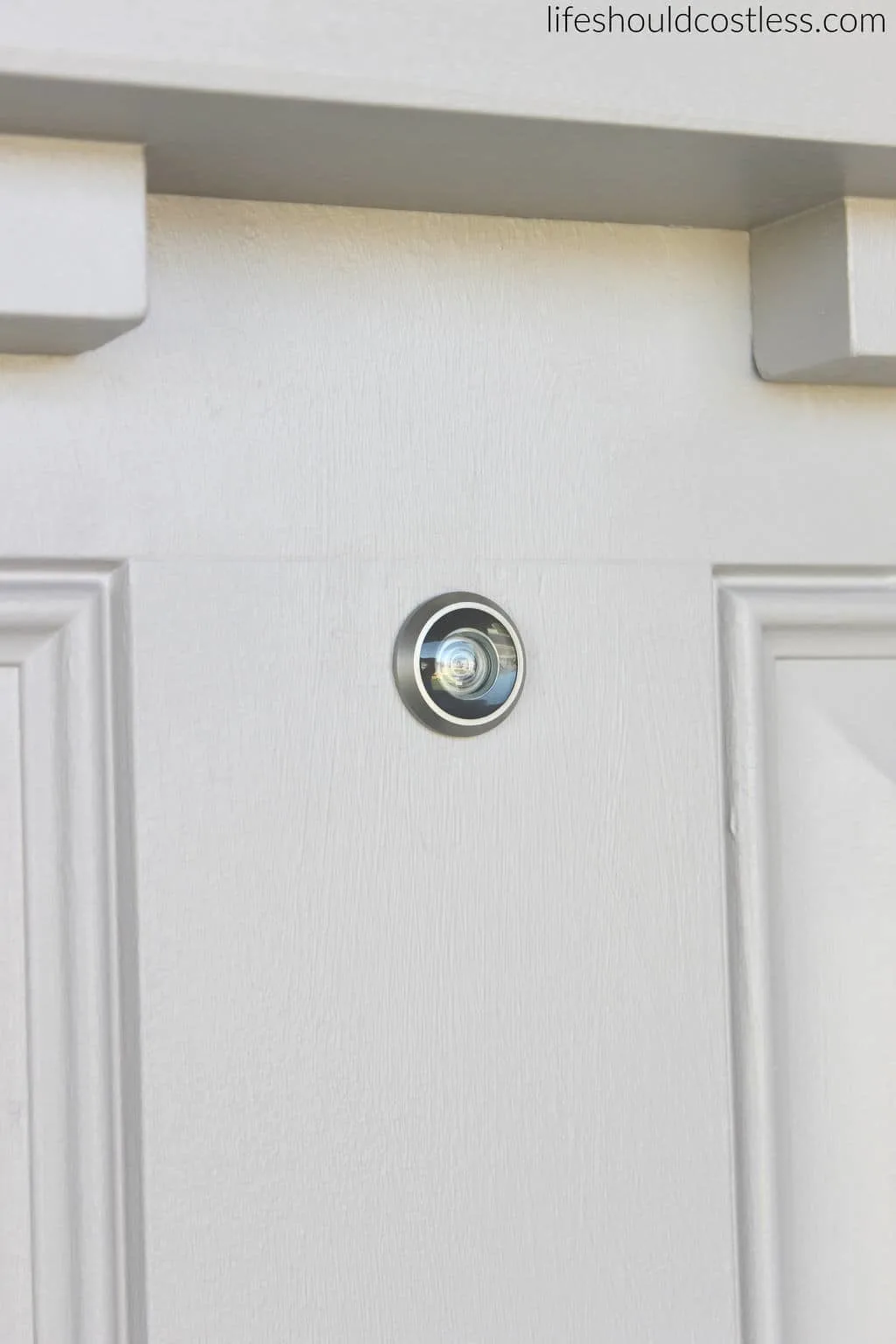 Now to find the time to build a playhouse…heck, I'd love to just refinish and old one that no one is using so any of you out there that know me, if you know someone looking to get rid of one, or a small shed that could be converted into one…I may be your girl to take it off of their hands.
Goodness, it's past midnight so I'm going to hit the hay. Please make sure to share this post with anyone that may find it helpful! Thanks ~Sarah
P.S. I forgot to tell you that this project was part of my front door re-do to prep for my beautiful Fall décor post that I'm working on…so make sure to check back over the next couple of weeks and I should have it up to look at.
You may also like (the pictures are links):