Did you know that you can easily Scotchgard your own upholstered furniture from the comfort of your own home without hiring a professional? When I first heard that you could DIY this project, my first thought was that it was probably hard or would be really messy. However, now that I have done it a couple of times I can tell you all that it is easy, it is quick, affordable, not that messy, and if you have kids that are leaving you alone for about an hour, it is actually kind of fun to Scotchgard a sofa or other soft upholstery.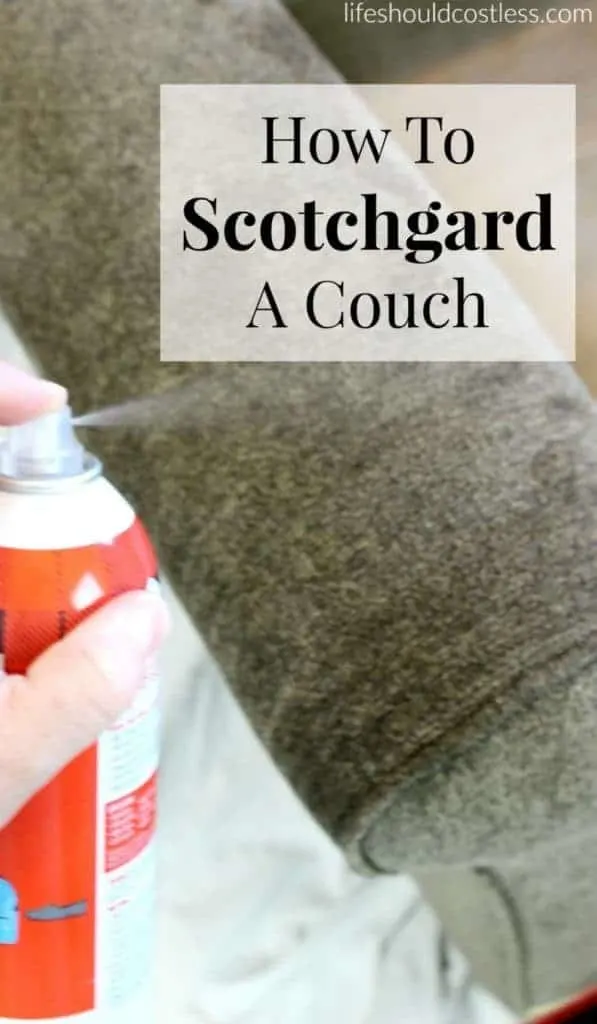 What is scotchgarding?
For those of you that don't know what Scotchgarding is or why this is a handy tutorial to have on hand, it is basically just a spray on treatment that does not leave your fabric crunchy, but it makes it so that if anything is spilled, that spill will not soak in. It just beads on top of the fabric…which is AMAZING if you have pets or kids.
This tutorial is pretty simple and straight forward. I am just giving you a bit of direction & a little pep talk, because this is not a project to get intimidated by…even if you suck at doing DIY stuff.
If you can evenly apply a can of aerosol hairspray to hair, you can Scotchgard a couch.
It's just like applying really thick hair spray.
Here we go:
I started out with this little sleeper sofa I bought last year. It has spent most of its days with me in my office at my last place, but when I divorced and moved I lost about 2000 sq ft so I don't have the option of a dedicated office anymore.
This couch now has to go in the kids play room…which means that I had to stop dragging my feet and get my Scotchgard on…and fast, before the kids let loose on the poor couch.
You can get a can of Scotchgard at Home Depot, various grocery stores, or can add it to your Amazon cart here.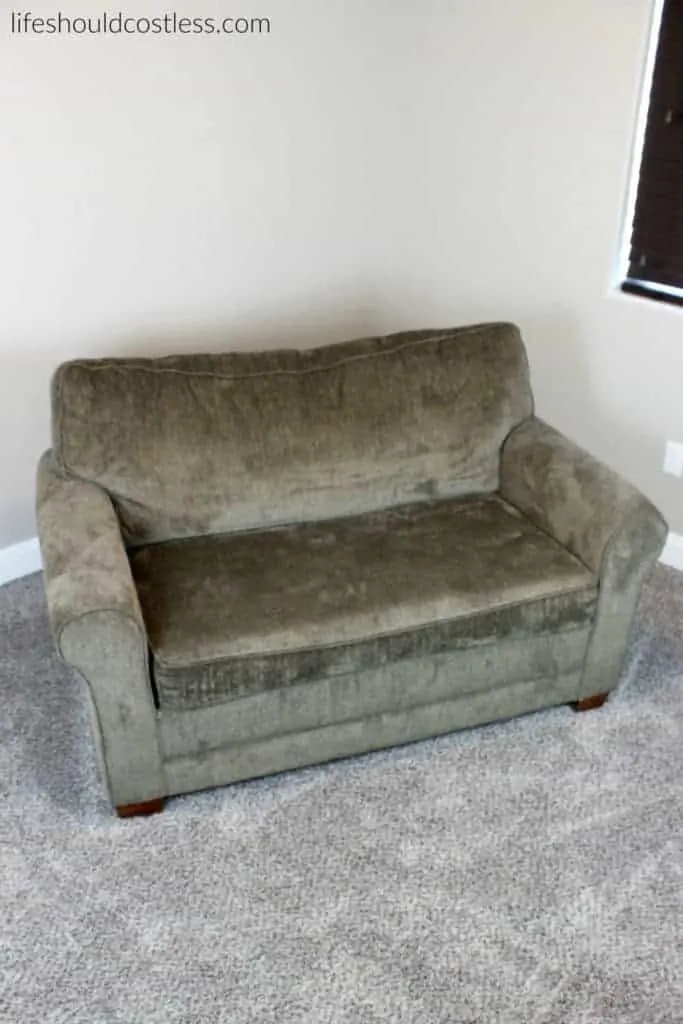 The very first thing that you are going to want to do is start out with a very clean and very well vacuumed couch.
If it's an older couch, I would vacuum, shampoo, and then let it dry before I did anything else…but that's just me and I can be a little OCD sometimes.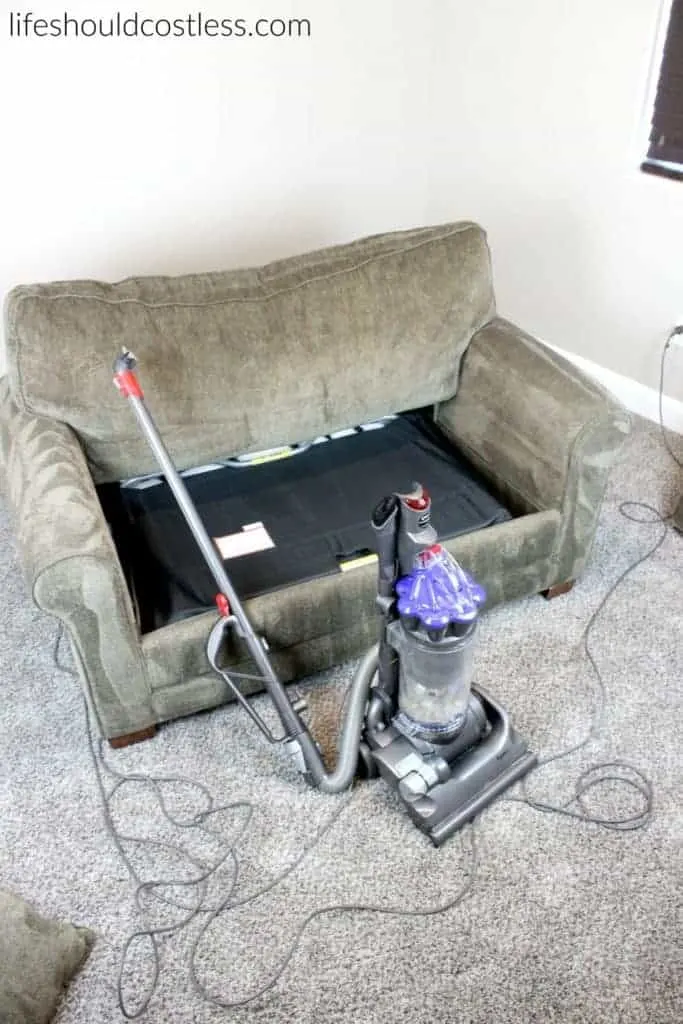 Then we spot test!
The back of the can says that you do this first, but unless your couch is clean, you won't get the best result that you could.
In a non-conspicuous place on the couch (making sure not to get any on anything else you could put down a piece of newspaper) you are going to want to spray a little bit of Scotchgard to make sure that the spray and your couch get along…
Which means no color bleeding or anything like that. Let it dry for a little while and come back and check on it. If it looks good, you are ready to move on.
Next, we protect the floor and legs of the couch.
I just used my canvas drop cloth, some masking paper, and tape for the legs, …easy peasy and takes like two minutes. Now I was ready to tackle the whole thing.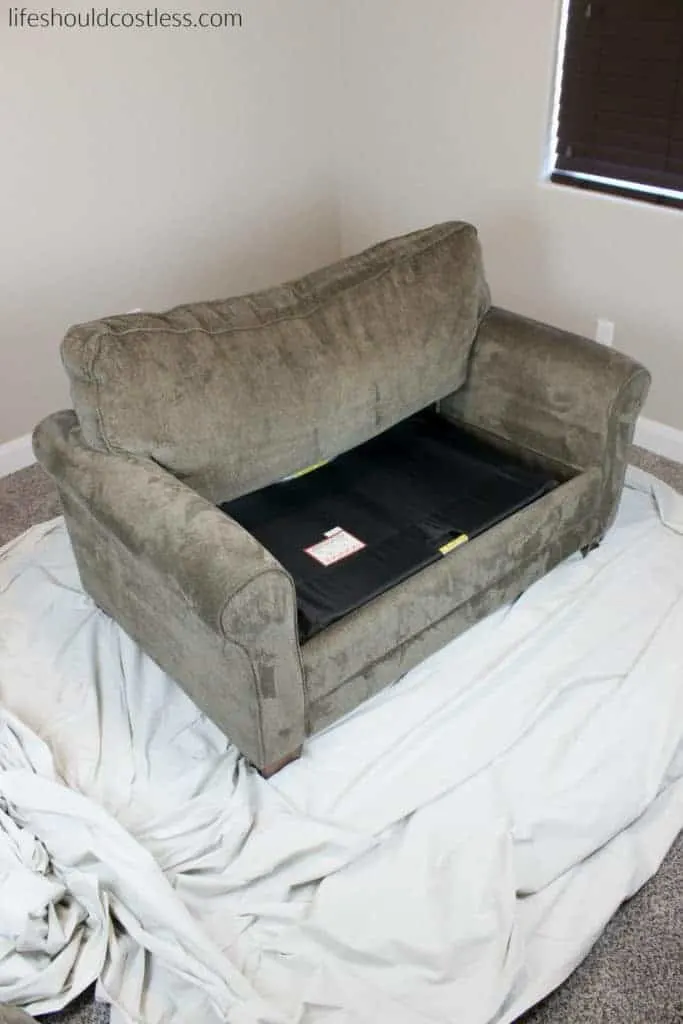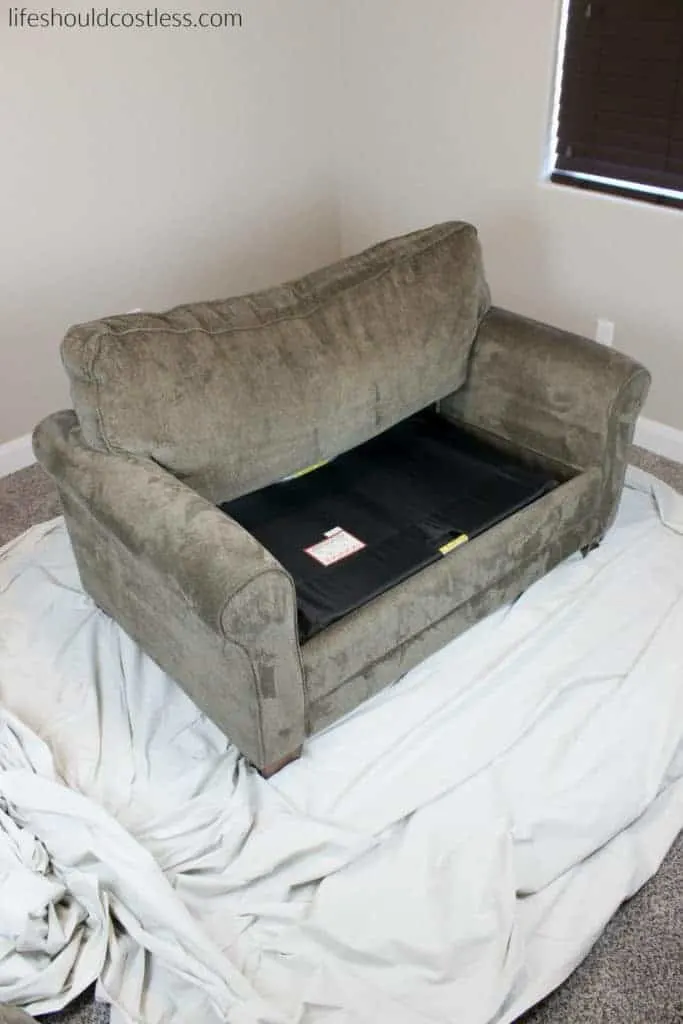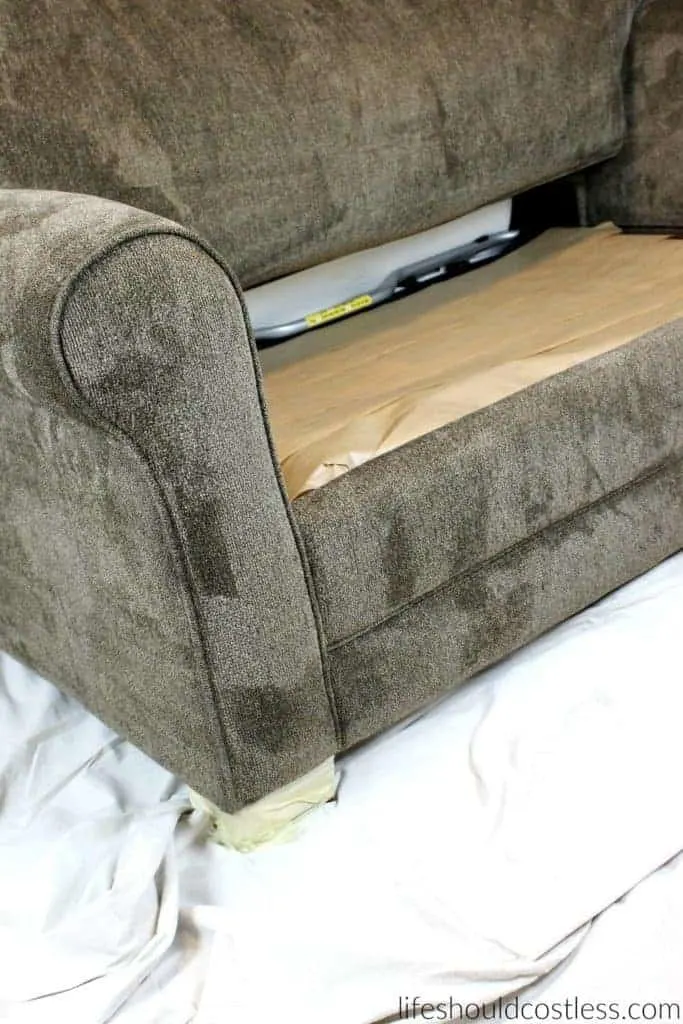 Now we ventilate! This stuff is pretty fumy…so, unless you want to get your whole family high, take a minute to get some good airflow going.
Lol, you can't even really see that the window is open in the picture…oh well, I tried.;)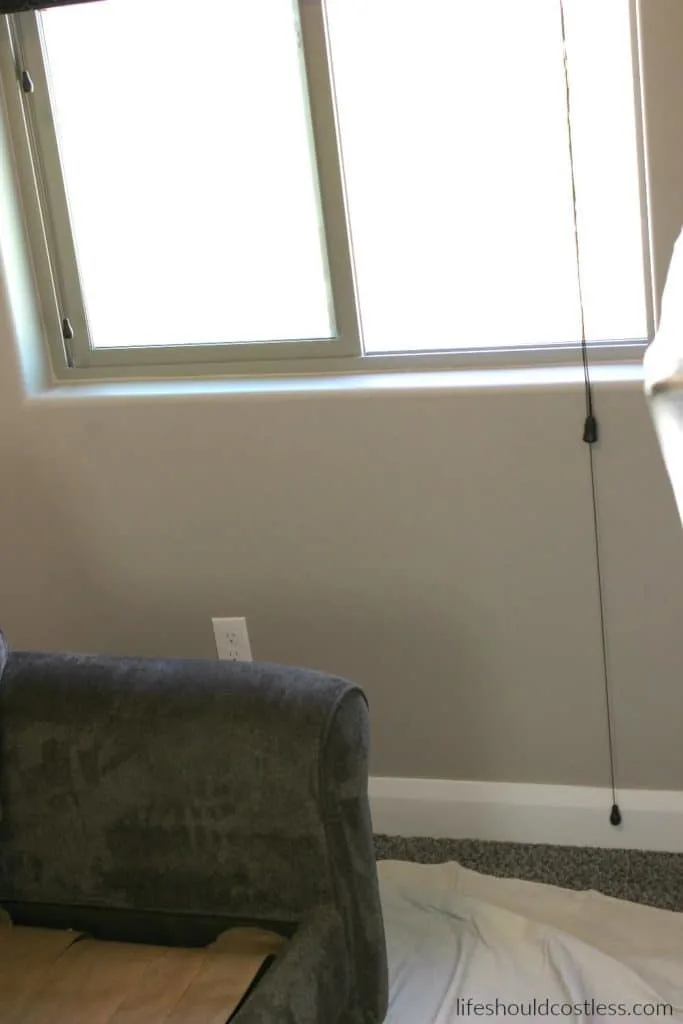 It's time to shake and spray!!! Shake the can of Scotchgard well and then spray lightly (can should be upright) in even lines until the whole thing has been covered.
The can says to hold it like 6 inches away or something, but that seemed way too close for me so I did between 8 & 12″ distance between the can and the couch at all times.
I applied an even thin coat to the entire couch and then started doing more coats on the high-use areas, then finished up by one last coat on the entire couch.
You should let it dry a little between coatings, but I found that it was pretty dry by the time I made my way back to recoat.
The bottle says that one can will do one whole couch, and I was a bit skeptical at first, but it totally did…and I even did both sides of the cushions and both of the pillows.
I just kept lightly coating until the can was empty. It does say on the can that several thin layers is better than one thick one…btw.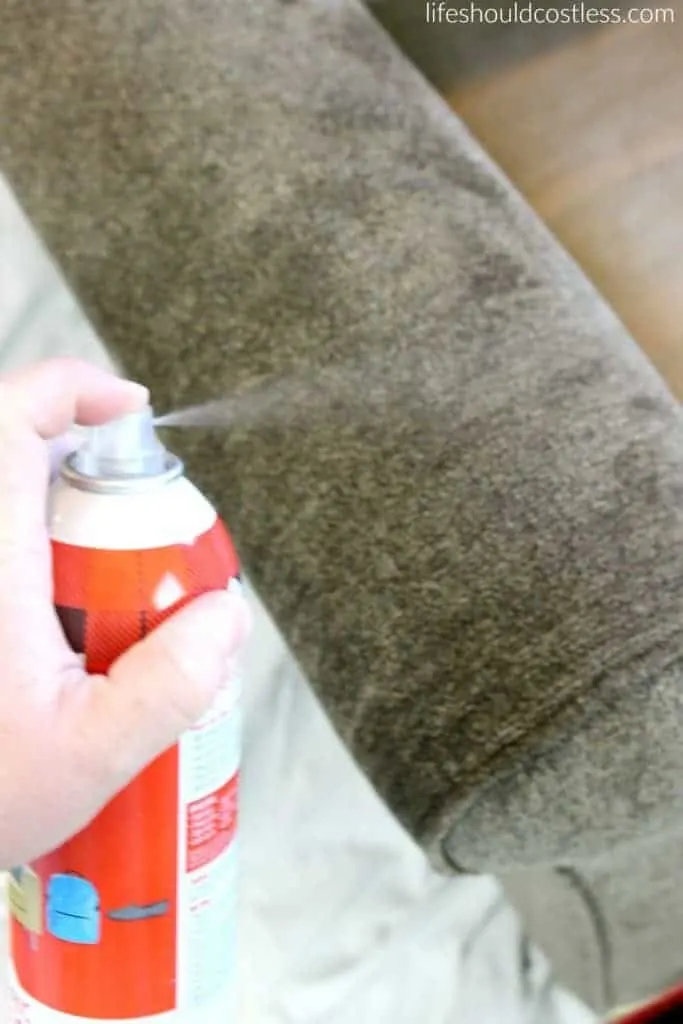 Before I forget, I wanted to sneak in here and share with you all a few of my other posts that you may like:
Back to learning How To Scotchgard A Couch Or Any Upholstered Furniture!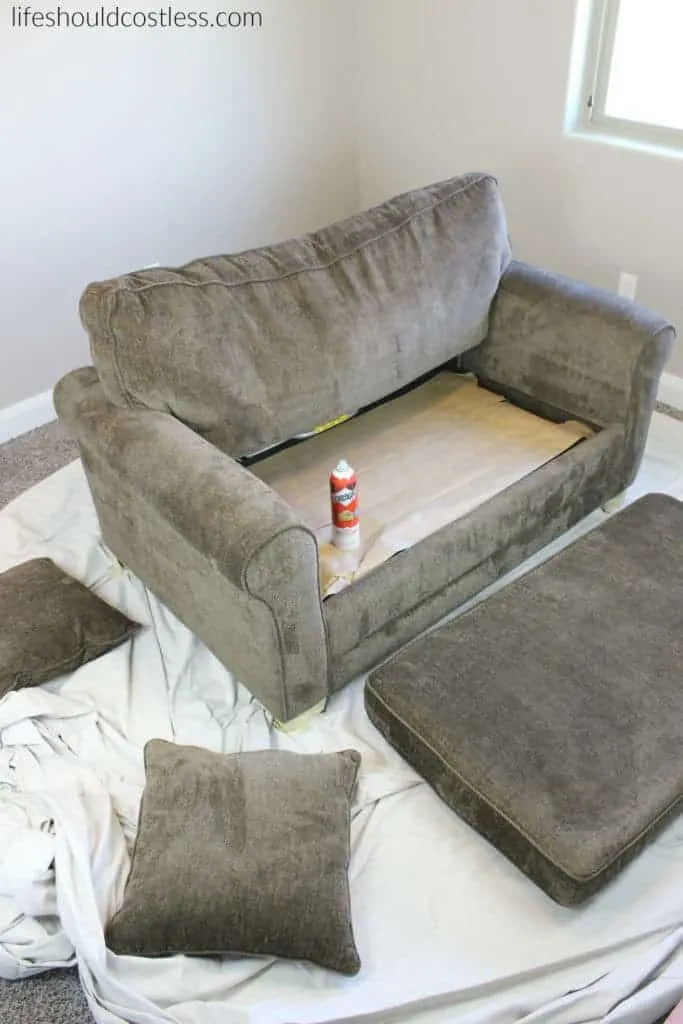 Next I left the room and let it dry for a while. It dries really quickly so I just went downstairs for like a half hour then took off all of the protecting tape and paper.
The air is really dry here in my neck of the woods though, so if you live somewhere that is quite humid it may take a bit longer to dry.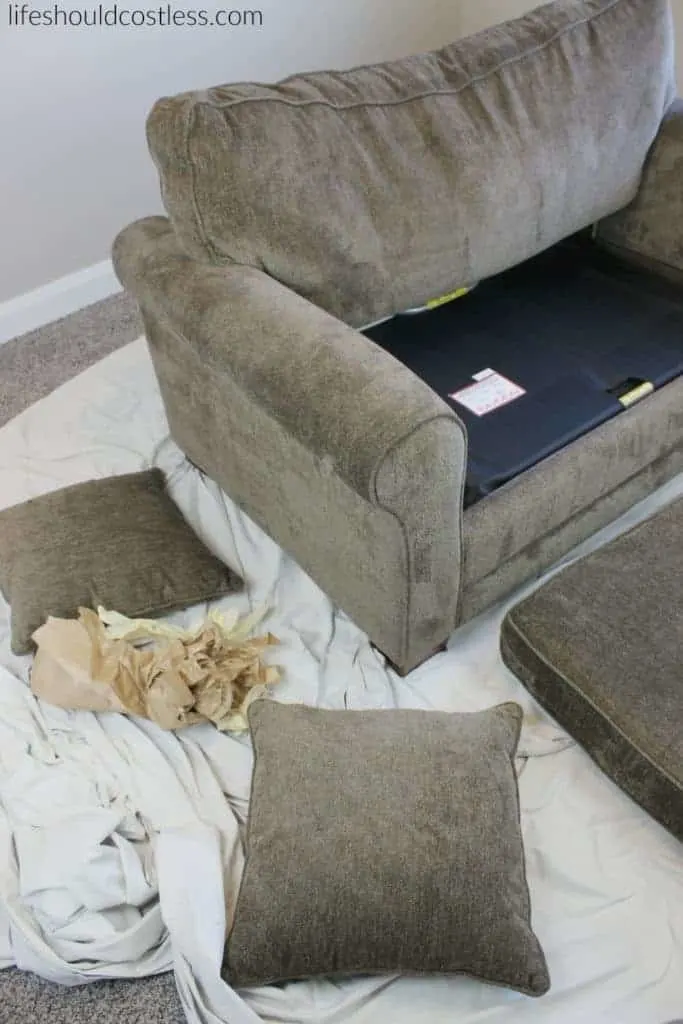 And put it all back together. Yay! Now I don't have to worry about whatever the kids might spill on it in its very not ideal location in the playroom.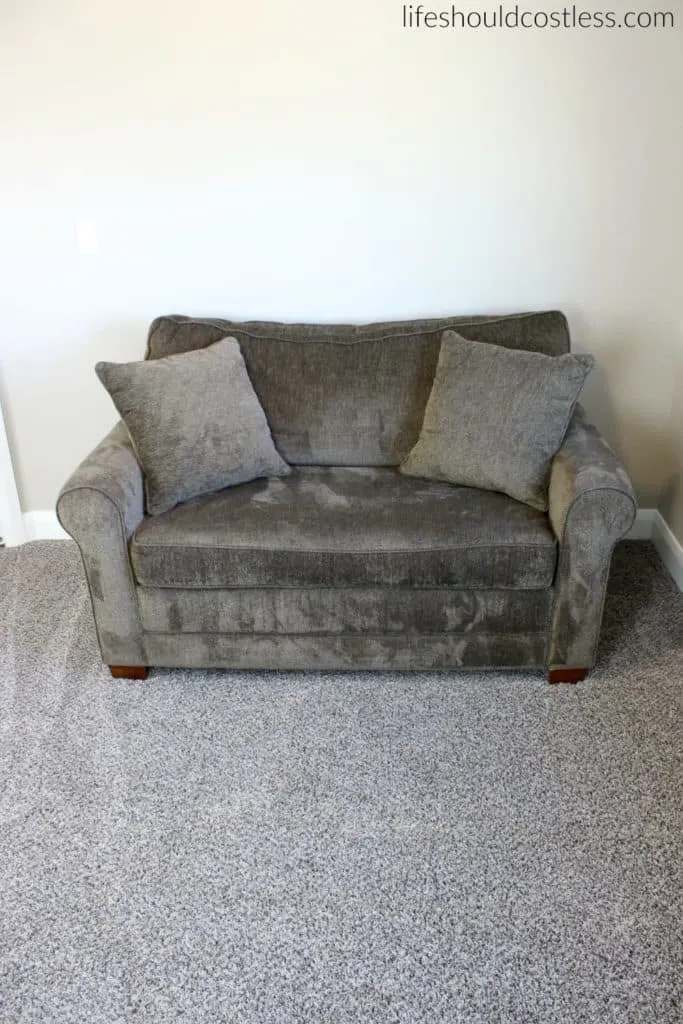 Like I said before…this is not a project to get intimidated by.
It is really easy and YOU CAN DO IT YOURSELF!
I think that start to finish I busted the whole thing out in an hour. It is entirely likely that it only took me that long because I was being a bit of a perfectionist about it.
Don't just slap it on there. Make sure that you are applying it as evenly as you can manage.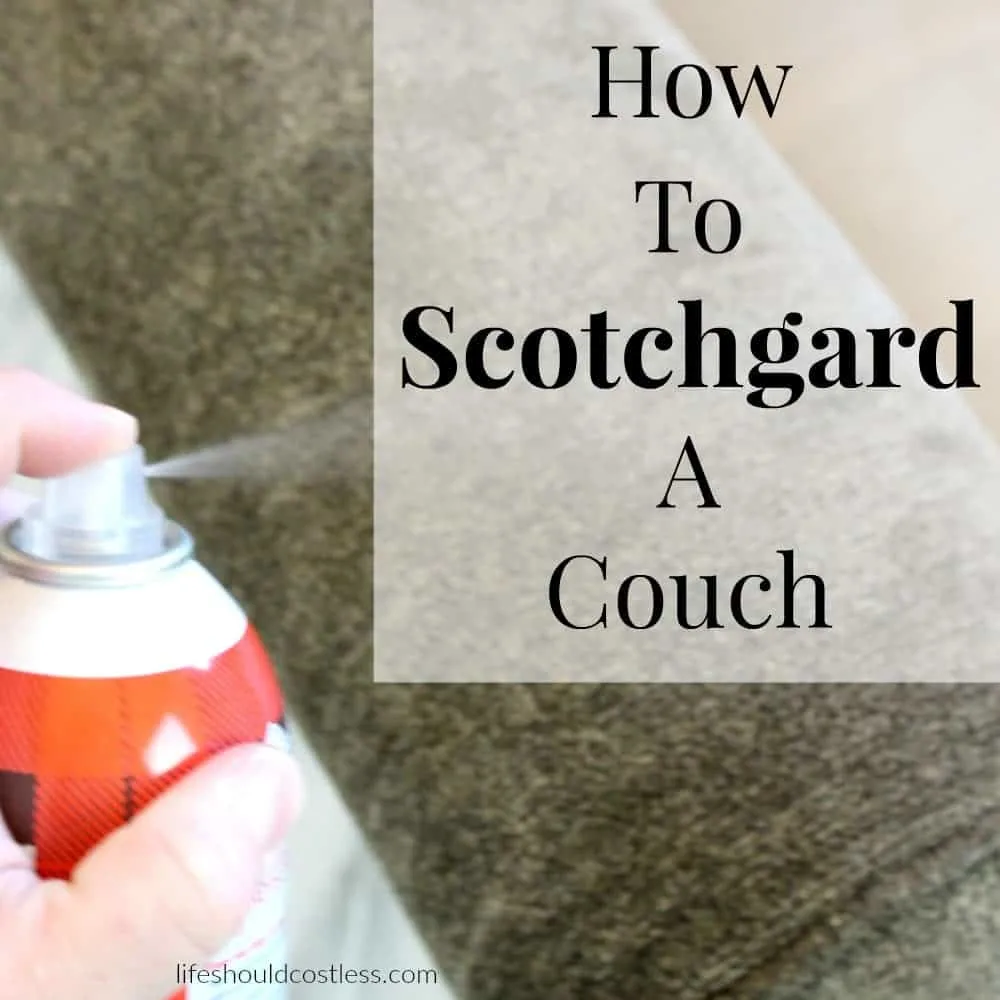 Also, I think that the can also said something to the effect of needing to reapply once per year(which is a bit much, I'd suggest every other year at most) or any time after you shampoo your couch.
So, keep that in mind as you'll want to upkeep your couch for years to come. Which will save you lots of money over time by not needing to replace your couch.
Doing this will prolong the life of that large investment of a sofa.
Also, don't forget that if you need to protect your outdoor furniture, Scotchgard also comes in a UV Protecting Outdoor Formula, which can be found on Amazon here.
Obviously there is more than one way to do something, but this is the way that makes the most sense to me. Please comment with any other tips that I may have missed…
Thanks so much for stopping by my blog! If you liked what you saw, please make sure to share it via social media, or send the link to friends/family via email!
Other ways to show your support are to follow and/or interact with me on Pinterest, Instagram, Facebook, YouTube, or by Subscribing To My Email List. If you purchase suggested products through Amazon, the cost to you remains the same, but I make a small commission on everything in your cart.
If something was particularly helpful and you would like to donate directly to the blog, you can do so via PayPal, here. I'm a single mom of four, so every little bit helps. Thanks so much! ~Sarah
P.S. If you liked this post, make sure to check out my entire cleaning section here. You may also like my DIY section, lots of fun stuff there!
Here are five linked images to some of my other posts that you may find interesting, see one you like, just click it!



*Reposts: Please note that this idea/post was originally posted to this website on 07/01/2017 but it was in great need of a refresh so it now is more user friendly/shareable.