I love it when I am able to find an easier way to do something that otherwise could be a pretty tedious or overwhelming task. The old way that I used to remove hard water stains from windows is still a really good method, and if you decide you don't like this new way that I'm going to show you today, you can go here and read that old post as well. But let's just dive right in and learn the easiest way to clean hard water off of windows/glass.

Anyway, I love the simplicity of this particular method because all you literally have to do is mix two ingredients together in a squirt bottle, spritz the glass, and wipe it down… it really is that easy! It's so easy that hopefully you will be just as excited as it makes me about cleaning your windows, or shower door, by the time that you are done reading this tutorial.
I am giving you guys this tutorial in two ways…I did a cheesy little video on it for my Youtube channel…as much as I hate being in front of the camera it seems like video is a necessary evil for success when owning a website these days so my goal is to crank out a tutorial every week or so so make sure to watch for that. So, here is the video, but also make sure to read through the text below because it goes a bit more in depth.
Lol…like I said, I am a dork…anyway, on to written portion of the tutorial! The very first thing you do is get out a new spray bottle, and mix Two Tablespoons of Citric Acid for every one cup of HOT water needed to fill the bottle. I did a little graphic so that you guys can easily see how much to use when looking at your phone. It's much cheaper to buy your citric acid in bulk, this is where I get mine.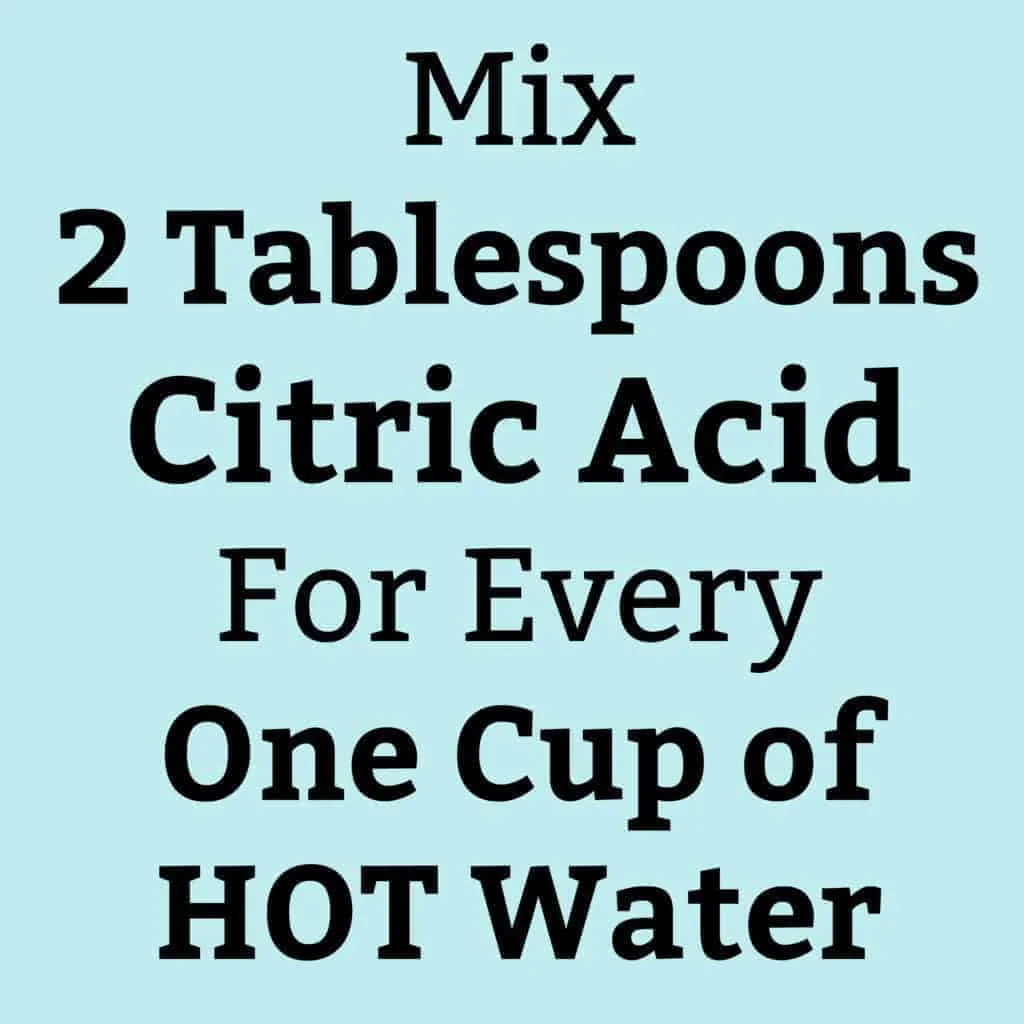 Those two ingredients (citric acid and hot water) are literally all that you need to make the magic happen! Just make sure to use hot or warm water though because the citric acid needs to dissolve first in order to work properly. Shake it well, grab some clean rags or some paper towels, and you are all ready to start!
All you need to do is evenly spritz down the glass, and if you give it a couple of seconds to do its thing, you won't have to do it as many times. Then all you do is wipe down.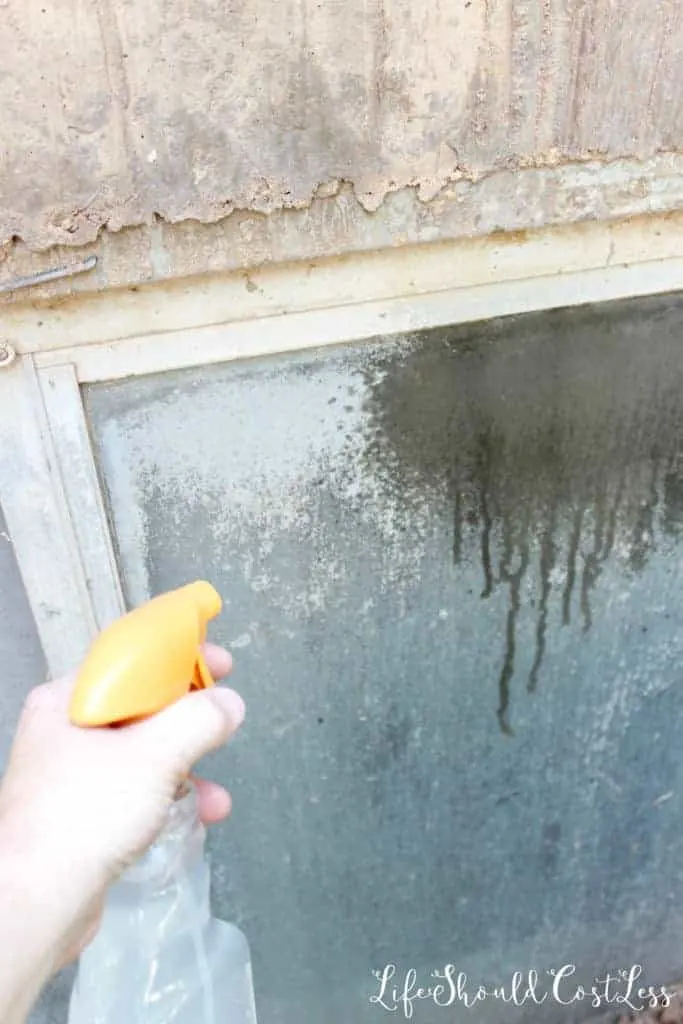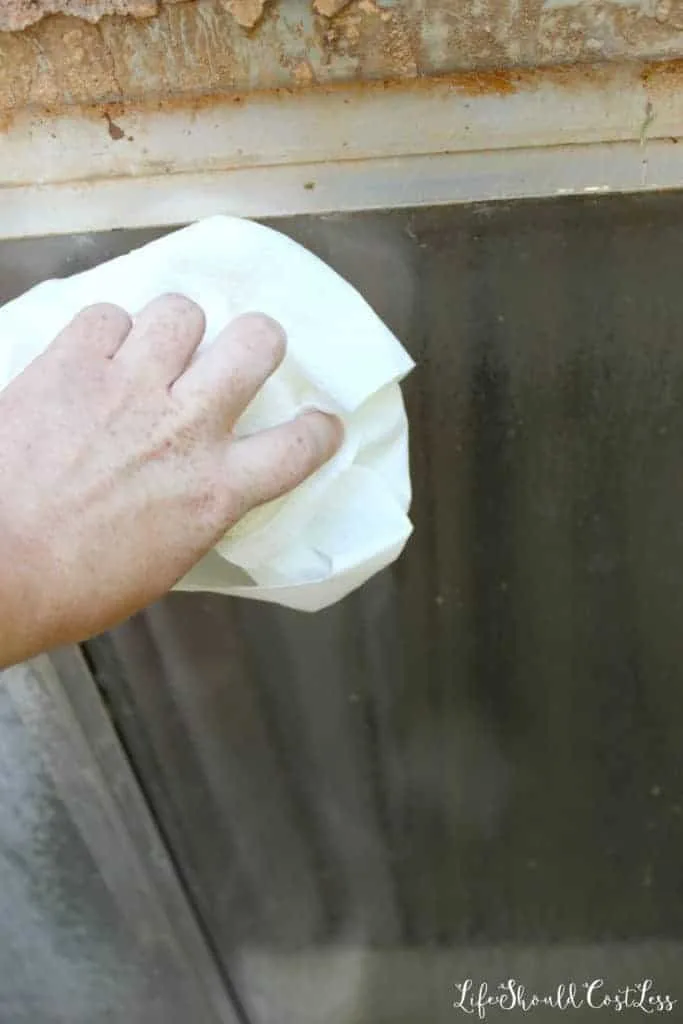 Then you can repeat as many times as necessary. This works so well because the Citric Acid breaks down the mineral deposits… I think that this method is even more effective than using cleaning vinegar…but that's just my humble opinion.
Once you're done getting all of the hard water off, I like to finish it up with washing the glass once or twice like I normally would…to get a streak-free shine so I will either use a product like Windex or just use some watered down Vinegar.
Anyway, here is the before and after together…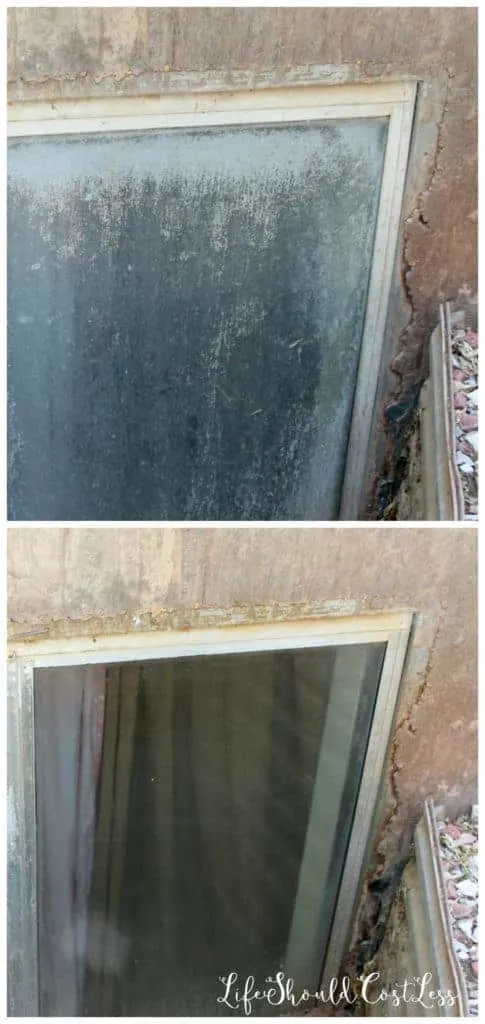 and then side by side…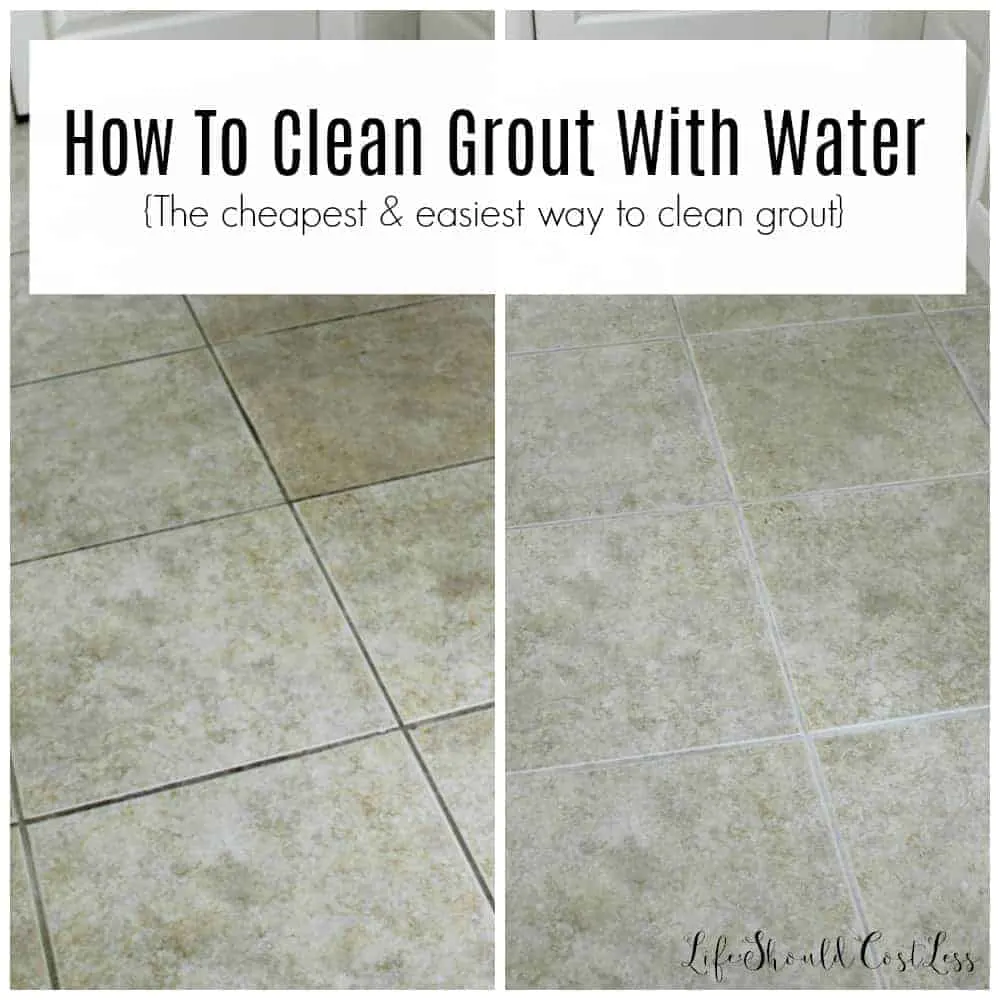 Those windows needed cleaned on the inside too or the after would be even more impressive…lol. Just telling you that because there are always judgy people that look at the pics and have something rude to say… oh well, I just gave you my favorite time saving tip and I also LOVE that you don't have to use a ton of chemicals to get such good results so take it or leave it but rude comments never get published because I'm kinda like Thumpers Momma on Bambi…if you can't say anything nice, don't say anything at all.;).
I'm pretty much never going to use any other method to do this task ever again!!!
Sorry for the side-note about rude comments…it's just bugging me today…so of course you get to hear about it…lol;).
As usual, if you loved this post please make sure to share it via social media or even send my url to your friends via email! Oh, and in the video I mentioned that you can support the website directly through my PayPal account here is the link for that. Thank you so much for helping me support my kids! ~Sarah
P.S. Make sure to check out my entire cleaning section.
Here are links to several of my other cleaning tips that you're going to love:
*Please note that this post was originally published to this site on August 6, 2018 and has since been updated to improve user experience.