Meal planning is a great way to help you get more organized at home & can also save you a considerable amount money at the grocery store. However, meal planning when you are already on a tight budget makes things just a little bit more time consuming. That's because in addition to planning meals for your family, you need to take your budget into consideration by finding ways to save as much money as you possibly can while you plan out each dish. With these simple tips, you can learn everything you need to know about how to meal plan on a budget.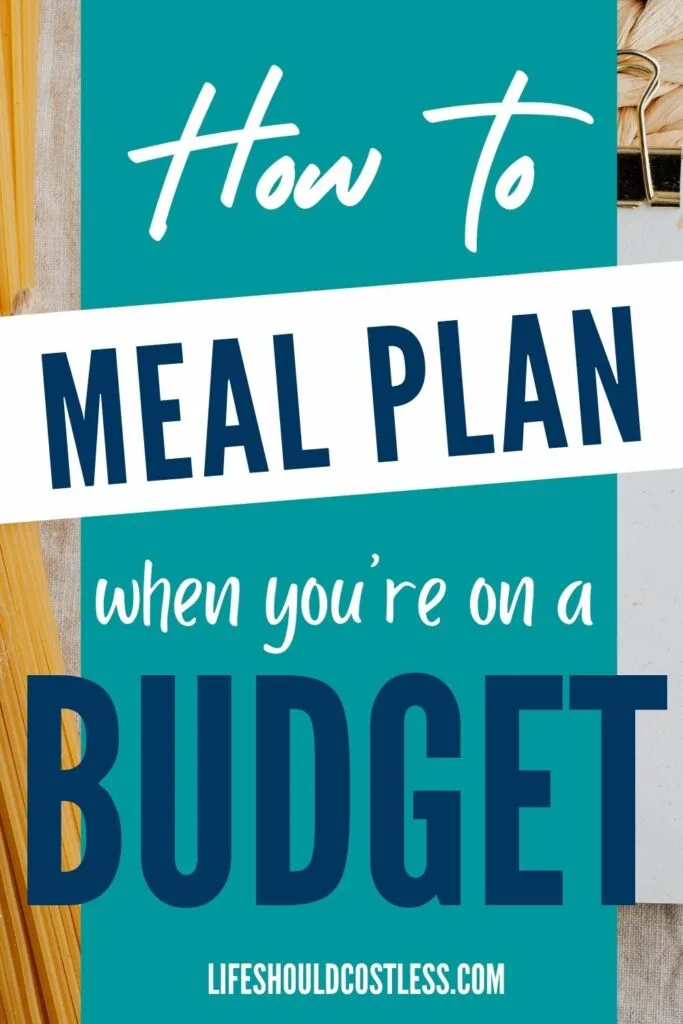 What is Meal Planning?
Meal planning is a pretty simple concept. It basically means that you are planning the meals your family will eat ahead of time. Which allows you to use up food items you already have in your home, make use of any coupons that you have clipped, as well as it allows you to cook certain items in bulk (that you will use throughout the week) which will save you on time and in less dishes to wash. It can also reduce how many trips you are making to the store each week which will save you even more money because there are fewer chances of those "impulse purchases"(You can read all of my bulk buying tips here).
Taking the time to meal plan gives you a chance to outline all the meals your family will eat throughout the week or month, including every breakfast, lunch, dinner, and snacks. By taking the time to plan out those meals in advance, you can save yourself time and money in the long run.
Meal planning reduces the amount of time you'll spend thinking about what you're going to cook for your family each night. It will also help you reduce the stress surrounding dinner every day.
But the best part about meal planning is that it can help you save money. In order to get the most benefit out of meal planning when you're on a budget you need to be strategic about your planning. That's where I come in!
With these simple tips, you'll be on your way to saving tons of money on your grocery bill each month with the help of meal planning.
How to Meal Plan on a Budget
Meal planning on a budget takes a little bit more time than traditional meal planning, but I promise you it is well worth the additional effort. Those extra moments you spend planning your family's meals will be well worth it when you see how much money you can save by planning your meals in advance.
Follow these easy steps to meal plan on a budget:
Check your pantry, refrigerator, and freezer first. Take the time to check your kitchen to see what ingredients you already have on hand. Make a note of the items you have, like meat and produce, that you could use in your meals throughout the week. The more items you find that can be used now, the less food you'll need to purchase at the grocery store, which can help you save money every time you shop. Also, it will mean that you are wasting less food because you took the time to use things before they go bad.
Take a look at your calendar. Knowing what activities and events your family has throughout the week will help you decide what meals to make each day, especially when you need the convenience of quick reheated leftovers. Make sure to schedule simple meals for busy nights and save the more time-consuming meals for days when your family doesn't have much to do. It's also important to consider where your family will be eating at each meal. Do you need to pack lunches for your kids to take to school? Will your significant other be taking a lunch with them to work? If so, take note of the days you'll need to make portable lunches and which days your family will be eating lunch at home.
Check weekly sales. Planning your meals in advance allows you to take advantage of sales at your local grocery stores. Before you decide what you'll be cooking each week, take the time to look over the sales ads of your local stores. Check for good deals on meat and produce to help you decide what you can add to your family's menu that week. Also make sure clip any coupons that will help you save even more money on those meals.
Plan your meals. Now that you know what you have to work with at home, you can start planning the meals you'll make throughout the week. Look for recipes online that use the ingredients you have at home or take a look at recipes you already have on hand to see which ones you can make for each meal. Print out or write out each recipe you plan on making so you have the ingredient list and instructions on hand when you're ready to start cooking.
Make a list of ingredients. Look at each of the recipes you'll be making and write down all the ingredients you need to make each meal. Make sure to include all the ingredients you need for every meal on the list so you won't be forced to go back to the grocery store to purchase something you forgot. It's also a good idea to write down extra items your family will need to enjoy the meal, like buns for hamburgers or dressing for salad.
Go back to your pantry. Now that you have an idea of exactly what ingredients you'll need to make every meal, you can start crossing items off your list. Mark off everything you already have at home so you don't purchase it at the store. After you've checked off the items you already have, you know exactly what you need to purchase at the grocery store to make your meals for the week. It's also smart to set aside the items that you will need that week so that they are easy to get to and won't be accidentally used up before you need them.
Head to the grocery store. Take your shopping list to the grocery store with you and mark items off the list when you add them to the cart. There's no need to stray from your shopping list because you know exactly what you need to purchase to make everything on your family's weekly menu. That means you'll be able to easily avoid impulse purchases that can make you go over budget as you shop. If you struggle with those impulse buys, you can also easily just place your order online at most grocery stores and they will do the shopping for you… that way you avoid going into the store altogether and won't risk buying all those extra, non-essential, items.
Best tips for meal planning on a budget
Following the steps above is a great way to start meal planning when you're on a budget, but sticking to the plan each week, or month, can sometimes be difficult.
If you find yourself struggling to stay on track as you meal plan on a budget, consider these easy tips:
Incorporate a few simple meals into your plan each week. No matter how much you plan, you're going to have days where you don't feel like doing much cooking. Make sure you have a plan in place when one of those days comes by incorporating a few simple meals into your plan. Easy dishes like pasta or no-cook dinner ideas like sandwiches can help you simplify your meal plan on those busy weeknights when you're just too tired to cook. (I will have links to some of my easy meal ideas down at the bottom of this post, so make sure to scroll down and look for them.)
Get input from your family. All the planning in the world won't do you any good if your family doesn't eat what you cook. To help reduce food waste and ensure your family gets a good, hearty and wholesome, meal each day make sure to get their input on the menu. Not only will it make dinner more fun for everyone in the family, but it will also make planning the menu a little bit easier for you.
Do prep work ahead of time. To reduce the amount of work you need to do in the evenings as you prepare dinner, consider doing some prep work ahead of time on a day that you are a bit less busy. There are a variety of simple prepping tasks you can do to save yourself time each day. Chopping vegetables, rinsing lettuce and herbs, and browning/cooking meat in bulk are all simple tasks you can do on the weekend that will save you time on a busy weeknight.
Save your recipes. Trying new recipes is a fun way to introduce new food to your family. If you find a dish your family loves, make sure to save it! Bookmark the page on your browser or print it out and add it to a binder. That way, you can easily incorporate it into your weekly meal plan without having to search for the recipe again when you need it.
Well, those are really all the ideas that I had to help you get the most out of meal planning on a budget…all the little habits and tricks that we develop are really going to save a large amount of money over time. So, teaching ourselves a little bit of discipline will really go a long way towards financial freedom.
If you would like to check out my other posts about meal planning, make sure to check out my Financial Advice section!
Thank you so much for stopping by my blog and for the support! If you found this post particularly helpful, please make sure to share it via social media or even email the link to this page to whomever would also learn from it. Thanks again! ~Sarah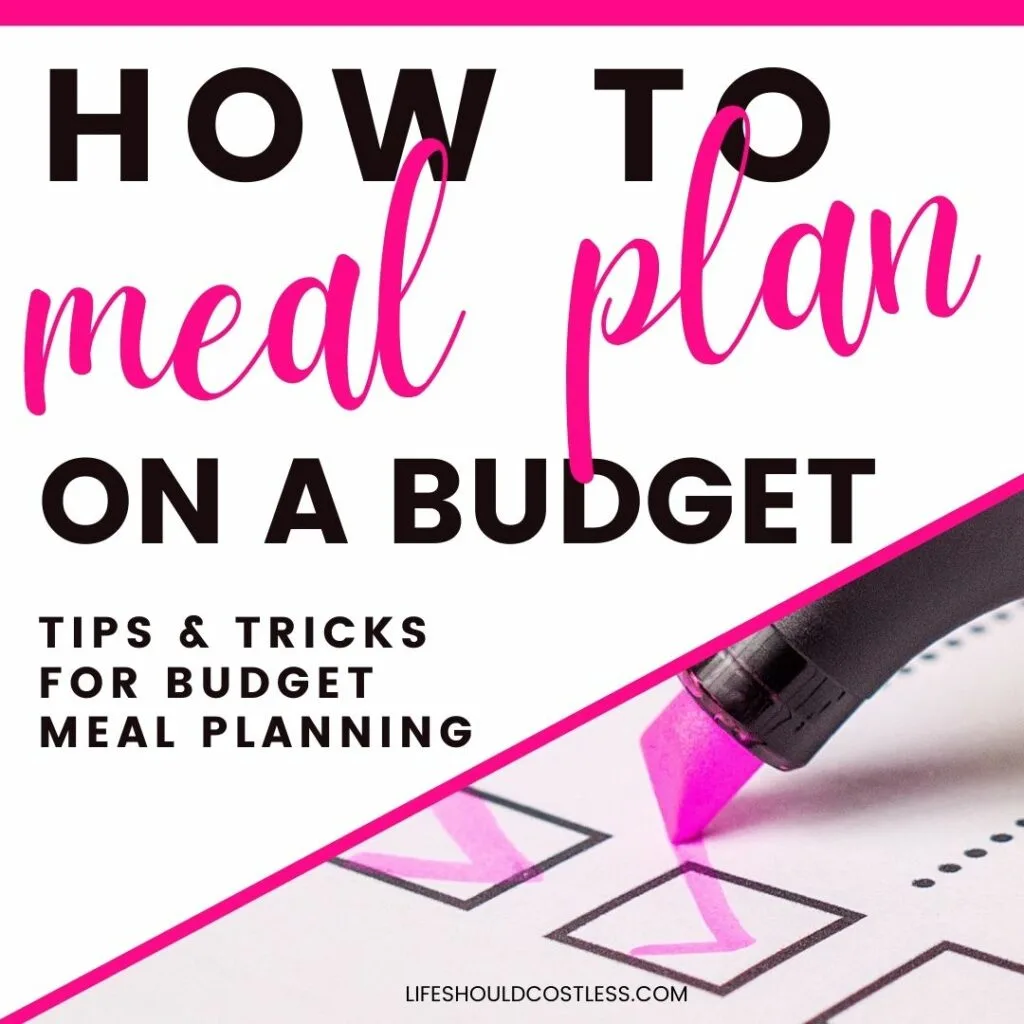 If you would like to subscribe to my email list, go here.
Make sure to follow along via social media, by going here.
If you would like to learn how to really show your support to this site (at no cost to you), go here.
Here are some of my other recipes and posts that will help you along your meal planning journey:
For those of you that would like another option for a "pinnable image" for Pinterest…here you go! Thanks again for the support!