Meal planning can save you a lot of time AND money if you do it correctly, but where do you start with all of it? In this post, I suggest five of the best different meal planning apps to help you write your grocery lists, and save your family in both time and money.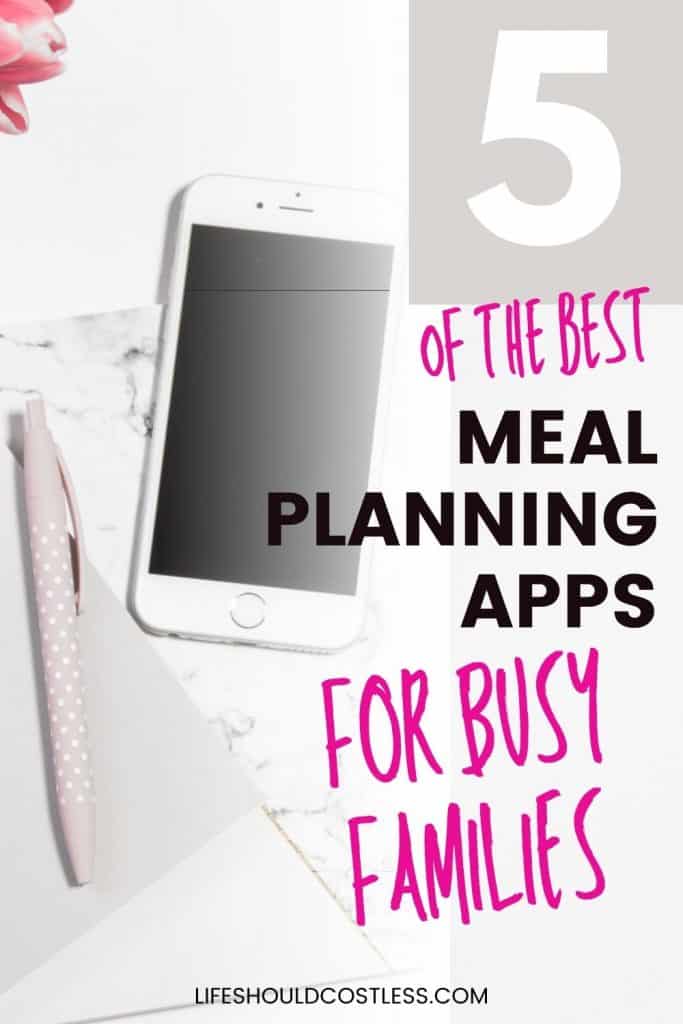 Meal planning is a great way to save you time and stress surrounding cooking for your family each day.
However, the entire process of planning your family's meals can be a little bit overwhelming – especially in the beginning.
One of my favorite ways to help make meal planning a little bit easier is to use a meal planning apps. Finding a great app to help you with planning your family's meals each day is a great way to help you stay organized as you plan.
What is the best app for grocery list and meal planning?
Since every family is different, and every app has different benefits, there is no "blanket" right answer to that question.
Which is why I decided to share with you five excellent options, telling you a bit about each, so that you have a great starting point and can determine which one will suit your individual families needs and lifestyle the best.
Get your family's dinner plans in order with the help of these five meal planning apps for families.
Paprika
With the help of one of the best meal planning apps, Paprika, you can plan and organize your family's meals all in one handy place.
The app allows you to organize and save your favorite recipes, make meal plans each week, and create grocery lists – everything you need to do to keep track of your family's meal plan from day to day.
This ultra helpful/useful meal planning app lets you create weekly or monthly meal plans from scratch. Or you could even make your own reusable menus to make meal planning for your family even easier from week to week.
Thanks to the seamless cloud sync inside the app, you can instantly access your meal plans, recipes, and shopping lists from any of your devices, including your phone, tablet, and desktop computer.
In addition to planning your family's meals within the app, you can also save recipes from your favorite websites or add your personal recipes into the database.
After a recipe is added, you can use the smart grocery list option to instantly create a grocery list based on the ingredients in your weekly recipes.
To make things easier at the grocery store, you can even sort the ingredients you need for your recipes by aisle before you go shopping. And the interactive recipe feature allows you to cross off steps as you do them in the kitchen.
Mealime
Finding great recipes for your family to eat every day is one of the most time-consuming parts of meal planning for your family. With the help of the meal planning app Mealime, you'll get a variety of healthy recipes right at your fingertips.
Before Mealime can give you recipe recommendations, you'll need to enter your family's food preferences to help the app customizes its recommendations for your family.
The app features more than 200 personalization options for you to select, not just those food preferences but also diet restrictions, so you can be sure you'll be presented with recipes your family will love.
Based on the preferences you provide within the meal planning app, Mealtime will give you a variety of recipe options to choose from to add to your meal plan.
When you select a recipe, the ingredients will automatically be added to a shopping list so you'll know exactly what you need to buy at the grocery store when you're ready to go shopping.
In addition to providing you with healthy options for your family, most of the recipes on the app can be prepared in 30 minutes or less.
That means you'll be making delicious meals your family will love to eat without the need to spend hours in the kitchen each day.
Yummly
Meal planning means you're always on the hunt for recipes your family will enjoy. And with the help of one of my favorite meal planning apps Yummly, you can view a variety of amazing recipes with the push of a button.
This food-sharing app features recipes with easy-to-follow photos and instructional videos to make cooking simple for home cooks of any skill level.
But, the best part about this recipe-finding app is that it customizes its recipe recommendations for you based on your preferences.
When you start using Yummly, you'll be asked about the types of food your family likes to eat and the nutrition preferences of the members of your family.
You can also add information about food allergies to the app to help you find recipe ideas for specialized diets.
As you select recipes, the app will learn what your family likes and dislikes to help provide you with amazing recipe recommendations every time.
You can easily save your family's favorite recipes within the app and even rate the recipes so others users know how great it is.
Within your digital recipe box, you can create collections to help you easily sort through all your saved recipes. The recipes can be used to create a meal plan by adding the recipes to the app's calendar.
Yummly will even notify you when it's time to start cooking so you have dinner on the table on time every night.
In addition to creating recipe lists, Yummly allows you to create shopping lists based on the ingredients in the recipes you select.
To make shopping easier, you can sort your shopping list based on grocery store aisles or by recipe to ensure you stay organized as you shop.
Use Up Leftovers
No, you didn't read that title wrong…lol.
One of my favorite ways to save money through meal planning, is actually by using up the ingredients that I already have at home to make up some of my meals.
With the help of Use Up Leftovers, you can find recipes based on the ingredients you already have.
Simply choose up to three different ingredients you have in your kitchen already to find a recipe that uses up those leftover ingredients.
The app has a library of more than 500,000 recipes to choose from contributed by food bloggers, cooking sites, and home cooks.
You can use the recipe database for your meal planning or add your own recipes. Just use your phone's camera to take a snapshot of your favorite recipe to instantly add it to the app.
Once you pick your recipes, you can use the app to create a shopping list of ingredients you need to make for the recipe and add extra ingredients you need to purchase for the week.
As you're shopping, you can cross of the ingredients you purchase from the list so you always know exactly what you need to purchase.
FoodPlanner
Keeping track of the food you actually need for your meal plan is a big part of meal planning on a budget.
With the help of the app called FoodPlanner, you can easily keep track of all the food you purchase to ensure you only buy what you need each time you go shopping.
*Please note: Before you start meal planning with this app, it's a good idea to import some of your favorite recipes from websites and blog to create your own recipe database.*
After you have added recipes you plan to cook for the week to this meal planning app, you can generate a grocery list based in the ingredients in those recipes.
You can even customize your shopping list to order the ingredients by grocery story aisle to make shopping quicker and easier. Or you can even add the prices for the ingredients to help you stay on budget as you shop.
After you use the app for an extended period of time, you can start tracking your kitchen/pantry's inventory within the app.
FoodPlanner can even help you create a list of items you've purchased, allowing you to easily check to see if you have an essential ingredient in your pantry or if you need to purchase more at the store.
There you have it! Five of the best meal planning apps to help you keep your family both organized and on a budget.
I'm really hoping that I gave you enough insight into each app so that you can make a some-what educated guess as to which one will be the best choice for you…and remember, you don't have to stick to just one.
Don't be afraid to try them all out if you want to, or have time.
Thanks so much for stopping by my site/blog and supporting me! Please make sure to share this post via social media if you found it helpful. I appreciate it!~Sarah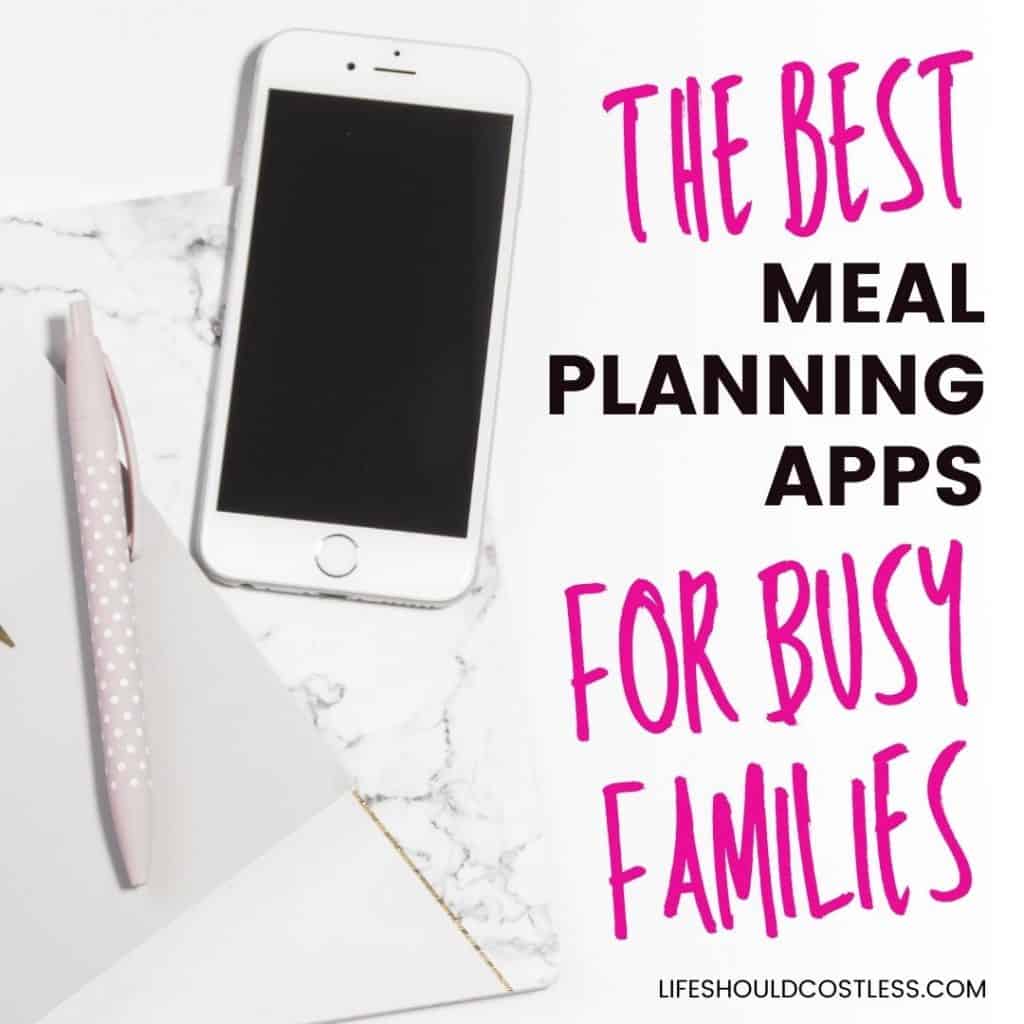 Oh, don't forget to subscribe to my email list (found here). Also, if you would like to learn how to follow along or really show your support for this blog, go here.
Make sure to check out my entire "Financial Advice" section for more great tips to keep your family on budget.
Here are several of my other posts that you may also want to check out:
For those of you that would also like another option for a "pinnable" image on Pinterest, here you go…thanks again so much for the support!