You might think that being thrifty and also having a high end looking, well-decorated home are two things that just can't be compatible, but I am here to tell you that thought is simply not true! There are a variety of easy ways to decorate your home without breaking the bank – especially if you love decorating in a farmhouse style. The next time you think you can't afford to redecorate your house, consider these simple frugal decorating tips for some cheap home decor.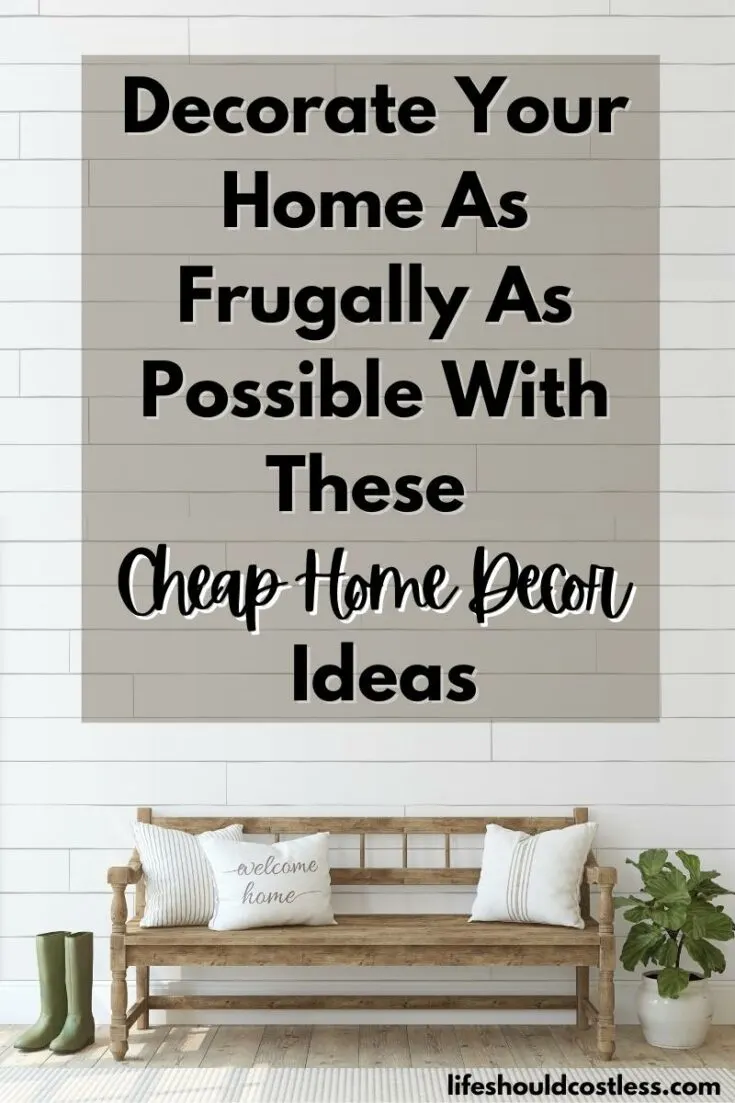 Some of these ideas for decorating a house interior on the cheap will probably feel like common sense to a lot of you, but others very well may surprise you.
---
Table of Contents, Skip Ahead To What You're Looking For
Tips for Farmhouse Style Decorating On A Budget
If funds are limited, it may be difficult to find room in your spending to decorate your home. However, finding frugal home decor is actually pretty easy if you know a few simple tips.
So, if you love farmhouse décor, you're in an even better position! There are tons of easy ways to find beautiful farmhouse-style home items when looking for cheap home decors.
If you've been struggling to come up with funds to even decorate your home at all, here is my guide on how to create a budget and stick to it… with a little bit of practice you'll have room in the budget for decorations in no time.
What is Farmhouse Style Decorating?
Farmhouse style is typically a mix of modern industrial with a touch of antique charm that was again popularized by the television show Fixer Upper. The beauty of this style is that it seamlessly blends the old and new with charm and character.
While decorating in farmhouse style can get expensive, the characteristics of this decorating style actually lend itself to decorating on a budget. Here are a few budget-friendly characteristics of farmhouse style.
It evolves over time. To create a true farmhouse feel in your home, there's no way you could decorate a room in a day, without hiring a team and spending a fortune anyway.
Instead, you should take your time decorating the space and allow the design to evolve over time. That's good news for your wallet! Instead of spending a ton of money decorating your home at one time, you can buy pieces here and there, getting items that you really love, until the room is complete. Patience is key!
Farmhouse decorating features natural elements. Items from nature are mostly free, making this another great budget-friendly feature of farmhouse decorating. Incorporating florals, greenery, and wood elements into your decorating is a great way to add farmhouse charm. Plus, you won't need to spend a ton of money to decorate your home.
It's practical. A lot of farmhouse style home décor also serves another practical purpose. That means you'll get a bigger bang for your buck when decorating in farmhouse style. Wooden boxes and wire baskets add a rustic look to the room and also serve as storage for the space, for example.
When you add these multi-purpose items to your home, you're ensuring that your money is very well spent.
There are so many ways to decorate without breaking the bank…another farmhouse style decor money saving tip I have is to dye your own burlap any color that you want… I did a tutorial on it long ago, and you can find that here.
Often times all that I do to dress up a room or a decoration in farm house style is to add a bow made out of plain twine or wired burlap ribbon and it makes it super cute. It will really make your farmhouse decor stand out so I thought that I would mention it.
---
Where To Buy Cheap Home Decorations
Here are some ideas on where you can get some thrifty home decorations (both farmhouse style and whatever style that you prefer), as well as some suggestions for inexpensive home decor stores. Keep in mind that I'm a big fan of going the second-hand route whenever possible (let someone else pay full retail price…lol) so I typically start there before I suggest some of the cheaper stores to buy things new.
Cheap In Home Decorating Ideas
Flea Markets. If you're looking for vintage items to add to your home, there really is no better place to look than a flea market. At these big antique sales, you can find a variety of rustic and vintage pieces at bargain prices. The best part about shopping at a flea market is that you're allowed to haggle (Dave Ramsey gives great advice on how to haggle, so check out what he says on the subject here). So, if you find a great piece for your home, don't forget to ask for a better price than what's on the tag. Sellers are ready to negotiate their prices, allowing you to score some great deals on that home décor…and don't be too shy to haggle…sellers actually expect it at a Flea Market.
Yard/Estate Sales. Another great place to find cheap house décor is at yard sales. The popularity of the current trend of decorating in a farmhouse style means it's likely that you'll find farmhouse décor or vintage pieces at yard sales throughout your town. Shopping for a certain type of décor at yard sales requires a little bit of strategy. Before you head out on Saturday or Sunday morning, make a shopping plan. Check your newspaper's classifieds, Craigslist listings for your town, and even Facebook Marketplace to view all the yard sales that are taking place that day. Then, scan the ads for words that might indicate that the sale has decor items in the style that you desire. Words like the words antiques, vintage, farmhouse, rustic, industrial, and collectibles may indicate farmhouse decor is at that sale. Then, make a list of all the homes with those items to help narrow your search for farmhouse décor…and don't forget to get there as early as possible so that the selection hasn't already been picked over.
Thrift stores/consignment shops. While the selection of home decorations available at second-hand stores may be limited, it's still a great place to check when you're shopping on a budget. You never know what you will find at your local thrift store, making it a great place for home decorating on the cheap side. From vintage farmhouse decorating items to pieces you can upcycle into any particular style décor that you prefer for you own home, the possibilities are endless when shopping at thrift stores to get your thrift home decor.
Antique stores. Although the prices at antique stores are often higher than those at flea markets, you can still find great deals on farmhouse style pieces. Antique stores are often filled with a huge selection of vintage items, allowing you to find amazing accent pieces for your home at more budget-friendly prices than purchasing items in a retail store.
eBay. Since eBay is similar to an online flea market, you can often find some great deals on whatever style decor items that your little heart desires. You will, however, need to spend a little time searching the site to find the best prices. But the hunt is often part of the fun of decorating on a budget, right? I don't know about you, but when I get an awesome deal on something that I have been wanting I kind of get a natural high from it and am happy as can be (I'm also that obnoxious person that brags about how much I saved on an item too…lol).
Etsy. On top of finding great deals on antique and vintage items on Etsy, you can also browse a variety of beautiful handmade decorations. Lots of these items are also budget-friendly, making Etsy a great place to search when decorating on a budget. A super cute store that sells large home sign pieces at an affordable price is Mulberry Market Design…their stuff is super cute too! That's just one idea, but search around and I'm sure you'll find other affordable sellers on Etsy too.
Farm supply stores and hardware stores. If you're decorating your home in the ever so popular farmhouse style, why not go directly to the source? Stores like Cal Ranch or Tractor Supply offer a huge selection of farm implements and farmhouse décor that would look amazing in your home. The price tags on these items are often much lower than the price of similar items in retail stores or if you're buying at a mall.
Amazon. This shopping site has the biggest selection of items on the internet, so a quick search for whatever style décor you want won't disappoint. The best part about shopping for home décor on Amazon is that you can find some great deals on house décor. Searching through the list of options on Amazon may take a little time. But it's time well spent when you score a great deal on some new decorations for your home. Plus, being able to read other customer reviews of the item purchased always gives me more peace of mind that I am buying quality items that are going to last for years.
Wal-Mart. Shopping at Wal-Mart might be a good way to save money on household items, but it's also a great place for decorating on a budget. The budget superstore has a variety of beautiful decorations for both indoor and outdoors, from industrial metal baskets to rustic lighting, all at inexpensive prices… I know, I know, some of you are thinking "gross, why would I buy decorations at Wal-Mart?"… but you would be surprised by how cute some of their stuff is if you're just willing to go look. Wal-Mart has really been stepping up their game by bringing in brands like "The Pioneer Woman" and Ree Drummond has great taste.
Target. This popular superstore is another great place to check out when decorating on a budget. On top of the store's already low home décor prices, you can also score additional savings at Target by using the store's app on your phone and signing up for the Red Card. That card saves you an additional 5% each time you shop (I only recommend doing this if you have the self-control to pay the card off right after each time you use it). I think that best thing about shopping for your home décor at target is browsing the Hearth & Hand With Magnolia line of products, which are designed by Chip and Joanna Gaines from the show Fixer Upper.
Do it yourself. When all else fails, making your own home décor is one of the simplest ways to decorate on a budget. Whether you make your own decorations from scratch or use a little paint to upcycle a piece you already have at home, DIYing your decorations can help you save a ton of money on decorating prices. However, remember that, like I mentioned in my complete guide to frugal living, you need to be realistic about your DIY skills…sometimes it doesn't actually save you money when the end product looks like a tacky DIY job, so it gets thrown out.
Handmade items are another staple of frugal decorating, and it helps you save money when decorating your home.
If you (or your significant other) are good with power tools, consider making your own furniture instead of buying it from the store. Refinish or turn something old into something new if you'd like… or get crafty and create your decorative pieces with a little bit of creativity and some stain or paint and remember to check YouTube for tutorials on different techniques to make homemade things look as professional as possible.
There are so many ways to let your personality shine through your home décor when you make things your self – and you can save a ton of money in the process by doing a little home decorating DIY!
---
More Frugal Decorating Ideas:
Here are some of my best inexpensive home decor tips:
Upcycle. Another of my favorite frugal decorating tips is to upcycle items you already have at home, or found second-hand. Transforming items you would otherwise throw away is a great way to get a little creative and make something unique for your home. The best part about upcycling is that it doesn't cost you much, if anything. Need some upcycle ideas for your cheap house decorations? Try these:
Turn a tin can into a flower vase with a little bit of leftover paint.
Transform an empty pickle jar into a cute storage container.
Turn an old candlestick and cake pan into a farmhouse tray.
There are so many ways to make use of things you already have at home! The key to upcycling your own home décor is to think creatively about what something could be instead of what it currently is… if you haven't seen my old post on turning a shabby old basket into a farmhouse fruit basket for super cheap, you should check it out, here.
This is also a great resource for some of the coolest upcycle projects that I have seen.
Update with Paint. Probably the best tip I have for learning how to decorate a house on a low budget is to use paint for those inexpensive home decor projects. Paint is one of the easiest, and cheapest, ways to transform your home. Whether you update a room with a new coat of paint, or paint your furniture a new color to create a fresh look in the space, using paint is one of the most frugal decorating tips I can offer…and it doesn't hurt that it also makes your home look fresh and clean while you're at it.
Spray paint or craft paint is a great way to transform small decorative pieces. While a traditional can of paint is perfect for updating your walls or painting larger pieces of furniture. Paint is a cost-effective way to update your home, you can save even more by:
Keeping an eye out for sales at your local home improvement store.
Asking friends or family if they have any leftover paint they don't want from past projects (I have no shame in asking for leftovers…lol).
Shopping the "oops" section at your paint or hardware store…I often do this and even if it's not the exact color that I wanted…it's pretty simple to buy some acrylic paint from Wal-Mart and tint it darker if I need to (just remember to mix well and it typically dries a little darker than it looks wet).
My favorite way to save on paint is to actually buy it second-hand from ReStore. You can get it in a plethora of colors, or go with a plain white and then you can also go the "buy acrylic paint at Wal-Mart route and tint it whatever color you want… Plus, if you want to turn it into chalk paint I have had great luck making my own by mixing a bit of plaster of paris into a cup with a bit of warm water and some of the paint…mix well and then add it to the can of paint…stir well and there you have it DIY chalk paint. Do a basic google search on DIY chalk paint if that was confusing at all.
Decorate with Nature. One of the best parts about decorating these days is that since many people prefer the farmhouse style of decor it focuses on bringing natural elements into the home whenever possible. That is absolutely perfect for frugal decorators like me because items found in nature are usually free!
Branches, stones, pine cones, acorns, and natural wood elements are all perfect decorate the home.
If you want to add a pop of color to your room, bring some wildflowers inside an put them in a vase. Or consider adding houseplants to your home to add greenery to the space and improve the air quality at the same time. Plants can be purchased or grown from seed to save even more money on your natural home décor.
Learn to Sew. Throw pillows and window treatments are great for adding softness and coziness to a room. But home linens can quickly get expensive if you purchase them from a retail store.
By taking the time to learn how to sew (even basic sewing skills apply), you can save money while decorating your house. This simple skill, because most home items require nothing more than a straight stitch, will allow you to make all kinds of beautiful fabric pieces for your home, from cozy pillows to flowing curtains…and even if you don't have a sewing machine all you really need to make it happen is fabric, a needle, and some thread.
If the thought of learning to sew makes you nervous, remember that there are tons of tutorials for beginners online so there is no need to take sewing lessons…plus, you may even have a relative that would happily give you their old sewing machine that they haven't used in years (and they may be willing to show you the basics on how to use it).
Also, remember that any time you go to purchase fabric to check for coupons on the website of the store that you are going to, many of them will even accept coupons of their competitors (such as at Joann Fabrics And Crafts) and it can save you quite a bit of money if you plan ahead.
Shop Sales. While making decorations yourself or purchasing used items are both great ways to save money, sometimes you want (or need) to buy your home décor from the store new. One of the best frugal decor tips I can offer is to never pay full price for your home décor.
There are tons of simple ways to save on home décor, which means you'll never need to pay sticker price for store-bought decorations. Stores like Hobby Lobby and Michaels have rotating sales with items marked as much as 50% off the sticker prices each week so start paying attention to when these items are marked down.
Also discount chains, like T.J. Maxx and Home Goods, sell beautiful name-brand decorative items at a fraction of department store prices…Home Goods is actually my favorite place to shop for Home Decor if I must buy new… My only struggle at home goods is to not buy everything that I see because almost everything is super cute so self-control is a must.
Find Free Stuff. There's nothing better than finding something for free! If you're trying to decorate your home while being frugal, free home décor is the way to go. Ask your friends and family for items they no longer need, then get creative to make it work for your space. I seriously daydream about one day having a best friend that is comfortable with us both looking through each others donation piles before we donate things off the the thrift shops like Goodwill…lol. If you can find a mutually beneficial friendship like that, then you may find yourself in a very good place.
Also, keep an eye out as you drive around town for items your neighbors leave on the curb. Take advantage of online freebies – you can find a variety of free decorative printables that will make your house look amazing without spending more than the cost of printing them.
---
Other cheap ways to make your home look high-end
Keep it Clean. No matter how much time you spend decorating your house, the best way to ensure your home looks amazing all the time is to keep it clean.
Cleaning and caring for the furniture and décor in your home will not only make the entire house look better, but it will also ensure the décor you currently have will last for years.
Take the time to dust your house and maintain your furniture regularly to avoid the need for costly repairs and replacements in the future. If you have dark wood that you want to keep looking fresh and clean you may want to check out my cleaning tutorial on how to refresh your dark wood in minutes. Also, remember that leather needs to be cleaned and conditioned fairly regularly too to avoid cracking and staining, so if you need a good resource for how to condition and clean your smooth leather at the same time, check out my tutorial here.
Stay Organized. One of the best frugal decorating tips I can offer is to keep your home organized and decluttered. Clutter is not only costly because you can't find anything and end up buying things you already have again and again, but it can also make your home unsightly.
Taking the time to curate your home by thinking carefully about the home décor purchases you make is not only frugal, but it will also help prevent your home from becoming cluttered.
In addition to avoiding clutter, it's also important that the items you have in your home be neat and organized to ensure your frugal home décor shines in the space.
If you need tips on how to declutter without making a huge mess, I recommend reading my tips here.
I can't tell you how many times, through the years, that I have found myself utterly disgusted with where I lived and felt like it was just a crappy place, but then when I got caught up on my cleaning and decluttering the the whole house transformed into a bright and cheery home…
It's more than worth getting caught up on the basics before you try to buy a bunch of new items that you may not even need once you're done dejunking…because as you de-junk you will find old items that you could breathe new life into.
---
Well, that's all I have to share today by sharing my decorating a house ideas/ cheap decor tactics. I hope that you were able to get some inexpensive inspiration for decorating home too.
---
Thanks so much for stopping by my blog and supporting my endeavors to make people's lives a little easier/better/more affordable. If you liked this post, or found it helpful in any way, please make sure to share it with your family, friends, and co-workers via social media…or you could even send them the direct link via email. Whichever way you choose to spread the love, I super appreciate it! ~Sarah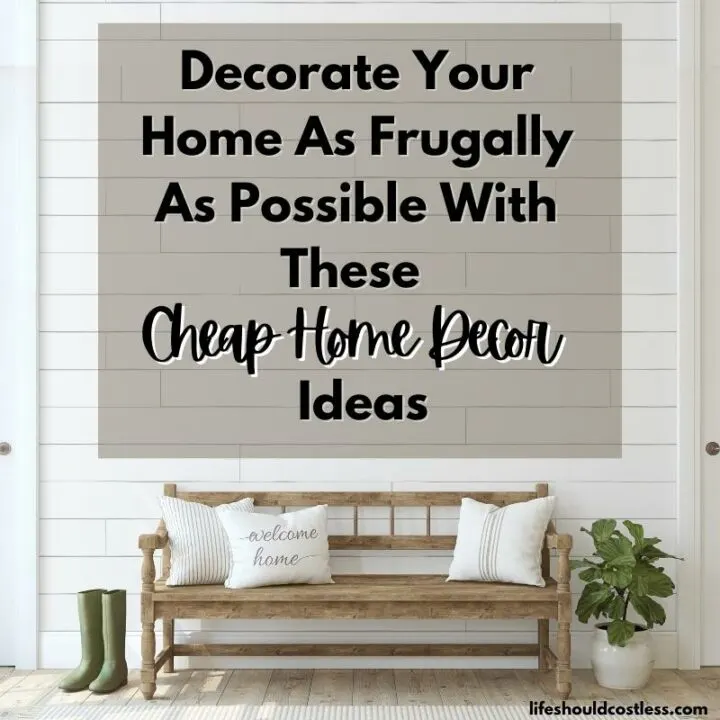 If you would like to subscribe to my email list, go here.
Make sure to follow along via social media, by going here.
If you would like to learn how to really show your support to this site (at no cost to you), go here.
To check out all of the other posts in my Frugal Tips section, go here.
Here are links to several of my other frugality posts that you're also going to like:
*This post was originally shared to this website on January 19, 2020, and has since been updated to improve user experience, add video, remain relevant, and become as shareable as possible across the social medias.