You might think that frugal living and having a well-decorated home are two things that just can't be compatible, but that's simply not true! There are a variety of simple ways to decorate your home without breaking the bank – especially if you love decorating in a farmhouse style. The next time you think you can't afford to redecorate your house, consider these 10 frugal decorating tips for cheap home decor.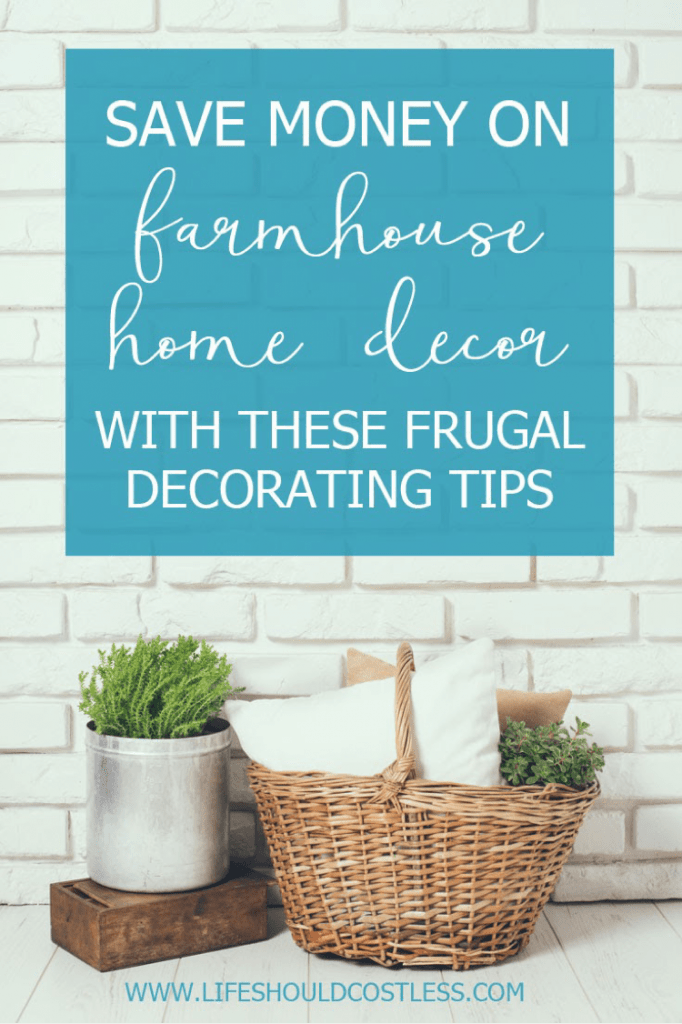 Here are some of my best cheap home decor tips:
Some of these will probably feel like common sense, but others just may surprise you…
How to decorate on a budget? First, I Suggest That You Buy Secondhand.
One of the easiest ways to save money on home décor is to buy used decorative items. In addition to being a fraction of the cost of new home décor, purchasing secondhand items also gives you a chance to find truly unique pieces for each room in your home.
If you're decorating in farmhouse style, antique and vintage pieces will only add to the charm of your home, (literally, sometimes the more dinged up the better when it comes to farmhouse style) making purchasing secondhand home décor one of my favorite ways to decorate. By the way, Deseret Industries is one of my favorite thrift shops.
You can find amazing home décor pieces at discount prices at a variety of locations, including:
Flea markets
Thrift stores
Antique stores
Consignment shops
Garage sales
While I may love saving money while decorating my home, one of my favorite things about shopping for secondhand décor is the thrill of the hunt.
Searching through shelves of vintage items at antique stores or browsing through a garage sale I pass by as I drive home is almost as much fun as decorating with my new finds… but I'm a little weird, if I don't go junking on a semi-regular basis I literally go through withdrawals like a junkie would, it's kinda silly.
Upcycle, When Decorating On A Budget
Another of my favorite frugal decorating tips is to upcycle items you already have at home. Transforming items you would otherwise throw away is a great way to get a little creative and make something unique for your home. But the best part about upcycling is that it doesn't cost you much, ifanything. Need some upcycle ideas for your farmhouse home? Try these:
Turn a tin can into a flower vase with a little bit of leftover paint.
Transform an empty pickle jar into a cute storage container.
Turn an old candlestick and cake pan into a farmhouse tray.
There are so many ways to make use of things you already have at home! The key to upcycling your own home décor is to think creatively about what something could be instead of what it currently is… if you haven't seen my old post on turning a shabby old basket into a farmhouse fruit basket for cheap, you should check it out, here.
Update with Paint, Probably The Best Tip I have For How To Decorate A House On A Low Budget.
Paint is one of the easiest, and cheapest, ways to transform your home. Whether you update a room with a new coat of paint or paint your furniture a new color to create a fresh look in the space, using paint is one of the best frugal decorating tips I can offer.
Spray paint or craft paint is a great way to transform small decorative pieces. While a traditional can of paint is perfect for updating your walls or painting larger pieces of furniture. Paint is a cost-effective way to update your home, you can save even more by:
Keeping an eye out for sales at your local home improvement store
Asking friends if they have any leftover paint the don't want
Shopping the "oops" section at your paint or hardware store
My favorite way to save on paint is to actually buy it second-hand from ReStore. You can get it in a plethora of colors, or go with a plain white and then you can buy those little bottles of acrylic paint at Walmart for around 50 cents and tint it whatever color you want… Plus, if you want to turn it into chalk paint I have had great luck making my own by mixing a bit of plaster of paris into a cup with a bit of warm water and some of the paint…mix well and then add it to the can of paint…stir well and there you have it DIY chalk paint. Do a basic google search on DIY chalk paint if that was confusing at all.
Decorate with Nature
One of the best parts about decorating in farmhouse style is its focus on bringing natural elements into the home. That is absolutely perfect for frugal decorators because items found in nature are usually free!
Branches, stones, pine cones, acorns, and natural wood elements are all perfect for decorating your farmhouse home.
If you want to add a pop of color to your room, bring some wildflowers inside an put them in a vase. Or consider adding houseplants to your home to add greenery to the space and improve the air quality at the same time. Plants can be purchased or grown from seed to save even more money on your natural home décor.
Make it Yourself
Handmade items are another staple of farmhouse decorating, so making your own home décor fits perfectly with the farmhouse decorating theme. And it helps you save money when decorating your home.
If you (or your significant other) are good with power tools, consider making your own furniture instead of buying it from the store. Refinish or turn something old into something new if you'd like… or get crafty and create your decorative pieces with a little bit of creativity and some paint.
There are so many ways to let your personality shine through your home décor when you make things your self – and you'll save a ton of money in the process!
Learn to Sew
Throw pillows and window treatments are great for adding softness and coziness to a room. But home linens can quickly get expensive if you purchase them from the store.
By taking the time to learn how to sew, you can save money while decorating your house. This simple skill (because most home items require nothing more than a straight stitch)will allow you to make all kinds of beautiful fabric pieces for your home, from cozy pillows to flowing curtains. And all you need to make it happen is fabric, a needle, and some thread.
If the thought of learning to sew makes you nervous, remember that YouTube has tons of tutorials for beginners so there is no need to take sewing lessons…plus, you may have a relative that would happily give you their old sewing machine that they haven't used in years.
If you're looking for a cheap idea on how to save money while sewing bedding or quilts, many many years ago I shared with you all a simple tutorial on how I was able to make my kids three matching quilts for their beds out of old sheets for less than $20 and you can find that old post here.
Also, remember that any time you go to purchase fabric to check for coupons on the website of the store that you are going to, many of them will even accept coupons of their competitors and it can save you quite a bit of money if you plan ahead.
Shop Sales
While making decorations yourself or purchasing used items are both great ways to save money, sometimes you want (or need) to buy your home décor from the store new. One of the best frugal decorating tips I can offer is to never pay full price for your home décor.
There are tons of simple ways to save on home décor, which means you'll never need to pay sticker price for store-bought decorations. Stores like Hobby Lobby and Michaels have rotating sales with items marked as much as 50% off the sticker prices each week.
Also discount chains, like T.J. Maxx and Home Goods, sell beautiful name-brand decorative items at a fraction of department store prices…Home Goods is actually my favorite place to shop for Home Decor if I must buy new.
Find Free Stuff
There's nothing better than finding something for free! If you're trying to decorate your home while being frugal, free home décor is the way to go. Ask your friends and family for items they no longer need, then get creative to make it work for your space. I seriously daydream about one day having a best friend that is comfortable with us both looking through each others donation piles before we send things off the the DI or Goodwill…lol. If you can find a mutually beneficial friendship like that, then you may find yourself in a very good place.
Also, keep an eye out as you drive around town for items your neighbors leave on the curb. Take advantage of online freebies – you can find a variety of free decorative printables that will make your farmhouse home look amazing without spending a dime.
**Make sure to check out my entire decor section if you would like more frugal decorating tips.**
Keep it Clean
No matter how much time you spend decorating your house, the best way to ensure your home looks amazing all the time is to keep it clean.
Cleaning and caring for the furniture and décor in your home will not only make the entire house look better, but it will also ensure the décor you currently have will last for years.
Take the time to dust your house and maintain your furniture regularly to avoid the need for costly repairs and replacements in the future.
Stay Organized
One of the best frugal decorating tips I can offer is to keep your home organized and decluttered. Clutter is not only costly, but it can also make your home unsightly.
Taking the time to curate your home by thinking carefully about the home décor purchases you make is not only frugal, but it will also help prevent your home from becoming cluttered.
In addition to avoiding clutter, it's also important that the items you have in your home be neat and organized to ensure your frugal farmhouse décor shines in the space.
I can't tell you how many times, through the years, that I have found myself utterly disgusted with where I lived and felt like it was just a crappy place, but then when I got caught up on my cleaning and decluttering the the whole house transformed into a bright and cheery home…it's more than worth getting caught up on the basics before you try to buy a bunch of new items that you may not even need once you're done dejunking…because as you de-junk you find old items that you could breathe new life into.
I Hope You Enjoyed My Budget Ideas For Cheap House Decor.
There are so many ways to decorate without breaking the bank…another farmhouse decor money saving tip I have is to dye your own burlap any color that you want… I did a tutorial on it long ago, and you can find that here.
It will really make your farmhouse decor stand out so I thought that I would mention it.
Thanks so much for stopping by my site! If you liked what you saw, please make sure to share it via social media!
Other ways to show your support are to follow and/or interact with me on Pinterest, Instagram, Facebook, YouTube, or by Subscribing To My Emails List.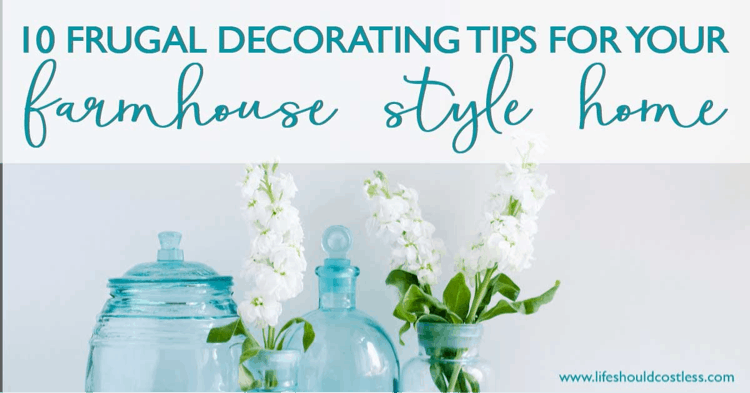 If you purchase suggested products through Amazon, the cost to you remains the same, but I make a small commission on everything in your cart. Also, if you ever need to buy it again, you can always come back to my site for the link…just sayin';).
If something was particularly helpful and you would like to donate directly to my site, you can do so via PayPal, here. I'm a single mom of four, so every little bit helps. Thanks again!~Sarah
Here are links to five of my other posts that you're also going to like:
For those of you that would like another option of an image to pin to your Pinterest boards, here is another one. Thanks so much for sharing!