I realized the other day that I had never shared with you all my all-time favorite way to clean leather…silly me. Been blogging for six years and hadn't shared this yet, talk about a huge oversight…anyway,  I learned how to do this when I was cleaning houses at age 14, so I'm sorry for withholding such a great way to clean.
I really love this method of cleaning leather because it not only does a great job cleaning, but it conditions it so well that it makes the leather soft and looks and feels brand new again. So, cleaning your leather this way should not only make your stuff look great again, but it should extend the life of your leather because it will be much less likely to get too dry and crack when taken care of properly. Which will save you lots of money over time not needing to replace your leather items.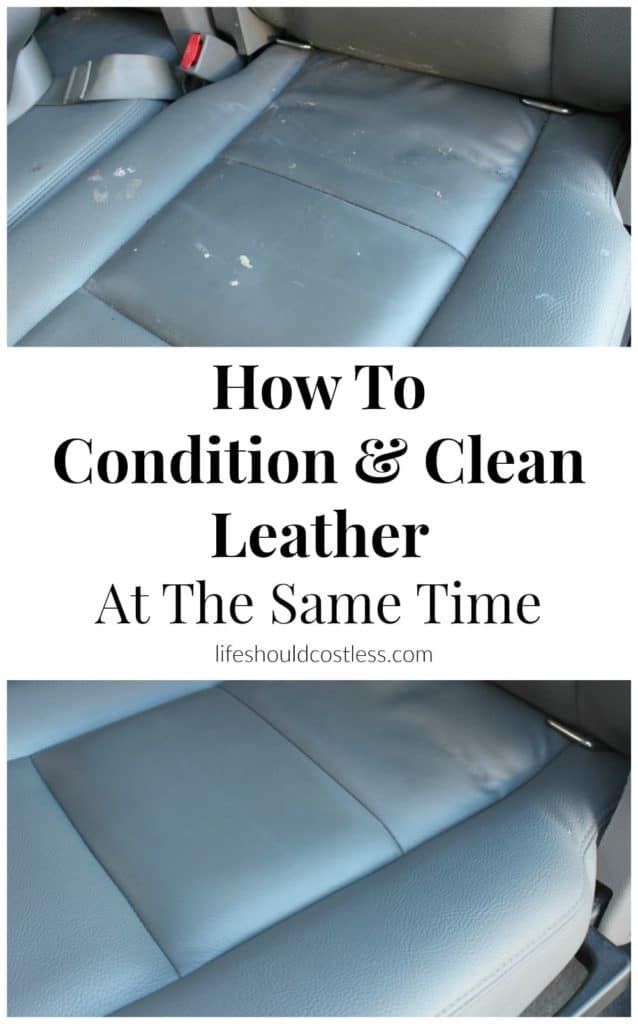 As usual, I will say that there are several good ways of doing things. This one is just the best way that I know how to do this so I am sharing and you can take it or leave it. You are more than welcome to share how you do it in the comments section at the bottom of the post as well.
Let's just dive right in and get started.
Supplies needed:
Vacuum

Cleaning Rags

Rubber Gloves

Bucket Of  Lukewarm Water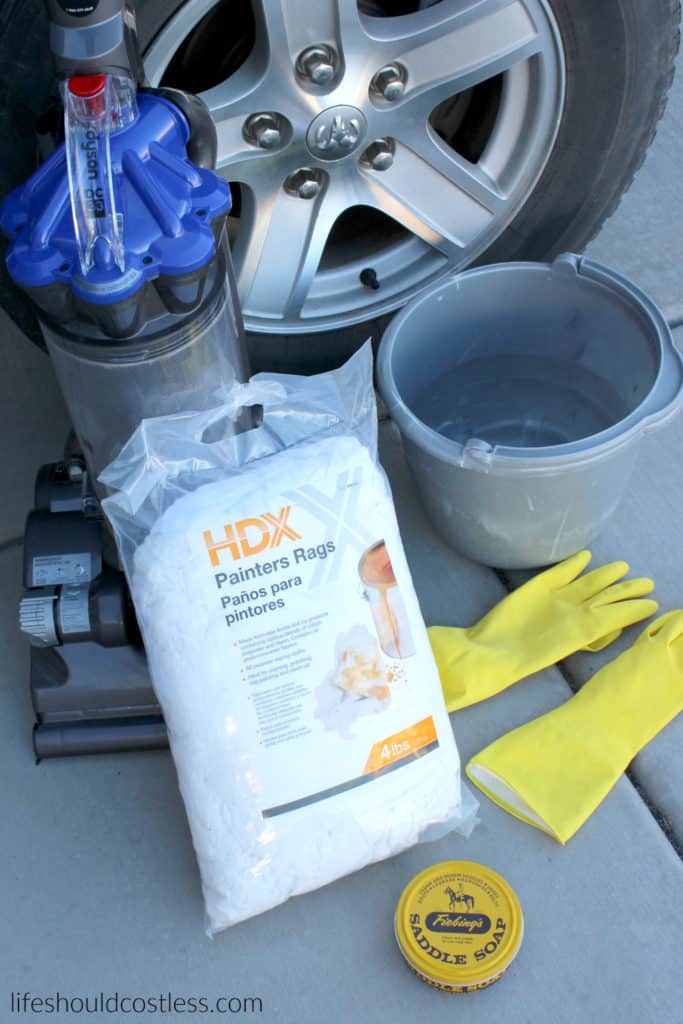 I always say that you have to dry clean something before you can wet clean something and this is a PRIME example of why… the seat that I chose for this tutorial just happens to be the seat that is just under my very messy two-year-olds carseat. It's pretty gnarly under there and it had only been a couple of weeks since this area of the car got a good cleaning.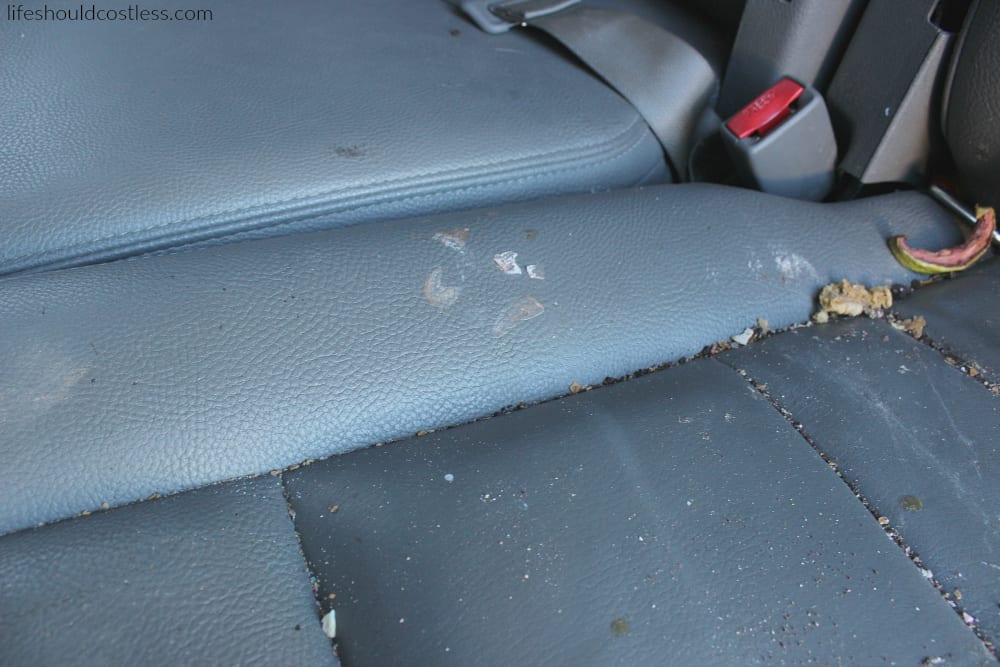 So, very first I got out my vacuum and using a brush attachment I gently vacuumed the leather paying close attention to the areas where the stitching is because that is where spills and crumbs tend to settle and they get looking gross pretty fast. If you have gunk stuck down in the stitching that won't come out with simple vacuuming, you can also use a dry soft-bristled tooth brush and gently scrub it out with that and then vacuum it up. See, it looks so much better already with just vacuuming and it is now ready for the wet cleaning portion of the tutorial.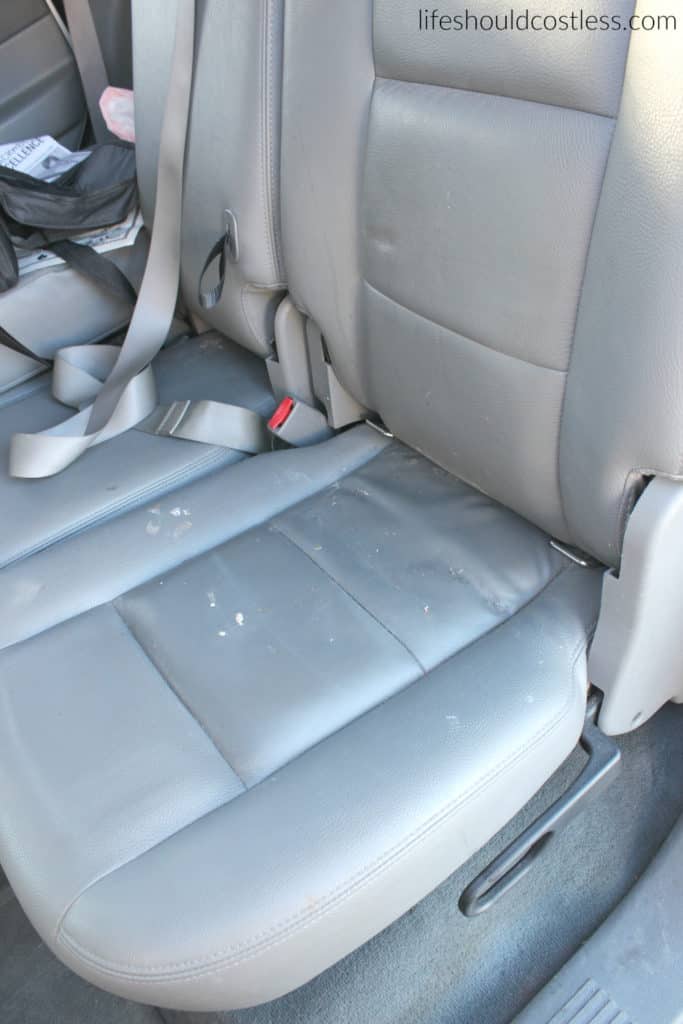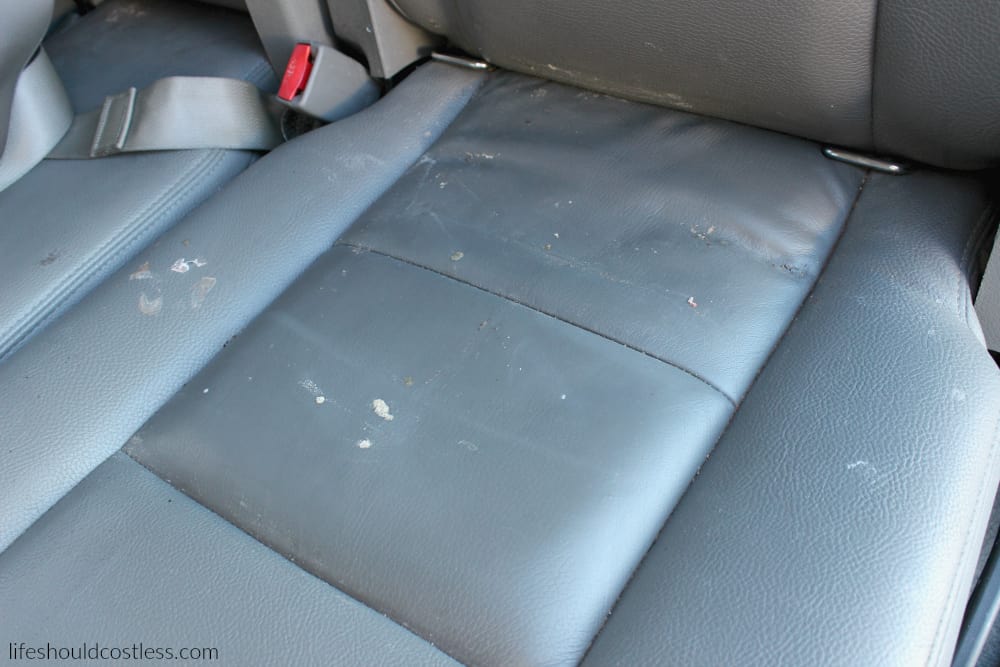 For the wet cleaning you will need to start out with a fresh rag, dip it in the bucket of fresh luke-warm water, and then ring it out really good. You are going more for damp than dripping.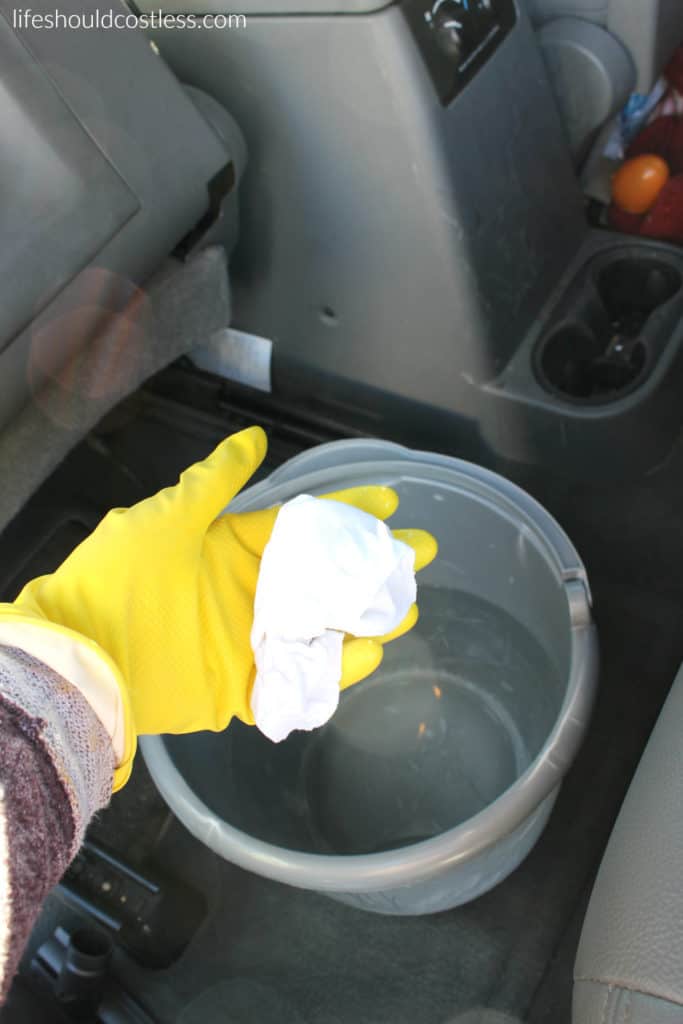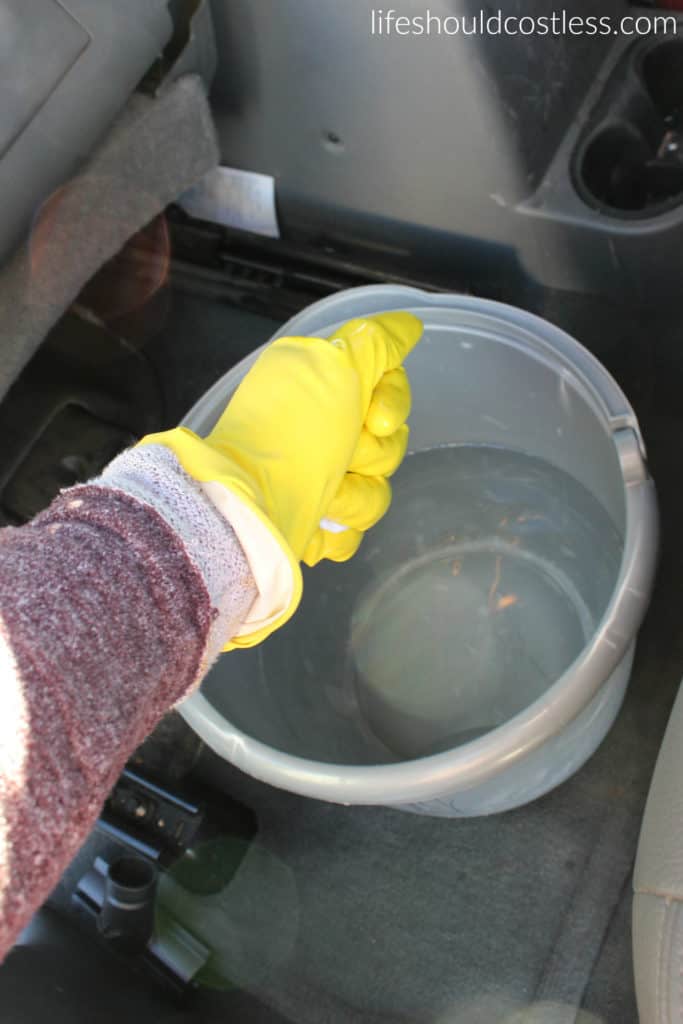 Now is where the magic is going to start to happen! Take your damp rag and rub it across the Saddle Soap. I got mine at Cal Ranch, but you can also add it to your Amazon shopping cart here.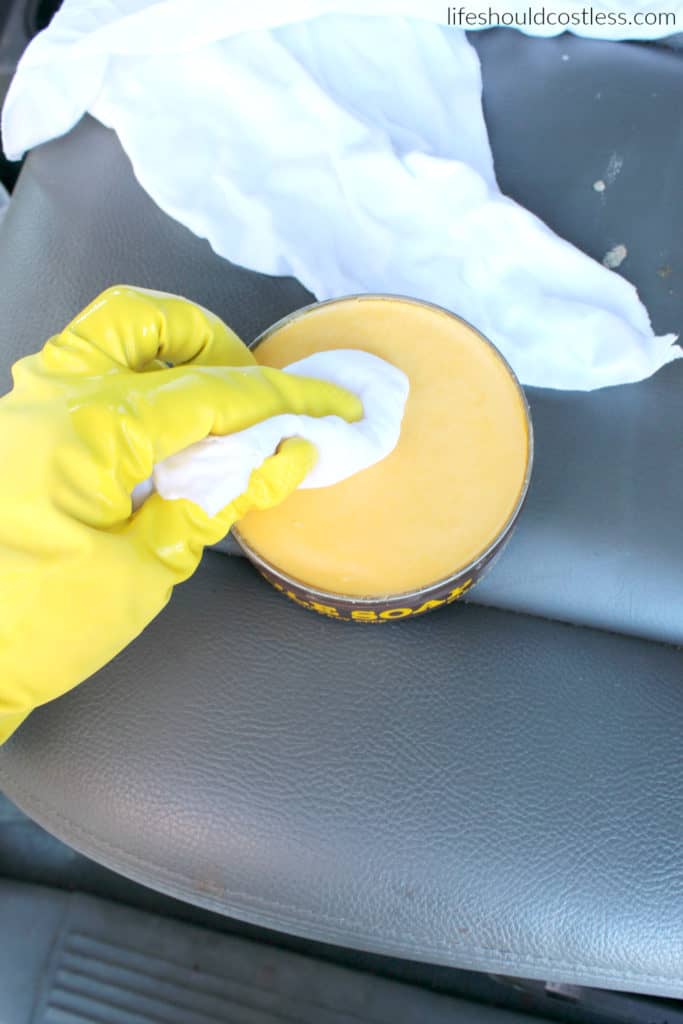 Make sure that there is a fair amount of saddle soap on the rag, as pictured below, and start working it into your leather in a circular motion. I like to go clockwise, and cover the whole surface, and then repeat going counter clockwise (or vise versa…it's not rocket science, that is just my preference making sure to clean it from every direction).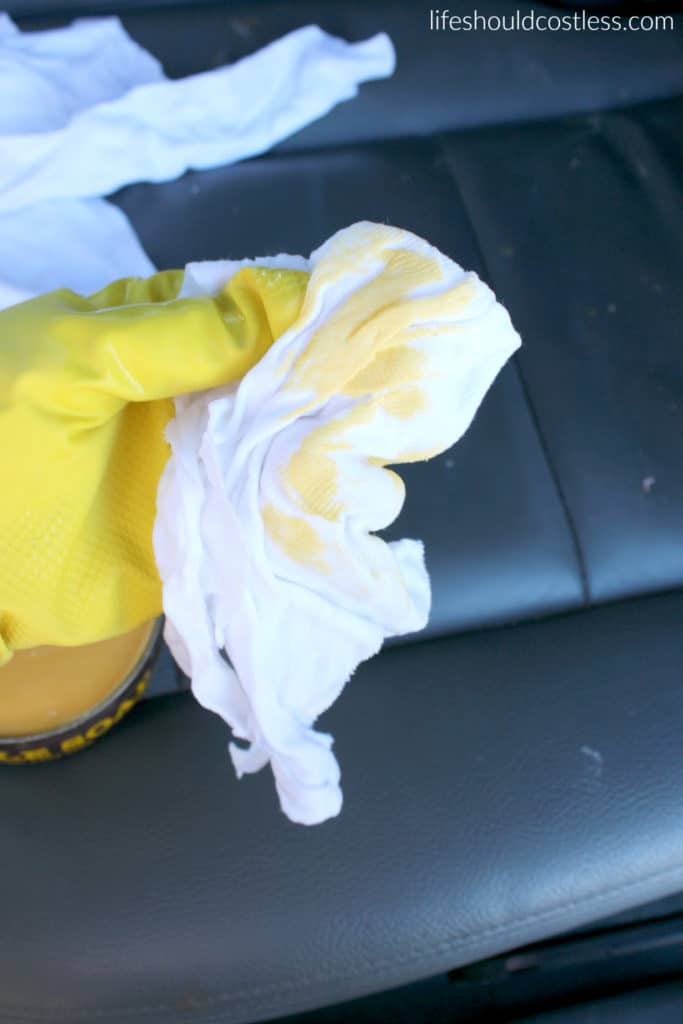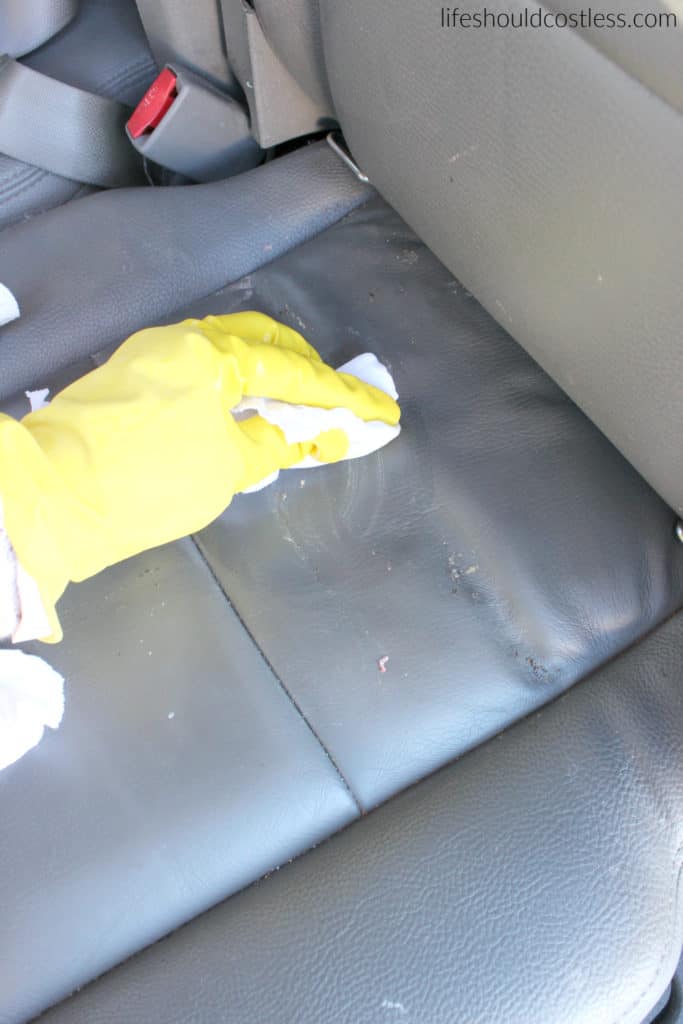 Any time the rag is no longer leaving behind a little white film, stick it back in the bucket, ring it out, and get more saddle soap on there and continue on making sure that you don't miss a spot. Leave the white film there until it dries. This is the part that will really condition the leather and leave it super soft. I like to get all of my leather to this point where it has the white film on it and then come back around  with a fresh dry rag to buff it off. This will give it a great shine and takes off any lingering gunk or grime.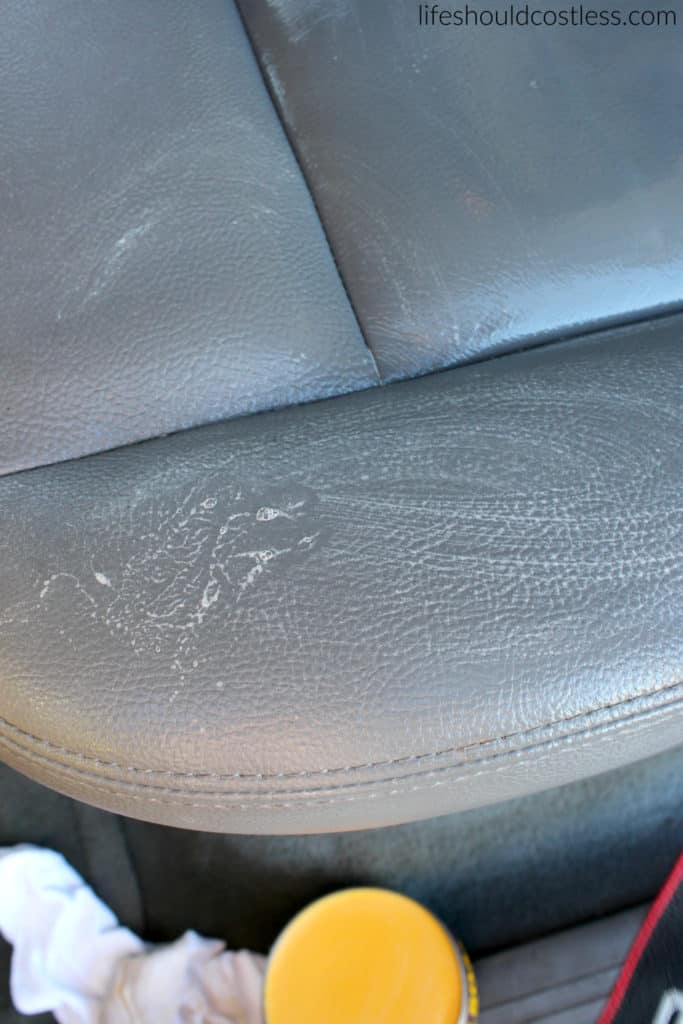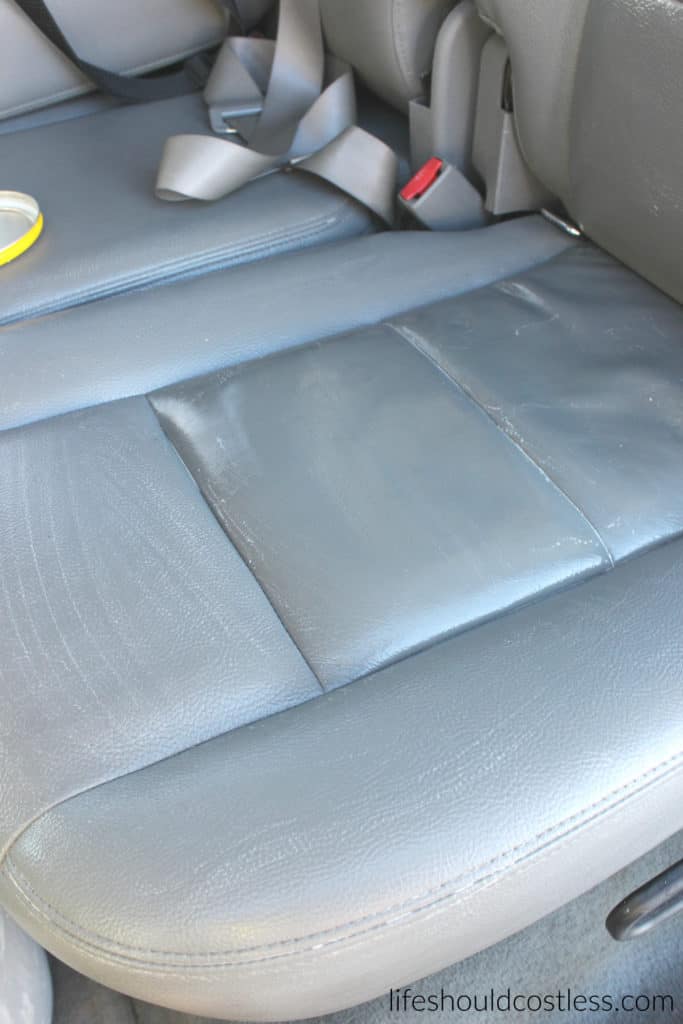 It's time to buff with a fresh dry rag! These new rags that I had bought left behind little white chunks of themselves, so I had to vacuum those out of the cracks when I was done, but barring any rag mishaps…(lol, like that will even happen to anyone else. I'm sure that was just me being special there ;)) you are done once you buff off all the white film.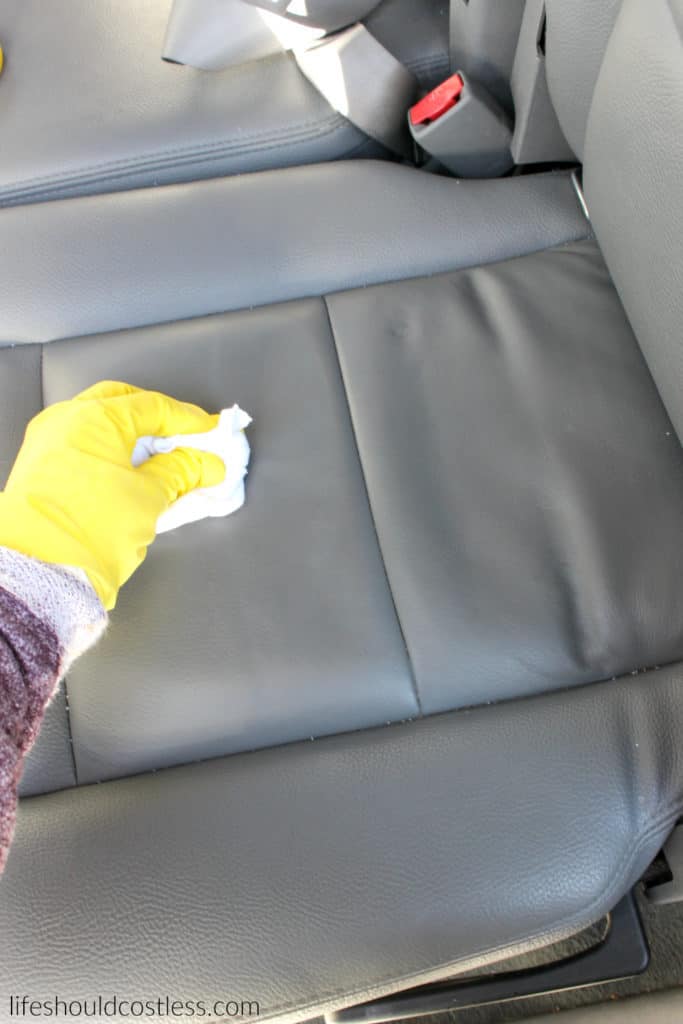 Now look how great the leather looks now!!! Can you believe that it is even the same seat?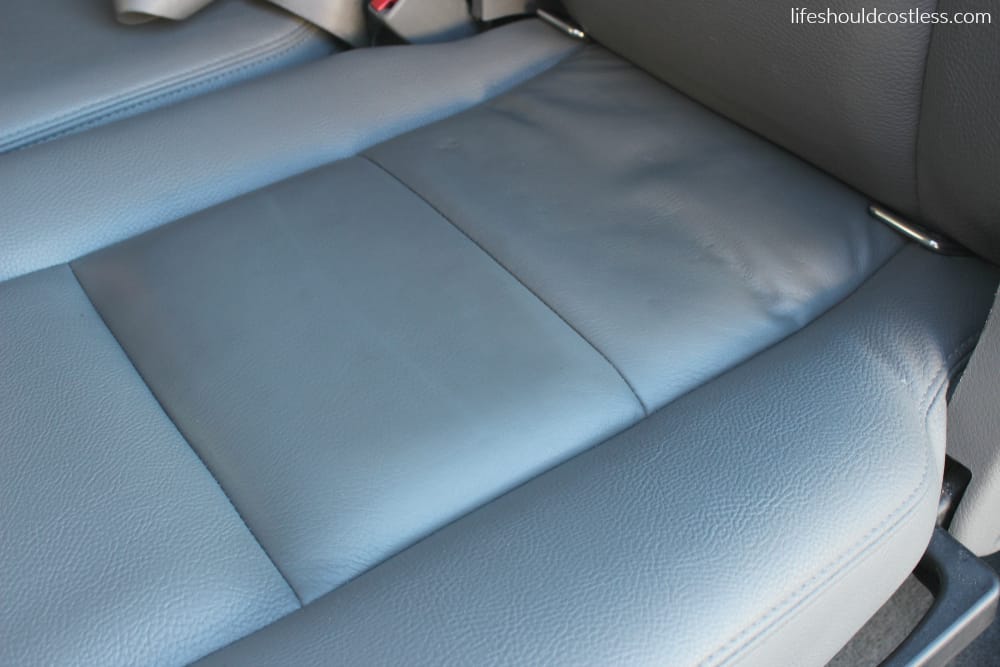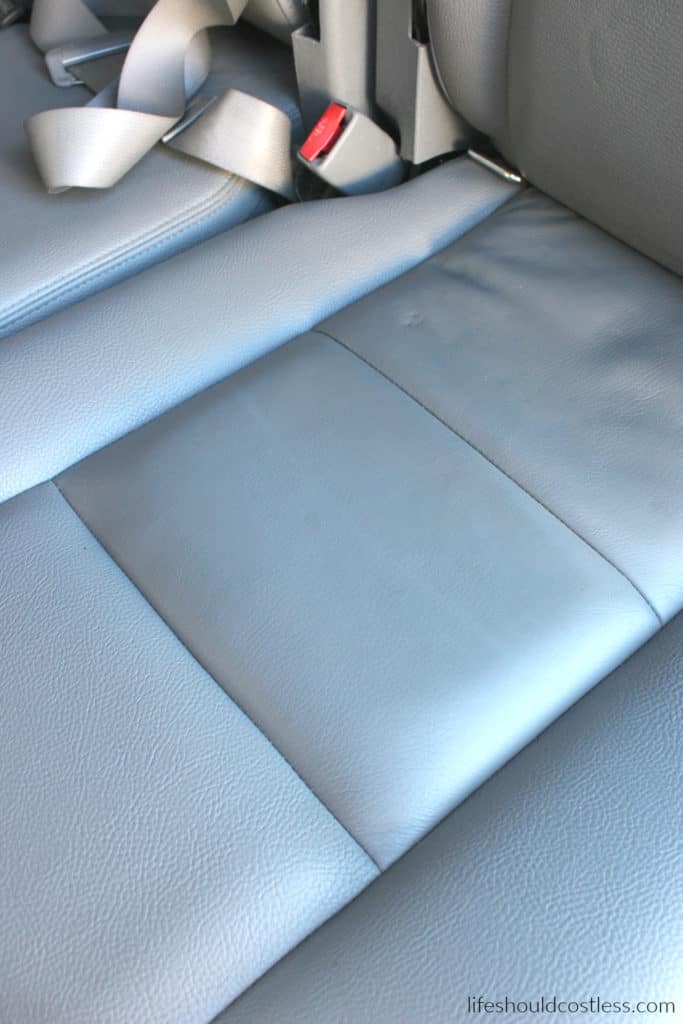 I thought I'd show you the before (after the vacuuming) and after together so that you can get the full effect. All I can say is WOW!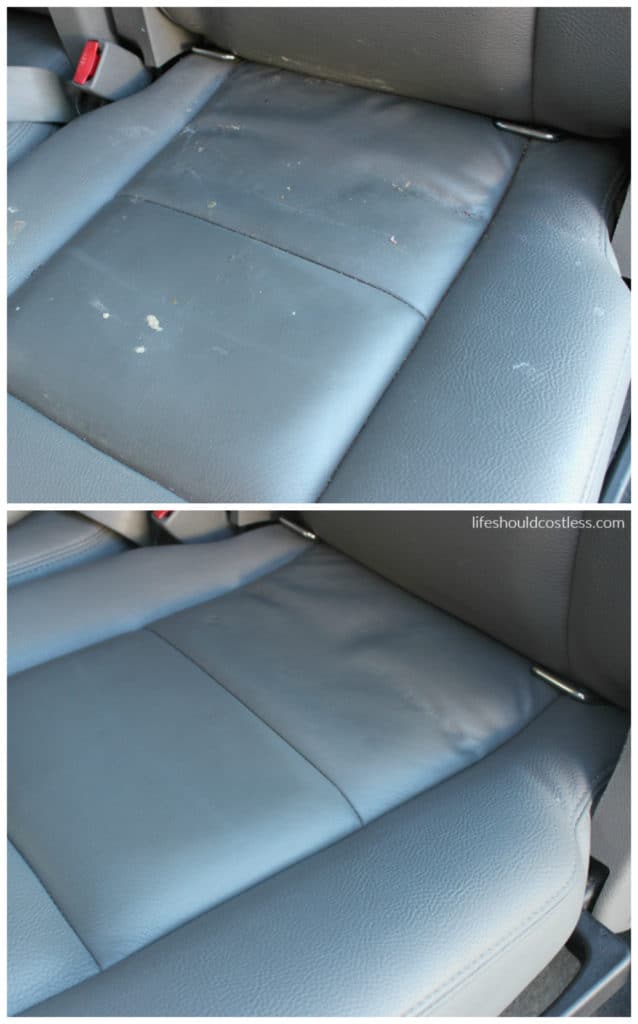 This is a great way to  take really good care of any soft leather that you have around the house. I would even do this to boots, belts, obviously saddles, couches, and any other soft leather that you have…maybe even a leather jacket! It's really easy, not very time consuming, and actually does not take much elbow grease, which I'm sure is wonderful news for any of you that have limited mobility. If you're nervous to try it, just remember to do a test area first in an inconspicuous place before you do your entire piece of leather.
I shot the pictures for this post a couple of weeks ago and I'm sure that my seats are already looking a bit more like the before pictures again, but such is the circle of life when you have kids and you just have to chuckle about it or it'll make you cry. At least I know that the conditioning properties are doing their thing and helping the leather stay strong in the heat.
That is all I have for you today, have a great day everyone! ~Sarah
P.S. Please make sure to check out my entire cleaning section by going here. I guarantee you will find a new/easier way of doing something if you do stop by.