We all want a clean house, right? But who really wants to give up precious time with their family to clean? If you would rather be doing anything but cleaning, I have the perfect solution for you! I have a few tricks up my sleeve that help me clean my house in a flash – and I'm going to share them all with you. Here's how to clean house fast so you can focus your time on other things.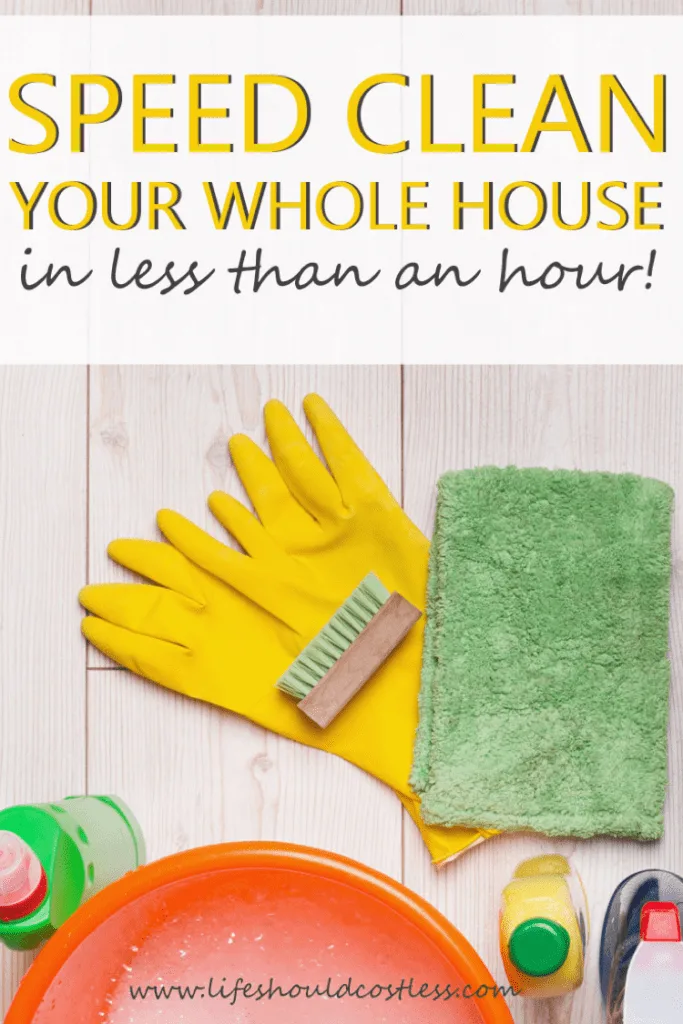 Whether you have guests coming over and need to whip your house into shape or you just want to get your cleaning over with as fast as you can, you're going to love these easy tips for how to clean house fast!
This method for quick cleaning will have your home clean in about an hour, which means you can spend your time doing something you actually like and want to do. Keep in mind, this cleaning method only works for surface cleaning (ie, making it look decent, not spotless). So, every once in a while, you'll need to give your house a good deep cleaning in between speed cleaning sessions.
Table of Contents, Skip Ahead To What You're Looking For
How to Clean House Fast
The first tip I have to offer for how to clean house fast is to make sure you have everything you need within easy reach. I suggest putting together a cleaning basket with all the supplies you need to clean your entire house.
To make a cleaning basket, fill a bucket or basket with these cleaning supplies and tools:
Sponge
Scrub brush
Toilet brush
Dust spray
Glass cleaner
Disinfectant cleaner
Floor cleaner
Multipurpose Cleaner
Paper towels
In addition to your cleaning bucket, you'll also need your vacuum and mop. After gathering all your supplies, keep them in a central place so you can easily reach what you need without having to run to the kitchen to grab something you forgot.
One of My Best Quick Cleanup Tips, Clean in Batches
While it may seem logical to focus your efforts on one room at a time, batch cleaning is much more efficient. When cleaning in batches, you stick to one task at a time and do that same task throughout your entire house.
Start by grabbing a large laundry basket and gathering all the clutter from around the house. Toss items that are out of place in the basket, then set the basket aside to deal with after you're finished cleaning.
Next, clean all hard surfaces in your home, like your kitchen counters, dining room table, and bathroom vanities. Simply knock crumbs and debris onto the floor as you wipe (only clean this way if you're for sure going to be vacuuming the same day), focusing only on cleaning the remaining surfaces throughout your home that you didn't dust in the previous step.
After all the surfaces have been wiped or dusted, grab your vacuum and clean all the floors in your house. As you work your way through the room, use the upholstery attachment on your vacuum to clean the furniture and window treatments. When the floors have been vacuumed, it's time to mop. Use your mop to clean all the hard floors in your home.
Then, grab your dusting supplies and dust the whole house, starting with items up high and working your way down. After finishing one room, move on to the next until your entire house is dusted. *Make sure to dust AFTER you have done all your sweeping and vacuuming…they both kick up lots of dust so it is counterproductive to dust before doing those chores.
Tackle the Bigger Jobs
Once the basic cleaning tasks, like vacuuming and dusting, are complete, you can focus your efforts on the bigger cleaning jobs in your house, including your kitchen and bathrooms.
In the kitchen, start by clearing the sink of dirty dishes, then fill your sink with warm, soapy water. Dip a microfiber cloth in the water and quickly wipe down all the countertop appliances, refrigerator exterior, and cabinet doors. Then, remove the burner pieces from the stovetop and place them in the soapy water to soak while you clean the stovetop and exterior of the oven. Finish cleaning the stove pieces, dry them, and replace them.
After the kitchen is clean, move on to the bathrooms. Since your countertops should be clean, this cleaning session will focus on the bigger areas, including the toilet and showers/tubs. Spray the toilet with cleaner and squirt toilet bowl cleaner inside the bowl. Let the cleaner soak while you wipe down the bathtub and/or shower. After cleaning the shower, move back to the toilet. Use the toilet brush to scrub the bowl, then wipe down the seat and outside of the toilet. Finally, spray the mirror with glass cleaner and wipe it clean.
The last step in learning how to clean house fast is to sort the clutter. After the house is clean, you can grab your laundry basket full of clutter and put everything back where it belongs. I like to save this step for last because you can easily hide away this basket of clutter if you have company coming and are short on time.
Clean Small Messes as They Happen
To keep your home from becoming too dirty throughout the week, take the time to clean up small messes as you see them. That means grabbing the broom at the end of the day to sweep up crumbs from the kitchen floor or wiping the dining room table at the end of a meal. The more small messes you tackle throughout your regular day, the less work you'll have to do during your house cleaning sessions.
In addition to tackling unexpected messes each day, it's also a good idea to practice a little bit of prevention when it comes to cleaning:
In the kitchen, clean as you cook to prevent stuck-on messes from building up, wash dirty dishes as they come in, and wipe down counters after every meal.
Keep the bathroom clean by wiping your shower after each use to keep mold and mildew from building up, giving your vanity counter and toilet a quick wipe at least once a day, and using a broom to sweep debris from the floor on a regular basis.
In your entryway, place a doormat outside and inside the door to keep outside dirt and debris from coming into your home. And always remove your shoes before you walk into the house to keep the floors from getting dirty.
Quick Cleaning Tips
While this method of how to clean house fast is a great way to get your home clean quickly, I also have a few simple tips that will make the entire cleaning process much easier. You can use these easy tips whenever you're cleaning, including when you're doing a quick surface cleaning or a longer deep cleaning.
Always clean from top to bottom. This will help prevent dust and debris from the top of your home from messing up places you've already clean. *Don't work against gravity!*
Save the floors for last. Since you'll be cleaning your home from top to bottom, you'll likely be knocking dust, dirt, and crumbs onto the floor as you clean. By waiting until you're finished cleaning all the surfaces in your home to vacuum, you'll be saving yourself tons of time and effort. You can simply vacuum all that debris at once instead of trying to clean up each little mess as you go.
Keep your home clutter-free. Clutter not only makes your home look messy, but it also makes it difficult to clean. If you have to spend extra time picking up clutter each time you clean, it may be time to declutter and reorganize your home…or just put the kids up for sale, the little mess-makers… lol…totally kidding.
That's it for my quick cleaning tips for today, if you loved this, make sure to check out my entire cleaning section.
Thanks so much for stopping by my site! If you liked what you saw, please make sure to share it via social media!
Other ways to show your support are to follow and/or interact with me on Pinterest, Instagram, Facebook, YouTube, or by Subscribing To My Emails List.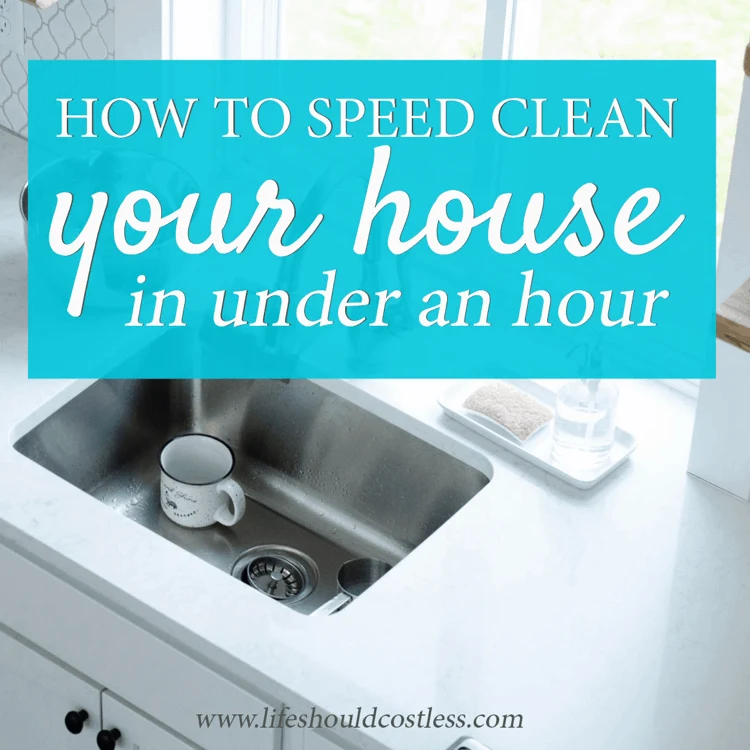 If you purchase suggested products through Amazon, the cost to you remains the same, but I make a small commission on everything in your cart. Also, if you ever need to buy it again, you can always come back to my site for the link…just sayin';).
If something was particularly helpful and you would like to donate directly to my site, you can do so via PayPal, here. I'm a single mom of four, so every little bit helps. Thanks again!~Sarah
Here are links to five of my other cleaning posts that you're also going to LOVE:
For those of you that would like another option of a "pinnable" image to share on Pinterest, here you go. Thanks so much for sharing!