Making the decision to get your home organized is a great idea, so finding easy tips for decluttering is a must! On top of making your house a little easier to clean, dejunking your home can also help reduce your stress levels.
However, the task of decluttering and organizing your house is a big job that can often take a lot of time and effort. If you're hoping to make the job a little bit easier, you're in luck!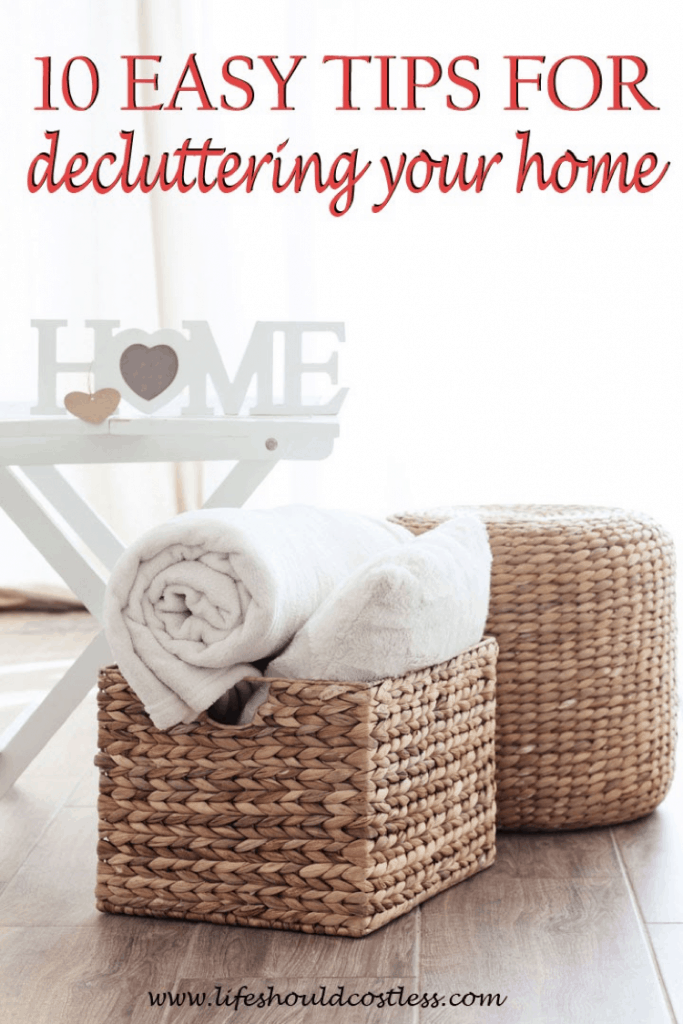 With these 10 easy tips for decluttering, you'll have your home cleared out and organized in no time!
The first step to tackling any project around your house is to have a plan in place before you begin.
First thing's first to get organized we have to make a plan!
Start by making a list of each room in your home. Then, take a walk through each space and identify the cluttered zones in each room. After you have a list in place, order the rooms from least cluttered to most cluttered.
This ordered list will help you make a plan of attack. Schedule times to declutter in your calendar, including which rooms you'll declutter and reorganize on each date. Be sure to schedule your most cluttered spaces on days when you have plenty of free time to avoid getting off schedule and leaving your home in disarray.
After making a plan, create a decluttering checklist and calendar to keep yourself on track. Organize your checklist by room and include all the problem areas in each space. Then, use a calendar to outline when you plan to dejunk each space.
Make sure you allow enough time to dejunk and organize each room so you're sure to complete the project before moving on to the next space.
Take it Slow!
While you would love to be able to declutter and organize your house in one day, there is literally no way you can tackle that huge project in that amount of time unless you can afford to hire a team to help you…so have a realistic expectation. Recognizing that organizing takes time is one of the best tips for decluttering I can give.
Instead of attempting to declutter your home at once, start small by decluttering and organizing one of your cleanest spaces. I recommend doing this because it is so much easier to maintain clean than it is to tackle a huge job.
Then, take that win and move on to a larger project. As you progress through your home, be sure to look back on the space you've finished for inspiration and to keep you motivated to continue the process throughout the rest of your house.
Question Yourself
One of the easiest tips for decluttering I have to offer is simply asking yourself these three questions about each item in your home:
Have I used it within the past year?
Do I absolutely need it?
Do I really love it?
While it may seem tedious to ask yourself these questions about each item in your home, it will make the entire decluttering process go more smoothly.
The answers to these questions will let you sort through items more quickly and easily, helping you decide which items to keep and which to toss as you're decluttering.
Decluttering by Threes
Most tips for decluttering advise you to sort all your household items into three categories – keep, store, and get rid of. That's because this is one of the best ways to declutter.
By sorting your items into these three categories, you're making a definitive decision about each piece of junk in your home.
When you're finished, you'll know exactly where each item is going to go.
Hold onto Memories, Not Things, Probably The Hardest Part Of Dejunking
Often, it's difficult to let go of things that have good memories attached, but consider the fact that you'll have that memory whether you keep the tangible item or not.
Mementos that hold a personal connection to your family or your life are especially hard to let go of and they are often the things that are causing the most clutter in your home.
As you work through each item in your house, think rationally about those items with memories attached, and try to see them as they really are. If it truly serves no purpose to you, it may be time to let it go.
I'm not telling you to become heartless and throw absolutely everything away. I'm just telling you that a clean and organized home feels so good and can really lift ones spirits. So, we need to prioritize which is more important, the junk, or the inner peace?
Reorganize with a Clean Slate
The best way to ensure each room of your home gets organized and stays that way is to start with a clean slate. That means removing all items from the room and sorting each item before you start putting things back.
In addition to allowing you to see how much storage space you have available in the room, starting with a clean slate also helps you visualize the amount of stuff you're actually putting back into the space as you're organizing.
It's also a good time to get your deep cleaning in too, so make sure to check out my entire cleaning section for some of the best cleaning tips on the internet.
Give Everything a Home
After you're done decluttering your house, it's time to start organizing! Give everything you decide to keep a home.
Make sure that each and every item you decide to keep has a storage spot in the room. Each time you use an item, place it back in its home to avoid adding more junk to the space.
When all of your possessions have a home, it is a total game-changer when it comes to maintaining a clean and organized lifestyle.
Have a Plan for Things You Don't Want
Just as you should have a place for everything inside your house, you'll also need to have a plan in place for the items you don't want.
There are a variety of ways you can rid yourself of clutter throughout your home, including:
Throw it away. Simply fill up a trash bag with the things you don't want or need, and put it on the curb on trash day.
Recycle it. Recyclable plastics, metal, and paper can be dropped off at your local recycling center or placed on the curb if you have curbside pickup in your area. Remember that all electronic items must be recycled.
Donate it. If you have items that you don't want or need but are still in good, usable condition, donating them to a local charity is a great idea.
Have a yard sale. Move all your extra clutter to the garage, basement or attic, and set up a yard sale after you're finished decluttering.
Make it a Routine
Decluttering and organizing your home isn't a one-time activity. In order to make sure your home stays organized throughout the year, you have to make decluttering a part of your routine.
Manage clutter as it comes into your home. For example, each time you go to the mailbox, you're bringing paper clutter into your house. Instead of tossing that paper on the kitchen counter to deal with it later, take the time to sort the mail the minute you bring it in.
Making sure you put items away after use, picking up clutter when you see it, and being conscious of additional junk you bring into your home will ensure your house stays clutter-free after you're finished dejunking.
Don't Add More To The Mess
After taking the time to declutter your house, it's important to be extra careful about not adding more clutter to your home. Each time you go shopping, be sure to consider each purchase you make.
Ask yourself those three important questions – do you need it, will you use it, and do you love it. Then, make sure you know exactly where you'll store that item after you bring it home.
Those are just some of my thoughts on decluttering. Hopefully I gave you at least a couple of things to help you tackle such a "fun" project ;)…lol.
Thanks so much for stopping by my site! If you liked what you saw, please make sure to share it via social media!
Other ways to show your support are to follow and/or interact with me on Pinterest, Instagram, Facebook, YouTube, or by Subscribing To My Emails List.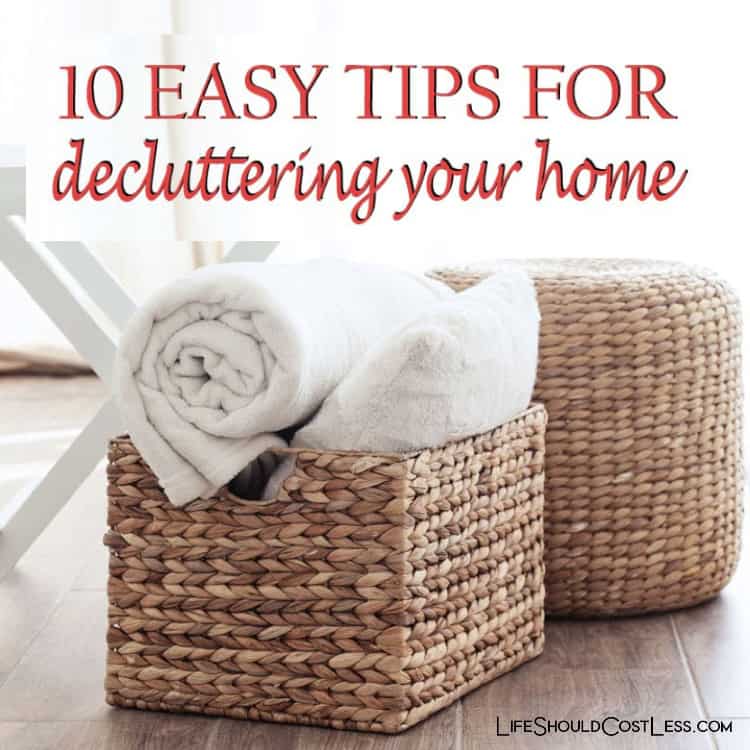 If you purchase suggested products through Amazon, the cost to you remains the same, but I make a small commission on everything in your cart. Also, if you ever need to buy it again, you can always come back to my site for the link…just sayin';).
If something was particularly helpful and you would like to donate directly to my site, you can do so via PayPal, here. I'm a single mom of four, so every little bit helps. Thanks so much! ~Sarah
Here are links to five of my other cleaning posts that you're also going to LOVE:
For those of you that would like another option for an image to pin to Pinterest, here you go. Thanks so much for sharing!