Making the decision to get your home organized is a great idea, so finding easy tips for dejunking is a must for what can otherwise be an overwhelming task. On top of making your house a little easier to clean, decluttering your home can also help reduce your stress levels. Believe me, I speak from the experience of someone working full time and raising four kids solo…it can be tough. Here are my thoughts to help you get it all under control in no time at all.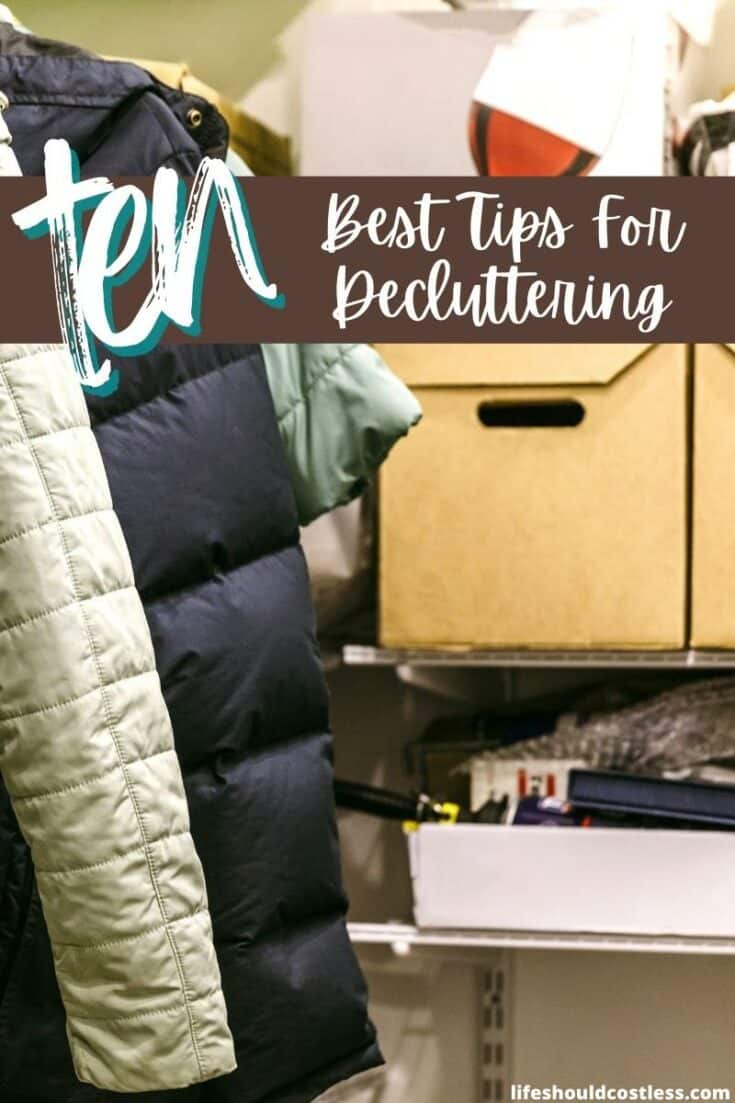 The task of decluttering and organizing your entire house is a massive job that can often take ALOT of time and effort.
If you're hoping to make the job a little bit easier on yourself, and the whole family (if you're fortunate enough to have help that is), you're in luck!
Because I'm going to show you some of my secrets that help keep my sanity when getting rid of the excess.
Table of Contents, Skip Ahead To What You're Looking For
What does decluttering/dejunking mean?
Before we dive into the process and all of the tips for dejunking, I'm just going to let you know what it means to do so in the first place.
As life gets busy, with it comes a lot of unwanted/or maybe just unneeded items…especially if you have children dragging things home from school, a friends house, or pretty much anywhere really.
It's important to periodically take stock of all of our possessions and decide why we even still have it lying around, taking up space.
Getting in the habit of getting rid of unnecessary items is the act of dejunking/decluttering…and with it brings a more calm atmosphere in general… which we all could use a little bit more of…I can't even tell you how big of a mental funk I get into when I get behind on my dejunking… It makes my tiny cottage feel even smaller.
So, before we all end up on an episode of Hoarders, let's figure out how to make it the best experience possible by using a few easy techniques.
How to start decluttering when overwhelmed?
Whether you need to tackle a full massive property, a room, or just a drawer… sometimes the tasks ahead are downright overwhelming… much of the decluttering process is in your head…from detaching yourself from sentimental things, to deciding if you can sell something, or wondering if you're going to need an item in the future.
The first step to tackling any project around your house is to have a plan in place before you begin.
So, let's talk about how to make a plan to get started with dejunking your home.
Start by making a list of each room in your home. Then, take a walk through each space and identify the cluttered zones in each room. After you have a list in place, order the rooms from least cluttered to most cluttered (or just which rooms will make you happier to have dejunked faster than the others).
This ordered list will help you make a plan of attack. Schedule times to declutter in your calendar, including which rooms you'll declutter and reorganize on each date. Be sure to schedule your most cluttered spaces on days when you have plenty of free time to avoid getting off schedule and leaving your home in disarray because having an unfinished mess everywhere will just add to the chaos.
After making a plan, create a decluttering checklist and calendar to keep yourself on track. Organize your checklist by room and include all the problem areas in each space. Then, use a calendar to outline when you plan to dejunk each space.
Make sure you allow enough time to dejunk and organize each room so you're sure to complete the project before moving on to the next space.
Take it Slow!
While you would love to be able to declutter and organize your house in one day, there is literally no way you can tackle that huge project in that amount of time unless you can afford to hire a team to help you…so have a realistic expectation on your abilities. Recognizing that organizing takes time is one of the best tips for decluttering I can give.
Instead of attempting to dejunk your home at once, start small by decluttering and organizing one of your cleanest spaces. I recommend doing this because it is so much easier to maintain clean than it is to tackle a huge job.
Then, take that win and move on to a larger project. As you progress through your home, be sure to look back on the space you've finished for inspiration and to keep you motivated to continue the process throughout the rest of your house.
Question Yourself
One of the easiest tips for decluttering I have to offer is simply asking yourself these three questions about each item in your home:
Have I used it within the past year?
Do I absolutely need it?
Do I really love it?
While it may seem tedious to ask yourself these questions about each item in your home, it will make the entire decluttering process go more smoothly.
The answers to these questions will let you sort through items more quickly and easily, helping you decide which items to keep and which to toss as you're decluttering.
Declutter by Threes
Most tips for decluttering advise you to sort all your household items into three categories – keep, store, and get rid of. That's because this is one of the best ways to declutter.
By sorting your items into these three categories, you're making a definitive decision about each piece of junk in your home.
When you're finished, you'll know exactly where each item is going to go.
Hold onto Memories, Not Things, Is Probably The Hardest Part Of Dejunking
Often, it's difficult to let go of things that have good memories attached, but consider the fact that you'll have that memory whether you keep the tangible item or not.
Mementos that hold a personal connection to your family or your life are especially hard to let go of and they are often the things that are causing the most clutter in your home.
As you work through each item in your house, think rationally about those items with memories attached, and try to see them as they really are. If it truly serves no purpose to you, it may be time to let it go.
I'm not telling you to become heartless and throw absolutely everything away. I'm just telling you that a clean and organized home feels so good and can really lift ones spirits. So, we need to prioritize which is more important, the junk, or the inner peace?
Reorganize with a Clean Slate
The best way to ensure each room of your home gets organized and stays that way is to start with a clean slate. That means removing all items from the room and sorting each item before you start putting things back.
In addition to allowing you to see how much storage space you have available in the room, starting with a clean slate also helps you visualize the amount of stuff you're actually putting back into the space as you're organizing.
It's also a good time to get your deep cleaning in too, so make sure to check out my entire cleaning section for some of the best cleaning tips on the internet.
Give Everything a Home
After you're done decluttering your house, it's time to start organizing! Give everything you decide to keep a home.
Make sure that each and every item you decide to keep has a storage spot in the room. Each time you use an item, place it back in its home to avoid adding more junk to the space.
When all of your possessions have a home, it is a total game-changer when it comes to maintaining a clean and organized lifestyle.
Have a Plan for Things You Don't Want
Just as you should have a place for everything inside your house, you'll also need to have a plan in place for the items you don't want.
There are a variety of ways you can rid yourself of clutter throughout your home, including:
Throw it away. Simply fill up a trash bag with the things you don't want or need, and put it on the curb on trash day.
Recycle it. Recyclable plastics, metal, and paper can be dropped off at your local recycling center or placed on the curb if you have curbside pickup in your area. Remember that all electronic items must be recycled.
Donate it. If you have items that you don't want or need but are still in good, usable condition, donating them to a local charity is a great idea.
Have a yard sale. Move all your extra clutter to the garage, basement or attic, and set up a yard sale after you're finished decluttering.
Make it a Routine
Decluttering and organizing your home isn't a one-time activity. In order to make sure your home stays organized throughout the year, you have to make decluttering a part of your routine.
Manage clutter as it comes into your home. For example, each time you go to the mailbox, you're bringing paper clutter into your house. Instead of tossing that paper on the kitchen counter to deal with it later, take the time to sort the mail the minute you bring it in.
Making sure you put items away after use, picking up clutter when you see it, and being conscious of additional junk you bring into your home will ensure your house stays clutter-free after you're finished dejunking.
Don't Add More To The Mess
After taking the time to declutter your house, it's important to be extra careful about not adding more clutter to your home. Each time you go shopping, be sure to consider each purchase you make.
Ask yourself those three important questions – do you need it, will you use it, and do you love it. Then, make sure you know exactly where you'll store that item after you bring it home.
How to be ruthless when decluttering clothes?
Just thought I'd throw one last thought in there because it seems like clothes are the thing that most people easily feel like they are drowning in trying to organize…
Once a year I go through every single stitch of laundry that we have and I always ask myself… is anyone ever going to wear this?… If the answer is no, that sucker is gone. If it's a yes, I put it aside.
I also go through the youngest child's clothes and minimize as much as possible… if they have way too many of something (like they could never wear that many of something out before outgrowing it) and obviously there is no one to "hand it down" to, that item also goes in the "donate" pile.
When I go through my own clothes, I basically just get rid of anything that I'm not excited to wear… like if it just fits/hangs funny or I just plain don't feel good about myself when wearing it…that thing is gone… after offering it to my kids of course, because if someone has a use for it we'll keep it, just not in my closet.
Now that I have remained the same size for a long time (after battling and winning binge eating disorder and losing over 100 lbs)…I no longer keep clothes around that are not my current size… I think that it's unhealthy mindset to keep your "fat clothes" around and it keeps me motivated to keep up on my daily health goals.
My favorite tip that I have come across in various places over the years…when it comes to maintaining your dejunked closet is the "reversing the hanger method"… basically, you just hang all of your clothes with the hook of the hanger backwards (once you have dejunked your closet)…then after you have washed and worn those clothes, you hang them up the normal way… then in six months to a year if you go to dejunk your clothes again, all you really need to do is look to see which hangers are still backwards and get rid of those items… because that literally means that you didn't wear them that whole time.
If I didn't quite explain the "reverse hanger method" well enough, here is a good resource that has a pic that explains it better too (it's step 3 on their site).
---
Those are just some of my thoughts on decluttering. Hopefully I gave you at least a couple of things to help you tackle such a "fun" project ;)…lol.
Thanks so much for stopping by my site! If you liked what you read, please make sure to share it with your family, friends, and even co-workers via social media…or you could even send the direct link to someone via email. However you share it, I super appreciate the support!~Sarah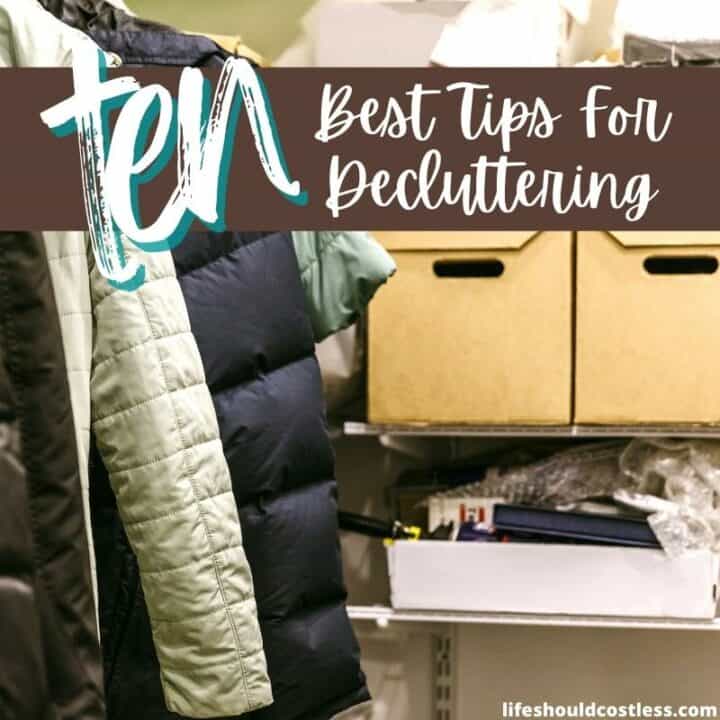 If you would like to subscribe to my email list, go here.
Make sure to follow along via social media, by going here.
If you would like to learn how to really show your support to this site (at no cost to you), go here.
If you would like to check out my entire collection of cleaning tutorials and what-not, go here.
Here are links to five of my other cleaning/organization posts that you're also going to LOVE:
For those of you that would like another option for an image to pin to Pinterest, here you go. Thanks so much for sharing!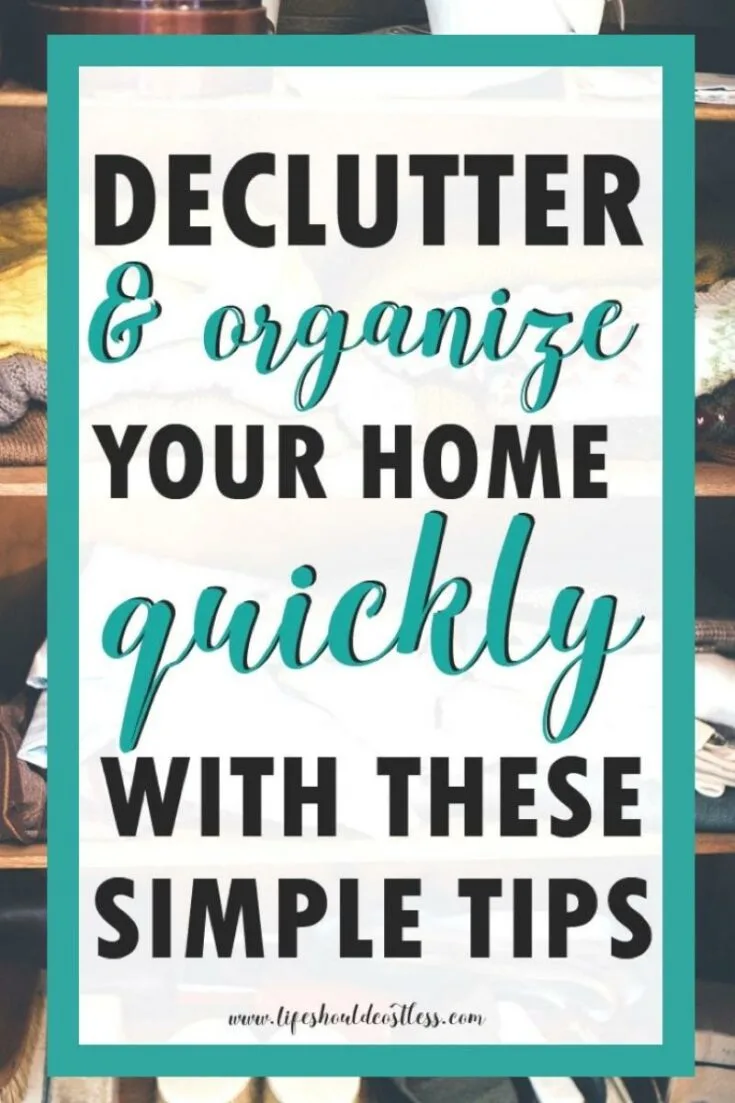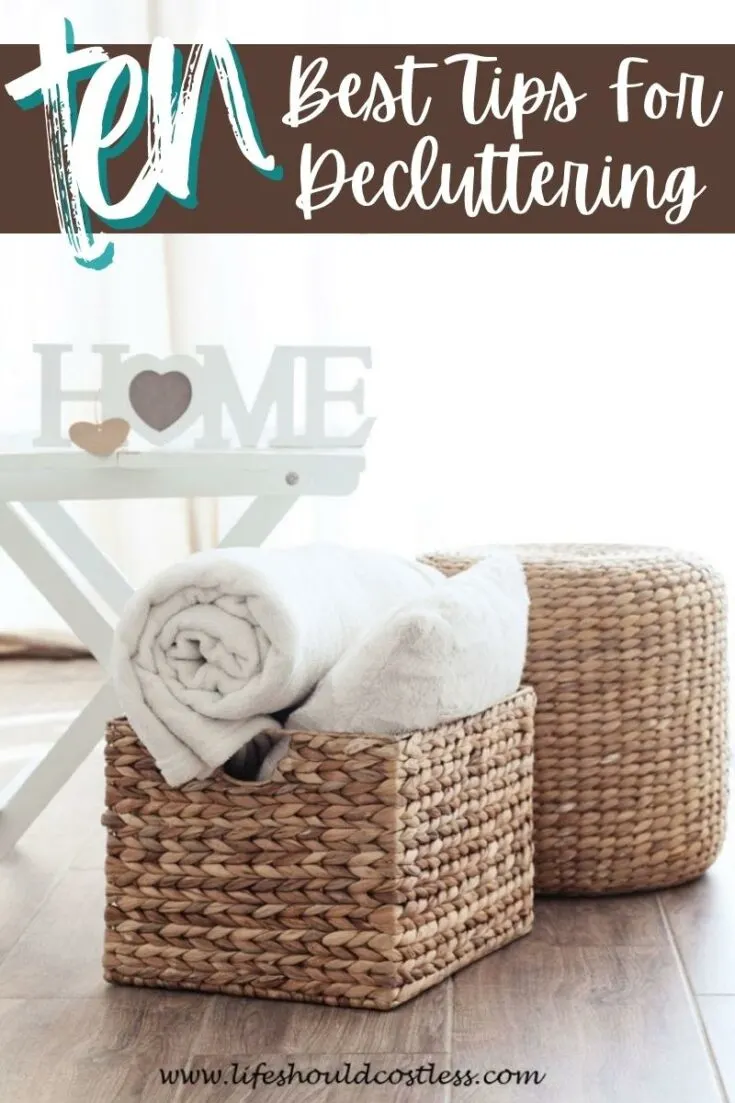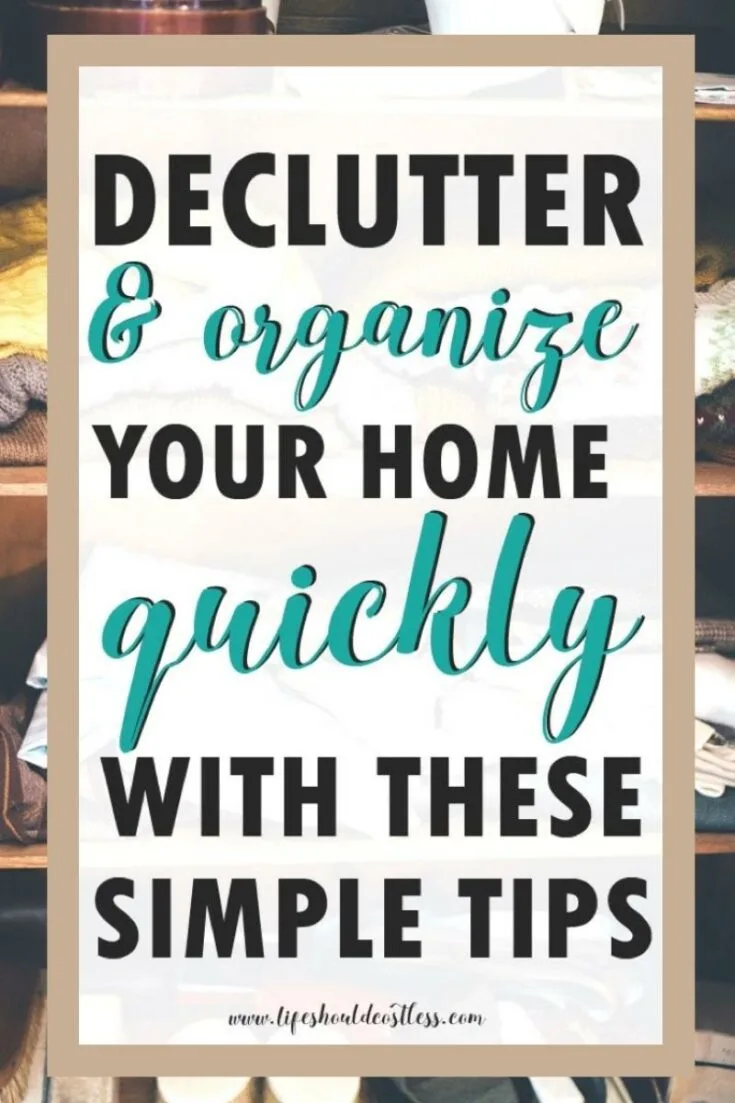 *Please note that this post was originally published to this blog on January 5th 2020, and has since been updated to remain current, as well to improve user experience.