*Update 07/05/16 Since I wrote the original post for this cleaning method in 2012, I have slightly switched up the way I do this, but just to simplify it even more. Please enjoy the new pictures, easier instructions, and video.
You know how sometimes when you cook a meal in your slow cooker and, even if you greased it prior to adding your ingredients, no amount of scrubbing, soaking, or praying is going to get that thick ring of crud off the sides? Mine was so bad earlier this week, that I just had to use it as it was…as clean as I could get it, with a nasty baked on ring from the previous days meal. Gross, I know, total over share, but I didn't know what else to do. This was even with having googled "how to clean a crockpot" or "how to remove the ring of crud from a slow cooker" and trying several suggestions that I had found online. I had literally tried to clean that thing for hours this week, to no avail.
But…I had an epiphany last night! The kind that is going to save me a considerable amount of time and  headache in the future. Especially since a while ago, I started Crockpot freezer cooking and use my slow cooker almost every day now. Anyway, here is what I came up with(the post goes into more detail, but the video will give you the gist): 
Now on to the full post with even more info and other great cleaning tips listed below.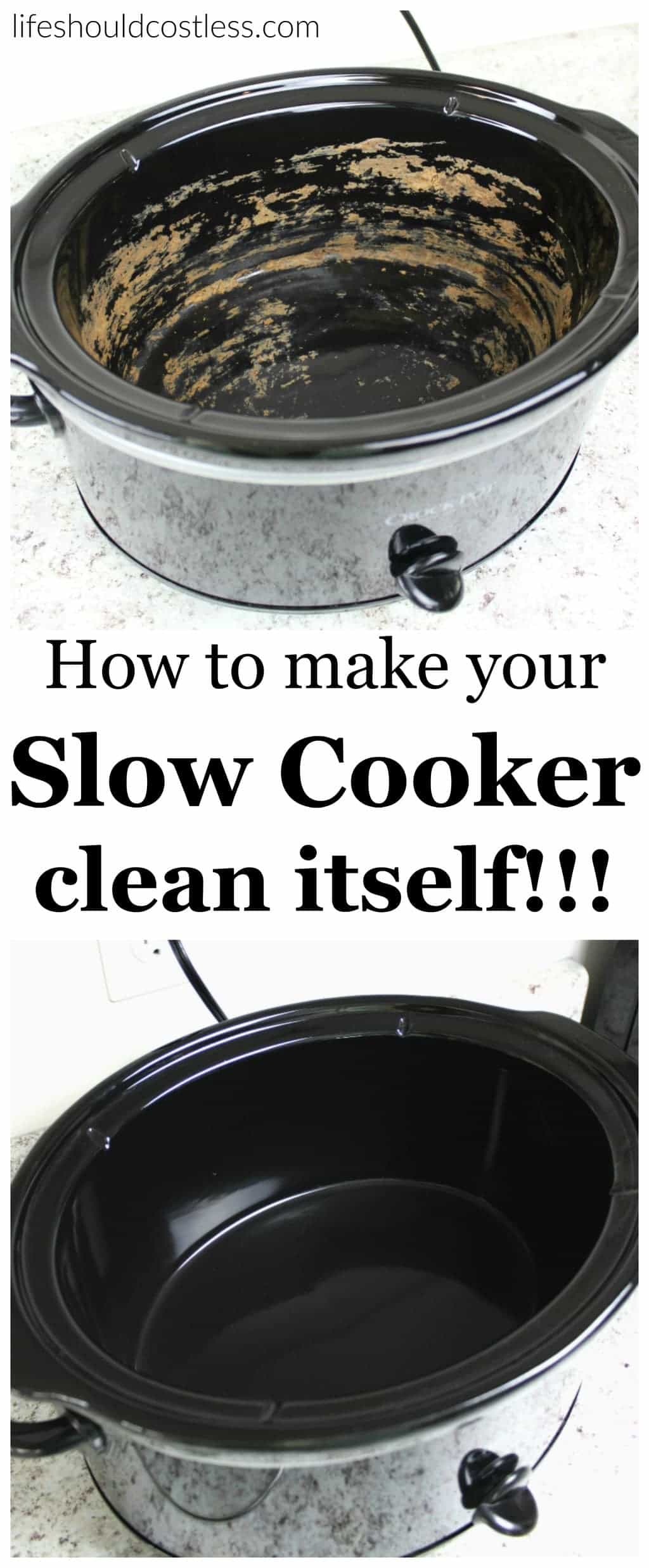 Just to show you how gross my slow cooker had gotten, here are the before pics. I'm pretty sure that this was some BBQ Chicken that accidentally got cooked to a crisp when I forgot to turn off the slow cooker. It's even been soaked, scrubbed, and run through the dishwasher and it still won't come off.
This is that same slow cooker AFTER I cleaned it this way. This is without it being oiled down… It's just that clean!!!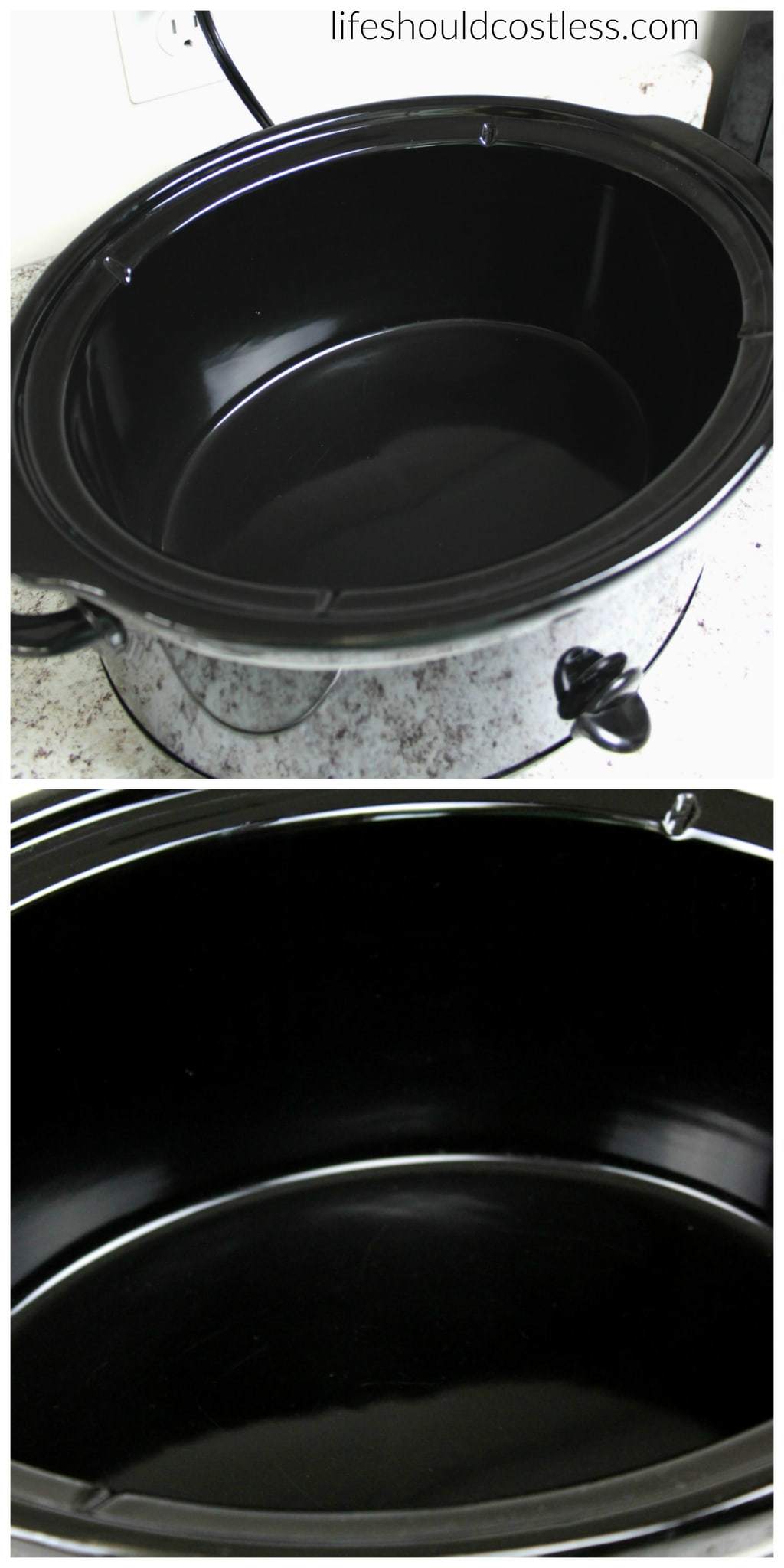 Can you believe that it got that clean and I only had to scrub for less than thirty seconds? Are you excited  to try it yet?  It's going to change your life, for the better, if you frequently need the convenience of a slow cooker, but don't want the hassle of scrubbing it for an hour.
If you've washed out your slow cooker and the RING OF CRUD just won't budge, do the following:
Fill your slow cooker with water until the water level  is just above the ring of crud (the photo tutorial pics are from my old slow cooker, the new pics in the beginning were taken before and after my video tutorial at the bottom of this post).

Add about One Cup of distilled white vinegar for a 6 Quart Cooker, or ½ Cup for a 3 Quart. Of course you can't see it, it is clear after all 😉

 Then, slowly, a spoonful or so at a time, add about a cup of baking soda for a 6 quart, or ½ cup for a 3 quart. It is key during this step to add it a little at a time, let the bubbles die down, and then add a bit more. Repeat until the whole amount has been added.

 

 

Turn your slow cooker on the low setting, cover and set a timer for  four hours (or just leave it overnight).

When you've finished letting it cook for four hours (or overnight), turn off the slow cooker. Remove the lid and let it cool enough so that you won't burn yourself, for about an hour or so, then empty it in the sink and clean it out with hot soapy water and some light scrubbing, the way you would normally clean it out. Then let it dry and enjoy your now ACTUALLY CLEAN slow cooker.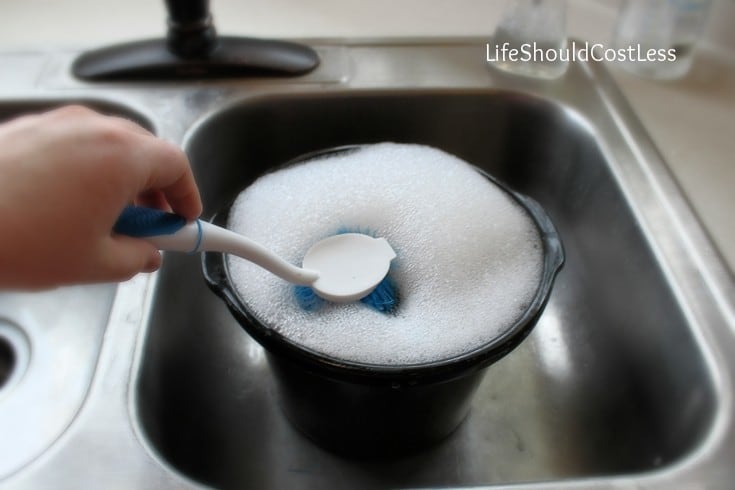 Every trace of the ring is gone!!!  I couldn't believe it the first time I tried this! But now, I've done it for several years with the same AWESOME results every time!  For me, this removed the ring of crud that had been baked on there three times (between the initial cooking, reheating, and the dishwasher baking it on instead of cleaning it off).
For someone that uses their slow cooker nearly every day, like I do, this may be life changing for you too. No freaky chemicals, and you get a clean slow cooker that isn't embarrassing to take to a party! Plus, who wants their Slow Cooker Caramel Apple Cider to taste like last weeks Taco Soup???Yuck! I didn't tell you that in addition to doing such a great job cleaning it, this method removes any funky smells or tastes as well!!!
As always, please share this post with anyone else that may find it helpful via social media or email! Or, if you would like to make a direct donation to the site, you have the option of donating through PayPal. Both ways help me support my kids (I'm a single mom of four) and I appreciate it more than you know.~Sarah 
P.S. If your slow cooker isn't very bad, you may be able to get away with not even adding heat, just let it soak in the mixture. Oh, and if you liked this you may want to subscribe to my email list so that you never miss a post.
My entire cleaning section can be found here.
*This post got a make-over and video added on 07/05/2016 and an update on 12/26/2018.