This is one of those meals that is so easy and so good that even before you are half way through eating it, you are already planning when you are going to be making it next.
That is exactly what I did, and I will be completely shocked if this doesn't become my most popular recipe so far. I'm not kidding, it's one of the simplest meals I've ever made! My two-year-old refers to it as "Pasta Chickens" so that is what we call it at my house.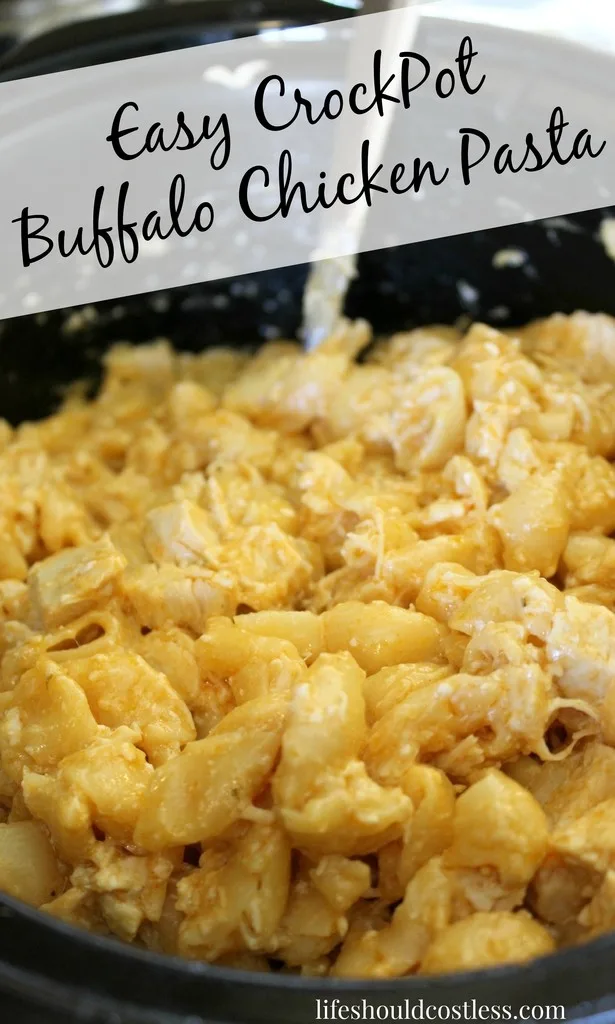 I've been making a super yummy but very different version of Buffalo Chicken Pasta on the stove top for almost a year now, but decided that I wanted to make an even easier, yet still super tasty CrockPot version of it.
Luckily, I got it right on my very first try…which almost never happens, but I'll take it! Especially considering that some of my recipes takes months to perfect. I like to use the fewest amount of ingredients possible (to save money), but you can always add more sauce or adapt it to suit your taste, it's all up to you… Anyway, on to your soon to be new favorite recipe!
Here are some pics of the process, the free printable recipe card is near the bottom of this post:
Here is the slow cooker, greased and with the chicken breasts added.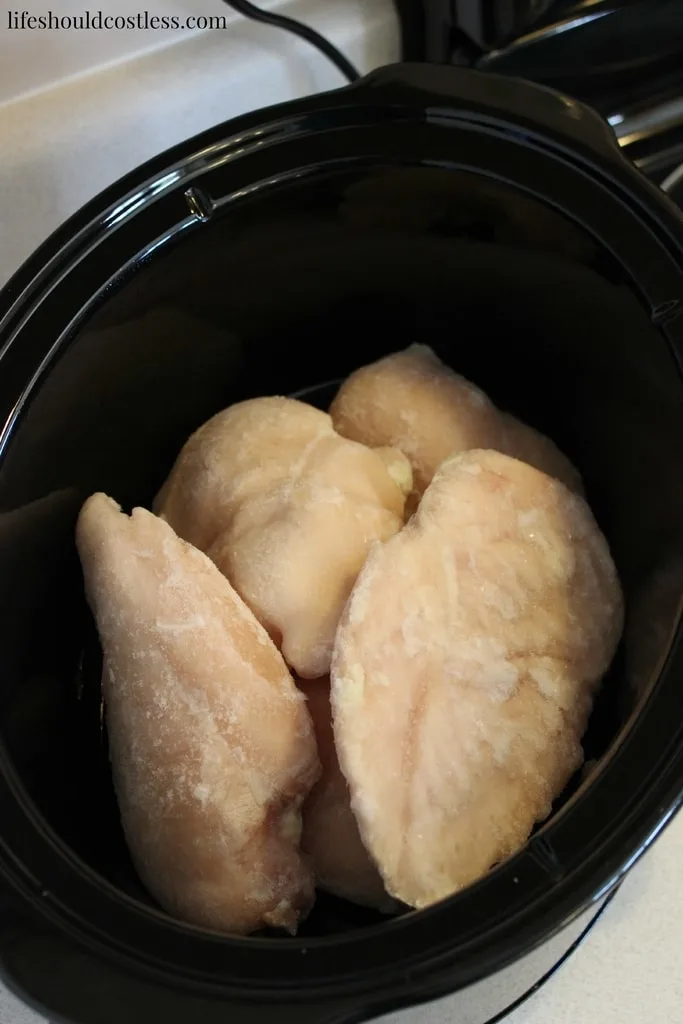 Next we add the Buffalo Sauce. You gotta use Frank's Redhot Buffalo Sauce, it's THE BEST!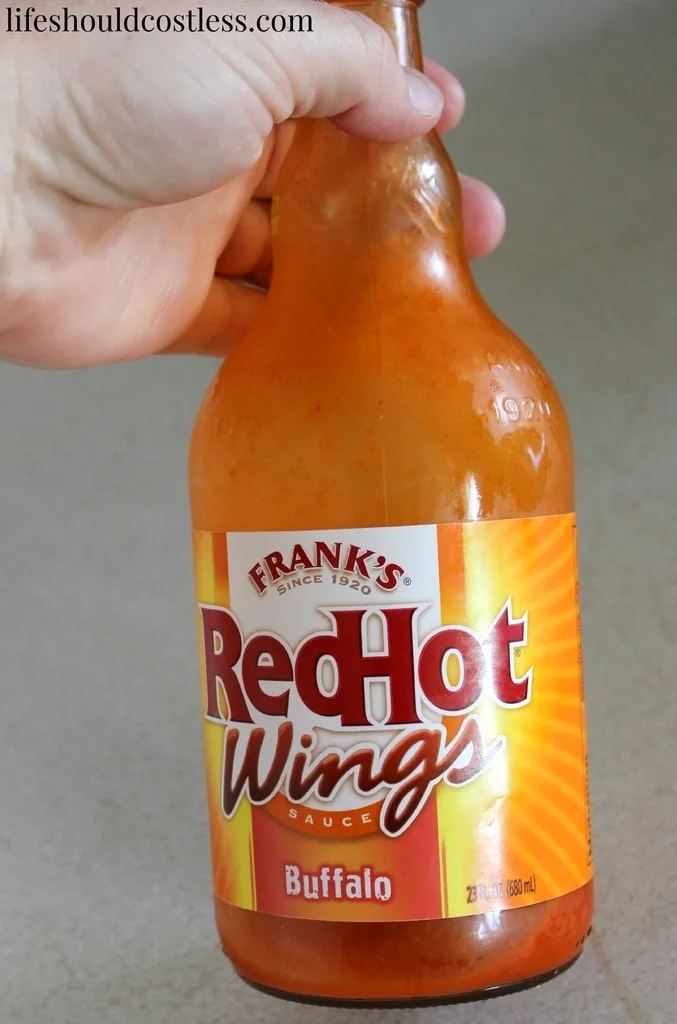 Gotta use Wish-Bone brand dressing too! It has extra big chunks of Blue Cheese in it so it makes your end product even creamier.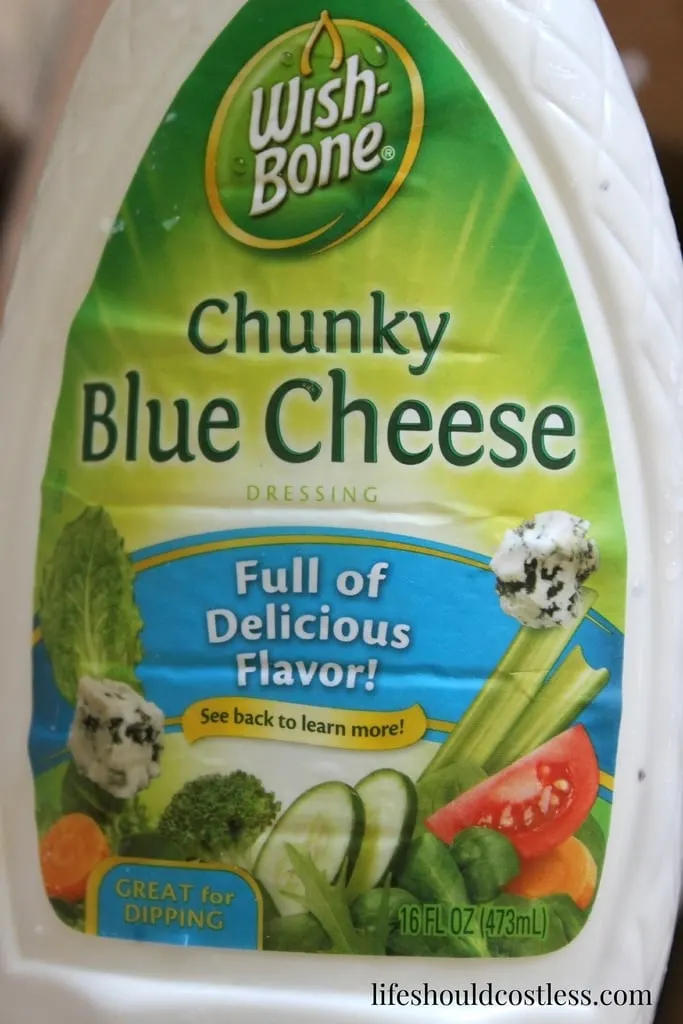 You just pour the dressing and the Buffalo Sauce on top of the chicken.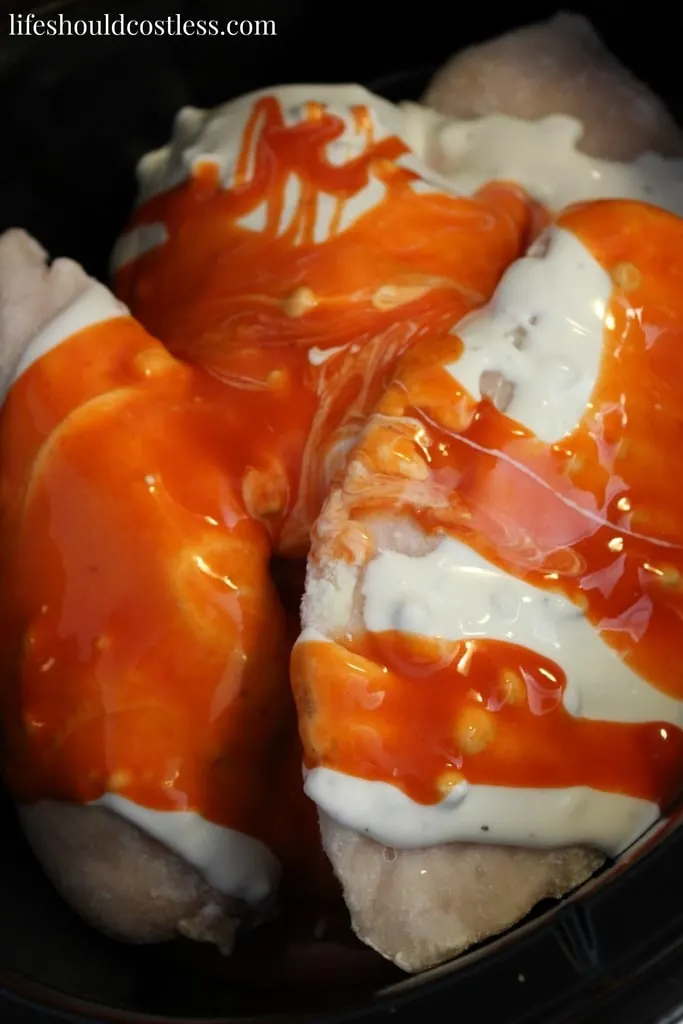 I use frozen Chicken Breasts, once they start to thaw out, I push them down into the sauce a bit more and then let them finish cooking.
Before I forget, I wanted to sneak in here and share with you links to five of my other posts that you're also going to love:
Now to get right back to the Easy CrockPot Buffalo Chicken Pasta recipe.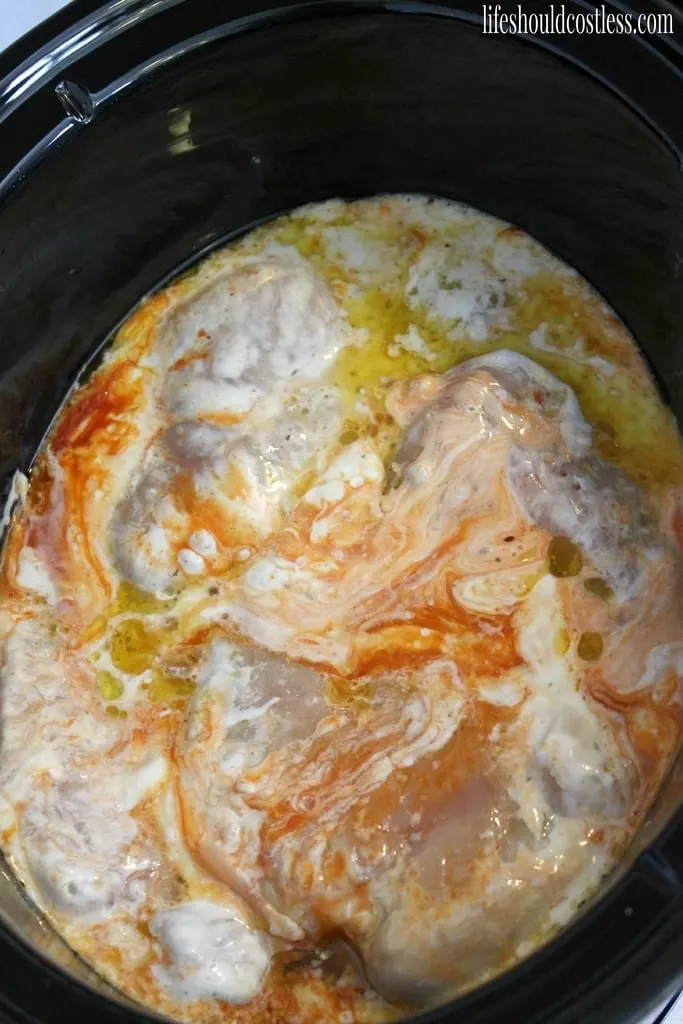 This is the Pasta I use, it comes in a multi-pack at Costco and is literally the best Pasta I have ever had! If you can't find it, medium shell pasta works too.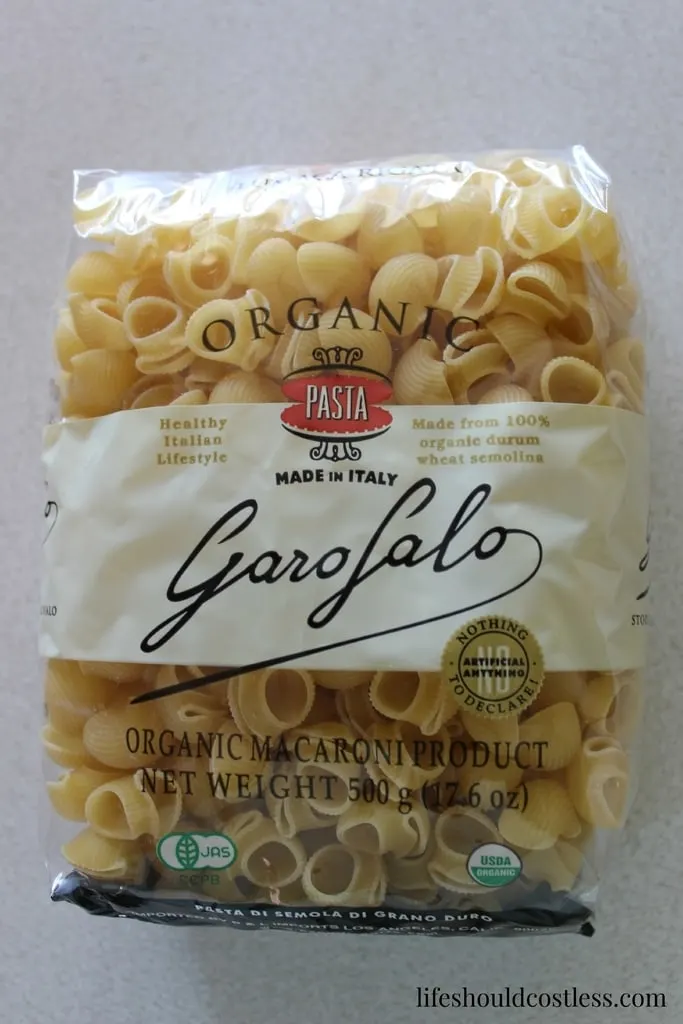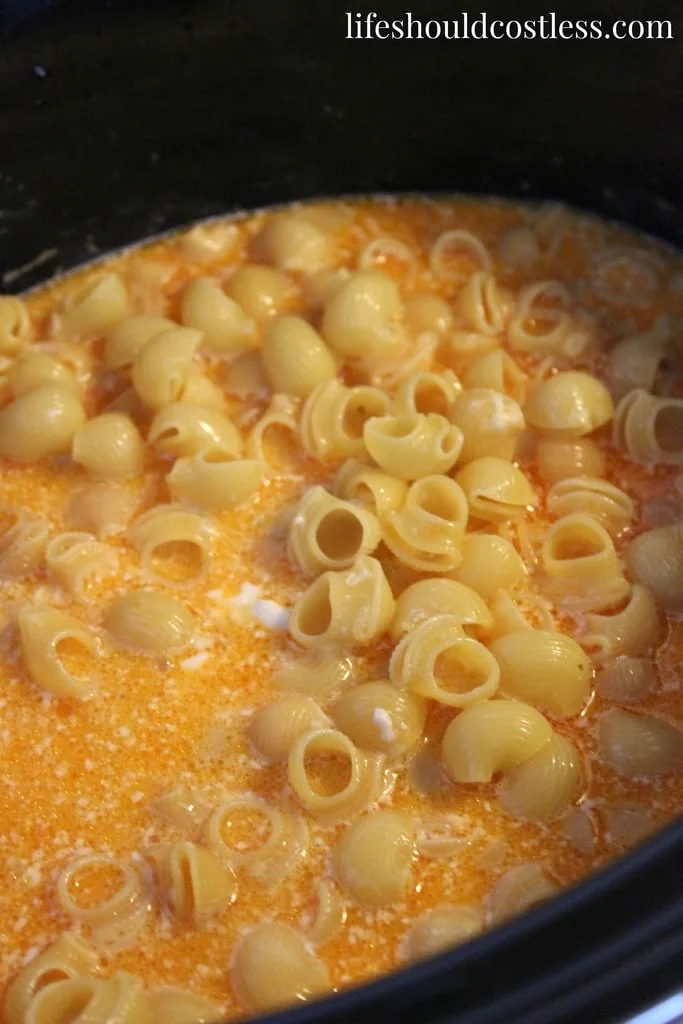 Once the chicken is done, I pull the breasts out with a fork and cut it to my desired size.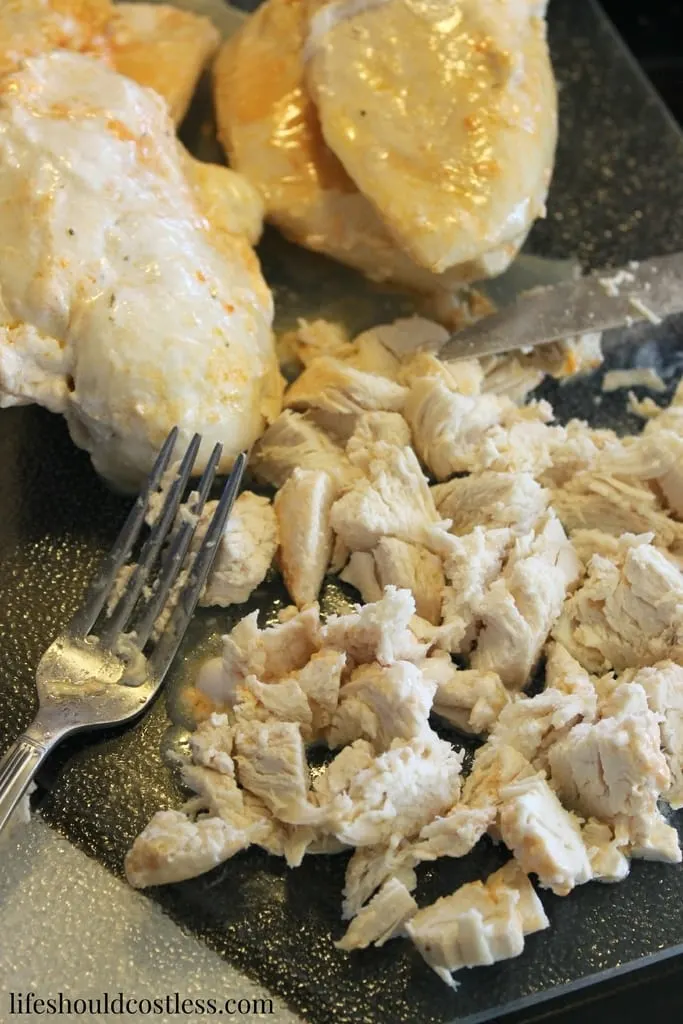 Then add the pasta, and water, and mix it well before covering. Let cook for 15 to 20 minutes at a time, stir, cover it back up and repeat until the pasta is to your desired level of "done".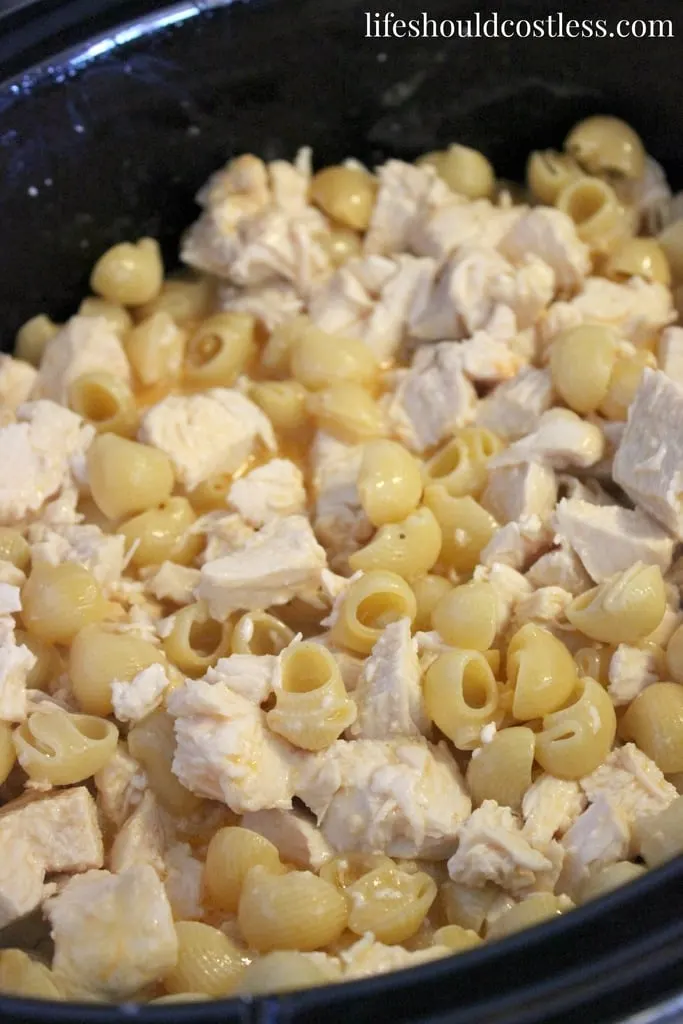 Here's the final product! I swear this stuff is what you would get if Buffalo Wings had a baby with Mac 'N Cheese… you get the yummy and creamy comfort food sensation of traditional mac 'n cheese, but it also has a little bit of a kick to it.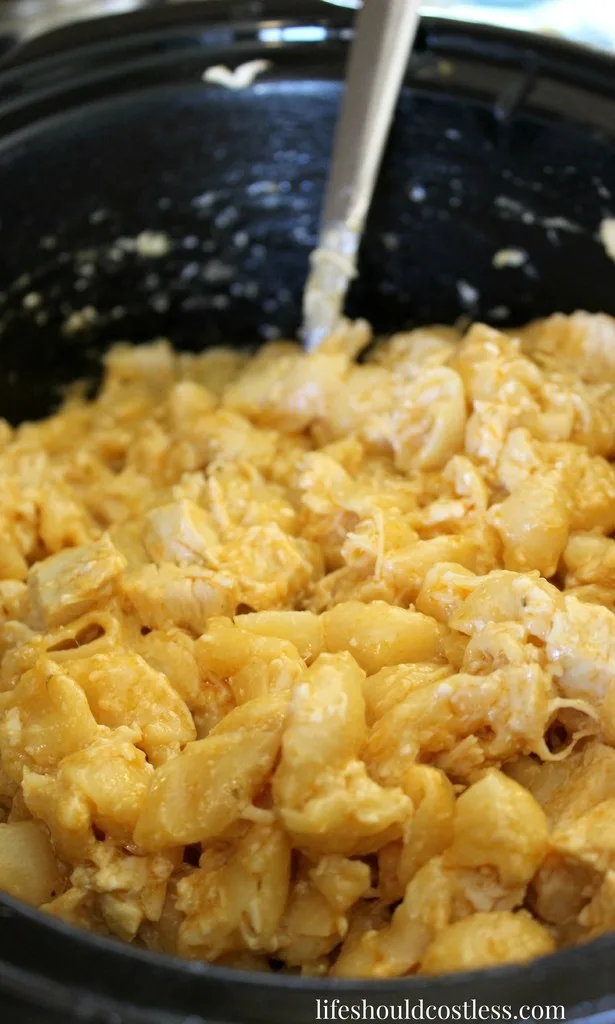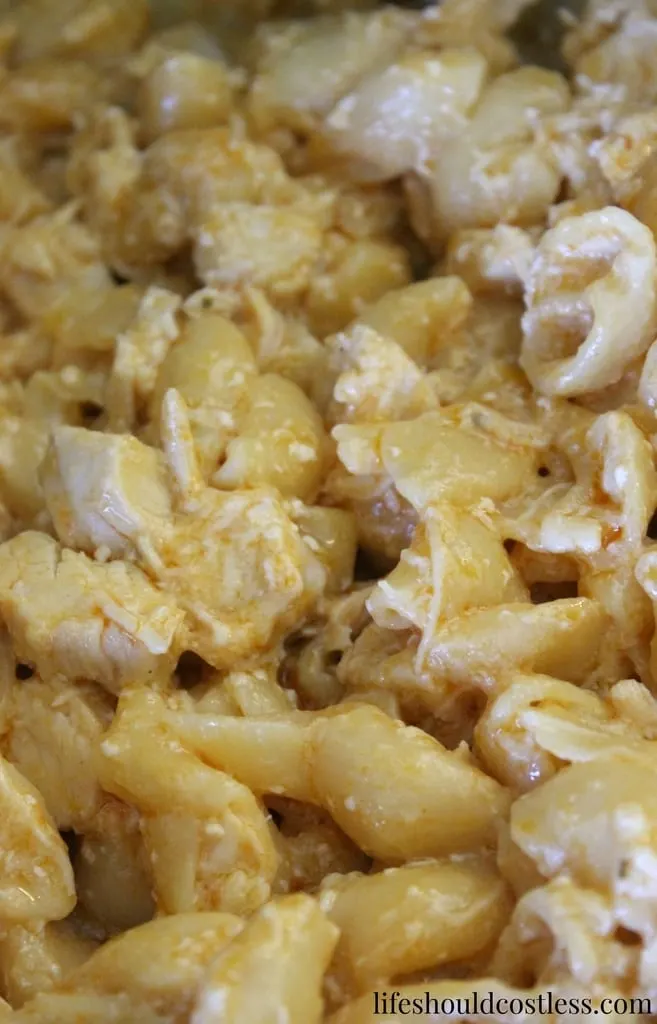 I like to pair it with a green salad, or steamed veggies. If you're using a large CrockPot and need to serve a crowd, you can easily 1 & 1/2 times the recipe. Which should serve at least 12-15 people.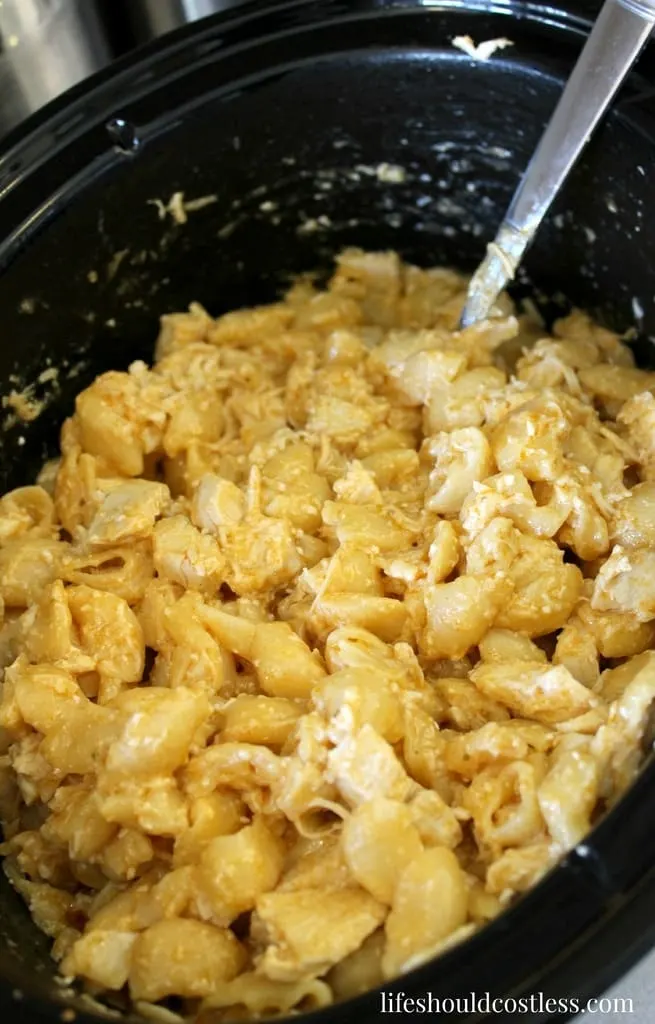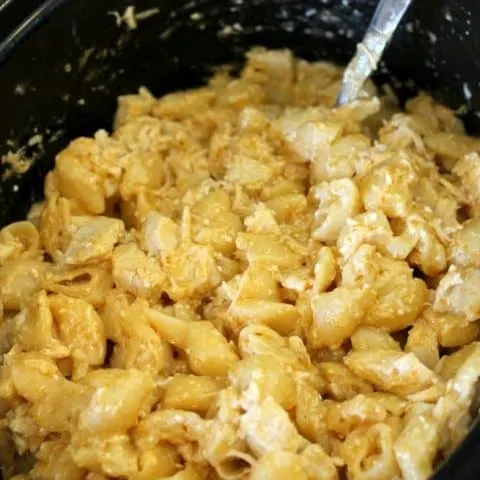 Buffalo Chicken Pasta
Total Time:
4 hours
10 minutes
If Buffalo Wings and Mac 'N Cheese had a baby, this creamy and delicious meal would be it. A new twist on an old favorite.
Ingredients
2 T Extra Virgin Olive Oil
4 or 5 Boneless Chicken Breasts
1 Cup Chunky Blue Cheese Ranch Dressing
*¼ Cup Frank's RedHot Buffalo Wing Sauce
2 Cups Hot Water
1 Package (17.6 oz is what I use) Large Shell Pasta or Penne
Instructions
Use a 6 or 7 Qt CrockPot. Grease the Crock with the Olive Oil, then add the Chicken, Dressing, and Buffalo Sauce. Add your lid.
Cook on High for 3-4 hours (do 4 if using frozen Chicken) or Low for 6-7 hours.
Once the time has passed, remove the Chicken Breasts and chunk it up to your desired size. Return it to the Crock, and add the HOT water and Pasta.Stir well, cover and come back to stir every 15-20 minutes for one hour. The pasta should be set up properly by then. It's ready to serve!
Notes
* We use about ¼ Cup of Buffalo Sauce and it is just the right amount of spice for my young family, that's a good starting point. Feel free to add more or less and just make up the difference in how much water you add.
** If it's too runny, leave the lid off for a while and stir every few minutes, this will evaporate any extra liquid. If the pasta hasn't set up, you may need to add more water, stir, put your lid back on and check it again in 15 minutes… this is the basics to cooking pasta in a Slow Cooker.**
***I normally like to use whole wheat pasta, but in this recipe it is nasty. You could do ½ plain white and ½ whole wheat, but I don't recommend using more wheat than that.***
Hopefully you'll have folks begging you for the recipe! Thanks so much for stopping by my blog! If you liked what you saw, please make sure to share it via social media, or even share the link with family/friends via email!
Other ways to show your support are to follow and/or interact with me on Pinterest, Instagram, Facebook, YouTube, or by Subscribing To My Email List. If you purchase suggested products through Amazon, the cost to you remains the same, but I make a small commission on everything in your cart.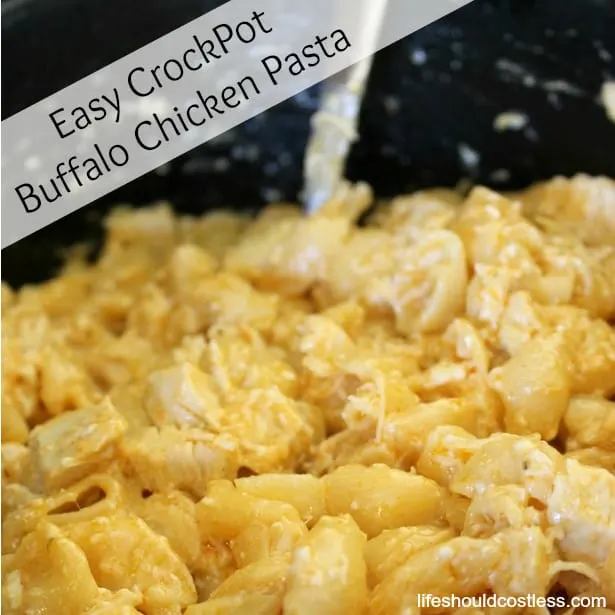 If something was particularly helpful and you would like to donate directly to the blog, you can do so via PayPal, here. I'm a single mom of four, so every little bit helps. Thanks so much! ~Sarah
P.S. You may also like my entire Recipes section as well as my Slow Cooker section. Here are a few linked pics to check out too!
Here are five of my other posts that you may also like (the pics are links):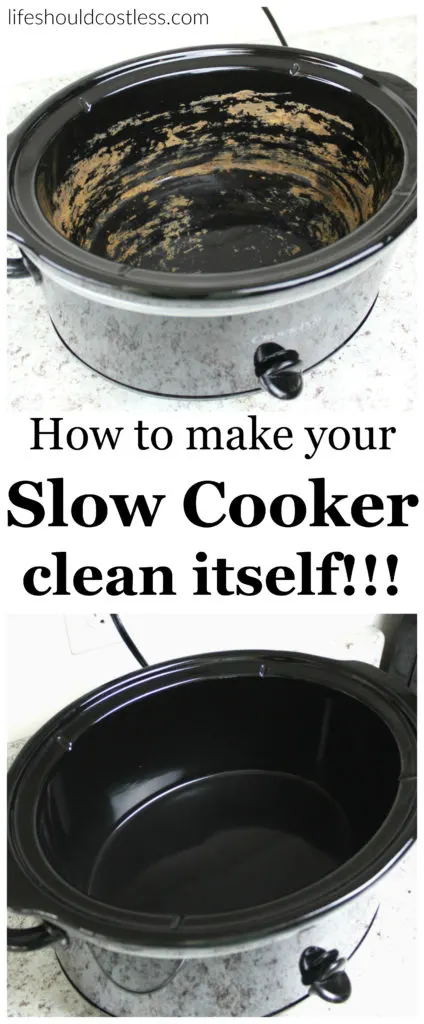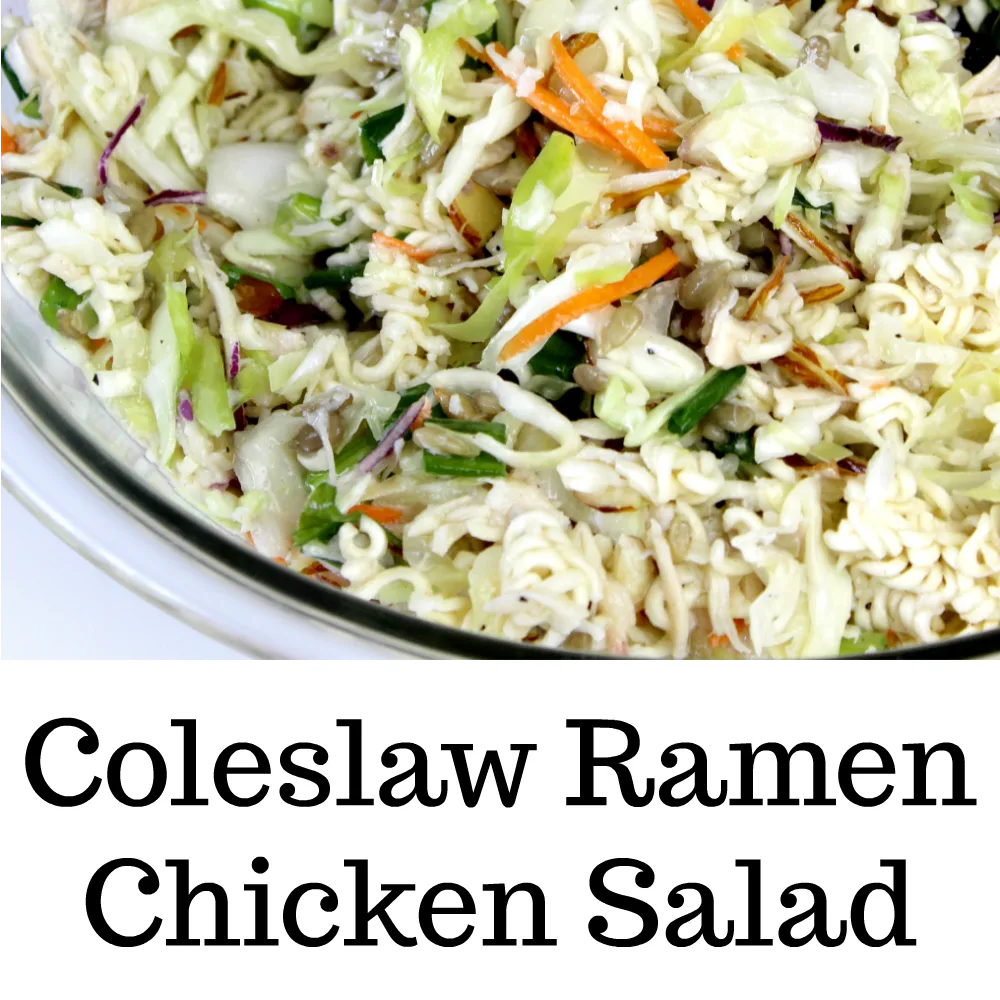 *Reposts: Please note that this idea/post was originally posted to this website on 07/27/2015 but it was in great need of a refresh so it now is more user friendly/shareable with a free printable recipe card.