I can honestly tell you that this is THE BEST Stuffing Recipe I have ever tasted, in fact, I didn't even like stuffing until I tried this particular version of the dish. I think that is because this dressing has the perfect blend of herbs, sausage, and onion, and even better you can make it a little ahead of time so it free's up space on your stovetop for your other dishes because you use a Crock Pot slow cooker to finish cooking it.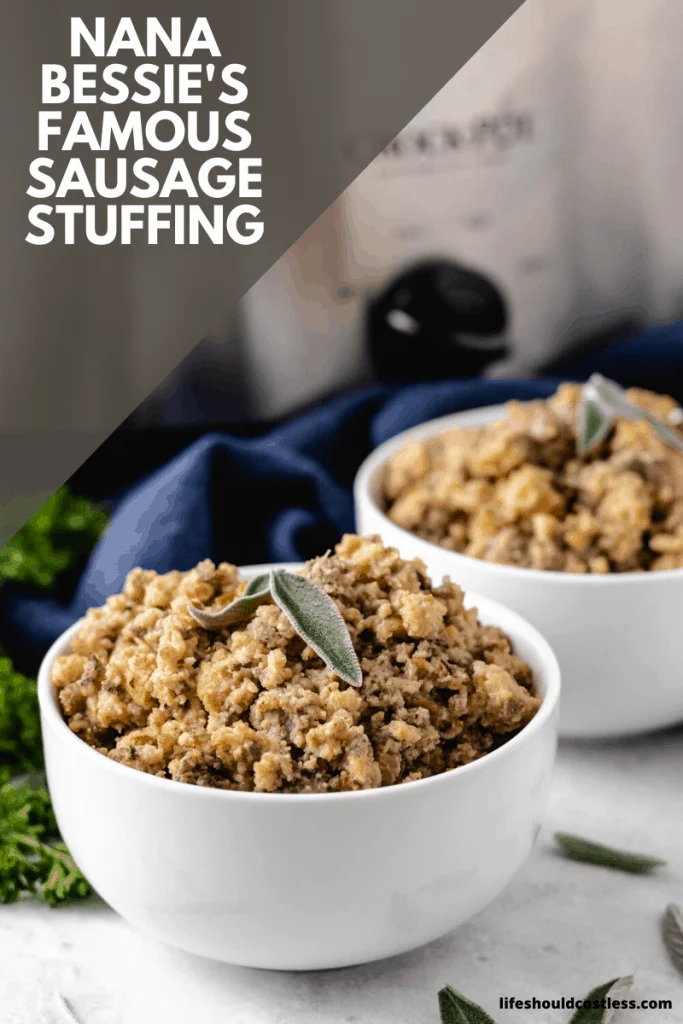 Some history about Bessie and this recipe: This recipe comes all the way from England. It was my ex-husband's grandmother's recipe. She and her husband relocated to Utah some time after WWII and settled in the Salt Lake Valley.
Years ago, my now ex- Mother-In-Law, Diane gave me this recipe to share on this blog and now I keep it so that my kids will have it for when they are older and can continue to pass it down for generations.
This recipe actually died with Bessie in the 1980's and Diane (Bessie's daughter) actually spent hours and hours (and a couple of years to get it just right) in the kitchen re-creating this recipe because it was lost when Bessie passed away.
I am so thankful that Diane took the time to do that so that my children will have their great-grandmothers stuffing recipe and it will also mean a lot to them to know that Diane had a hand in it as well (Diane also passed away the spring of 2019).
Recipes are probably one of the most important things to me when it comes to family heirlooms, so I am excited to be able to pass it down from generation to generation for my kids.
Doesn't the Crock Pot Stuffing With Sausage look super tasty?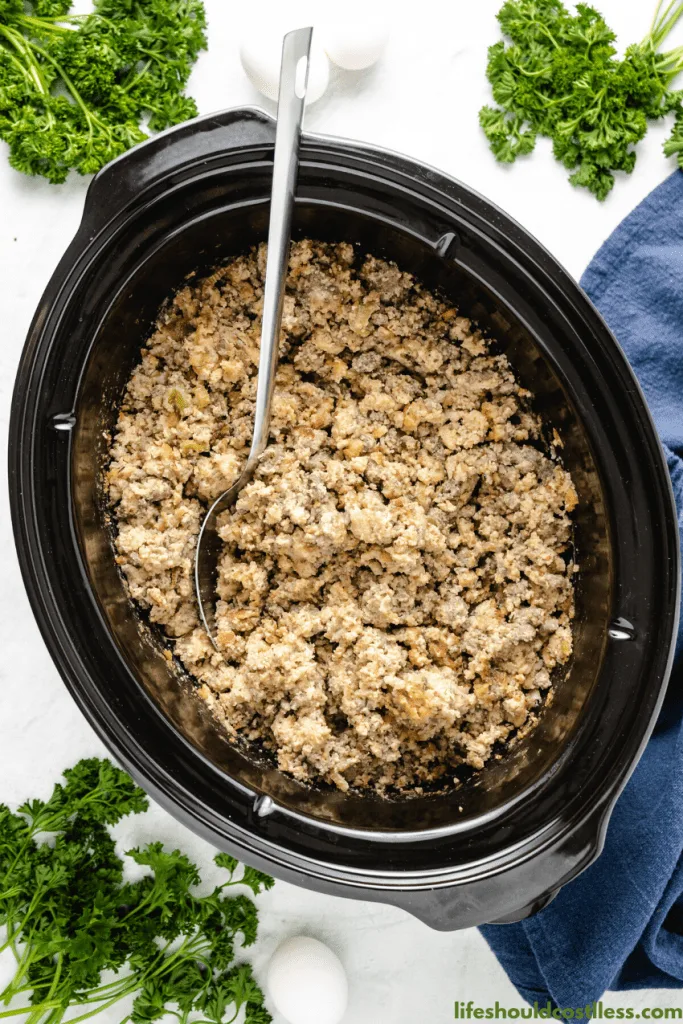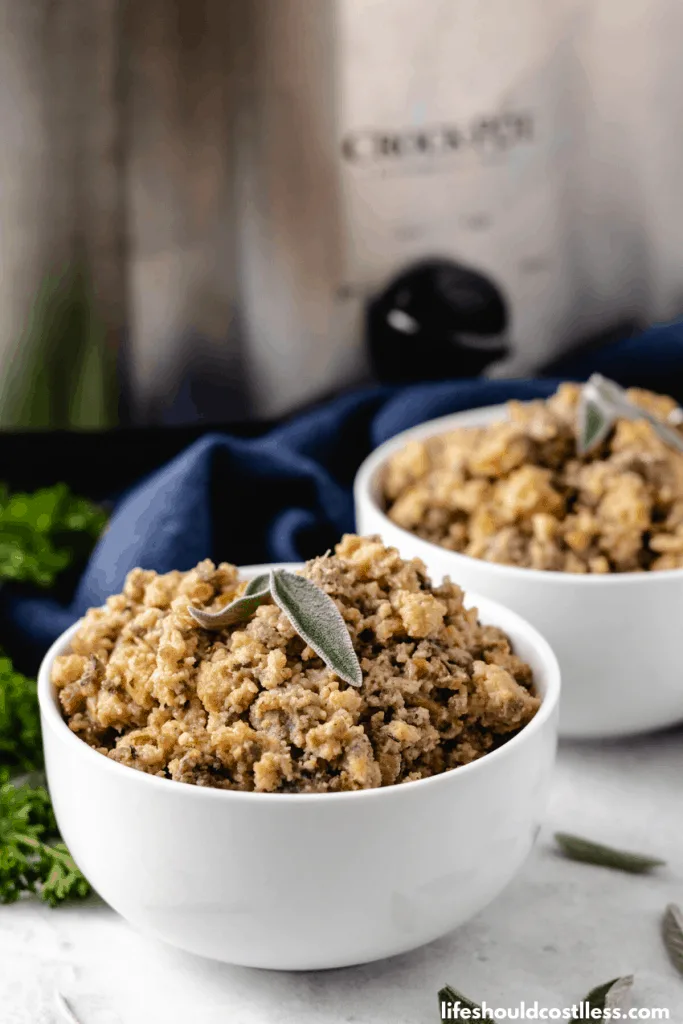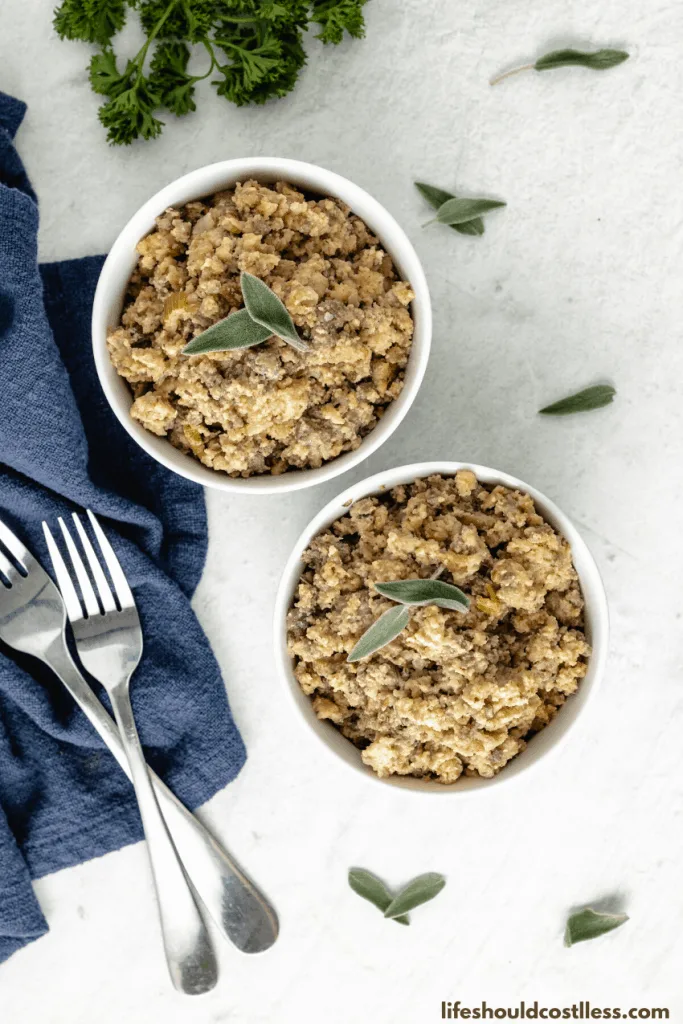 It's seriously the best Crockpot dressing recipe ever!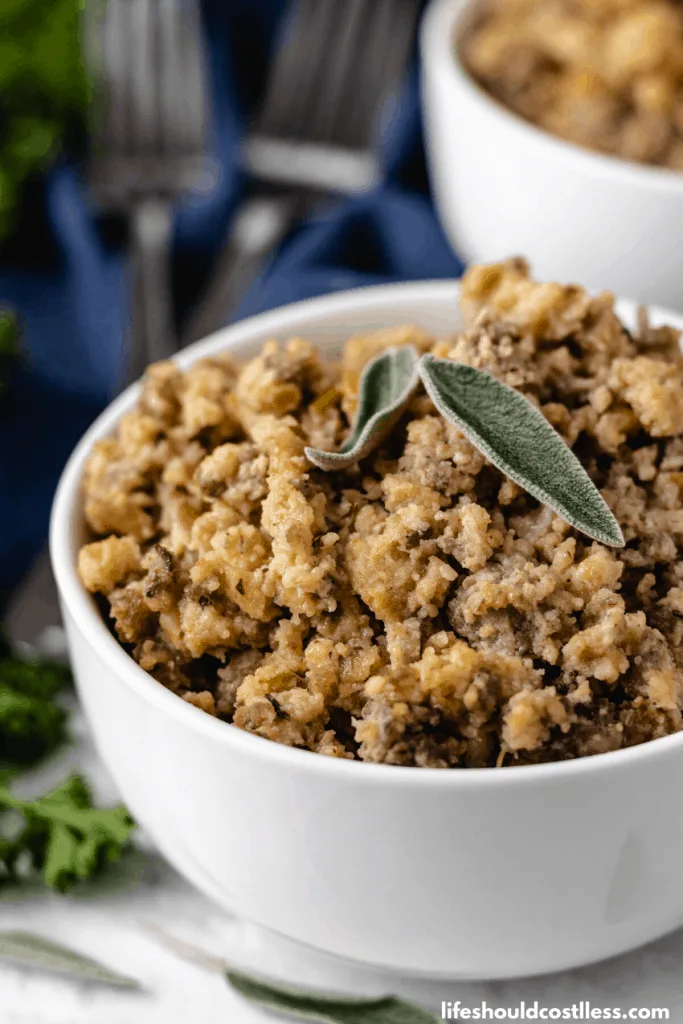 I shared a video so that you can easily see how to make it. I hope you like having the new visual.
If you are wondering what I'm talking about when the recipe calls for packages of dressing, this is what you need to be looking for…
Apparently dried stuffing and dressing are pretty much the same thing…please disregard my old crappy photo of it. 😉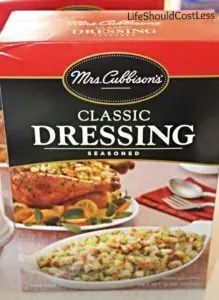 This is one of my most popular Holiday recipes, but I think that it is also good any time of year too.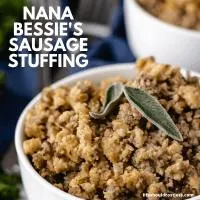 Nana Bessie's Sausage Stuffing Recipe (For Slow Cooker)
The best and most yummy Stuffing/Dressing recipe. Even if you don't typically like stuffing, you need to give this one a try and it will soon become a favorite family recipe.
Ingredients
1 Stick Butter (½ Cup)
1 Large Onion
1 Bundle of Celery
2 Lbs Sausage (I use Jimmy Dean Sage Sausage)
1T. Sage
1 ½ tsp Rosemary
1 tsp Thyme
1 tsp Minced Garlic
½ tsp Pepper
2 Packages Dressing
1 – 2 Cans Chicken Broth
1 Dozen Eggs
Instructions
Slice Celery and chop the Onion, set aside.
Melt Butter in large pan. Add Onion and Celery and saute until Onion starts to become translucent.
Add Sausage and Seasonings. Continue to cook until the Sausage is browned.
In a large bowl, beat the Eggs.
Add Dressing and stir until it is all moistened.
Add the Sausage and mix thoroughly.
Add 1 can of Chicken Broth, a little at a time, while mixing.
Stuff turkey and/or put in a large, greased, CrockPot on low. Cook on low for 4 hours stirring occasionally.
Add the second can of Chicken Broth, just a drizzle at a time while mixing, over that 4 hours to keep the stuffing from drying out.
Notes

I use Jimmy Dean Sage Sausage for this recipe.
This recipe makes enough to stuff a large turkey and pretty much fill a 6-Quart slow cooker.
It can easily be cut in half. You can add extra chicken broth as needed to counter drying out.
Nutrition Information
Yield

24
Serving Size

1
Amount Per Serving
Calories

196
Total Fat

17g
Saturated Fat

7g
Trans Fat

0g
Unsaturated Fat

9g
Cholesterol

127mg
Sodium

468mg
Carbohydrates

1g
Fiber

0g
Sugar

1g
Protein

8g
These caloric amounts are automatically estimated by a plugin on my site and should be treated as an estimate only.
Like I said before, it's super tasty, and even better, it can easily be enjoyed any time of year, not just at thanksgiving… it has so much meat and bread in it, it's basically a chopped up version of the tastiest meat loaf that you could possibly imagine.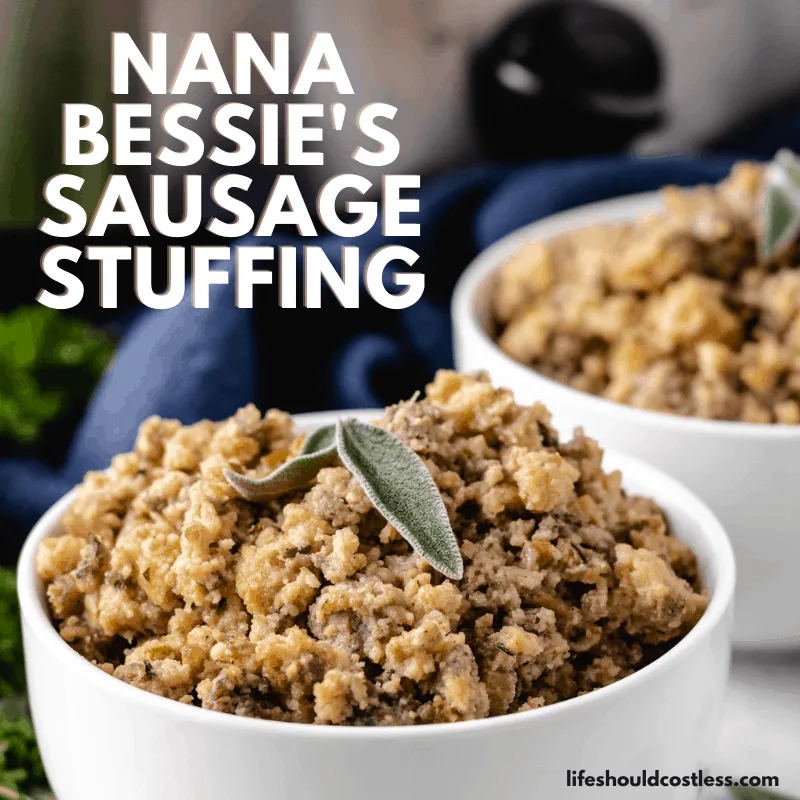 I especially like that even though you start it out on the stove-top to make this recipe, you transfer it to the slow cooker to continue to cook so that it is perfect when the time comes that you need it…
AND that free's up the stove top so that you can make any other elements of your meal that are a little less easy to budget your time with.
Thanks so much for stopping by my blog! If you liked what you saw, please make sure to share it via social media…or even send them the url via email. Either way, I super appreciate it! ~Sarah
Follow Me
If you would like to subscribe to my email list, go here.
Make sure to follow along via social media, by going here.
If you would like to learn how to really show your support to this site (at no cost to you), go here.
P.S. Don't forget to check out my entire Favorite Recipes Section!
Some of my other most popular recipes that are perfect for any gathering: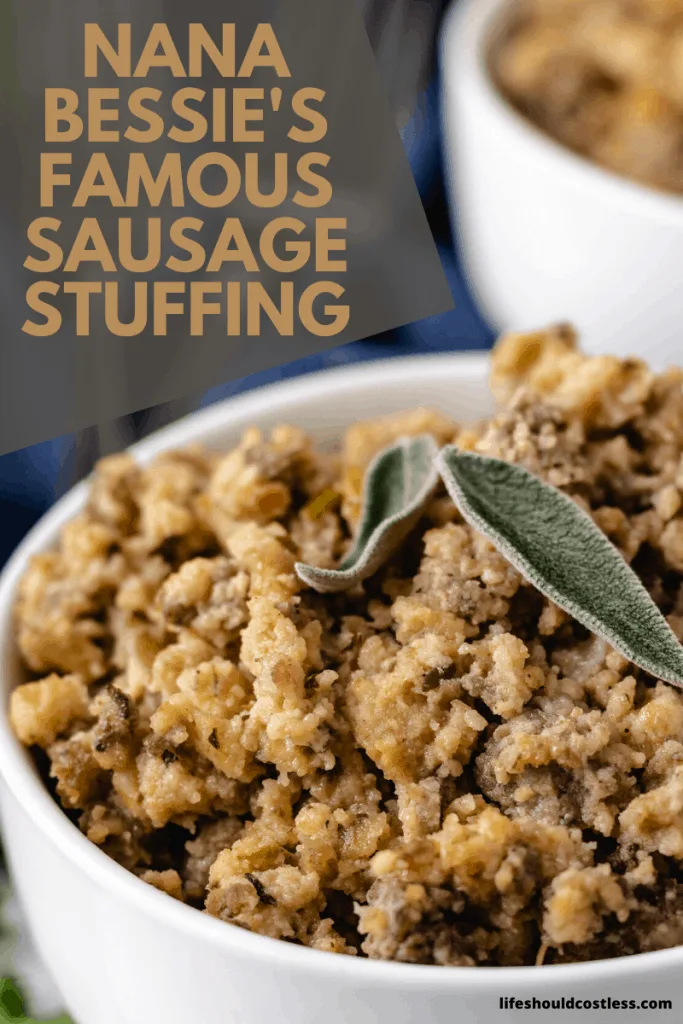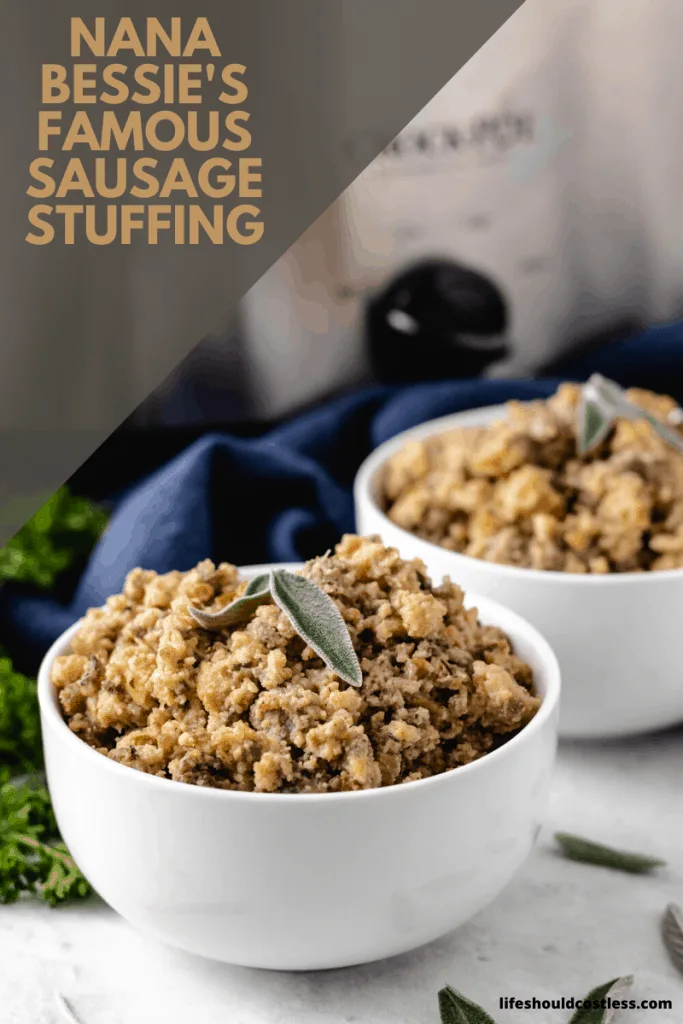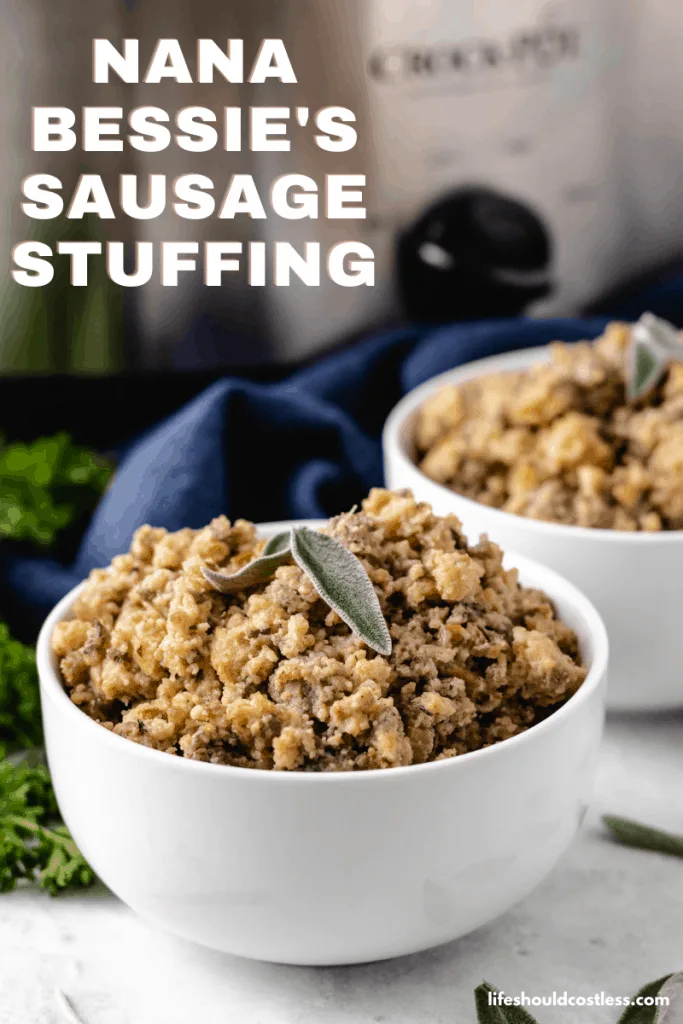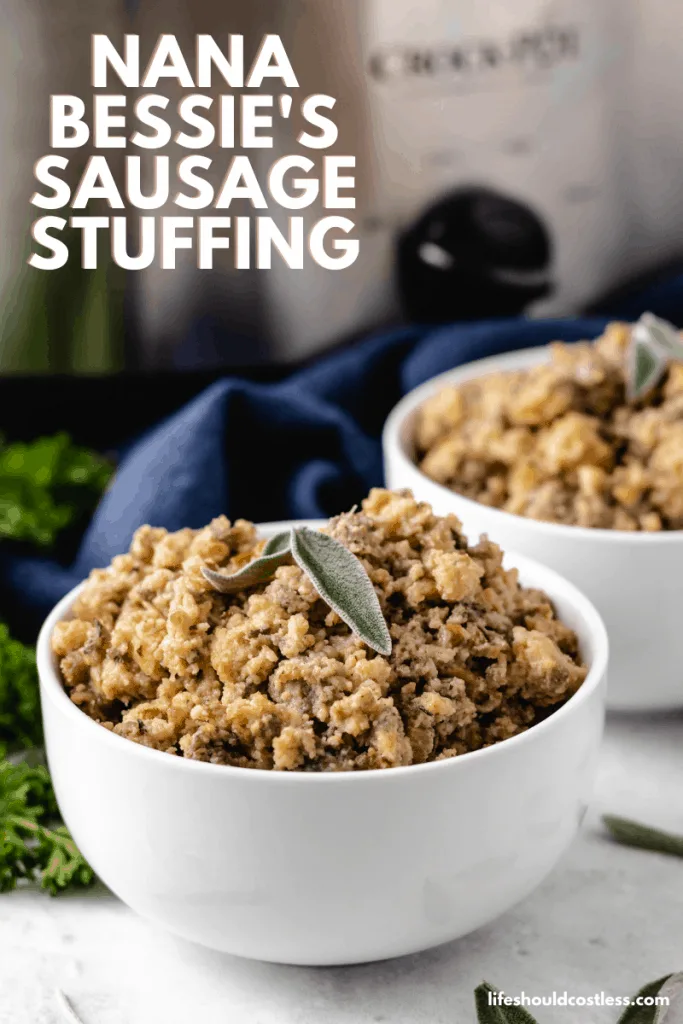 This post was originally share to this blog in September of 2013 but was in need of a refresh. It now has a free printable recipe card and much better photography.