I like Lasagna as much as the next person, but if I'm going to make it myself it is going to be extra thick and meaty and full of flavor. I figured that some of you may feel the same way about Lasagna as I do, so I'm sharing my deep dish (no joke, it's like five or six inches thick) Lasagna recipe today. This recipe could easily feed a crowd of 12 -18 or more depending on appetites, or if you're like me, you'll just make it and have left overs for the next week. It reheats really well so leftovers are just as tasty!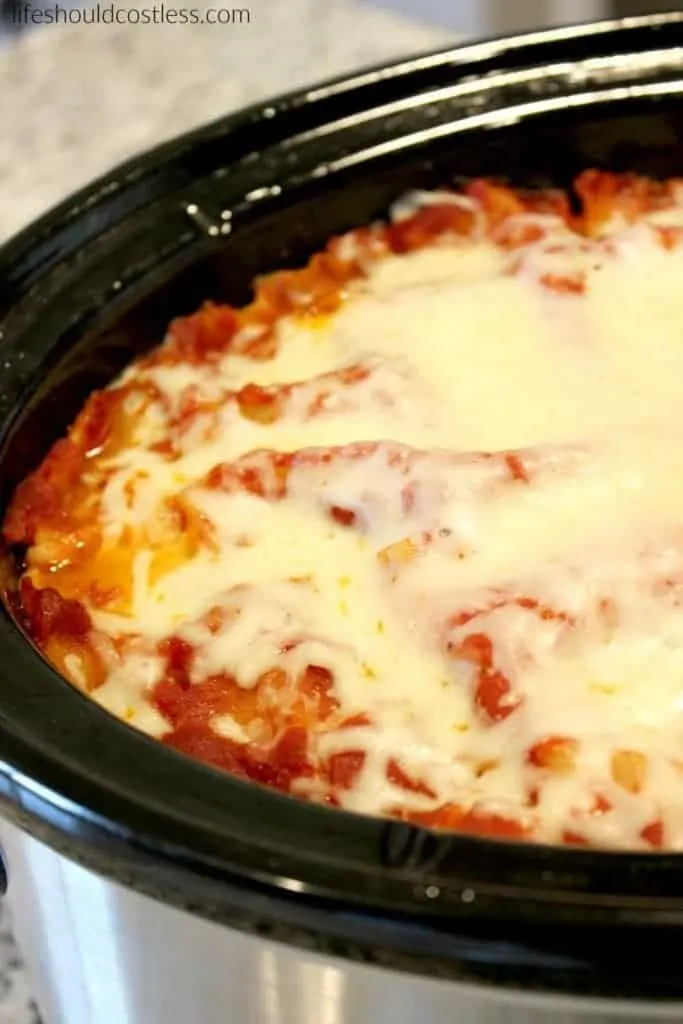 *Hey there, thanks for stopping by my website. This article is super old, so it has been archived as I no longer update it…so proceed if you wish…but it is definitely not my best work. Please stop by my home page, here, and see some of my better content. Thanks! ~Sarah*
Normally, I would apologize profusely for posting three recipes in a row, but I've reached a point in my career that I have to do things on my own terms and not what the industry or whatever expert tells me I should be doing. I find that always trying to reach whatever mark really stifles my creativity because I go on these kicks where I want to do 12 posts in a row on the same subject because I get my creative juices flowing and one idea sparks another and another and another and in the past I would always shy away from posting like that because I was worried that it would turn off my readers. However, I now have hundreds of posts on the site, and people rarely read them in order, so now I am going to be doing things the way that my brain works…which is in binge fashion… so you are forewarned. I gotta do what works for me or I'm going to explode. Besides, I'm really just trying to chill out these days…life is hard enough without giving myself so many more hoops to jump through.
I'm done with that side-note, now on to the pics and recipe: Ingredients are all laid out…except two things from the spice cupboard.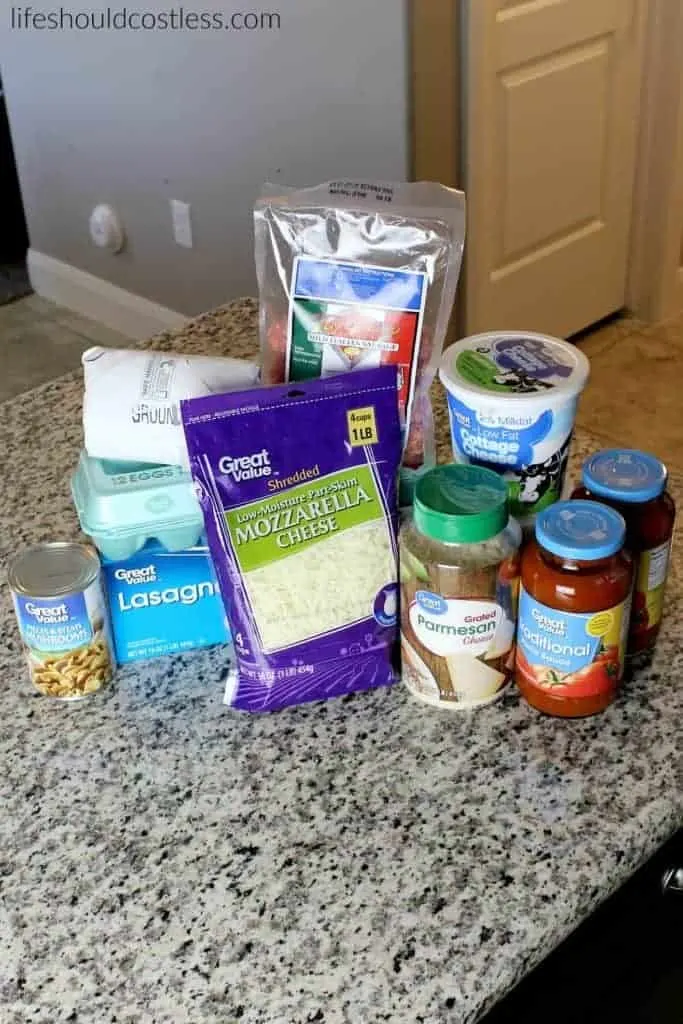 The very first thing you're going to want to do is to brown your meat while you work on other parts of the meal…or it'll take you forever and that's just silly. We're doing some time management here by browning the meat first. Make sure to salt the meat as needed.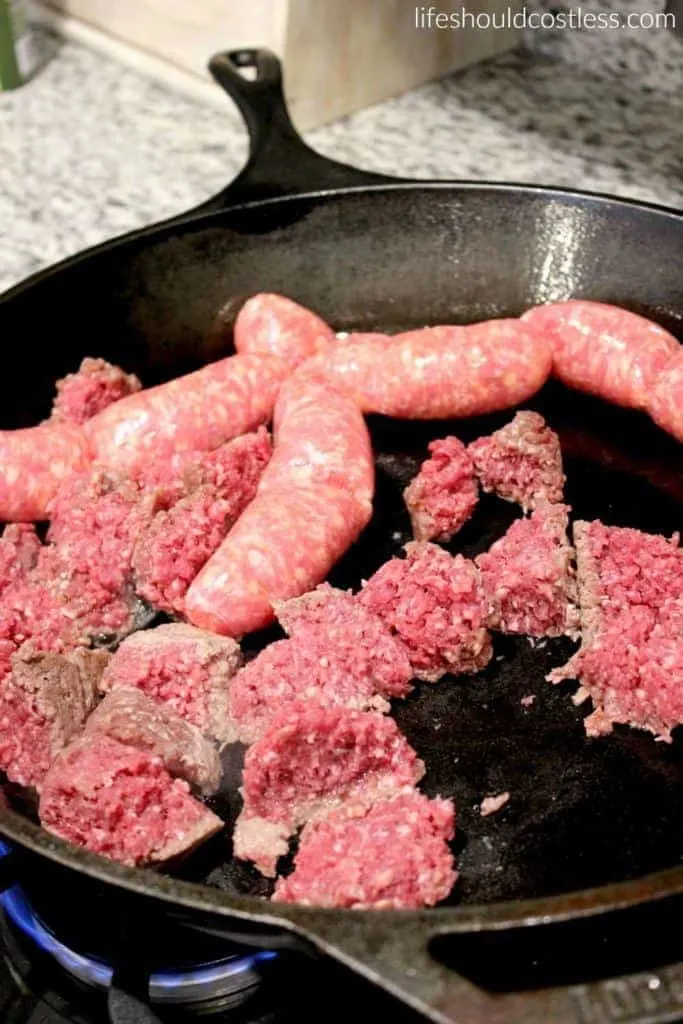 I use this 15″ Cast Iron Skillet…which is a kitchen staple if you have a medium to large family. I actually want to buy a second one one of these days…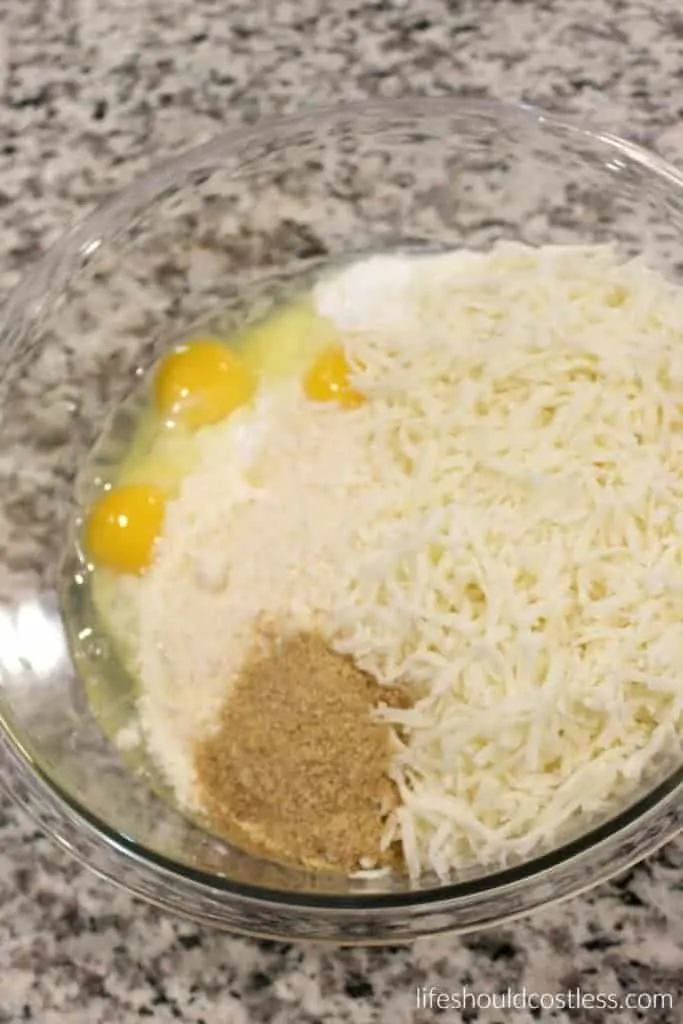 While the meat is browning I work on the cheese layer of the Lasagna.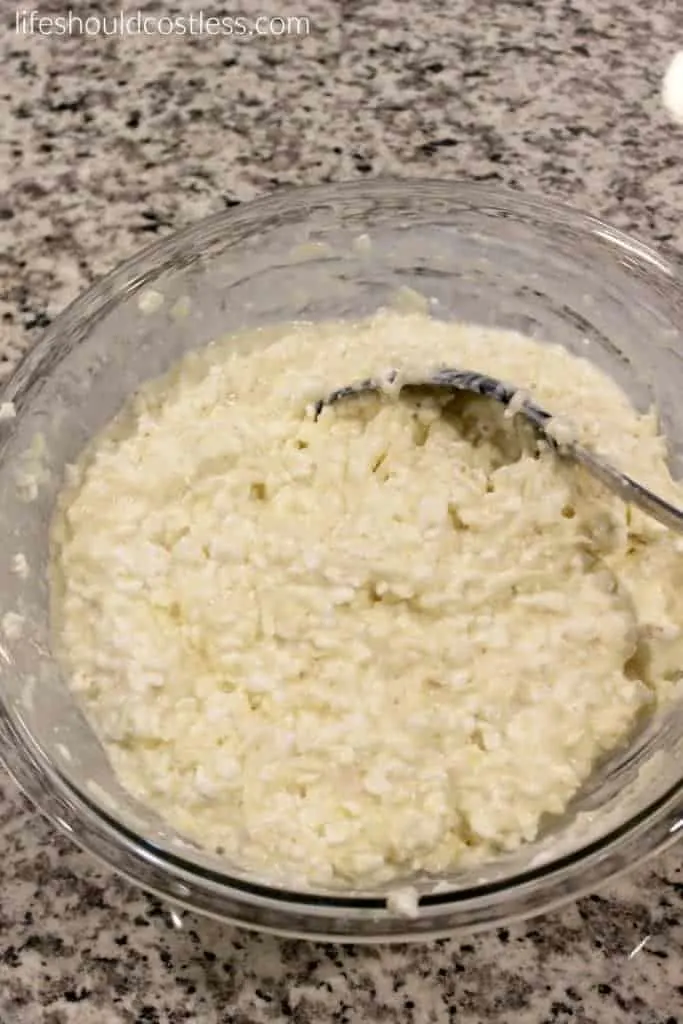 I add all the ingredients to my four quart Pyrex Glass Bowl and mix well.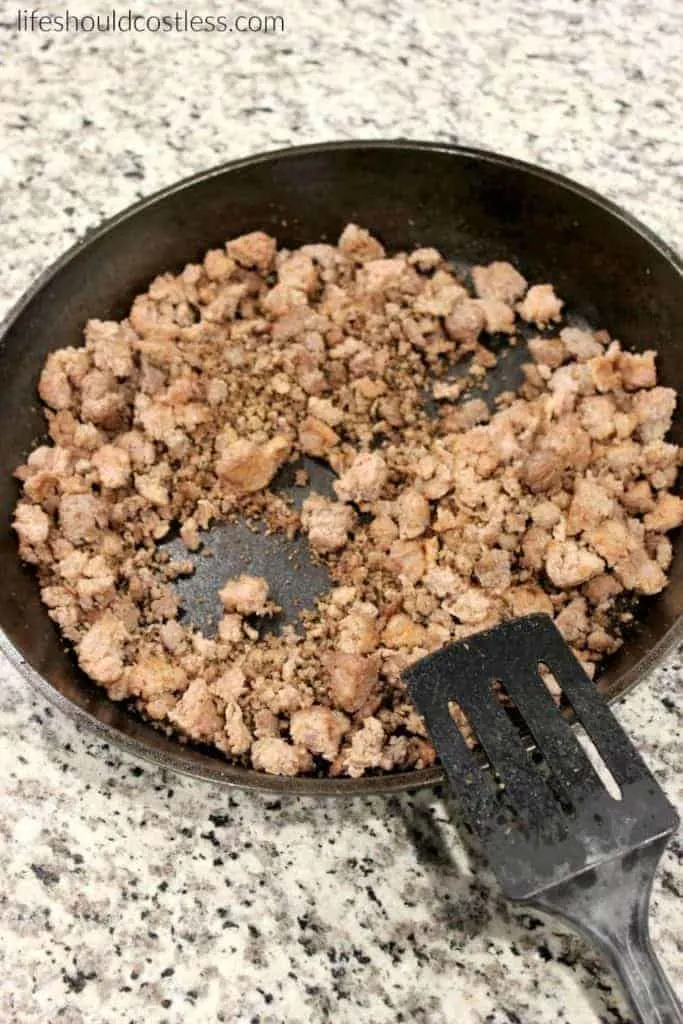 When the meat is done browning, it's time to make the meat/sauce layer. Instead of getting out another bowl, I just mix this layer in my skillet…I have to wash it anyway and it's more than big enough to hold everything.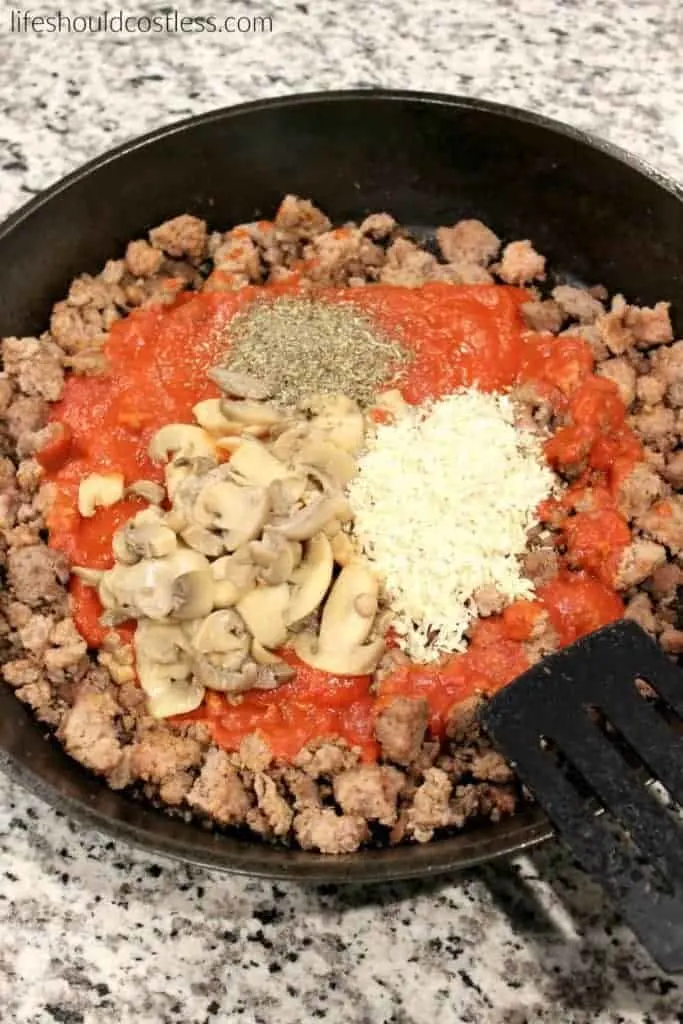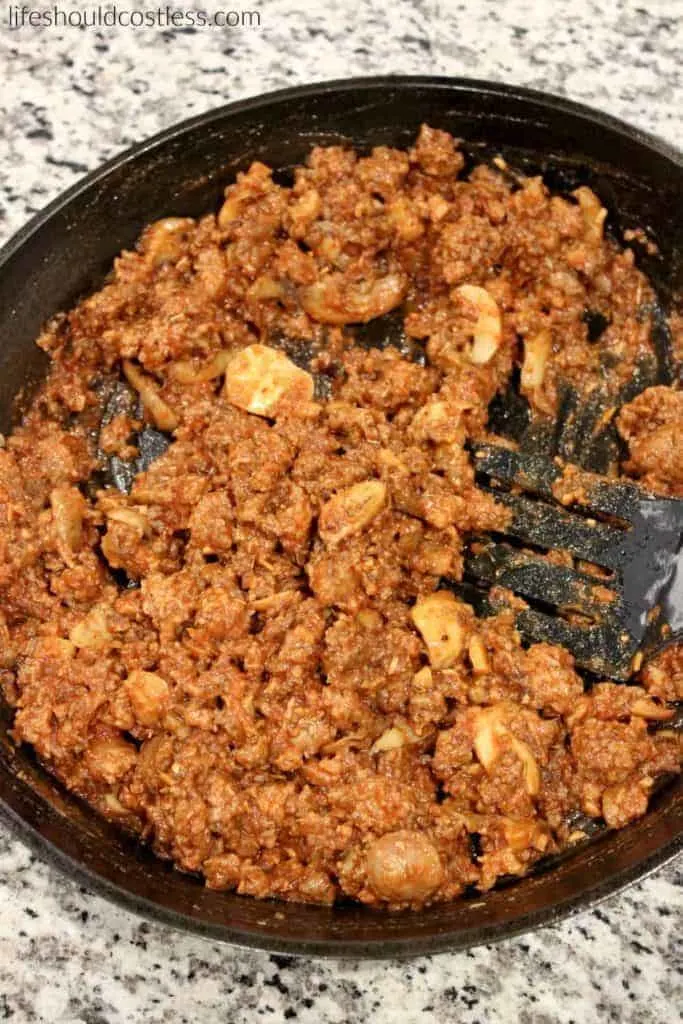 When I'm done mixing the meat layer I flatten it all in the bottom of the skillet and make a line down the middle so that it's easier to know exactly how much is half for each of the two meat layers.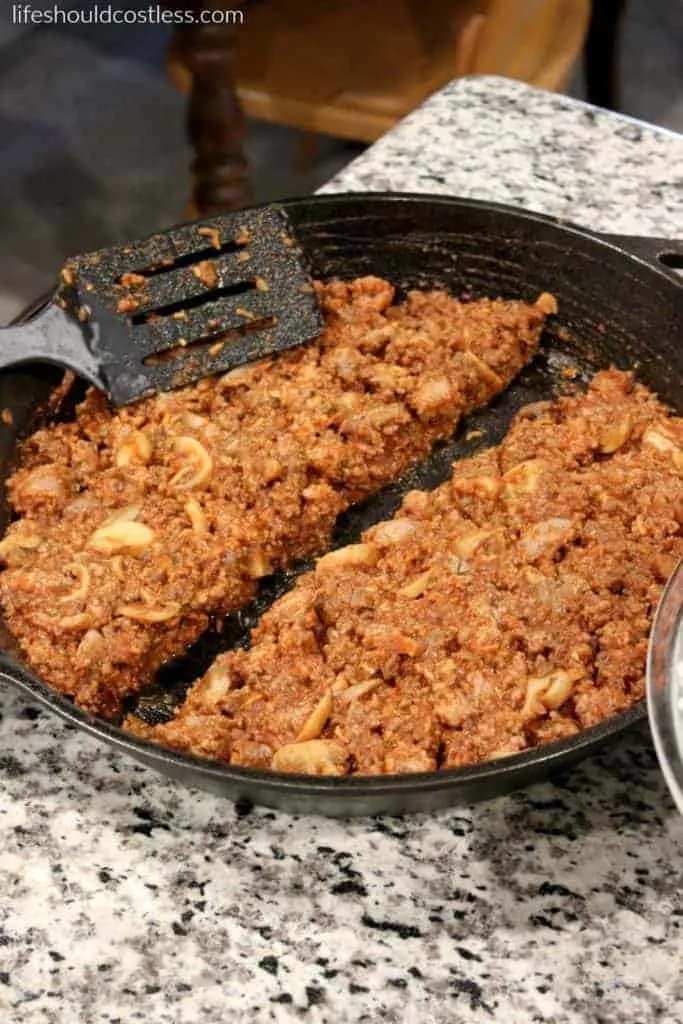 It's time to put this lasagna together!!!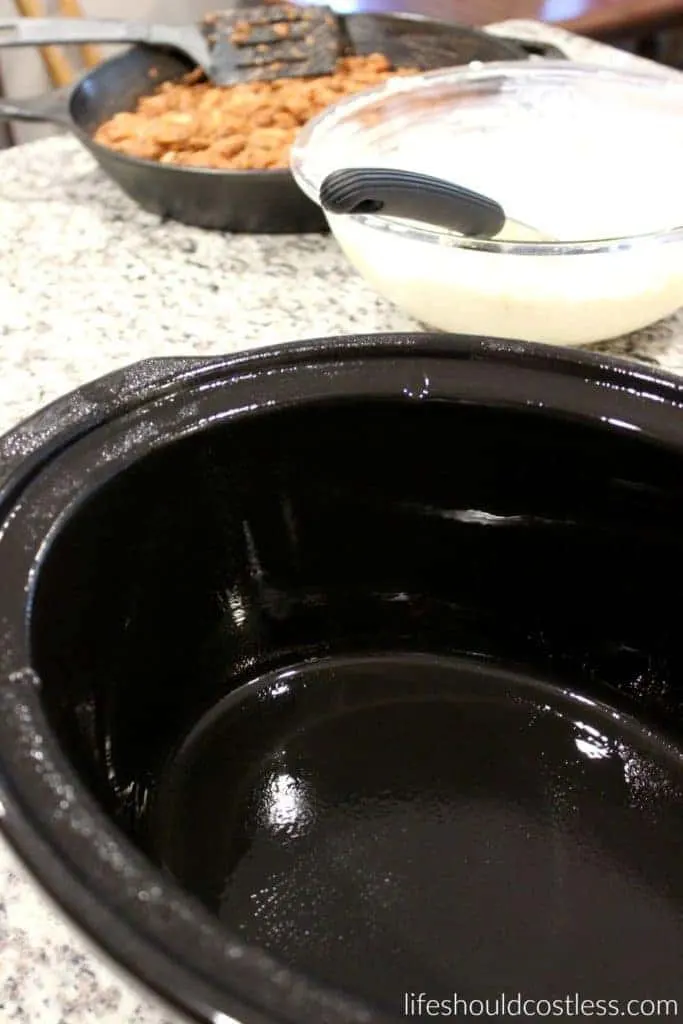 First, I greased the crock. I use this Seven Quart CrockPot.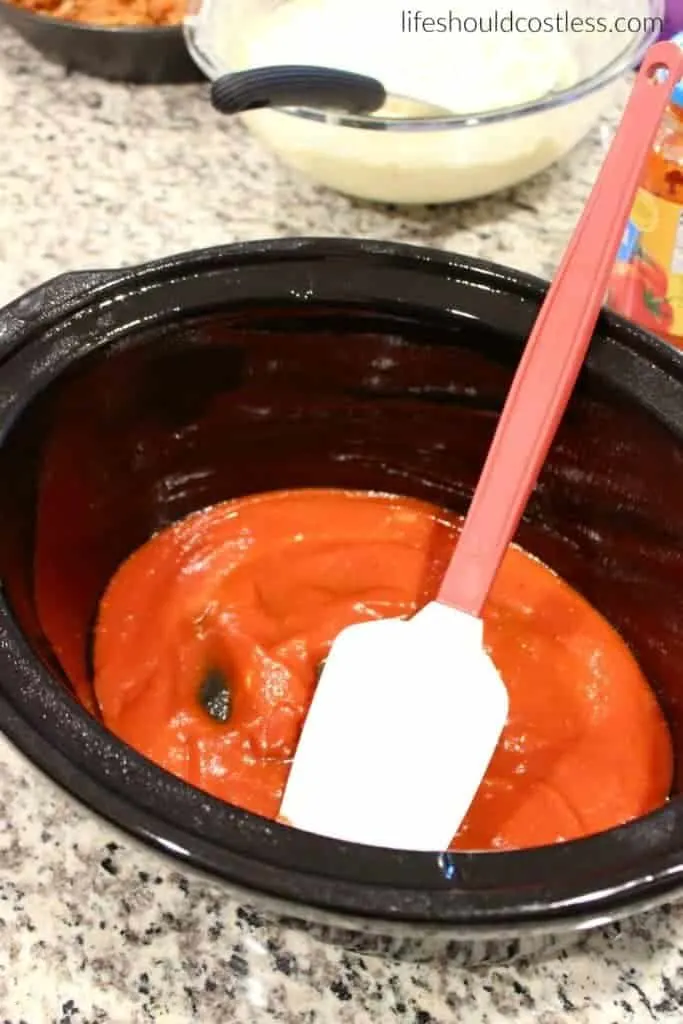 Next, I spread half of a jar of Traditional Spaghetti sauce in the bottom using my Commercial High Heat Scraper Spoon.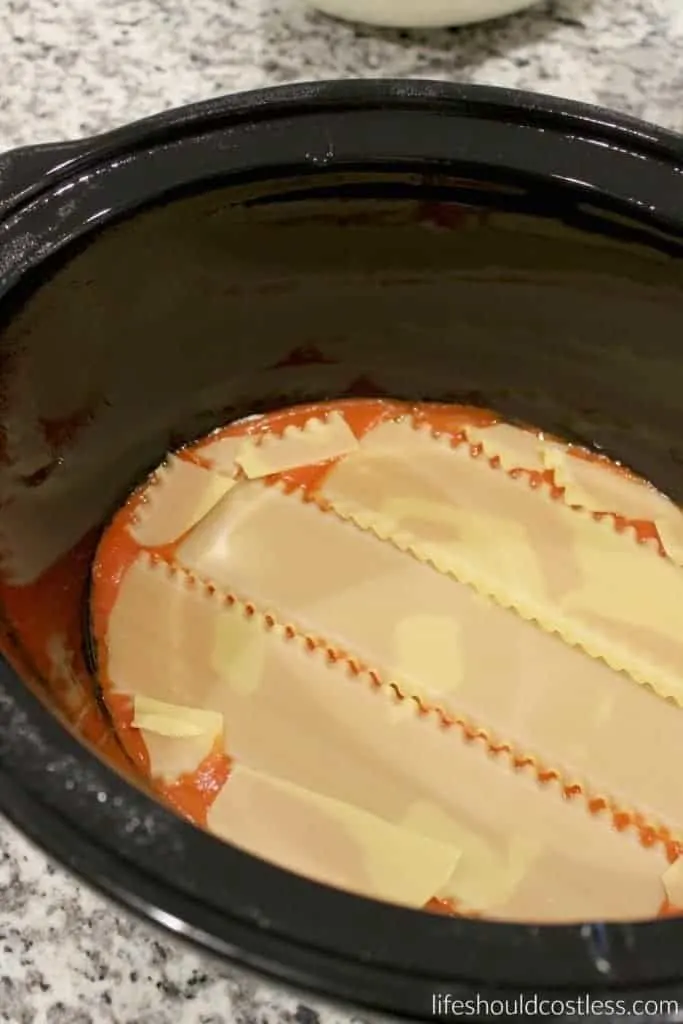 Then added the first layer of Lasagna noodles. I broke them to fit around the edges.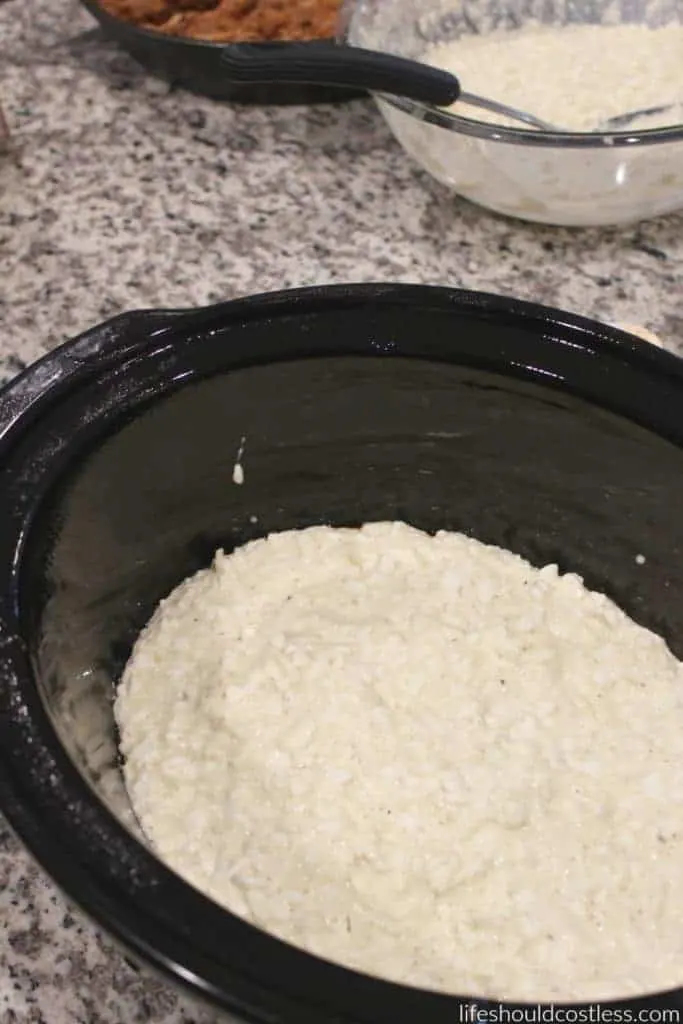 Followed by the first cheese layer using half of the cheese mixture.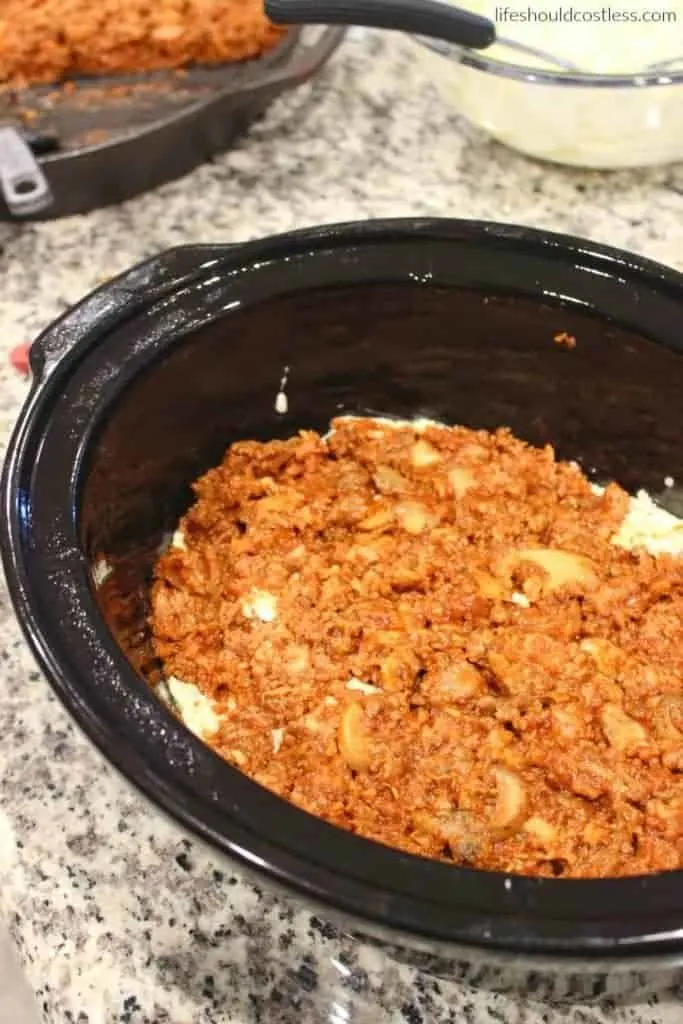 Then the first meat layer.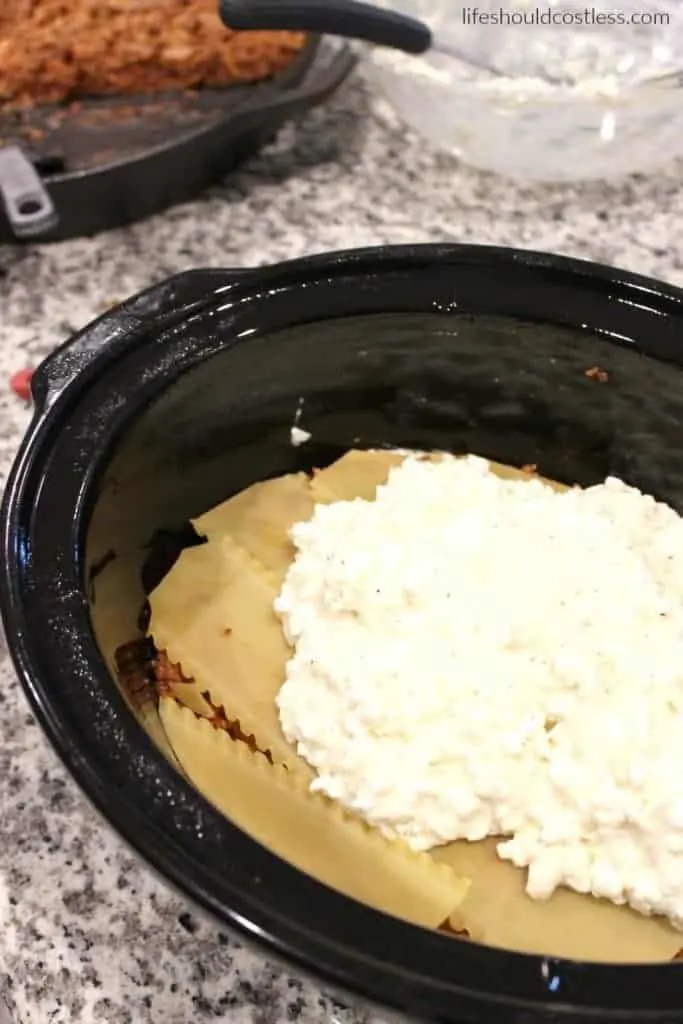 Then another layer of noodles…oops, I had totally forgotten to take a pic until I had moved on to the second cheese layer…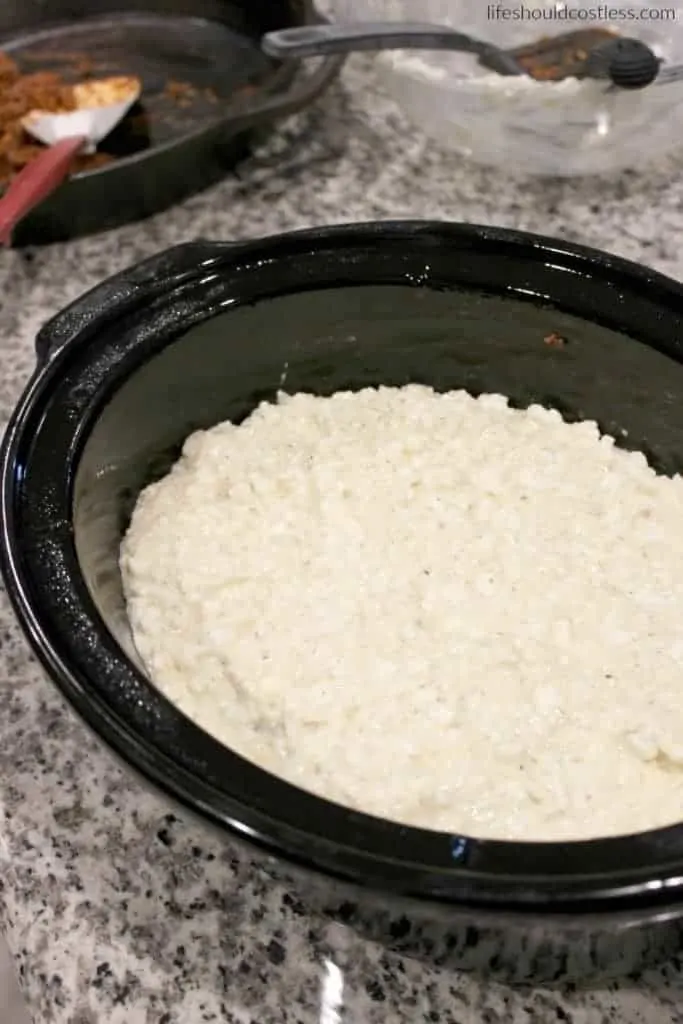 Now the second cheese layer.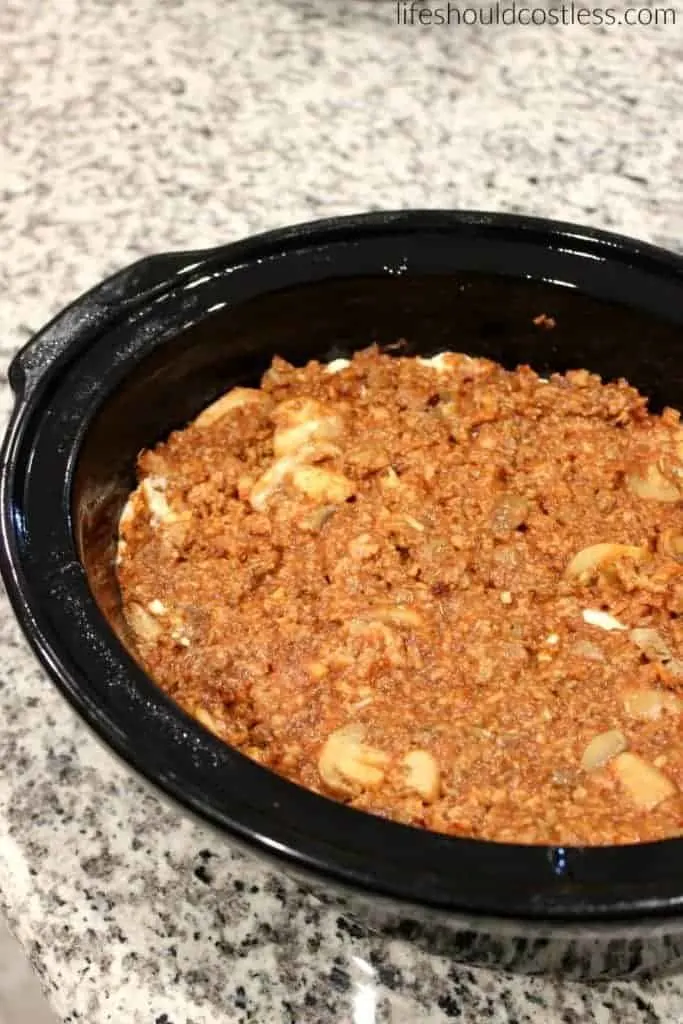 Then the next meat layer.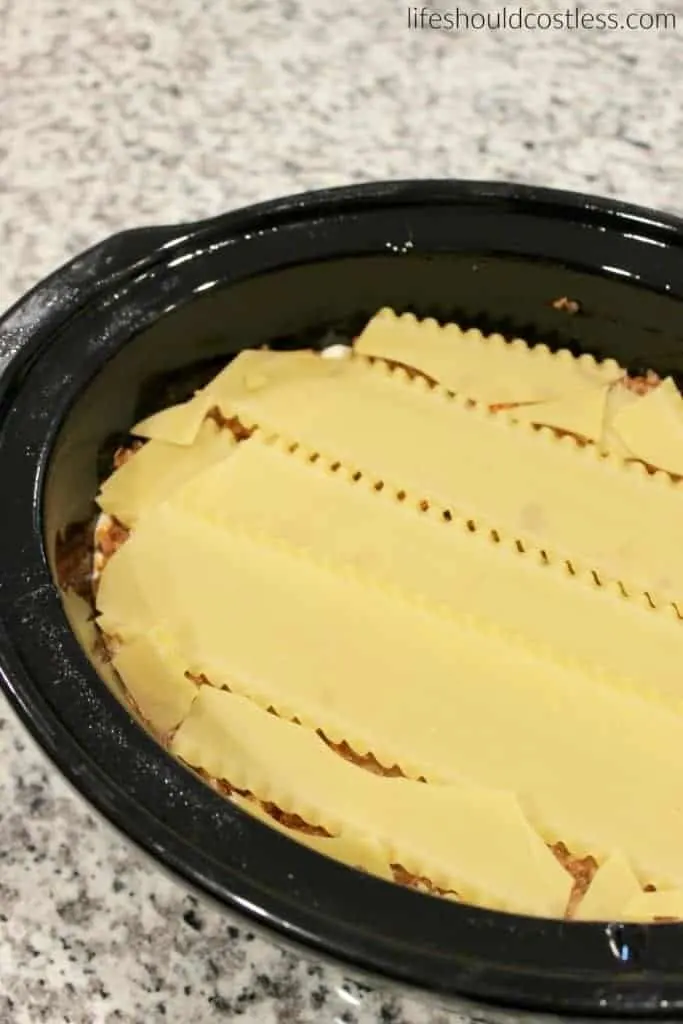 Then the final noodle layer.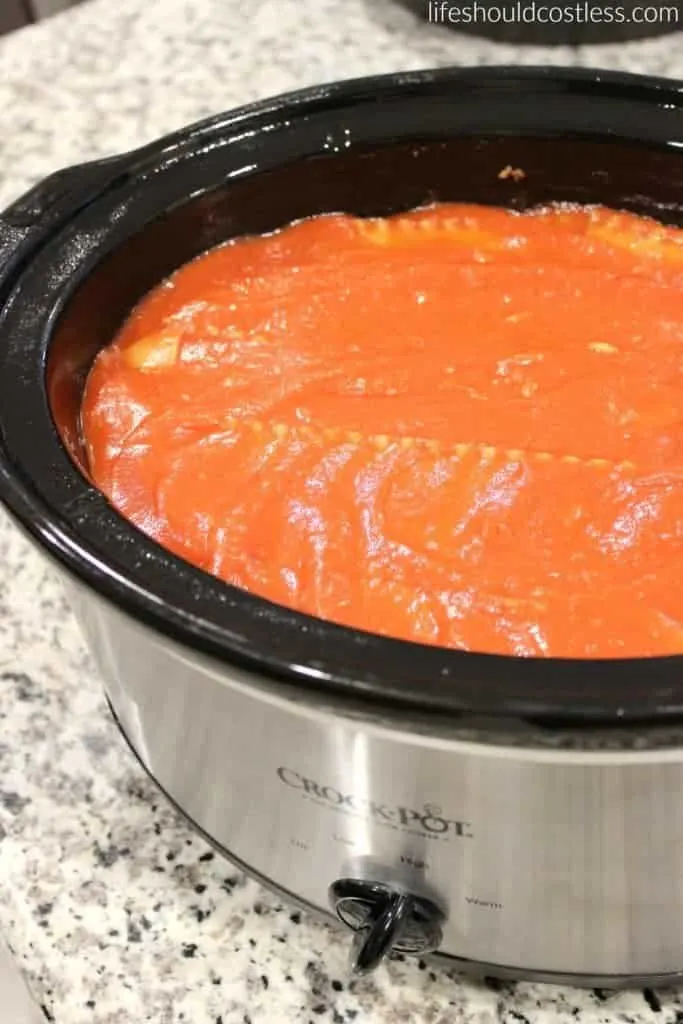 Followed by the last half jar of Spaghetti Sauce.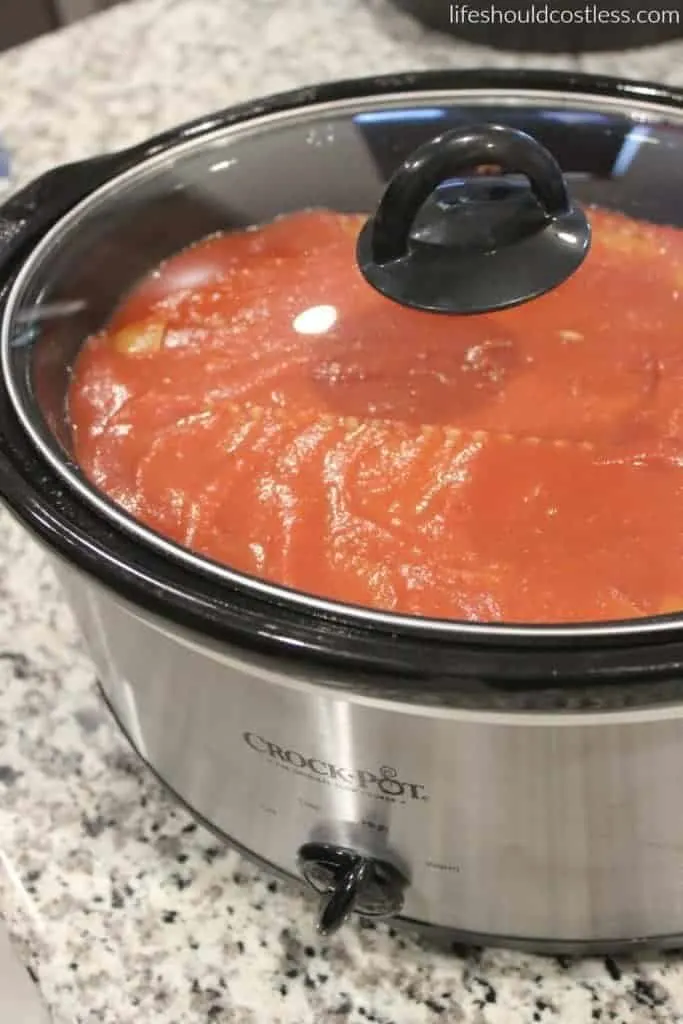 Put the lid on and put on LOW for four to five hours…ignore the temp setting on that last pic…I use high on almost every recipe, so that was force of habit, but it's too high for Lasagna.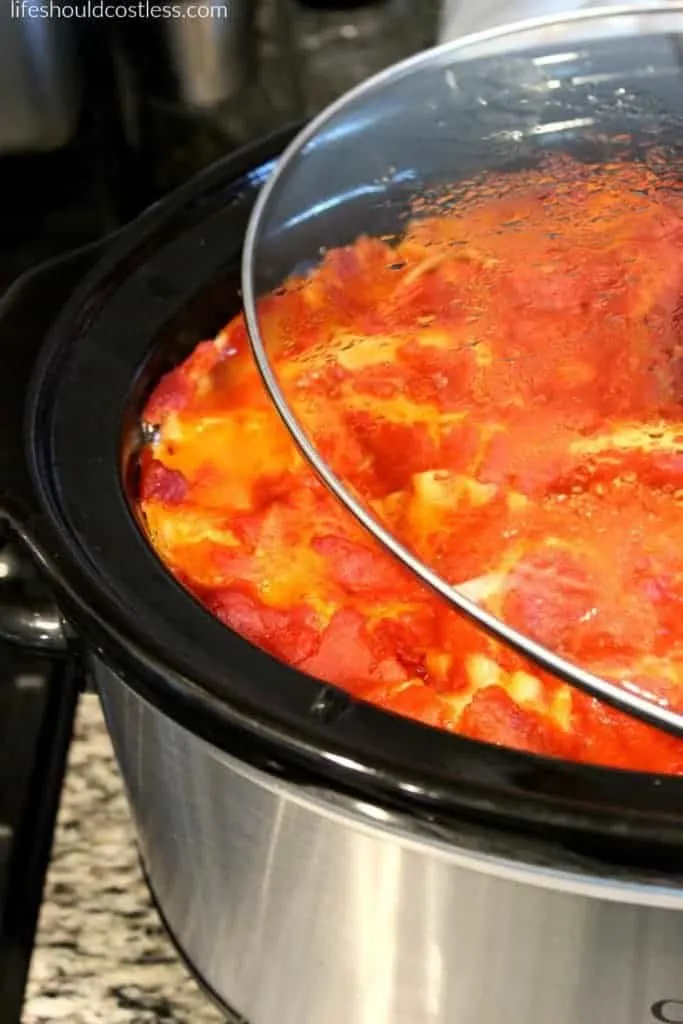 I like to crack the lid the last half hour to let any excess moisture escape. You can do longer or shorter depending on how thick you want your sauce to be.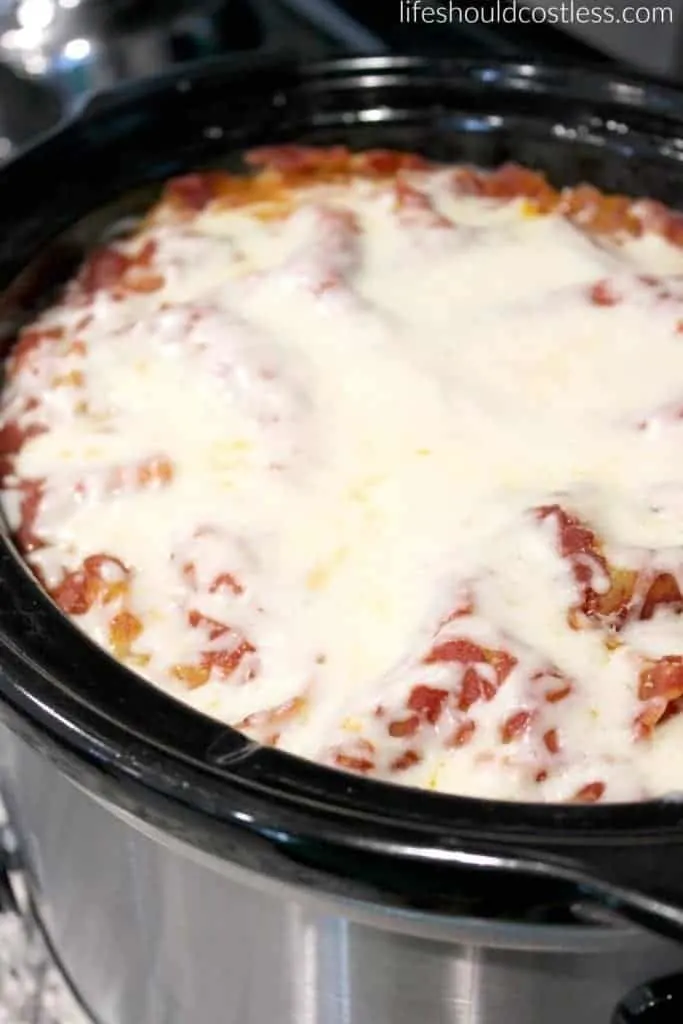 Here I added the last of the mozzarella cheese and covered until it was melted. Then I turned it off, left the lid cracked and let cool for at least ten minutes before serving.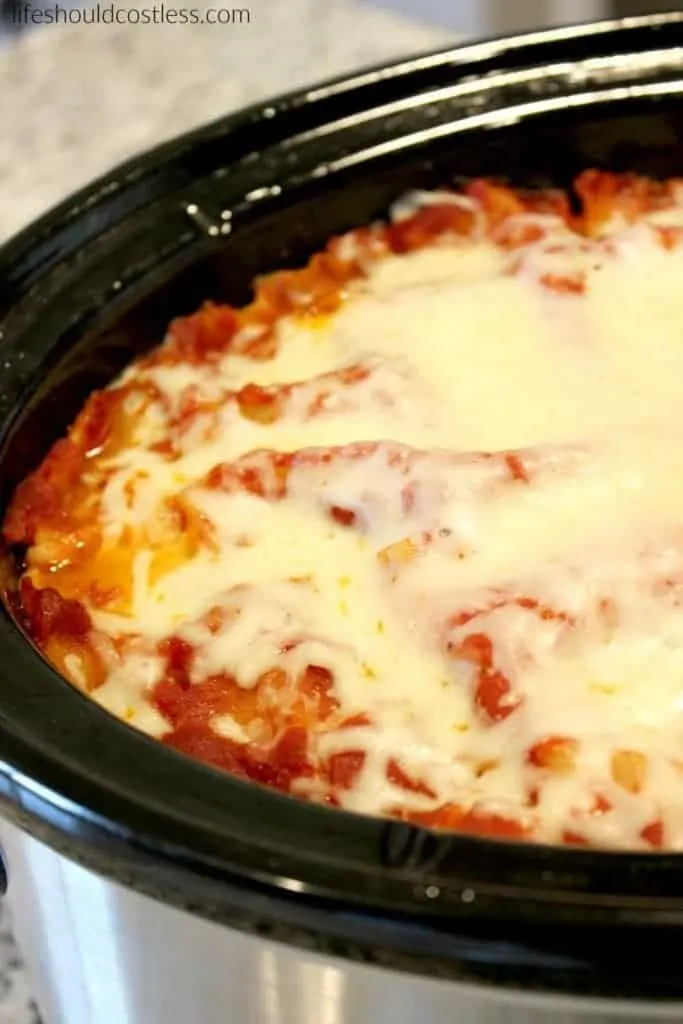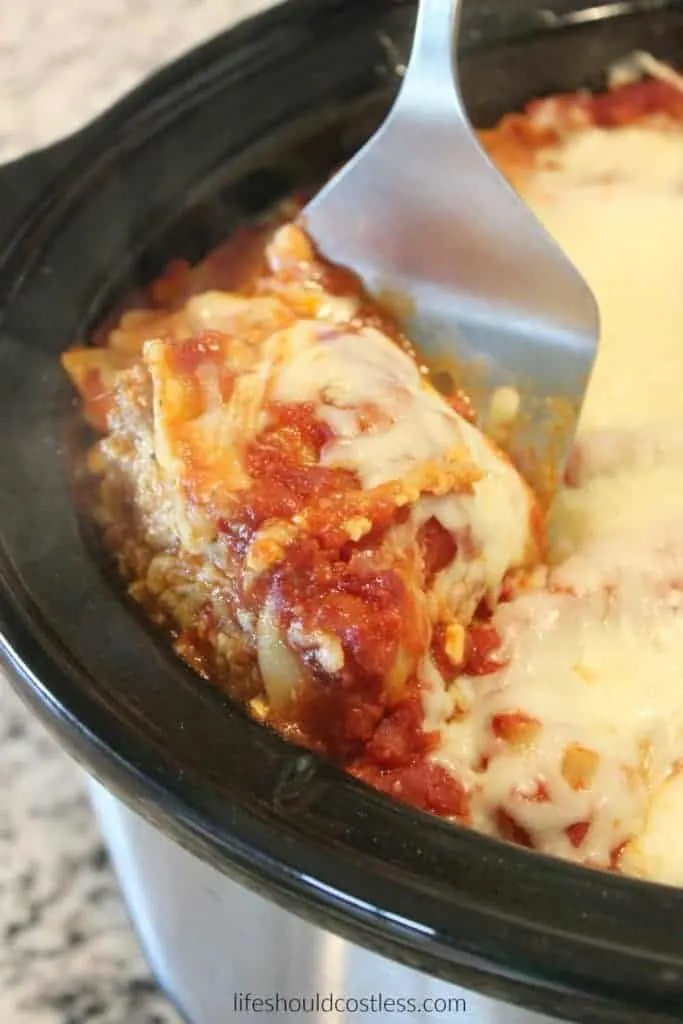 Slow Cooker Deep Dish Lasagna
Author:
LifeShouldCostLess.com
Ingredients
6 Cups (48 Oz) Cottage Cheese
4 Eggs
3 C Mozzarella Cheese (grated)
¾ C Parmesan Cheese
2 T Flax meal (optional)
1 Lb Ground Beef (browned)
½ Lb Mild Italian Sausage (browned)
2 Jars (24 oz) Traditional Spaghetti Sauce
1 Large Can (8 oz) Mushrooms (drained)
¼ C Dried Minced Onion
1 T Italian Seasoning
1 Package Lasagna Noodles
Salt & Pepper to taste
Instructions
Start by browning the Beef and Italian Sausage in a large pan/skillet so you can work on other parts of the meal while it cooks.
In a large bowl add the Cottage Cheese, Eggs, 2 Cups Grated Mozzarella, Parmesan Cheese, and optional Flax Meal. Mix well and set aside.
When the meat is done browning, use the same pan and add 1 Jar of Spaghetti Sauce, Mushrooms, Onion, and Italian Seasoning. Mix well and set aside.
Grease a seven quart slow cooker then add half a jar of Spaghetti Sauce, spread evenly.
Spread Lasagna noodles (uncooked) over the sauce. Break noodles as needed to go around the curves of the slow cooker.
Next, add half of the cheese mixture and spread evenly.
Followed by half of the meat mixture spread evenly.
Spread another layer of noodles
Another Cheese layer
Another Meat layer
One last layer of noodles.
Cover the noodles with the remaining half jar of spaghetti sauce and spread evenly.
Put lid on slow cooker, cook on low for four to five hours.
At the last 10-15 minutes of cook time, remove the lid, spread the remaining one cup of Mozzarella out, cover and let cook until melted.
Remove lid to cool and it's ready to serve.
Notes
If you want the sauce thicker, crack the lid for the last half hour or so of the cook time so that some of the moisture will evaporate.
Lasagna can be a little on the pricey side to make, so I try to buy everything in generic brands…everything that I don't have on hand already that is. Like I mentioned before, you should be able to feed a lot of people with this recipe. It provides enough left overs for my family of five for several days, which I feel totally off-sets the cost to make it. If you like it please make sure to share this post via social media…I appreciate it, Thanks~Sarah
P.S. I've decided that some of you may actually want to get to know me a little on a personal level so I'm thinking about adding a little bit of what's going on in my life to the bottom of each post or at least here and there… or even just some of my likes and dislikes and that kind of stuff. That way, it won't get in the way of the content that I'm trying to share, but those of you that want to connect with me on a more personal level will be able to get a little peek into my life.
Getting to know Me (Sarah):
What's Going On In My Life: Right now I'm just doing my best to raise kids alone and work as much as I can manage. I finally got my blogging groove back…I don't know if it was from divorce crap or what, but I just didn't love blogging for the past year.
Something clicked in by brain a couple of weeks ago and my passion to create came back in full force, now I need to prioritize and unleash the creativity!
After renting for the past 8 months I decided, a week or so ago, that I am sick and tired of paying someone else's mortgage so I am looking for a house to buy…it won't be my dream home, not even close, but it will be a good starting point for creating a home for me and my kids.
I'm getting pretty dang tired of online dating. I really miss the type of dating I did when I was younger. When a guy asked me out in real life and showed up at my door with flowers…and we went on a real date. None of this texting for weeks before you meet garbage. It feels like it is too much to ask these days and I may just have to hold out for my definition of a real man to come along… but that's enough about that for now, I'm just really frustrated lately.
One hardship I've faced:
I had bell's palsey when I was 18.
One of my dreams:
To buy a huge chunk of property (5-20 acres) in my dream town and build a beautiful farmhouse on it… the goal is to make it happen by my 40th birthday but I gotta work my tail off, or marry rich…j/k, I plan on making it happen myself and if I marry someone that helps it happen faster, that is just gravy!
One bucket list item:
To explore Nova Scotia for a whole month!!!
While I worked on this post, I:
Listened to- The Pawn Shop album by Brothers Osborne, I can't listen to music while I work unless I have it memorized so I'd say I LOVE their album…I wish I could go to a concert some time.
Snacked on- Fudge Brownies with Milk…this girl has a wicked sweet tooth.