This simple & delicious pasta recipe only takes mere minutes of prep work, and only as little as two hours to cook in your slow cooker. Learning how to make this flavorful Crock Pot Spaghetti is the key to making an otherwise busy day that much more manageable in this hectic life. I know that I can personally use all of the extra help that I can get in that department, so I am hoping this will help some of you out just as much by slow cooking Spaghetti.
Easy Crock Pot Spaghetti, A Little About This Recipe
This Crock Pot Spaghetti is super tasty! I don't know what is different about cooking Spaghetti in a Slow Cooker, but I am here to tell you that it tastes SO MUCH BETTER!
I wonder if it is because all of the flavors get to simmer together for a longer amount of time? That is my theory…though somehow even the noodles seem to taste better when they are cooked this way.
This recipe is actually my most popular recipe of all time on my website…and the reason for that is because it simplifies dinner so much and is super tasty too.
When you make Spaghetti in a Crock Pot, it creates way less dishes to wash (SCORE!), it is super easy to make, and is my go-to recipe if I don't have much time to prep or cook a meal, but still need the convenience of a slow cooker. But if a red sauce dish doesn't suite your fancy, my Easy Crock Pot Chicken Alfredo recipe could be a good fit too…both recipes use hardly any dishes to make.
Which means that we are eating WAY less fast food, and saving quite a bit of money by not eating that fast food.
This recipe literally takes five minutes, or less, to prep and only takes as little as two hours to cook. Obviously you are welcome to switch things up to suit your tastes, but I wanted to share with you my recipe for this dish.
How To Cook Ground Beef For Spaghetti
You may be wondering how I am able to prep my spaghetti in five minutes and that is because of a little life hack that I do with my ground beef…I do this, not just for Spaghetti, but for any meal that requires ground beef.
I absolutely hate scrubbing pots and pans! In order to not have to scrub anywhere nearly as many pans, and one thing that I have done to simplify my life a bit, is to buy my ground beef in bulk and cook it in bulk to freeze so it's ready when I need it.
What I do is buy it six pounds of ground beef at a time. I brown it all in one very large pan (I use this fifteen inch cast iron skillet), let it cool, then divide it evenly amongst six freezer safe containers and freeze.
This way, when I plan out my meals for the week, I just pull however many I need out of the freezer and put them in the fridge to defrost so they are ready to go when I need them. It saves me so much time it is absurd!
How To Make Spaghetti In A Crock Pot, Photo Tutorial
Here are some pics of the process, the recipe is further down:
The ingredients all laid out.
First thing's first…Grease your slow cooker insert (or the Crock Part).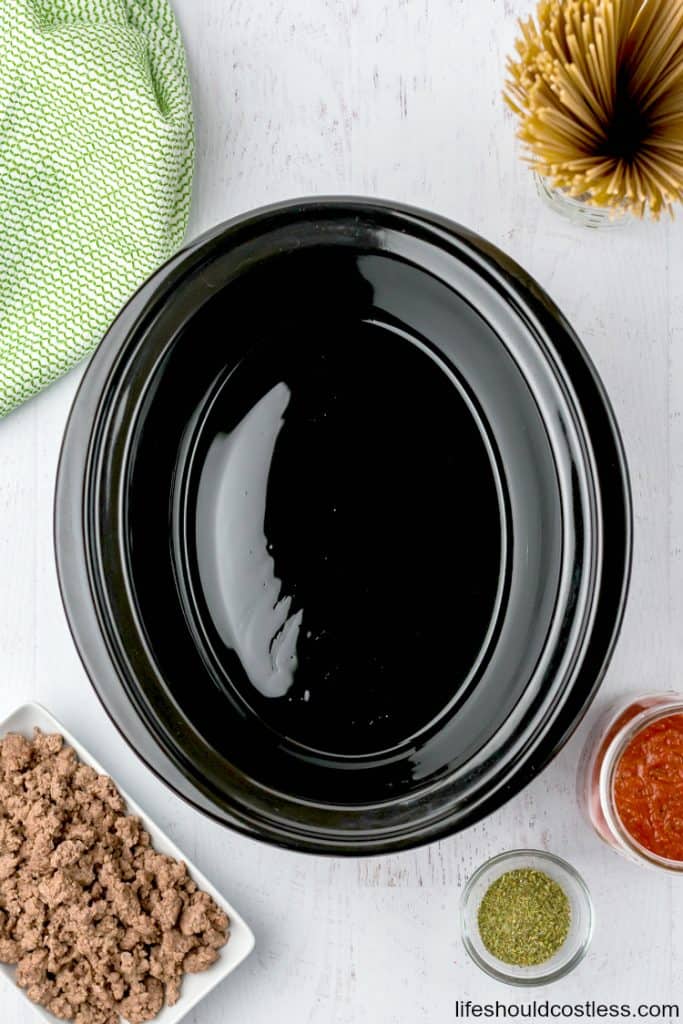 Add all the ingredients to your Crock except the noodles.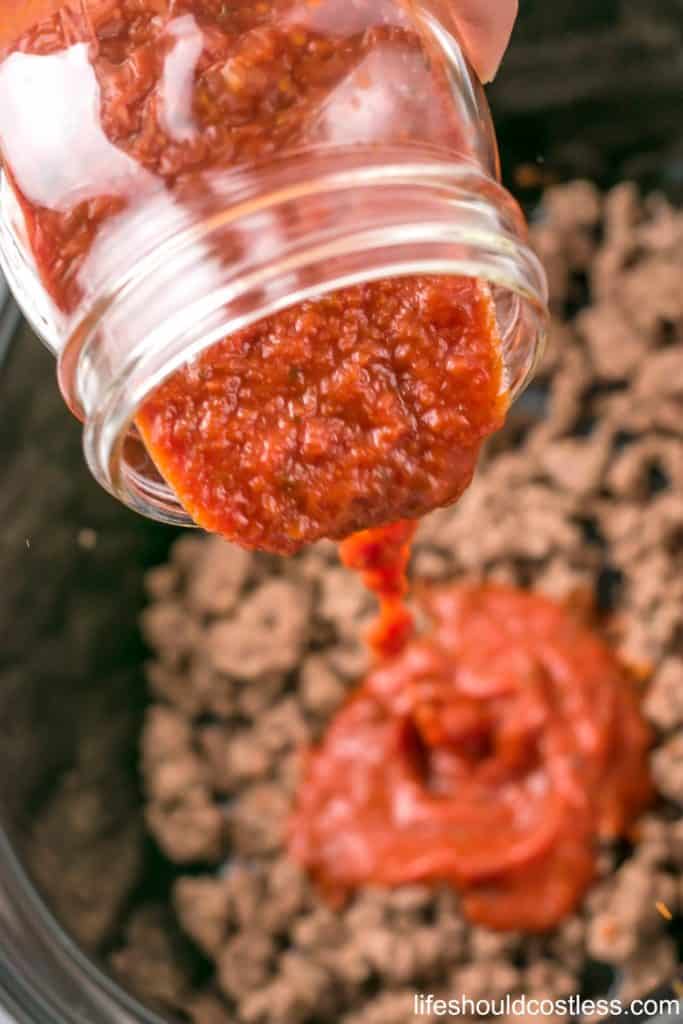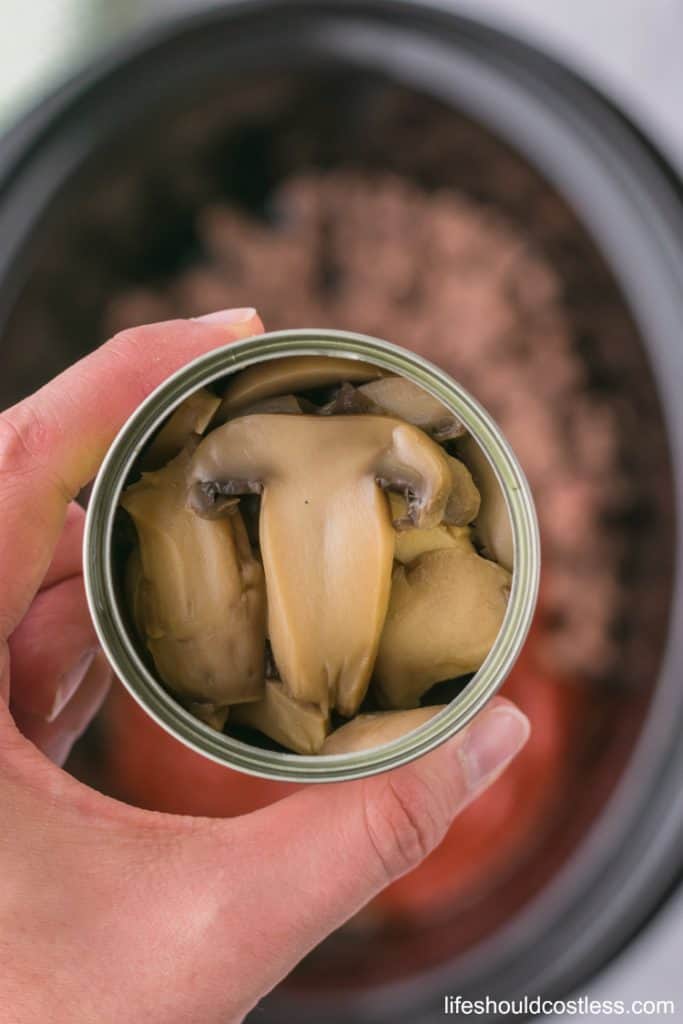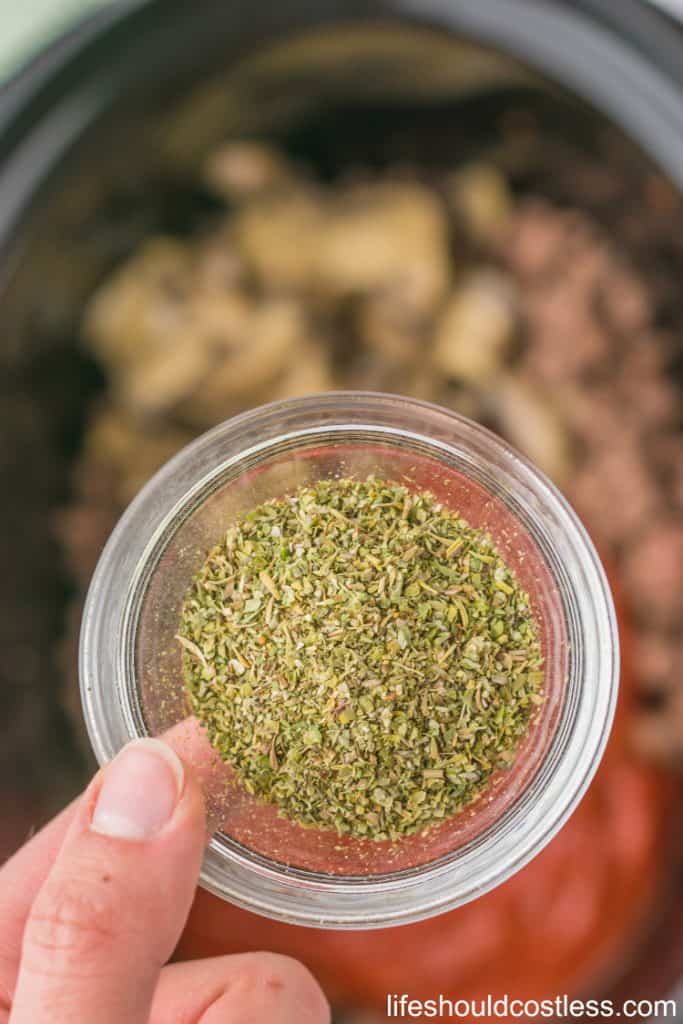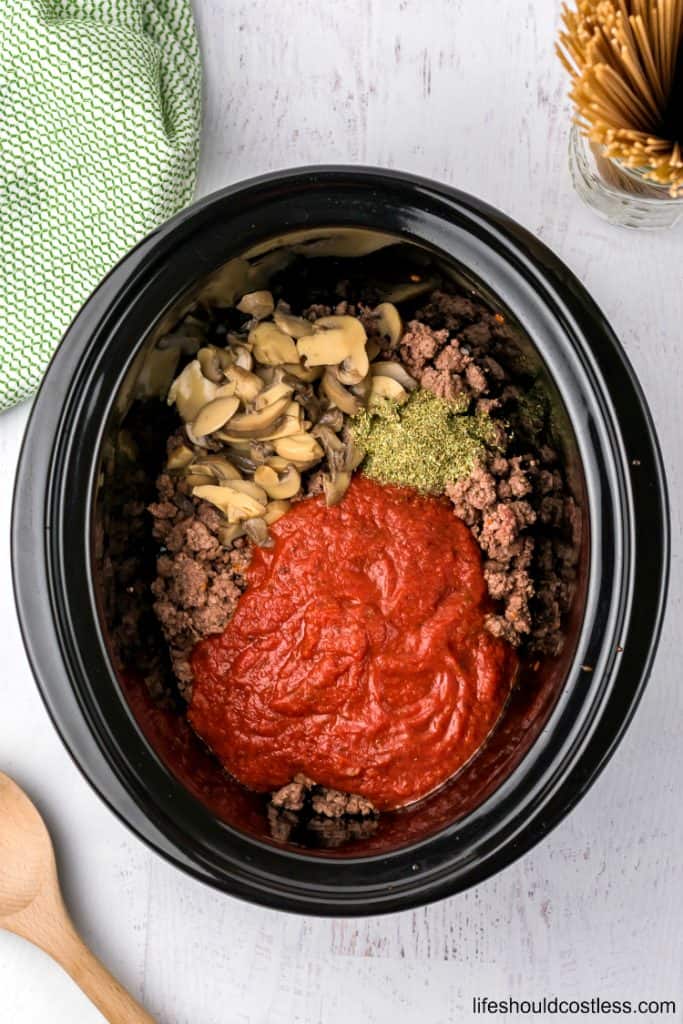 Mix well and cook on high for one hour… you can do low for two or more hours if you need to/whatever works for your schedule.
(I use whole wheat noodles, but go ahead and use whatever spaghetti noodles you like, you may just need to add less or more water depending on what kind you use, so keep that in mind)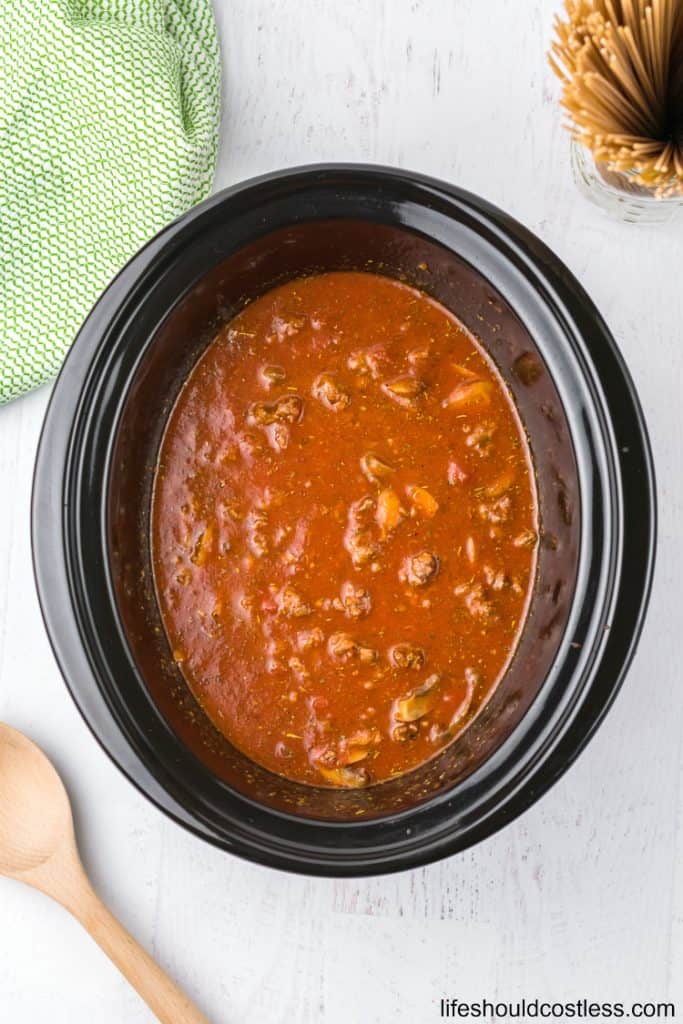 Next, we break the Spaghetti noodles in half, they cook better that way in a slow cooker, and add them to the slow cooker. Then you just push them down into the mixture as much as possible.
Cover, and allow to cook for another hour, but come back every 15-20 minutes to stir and then push the noodles back down into the liquid (stirring occasionally).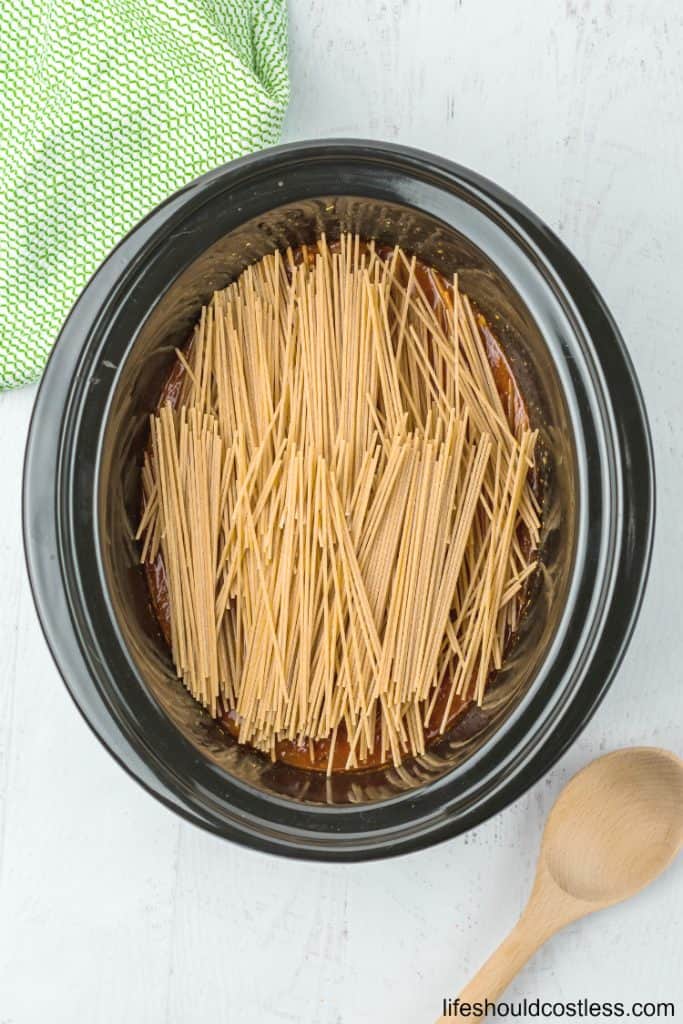 You'll know it is done when the pasta is al dente. That is literally all that you do and you have a quick and easy, home-cooked meal to feed your family. I usually pair this spaghetti with green beans or a green salad, but do it however you like!
Salt and pepper to taste, and you can change things up a bit by switching over to Italian Sausage or you could even add cream cheese to this Crockpot Spaghetti.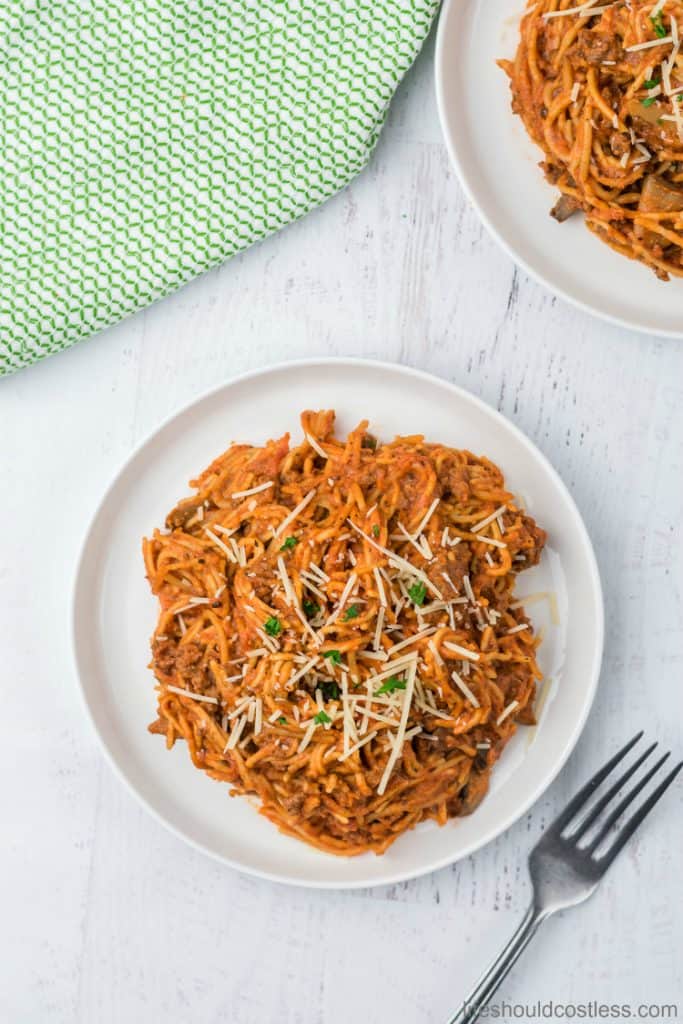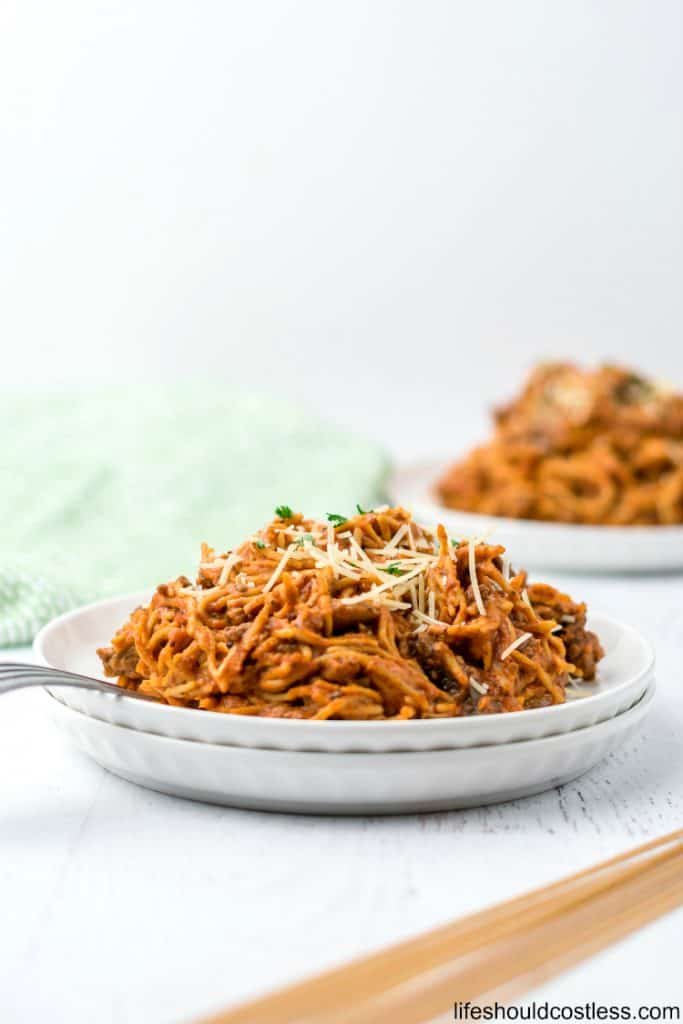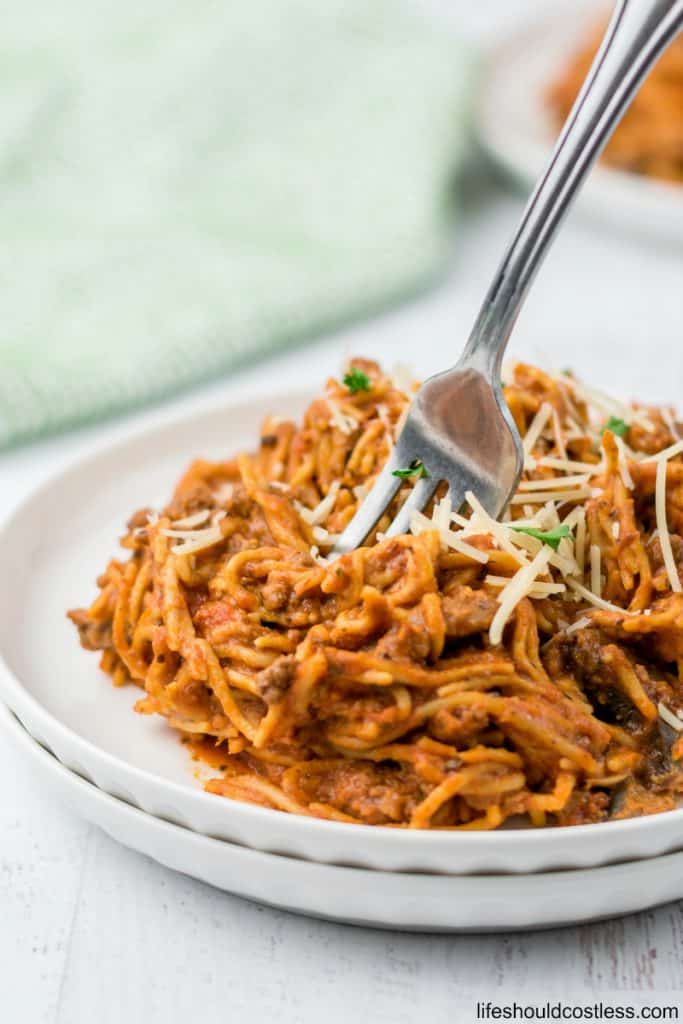 Now on to the recipe, and don't forget to check out my entire slow cooker section when you're done.
Crock Pot/ Slow Cooker Spaghetti Recipe
Total Time:
2 hours
5 minutes
This easy recipe takes only a few minutes of prep, and only takes as little as two hours to cook. Learning how to make this flavorful Crock Pot Spaghetti is a busy day game changer.
Ingredients
2 Tablespoons Extra Virgin Olive Oil
2 Cups Hot Water
1 (24 oz) Jar Spaghetti Sauce
1 (8 oz) Jar Mushrooms (drained)
1 Pound Browned Hamburger Meat
2 Tablespoons Italian Seasoning
1 (17 oz) Package Spaghetti Noodles
Instructions
Use the olive oil to grease your crock.
Add all the ingredients, except the Noodles. Mix well. Cover and set CrockPot on Medium/High heat for one hour.
Stir.
Break noodles in half, add to Crock, and try to cover them with the sauce mixture. Cover and let cook 1 hour or so, stirring occasionally (every 15-20 minutes, replacing the lid, for the full hour).
Otional, garnish with parmesan cheese and parsley.
Notes
Depending on what brand of noodles I use, more water is sometimes needed. If you find your noodles need more water, add up to 2 or so Cups HOT(so you don't break your Crock) water between stirring (I do this in ½ cup increments and just see how much is needed).
If it's too runny, leave the lid off for a while and stir every few minutes, this will evaporate any extra liquid. If the pasta hasn't set up, you may need to add more water, stir, put your lid back on and check it again in 15 minutes... this is the basics to cooking pasta in a Slow Cooker.*
Nutrition Information
Yield

12
Serving Size

1
Amount Per Serving
Calories

147
Total Fat

9g
Saturated Fat

3g
Trans Fat

0g
Unsaturated Fat

5g
Cholesterol

34mg
Sodium

85mg
Carbohydrates

5g
Fiber

1g
Sugar

1g
Protein

11g
These caloric amounts are automatically estimated by a plugin on my site, and should be used as an estimation only.
I always used to wondered why my parents would mix the sauce into the noodles and it wasn't until I was a parent too, trying to stretch the meal, that I found that it makes the meal stretch WAY more and saves a bunch of money.
This is definitely one of the Easy Spaghetti Recipes
I like it because it is simple comfort food that is made with less than thirty minutes total effort.
Anyway, I hope you like it. We love this at my house. It's my personal fave for those busy days/or nights!
Thanks so much for stopping by my blog! If you liked what you saw, please make sure to share it via social media, or even email my link to your friends!
Oh, don't forget to subscribe to my email list (found here). Also, if you would like to learn how to follow along or really show your support for this blog, go here.
Here are five of my other recipes that you're also going to love:
For those of you that would like other options of "pinnable" images for Pinterest, here you go. Thanks so much for the support!
*Reposts: Please note that this recipe post was originally posted to this website on 05/21/2015, but it was in great need of a refresh (complete overhaul) so it now is more user friendly/shareable, has better photography, and a free printable recipe card.