If you are looking for a delicious and nearly effortless dessert to try, Chocolate Cherry Dump Cake made in the Crockpot is the perfect choice. This recipe requires only a few simple ingredients & can be prepared in mere minutes. The combination of rich chocolate cake mix and tangy cherry pie filling makes for an irresistible treat that is sure to please any crowd. In this article, we'll take you through the easy step-by-step process of how to make a dump cake/ dump cobbler in the slow cooker, as well as provide many other dump cake flavor combinations that you could try instead if you wish.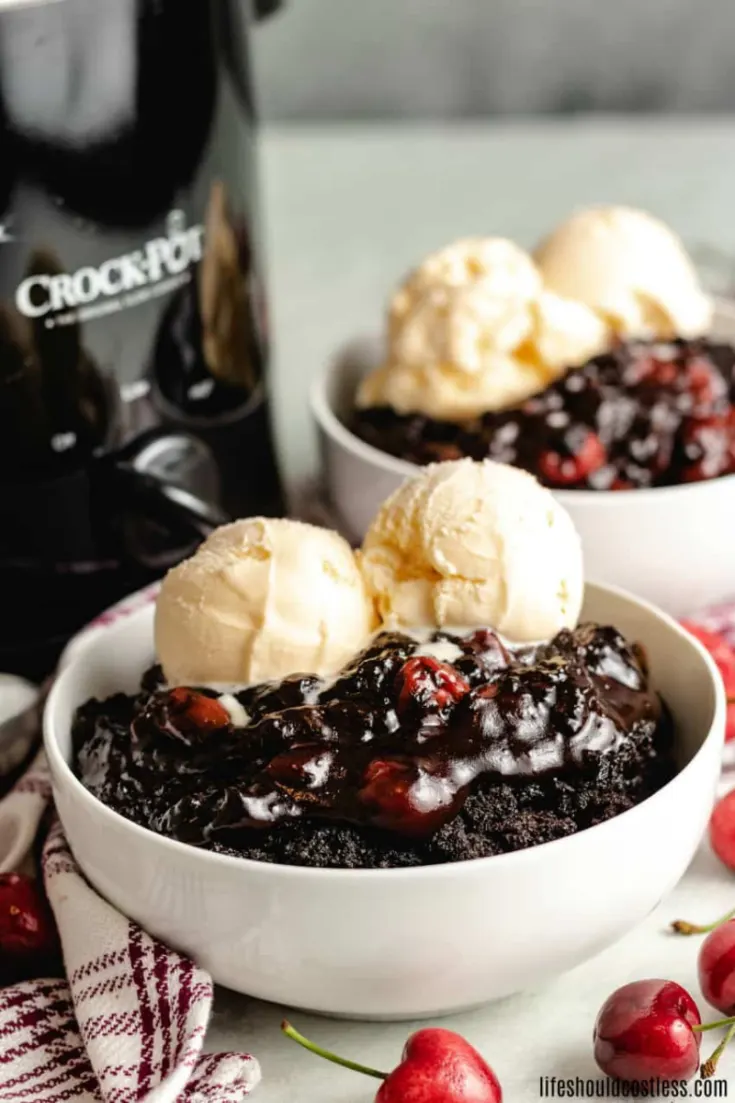 So, get ready to indulge in this mouthwatering dump cake in crock pot recipe and impress your guests with your newfound culinary skills.
Table of Contents, Skip Ahead To What You're Looking For
What is dump cake?
Many people think that dump cake and dump cobbler are the same thing…and really they pretty much are.
Dump cake is a type of dessert that is made by "dumping" cake mix and other ingredients into a baking dish and baking it until it is golden brown and delicious.
The name "dump cake" comes from the fact that the ingredients are simply dumped into the baking dish and mixed together without any complicated steps or procedures.
The basic recipe for a dump cake usually involves a layer of canned fruit, such as peaches, pineapples, or cherries, which is topped with a dry cake mix and melted butter or margarine (and/ or sometimes soda pop).
The cake is then baked in the oven, or in this case a slow cooker, until the cake on the top is done and the fruit is hot and bubbly.
Dump cakes are a popular dessert because they are quick and easy to make, require minimal preparation, and can be customized with different types of fruit and cake mixes.
They are also a great option for potlucks, family gatherings, and other events where a delicious dessert is needed.
If you would like to read about the history of dump cakes, I suggest you see what Wikipedia has to say about them, and you can find information that here.
---
To see all of my sweet tooth recipes, go here.
---
Dump Cake Ingredients List:
The version of dump cakes that I like to make all start with the same base ingredients:
There are variations out there, but this is my preference after years of making dump cakes.
---
What does it look like served?
Here are some shots of this what this yummy chocolate cherry dump cake looks like when it is done slow cooking, it's literally one of the best Dr Pepper desserts.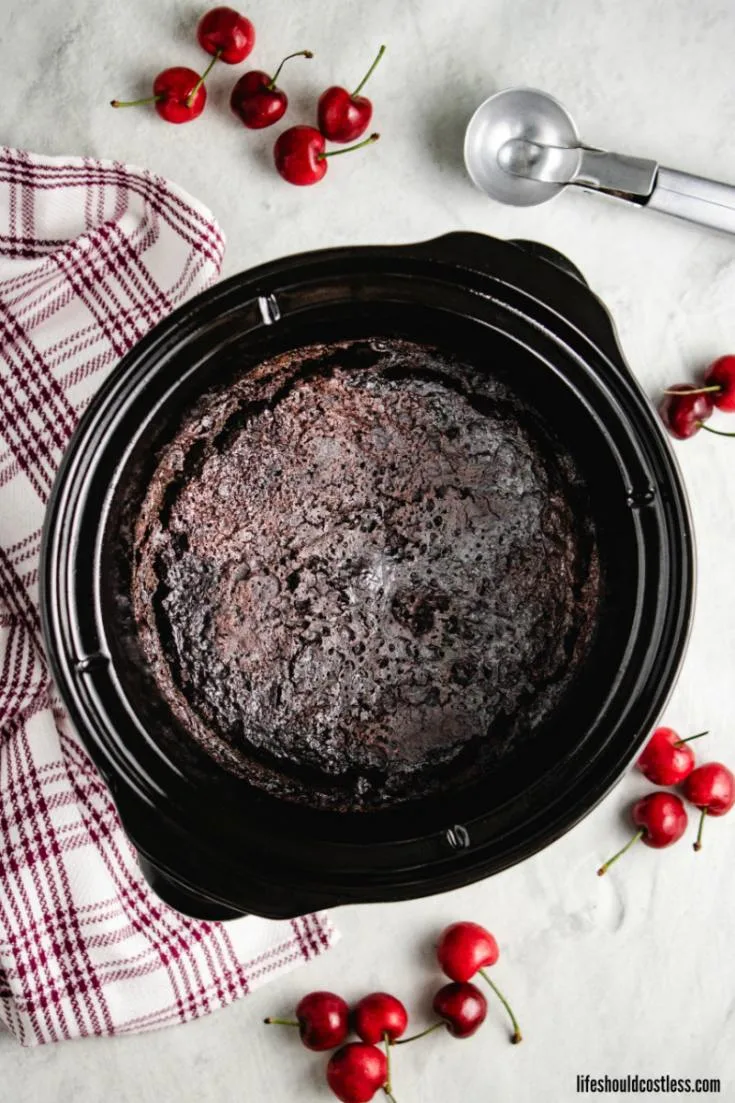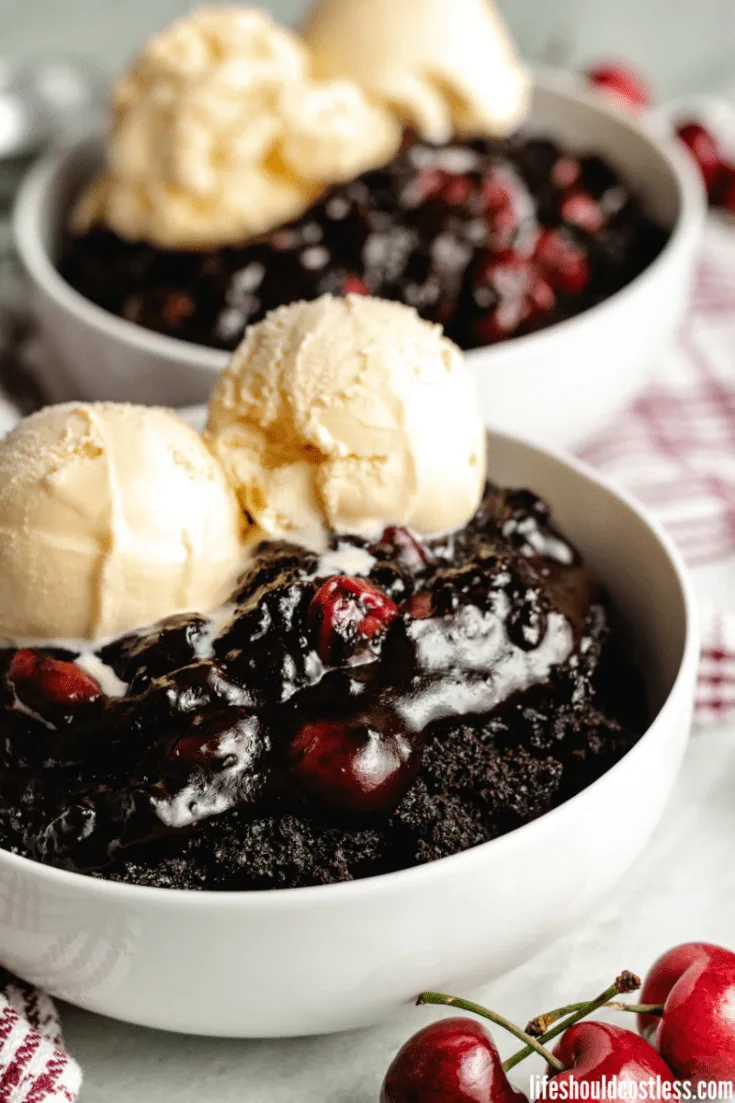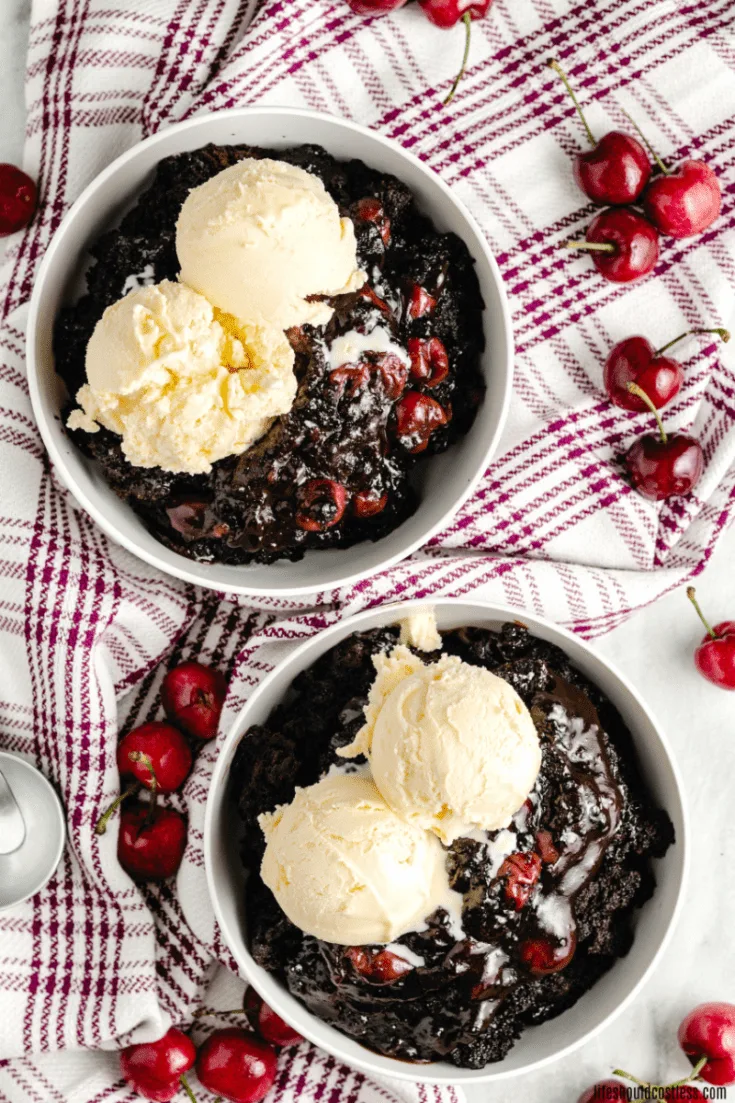 Now let's get on with learning how to make it!
---
How to make dump cake in Crock Pot (recipe card & video)
This recipe is to be used as a base recipe for a dump cake in the crock pot.
My favorite flavor combination is a chocolate cherry cake recipe with pie filling, but down below in this post there are many other flavor choices for a dump cake, or some people call it a dump cobbler, that you can also try if my favorite isn't your thing.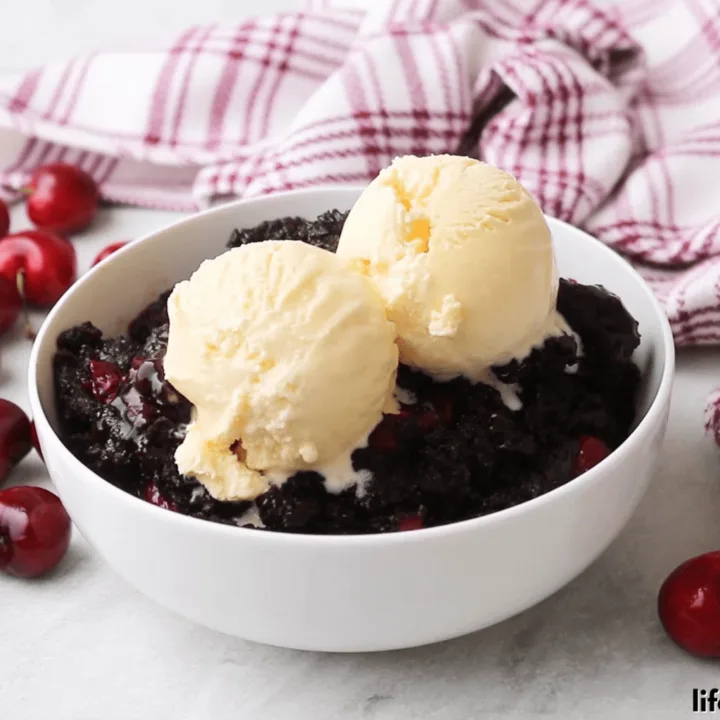 Recipe for Chocolate Cherry Dump Cake
Total Time:
2 hours
5 minutes
Learn how to make this chocolate dump cake with cherry pie filling in just a few simple steps. This recipe can easily be adapted to any other dump cake flavor combination that you would like.
Ingredients
1 (21 oz) Can Of Cherry Pie Filling
1 Devil's Food Cake Mix (dry)
1 (20 oz) Bottle of Dr Pepper Soda
½ Cup Butter (1 stick, cubed)
Instructions
Grease a three quart slow cooker, up the sides several inches, with either butter or baking spray.
Add the canned cherries and spread the pie filling out evenly across the bottom of the greased crock.
Next, add the cake mix and spread it out evenly.
Pour the Dr Pepper over the cake mix, make sure to cover the whole cake mix as uniformly as possible.
Cube the butter and spread it evenly over the soda pop bubbles.
Add the lid and cook on HIGH for two hours or so, until the cake has an actual cake-like texture.
Turn off the slow cooker, crack the lid (allowing the steam to escape), and let cool about ten minutes before serving. Dish out into large serving bowls and top with Vanilla Ice Cream if desired.
Notes
Please note that if you would like the best results when making this cherry chocolate dump cake recipe, if you skip the step of "cracking the lid" on the slow cooker when it is done cooking, it may get super gooey and be kinda gross. Cracking the lid, or removing it altogether, allows the heat to escape and it will give you a more cake-like consistency. This is a good thing to know so that you don't mess up the cake as it cools enough to eat .
It tastes best when served warm especially if you top it with ice cream.
This recipe can be used as a basic dump cake in a slow cooker recipe, and switched up to make any flavor combination of cobbler that you want. There is a list of lots of yummy flavor variations a little bit lower in this post.
*You can make this chocolate cake cherry pie filling recipe in a larger slow cooker than a 3 quart, it will only thin out the ingredients a bit. You may need to adjust the cooking time if you do, so start watching it at about an hour and a half of cook time.
Nutrition Information
Yield

8
Serving Size

1
Amount Per Serving
Calories

461
Total Fat

14g
Saturated Fat

8g
Trans Fat

1g
Unsaturated Fat

4g
Cholesterol

31mg
Sodium

588mg
Carbohydrates

82g
Fiber

1g
Sugar

28g
Protein

3g
These caloric amounts are automatically estimated by a plugin on my site and should be treated as an estimate.
I hope that between the step by step photo tutorial, and the video, that it explains how to make it well enough that you don't have any questions.
---
Here are those other flavor variations I mentioned to make a slow cooker dump cake however you want.
Different flavor combos to try
Blueberry Pie Filling, Lemon Cake Mix, Lemon/Lime Soda
Lemon Pie Filing (curd), Lemon Cake Mix, Lemon/Lime Soda
Peach Pie Filling, White or Yellow Cake Mix, Cream Soda
Cherry Pie Filling, Yellow Cake Mix, Cream Soda
Mixed Berry Pie Filling, Chocolate Cake Mix, Cream Soda
Apple Pie Filling, Yellow Cake Mix, Cream Soda
Blueberry Pie Filling, Yellow Cake Mix, Lemon/Lime Soda
Strawberry Pie Filling, White or Yellow Cake Mix, Cream Soda
Blackberry Pie Filling, White or Chocolate Cake Mix, Cream Soda
Apple Pie Filling, Spice Cake Mix, Cream Soda
If you have any other favorite dump cake flavor combos that I should list, please make sure to email them to me so that they can be added to the list.
---
FAQ's
My crockpot dump cake is gooey, what happened?
Once you are done cooking your dump cake, you definitely need to crack the lid a little bit to allow any steam to be released…otherwise that steam will just be trapped in the Crockpot and the condensation will soften the cake.

Sometimes a gooey dump cake can also be caused because you may have used a cake mix that is "made with pudding". Cake mixes that have a pudding base sometimes don't set as well in a slow cooker.
Do I have to make this in a slow cooker? Can I just make it in my oven instead?
You can make this in a normal 9×13 casserole dish instead if you would like. I suggest baking at 350 degrees F, until the cake on the top is done…start checking it at about 30 minutes.
Can I leave dump cake out overnight?
Dump cake should be covered tightly and refrigerated when not being served. It should not sit out on the counter.
Do you serve dump cake hot or cold?
That really depends on your personal preference…however, you can't beat the taste of a warmed up dump cake topped with ice cream.
---
Conclusion
Well, I hope you enjoyed my Chocolate Cherry Dump Cake In The Crockpot recipe as much as we love it in my family.
My kids beg me to make it much more often than I should…lol. That's really all that I have to share with you all today.
---
Thanks so much for stopping by my blog and supporting my endeavors to make people's lives a little easier/better/more affordable.
If you liked this post, or found it helpful in any way, please make sure to share it with your family, friends, and co-workers via social media.
Or you could even send them the direct link via email. Whichever way you choose to spread the love, I super appreciate it! ~Sarah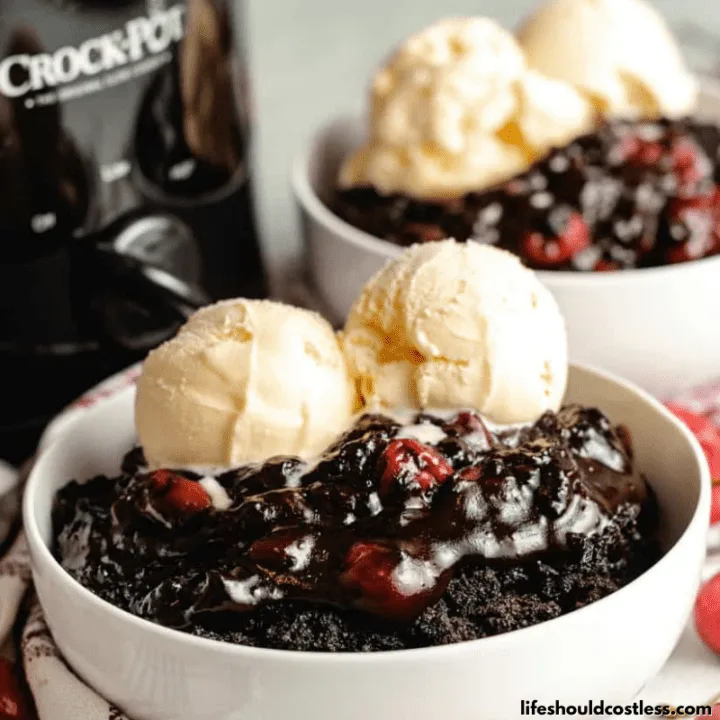 How to follow & support this site
---
Check out my related articles
To see all of my sweet tooth recipes, go here.
Other slow cooker related articles
Other sugary-sweet recipes
Other helpful dump cake resources
For some unique dump cake flavor combos, check out the 37 ideas over at cookingchew.com
Other dump cake recipes for the regular oven, found over at mommalew.com, she's got 30 different recipes.
Allrecipes.com shares their 13 Best Dump Cake Recipes, here.
*This recipe was originally shared to this blog on July 20, 2011 (it was actually the first recipe I ever posted though it was at a different url…social share numbers include the shares to the old url), and has since been updated to improve user experience, add video instruction, as well as to make it as shareable as possible across the social medias. It will continually be updated to remain relevant and improve user experience.