Learn how to make the most delicious and easy caramel candy the old fashioned way. This versatile Caramel recipe is perfect to make for candies, salted caramels, popcorn (balls or in a bowl), caramel sauce, as well as making your own caramel bits.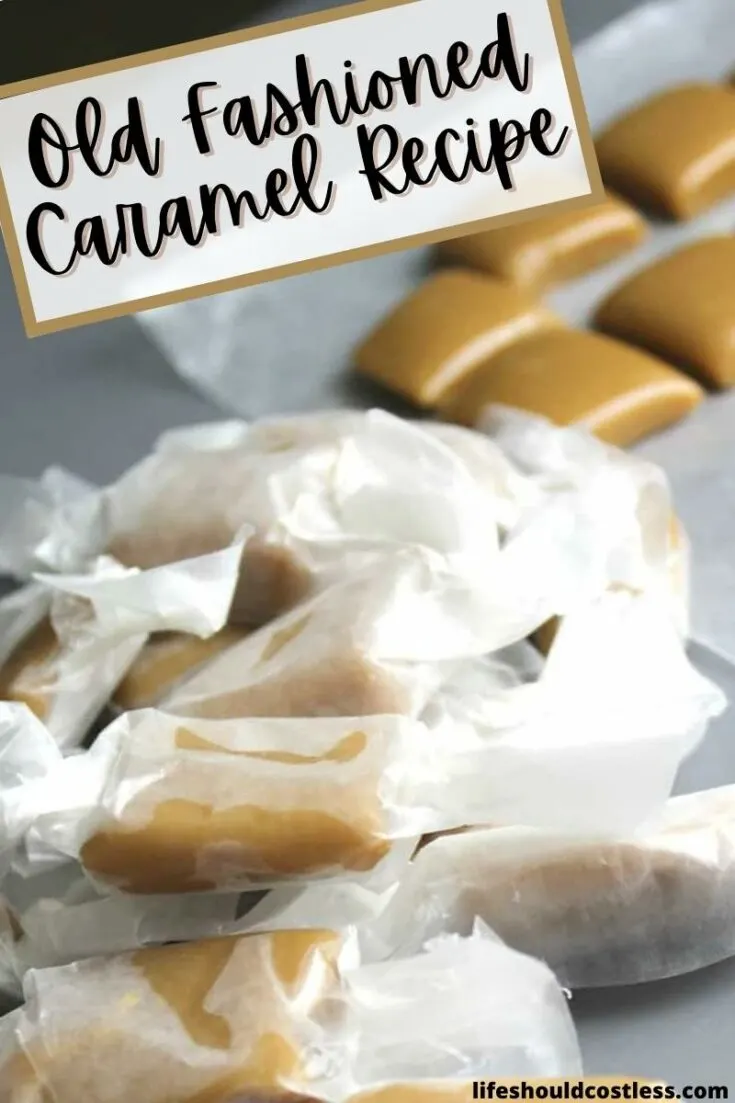 I usually end up tweaking almost every single recipe that I touch, but this particular recipe is one that is perfect as is!
It literally could not be improved on, and I have been enjoying this exact Old Fashioned Caramel candy recipe since I was a little girl.
It's funny how really good recipes tend to get passed around.
I was bragging about this one, I originally posted in 2011 (before I had a camera or did recipe cards), and my best friend told me that she had an amazing caramel recipe too, one that was an old pioneer recipe that had been printed in a magazine her church had printed forever ago…
She and I compared our recipes and the only difference was the amount of Vanilla to add at the end.
We both thought that was pretty hilarious, but now you all know too…this recipe is OLD, and wonderful, and you just shouldn't mess with perfection.
I say it's perfection because this old fashioned caramel recipe is just so versatile.
It's literally the only caramel recipe that you will probably ever need.
You can use this same recipe to make a caramel sauce (drizzled over cheesecake is divine, just had to add that in there), a bowl of caramel covered popcorn, popcorn balls, caramel for those carameled apples, a dipping sauce, homemade caramel bits, and of course old school wrapped caramel candies.
The only thing you have to do to make any of those different versions of caramel is to adjust how long it cooks for your desired use (for example:
A sauce would be done shortly after all the sugar dissolves.

Caramel for popcorn balls and caramel apples would be at a soft-ball stage.

And of course, wrapped caramels would be done at the hard-ball stage.
Let's just jump right into the directions and then the recipe card will be down at the bottom.
As you view this recipe, please excuse my mediocre (at best) photography skills…I do my best but I am in no way a professional, nor does this single mama of four have the budget to hire one.
I only share my favorite recipes ever, so please don't skip past it because I failed to capture just how yummy it is.
How to make old fashioned caramel:
First, I will share a little video of the process, and then if you would like still images with the directions a little bit more broken down, that is just below it.
Of course, the free printable recipe card is down towards the bottom of this post if you just want to skip to it altogether.
Here are the ingredients all laid out: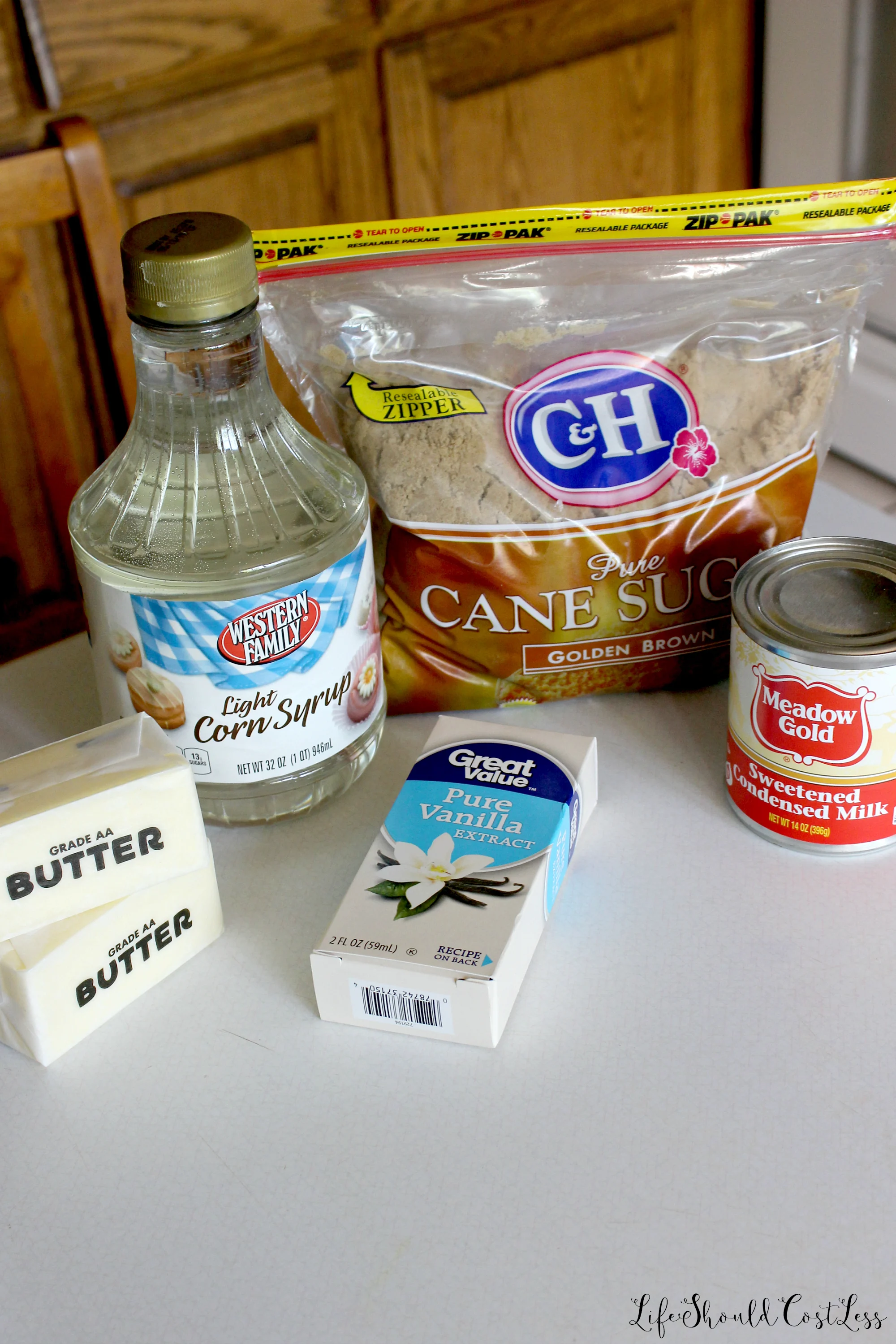 Yep, it's super fattening…three kinds of sugar, butter, and vanilla…but it is so worth the calories though!
I put the first three ingredients in a large thick bottomed pot, you can get the one I use here, and melt them together and stir on low heat.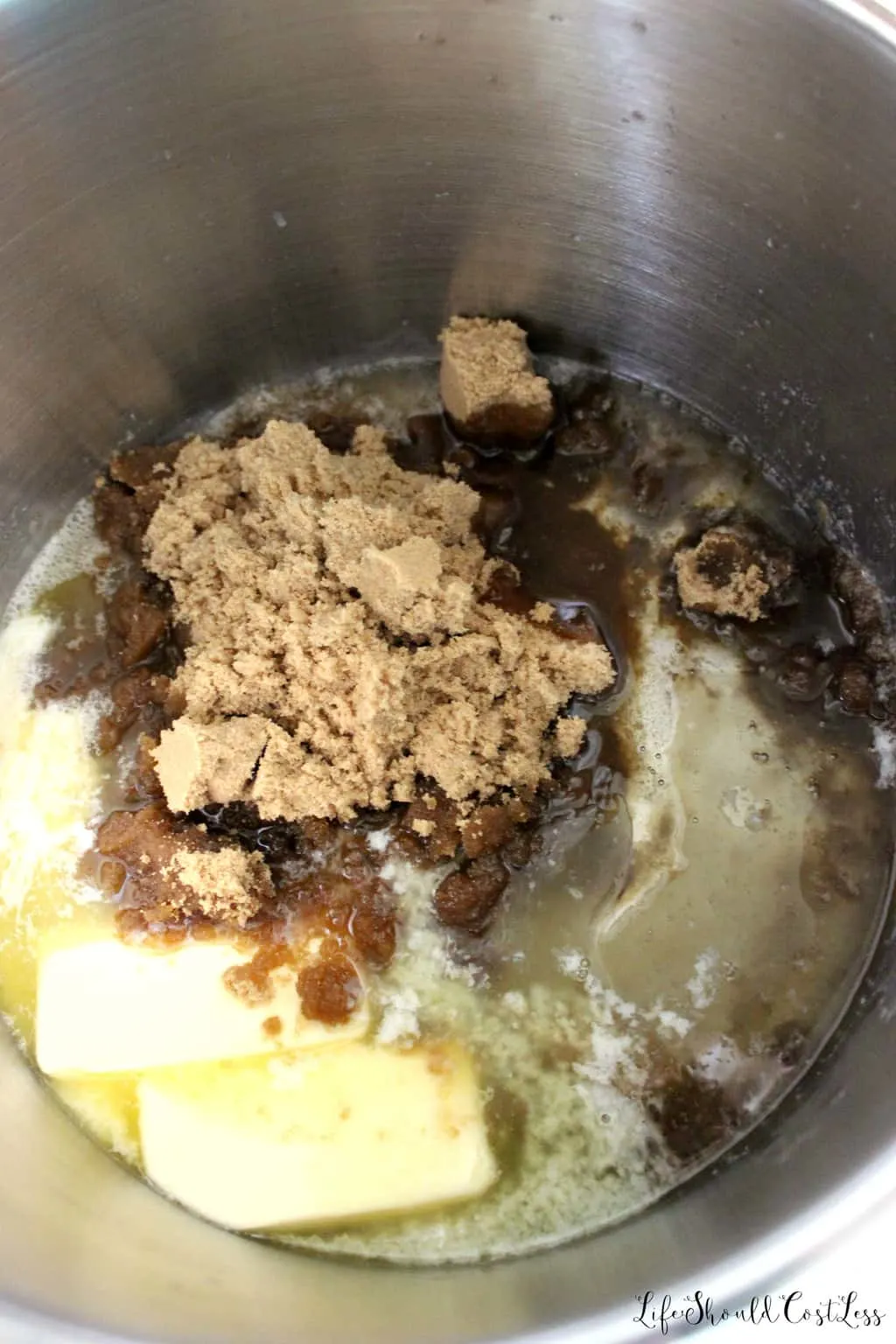 Mix well, then add the Sweetened Condensed Milk.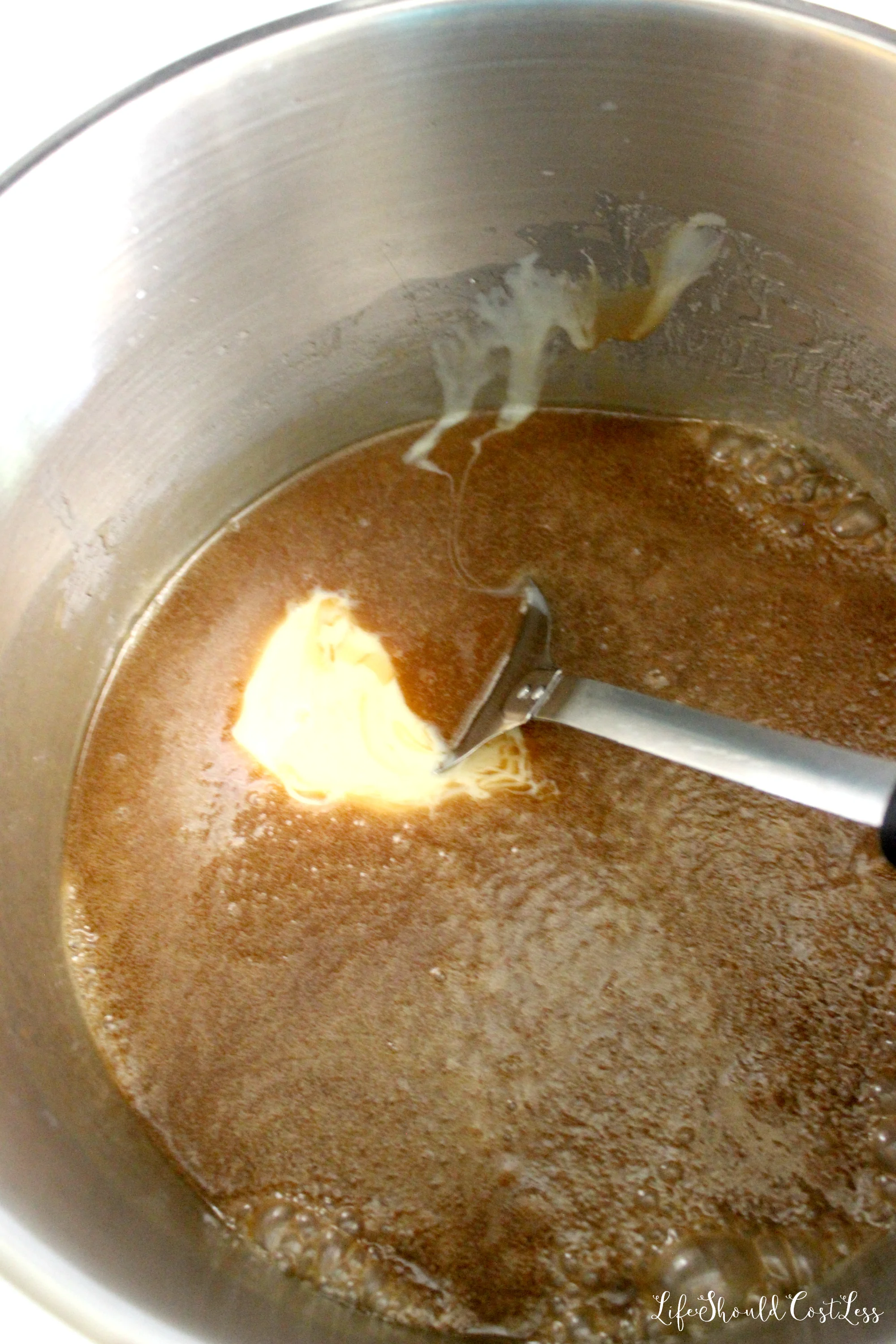 Raise it to medium heat and then you just keep stirring until it's your desired thickness(my mom taught me to stir in a figure 8 pattern and to always scrape the sides as well)…DO NOT STOP STIRRING OR IT WILL SCALD!
Remember above, I mentioned that you need to only dissolve the sugar if you want to use it as a sauce.
Get it to the soft-ball stage to use it for popcorn or caramel apples…and then bring it to a hard-ball stage if you want to make caramels to wrap.
I rarely use a candy thermometer, I just put ice water in a cup and test the ball stage that way like they did in the olden days. If you would like to learn how to do that, go here.
When the caramel has reached your desired stage, remove from heat.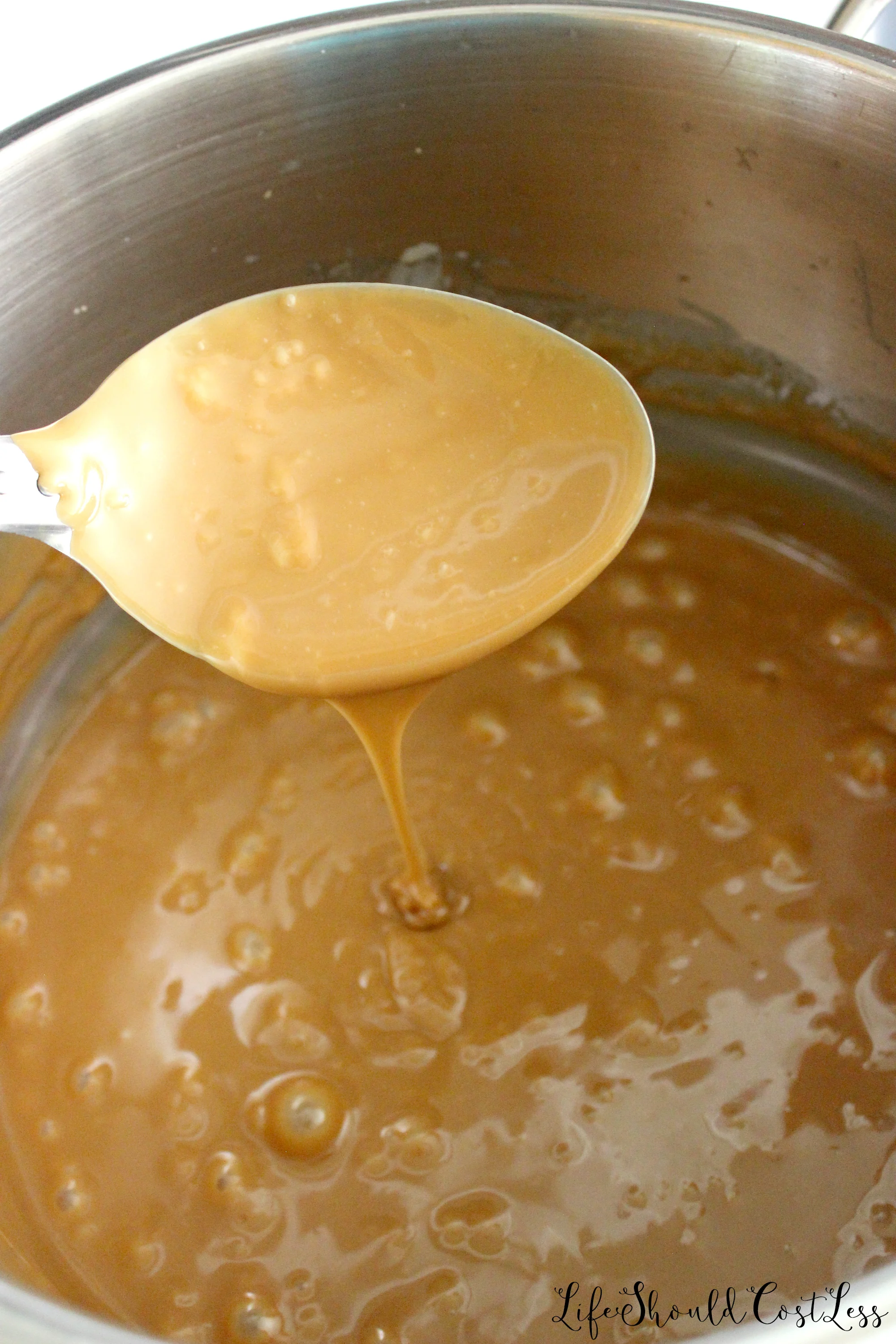 This is when you add the Vanilla…you must do it after you remove it from the heat for best results. Mix that well and then pour into a 9×13 buttered (or cooking sprayed) glass casserole dish (it's HOT so you must not use plastic).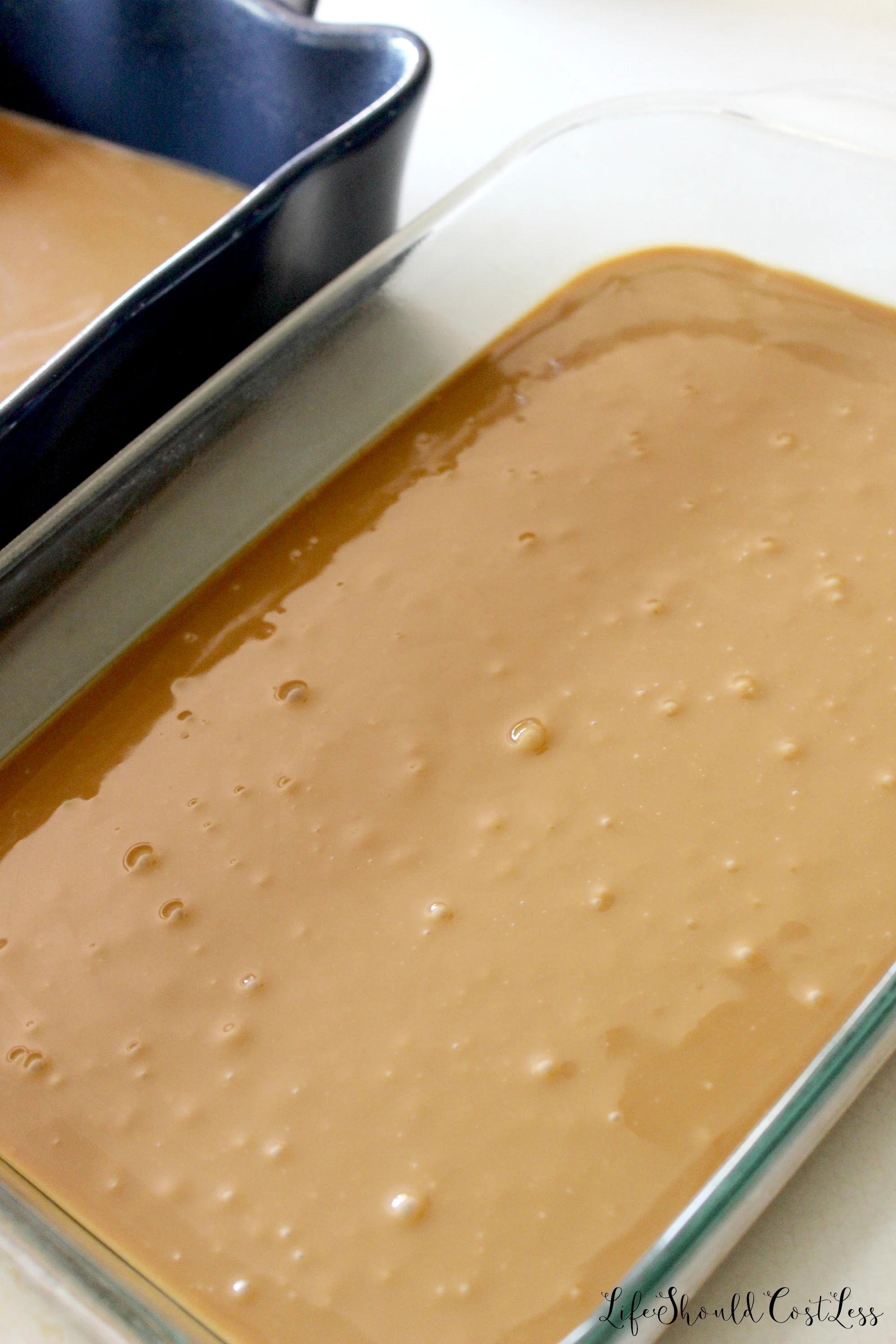 I like to place the casserole dish on top of a cooling rack and put it out of the way… it will be really hot for a good long while and you don't want to tempt anyone to come and test it…they'll get burned for sure…
Once it has cooled properly, it should look like this (below) and it is ready to turn into individual candies. I thoroughly clean the hard surface I'm working on, let it dry, place some waxed paper and get my cutting tool ready to go.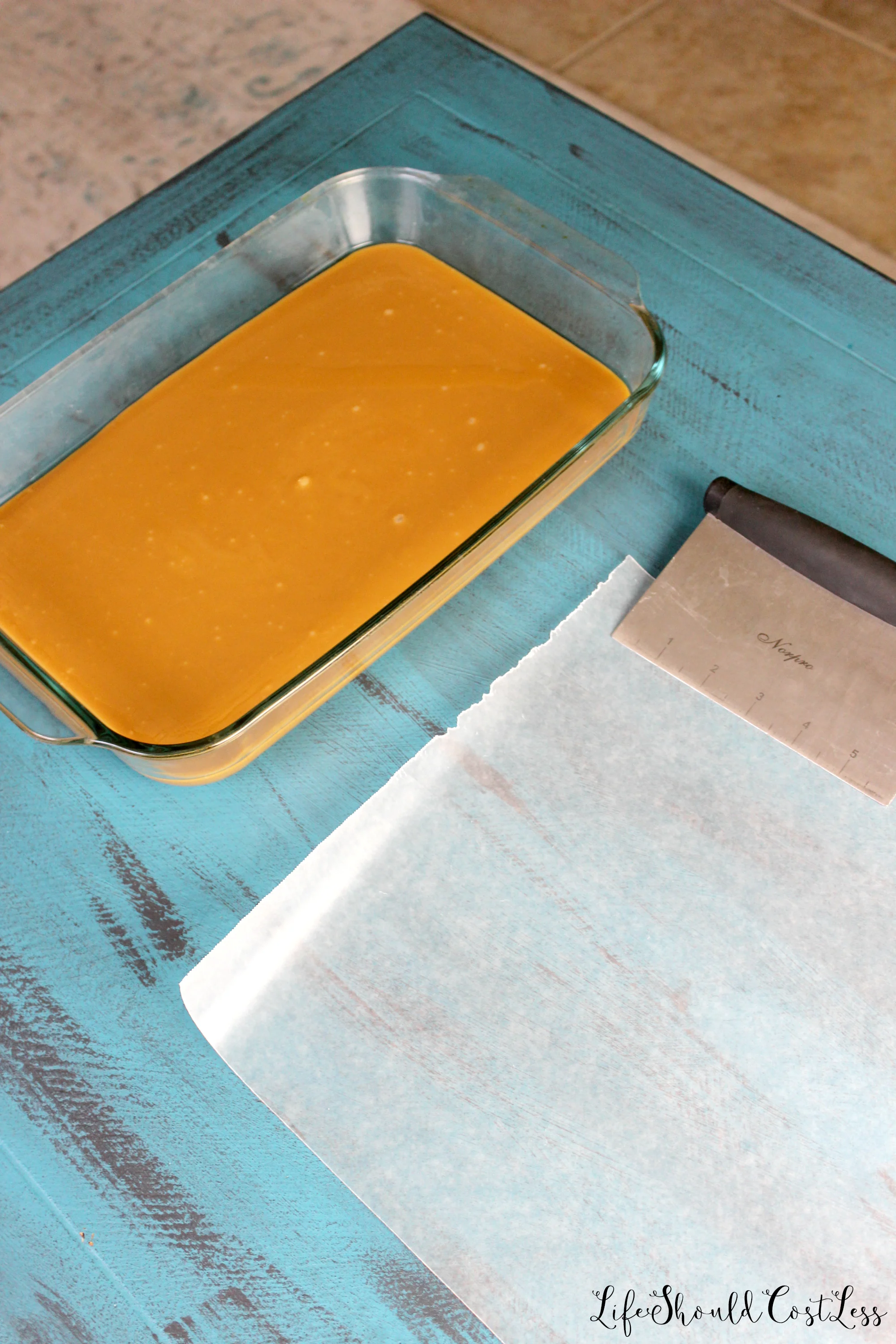 Cut the candy into strips while it's still in the pan…it's so much easier to transfer a strip to the waxed paper than to try to dig the whole thing out of the pan.
I got my cutter/scraper tool here, if you're wondering. You could also use some clean kitchen scissors.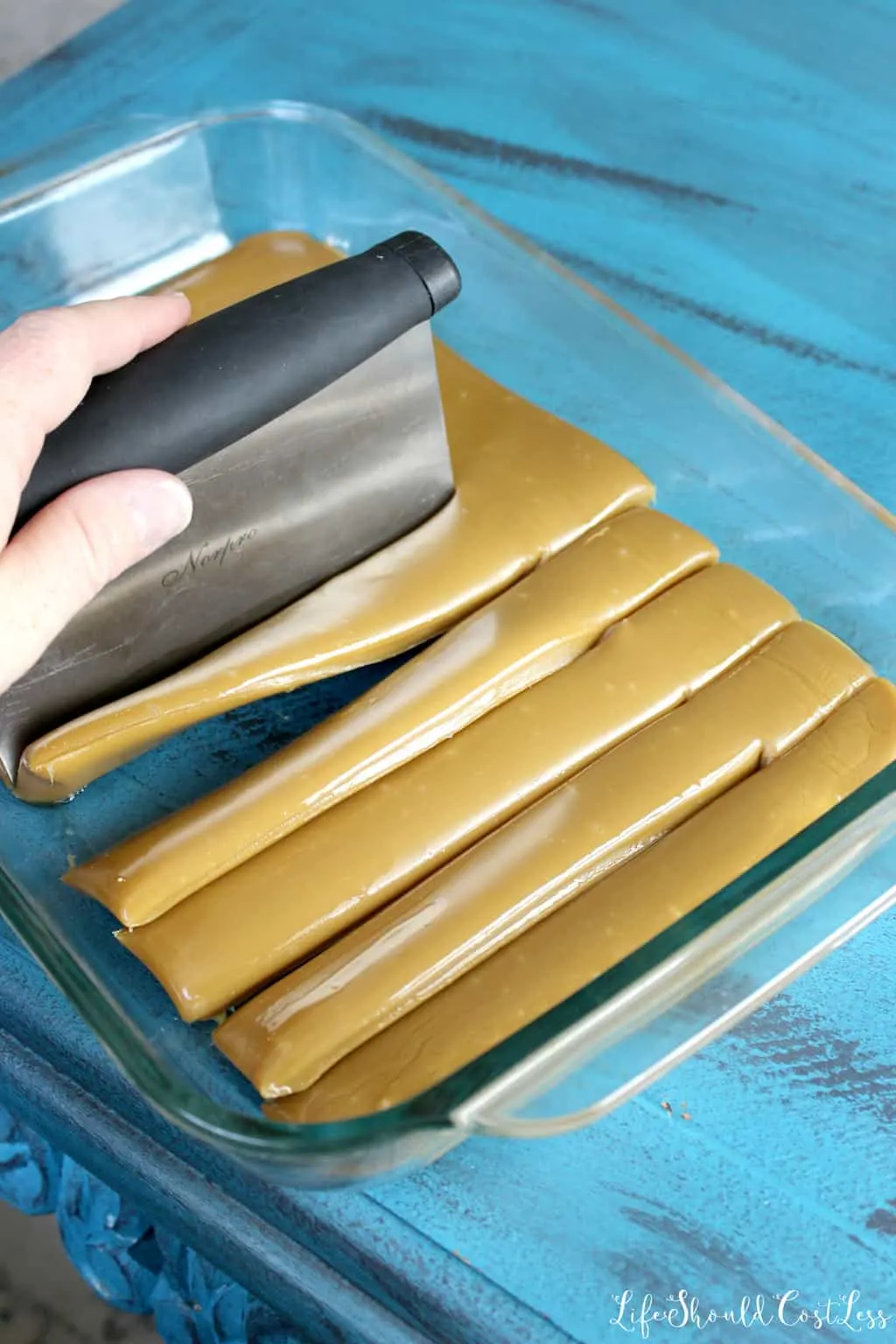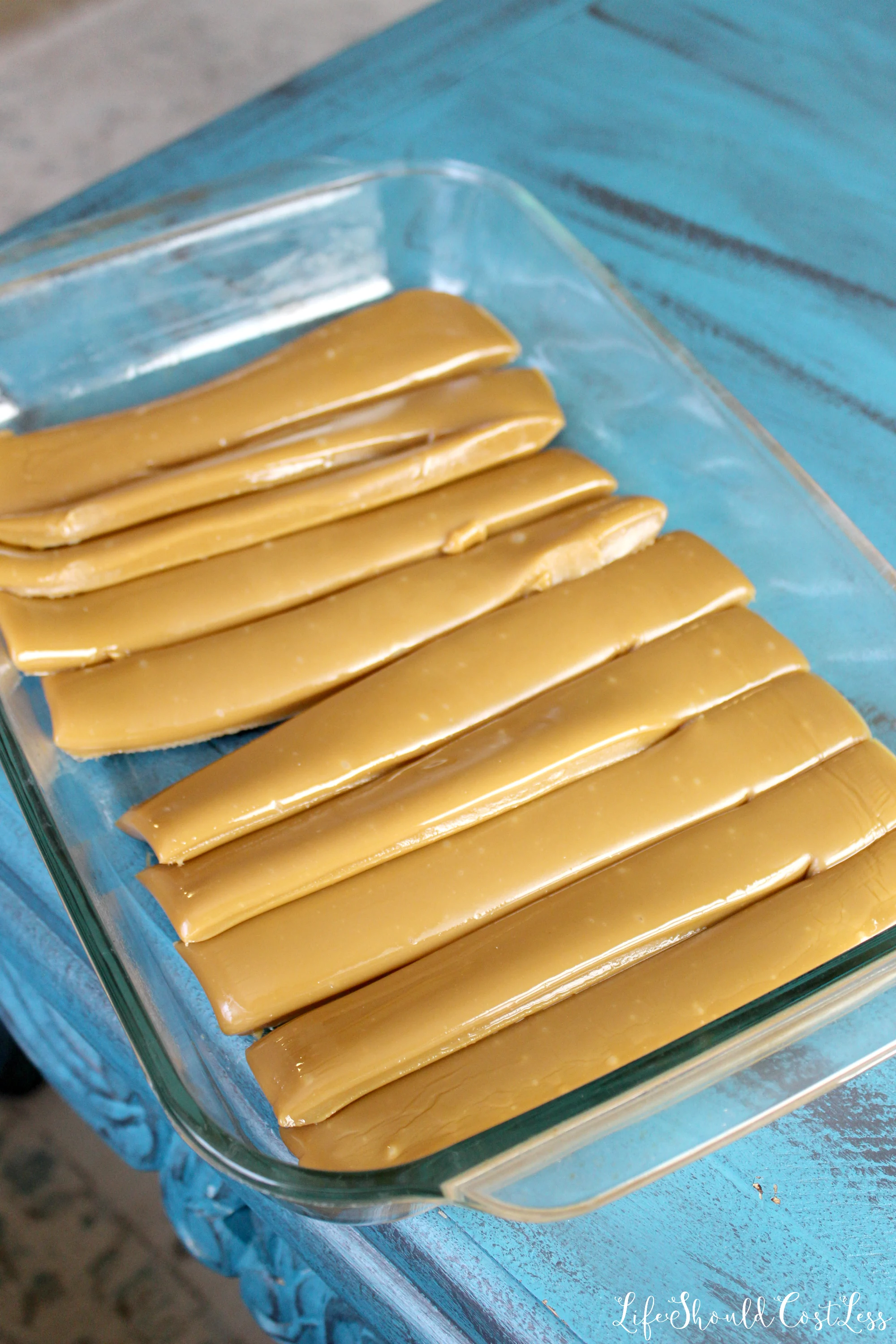 Then lay out all the strips on the waxed paper.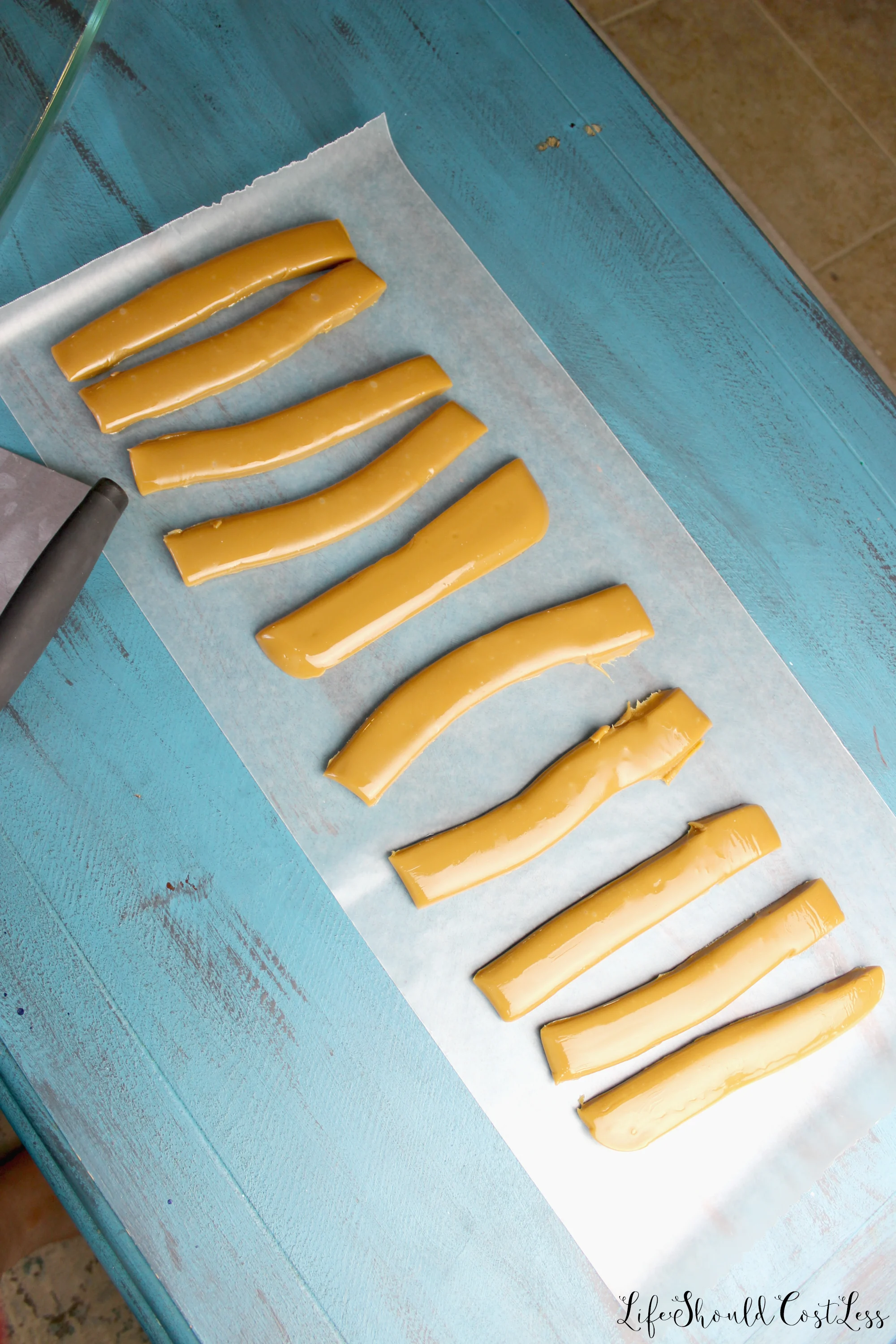 Then place a few strips together and cut them to your desired size…after I was done wrapping mine, I decided that you get better results if you cut them into rectangles that are about 3/4″ by 1&1/2″ or so long.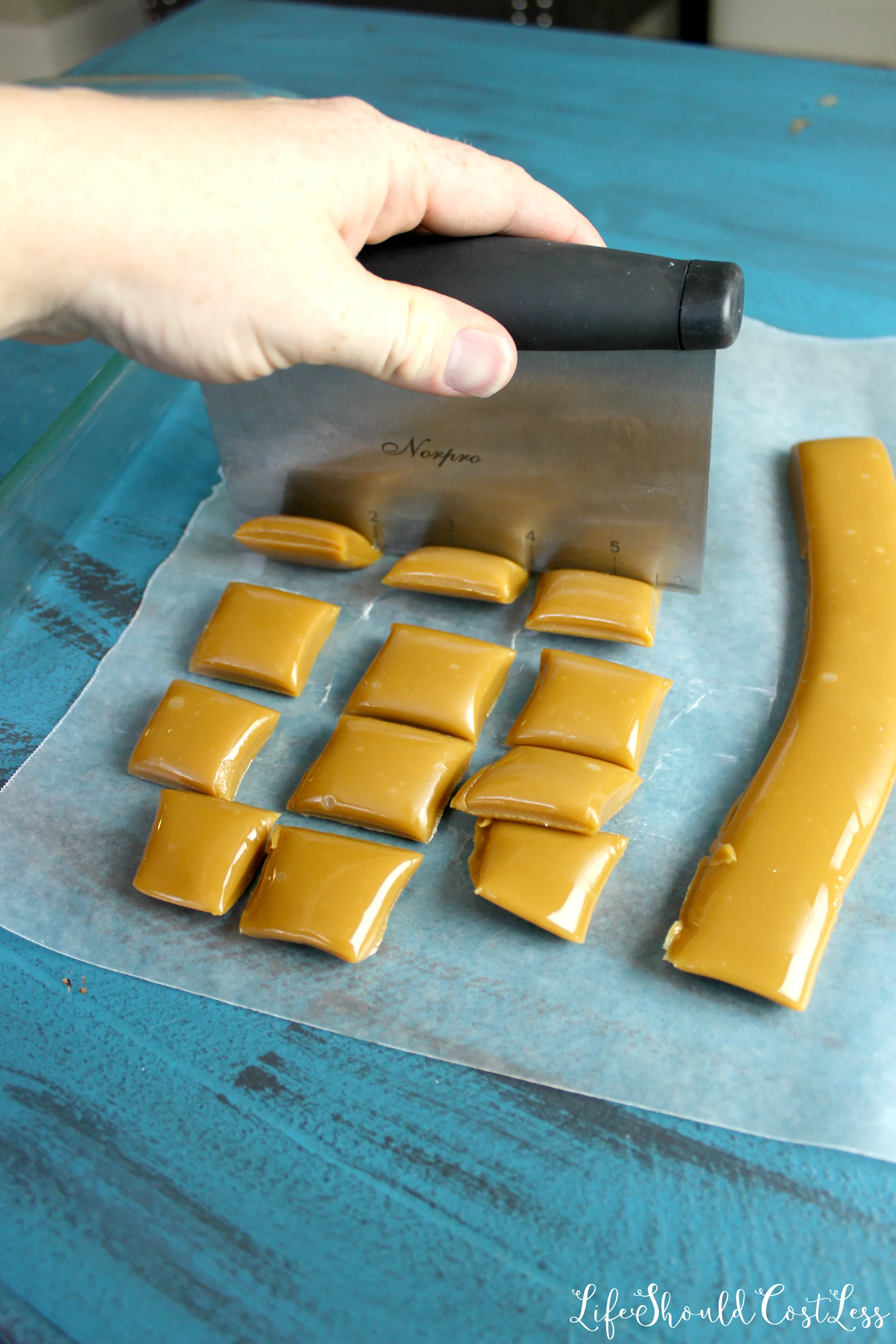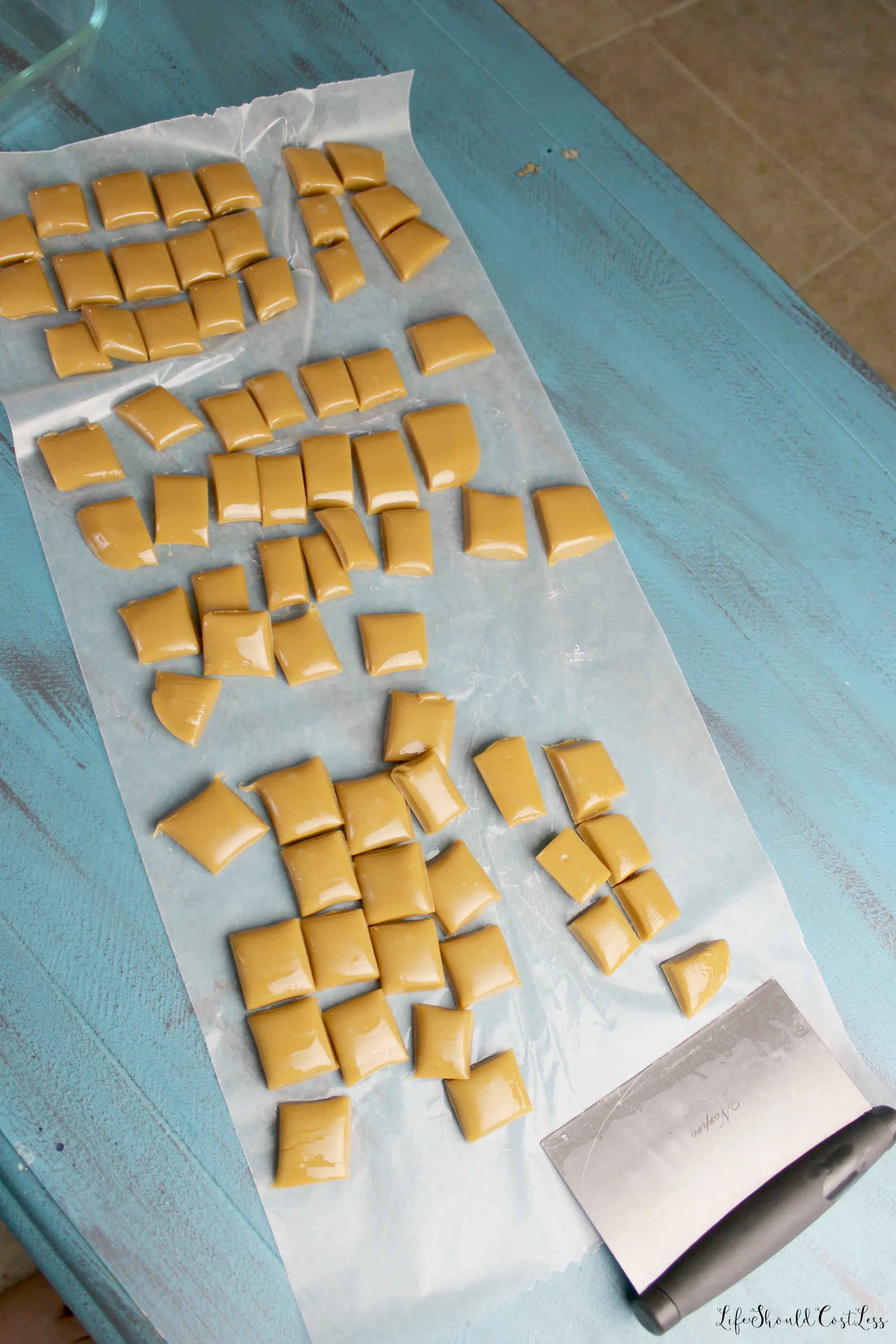 How to wrap old fashioned caramels:
Next, all you do is wrap them…it's cheapest to just cut some waxed paper into squares (mine were about 4″x4″), but you can also buy these little candy wrappers to make them look more professional.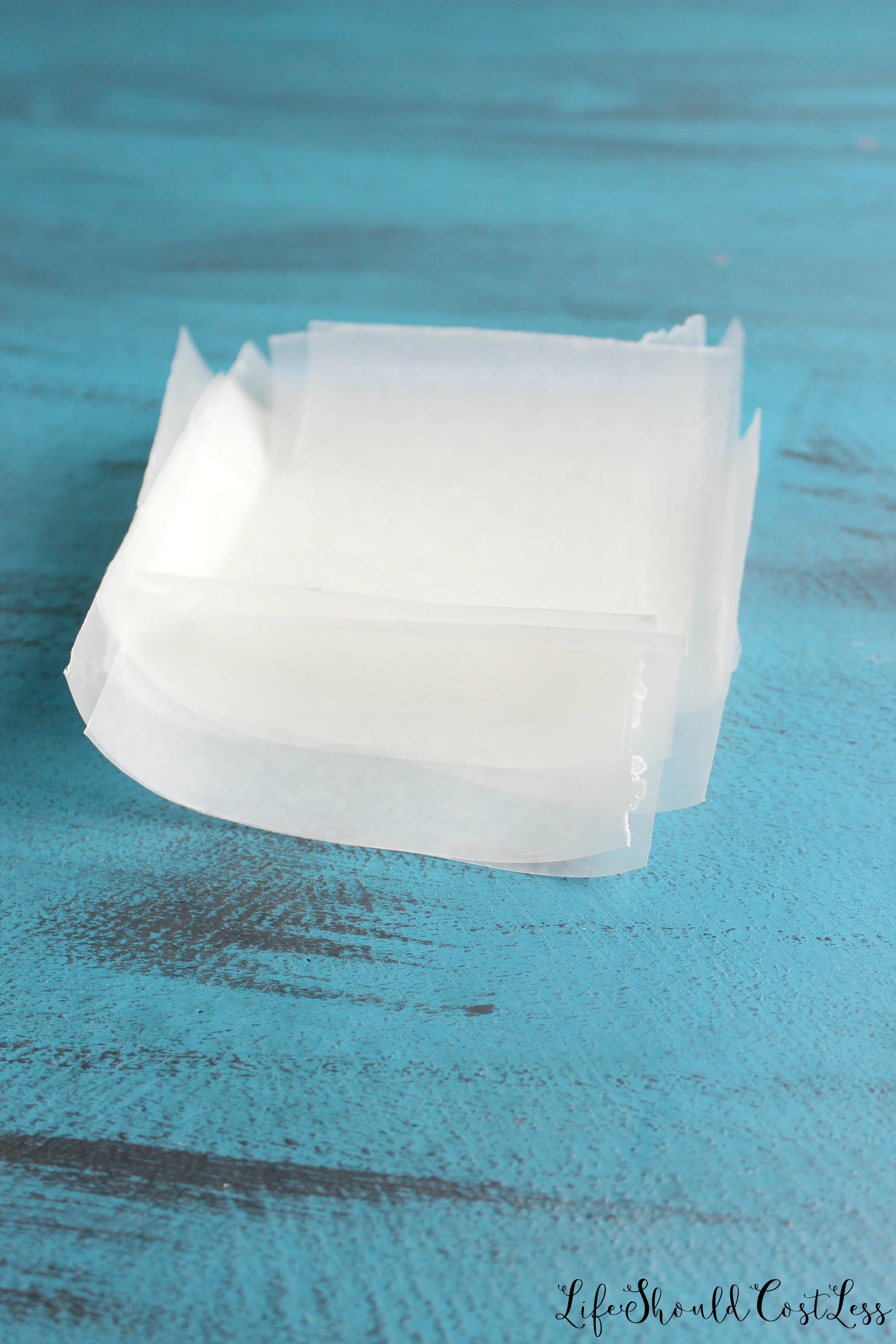 All you do is plop a piece of caramel in the center of a wrapper…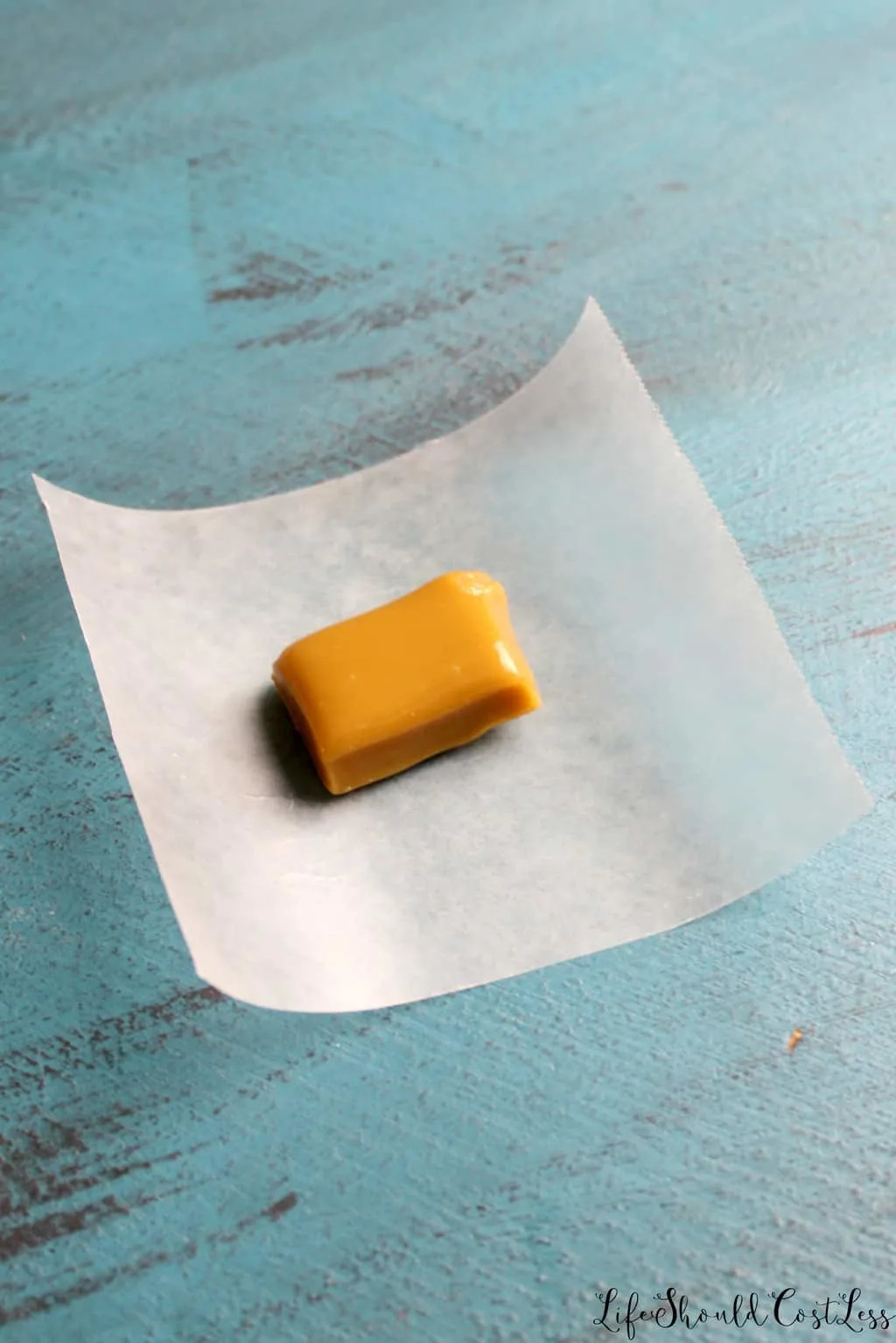 Then wrap the bottom across the candy, and then the top.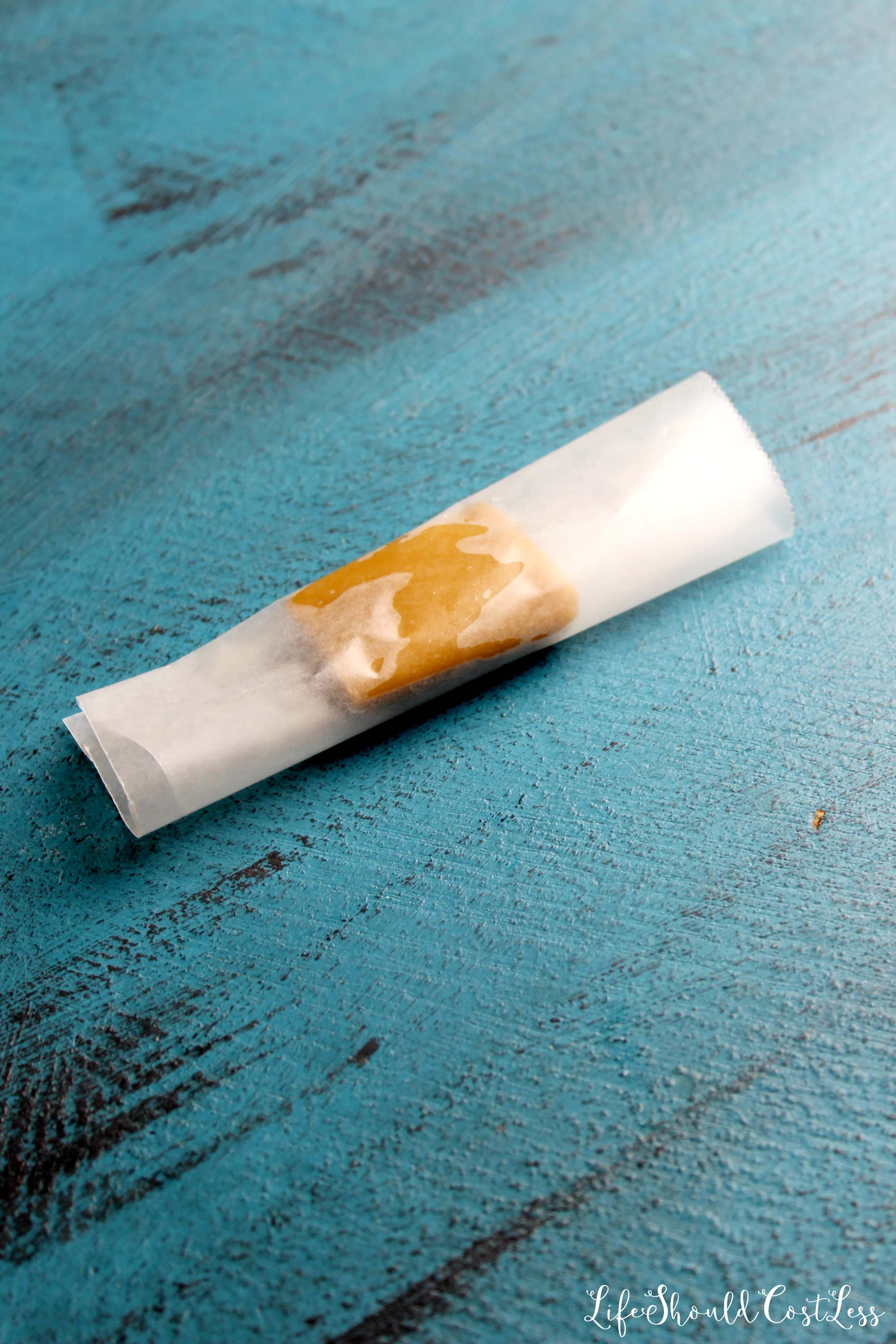 Then twist the ends.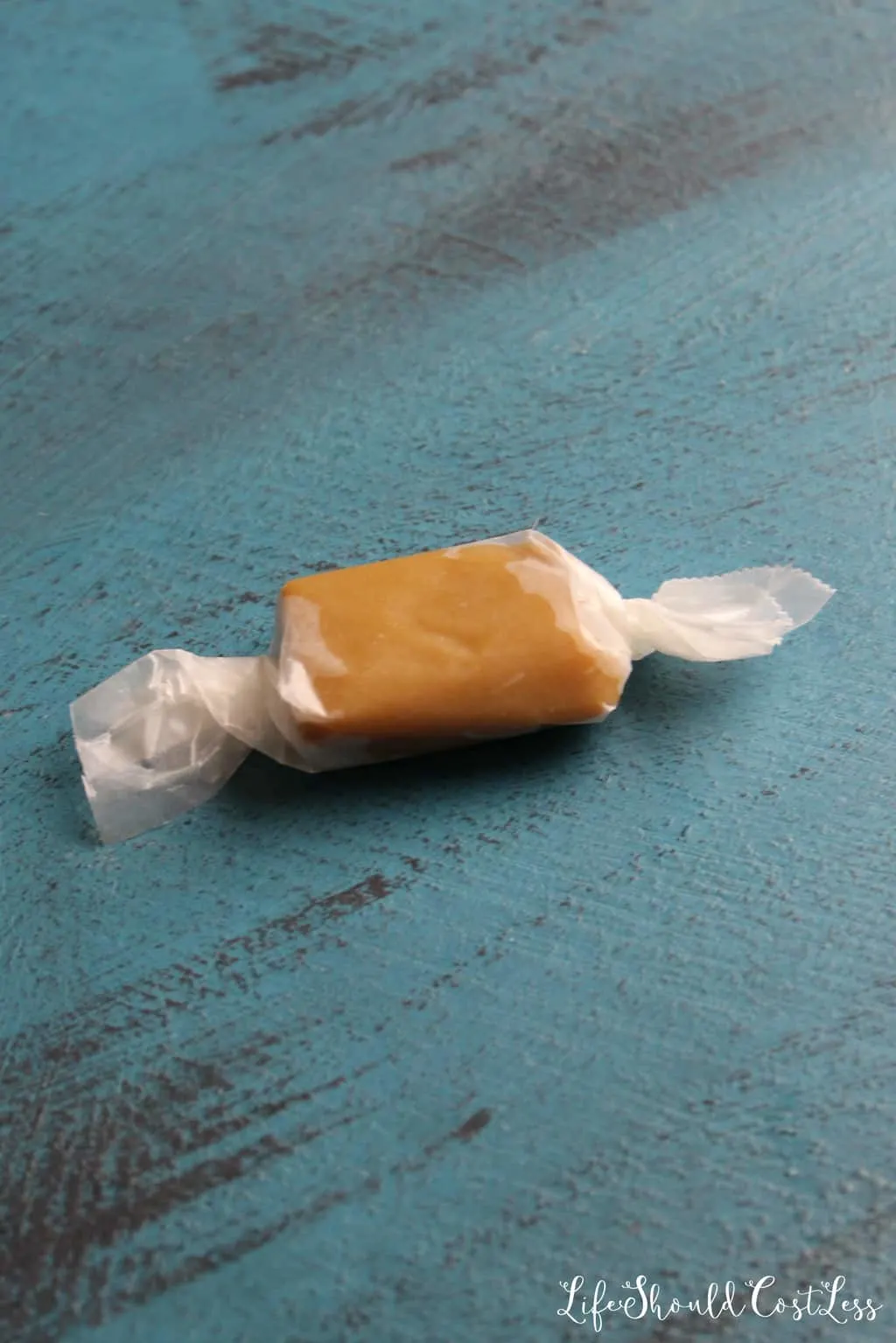 And you're done! Well, after you wrap about a million caramels…there is less to wrap if you have as many "helpers" as I do.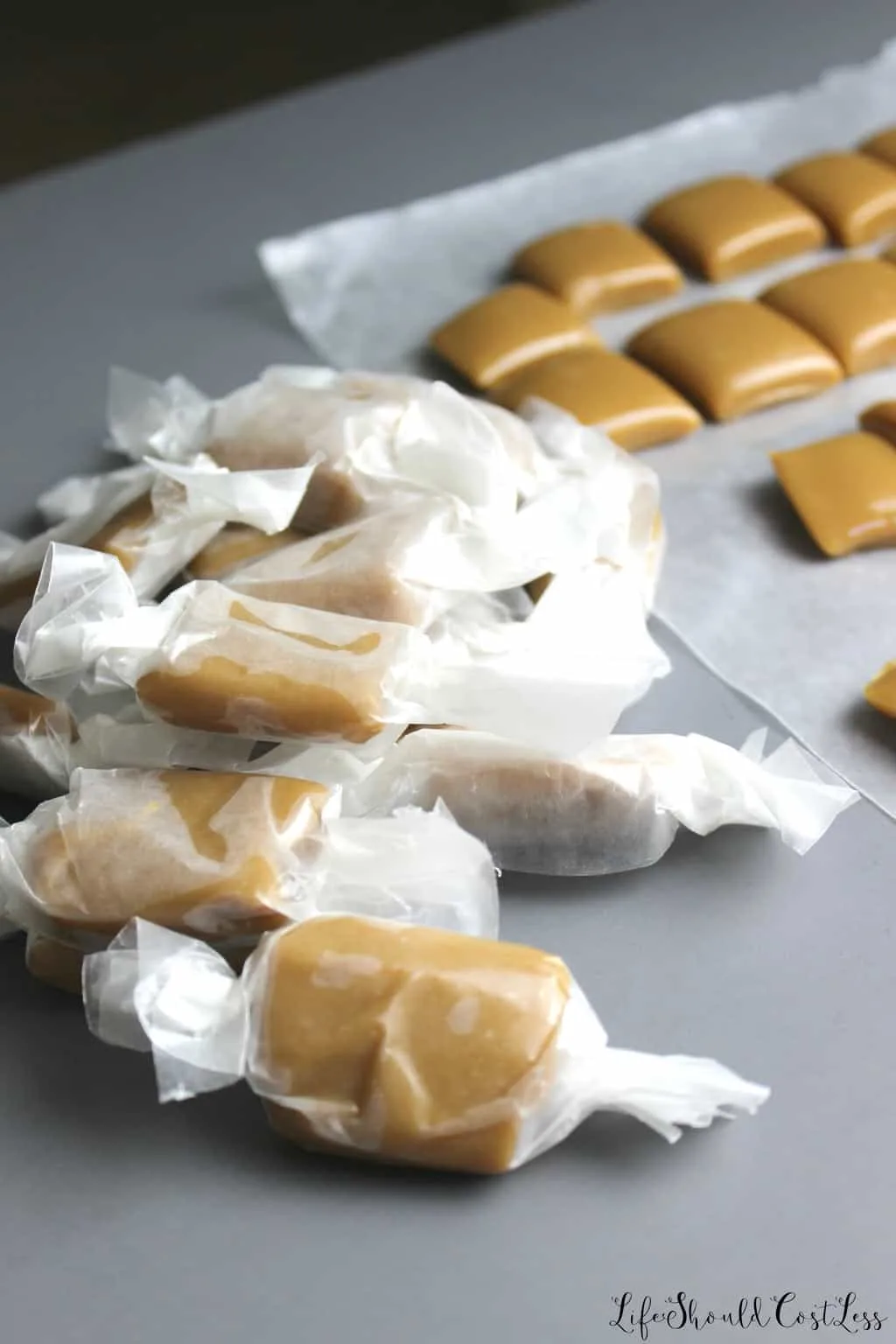 Some of these may look like they were wrapped by a five-year-old, but no…it was me. I haven't made them in a while, and wrapped them (we get lazy and just eat the pieces most of the time) so my skills were a little lacking,sorry.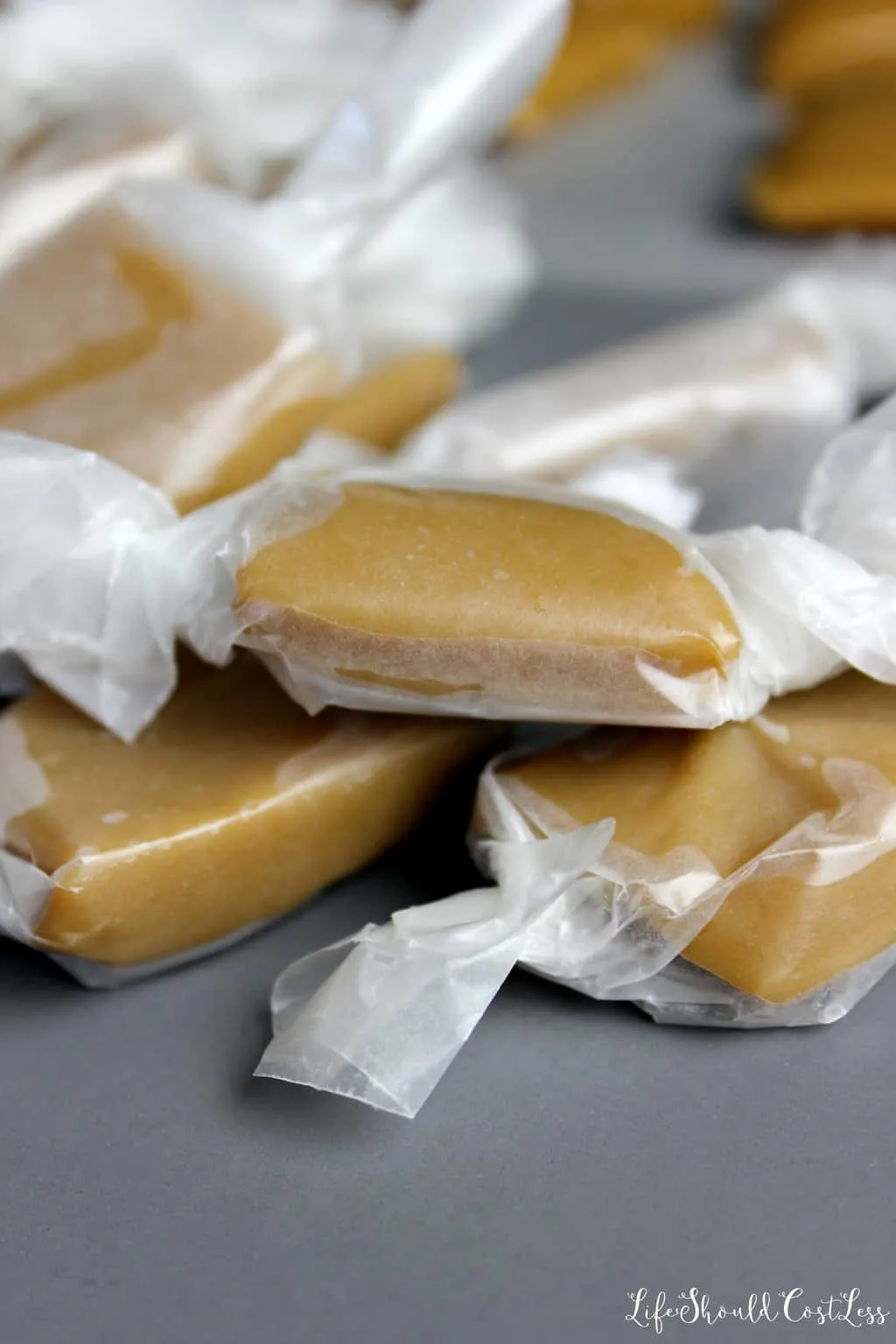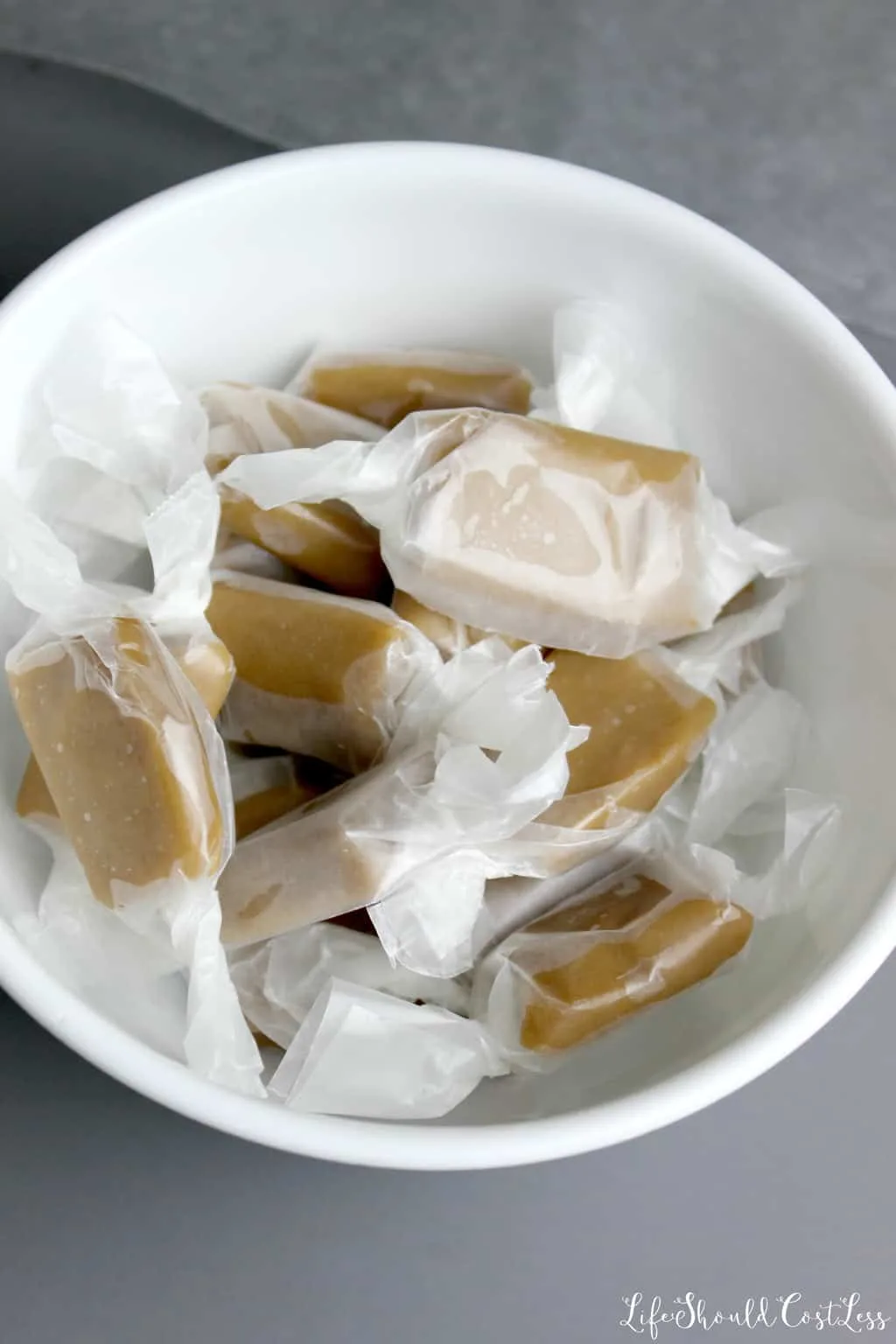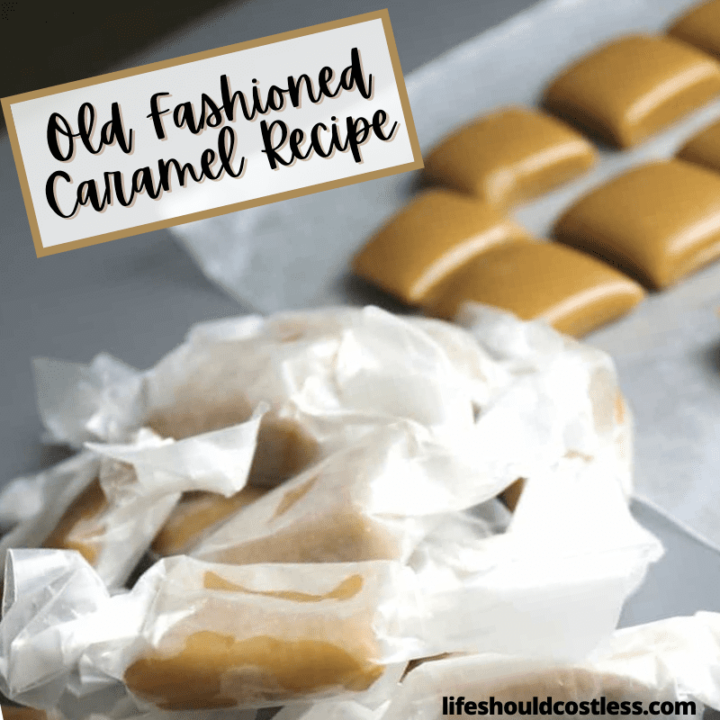 Old Fashioned Caramel
Learn how to make caramel candy the old fashioned way. This recipe is perfect for candies, salted caramels, popcorn (balls or in a bowl), caramel sauce, as well as making your own caramel bits.
Ingredients
1 Cup Butter
2 & ¼ Cups Brown Sugar
1 Cup Light Corn Syrup
1 Can (14 oz) Sweetened Condensed Milk
2 Tablespoons Vanilla Extract
Instructions
In a medium to large sized sauce pot add the Butter, Brown Sugar, and Corn Syrup.
Stir together on low heat until the Butter has melted.
Add the Sweetened Condensed Milk and stir well.
Bring the mixture to boiling point over medium heat.
Stir constantly until Caramel reaches your desired ball stage (see notes, wrapped caramels need to be at hard-ball stage).
Remove from heat, add the Vanilla extract, and stir well.
Pour into a buttered (cooking spray works too) 9"x13" glass casserole dish.
Let cool on top of wire rack.
Cut and wrap in waxed paper squares.
Notes
This is a very versatile caramel recipe.
To use it for caramel or dipping sauce only cook until the sugars have dissolved or slightly longer depending on how thick you want it.
For Caramel Apples and Popcorn bring it to a soft ball stage.
For wrapped candies, or caramel bits, bring it to hard ball stage.
Nutrition Information
Yield

50
Serving Size

1
Amount Per Serving
Calories

63
Total Fat

4g
Saturated Fat

2g
Trans Fat

0g
Unsaturated Fat

1g
Cholesterol

10mg
Sodium

35mg
Carbohydrates

8g
Fiber

0g
Sugar

8g
Protein

0g
These caloric amounts are automatically estimated by a plugin on my site and should be treated as an estimate only.
How to make homemade caramel bits:
Make the recipe as if you are making wrapped caramels, however, once you get to the cutting stage.
You can use a nice pair of kitchen scissors (butter or grease them for best results, and cut the caramel into your desired size of bits…it's easy peasy to make them yourself.
---
This recipe for Caramel Candy is perfect for bake sales, gifts, party favors, or just to enjoy when you want to save some for later.
If they lasted long enough to get saved, I would put them in an airtight container and I have no idea how long they would be good for.
It's almost pure sugar so I imagine it would be for a couple of weeks or longer (let me know in the comments if you ever find out).
Thanks so much for stopping by my website! If you loved this recipe, please make sure to share this post with your family/friends/co-workers via social media, or you could even send them the direct link via email…whichever way, I super appreciate the support!~Sarah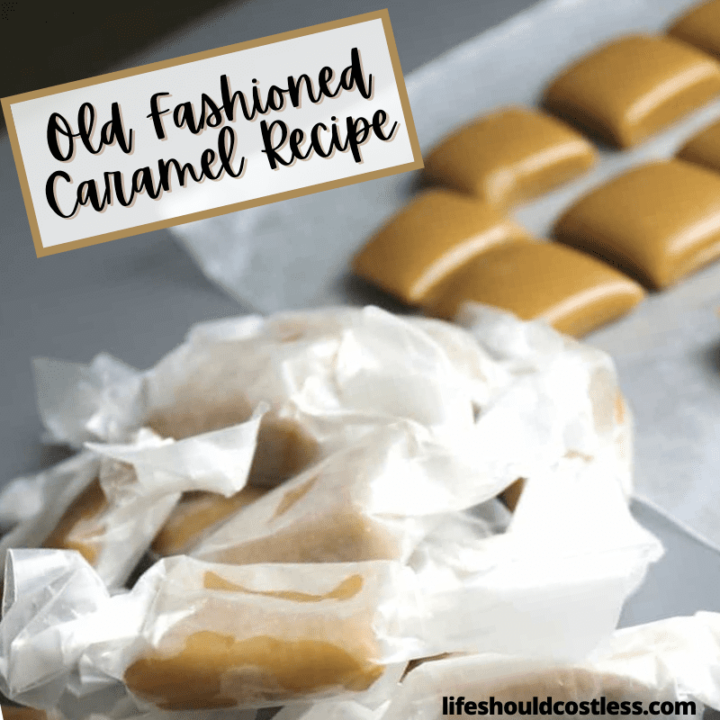 Follow Me
If you would like to subscribe to my email list, go here.
Make sure to follow along via social media, by going here.
If you would like to learn how to really show your support to this site (at no cost to you), go here.
P.S. If you liked this recipe, you're going to want to check out my entire sweet tooth section, found here.
Here are several direct links to some of my other sweet recipes:
For those of you that would like another option of a "Pinnable Image" to share on Pinterest, here you go…thanks again so much for the support!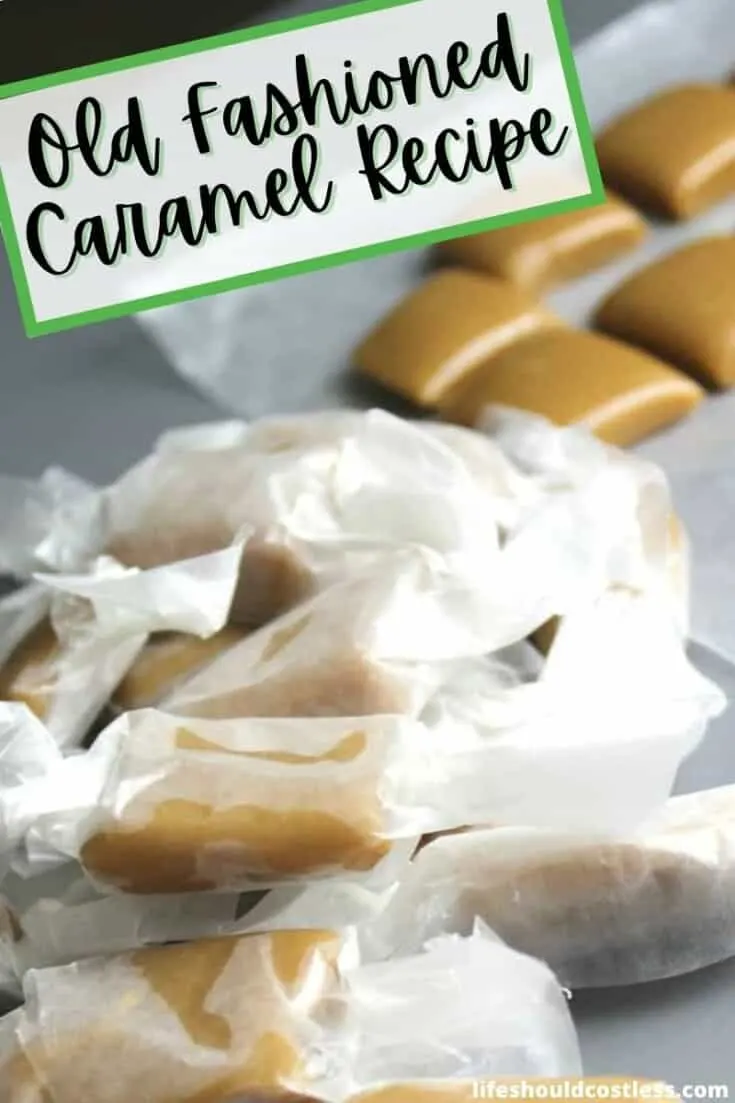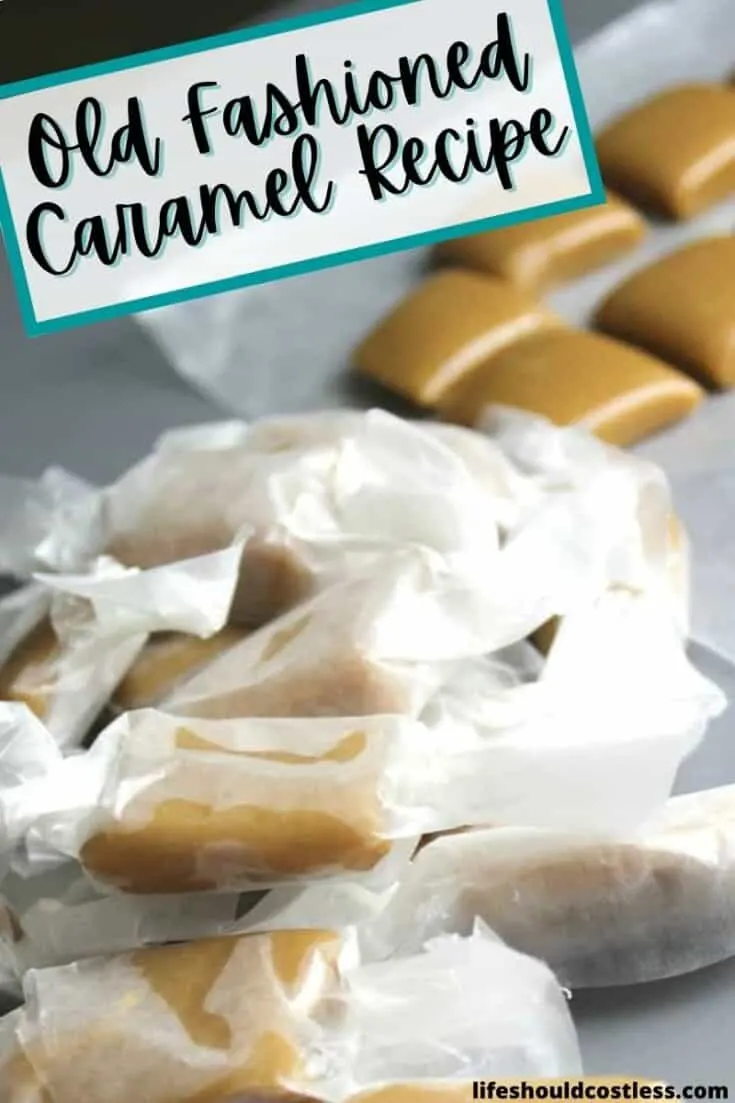 *Reposts: Please note that this recipe was originally posted to this website on June 5, 2018, but it was in major need of a refresh/a free printable recipe card and video, so it has since been and will continue to be, updated to improve user experience. .