I have been working on this recipe for a couple of months…it was meant to be a gift for someone, and even though that person is long gone from my life, I decided that I had already put too much thought and time into it to let it go to waste…plus, it turned out so freaking tasty that I would be doing the world a disservice by not posting it. Not meaning to toot my own horn, but once in a great, great while I am at the top of my game in the kitchen, and this recipe is easily one of the best ones on my site thus far! That's just my opinion though. You'll have to try it and let me know what you think.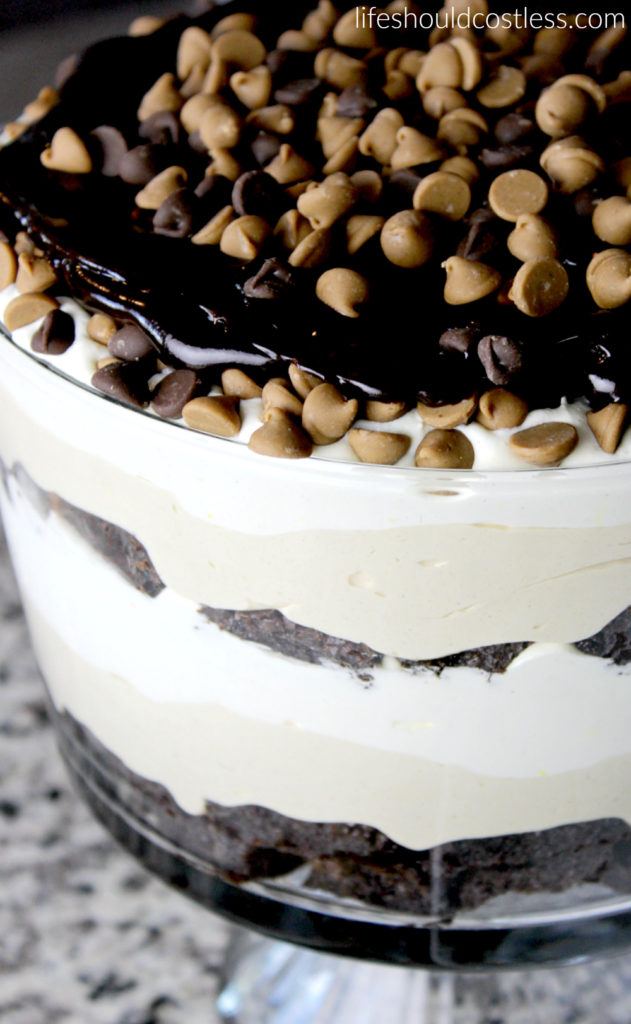 The inspiration for this recipe was Moose Tracks Ice Cream, of course. So it has fudge, peanut butter, and vanilla for the flavor explosion that is going to happen in your mouth. I figured that flavor combo would be perfect in trifle form, especially for people that love Moose Tracks Ice Cream but want to shake things up a bit.
I'll start by showing you the ingredients all laid out…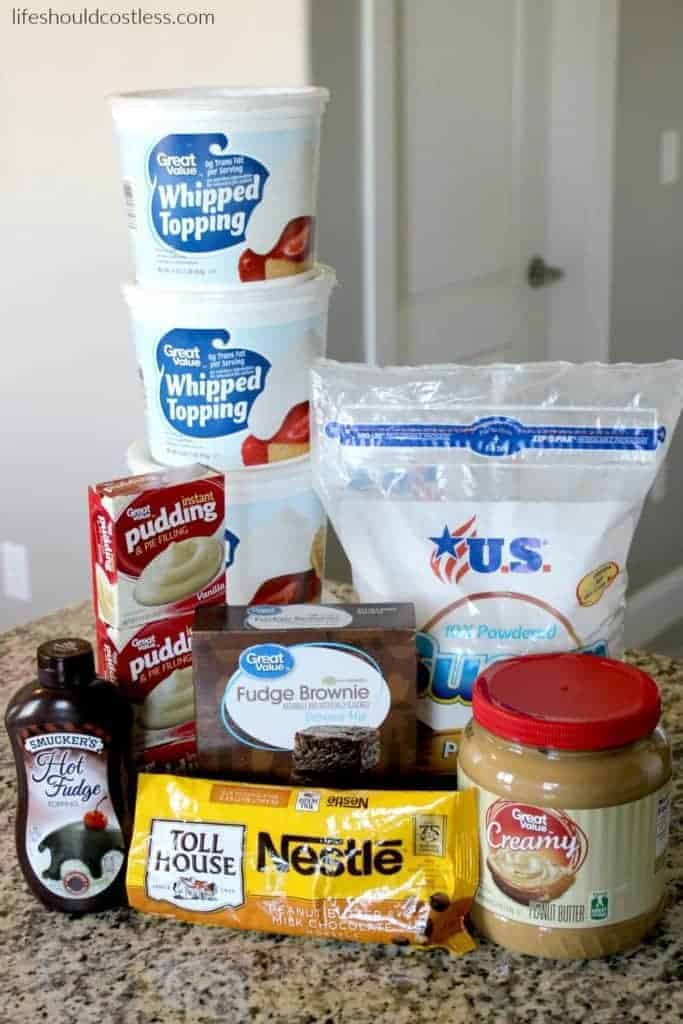 We've got layers of Fudge Brownies (instead of the cake or lady fingers most trifles have). They were cut into squares using my Norpro Scraper.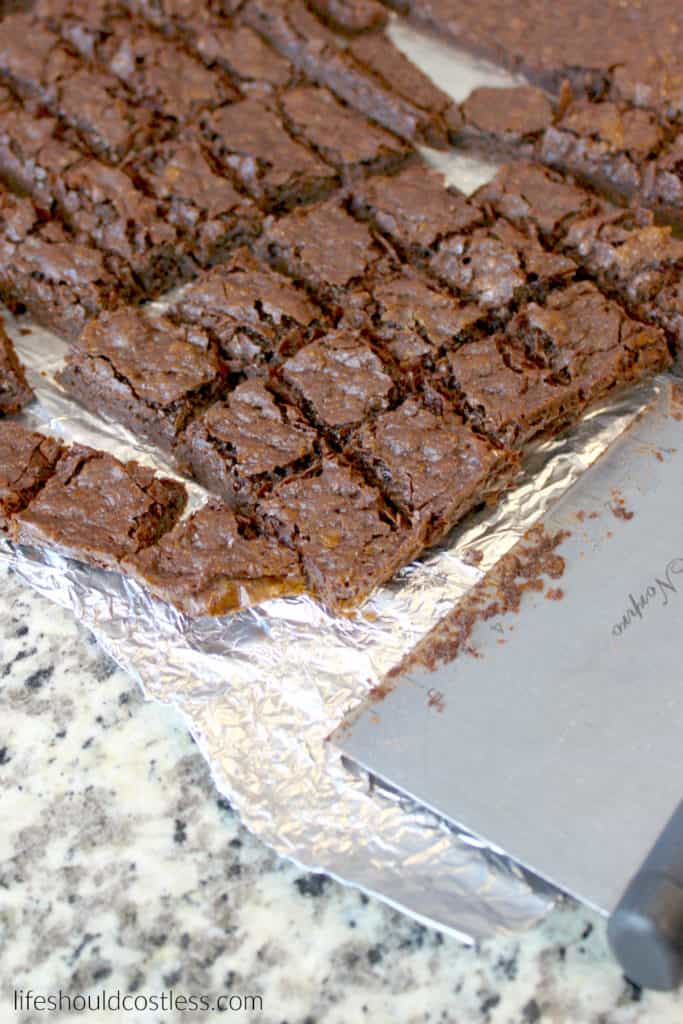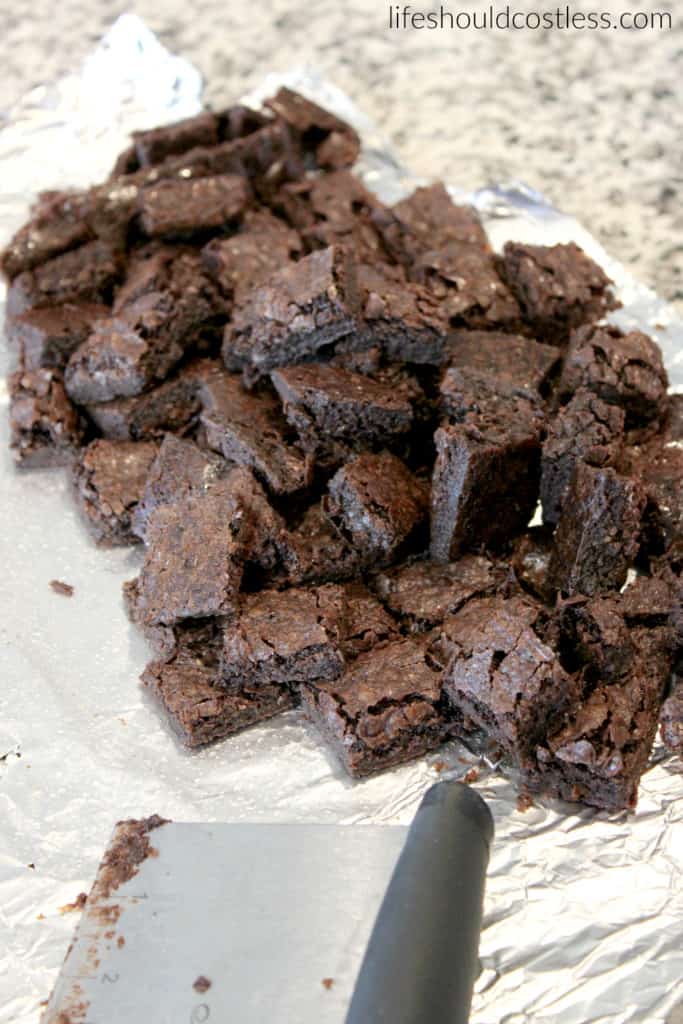 Then layered into my trifle bowl. I love this trifle bowl so much I bought two, you can get one here too.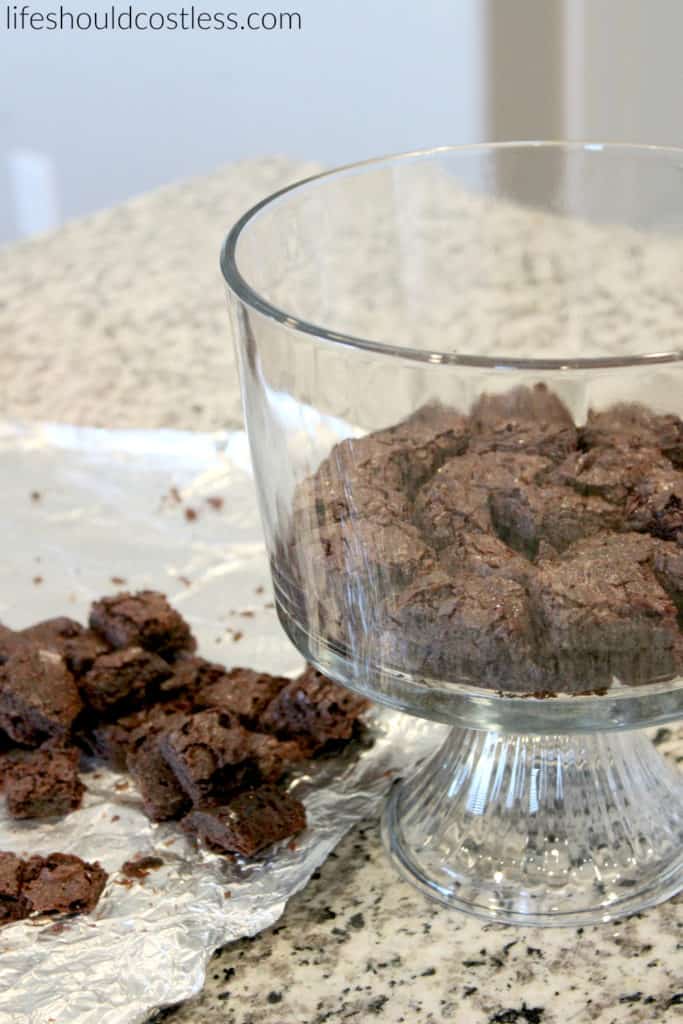 Then came the Peanut Butter Mousse,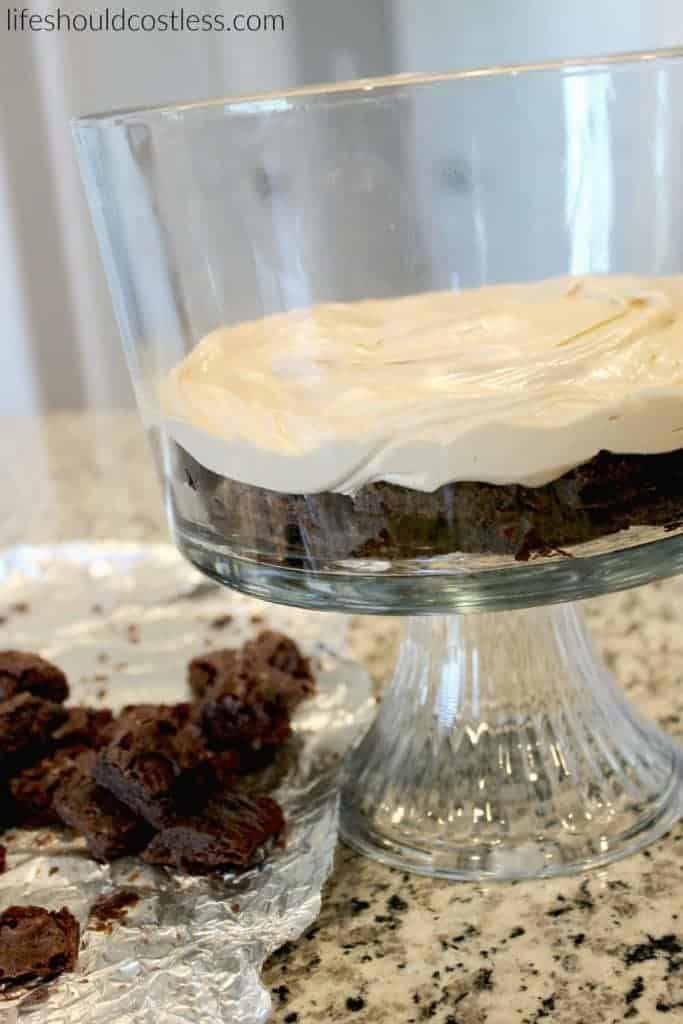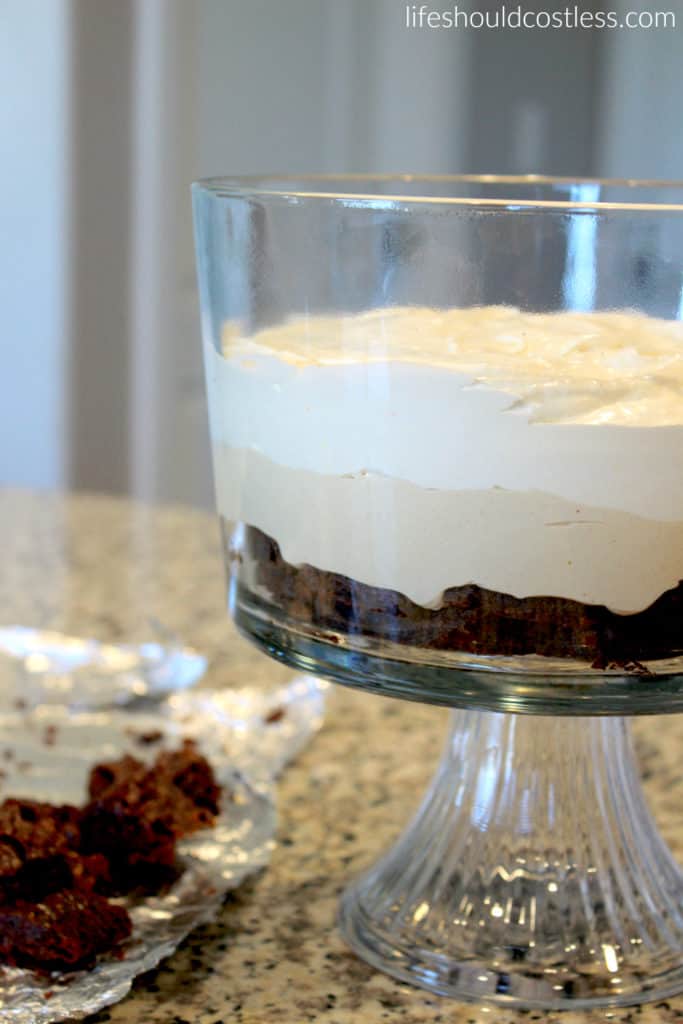 all three of them repeated,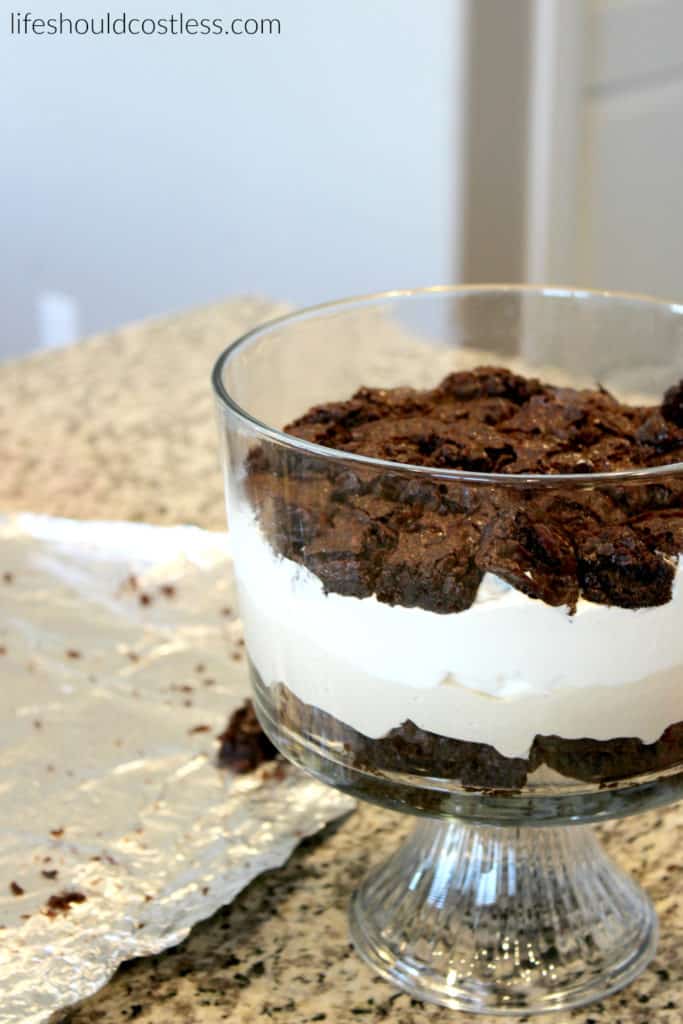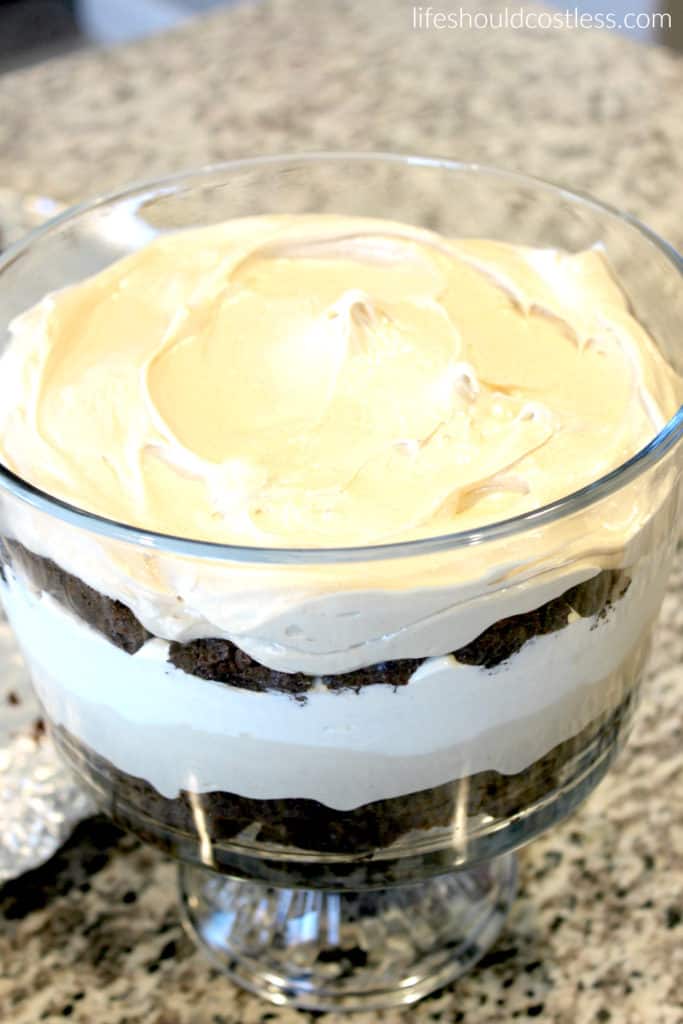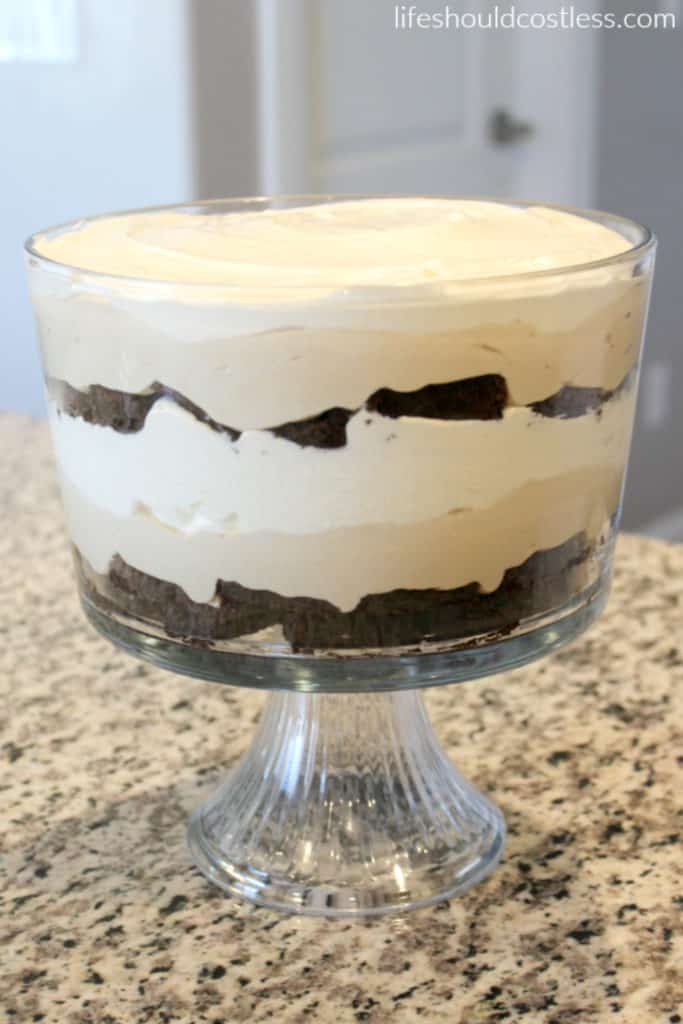 followed by Peanut Butter and Chocolate Chips,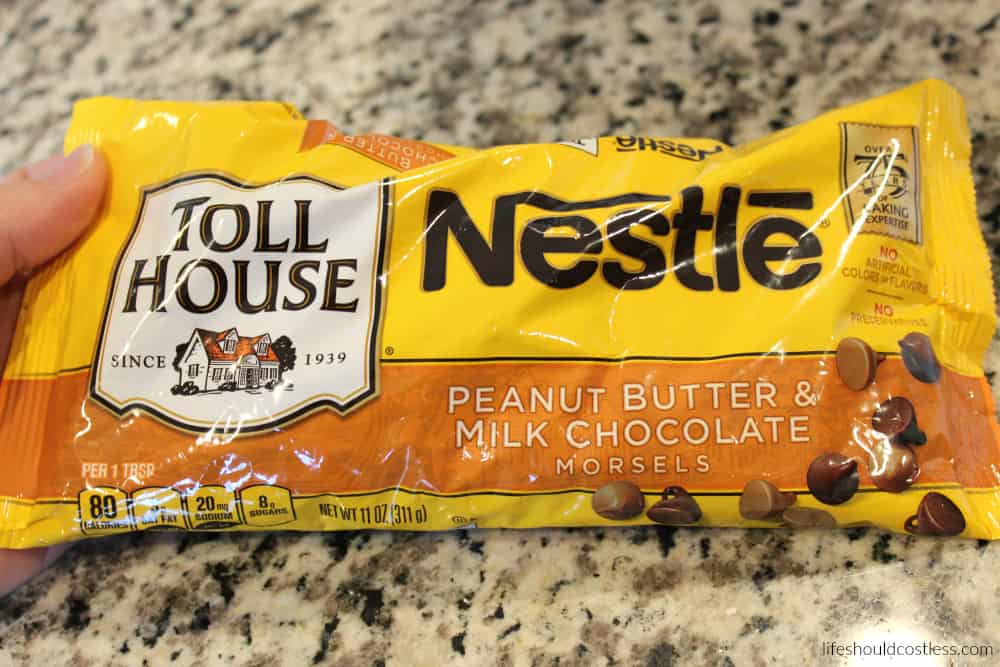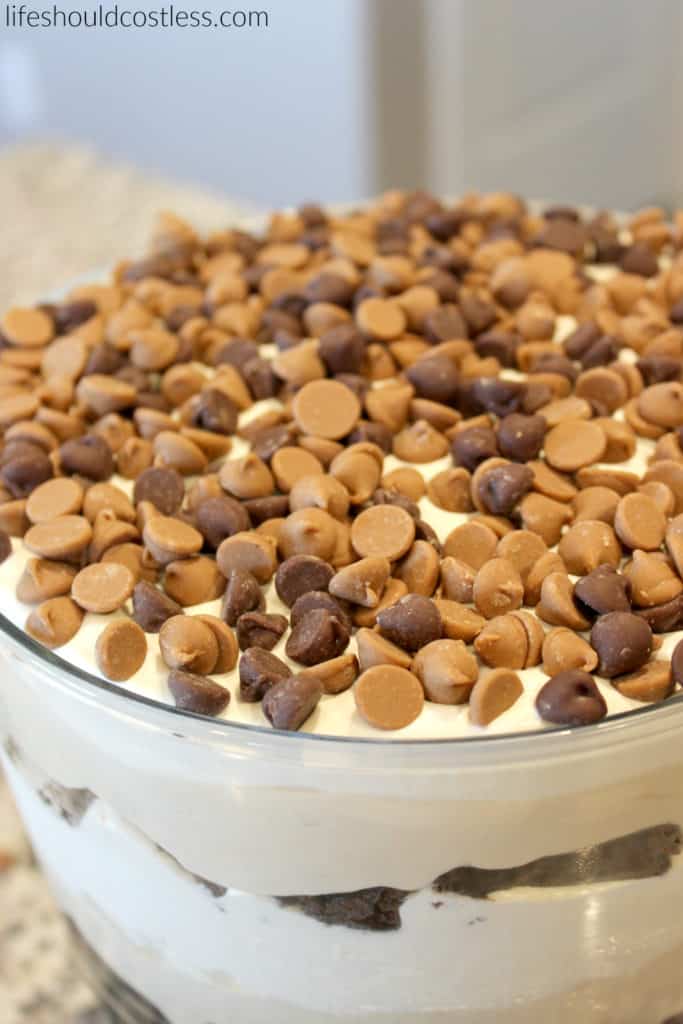 covered in hot fudge, and a few more chips for good measure.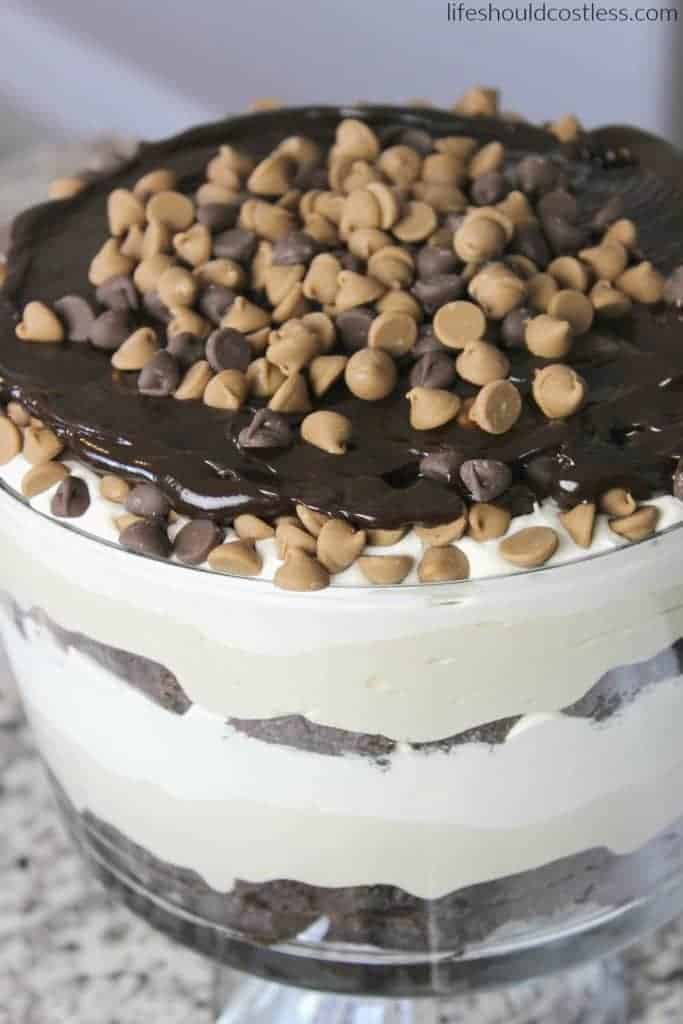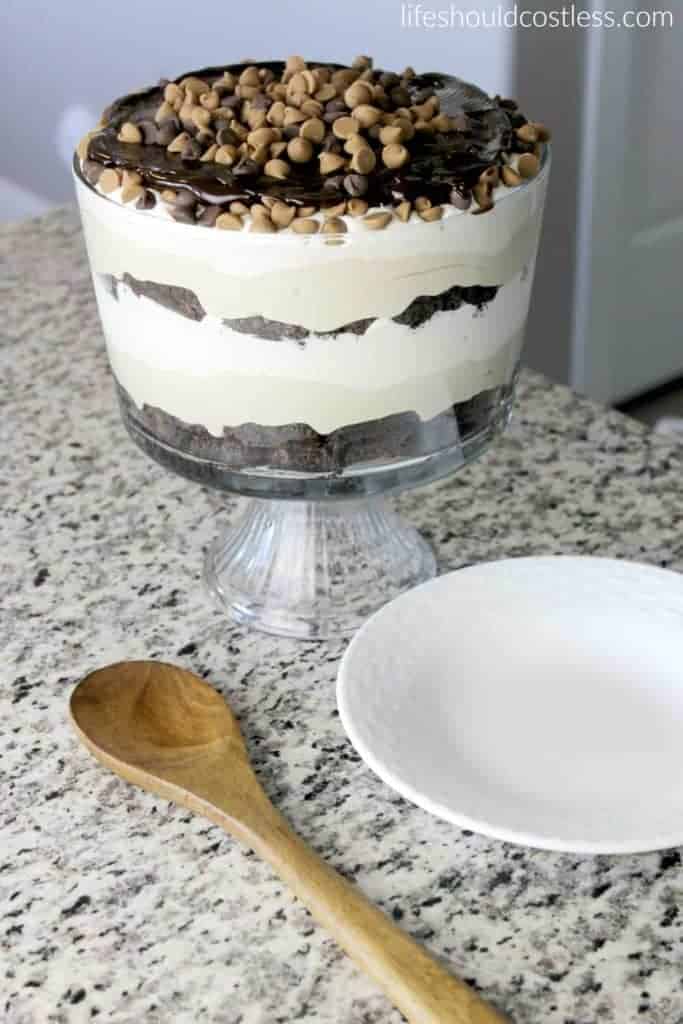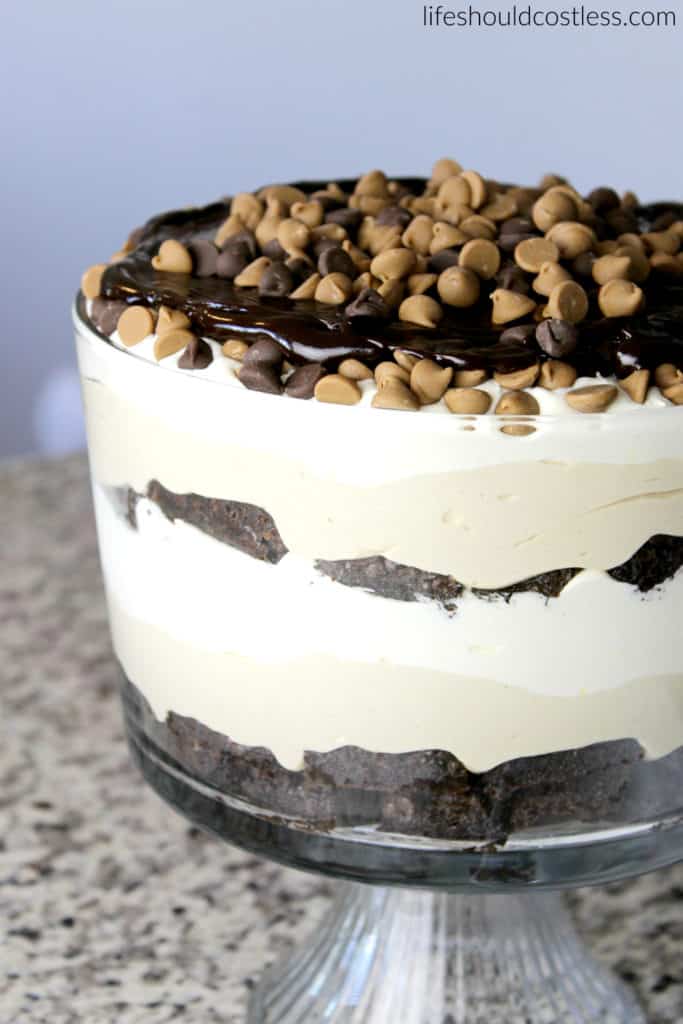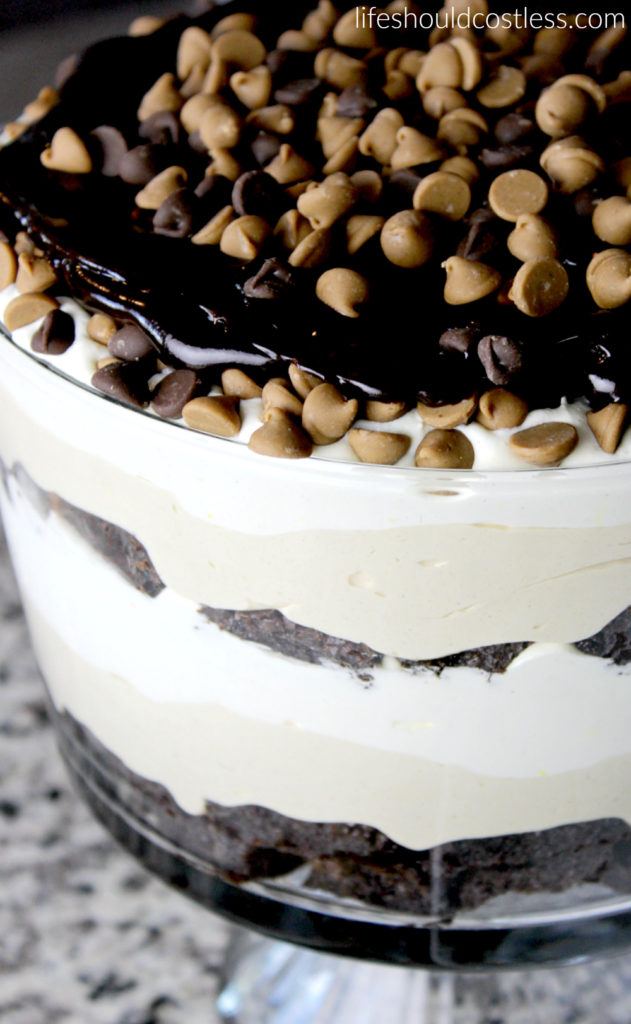 Moose Tracks Trifle
Author:
LifeShouldCostLess.com
Ingredients
1 Batch Fudge Brownies (prepared and cut into little squares)
3X Vanilla Mousse Recipe
1 Batch Peanut Butter Mousse
Hot Fudge Topping
1 Pkg Peanut Butter and Milk Chocolate Chips
Instructions
In a standard trifle bowl, evenly spread out half of the brownie squares. *Pack them tight around the edges for a better looking trifle.*
Next, spread half of the Peanut Butter Mousse over the brownies.
Follow with half of the Vanilla Mousse.
Repeat those layers.
Sprinkle ⅔rds of the Peanut Butter and Milk Chocolate chips.
Warm the hot fudge topping for about 30 seconds and let it cool a bit, so it's not too warm but still spreadable.
Sprinkle the remaining Peanut Butter and Milk Chocolate chips.
It's ready to serve or gently/loosely cover and refrigerate until needed.
Notes
Before you start prepare each of the first three ingredients, links to recipes for the vanilla and peanut butter mousse's are found in the post, or look them up in the search bar. They also have printable recipe cards available.

I let my brownies cool and then left them sitting in the cooled oven over night so that they would be a little more dry. This makes the brownies get soggy less quickly, so if you want your trifle to stay good for a couple/few days in the fridge, maybe do that too.

I would not make this more than one night before needed...just so it tastes best.
Just in case you missed the links, higher up in the post, for the Vanilla and Peanut Butter Mousse recipes, here they are again:
If you've never tried Moose Tracks Ice Cream, you totally need to try it before you go all out to make this Moose Tracks Trifle…but you will be happy with either because they are both DELICIOUS! Anyway, if you loved this recipe please make sure to share it via social media. Also, make sure you are subscribed to my email list so that you never miss a recipe…I post other good stuff too, so you won't be sorry. Thanks for stopping by and supporting me and my kids, I really appreciate it. ~Sarah
P.S. You may want to check out my entire Sweet Tooth section, you can find that here.