I am a HUGE FAN of the Paradise Pie dessert that is often at Chili's Grill & Bar! So as you can imagine, I was very disappointed the last time that I went to Chili's and saw that it was sometimes not a menu item (they remove it from the menu sometimes). I'm sure that my thighs are thankful when it goes missing, but I just knew that I needed to see if I could find a knock-off recipe for this treat that would hit the spot the way that the original recipe does and guess what……. I found just the one!!!

I found it at this AMAZING website that has tons of really yummy recipes and many of them are restaurant copycats.
Anyway, if you get a chance to stop by that site, please do, you won't be disappointed.
I just had to ask if I could share this recipe with you guys too and I was told that I could, so lets just jump right in.
I'm going to start with showing you guys all the ingredients and steps and then I have a free printable recipe card down at the bottom.
Make sure to print it out or at least bookmark this blog post, because once you have tasted it you are going to want to make this for most any special occasion.
Here are all the ingredients spread out, of course I noticed AFTER getting half way through making it that I had forgotten to picture the milk with all these ingredients, so sorry about that.
As you view this recipe, please excuse my mediocre (at best) photography skills…I do my best but I am in no way a professional, nor does this single mama of four have the budget to hire one.
I only share my favorite recipes ever, so please don't skip past it because I failed to capture just how yummy it is.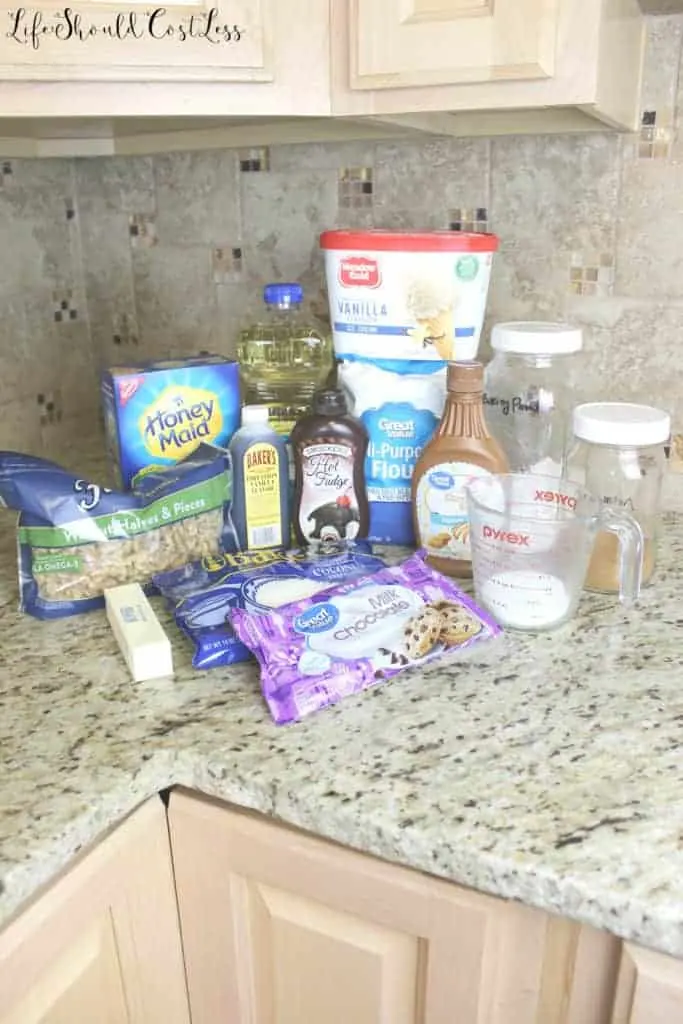 This recipe only makes four servings, so I was making it in teeny tiny dishes, but you can always double or triple it for however many servings you need.
I just thought I would point it out that this is a very small batch dessert so that you're not confused as you're making it.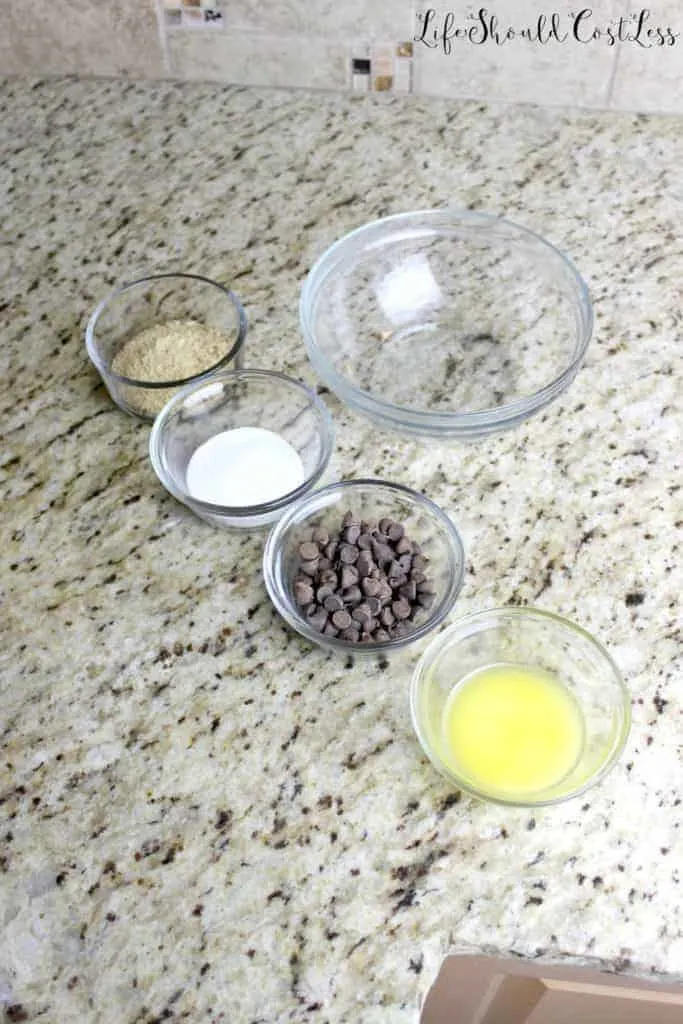 In a small glass bowl add your Graham Cracker Crumbs, Sugar, and Melted Butter.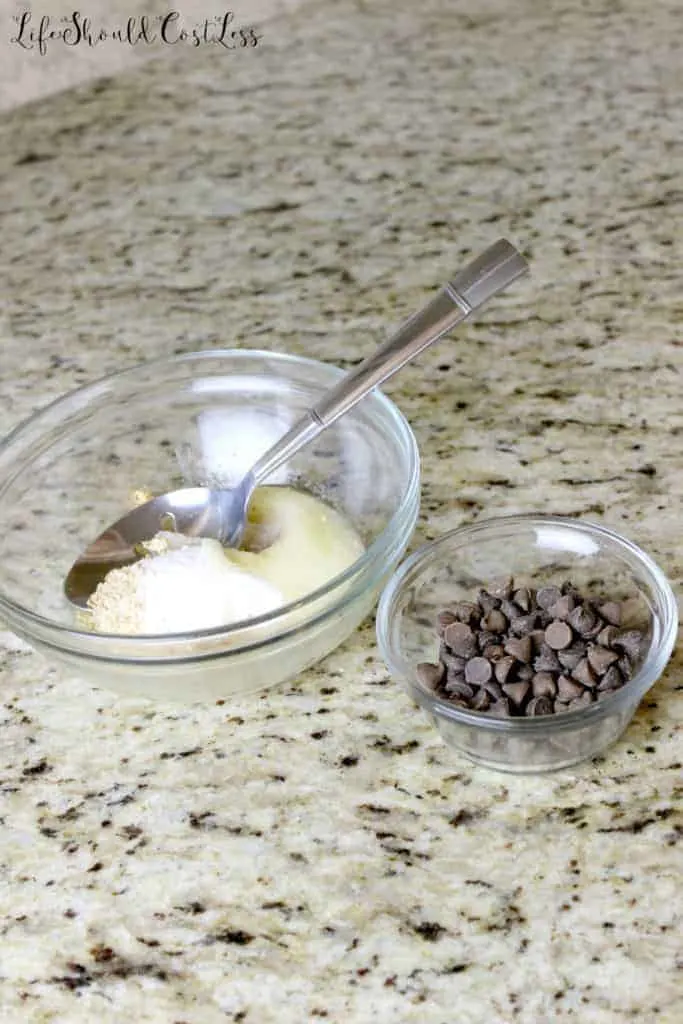 Mix well.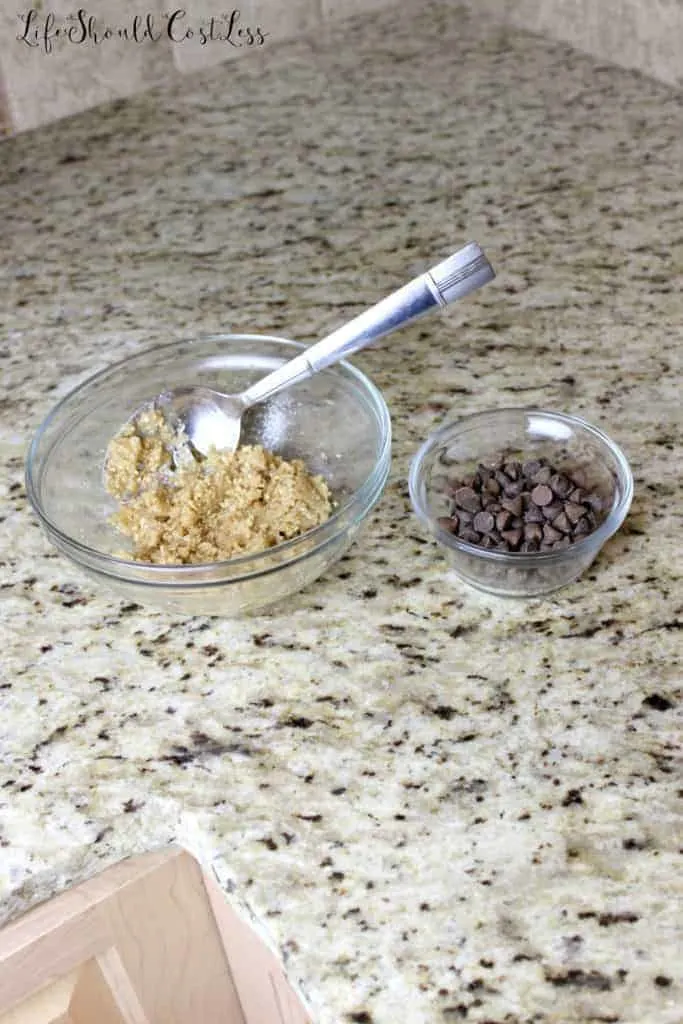 Then press the crust mixture into the bottom of a small casserole dish (see recipe for size). This was literally the smallest casserole dish I had and it turned out perfect.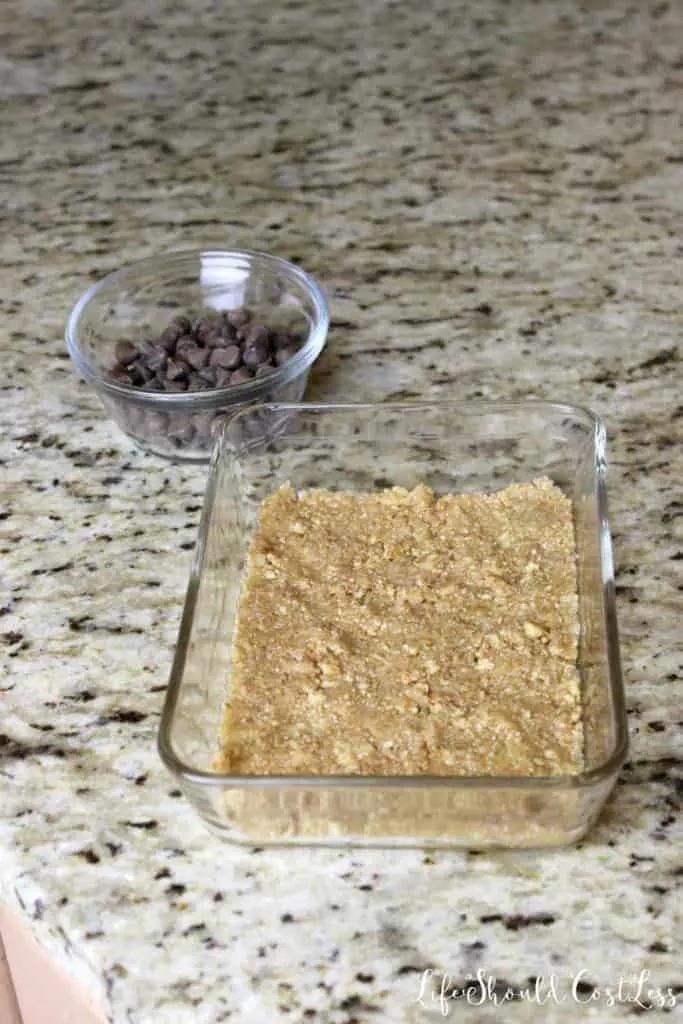 Then sprinkle with chocolate chips and melt them in the oven for five minutes.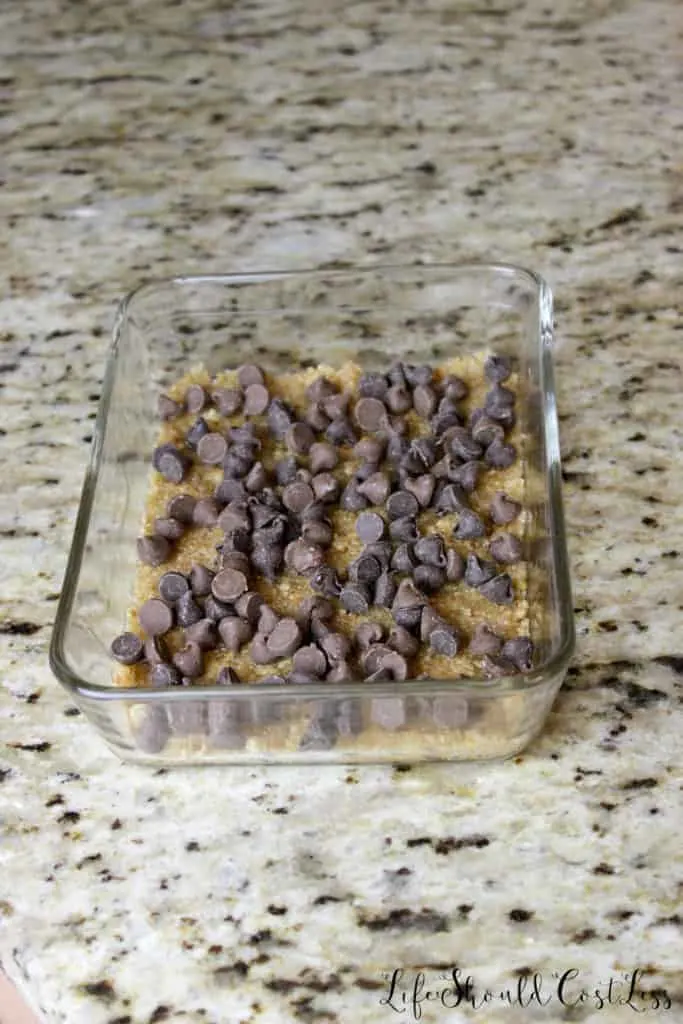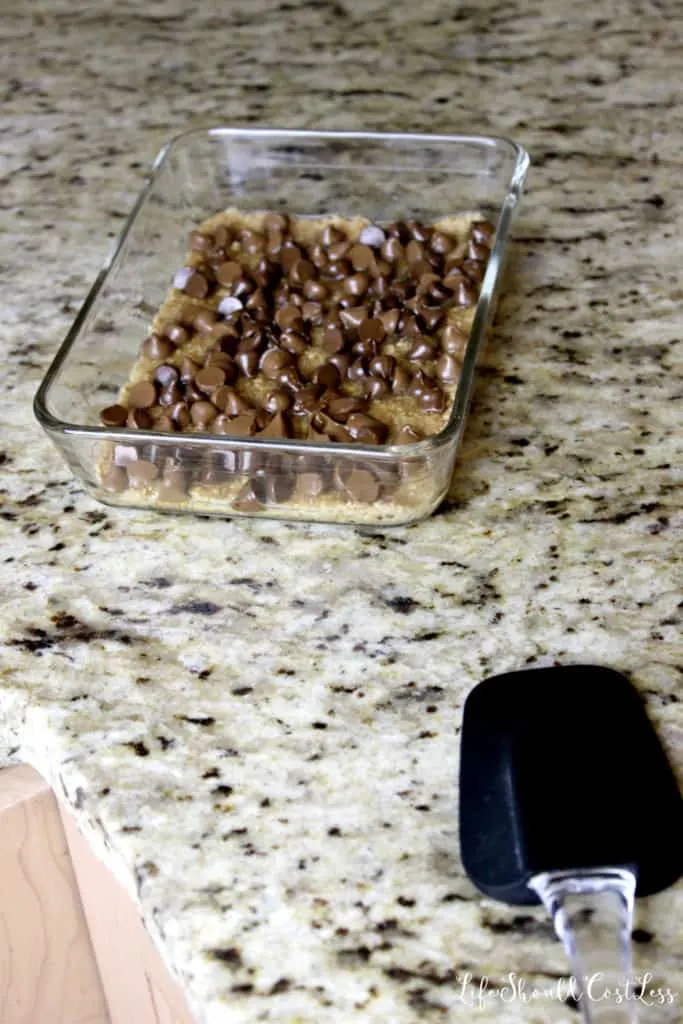 Remove from oven and use a spatula/scraper to spread out the chocolate.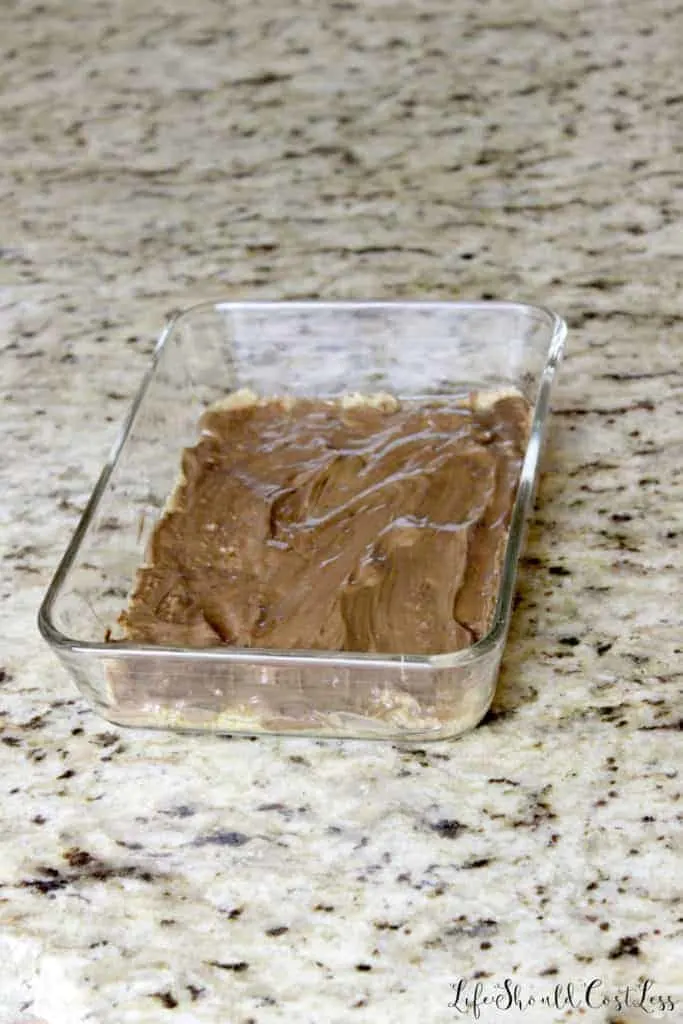 Then set that aside and prepare to make the second layer. In another small bowl add the remaining dry ingredients.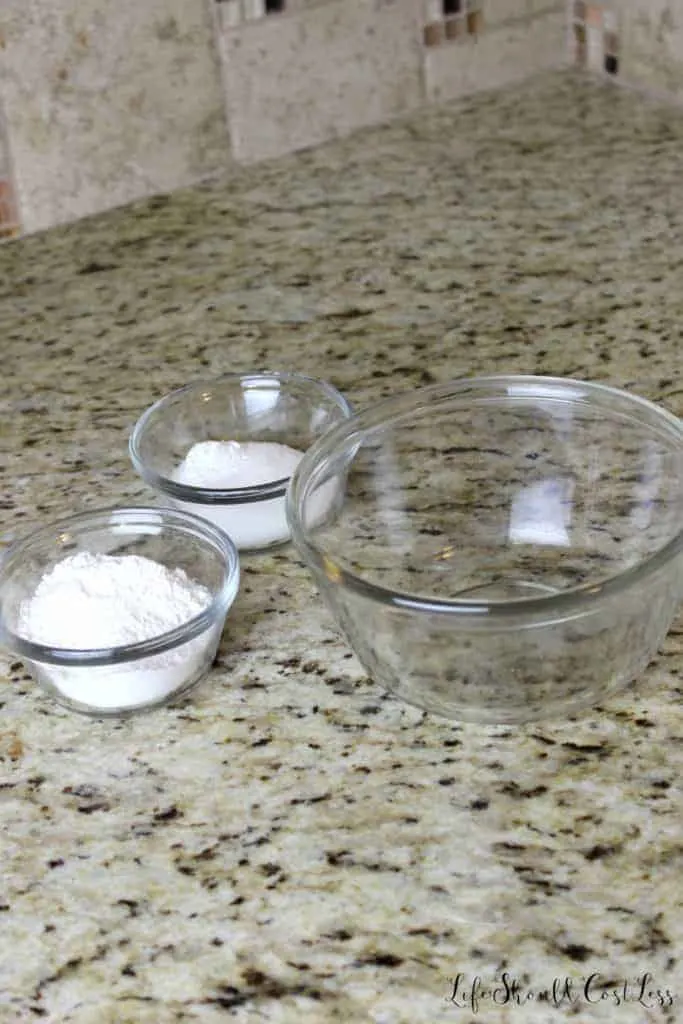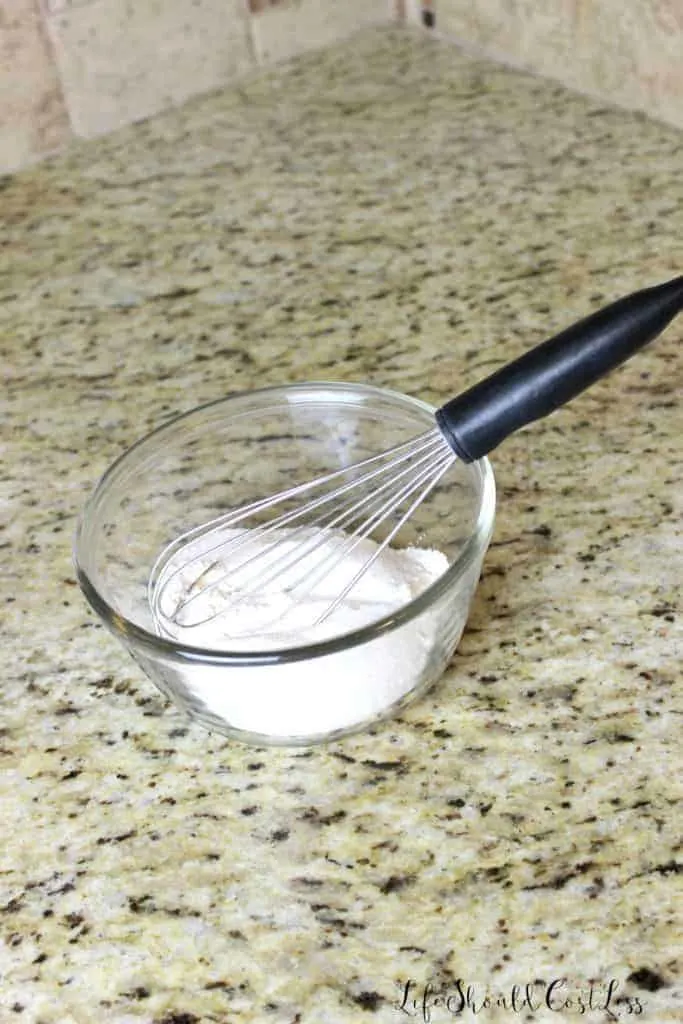 Whisk them together.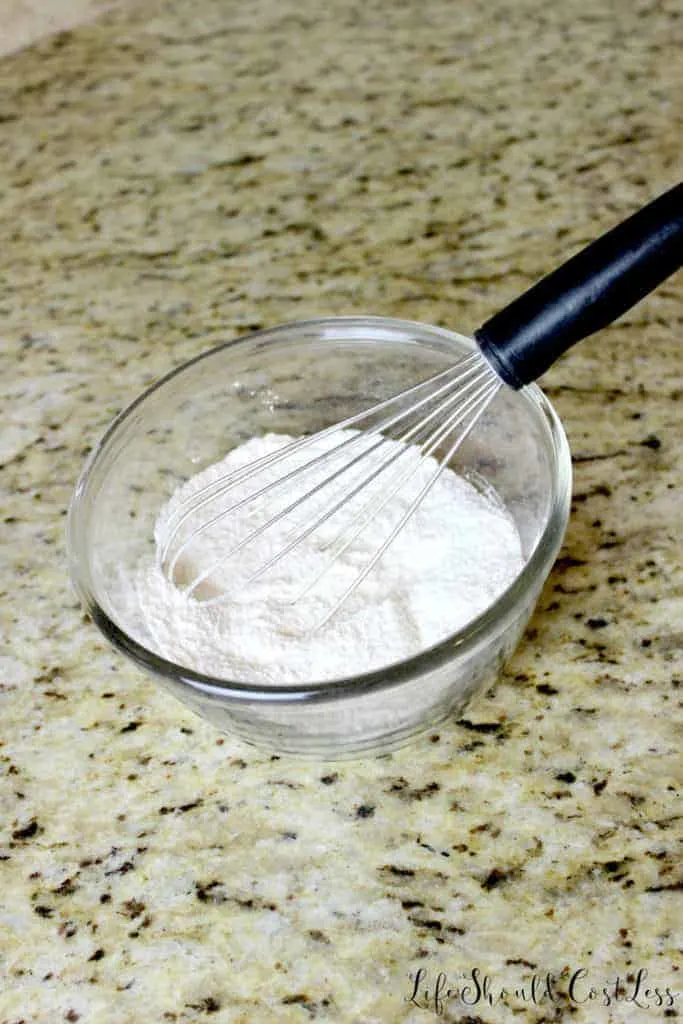 Then add the remaining wet ingredients.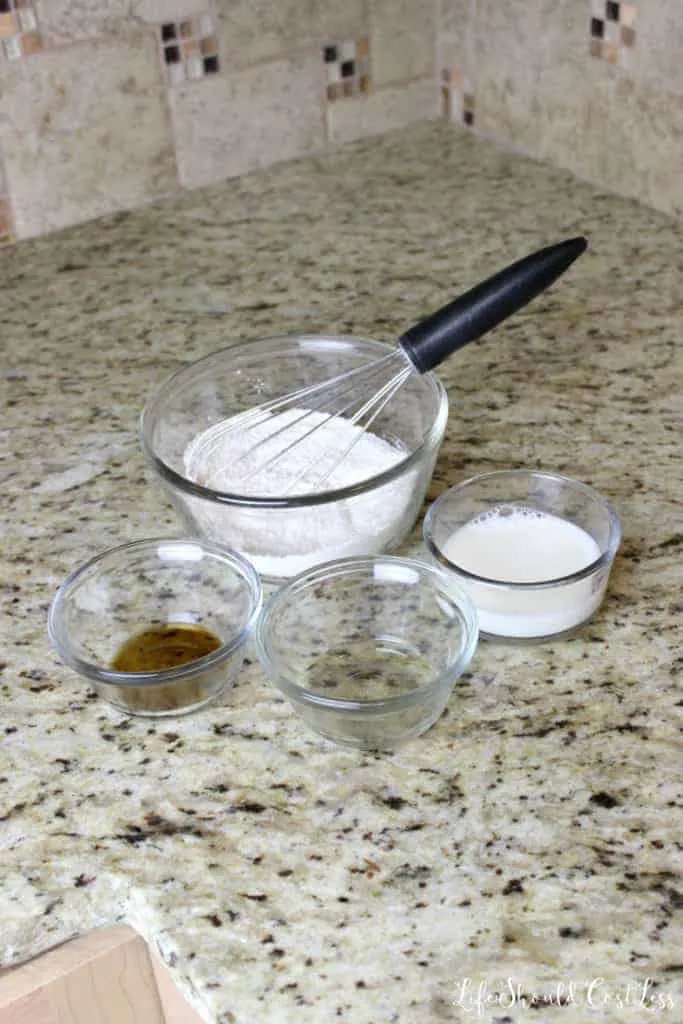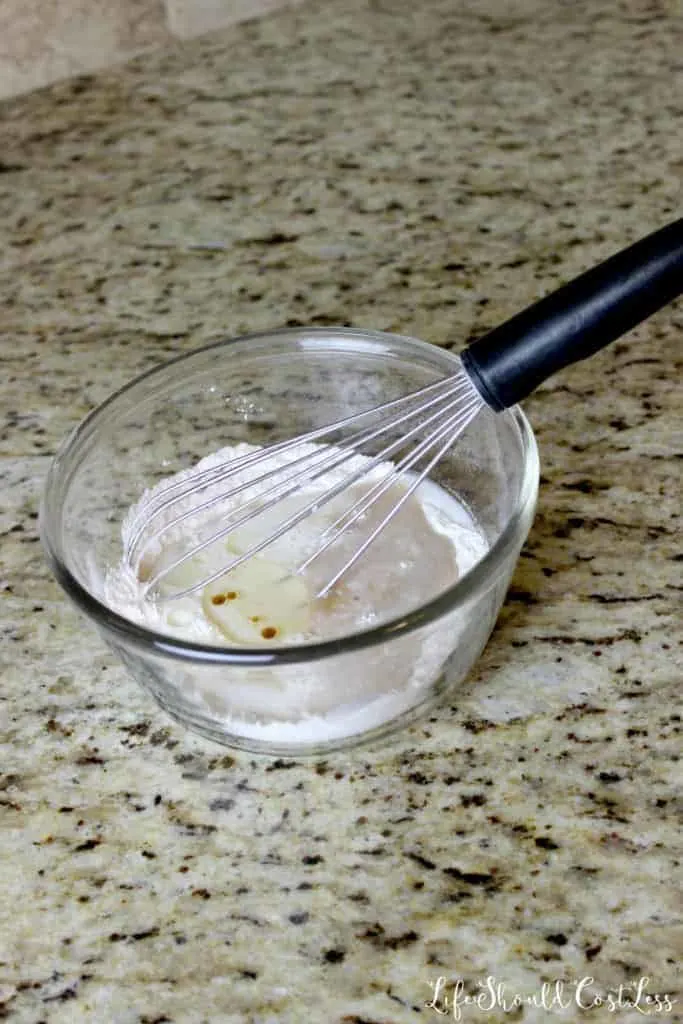 Mix well.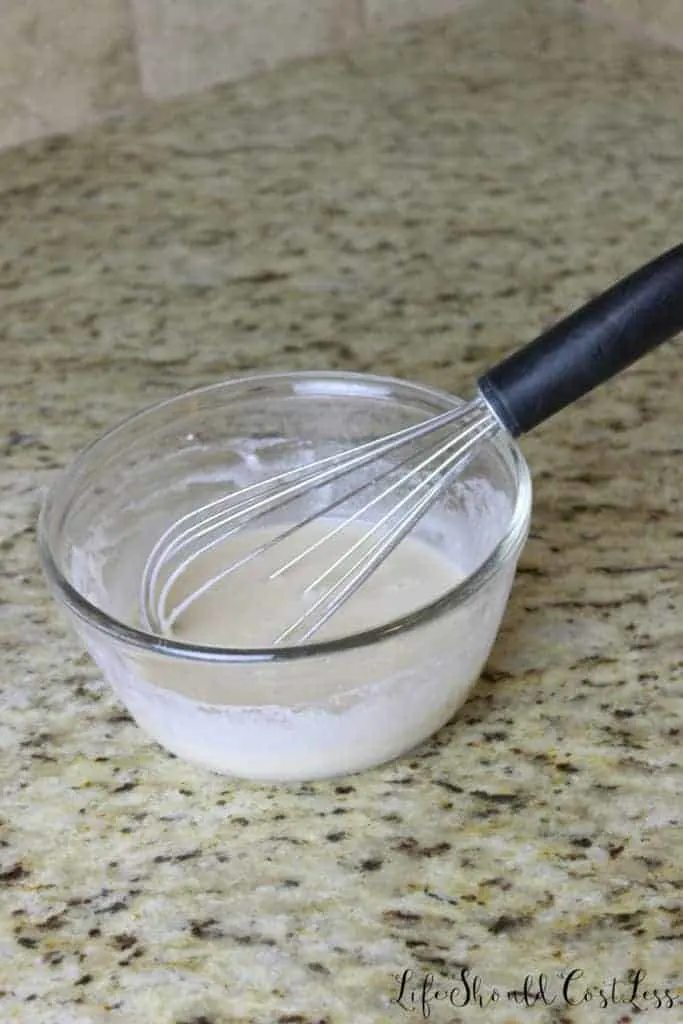 Now it's time to add the chunky ingredients…don't you just love how technical I'm being… lol. I'm tired, sorry.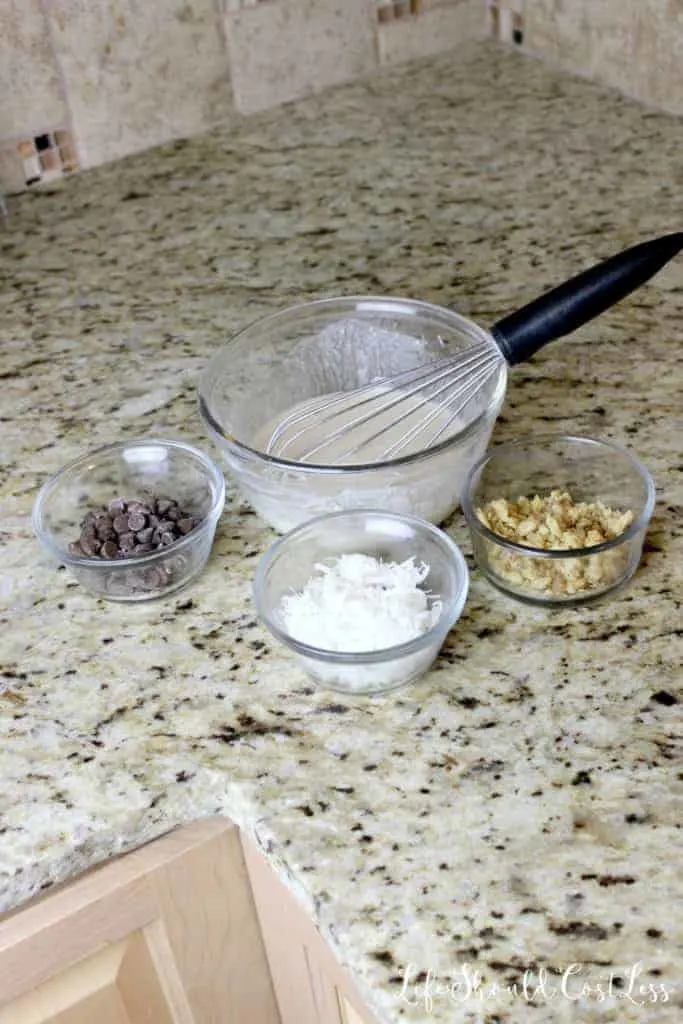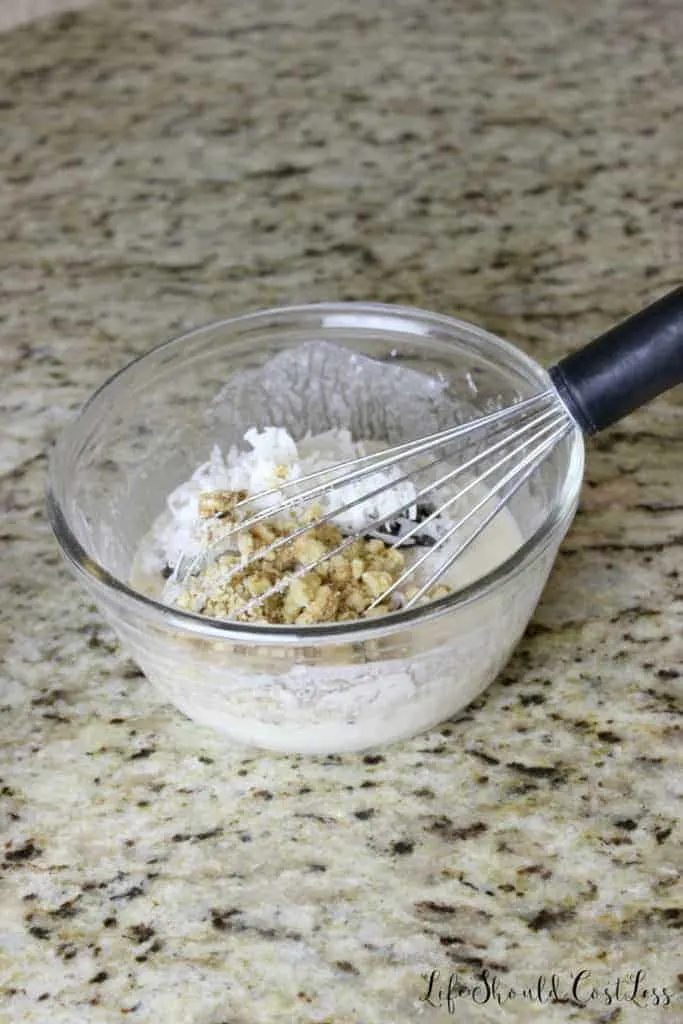 Mix those well too.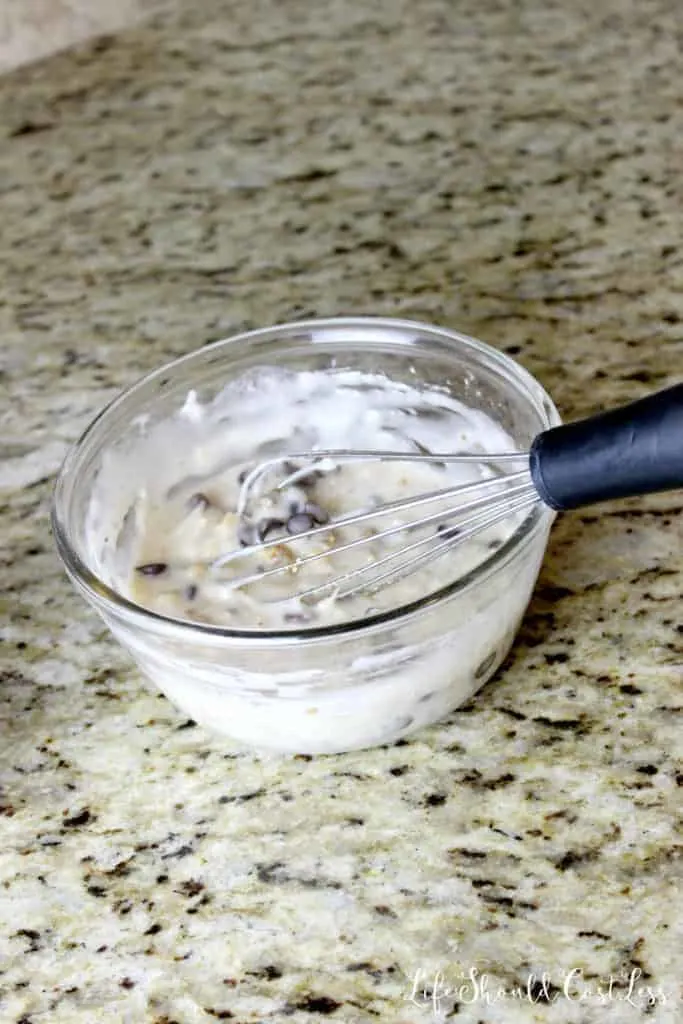 It's ready to add the second layer on top of the first layer.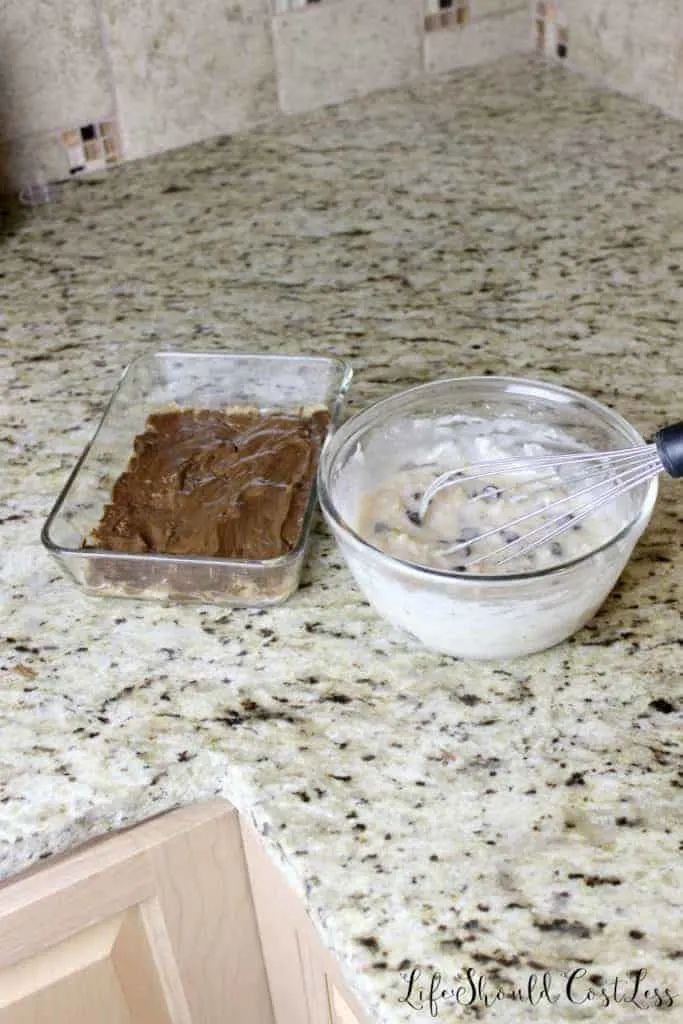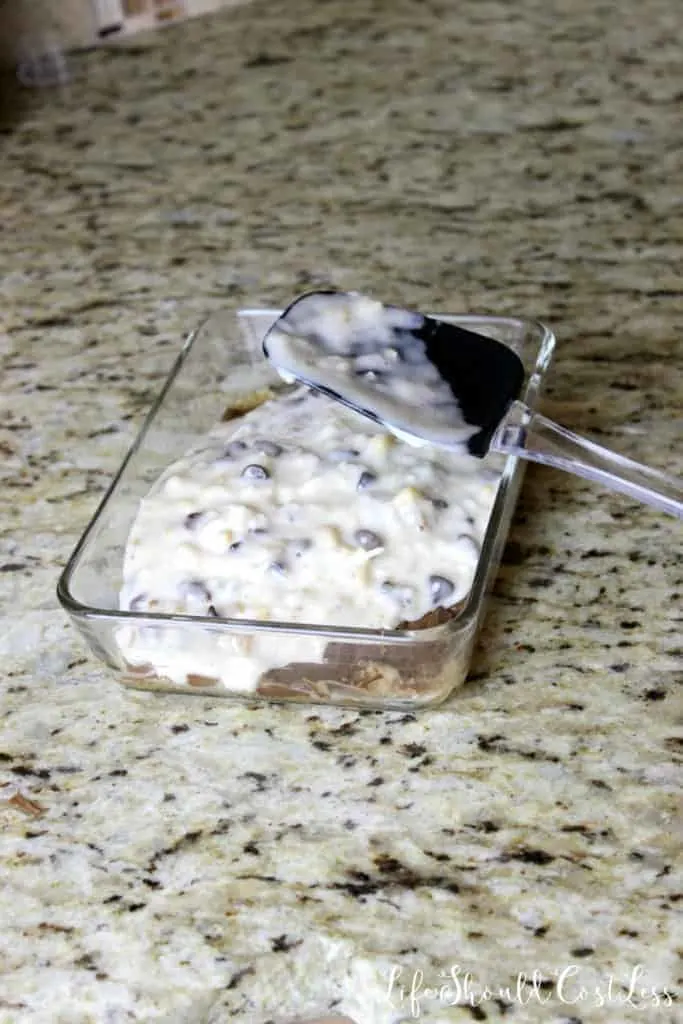 Spread it out evenly with a spatula.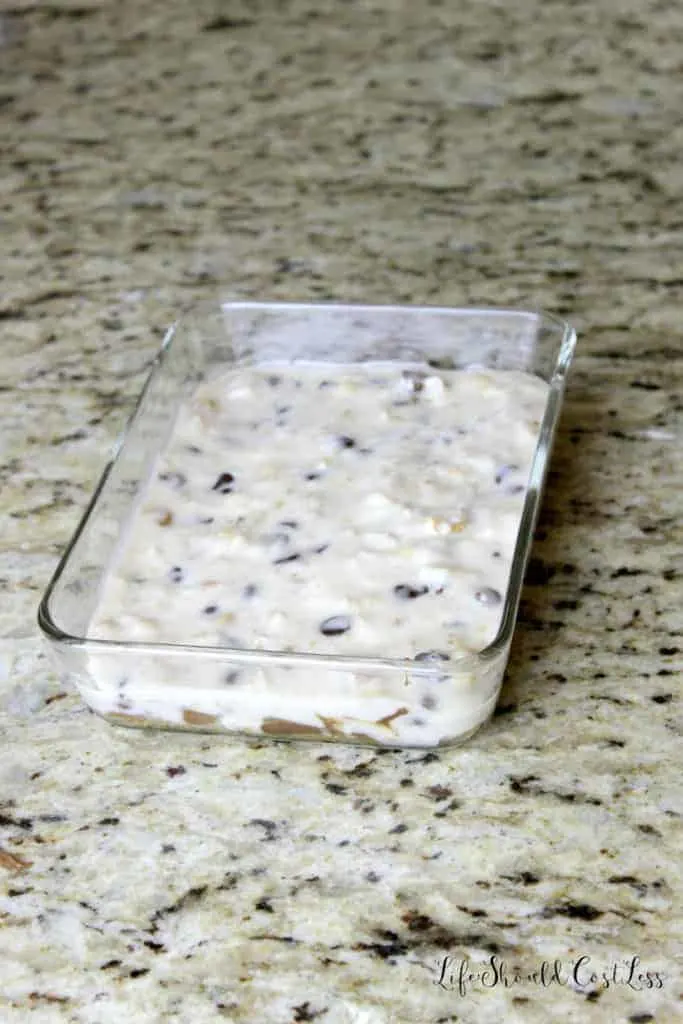 Then bake.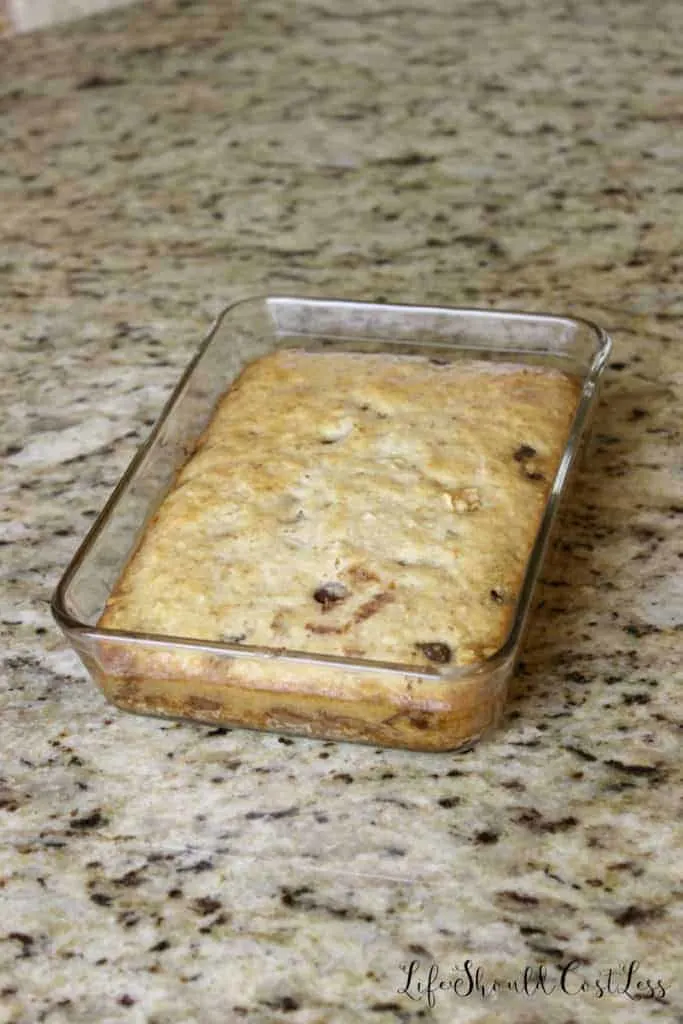 When it's time to serve, you can skip this step if you want to save some calories or just aren't worried about being fancy.
You place butter (the recipe calls for two Tablespoons per serving but I found that one Tablespoon is more than enough) on an oven-safe dish and let it melt.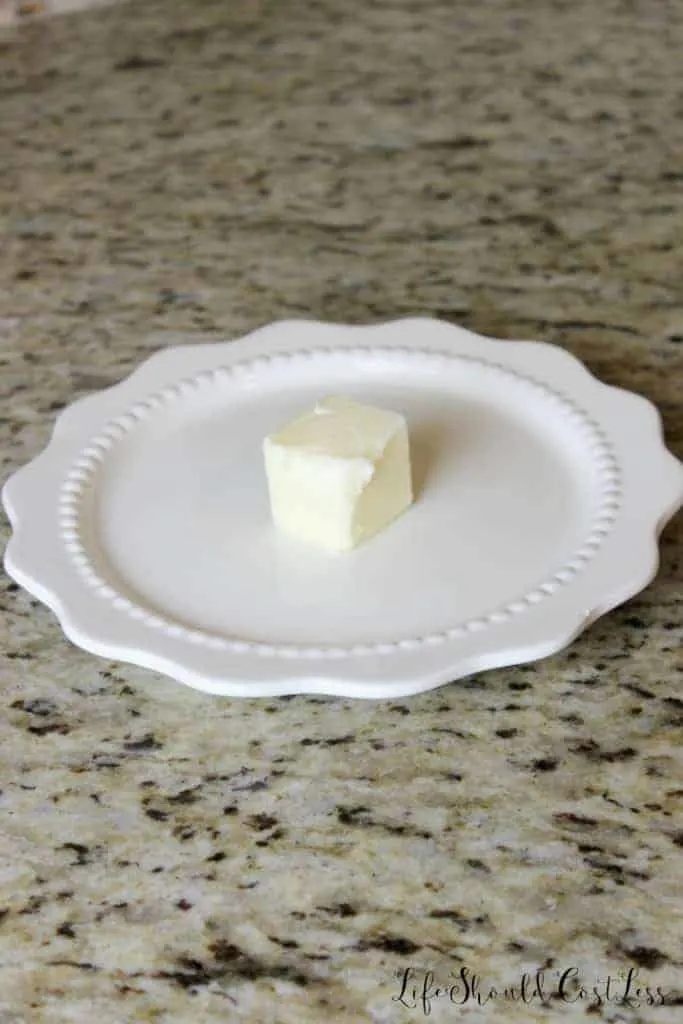 Below is how it looked with one Tablespoon of melted butter.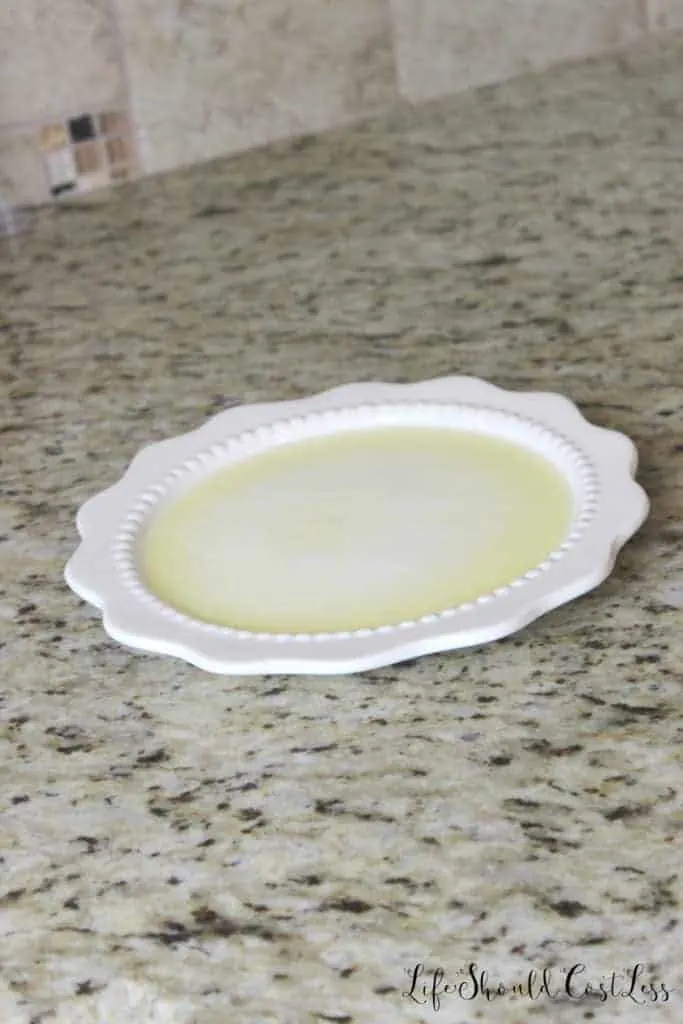 Sprinkle it with Cinnamon.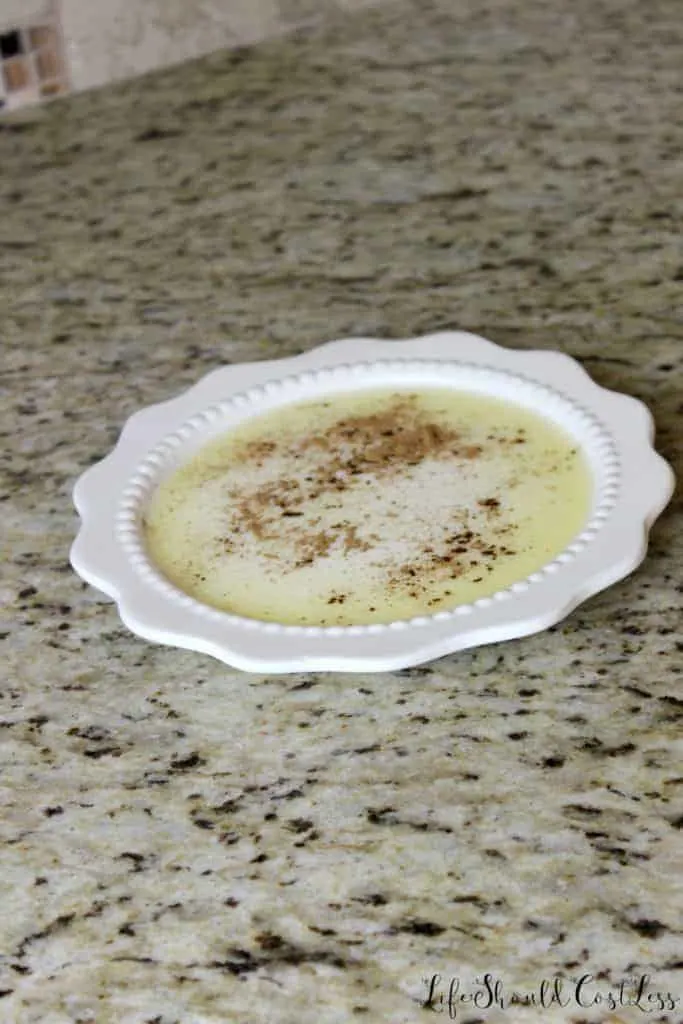 Then, if you want you can add some chocolate and hot fudge like I did.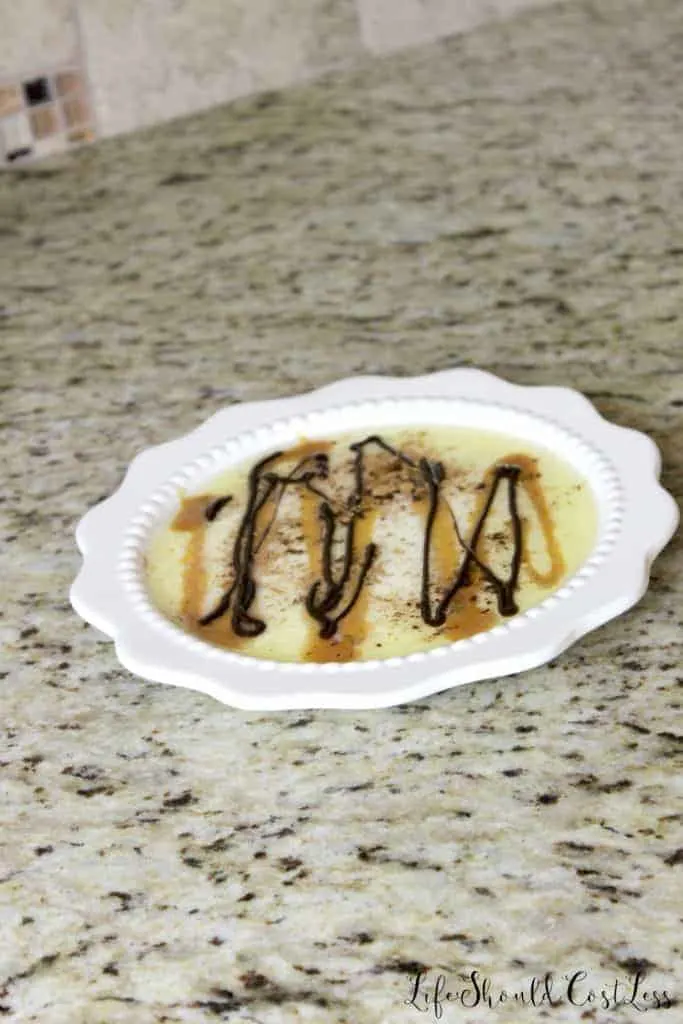 Next place a piece of warm Paradise Pie on top.
Then you just top it with ice cream, more hot fudge, and more caramel and it is ready to serve!!!!!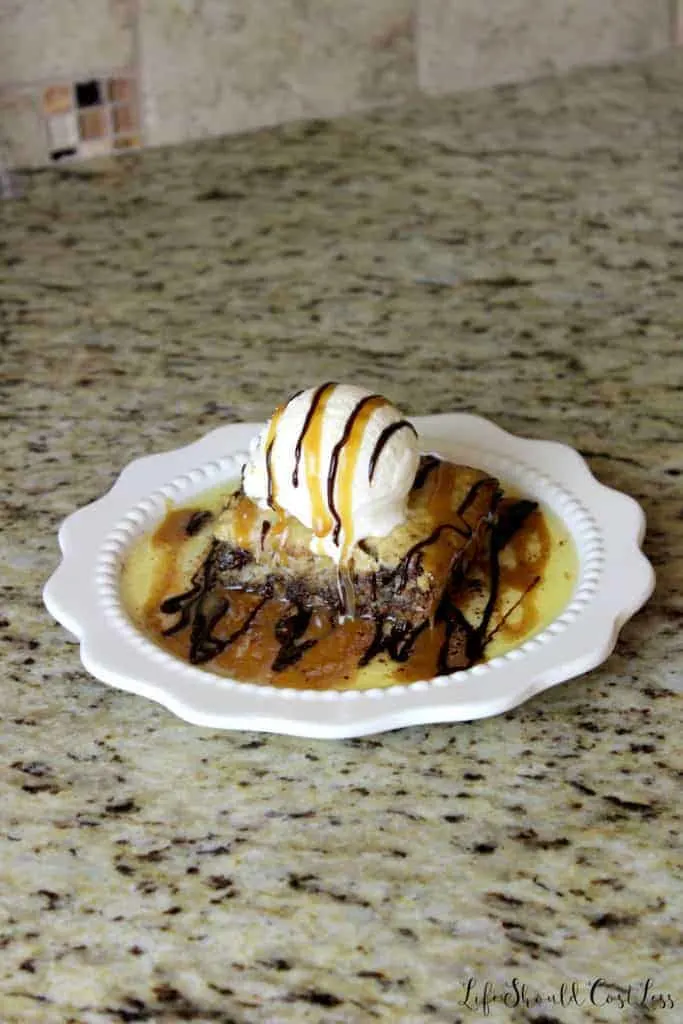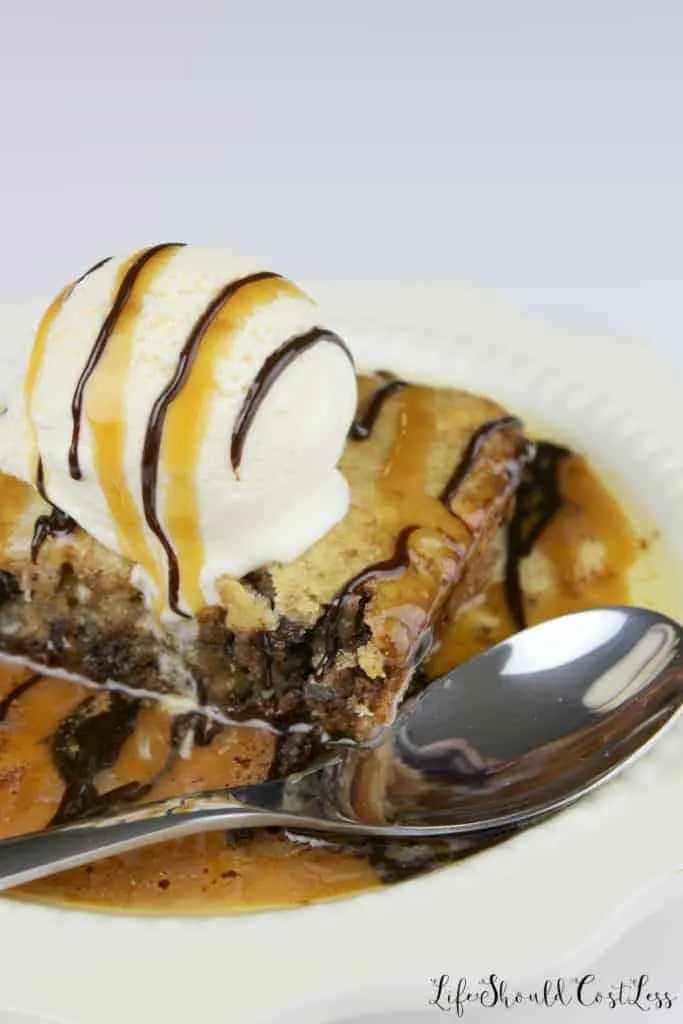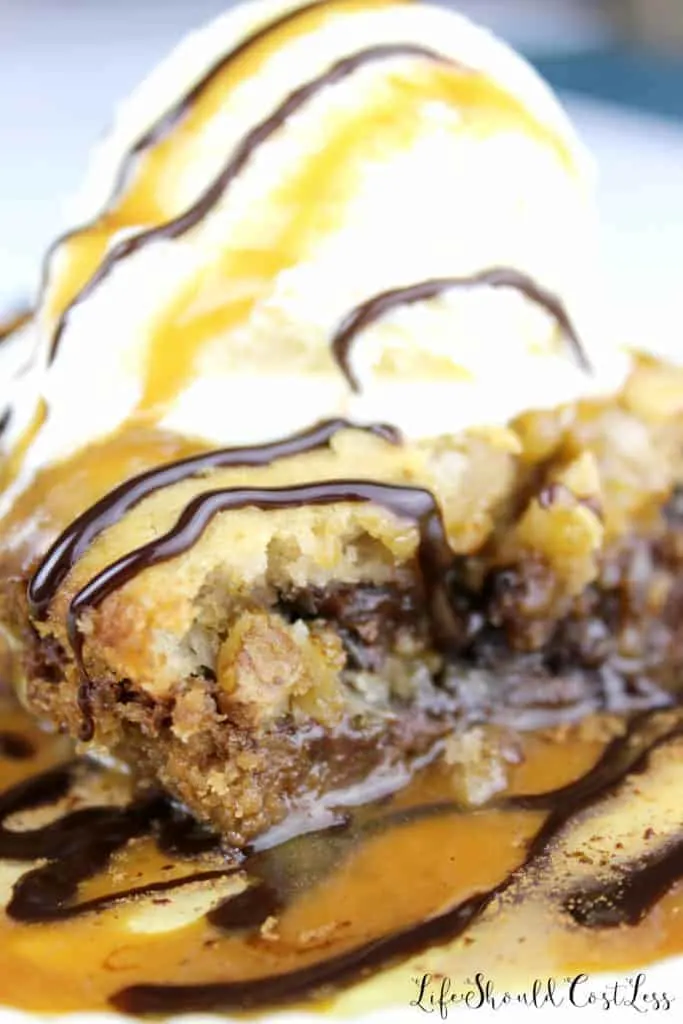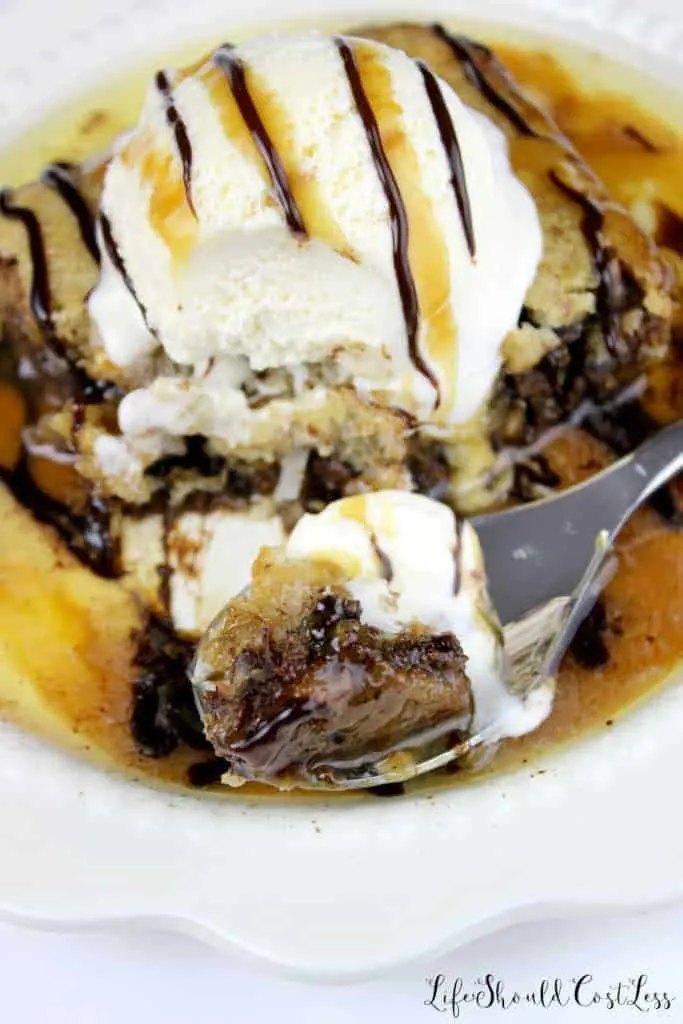 Are you craving it yet? If not, you should be.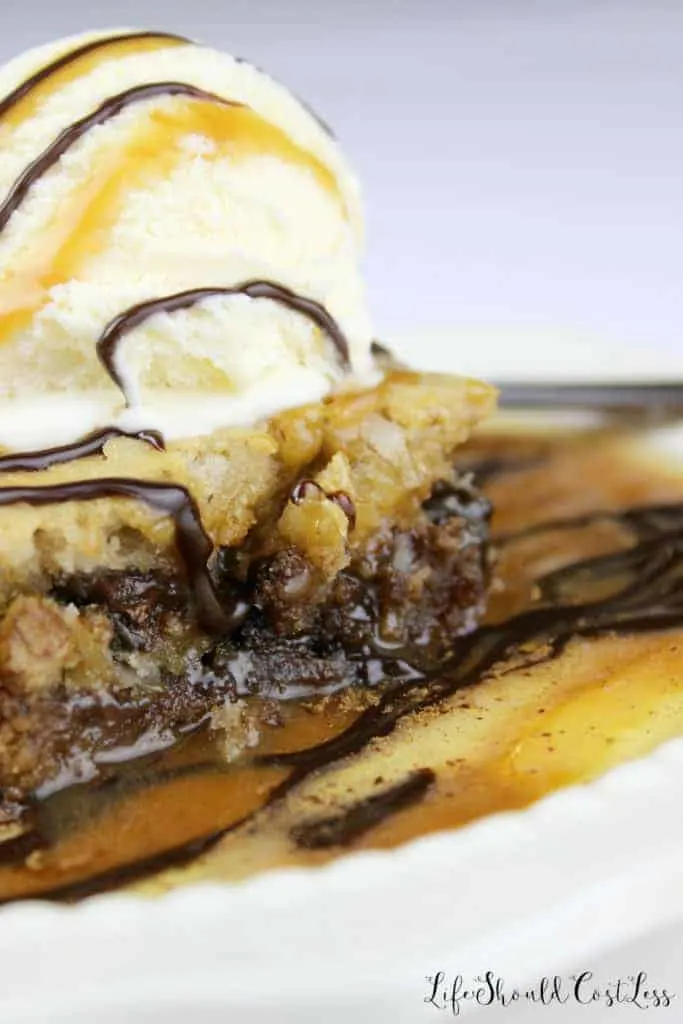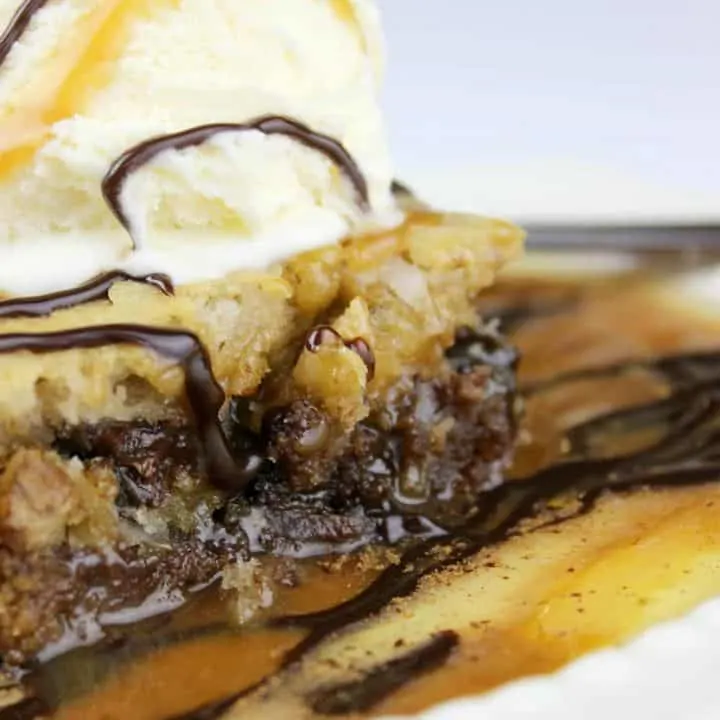 CopyCat Chili's Paradise Pie Recipe
Ingredients
Crust:
⅓ C Graham Cracker Crumbs (honey)
3 T Sugar
3 T Butter (unsalted and melted)
⅓ C Chocolate Chips
Filling:
½ C Flour
¼ C Sugar
¾ tsp Baking Powder
⅓ C Milk
1 T Oil
1 tsp Vanilla
⅓ C Chocolate Chips
¼ C Shredded Coconut (sweetened)
¼ C Walnuts or Almonds (crushed)
For Serving:
Extra Butter
Dash of Cinnamon
Hot Fudge and Caramel Toppings
Instructions
For the crust: Heat oven to 350 degrees F.
Combine melted butter with the graham cracker crumbs and sugar in a small bowl. Press into bottom of a 1-quart casserole dish. Top evenly with chocolate chips and bake for 5 minutes until chocolate is melted. Spread melted chips out evenly over crust.
Filling: Combine dry ingredients in large mixing bowl.
Add milk, oil and vanilla and stir until smooth. Stir in chocolate chips, coconut, and nuts.
Pour into crust and bake, uncovered, for 35 to 40 minutes, until a toothpick comes out clean.
To serve, place 2 tablespoons of butter on an ovenproof serving plate. Sprinkle with cinnamon. Place in warm oven until butter melts. Remove plate from oven and place large piece of warm pie directly onto melted butter. Top pie with ice cream and drizzle with hot fudge and caramel toppings.
MMMM MMMMM MMMM, it turned out so gooey and delicious that I had a really hard time not eating more than one piece.
I had to put the rest in the freezer and save it for my kids and of course, they didn't appreciate it….telling me "tastes like a cookie bar mom". Grrrr, little stinkers.
Oh well, at least I know for next time not to save some to share with them, I can just wrap the servings individually and then freeze. Problem solved.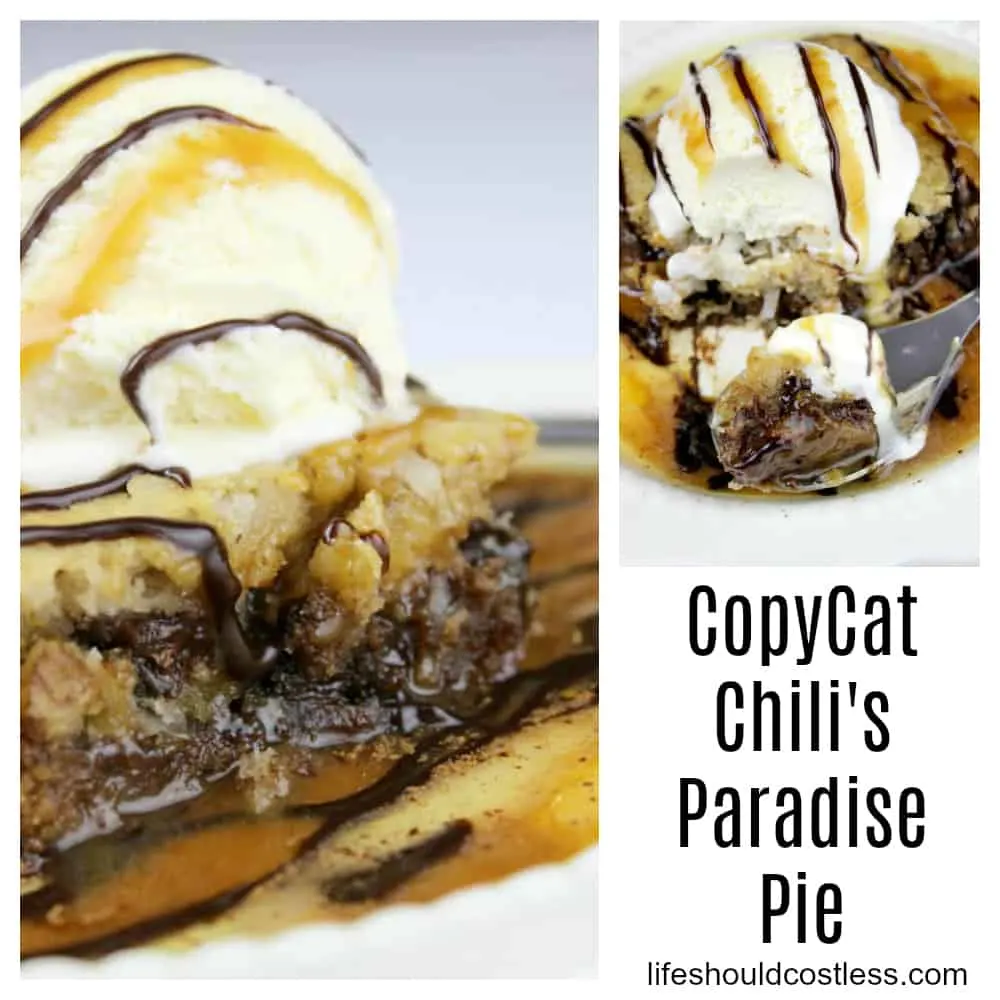 Thanks so much for stopping by my blog! If you liked what you saw, please make sure to share it via social media!
Other ways to show your support are to follow and/or interact with me on Pinterest, Instagram, Facebook, YouTube, or by Subscribing To My Email List. If you purchase suggested products through Amazon, the cost to you remains the same, but I make a small commission on everything in your cart.
If something was particularly helpful and you would like to donate directly to the blog, you can do so via PayPal, here. I'm a single mom of four, so every little bit helps. Thanks so much! ~Sarah
P.S. You may also like my entire Recipes section as well as my Sweet Tooth section.
Here are five of my other recipes that you'll also love(the pics are links):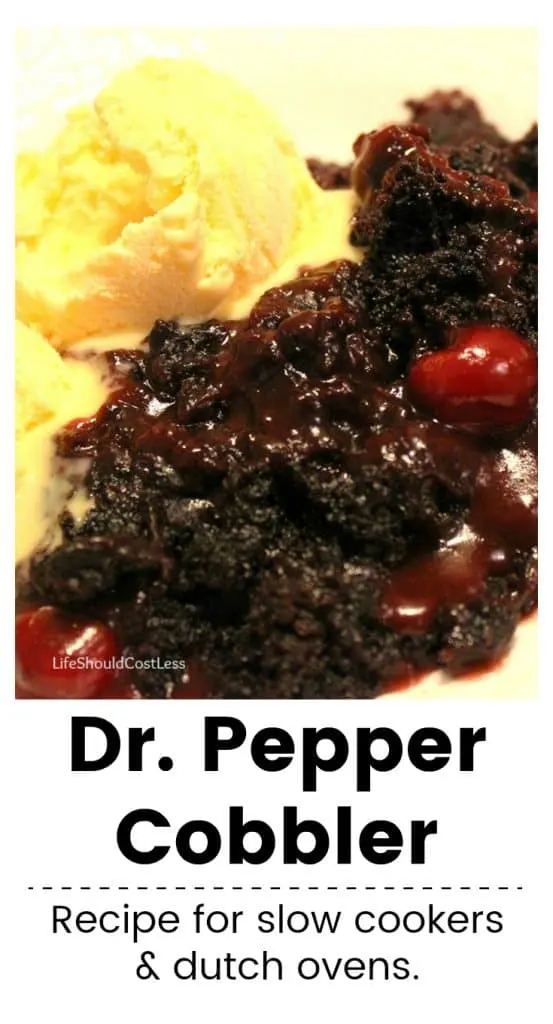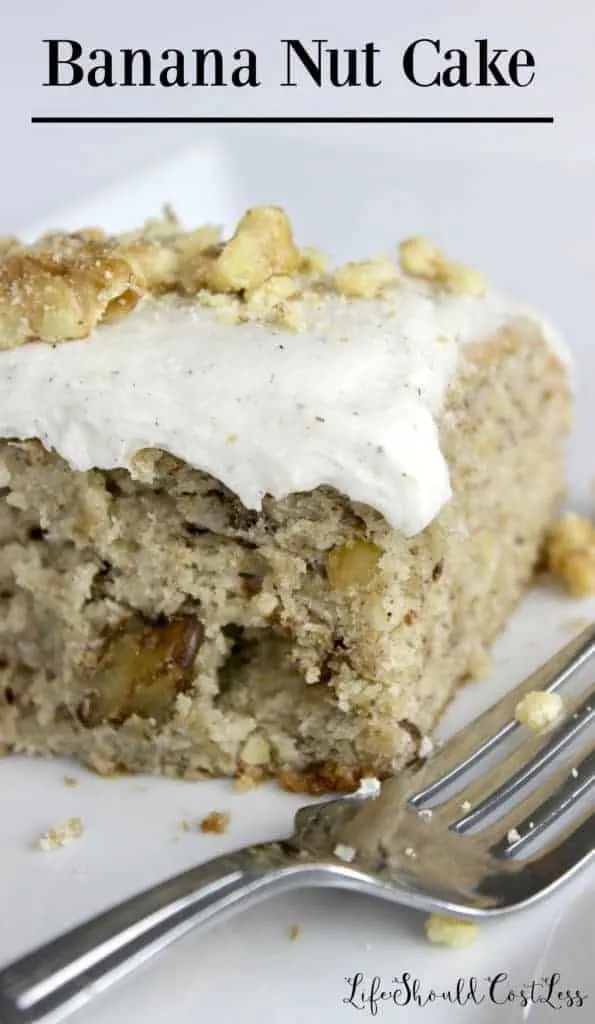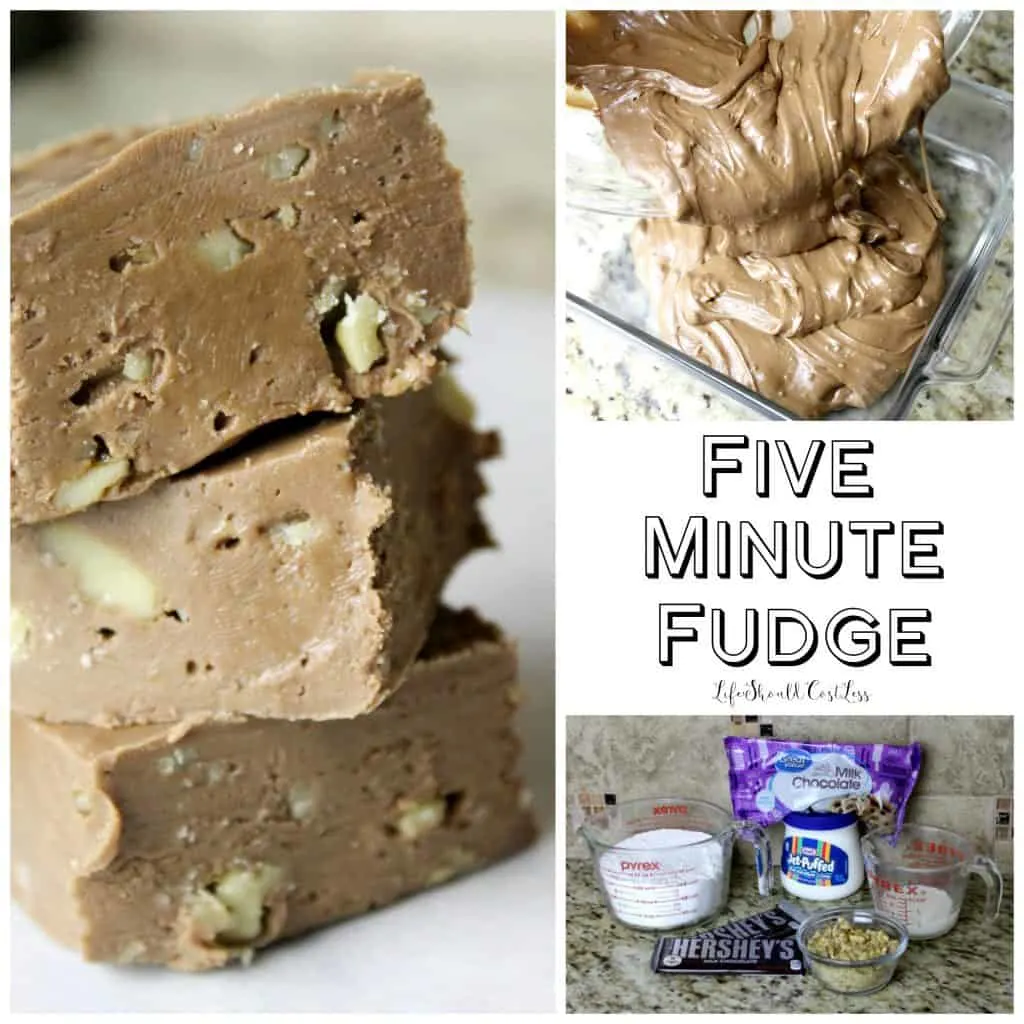 *Reposts: Please note that this recipe article was originally posted to this website on 03/24/2018, but it was in great need of a refresh so it now is more user friendly/shareable and has a better, free printable recipe card.