Learn how you can make an easy Vanilla Pudding Mousse recipe that just happens to be a perfect topping for pies, a filling for trifles, a base for a fruit salad, a lighter frosting for cakes, or even served as a delicious & simple dip for a fruit tray. This one simple recipe is so yummy and versatile, that I am confident it will soon become one of your favorite go-to recipes like it has mine.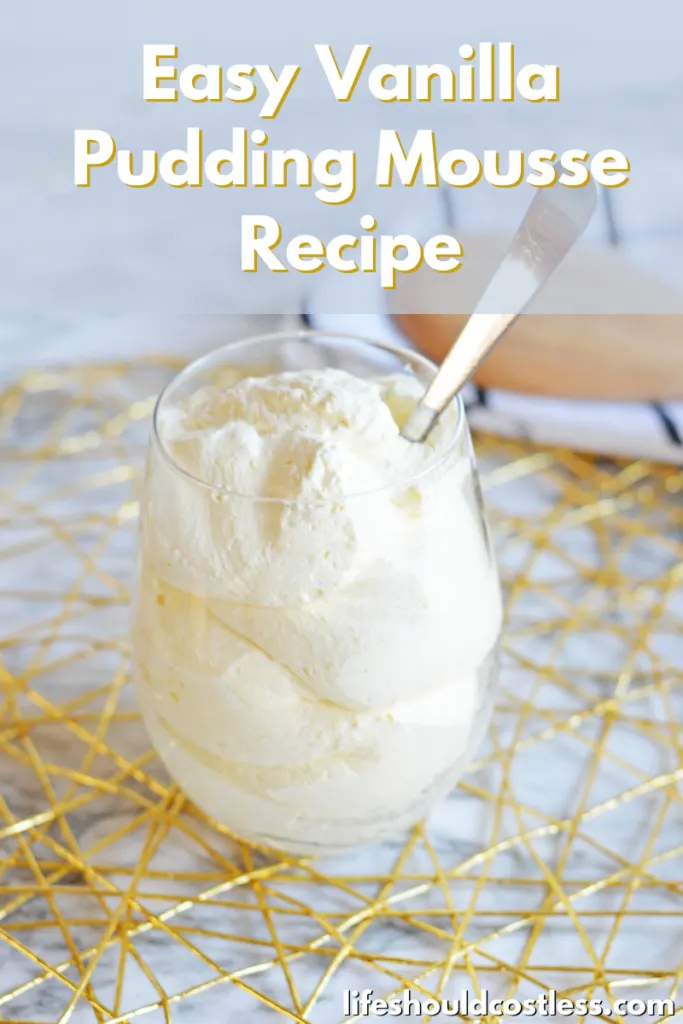 Table of Contents, Skip Ahead To What You're Looking For
What to use in place of French Vanilla Cool Whip?
I was in LOVE when the Cool Whip Brand was making, and easily distributing their French Vanilla Cool Whip!
It was so good and was just the perfect texture, flavor, and density to top pie (I think ice cream on pie is sometimes just too much).
Anyway, I don't know if it was just a fad or what, but I haven't been able to find it in any of the grocery stores in YEARS!…even during the Holidays.
It made me sad and it left me with either the option to go without, use the lesser alternate of vanilla ice cream for my pies, or to come up with a solution. You can guess what I decided to do.
Ever the problem solver, I decided that I was going to try to figure out a good substitute for French Vanilla Cool Whip…
So I decided to try mixing some form of Vanilla into regular cool whip and the results were perfect so I thought that I would share this easy solution with all of you.
---
---
I think that the best thing about this simple mousse recipe is that, it only requires two ingredients and you have a delicious Mousse
(you can actually make this in almost any flavor that your heart desires) that can be used for not just topping pies, but it can be a filling for trifles (it, as well as my peanut butter mousse are main ingredients in my Mousse Tracks Trifle recipe actually),
what you smother a fruit salad in, use as a light frosting for cakes, or even served as a dip with an assortment of fruit.
How to make this Easy Vanilla Mousse Recipe:
Gather the supplies you are going to need.
A medium mixing bowl, a nice mixing spoon, desired flavor (obviously I typically choose Vanilla, Vanilla Bean, Or French Vanilla for this recipe) as well as your Whipped Topping/Cool Whip.
Yes, this recipe tastes just as good if you use the generic ingredients.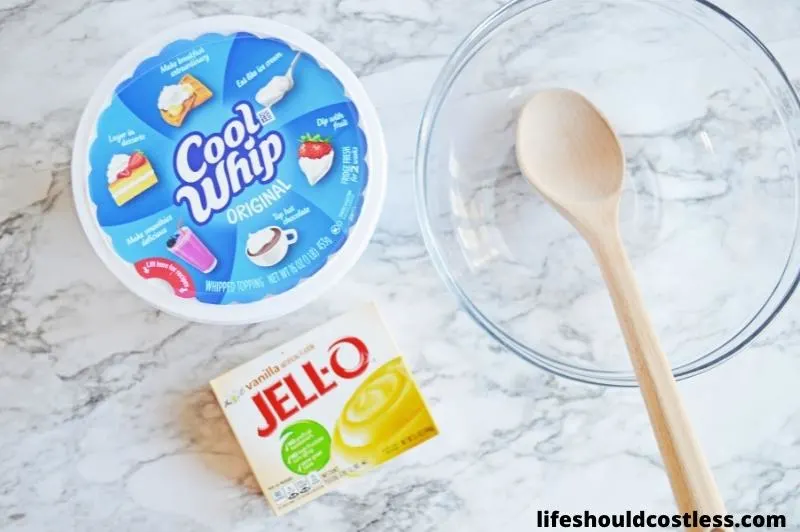 If you're new to my site, you're about to discover just how lazy a person can be in the kitchen.
Because a lot of my recipes are simplified to the point that all you do is dump and mix…and lucky for you this is one of those recipes!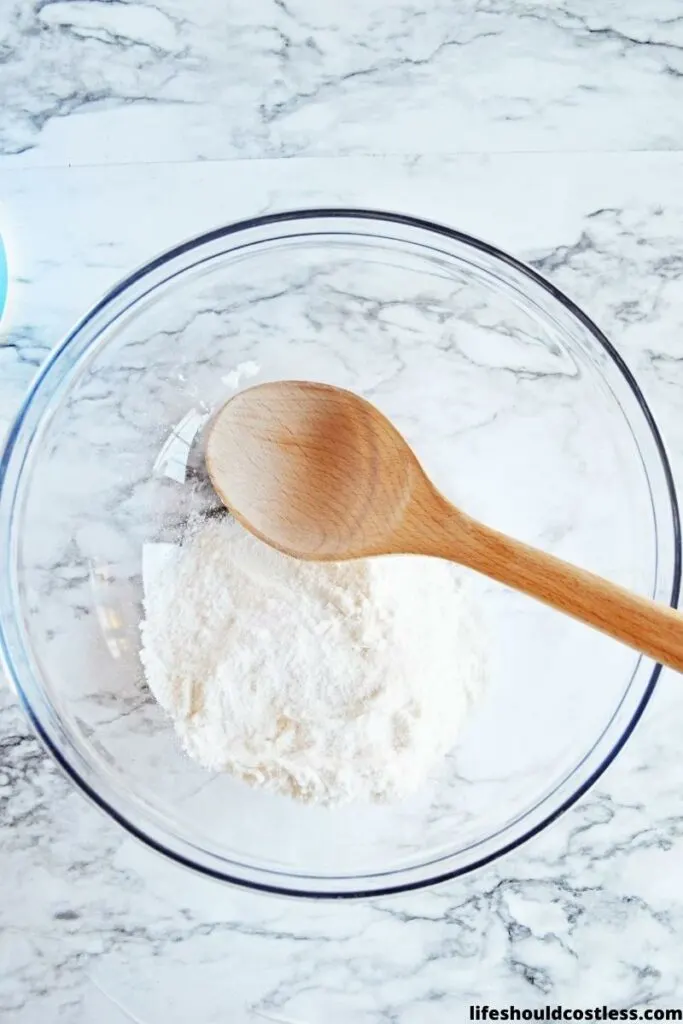 Layer your ingredients into the bowl…on top of each other.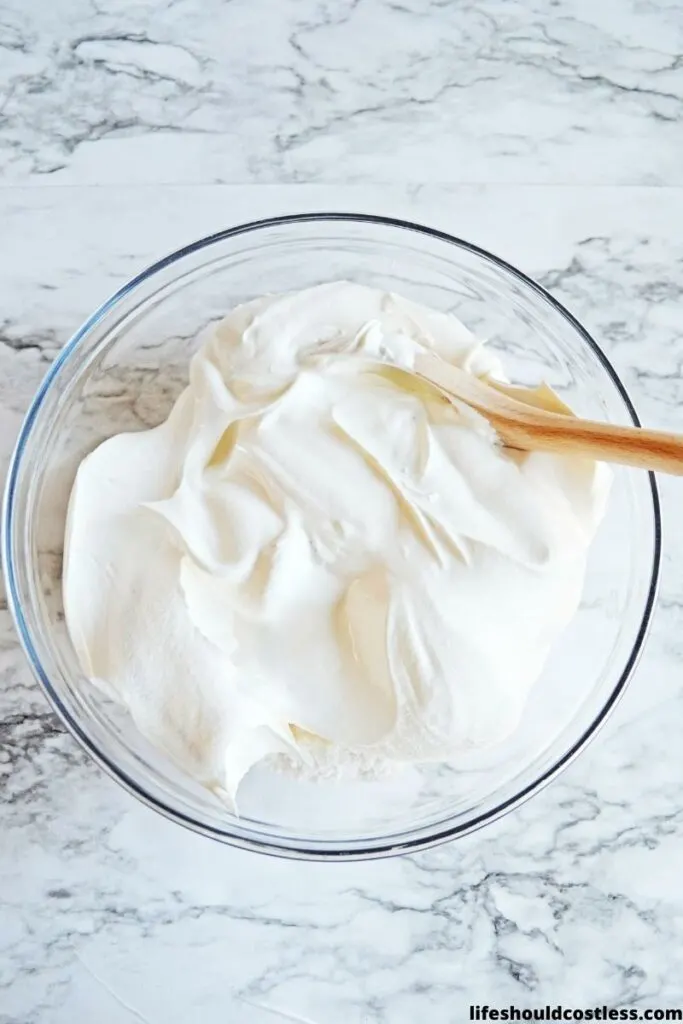 Then stir until well mixed.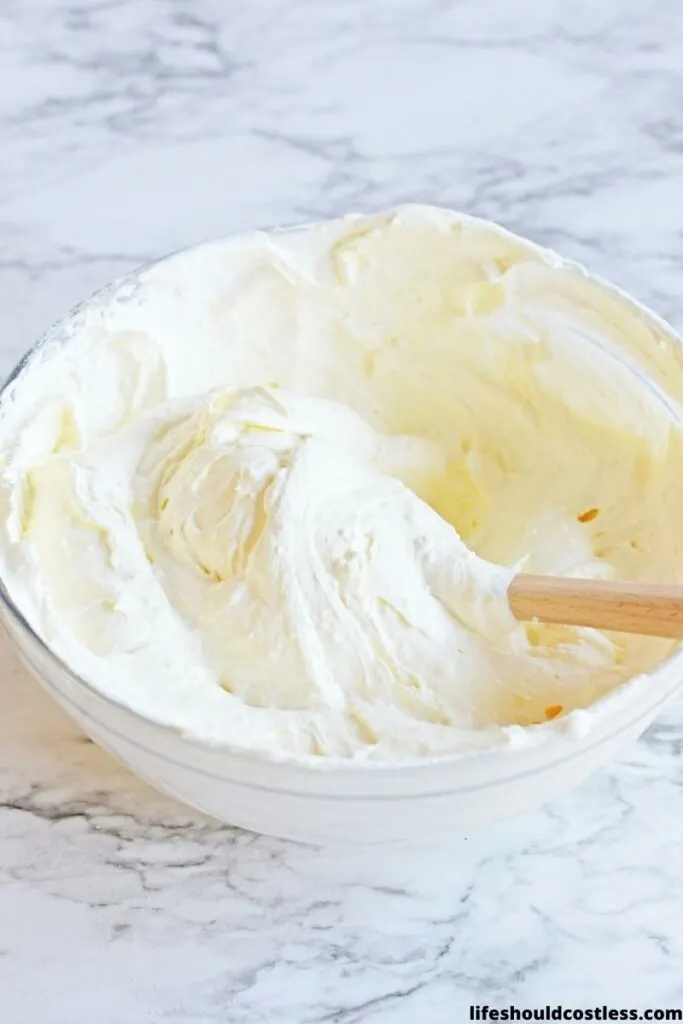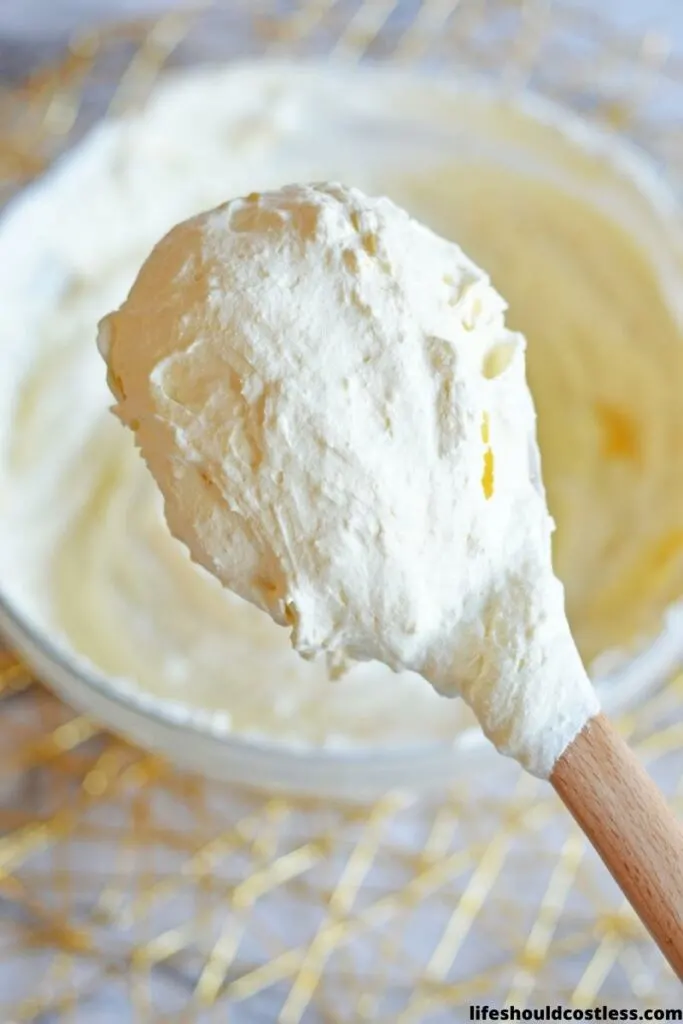 Can you believe that you are literally already done?!
All that's left to do now is decide what you're going to use it for and to enjoy this fluffy, yummy treat.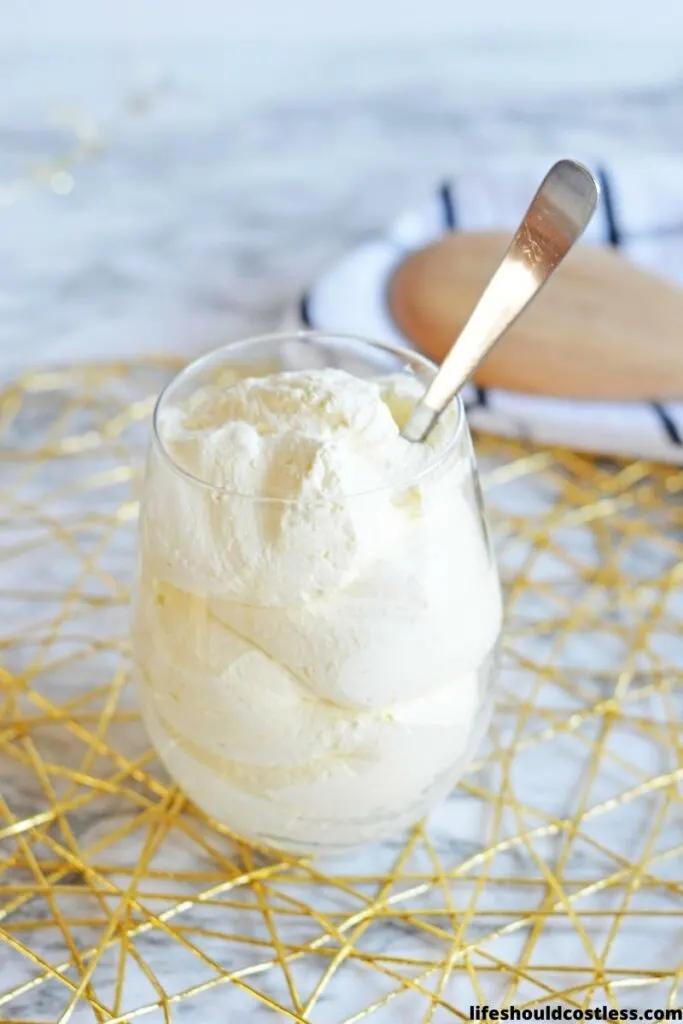 Whether you want to serve it as is, add some edible yummy sprinkles, use it as a layer for a trifle filling, stir a mixture of fruit/candy bar pieces into it, frost a cake with it, or use it as a fruit dip…you're going to have a crowd-pleasing dessert.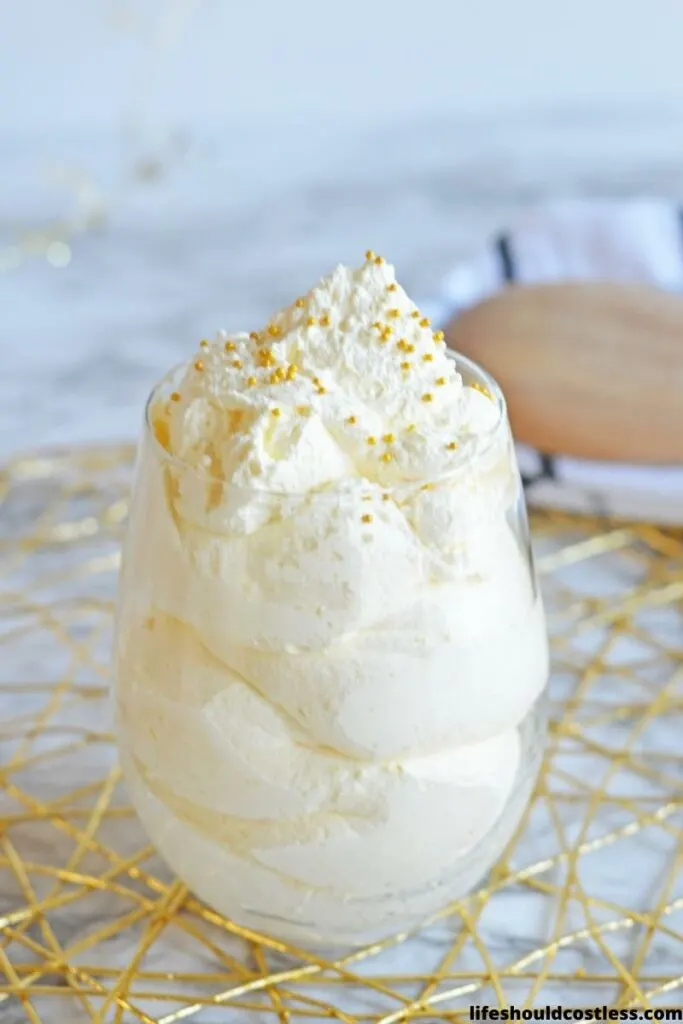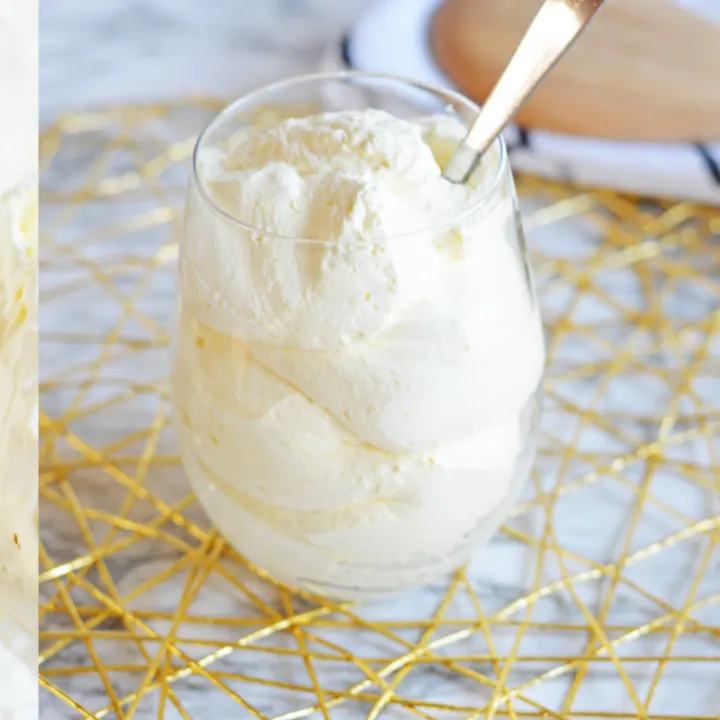 Vanilla Pudding Mousse Recipe
Learn how to make the easiest Mousse recipe that is perfect as a topping for pies, a filling for trifles, as a base for a fruit salad, or even served as a dip with a fruit tray.
Ingredients
1 (16 Oz) Large Tub Of Whipped Topping (thawed)
1 (3.4 oz) Package Instant Vanilla Pudding Mix (dry)
Instructions
Layer ingredients in a medium-sized mixing bowl.
Stir until well incorporated/mixed.
Cover and refrigerate until ready to use.
Stir well to re-fluff, and serve.
Notes
This recipe needs to be used/consumed within a day or two of making it as it will lose its froth over time.
You can easily switch up your flavor of pudding to make whatever flavor mousse that your heart desires.
This recipe typically makes enough to use as two thick mousse layers in a standard-sized trifle dish.
---
Pudding Mousse FAQ's
Can I mix instant pudding with cool whip?

You sure can, it's the basis of this whole recipe. Just make sure that you are using dry INSTANT pudding mix.
Do I have to use vanilla instant pudding?

Nope, you can make whichever flavor of pudding mousse you prefer by swapping out the Instant Vanilla Pudding Mix for your desired flavor. I even had a reader tell me that their favorite version is making it using a cheesecake pudding mix (thanks for the feedback Cindy)…so the possibilities are endless!
*I will add more cool whip pudding FAQ's as the questions get sent to me.
---
Conclusion
In conclusion, this easy vanilla pudding mousse is a delightful and effortless dessert solution for any occasion.
By combining the simplicity of instant vanilla pudding mix with the lusciousness of whipped cream, this pudding and cool whip recipe promises to be a crowd-pleaser that even the most novice of home chefs can master.
Its velvety texture and rich flavor make it a versatile treat that can be served on its own, as a topping, or as a delightful filling for cakes and pastries.
The beauty of this dessert lies in its accessibility and the minimal time investment required to achieve a delectable result.
With just a couple basic ingredients and a quick preparation process, anyone can whip up a decadent mousse that is sure to impress family and friends alike.
Moreover, the customizable nature of the recipe allows for creative variations, accommodating different dietary preferences and flavor profiles.
Whether you are hosting a special event or simply seeking to indulge in a quick and scrumptious sweet treat, this vanilla mousse recipe offers the perfect solution.
Its creamy, dreamy, and fuss-free nature ensures that you can savor the delightful flavors of vanilla in a mousse that stands as a testament to the wonders that can be achieved with simplicity and creativity in the kitchen.
So, go ahead and give it a try; your taste buds will thank you!
---
Thanks so much for stopping by my blog and supporting my endeavors to make people's lives a little easier/better/more affordable.
If you liked this post, or found it helpful in any way, please make sure to share it with your family, friends, and co-workers via social media.
Or you could even send them the direct link via email. Whichever way you choose to spread the love, I super appreciate it! ~Sarah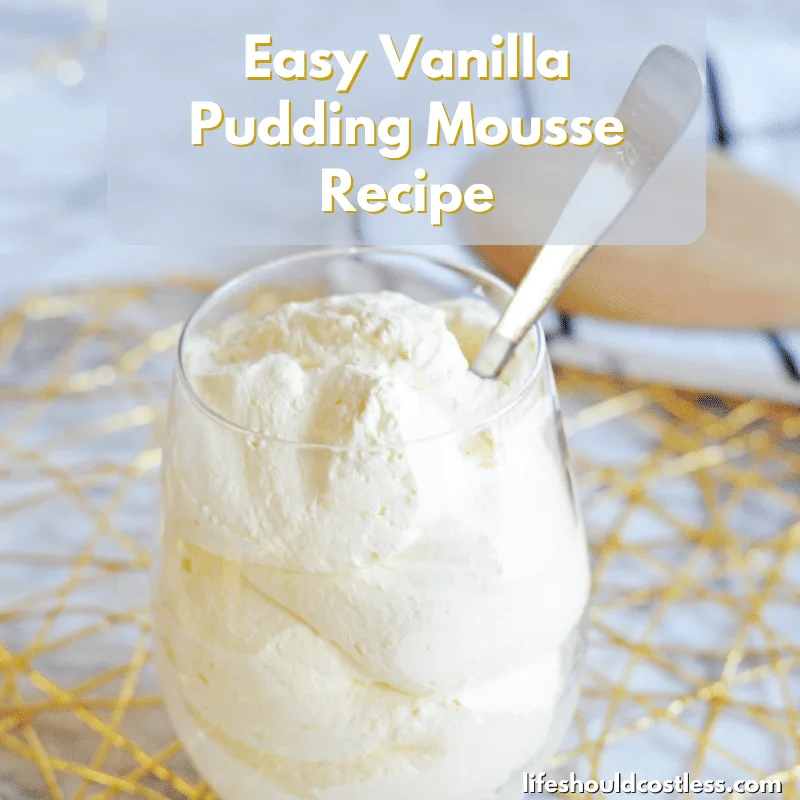 Follow me
---
Check out my other recipes
Otherwise, here are direct links to several of my other sweet tooth recipes that you're also going to love:
Other good resources for a cool whip pudding dessert
Maybe you don't like my particular version of this recipe…if that's the case, no worries, here are some other good similar recipes that you could try instead:
---
*This recipe article was originally shared to this blog on October 31st of 2011, and has since been updated to improve user experience, add video instruction, as well as to make it as shareable as possible across the social medias.
**Please note that I do try my hardest to provide factual, but easy to understand, information about each topic. If you notice a discrepancy in my methods, facts, or see something that you deem "misinformation/incorrect" please make sure to notify me about it. I would prefer that you send me an email with a link to a more reputable resource on that subject, so that I can correct it as soon as possible. Thanks so much for helping this site become the best that it can be!