If you have been wondering how to make a delicious & decadent peanut butter mousse using whipped cream topping, look no further. This easy to make Three Ingredient Peanut Butter Mousse recipe is super yummy and just happens to be the perfect consistency so you can use it as a layer for trifles, as a filling for cakes or pies, as a cookie/cracker dip, or even simply served with celery as an easy and quick snack. Its uses are honestly pretty endless!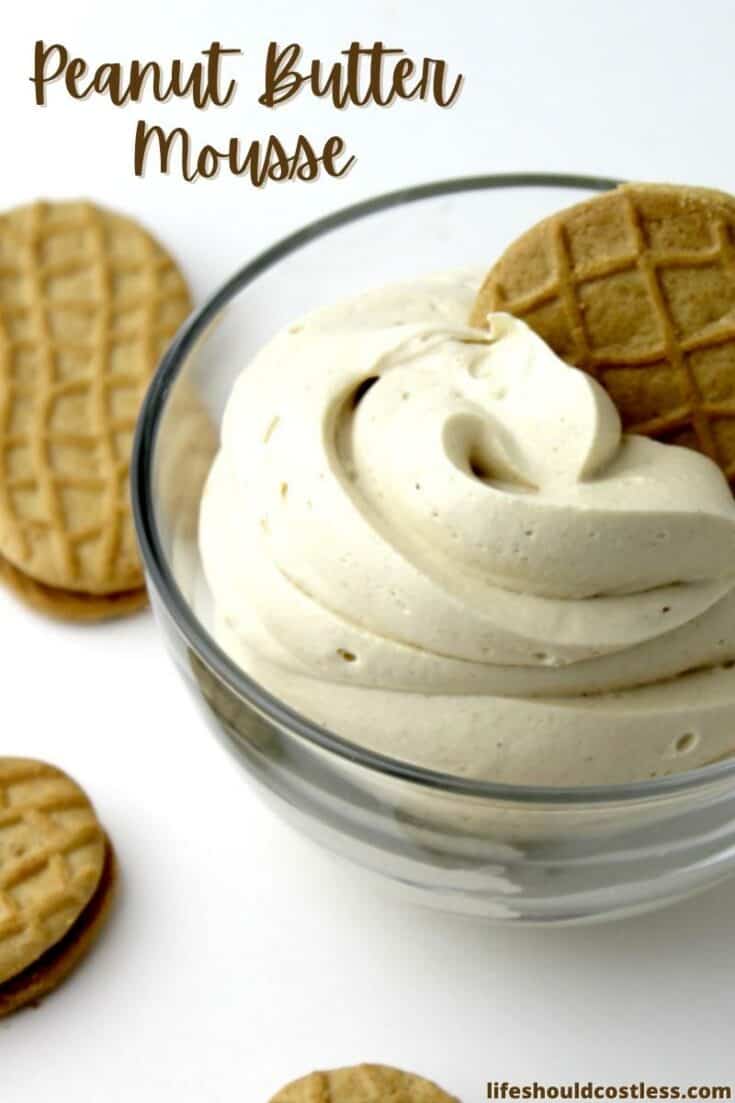 If you like the texture of a good mousse (some people spell it moose) and are a fan of peanut butter, I promise that you are going to absolutely love this
Easy Peanut Butter Mousse
It's one of the easiest and most popular recipes that I have created on this site and it is divine!…Not to toot my own horn by any means, it just turned out better than I had expected it to in the recipe development process.
When I say it's easier to make than you may think…it really is, and the best part is that it takes just two or three minutes to throw together and only calls for three ingredients that you probably already happen to have on hand.
As with any great recipe, I had to start somewhere. So, I based this recipe off of this awesome Vegan one by Dana over at minimalistbaker.com, so if you want the crunchy/clean eating version of this, make sure to head on over to her site and use her recipe instead.
My recipe is just a very unhealthy version of hers and it also is a large enough batch to use the whole tub of whipped topping because I really don't like to waste anything if I can help it at all.
I actually had no intention of turning this recipe into a post of its own. I was developing a Moose Tracks Trifle recipe and this peanut butter mousse I made for two of the layers turned out so tasty that I knew I just had to share it on its own too.
Anyway, I apologize if the photography is not the greatest…I just couldn't justify hiring someone to take pics of a three ingredient recipe that take a couple of minutes to make…so you get to deal with my mediocre photography and staging skills.
How to make Peanut Butter Mousse:
Let's just dive right into learning how to make it. I recently made a little video tutorial but just below it are the still pictures of the process too.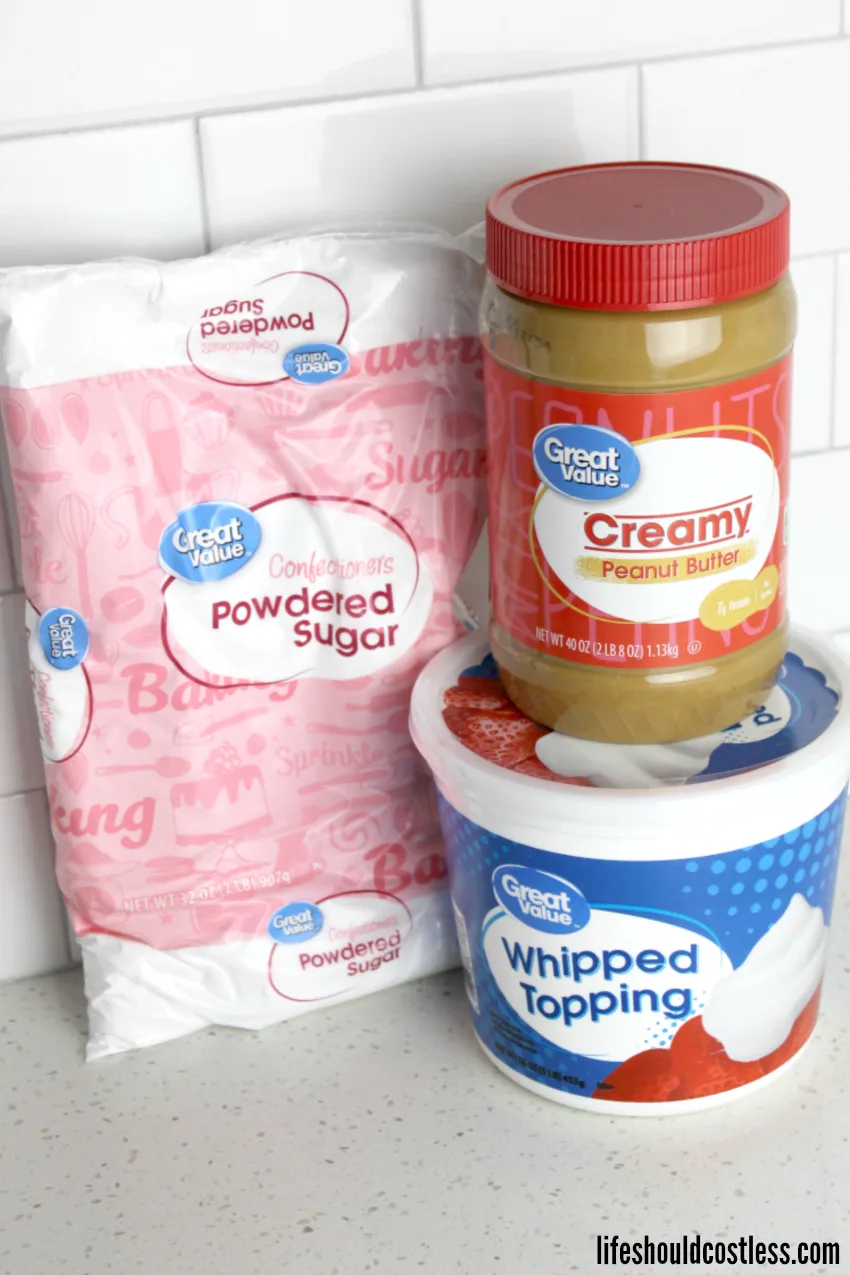 Like I said, it's just three easy ingredients and you may very well already have them on hand.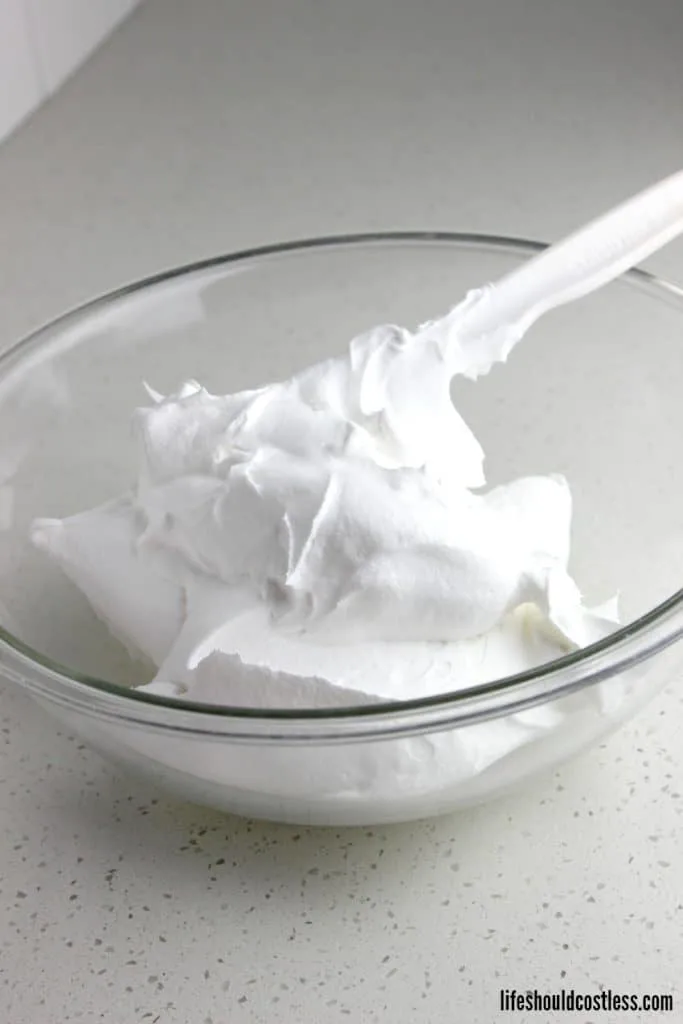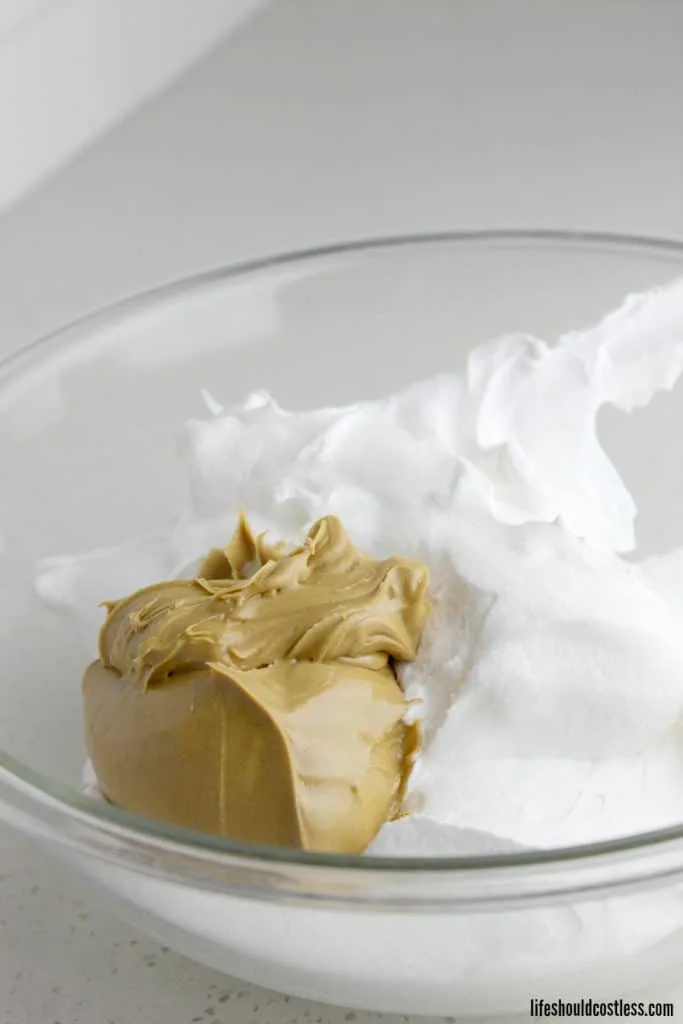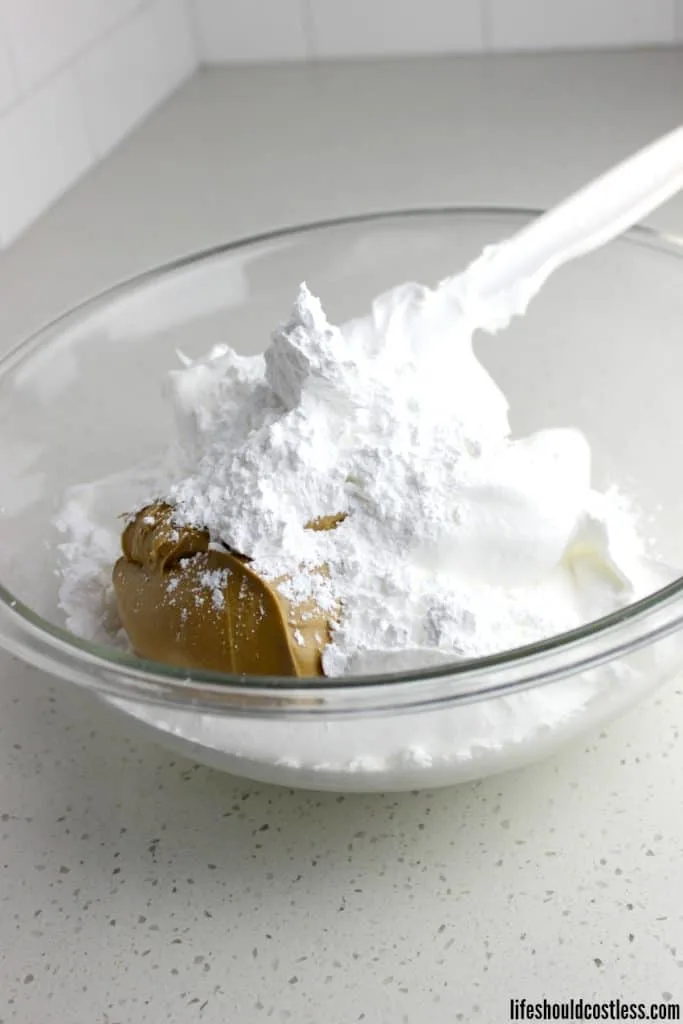 You literally just plop the ingredients into a large mixing bowl…(the bowl I used is four quarts)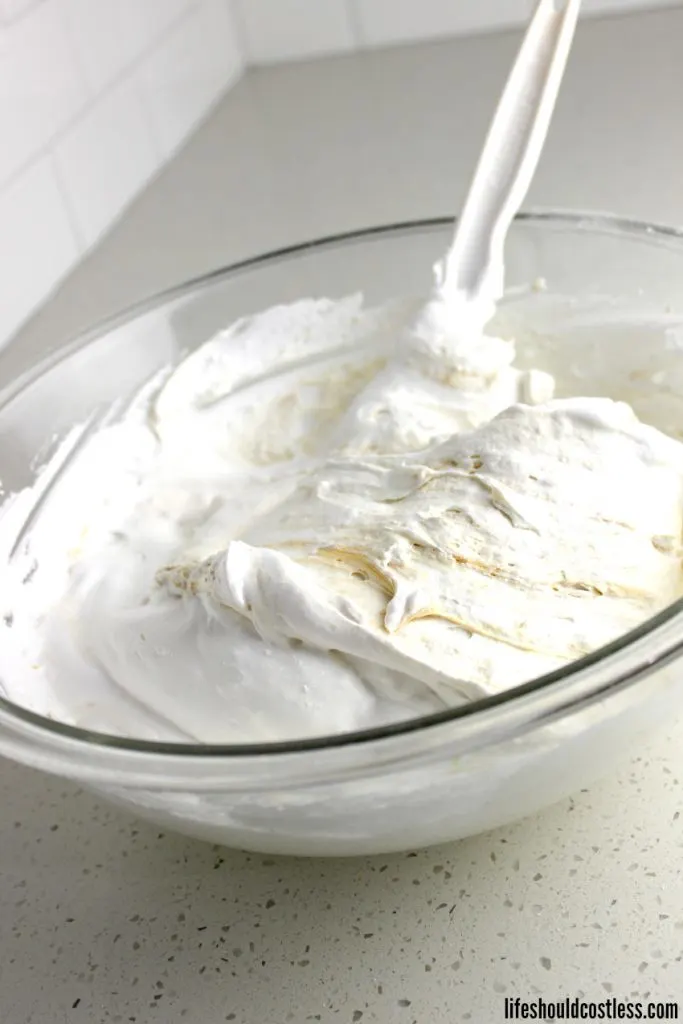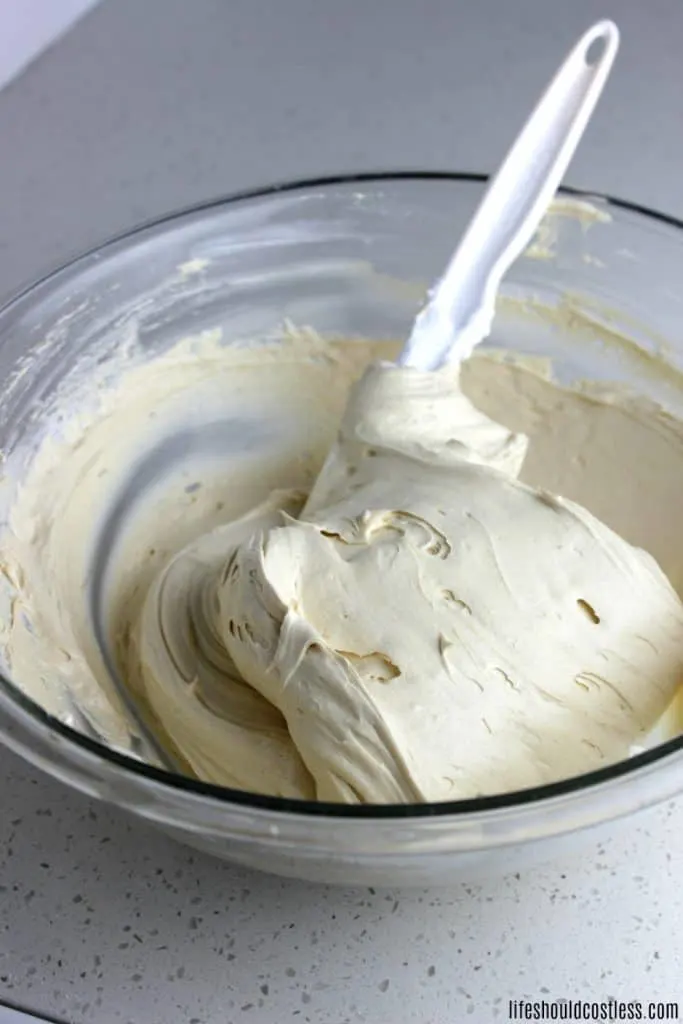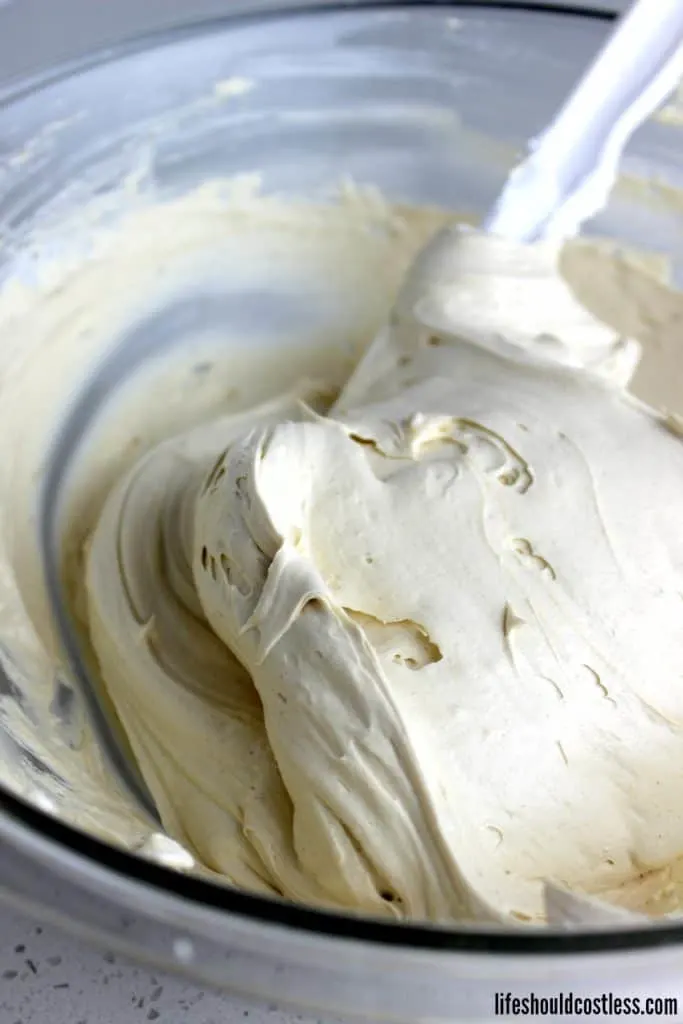 Then mix until well incorporated… it's so easy even a second-grader could make this mousse.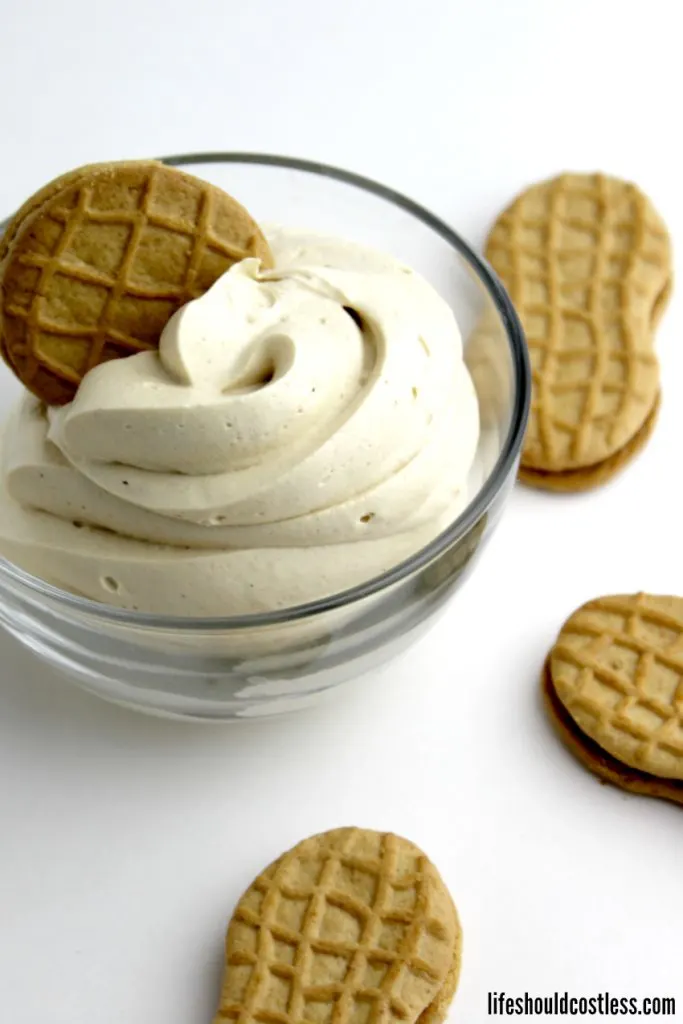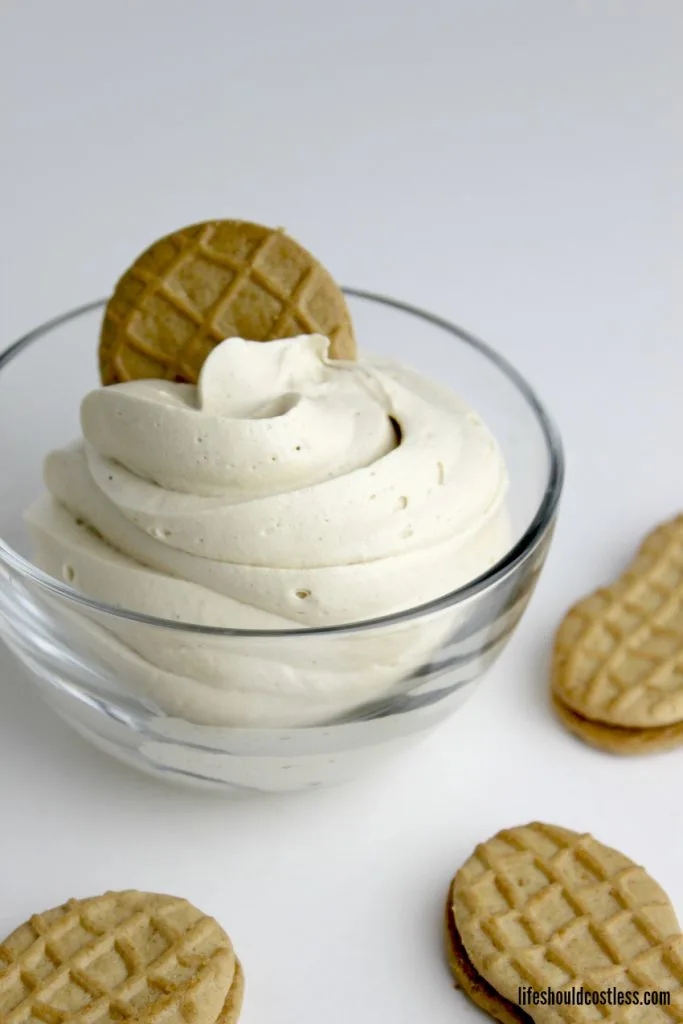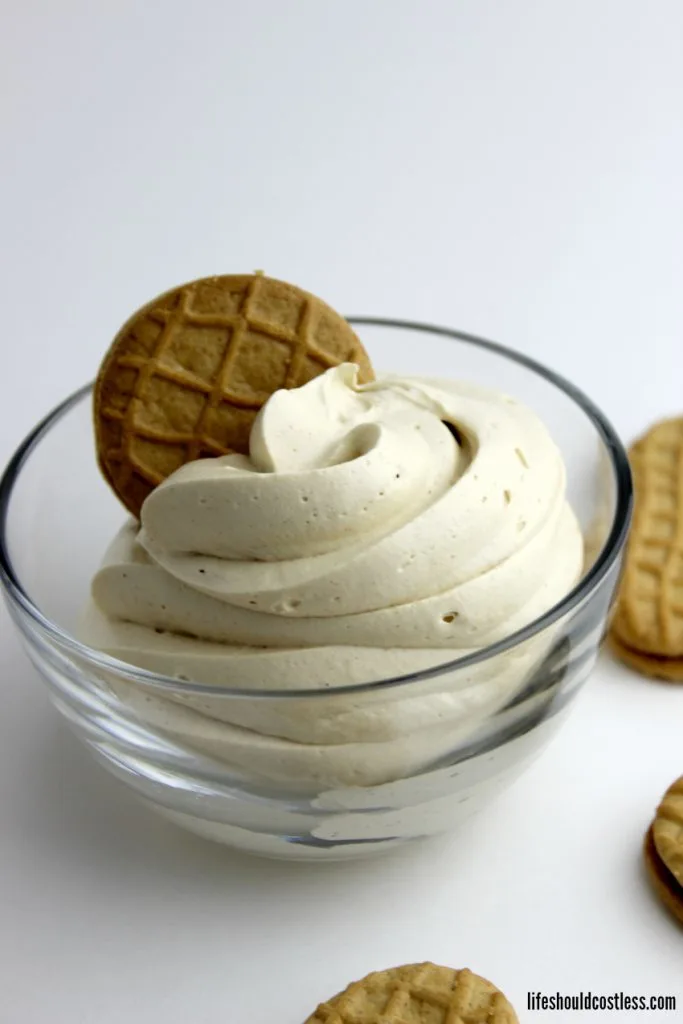 How to make whipped Peanut Butter without heavy cream: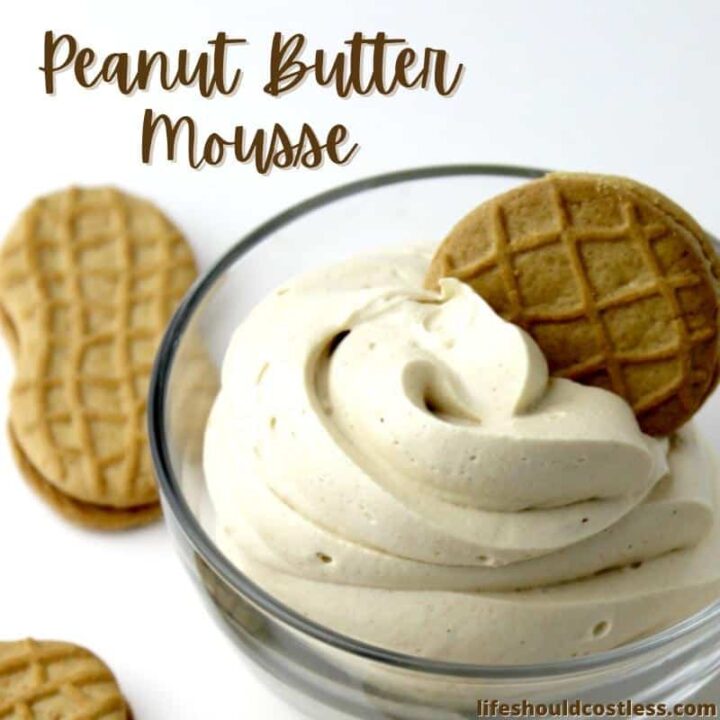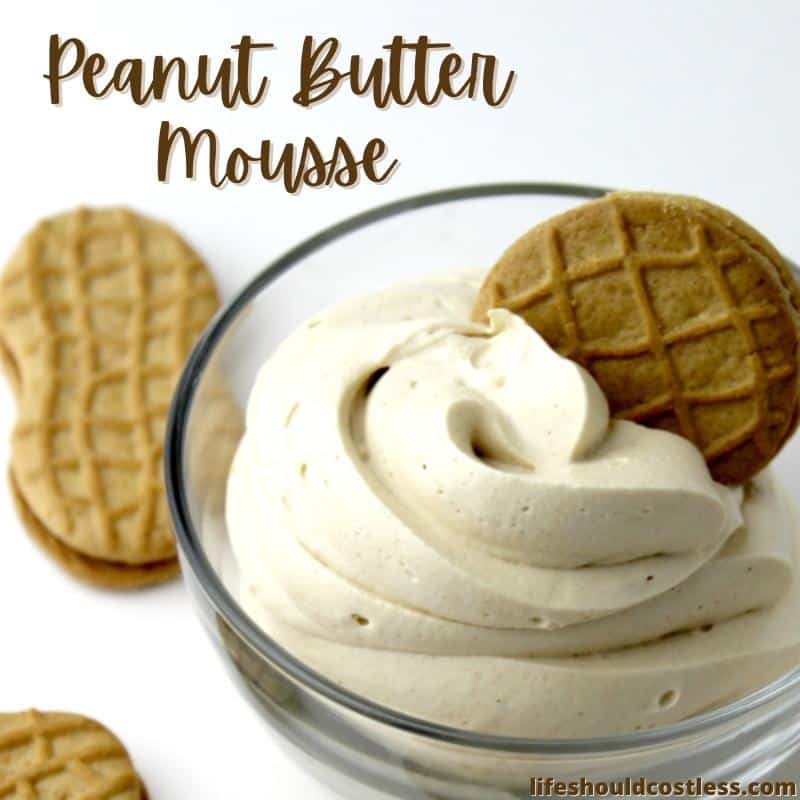 Three Ingredient Peanut Butter Mousse
Additional Time:
2 minutes
Mousse can be used as a filling between cake layers, in a trifle, or as a dip for crackers, cookies, or celery.
Ingredients
1 (16 oz) Tub Whipped Topping (thawed)
1 C Peanut Butter
½ C Powdered Sugar
Instructions
Scoop all ingredients into a medium to large bowl.
Stir until well mixed and smooth.
Cover and refrigerate. Mix well before serving.
Notes
If serving as a dip, it can easily be staged by putting it in a piping bag and squirting it into individual containers and garnish with Nutter Butters.
This recipe makes two layers if used in a standard trifle dish.
Nutrition Information
Yield

12
Serving Size

1
Amount Per Serving
Calories

147
Total Fat

11g
Saturated Fat

2g
Trans Fat

0g
Unsaturated Fat

7g
Cholesterol

0mg
Sodium

102mg
Carbohydrates

10g
Fiber

1g
Sugar

6g
Protein

5g
These caloric amounts are automatically estimated by a plugin on my site.
Easy peasy and this recipe will probably end up being your go-to recipe any time that you want to make a Peanut Butter Mousse in the future… it's that good!
I could literally sit down and eat it straight, because there is no better way to eat Peanut Butter and whip cream… but it is best to eat it sparingly…otherwise your tastebuds are going to love me but your butt and thighs are going to be sending me hate mail very soon and we can't have that, can we?
Thanks so much for stopping by my blog and supporting my endeavors to make people's lives a little easier/better/more affordable. If you liked this recipe post, or found it helpful in any way, please make sure to share it with your family, friends, and co-workers via social media…or you could even send them the direct link via email. Whichever way you choose to spread the love, I super appreciate it! ~Sarah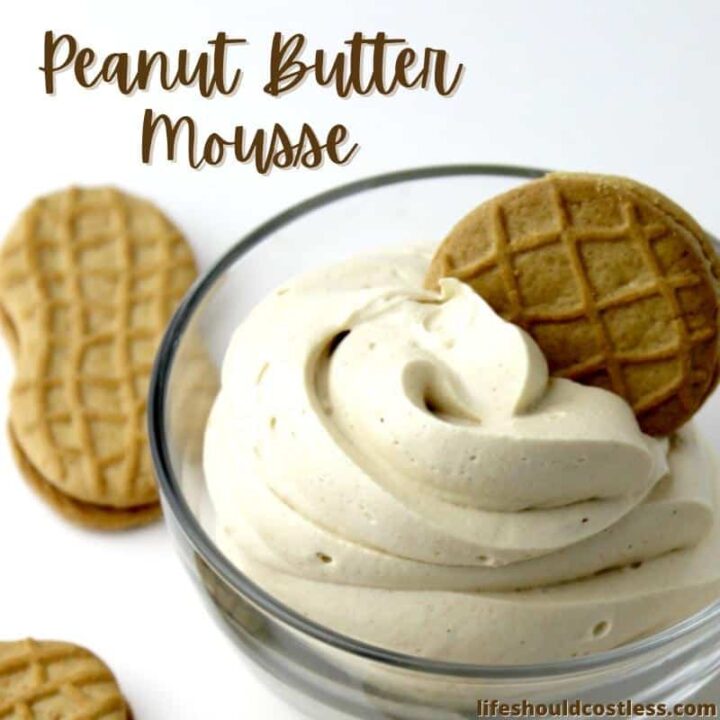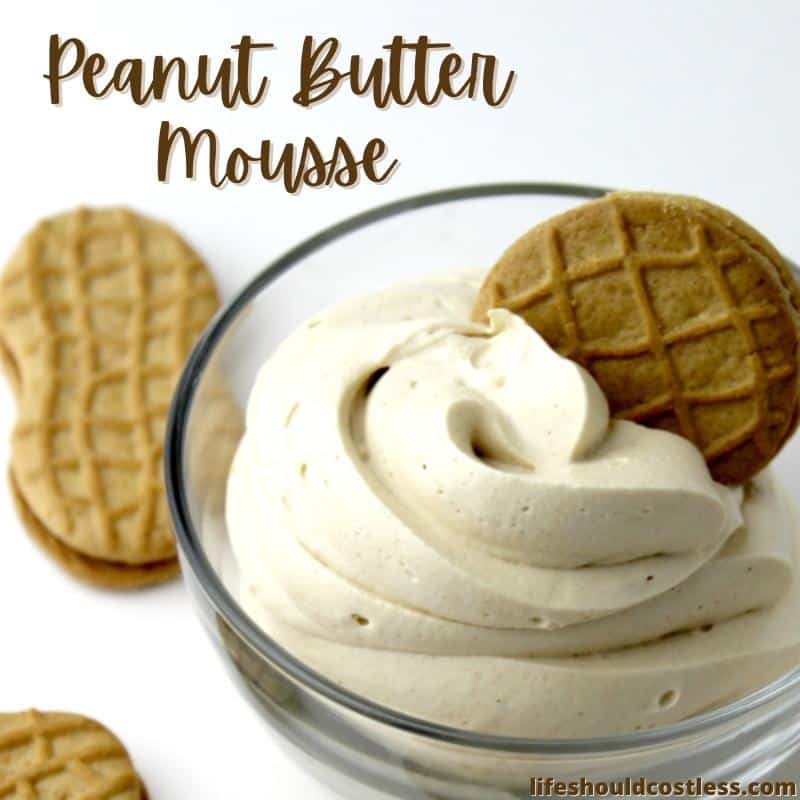 Oh, don't forget to subscribe to my email list (found here). Also, if you would like to learn how to follow along or really show your support for this blog, go here.
P.S. Make sure to check out my entire SWEET TOOTH SECTION of the blog, I don't post recipes unless I absolutely love them, so there is some really tasty stuff there.
Here are links to several of my other recipes that you're going to LOVE: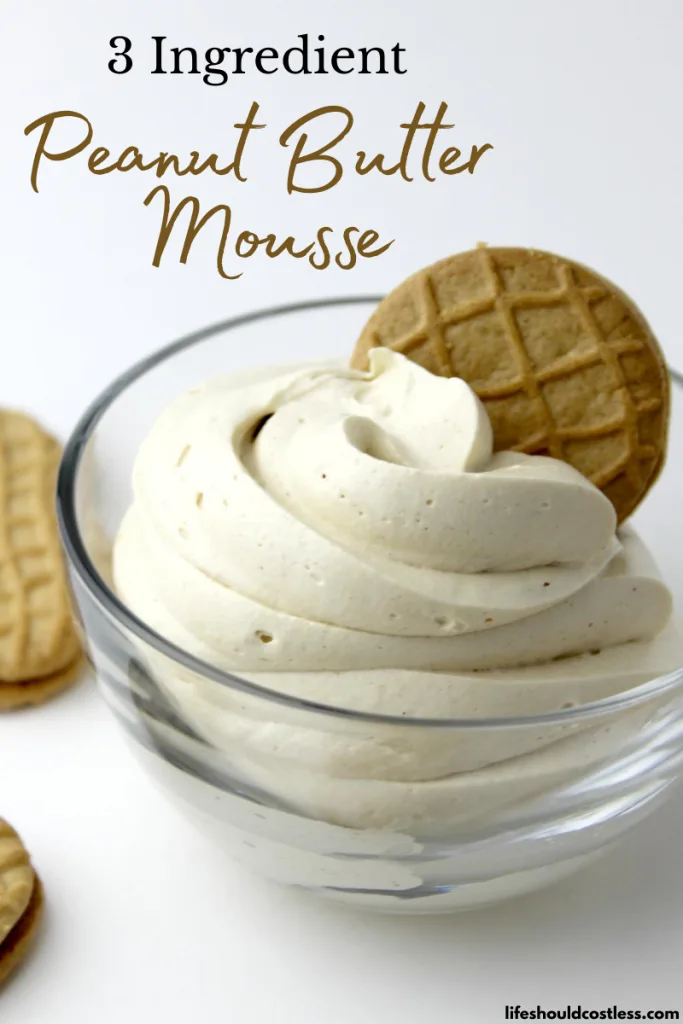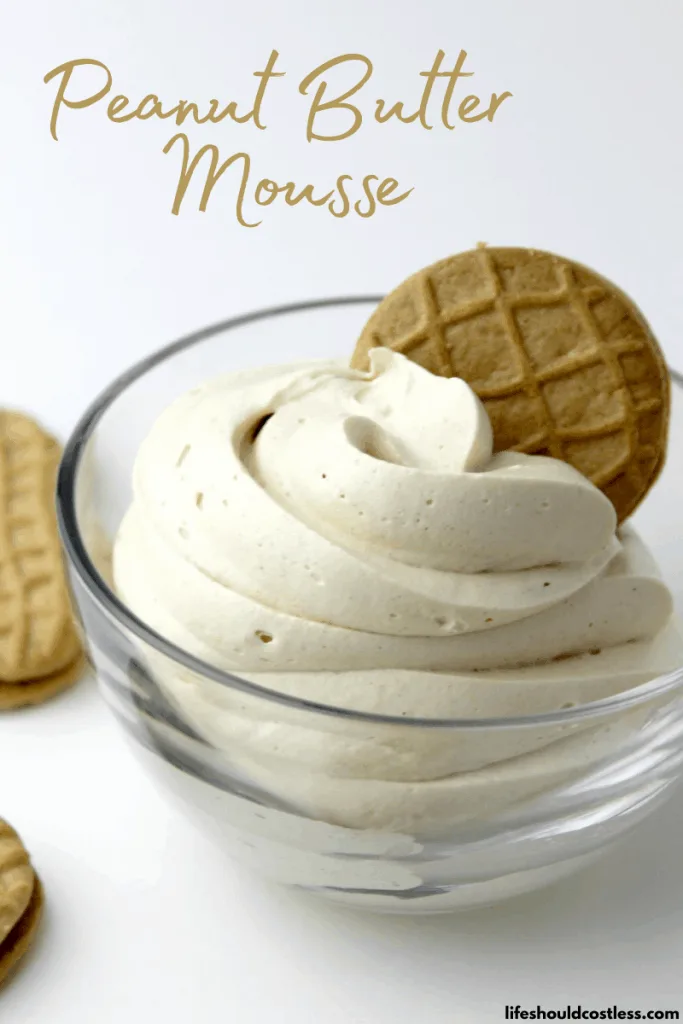 *Updates: Please note that this recipe was originally published/shared on this website on August 17, 2017. It was in great need of a refresh, an updated free printable recipe card, and better photography, so it has been updated periodically since then and will continue to do so.*