The classic flavor combination of sour green apple and caramel set these yummy Caramel Apple Rice Krispie Treats apart from any other Krispie Treats that you have had before. The only problem you are going to have after you try them, is making sure you have all of the ingredients on hand at all times so that you can make them as often as possible…well, and maybe cursing me because your pants don't fit anymore…lol.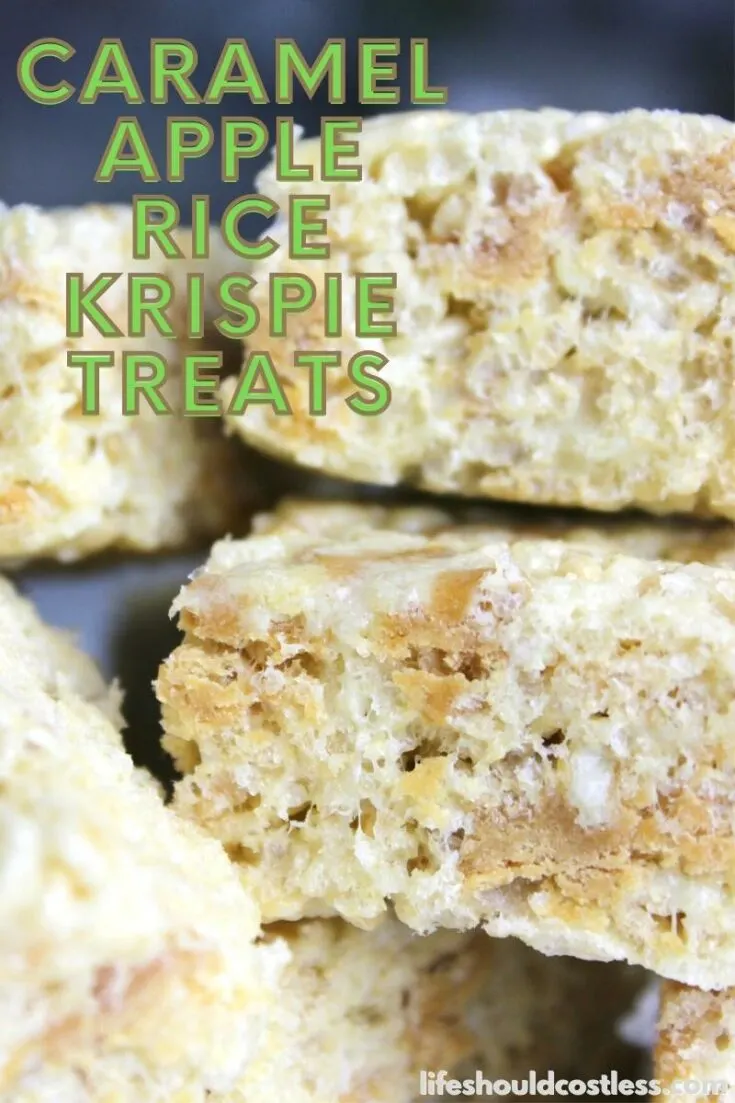 Have you ever had those yummy Caramel Apple Pops suckers? I can still remember the first time I was introduced to them.
My fifth grade (& all time favorite) teacher Pam had bought some to share with our class and they were such a hit that they soon became a regular treat.
Fast forward nearly twenty years and I still love them…in fact, they were the inspiration for my recipe today.
If you've never tried Caramel Apple Pops, they are basically a sucker that tastes similar to a Green Apple Jolly Rancher candy because it's a sour green apple hard candy and is covered in Caramel.
YUMMY! I'm salivating just thinking about them…and now I'm salivating thinking out those flavors in the form of rice crispy treats…because that is exactly what I did.
These aren't just your run of the mill regular rice krispie treats. There are just a couple of extra steps but that is what makes these SO GOOD!
Table of Contents, Skip Ahead To What You're Looking For
How to make Jolly Rancher Rice Krispie Treats
Keep in mind that this is my recipe for the Caramel Apple Rice Krispie treats…but you could easily omit the Kraft caramel bits (leave them out), and just do any flavor of Jolly Rancher Gelatin mix that you want to make yourself some Jolly Rancher Flavored Krispie treats!
How to make Caramel Rice Crispy Bars
The great thing about this recipe is that it's super versatile… if you want to turn these into plain old Caramel Rice Krispie treats all you need to do is not add the Jolly Rancher Flavored Gelatin mix and they will turn out super yummy.
Or, just make some regular traditional Rice Krispie treats, but here are some other fun variations of crispy treats.
You could try my Cinnamon Vanilla Rice Krispie Treats…and I even have a recipe for basic plain Rice Krispie Treats that will perfectly fill a half sheet-pan.
Here's the tutorial!
So, I made a cheesy video to show you how to make these, and below it are the still images, directions, and a free printable recipe card.
Now on to the still image tutorial.
You start out making them like regular rice crispy treats.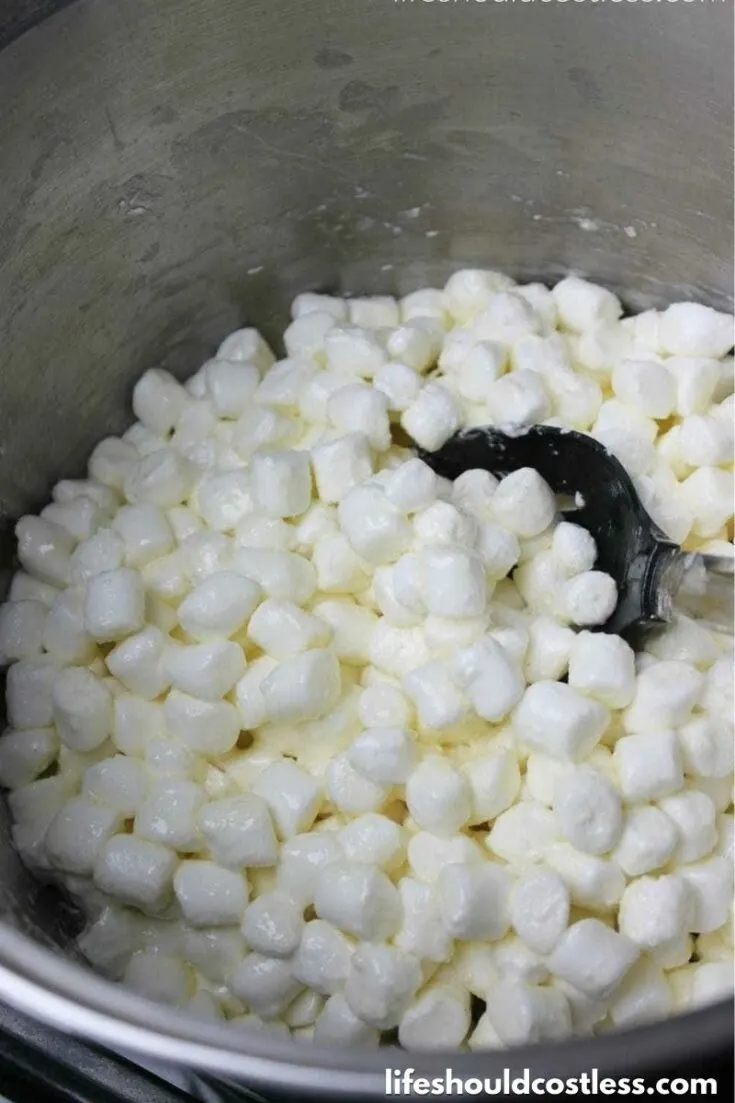 But then you add Jolly Rancher Brand Green Apple flavored gelatin mix. You can find it at most grocery stores in the Jello section or get it on Amazon, here.
It is MUCH cheaper at a grocery store though, so keep that in mind.
You just mix in the gelatin mix with the marshmallows, and make sure that all the sugar dissolves as the marshmallows melt…it happens naturally in the process though, so don't worry.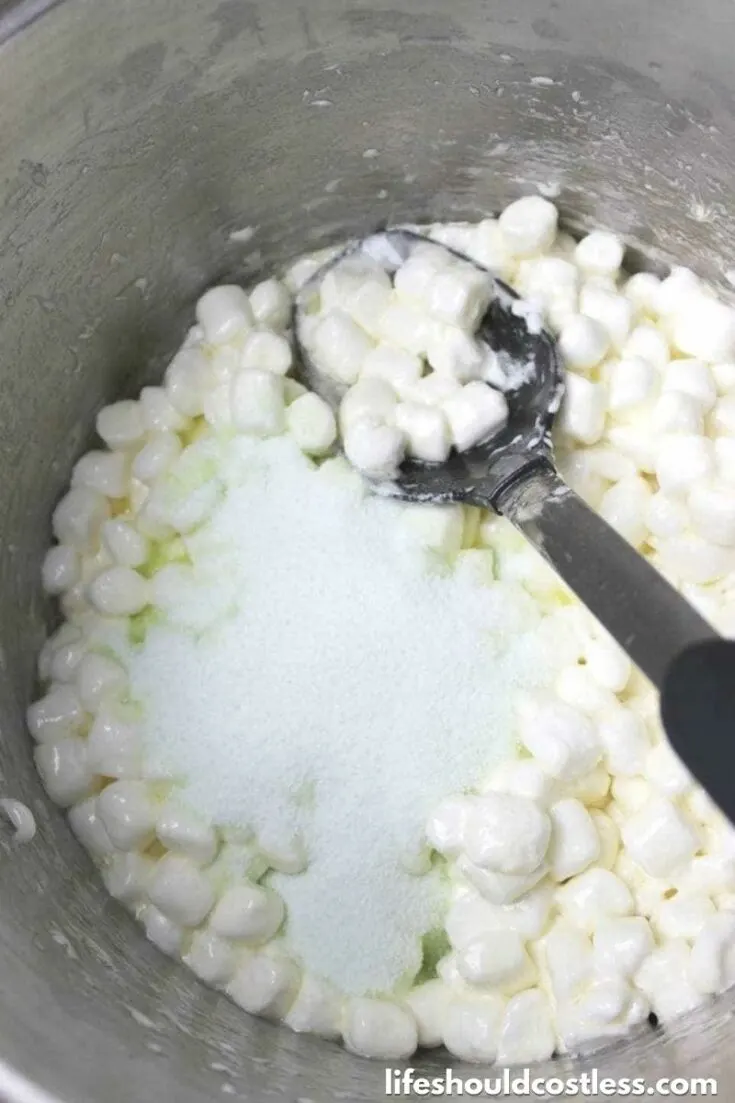 Once the marshmallows have melted, we remove it from the heat and add the Kraft Caramel Bits.
These can be found at any grocery store near the chocolate chips, or on Amazon here…these are also MUCH cheaper in a grocery store than online.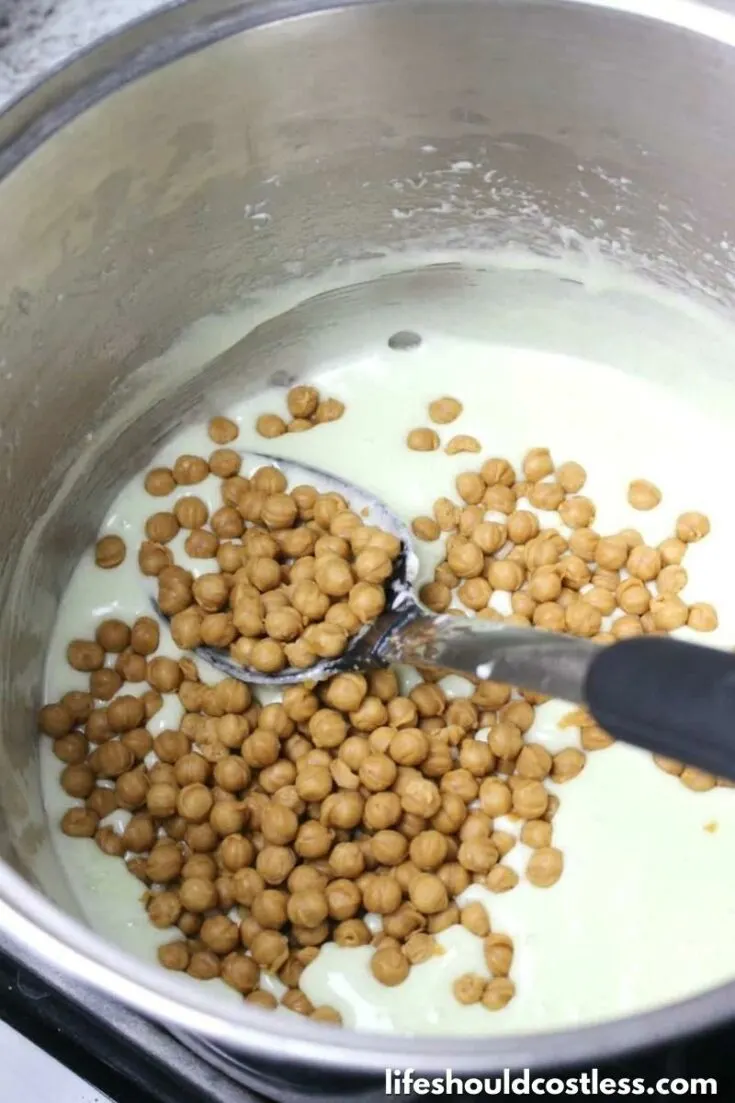 Next, you just add the Krispie Rice Cereal, mix well, and press it into either a buttered 9×13″ casserole dish, or one that has been lined with some parchment paper.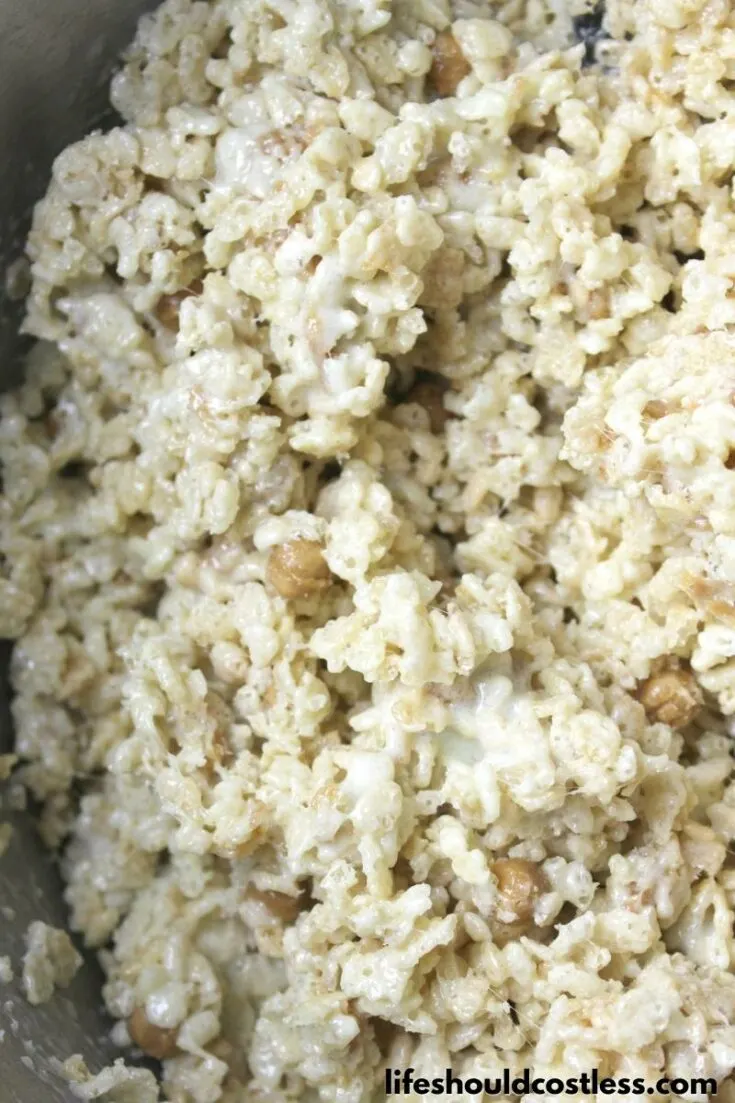 I prefer to line my 9×13″ casserole dish with parchment paper…it doesn't get the dish dirty because I love that it is minimal cleanup.
I spread it out in the dish and then cover it with more parchment paper and then push down and rub on the parchment paper to flatten it out.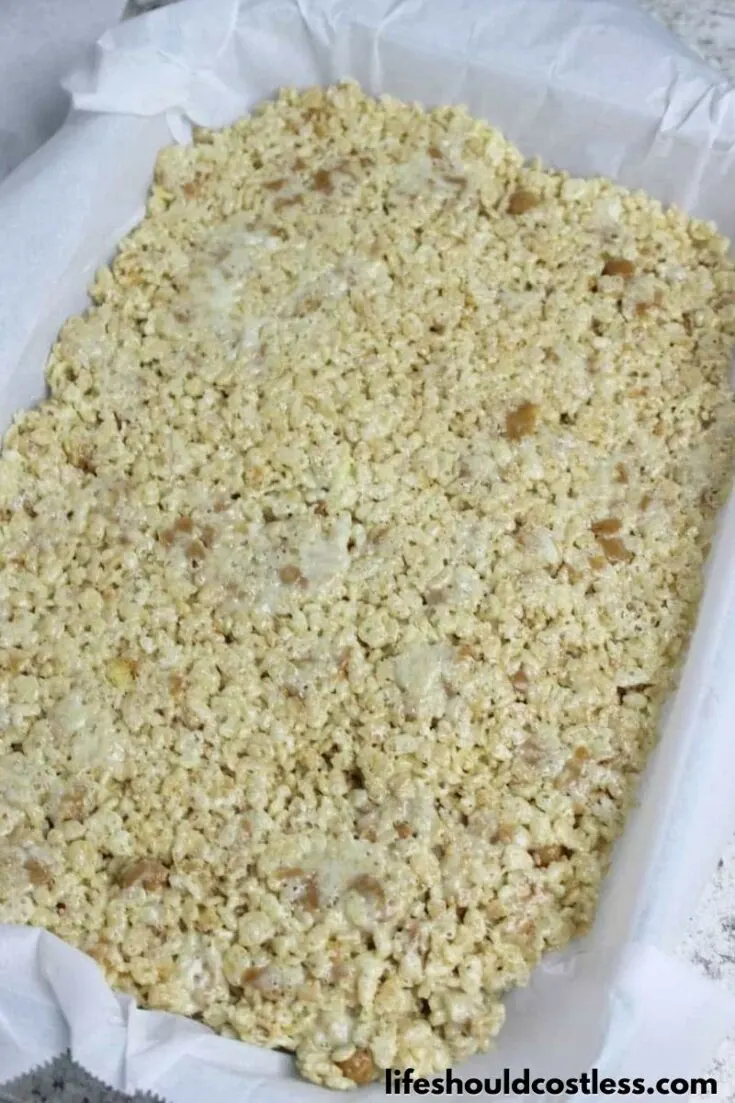 Now it's time to let it cool at room temp. Then cut into bars and try hard not to eat half of the pan because they are that good!!!!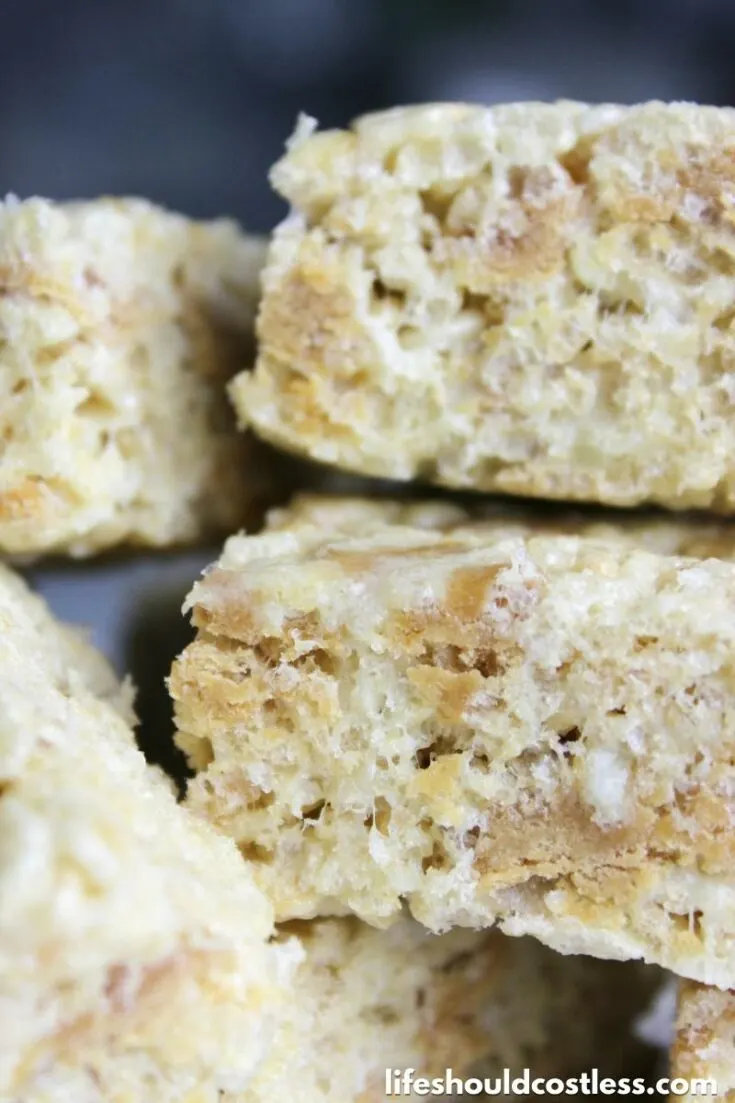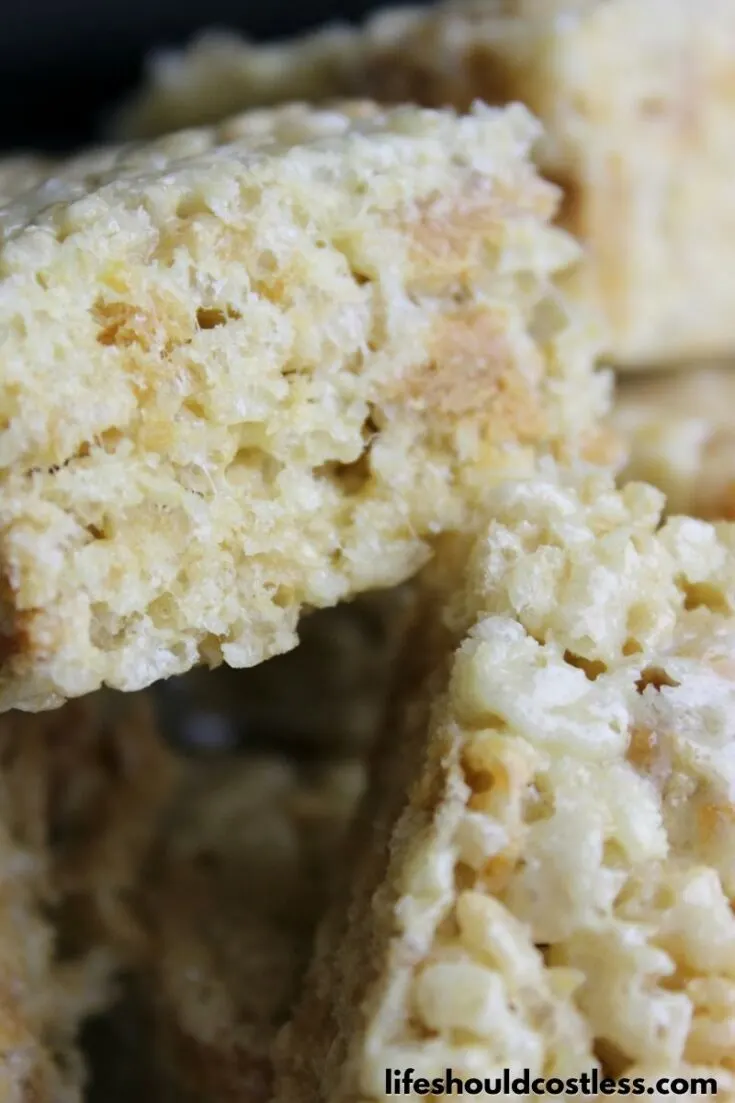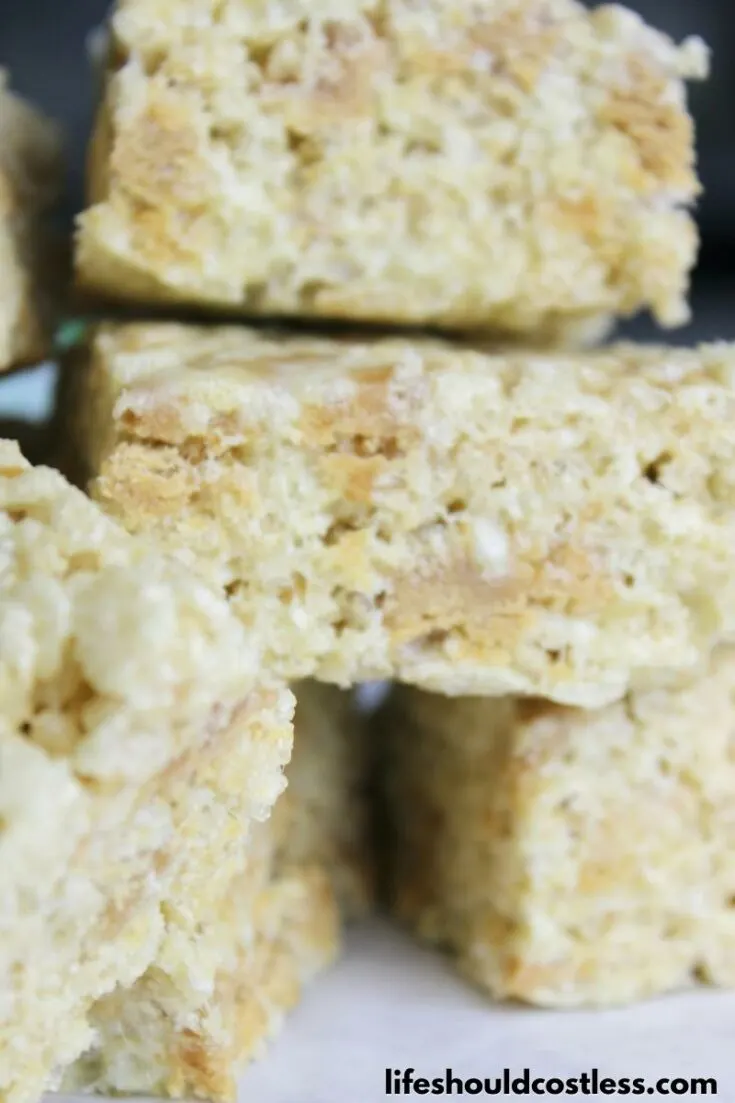 How to make green apple and caramel rice krispie treats squares: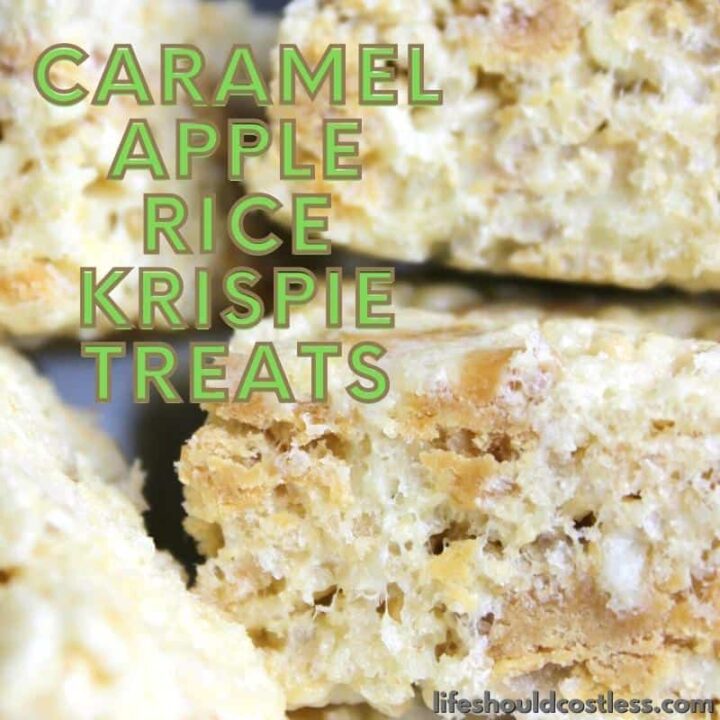 Caramel Apple Rice Krispie Treats Recipe
Additional Time:
30 minutes
The flavor combo of sour green apple and caramel set these yummy Caramel Apple Rice Krispie Treats apart from any other Krispie Treats that you may have tried before. The only problem you're going to have after you try them, is making sure you have all the ingredients on hand so that you can make them as often as possible.
Ingredients
½ Cup Salted Butter
1 (10 oz) Bag Marshmallows (regular or mini)
1 (2.79 oz) Package Jolly Rancher Green Apple Gelatin Mix (dry)
1 (11 oz) Bag Kraft Caramel Bits
7 Cups Crispy Rice Cereal
Instructions
Begin to melt the butter in a large pot over low to medium heat.
Add the Marshmallows and stir until they start to melt a bit.
Add the (dry) Jolly Rancher Gelatin Packet, and stir gradually until melted and the sugar from the gelatin has dissolved.
Remove from heat.
Mix in the Kraft Caramel Bits.
Mix in the Krispie Rice Cereal until well incorporated.
Pour into a buttered, or parchment paper lined, 9"x13" casserole dish. Spread as evenly as you can with the spoon you were already using. If you would like them to be very packed down or flat you can either butter your hands and rub them flat or add some parchment paper to the top and rub your hands across the parchment paper.
Let cool until hardened. Then cut into bars and enjoy.
Nutrition Information
Yield

12
Serving Size

1
Amount Per Serving
Calories

150
Total Fat

8g
Saturated Fat

5g
Trans Fat

0g
Unsaturated Fat

2g
Cholesterol

20mg
Sodium

160mg
Carbohydrates

19g
Fiber

0g
Sugar

6g
Protein

2g
These caloric amounts are automatically estimated by a plugin on my site and should be treated as an estimate only.
I hope that you come to love these crispy treats, however you want to spell it, as much as we do at my house.
Hopefully they'll soon become your new favorite dessert treat…but don't hold it against me if your pants don't fit before long ;).
Thanks so much for stopping by my blog and supporting my endeavors to make people's lives a little easier/better/more affordable.
If you liked this recipe post, or found it helpful in any way, please make sure to share it with your family, friends, and co-workers via social media.
Or you could even send them the direct link via email. Whichever way you choose to spread the love, I super appreciate it! ~Sarah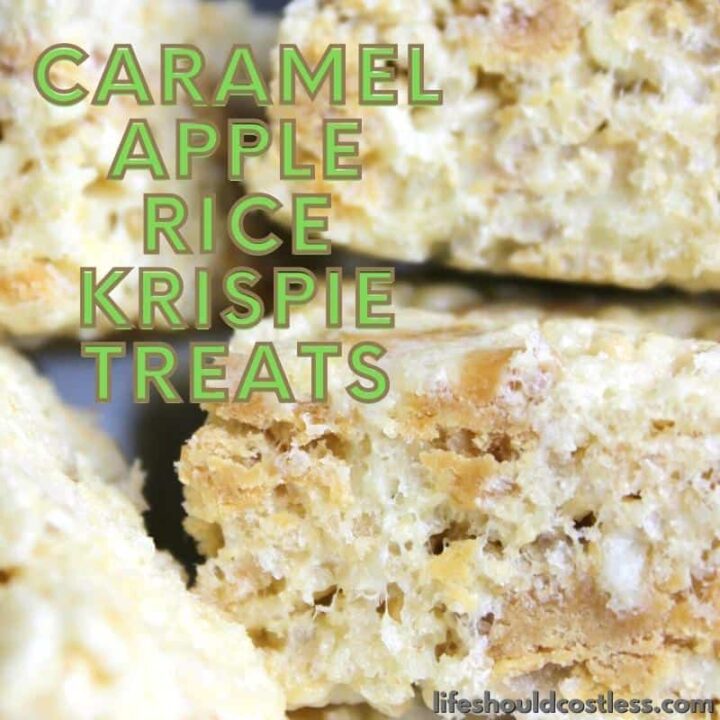 Follow Me
If you would like to subscribe to my email list, go here.
Make sure to follow along via social media, by going here.
If you would like to learn how to really show your support to this site (at no cost to you), go here.
If you'd like to check out all of my Sweet Tooth section on this blog, go here.
Here are direct links to several of my other recipes that you're also going to love:
*Please note that this recipe was originally published to this website on September 2, 2016 and has since been updated to improve user experience, get a free printable recipe card, as well as to improve share-ability across the social medias.