Have you ever had those yummy Caramel Apple Pops suckers? I can still remember the first time I was introduced to them. My fifth grade (& all time favorite) teacher had bought some to share with our class and they were such a hit that they soon became a regular treat. Fast forward nearly twenty years and I still love them…in fact, they were the inspiration for my recipe today.

If you've never tried Caramel Apple Pops, they are basically a sucker that tastes similar to a Green Apple Jolly Rancher because it's a sour green apple hard candy and is covered in Caramel. YUMMY! I'm salivating just thinking about them…and now I'm salivating thinking out those flavors in the form of rice crispy treats…because that is exactly what I did. These aren't just your run of the mill regular rice crispy treats. There are just a couple of extra steps but that is what makes these SO GOOD!
*Update 10/26/16. I made a little video tutorial to go with this recipe and it has some good tips for making these, so make sure to watch it. Especially if you have any questions about how to make them.*
Now back to the written tutorial and printable recipe card. You start out making them like regular rice crispy treats.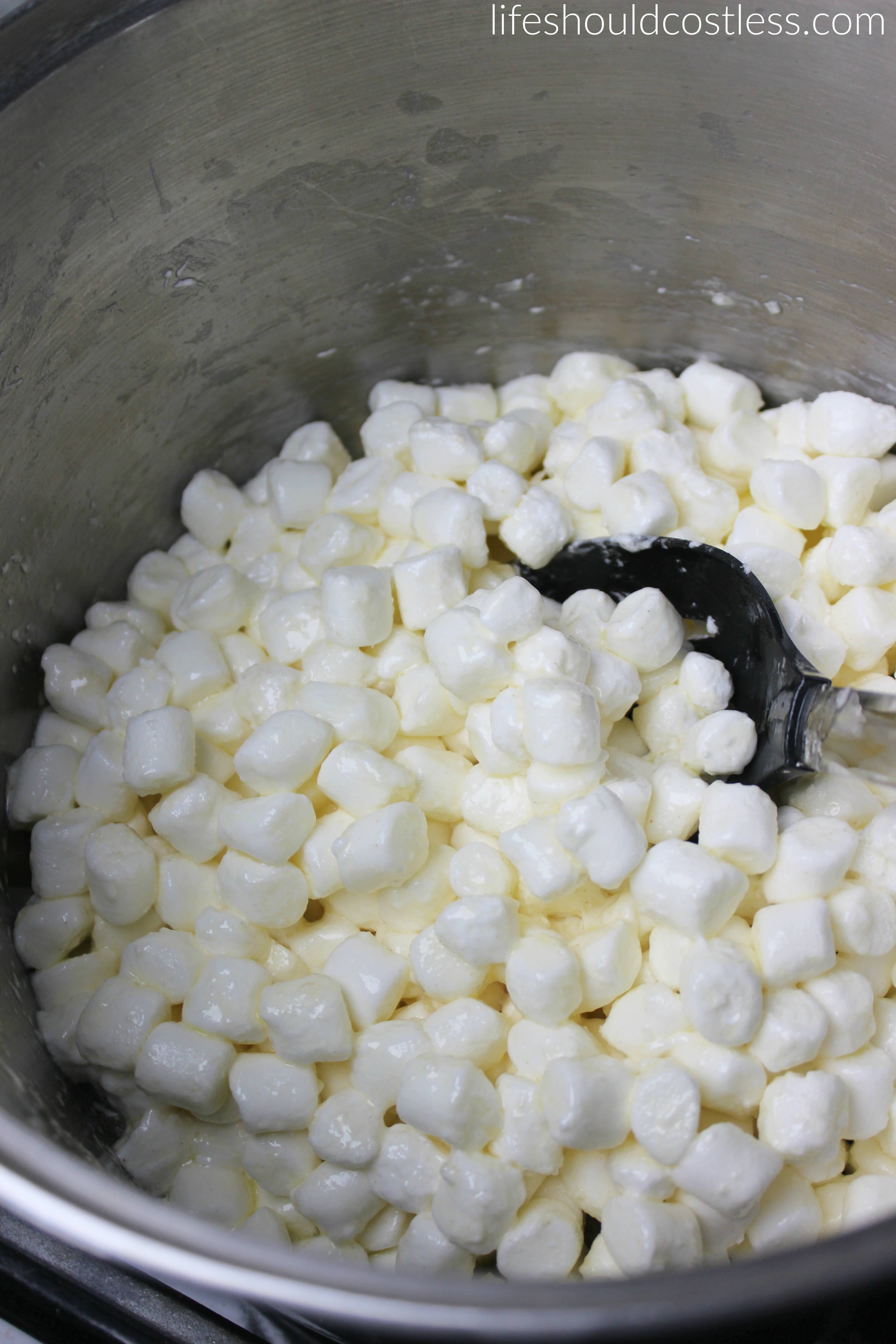 But then you add Jolly Rancher Brand Green Apple flavored gelatin mix. You can find it at Wal-Mart in the Jello section or get it online here.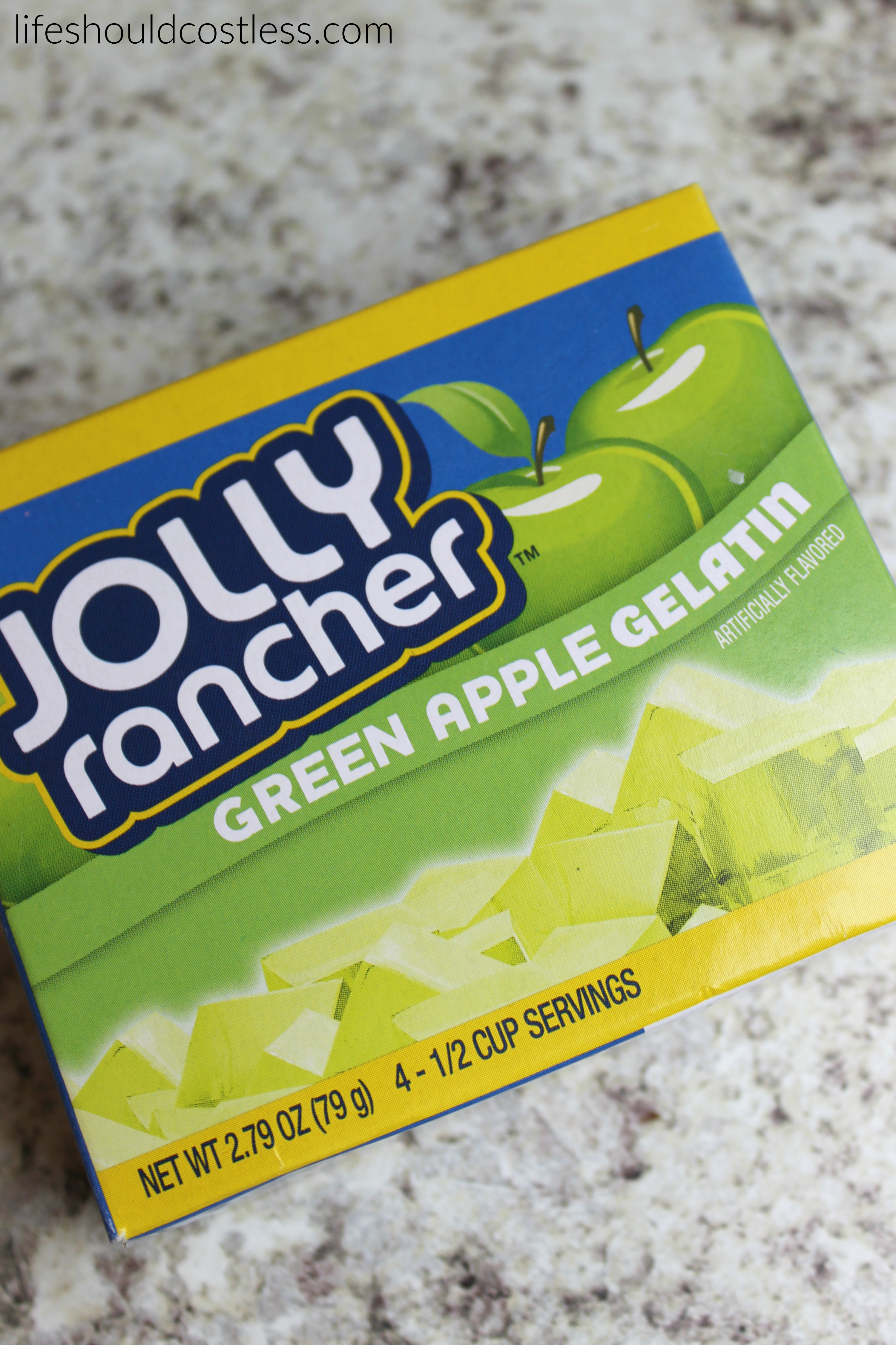 You mix it in with the marshmallows and make sure that all the sugar dissolves as the marshmallows melt.
Boy Howdy was I excited to find this next product at the grocery store. It's the same exact kind of caramel as in those little clear wrappers, but it is tiny little chunks that are not wrapped. It's called Kraft Caramel Bits. It can be found at Wal-Mart near the chocolate chips, or online here.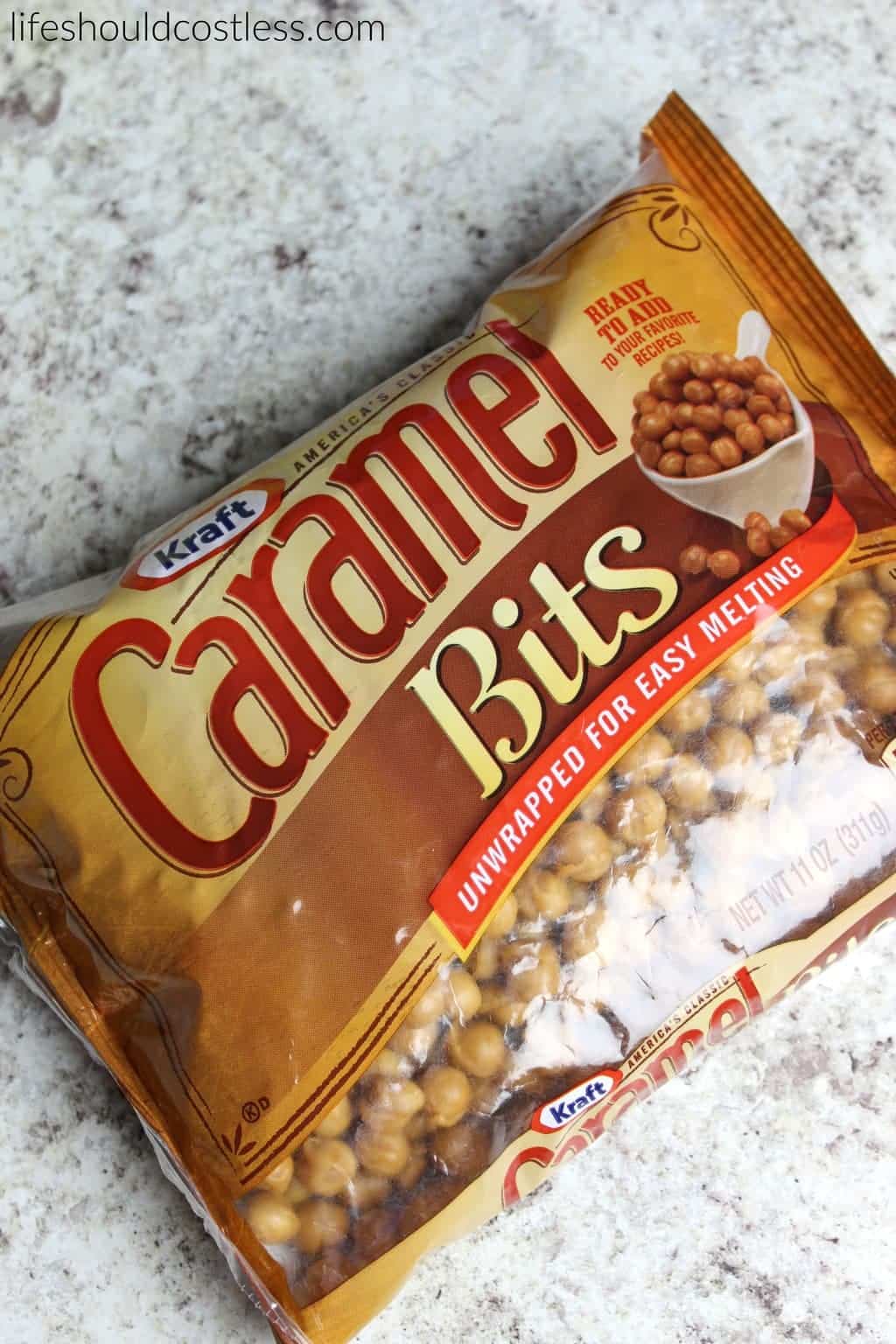 You mix the caramel in after you have removed it from heat but before the crispy rice cereal.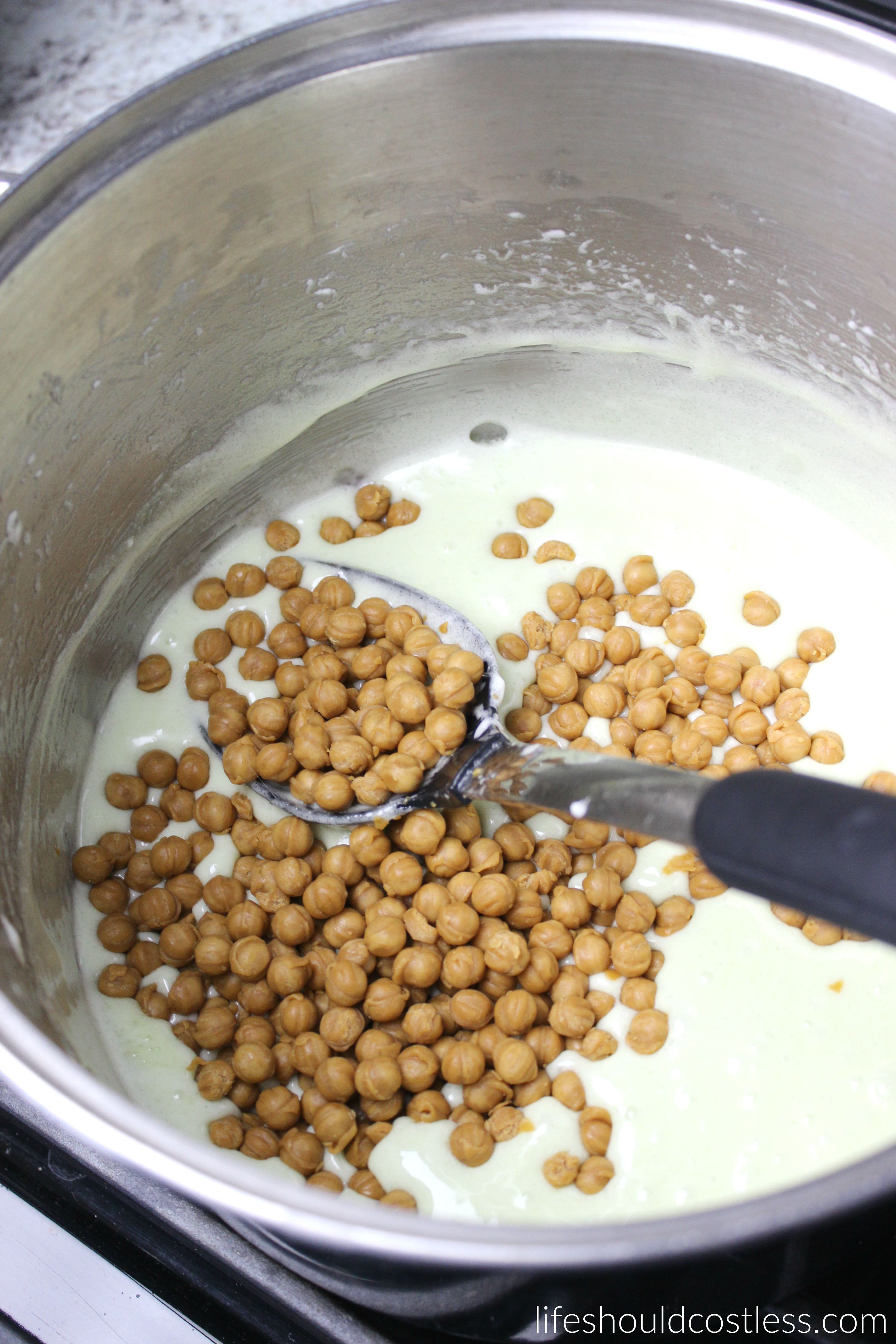 What it looks like all mixed together and ready to go in a pan.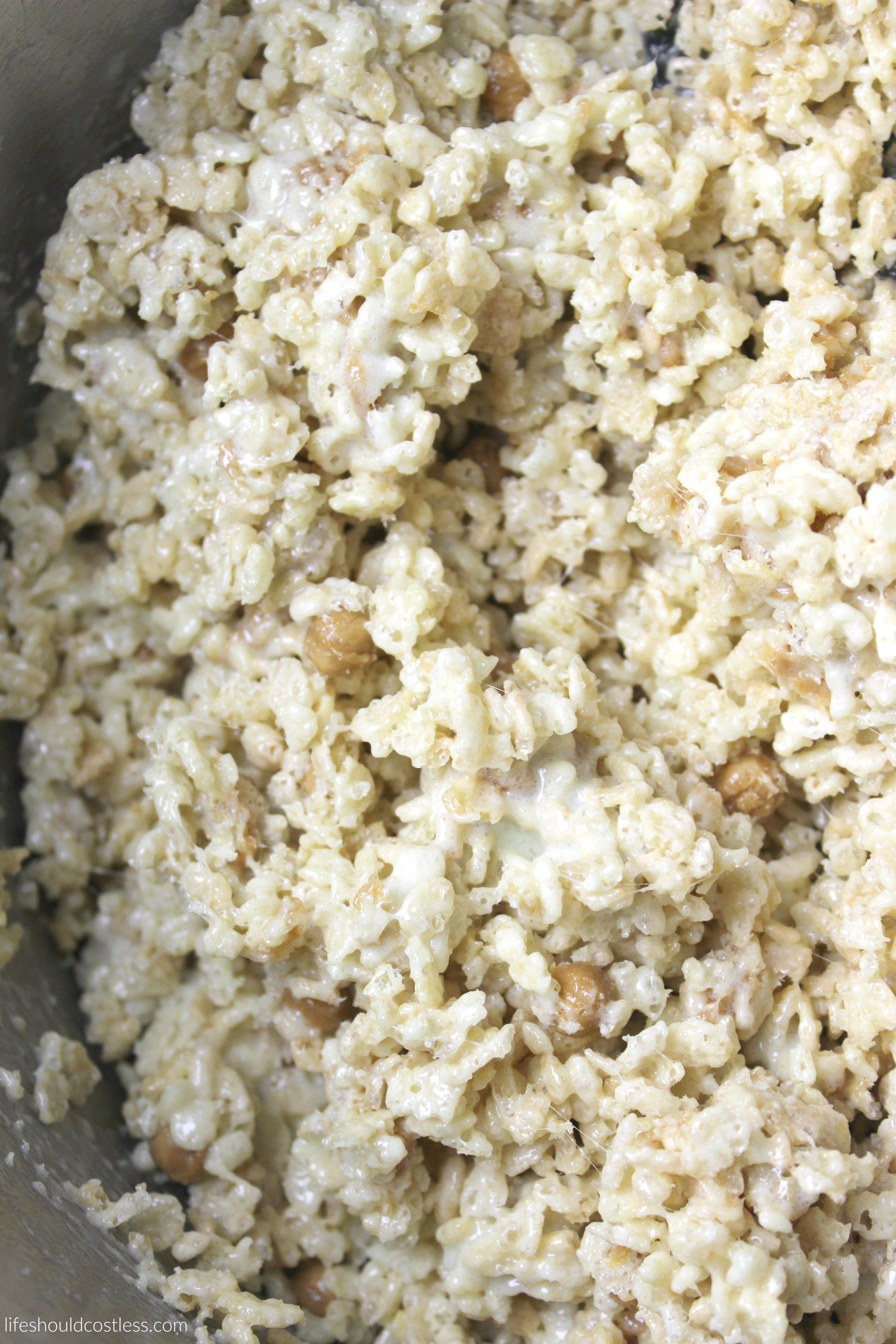 I line a 9×13″ casserole dish with parchment paper…it doesn't get the dish dirty so I love that it is minimal cleanup. I spread it out in the dish and then cover it with more parchment paper and then push down and rub on the parchment paper to flatten it out. (You may be wondering why I don't make this in a full cookie sheet like my "full cookie sheet rice crispy treats recipe" and that is because it takes too long for the sugar in the gelatin to dissolve, when using more than one box of gelatin mix, so the end result is too hard. Anyway, so that is why it's just a regular sized batch.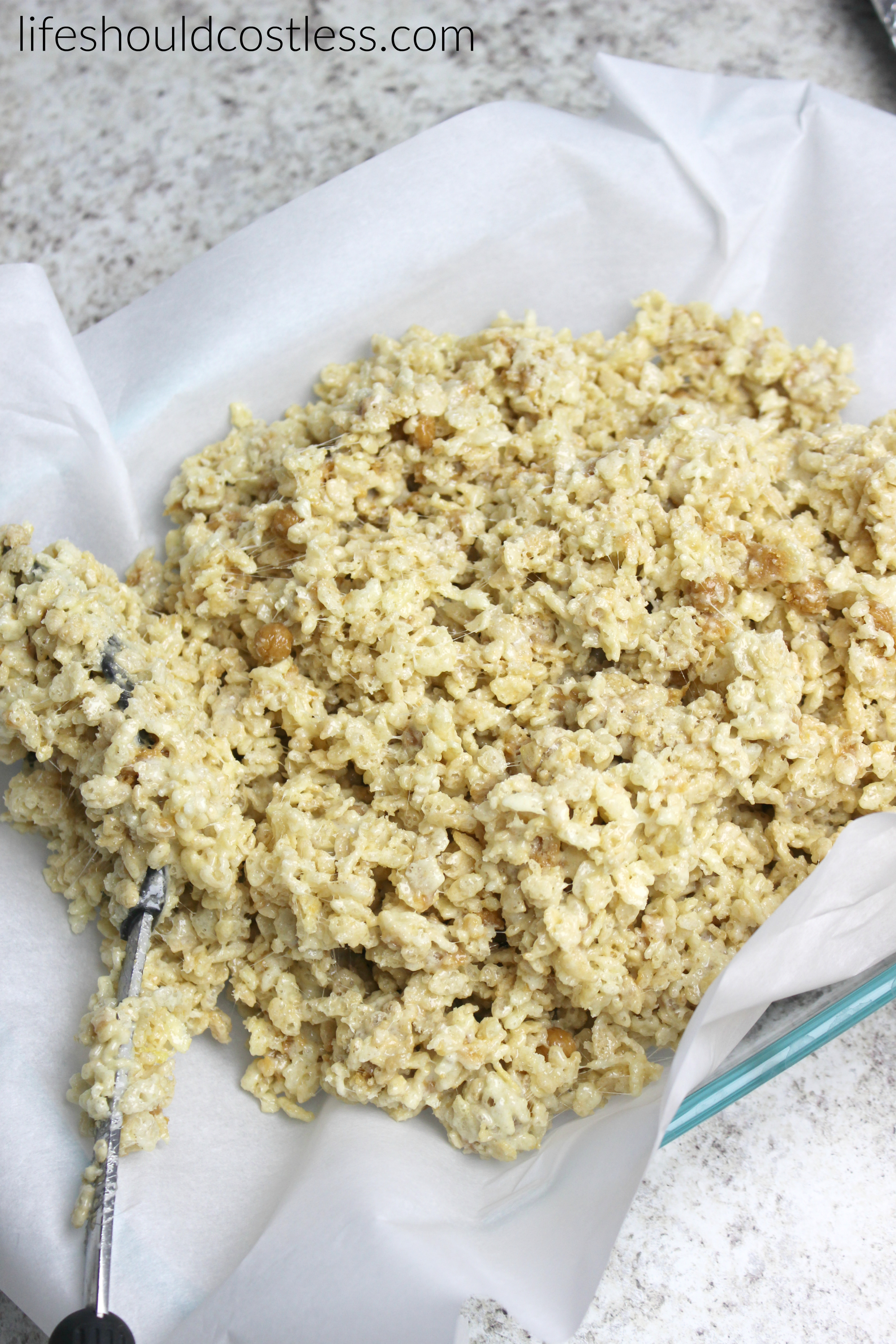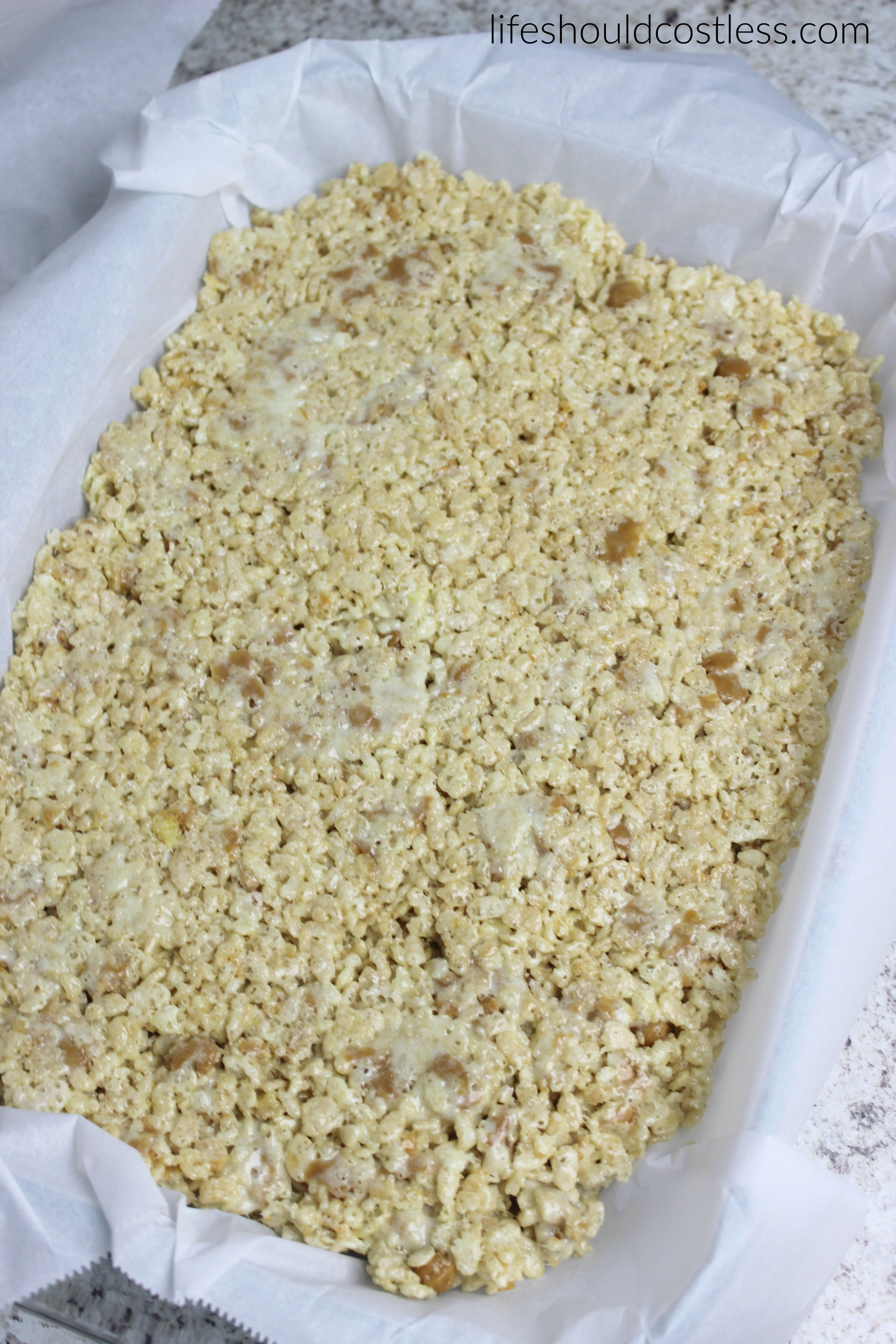 Now it's time to let it cool at room temp. Then cut into bars and try hard not to eat half of the pan because they are that good!!!!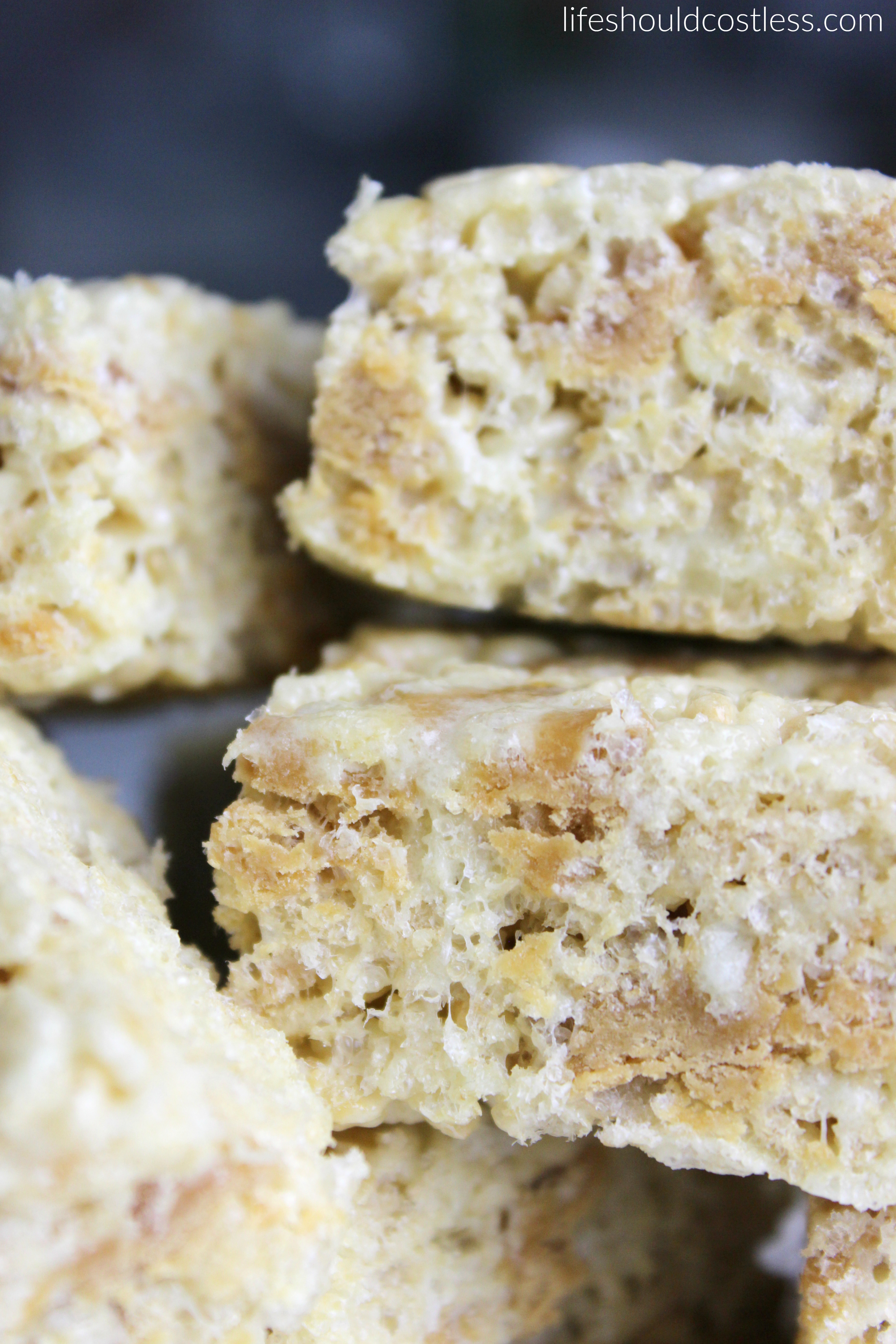 *I've got more great posts at the bottom so make sure to keep on scrolling!*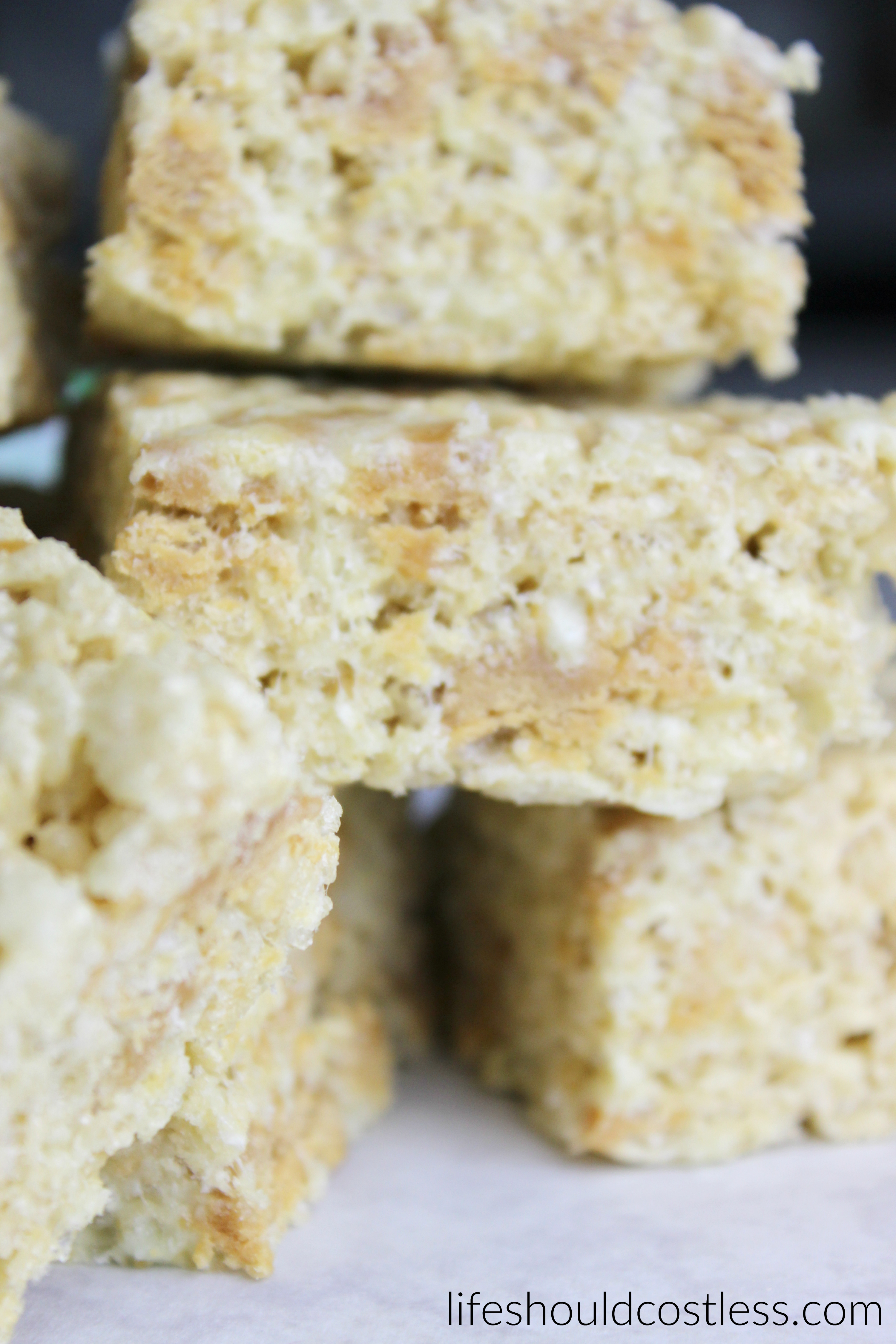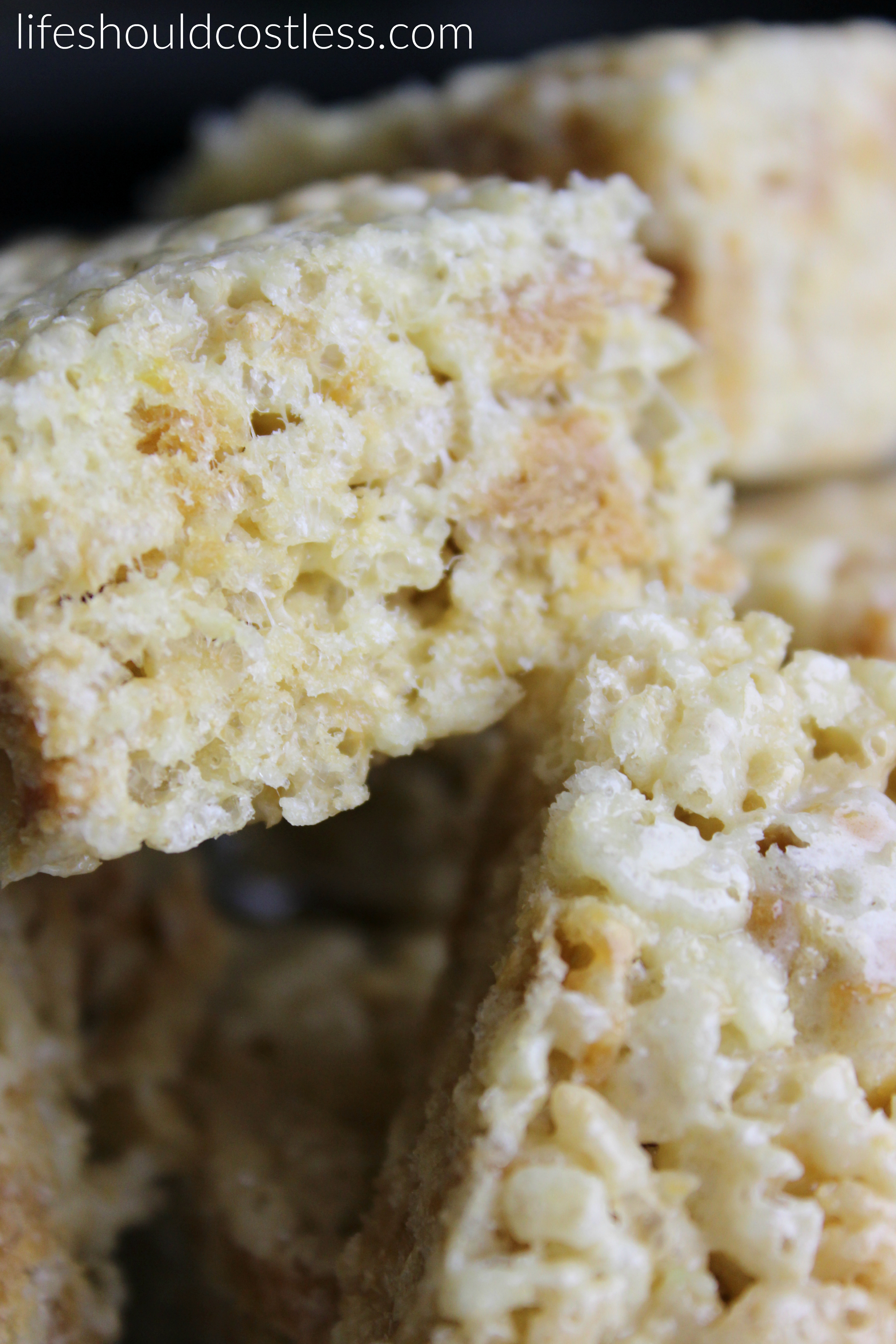 Caramel Apple Rice Crispy Treats
Tastes similar to those Caramel Apple Pops suckers.
Author:
LifeShouldCostLess.com
Ingredients
½ Cup Salted Butter
1 (10 oz) Bag Marshmallows (regular or mini)
1 (2.79 oz) Package Jolly Rancher Green Apple Gelatin
1 (11 oz) Bag Kraft Caramel Bits
7 Cups Crispy Rice Cereal
Instructions
Begin to melt the butter in a large saucepan over low to medium heat.
Add the Marshmallows and (dry) Jolly Rancher Gelatin Packet and stir gradually until melted and the sugar from the gelatin has dissolved.
Remove from heat.
Mix in the Caramel Bits.
Mix in the Crispy Rice Cereal. Mix very well.
Pour into a buttered or parchment paper lined 9"x13" casserole dish. Spread as evenly as you can with the spoon you were already using. If you would like them to be very packed down or flat you can either butter your hands and rub them flat or add some parchment paper to the top and rub your hands across the parchment paper.
Let cool until hardened. Then cut into bars and enjoy. *DO NOT REFRIGERATE TO SPEED UP THE COOLING*.
I hope that you love these as much as I do! If so, please make sure to share this post with your friends. Thanks! ~Sarah
You may also like (the pictures are links):