Oh buddy! Have I got a recipe to share with you today that is "knock your socks off" good!  The best part is that it is low-fat, high in protein, has just the right amount of lemon flavor and has a fantastic blend of different berries.

Whether you need a salad idea for a family gathering, church function, party, or pot luck, this is the recipe that you have been looking for. It's creamy, delicious, quite versatile, and only takes a few minutes to throw together. Pretty much everything that you could want packed into one simple recipe.
Several years ago, a friend shared their version of this recipe with me. It was really good, but as always, I just had change a few things up a bit to make it exactly the way that I wanted it…. and now it's finally ready to share with you all.  The true test to see if it's as good as I say that it is, is for you to make it yourself and give it a taste. Though I assure you that you will want more than one serving, and possibly even more than two 😉 I dare you to not lick the bowl clean!
I'm going to be one of those mean bloggers that makes you look at all the pictures before I add the recipe card, so enjoy looking at the process.
*Remember to scroll all the way to the bottom, I've got even more pictures with links to other recipes/posts that you will love!*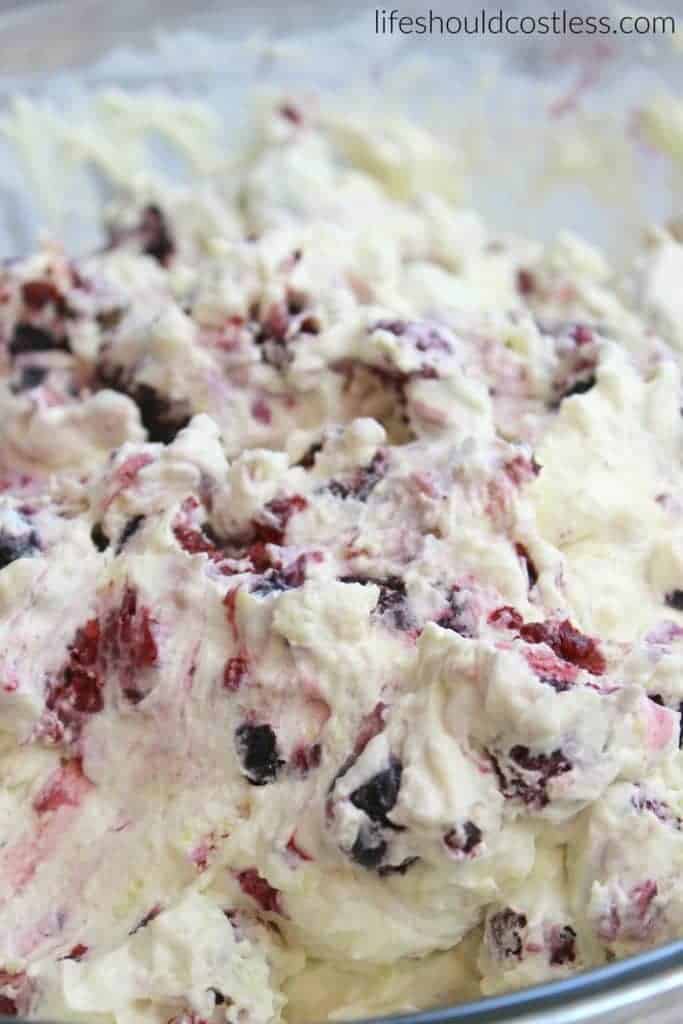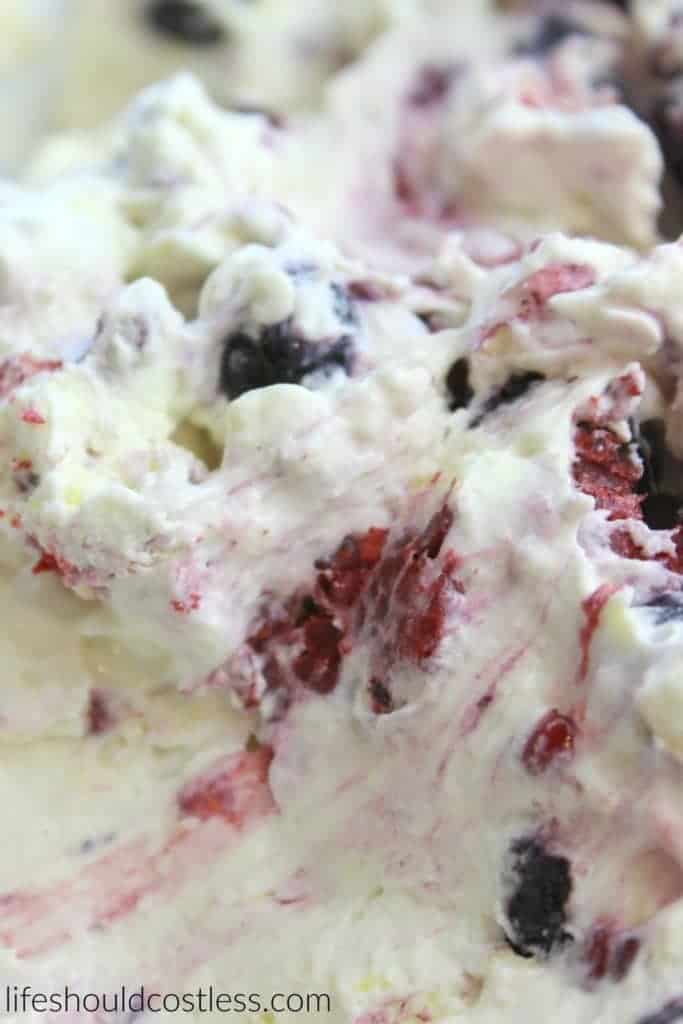 Lemon Berry Salad
Author:
LifeShouldCostLess.com
Ingredients
32 Oz. Plain Greek Yogurt (low or fat-free)
16 Oz. Lite Whipped Topping/Cool Whip
1 & ½ (3.4 oz) Packages Lemon INSTANT Pudding Mix
2 LBS Frozen Mixed Berries
Instructions
In a four quart bowl, add the Greek Yogurt, Whipped Topping, & Lemon Instant Pudding. Mix well. Add the frozen berries. Mix well. Cover and chill until ready to serve. Mix once prior to serving.
Notes
If you need to make this a couple of days ahead you can cover and freeze it. Just put it in the fridge about 18 hours before you need it. Then mix and serve.

As the berries thaw, each time you mix it will turn more purple.

Cover and refrigerate any leftovers, should be good for about a day or two.
I forgot to tell you guys that when I brought this to a party a couple of weeks ago, my Father-In-Law told me that it looked like something that would be in  a magazine.  That was sure sweet of him, I just wish I were a magazine-level photographer…then this post would do even better! Anyway, if you loved it please make sure to share this post. Thanks ~Sarah
You may also like (the pictures are links):