This Lemon Berry Fluff Salad is not only low-fat and high in protein, with the perfect blend of greek yogurt, berries, Lemon Instant Jello Pudding Mix, and whipped topping…but it is also absolutely delicious if I do say so myself. This particular fluffy salad has been raved about at every gathering/party that I have ever taken it to, so be prepared to share this recipe if you take this yummy dessert anywhere.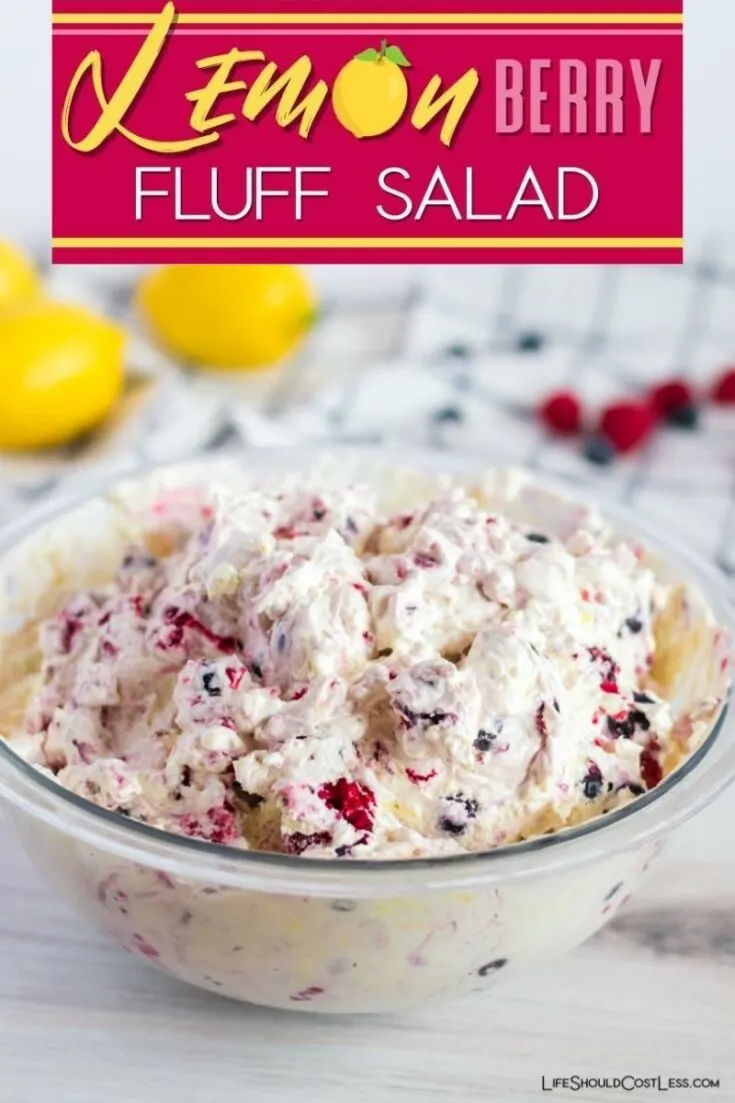 If you are in need of a salad idea for a family gathering, church function, party, or pot luck, this recipe will for sure be your new go-to.
It's creamy, delicious, packed full of protein, quite versatile, and only takes a few minutes to throw together. It's a total win in my book!
This fruit fluff salad recipe is so easy, you can make it in five minutes. Crazy right?!
I think it is pretty much everything that you could ever want packed into one simple recipe.
A good fifteen plus years ago, a friend shared their version of a lemon fluff salad with me. It was really good, but as always, I just had change a few things up a bit to make it exactly the way that I wanted it.
(I needed to lighten it up a bit and increase the protein content too which is something I worry about after having lost and maintained over 100 lbs of weight loss)
Those little changes paid off, this is one of my top five most popular recipes on my entire website.
The true test to see if this lemon berry dessert is as good as I say that it is, is for you to make it yourself and give it a taste.
Though I assure you that you will want more than one serving, and possibly even more than two 😉 I dare you to not lick the bowl clean of this lemon fluff dessert!
I'm going to share with you a quick little video of the process, followed by some still images with directions…then the free printable recipe card will be down at the bottom.
---
If you like this recipe, make sure you check out my fruit dip recipe too…
---
Here are the ingredients all laid out for the fruit fluff salad. Nonfat Plain Greek Yogurt, Mixed Berries, Instant Lemon Jello Pudding Mix, and Cool Whip/Whipped Topping.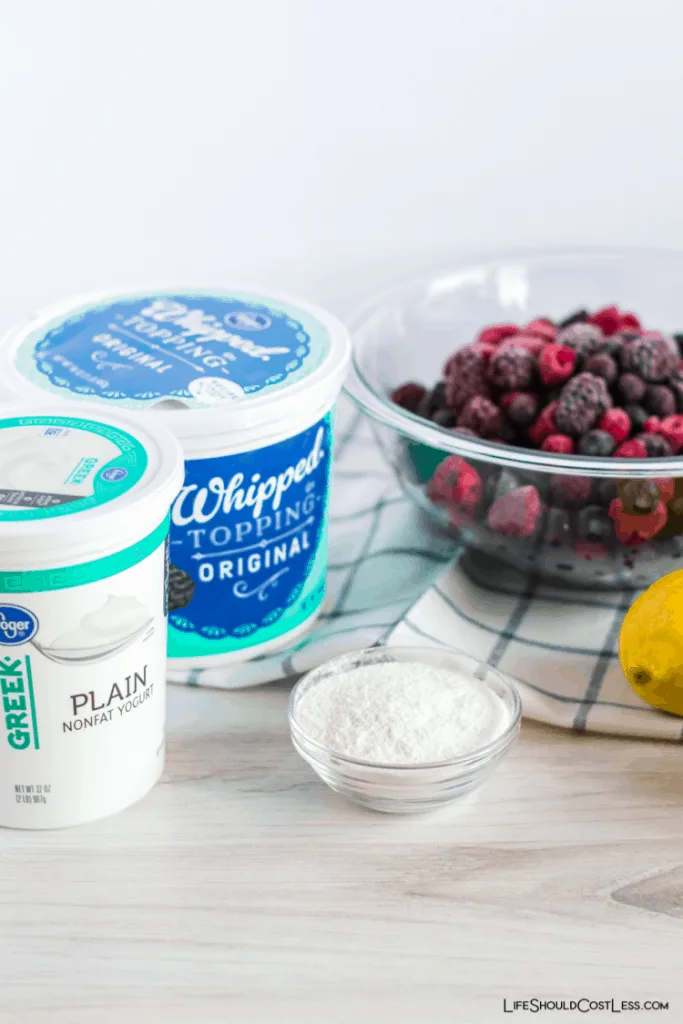 Before we get too far into the process of making this delicious fruit salad with yogurt and cool whip, I wanted to share with you a link to my entire Salads & Dressings Section.
In a large mixing bowl, I use this one which is a four quart bowl, add your whipped topping and greek yogurt. Make sure to mix them well.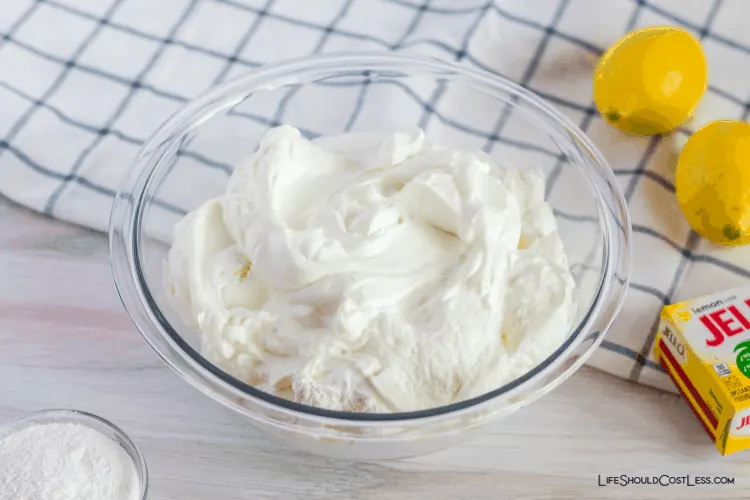 Then I add the Instant Lemon Jello Pudding Mix.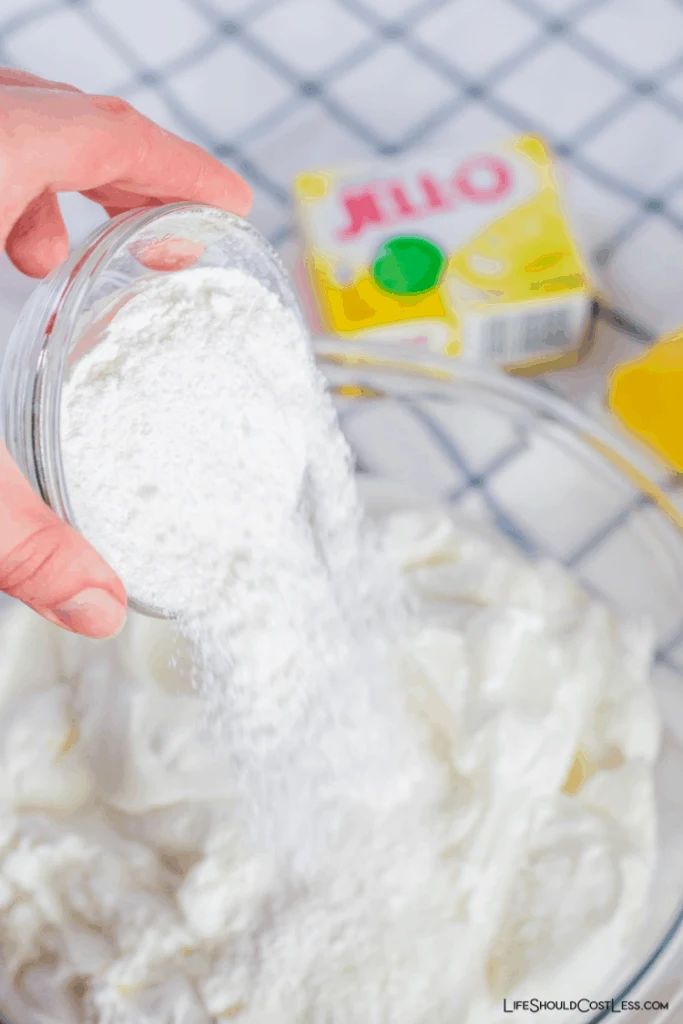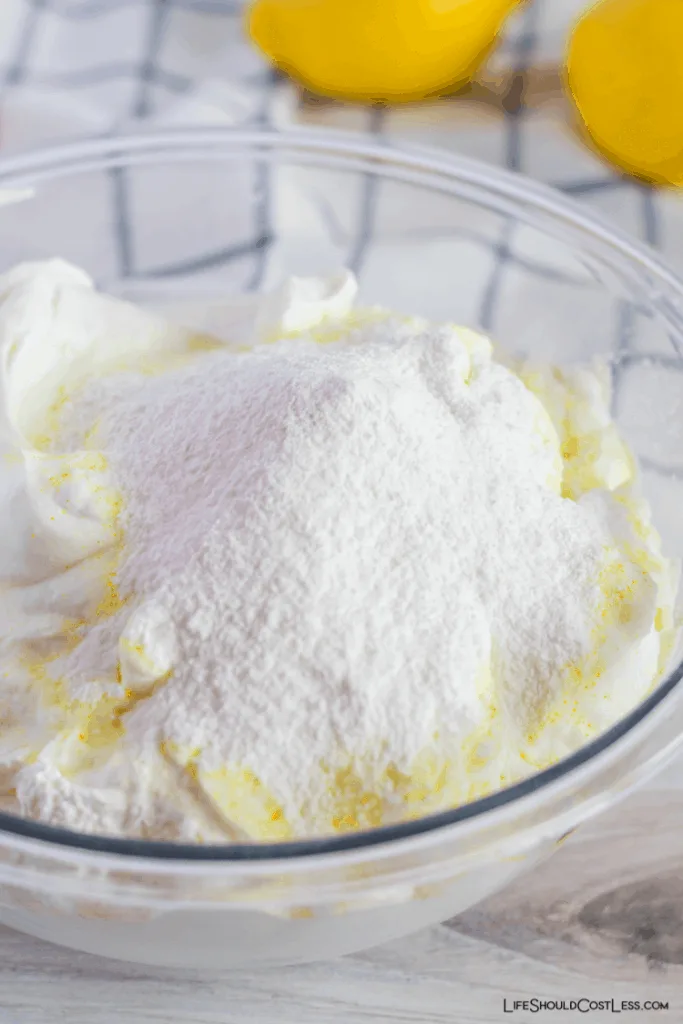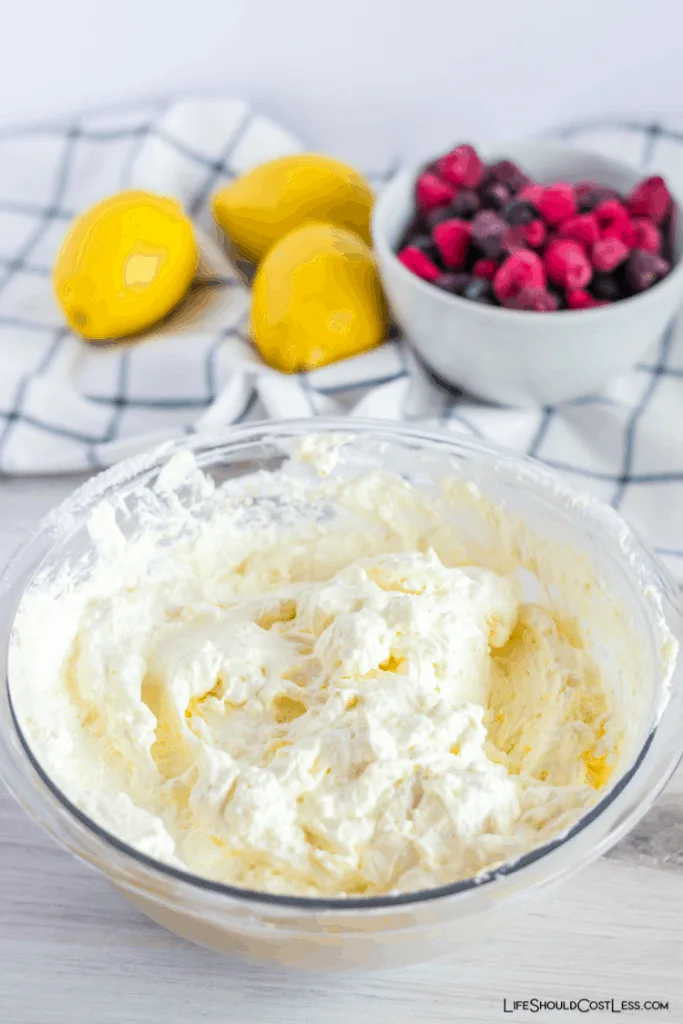 Next we add our frozen mixed berries… you could use fresh, frozen is just a much more practical and year-round option for many of us.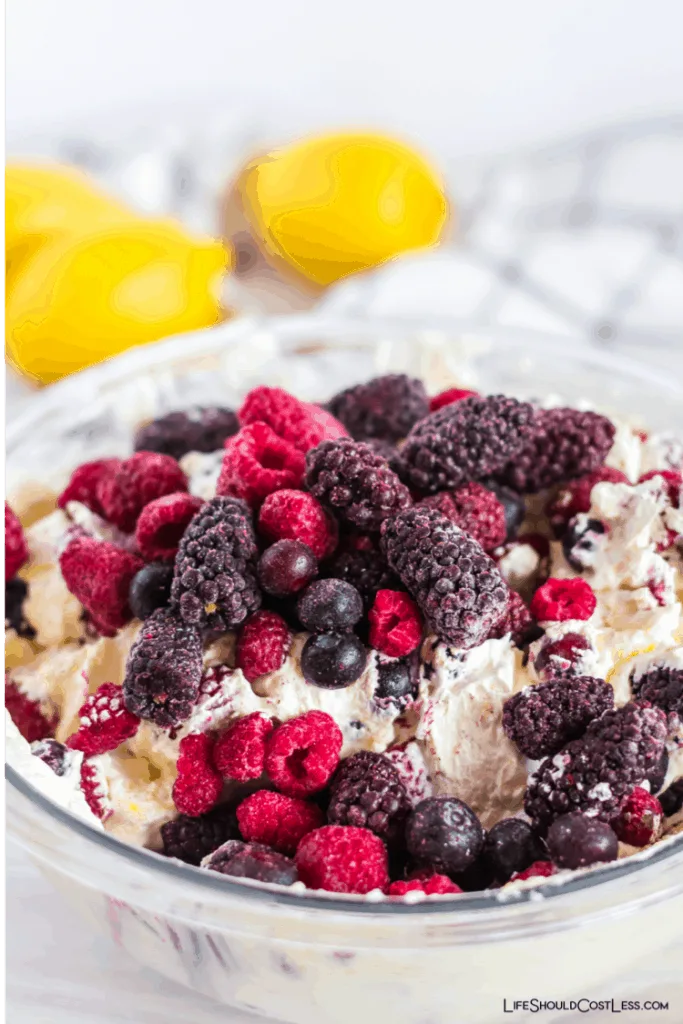 Mix well and you're done! Can you believe this 5 minute fluff salad is THAT easy?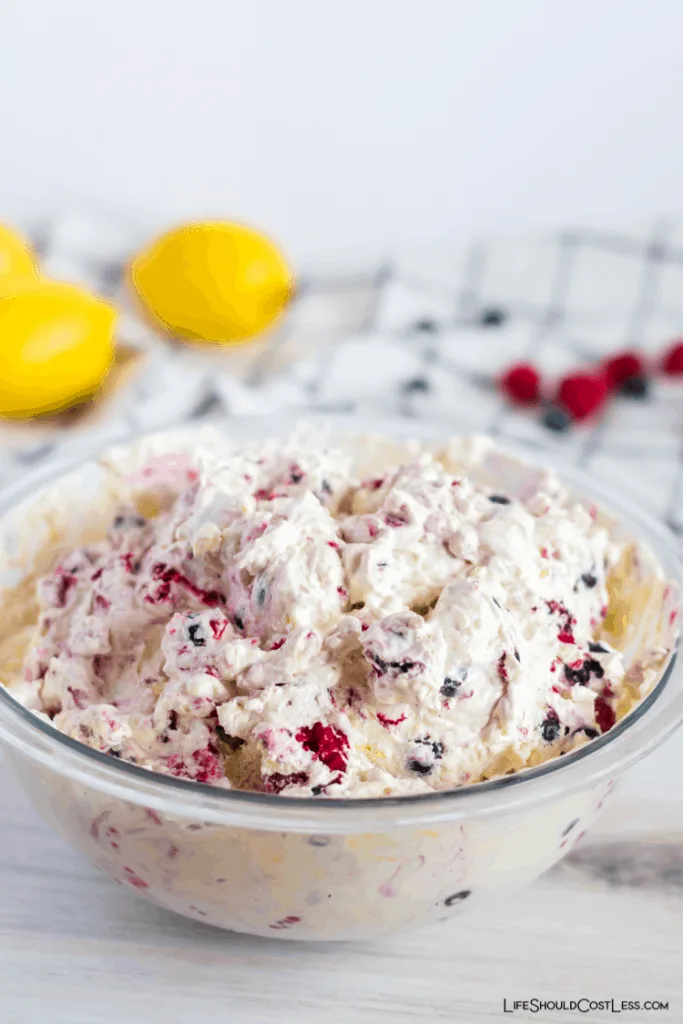 "What is fluff salad?"
Basically, fluff salad refers to any "fluffy" salad that is made with a cool whip/whipped topping/whipped cream as a main ingredient… that's the simple answer.
There, of course, are many variations of fluff salads, but my favorite ones always tend to have berries in them, which is why I created this recipe.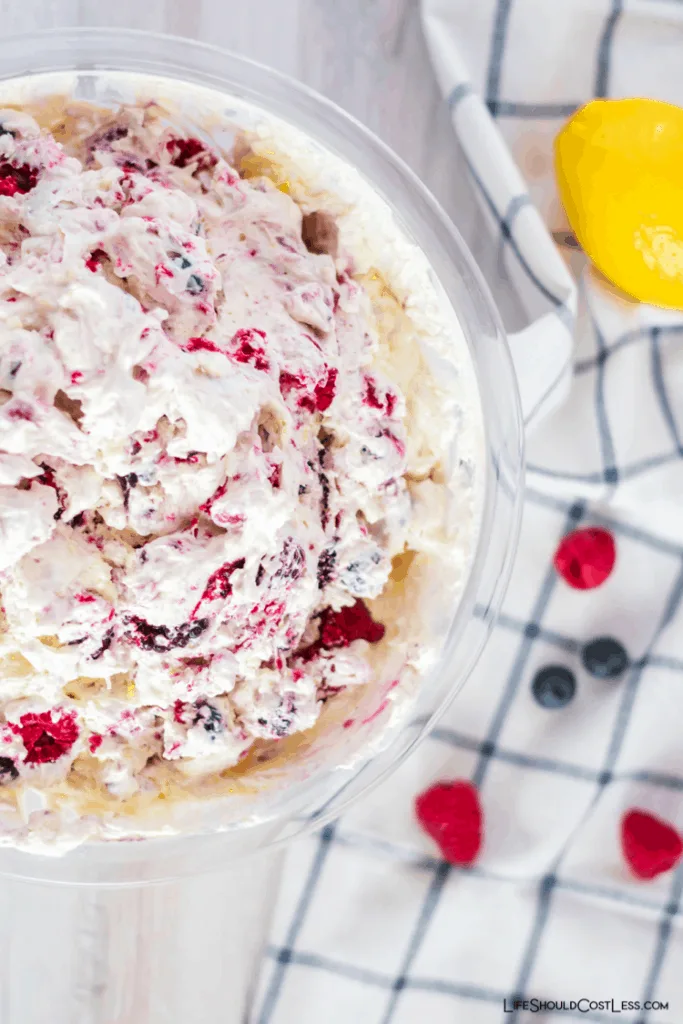 Keep in mind that the more you mix it, the more purple it's going to look.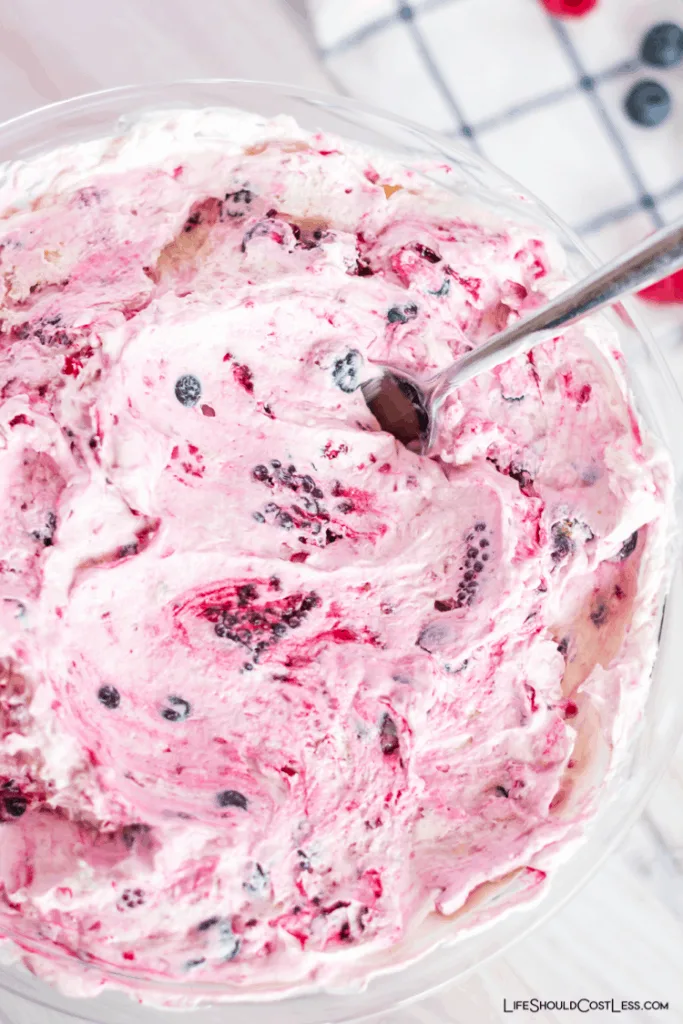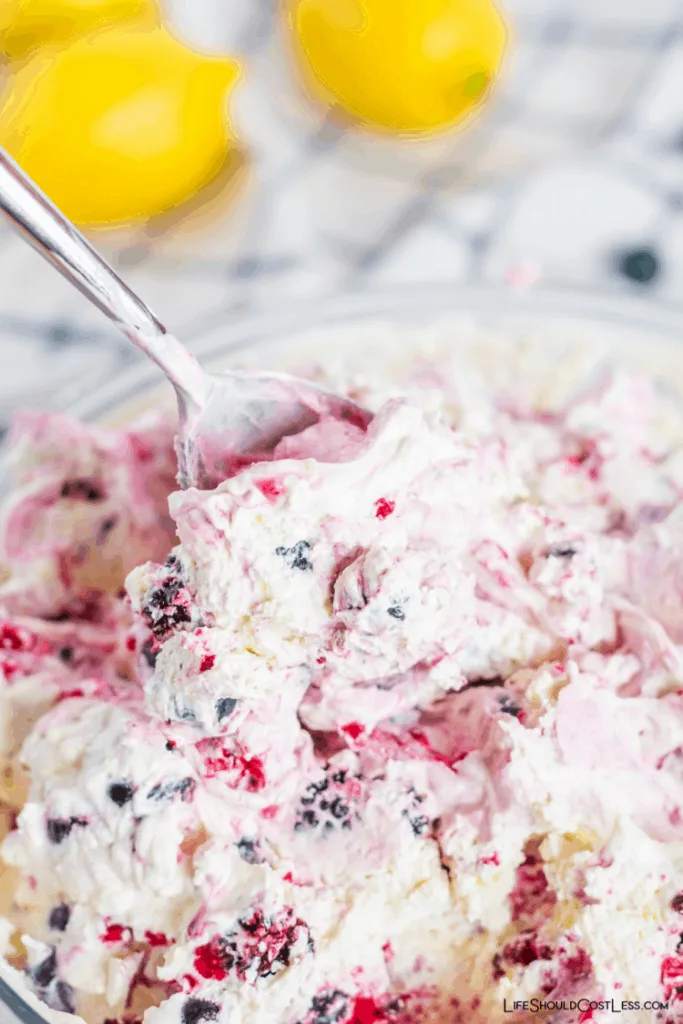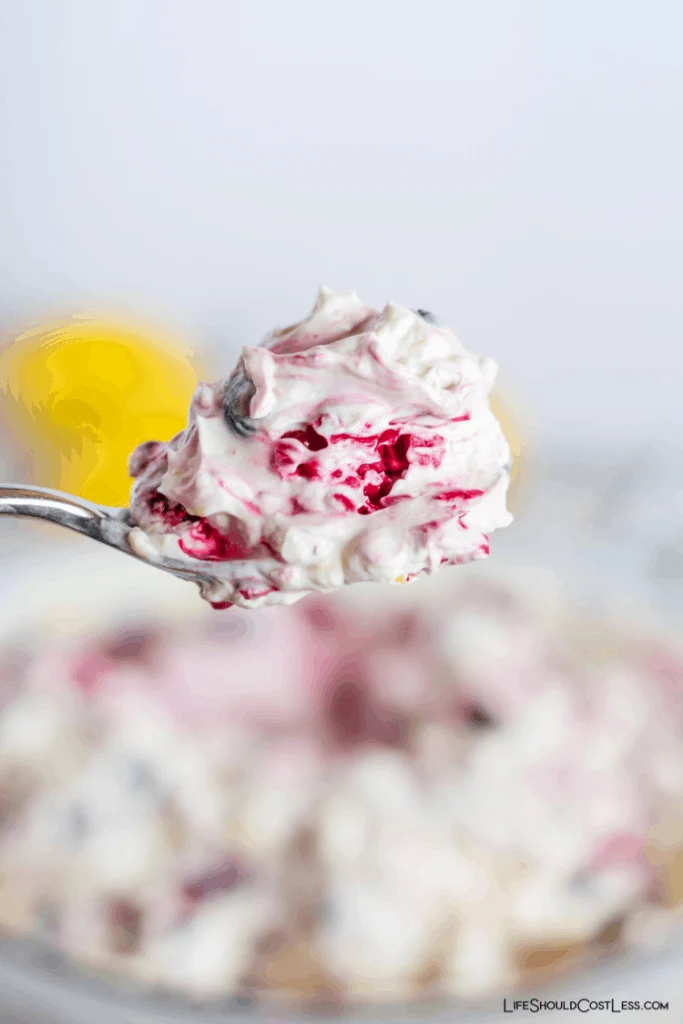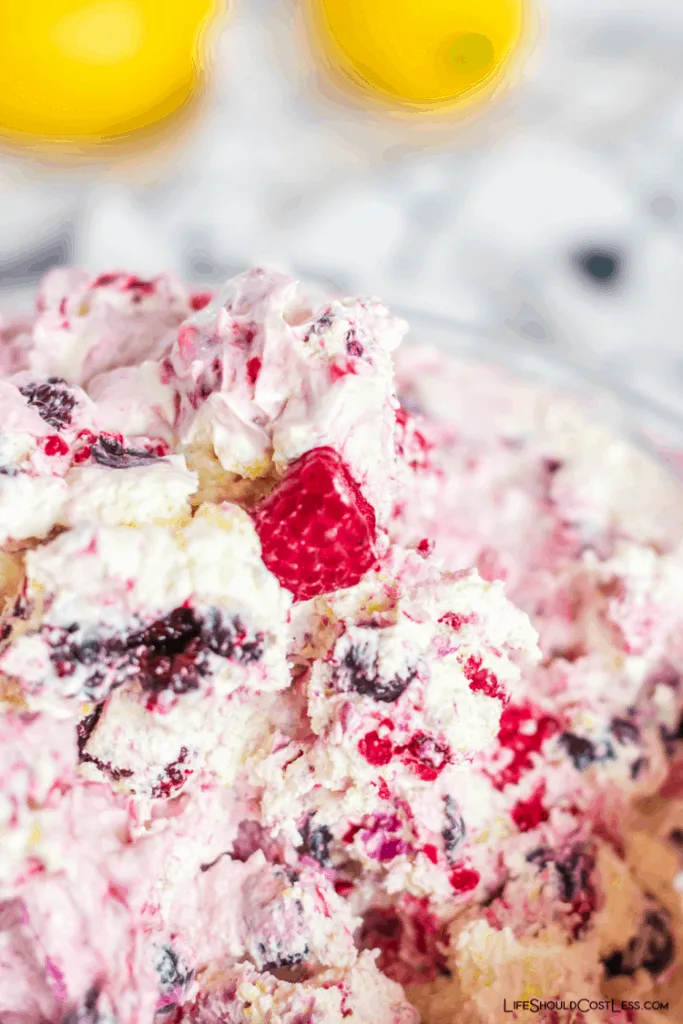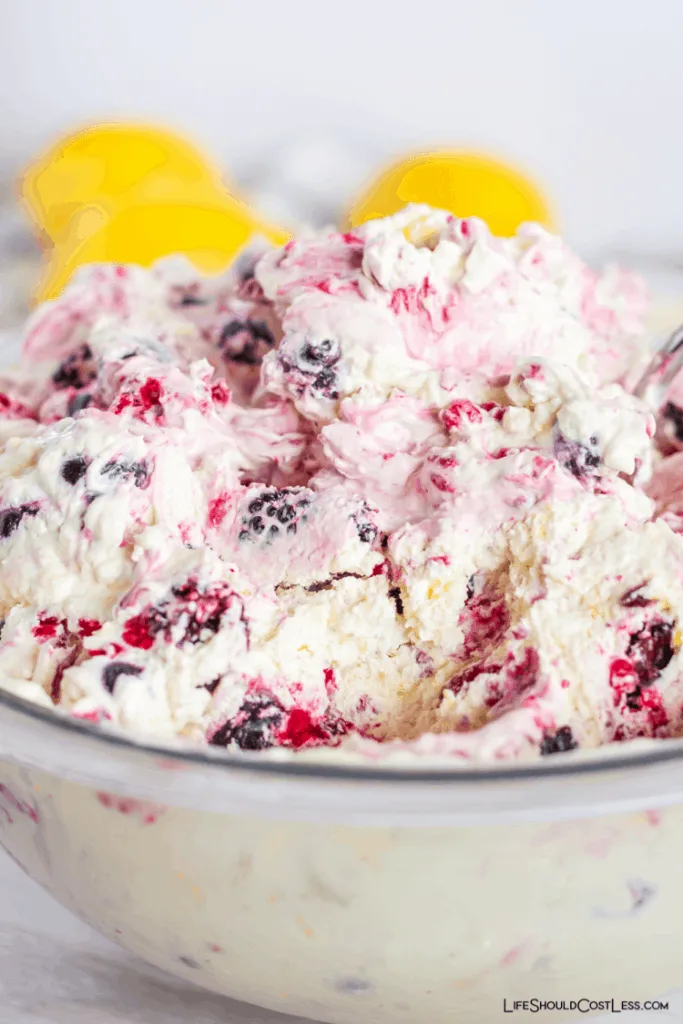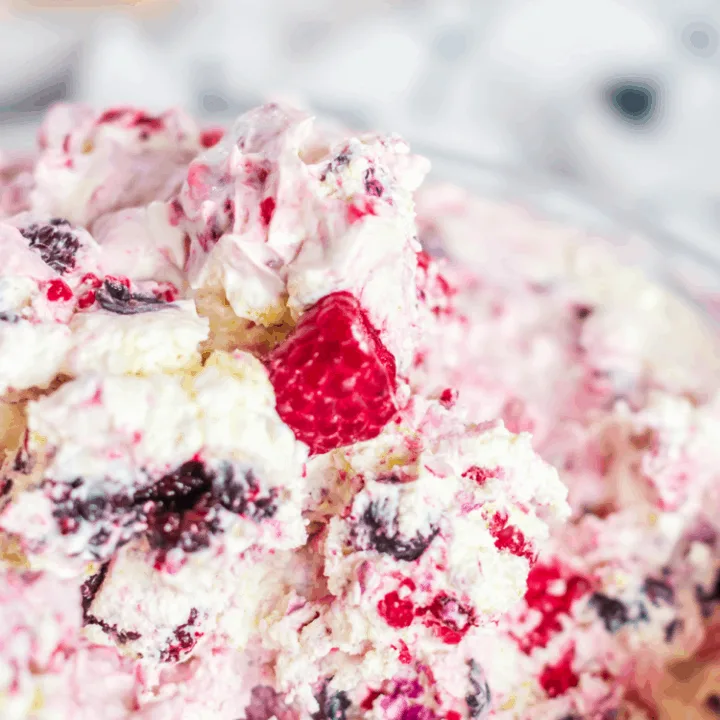 Lemon Berry Fluff Salad Recipe
Lemon Berry Fluff Salad is low-fat & high in protein, with a blend of greek yogurt, berries, jello pudding mix, & whipped topping. It has been raved about at every gathering/party that I have ever taken it to.
Ingredients
32 Oz. Plain Greek Yogurt (low or fat-free)
16 Oz. Whipped Topping/Cool Whip
1 & 1/2 (3.4 oz) Packages Lemon INSTANT Pudding Mix (dry)
2 LBS Frozen Mixed Berries
Instructions
How to make this lemon fluff dessert recipe:

In a four quart (or larger) mixing bowl, add the Greek Yogurt and Whipped Topping, mix well.
Add the Instant Lemon Pudding Mix (dry). Mix well.
Add the frozen berries. Mix well.
Cover and chill until ready to serve. Mix once prior to serving.
Notes
This fruit salad with lemon pudding and cool whip tastes best when it was prepared at least an hour prior to serving.
*Remember that each time you mix it, it will get darker in color and that's totally normal as the berries melt.*
This recipe tastes best when eaten within two or three days of preparation. It will get a little runnier each day as the berries melt and the Cool Whip gets less frothy over time.
Nutrition Information
Yield

20
Serving Size

1
Amount Per Serving
Calories

130
Total Fat

6g
Saturated Fat

5g
Trans Fat

0g
Unsaturated Fat

1g
Cholesterol

3mg
Sodium

43mg
Carbohydrates

14g
Fiber

2g
Sugar

10g
Protein

6g
These caloric amounts are automatically estimated by a plugin on my site and should be considered an estimate.
I forgot to tell you guys that when I brought this to a party a while back, someone told me that it looked & tasted like something that would be in a magazine.
That was sure sweet of them, and maybe that's a little out of my reach…but we can share it and get the circulation magazine level ;)…hint hint.
Thanks so much for stopping by my blog and supporting my endeavors to make people's lives a little easier/better/more affordable. If you liked this post, or found it helpful in any way, please make sure to share it with your family, friends, and co-workers via social media.
Or you could even send them the direct link via email. Whichever way you choose to spread the love, I super appreciate it! ~Sarah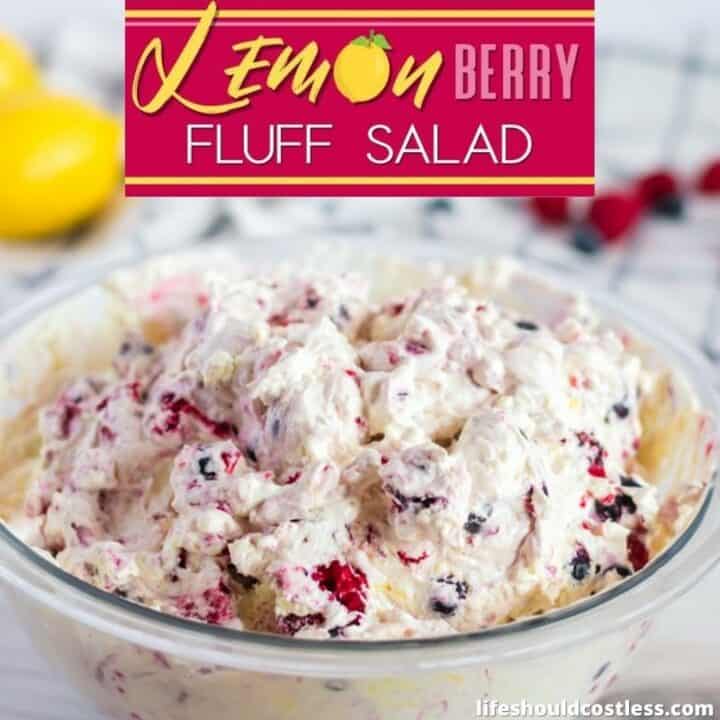 Follow Me
If you would like to subscribe to my email list, go here.
Make sure to follow along via social media, by going here.
If you would like to learn how to really show your support to this site (at no cost to you), go here.
Here are links to several of my other posts that you may also like:
For those of you that would like more options of good "pinnable" images to share on Pinterest, here you go. Thanks so much for sharing!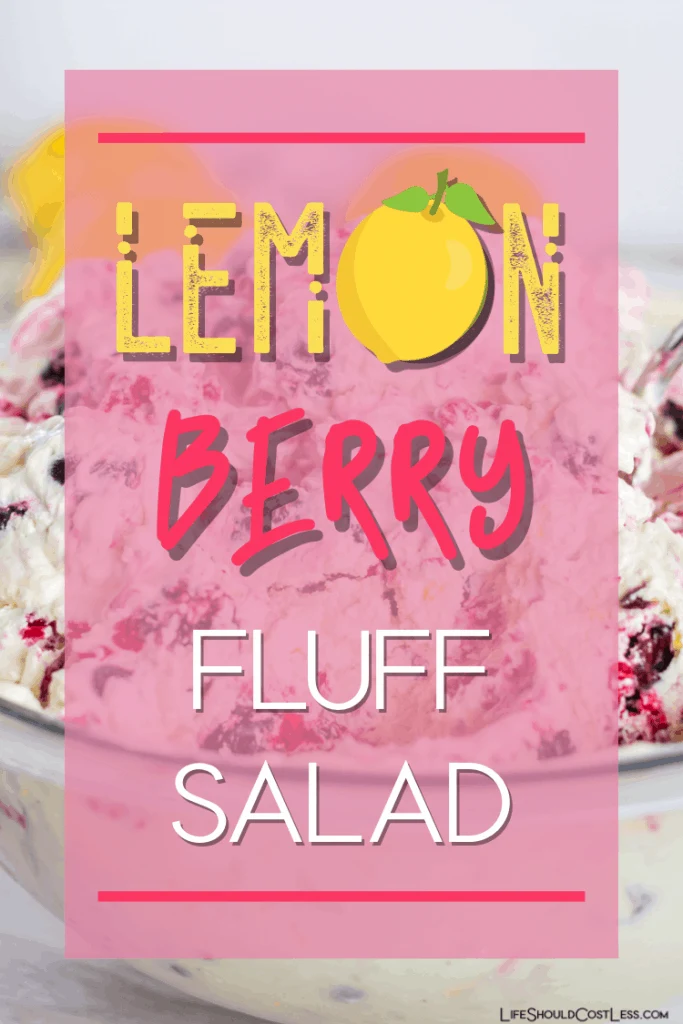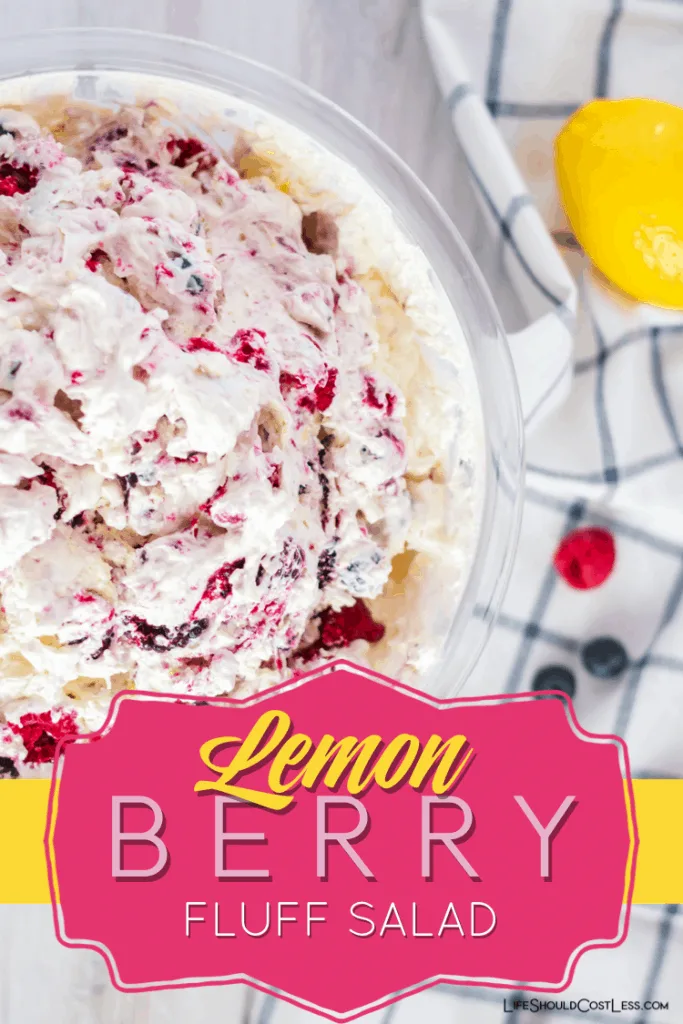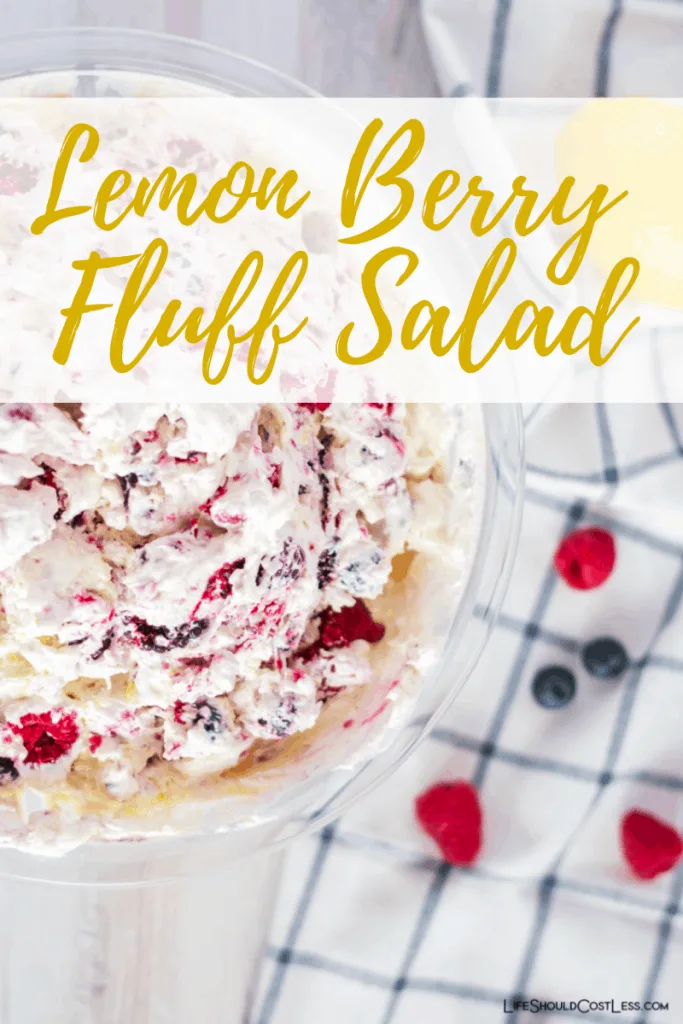 *Reposts: Please note that this idea/post was originally shared on this website on 06/20/2016, but it was in great need of a refresh so it now is more user friendly/shareable, has a free printable recipe card and a video tutorial too.