This sheet pan recipe was created because a large batch of "rice crispy treats" was needed and no matter how hard I looked, I just couldn't find a recipe that I liked that would also fill a bakers half sheet pan all the way to the top like I wanted it to. I usually end up developing my own recipes anyway, so you can imagine just how happy it made me when my endeavors ended up being the perfect amount and exactly what I was in need of. Lucky for you, I am sharing my Sheet Pan Rice Krispie Treats Recipe with all of you today!
Table of Contents, Skip Ahead To What You're Looking For
About this recipe
Keep in mind that these are just basic rice crispy treats, nothing fancy…and can easily be dressed up or modified to suite your tastes however you desire.
This recipe is just super handy to have on hand because I took out the guesswork out of doing all the math.
So none of us have to guess or make several batches of treats to suit our needs…often times just one large batch is all that is needed.
My big batch of rice krispie treats recipe is perfect for any potluck, bake sale, or party that you are going to.
Or you know, it works for just your family too, if yours is like mine and they are pretty much just a bunch of piglets… & in that case, this batch lasts my family of five two days of "treats".
---
---
How to make large batch rice krispie treats:
We are going to just jump right into the tutorial pics and then down at the bottom I will give you the free printable recipe card with full instructions.
Here are all of the ingredients all laid out… though if you're going to be making these treats very often, a tip is to make sure to use generic and bulk products to save money when making these.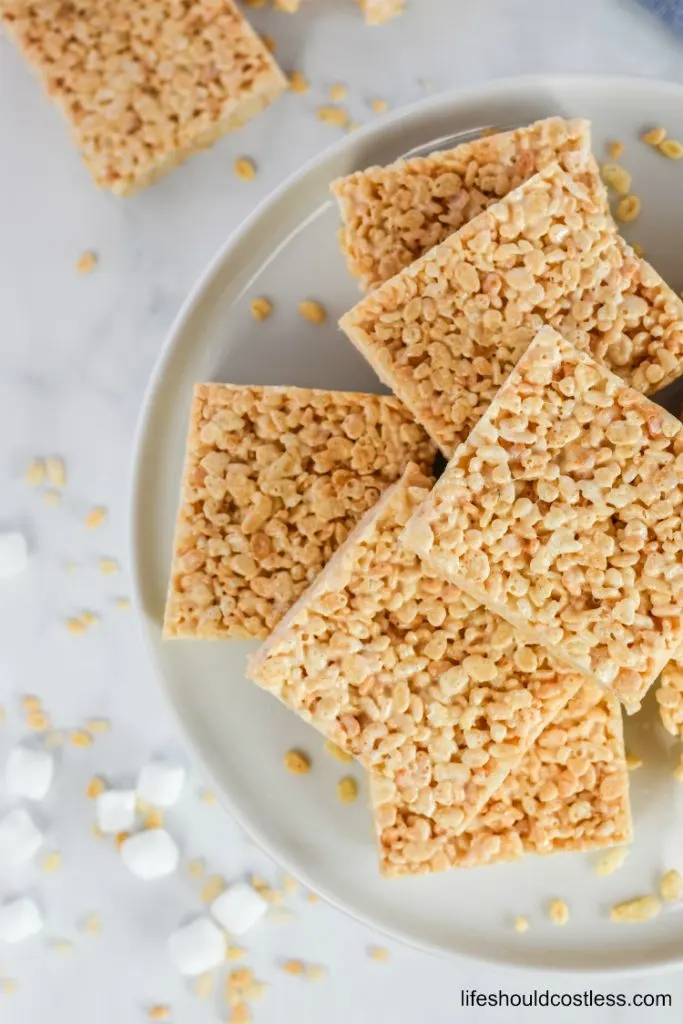 Don't forget, that if you like this recipe, to make sure and check out my Sweet Tooth section…. SO MANY yummy recipes are found there.
Printable Recipe Card Found Here
Sheet Pan Rice Krispie Treats Recipe
Feed a crowd with this large batch of Sheet Pan Rice Krispie Treats. Bulk recipe is perfect for potlucks, parties, and bake sales.
Ingredients
¾ C Salted Butter
1 & ½ Bags (16 oz bags) Mini Marshmallows
*Optional Vanilla Extract and/or food coloring
15 Cups Rice Crispy Cereal
Instructions
**Before you begin, prepare a cookie sheet (half sheet pan) by greasing it with butter or adding non-stick foil to the bottom.**
In a large pot, on medium heat, melt the butter. Add the marshmallows and stir occasionally until they have melted. Remove from heat.
*If desired you can add 1 T of vanilla or other extract and/or any food coloring at this point, mix well.
Then add the Rice Krispie Cereal. Mix until well coated and the marshmallow mixture is completely incorporated.
Press into previously prepared cookie sheet and let cool at room temperature. DO NOT REFRIGERATE TO SPEED COOLING!
Also, it works great to spread them out by laying a sheet of parchment paper over them (once you've scooped them into the pan) and flattening them out by rubbing your hands across the paper. Let set and then cut and serve.
Notes
If I make these at home, just for my family, I don't use the non-stick foil I just spray the pan with non-stick cooking spray or butter the pan...my sheet pans are old though so I mostly use the foil to hide how aged they look.
Nutrition Information
Yield

24
Serving Size

1
Amount Per Serving
Calories

185
Total Fat

6g
Saturated Fat

4g
Trans Fat

0g
Unsaturated Fat

2g
Cholesterol

15mg
Sodium

53mg
Carbohydrates

29g
Fiber

1g
Sugar

0g
Protein

3g
These caloric amounts are automatically estimated by a plugin on my site and should be considered an estimate.
---
Conclusion
To sum it up, this sheet pan Rice Krispie treats recipe is a great way to make a timeless favorite.
The convenience of making a larger batch all at once on a sheet pan not only saves time but also opens the door to experimenting with various desired flavors and add-ins.
So, whether you're a culinary enthusiast or just looking for a hassle-free way to enjoy a classic treat, this recipe very well may be the answer you have been looking for.
Elevate your snacking game and embrace the simplicity and deliciousness these treats bring to the table – or should I say, to the sheet pan!
---
FAQ's
Can you make rice crispy treats the night before?
Absolutely! Making Rice Krispie treats the night before is a fantastic idea to save time and ensure that they are ready to be enjoyed when you need them.

In fact, letting them sit overnight can actually enhance their flavor and texture. As the treats cool and set, the flavors have a chance to meld, resulting in a more cohesive and delicious treat.

To do this, simply follow your favorite Rice Krispie treats recipe as usual, press the mixture into the pan, and let it cool and set overnight. Once they've had time to fully firm up, you can cut them into squares or any desired shapes.

Store them in an airtight container or wrap them in plastic wrap to keep them fresh until you're ready to serve.

Whether you're preparing for a special occasion, a party, or just craving a delightful treat, making Rice Krispie treats the night before can simplify your schedule and ensure that you have a delicious snack ready to enjoy.
Why are my homemade rice crispy treats so hard?
Homemade Rice Krispie treats can sometimes turn out hard for a few reasons. Here are some possible factors that might be contributing to the hardness of your treats:

Overcooking the Marshmallow Mixture: One of the most common reasons for hard Rice Krispie treats is overcooking the marshmallow and butter mixture. If you heat the mixture for too long, it can become too dry and result in hard treats. When melting the marshmallows and butter together, be sure to remove the mixture from the heat as soon as the marshmallows are fully melted and smooth.

Using Too Much Cereal: Adding too much cereal to the marshmallow mixture can also lead to hard treats. Using the correct amount of cereal ensures that the treats have the right balance of sweetness and chewiness. Follow the recipe's measurements closely to achieve the desired texture.

Compacting the Mixture Too Much: Pressing the mixture too firmly into the pan can also result in hard treats. While it's important to press the mixture down to ensure it's compact, pressing too hard can squeeze out the air and make the treats dense and tough.

Storage: Improper storage can cause Rice Krispie treats to become hard over time. Make sure to store them in an airtight container or wrap them tightly in plastic wrap to prevent moisture loss (once they have completely cooled to room temperature). To achieve the desired soft and chewy texture for your Rice Krispie treats, ensure that you're following the recipe instructions closely, paying attention to cooking times, measurements, and the techniques used for mixing and shaping.

Refrigerator use: DO NOT PUT THEM IN THE FRIDGE TO SPEED SET UP… they will become rock hard, as any Krispie Treats recipe will, just practice a little patience and wait a little bit for perfection. It will be worth it I promise.

*I will add more FAQ's as the questions get sent to me.
---
Thanks so much for stopping by my blog and supporting my endeavors to make people's lives a little easier/better/more affordable.
If you liked this post, or found it helpful in any way, please make sure to share it with your family, friends, and co-workers via social media.
Or you could even send them the direct link via email. Whichever way you choose to spread the love, I super appreciate it! ~Sarah
Follow me
---
Check out my other recipes
Otherwise, here are direct links to several of my other sweet tooth recipes that you're also going to love:
---
Other good resources for a bulk rice krispie treats recipe
Maybe you don't like my particular version of this basic recipe…if that's the case, no worries, here are some other good similar recipes that you could try instead:
---
*Reposts: Please note that this idea/post was originally posted to this website in July of 2015, but it was in great need of a refresh so it is more user friendly/shareable and now has a free printable recipe card.
**Please note that I do try my hardest to provide factual, but easy to understand, information about each topic. If you notice a discrepancy in my methods, facts, or see something that you deem "misinformation/incorrect" please make sure to notify me about it. I would prefer that you send me an email with a link to a more reputable resource on that subject, so that I can correct it as soon as possible. Thanks so much for helping this site become the best that it can be!