This simple fruit dip with cream cheese has been a family favorite fruit tray dip for decades. Nearly every party of my childhood had this tasty fruit dip fluff being served, and it was the side dish that I always looked forward to. So let's dive right in there and learn how to make this Easy Marshmallow Fluff Fruit Dip recipe.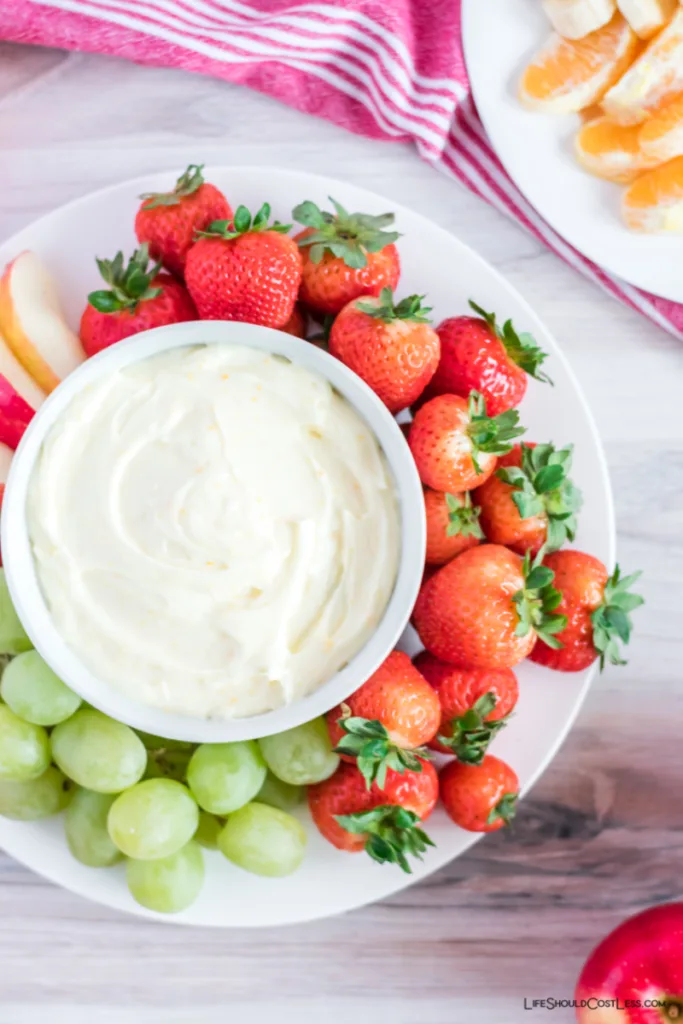 Table of Contents, Skip Ahead To What You're Looking For
About this recipe
This recipe for a fruit dip with cream cheese is soon to become one of your go-to recipes for a potluck or any gathering too.
At least I typically try to only make it for parties just so that I don't go completely crazy and eat the whole dang thing…lol.
But, make it at home for just your family if you so desire!
---
To see my entire Sweet Tooth section of recipes, go here.
---
Fruit dip recipe ingredients list
For those of you that have specific dietary restrictions, and are wondering "what is the fruit dip made of?", I thought that it would be helpful to list out the ingredients that are found in this particular dip recipe.
There is also a photo that will help some of you know what to buy, if you happen to not be familiar with any of the ingredients mentioned.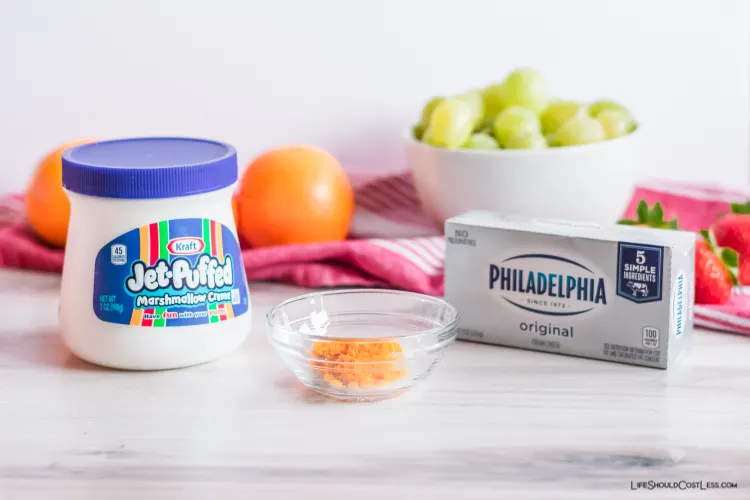 Marshmallow Cream
Cream Cheese
Orange Zest
Yep, it's a 3 ingredient fruit dip and it is perfect as-is, no need to add any extras to it. Although, topping it with a little bit of extra orange zest is a great way to garnish it.
What does this dip look like when served?
Here are a few pictures of this dip that I thought that I would share to get your mouths watering.
Plus it can also be helpful to have ideas on how to arrange the fruit if you would like to "fancy" up your party fruit platter a little bit.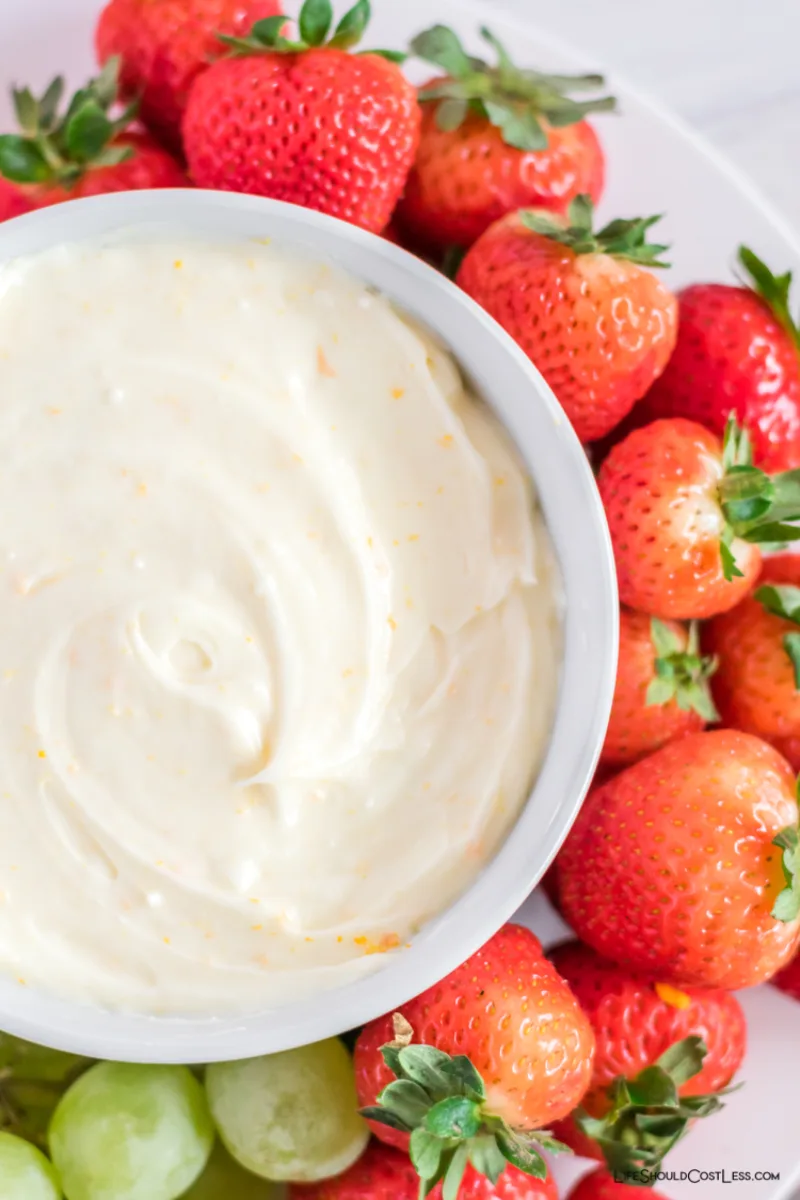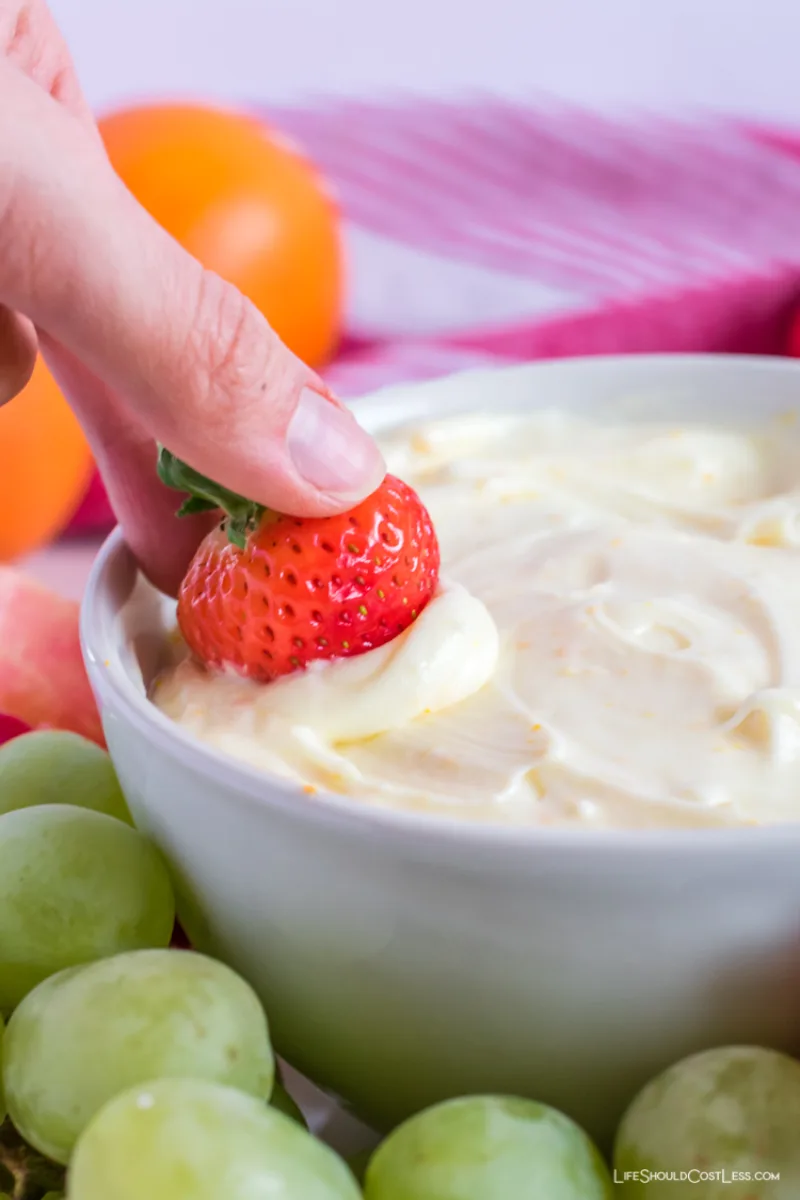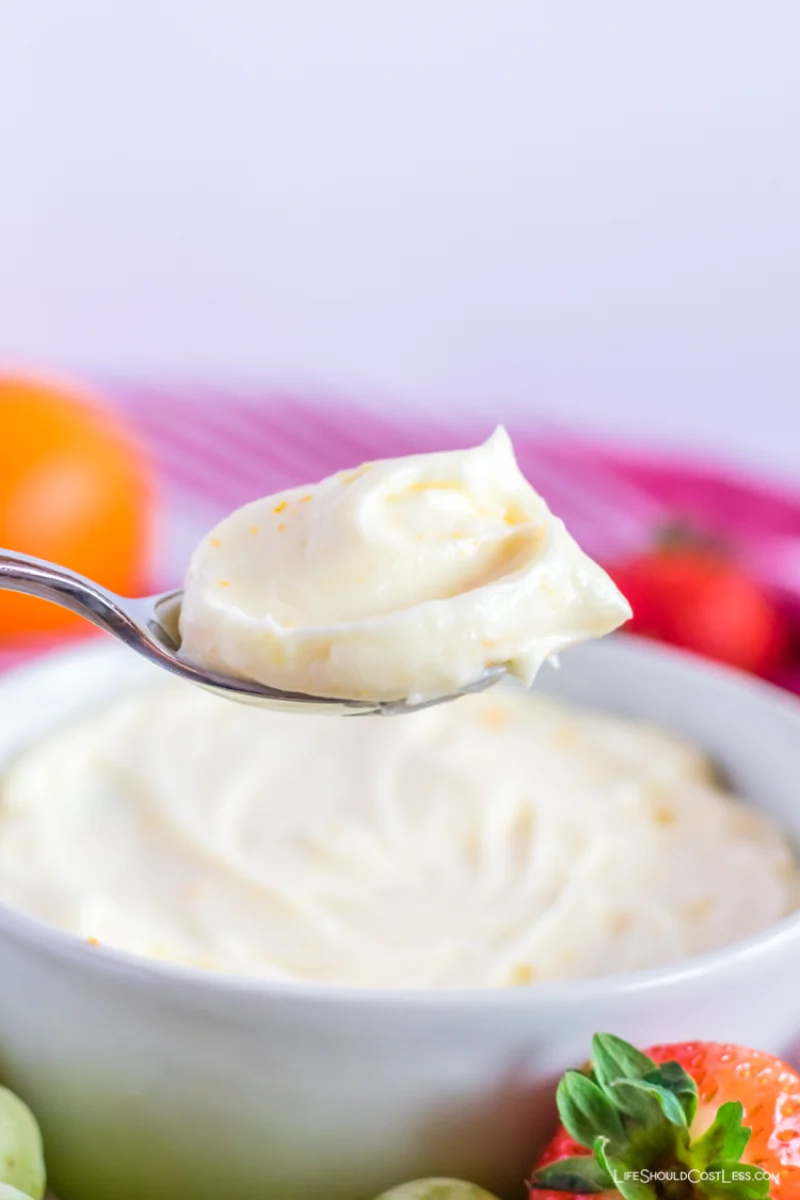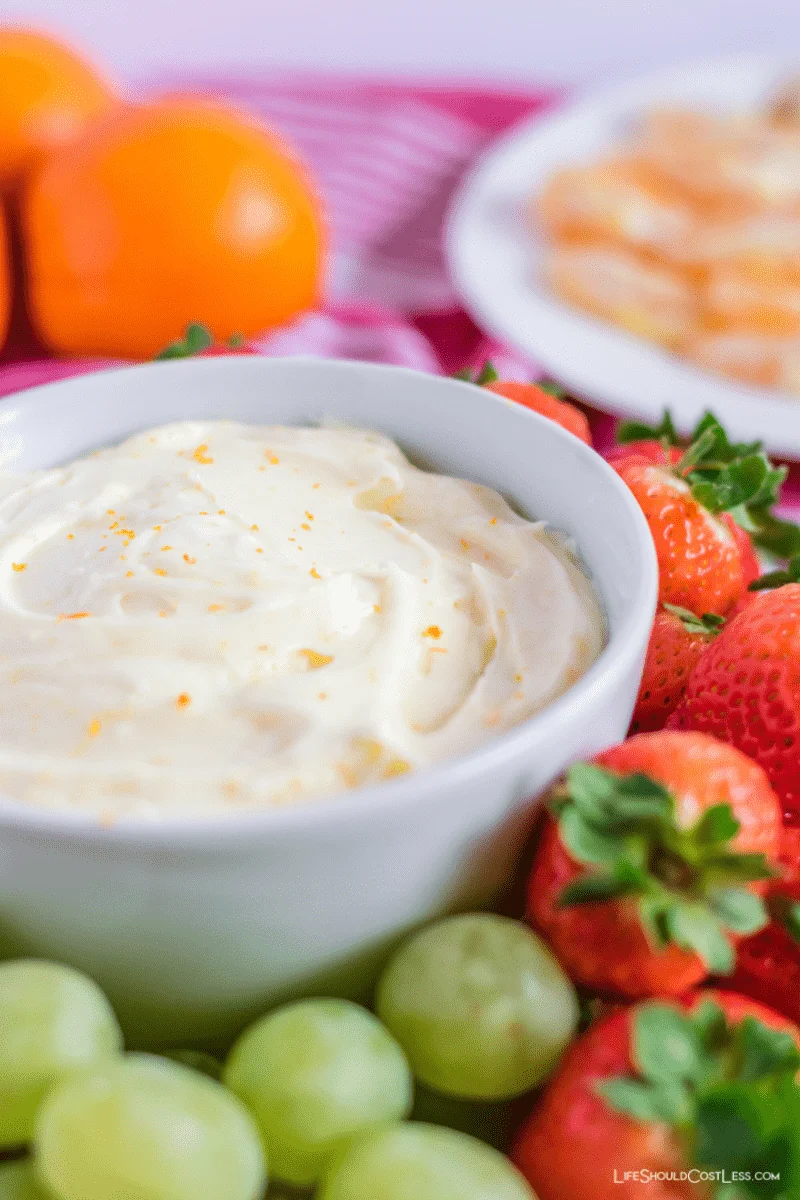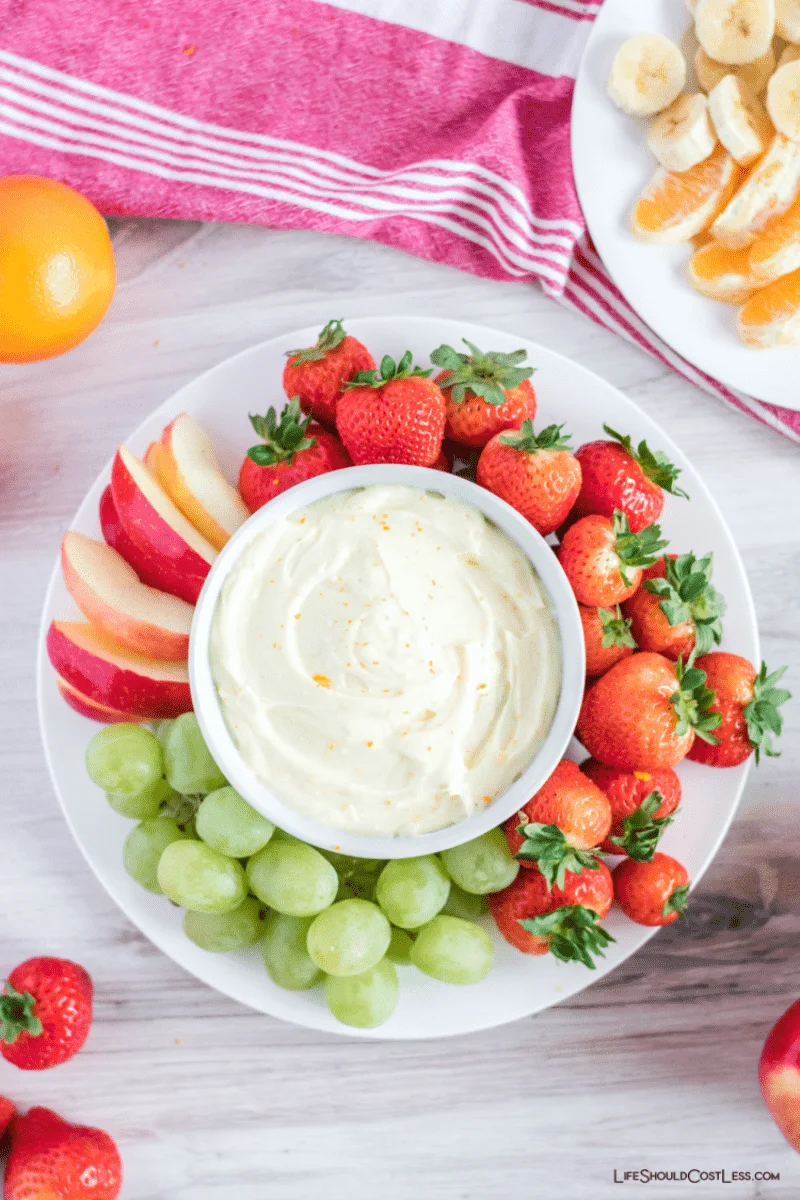 Now, if you're done licking the screen…lol. Let's get on with more helpful info you're going to want to know when making this yummy recipe for dipping fruit.
---
What fruits are best for dipping?
When I make this easy fruit dip recipe, I personally think that it simply tastes the best as a dip for strawberries or oranges (and that is often the only two fruits I serve it with) and that is for two reasons.
Oone is that I'm lazy, and the second is that it's the bare minimum selection of fruit that I need to provide to pull off an amazing appetizer/side dish.
Which I guess saves both time and money too.
Don't feel bad if you can't afford lots of fancy fruits to serve with this fruit dip fluff…just remember that I do the bare minimum most of the time too AND it still gets rave reviews any and every time I have taken it to a party.
However, if you have a bit more wiggle room within your food budget, here are some other great options:
I have seen others suggest pears and bananas to pair their fruit dips and I'm not a fan of either of those options with this dip…but give it a try if you would like.
I often decide which fruits work best with the dip solely based on what fruits are in season or on sale.
Having a nice spread of a fruit platter doesn't always have to break the budget.
This recipe for fruit dip with marshmallow fluff could also be used as a yummy cookie dip, for any cookie that doesn't have an overpowering flavor.
Such as vanilla wafers, graham crackers, or even vanilla oreos too.
---
How to make Marshmallow Cream Cheese Fruit Dip (recipe card found here)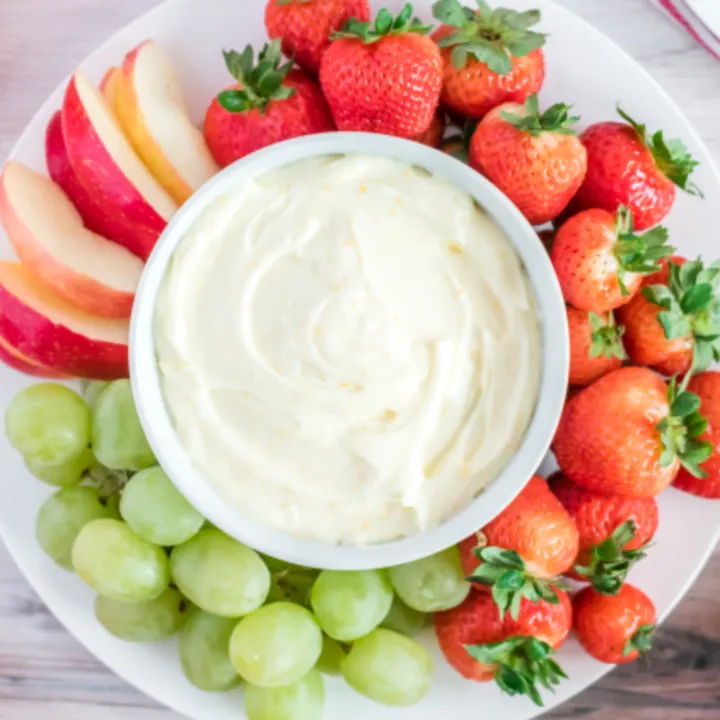 Marshmallow Fluff Fruit Dip
Total Time:
1 hour
5 minutes
Just three simple ingredients, and a little bit of time, stand between you and this delicious family favorite recipe for cream cheese fruit dip. Here is my best recipe and tutorial on how to make fruit dip.
Ingredients
1 (8 oz) Package Cream Cheese (room temperature)
1 (7 oz) Jar Marshmallow Cream
Zest Of One Orange (wash and dry the orange first)
Notes
It is easier to mix if your cream cheese is room temperature, so expect it to get a little bit lumpy if you don't take this step. It is pretty easy to plan ahead and make sure that you take your cream cheese out of the fridge a couple of hours prior to making it.
I like to make this at least an hour before I need it, wrap it tightly and put it in the refrigerator so that the flavors have a little bit of time to blend (mix well just before serving). However, if you're short on time it will still taste great, maybe just use a finer zester so that the orange flavor is mixed throughout the dip more.
This recipe is easy to double or triple if you need to serve an extra large crowd.
If you would like to serve this recipe with sliced fruits that tend to brown when they have been sitting out in the air for a little while, you may want to take an extra step to prevent fruit from browning. Here is a good resource if you would like to do that.
You can make this with reduced fat cream cheese, however, it does not taste as good... go figure...lol.
We've never had enough leftovers to need to store it (it's that good), but I imagine that it should be good if stored covered in the refrigerator for a few days.
*Please note that the nutrition information in the recipe card is not correct, the app didn't pull it over properly...but I so wish it really was fat and nearly calorie free...I'd make it EVERY SINGLE DAY. I do have a little bit more information on the calorie content of this recipe towards the bottom of the post.
Nutrition Information
Yield

24
Amount Per Serving
Calories

0
Total Fat

0g
Saturated Fat

0g
Trans Fat

0g
Unsaturated Fat

0g
Cholesterol

0mg
Sodium

0mg
Carbohydrates

1g
Fiber

0g
Sugar

0g
Protein

0g
Fluff Fruit Dip FAQ's
How do I zest an orange, and how much zest is in one orange?

I found the best little tutorial (with video) that explains everything you could possibly want to know about zesting an orange, for this recipe or any other, and I suggest checking it out here. I personally just use the fine-shred side of a regular cheese grater most of the time, but it's totally up to you which method is best for zesting your own orange, or any other citrus fruit, at home.
How to make marshmallow cream?

If you're in a pinch and can't make it to the grocery store, you can actually make marshmallow cream at home to substitute it. This is a good recipe for it, please note that it does contain raw egg so pregnant women and others with health conditions should do so with caution. If you do make your marshmallow cream from scratch, I suggest just using a quality kitchen scale to measure out exactly how much you will need for this recipe.
Do I need to use name brand marshmallow cream for this dip?

You definitely can use a store-brand generic marshmallow cream (marshmallow creme is also an alternate spelling) to save money when making this marshmallow dip. I honestly only use the name brand stuff in the fluff dip for fruit on the rare occasions that the name-brand is on sale and cheaper than the generic…and of course, when staging photos the name-brand products always look better 😉 .
What is the difference between marshmallow cream and marshmallow fluff?
The short answer, for this particular recipe, they are quite interchangeable as you can use either and it will still taste super yummy. However, in other sweet recipes it can make a bit of a difference. If you would like to read more on the subject, I found this article super helpful.
---
How many calories are in fruit dip?
Since the app that I typically use to calculate calories for my recipes does not like this recipe for some reason.
I went ahead and looked up the total number of calories in each ingredient and just added them together.
I estimate that this whole recipe of dip comes out to about 1500 calories total. I will try to look into it more on how many calories per Tablespoon that would be, but until then there's at least a starting point for any of you that are counting calories.
If any of you figure out the amount per Tablespoon before I do, please make sure to email it to me and I will add it to this recipe post.
---
Conclusion
Well, I hope that you all end up loving this easy marshmallow fluff fruit dip as much as we do in my family (and keep in mind that I'm talking about my extended family on both sides, not just me and my kids).
If you do love it, please make sure to leave a star review and comment within the review about it.
---
Thanks so much for stopping by my blog and supporting my endeavors to make people's lives a little easier/better/more affordable.
If you liked this post, or found it helpful in any way, please make sure to share it with your family, friends, and co-workers via social media.
Or you could even send them the direct link via email. Whichever way you choose to spread the love, I super appreciate it! ~Sarah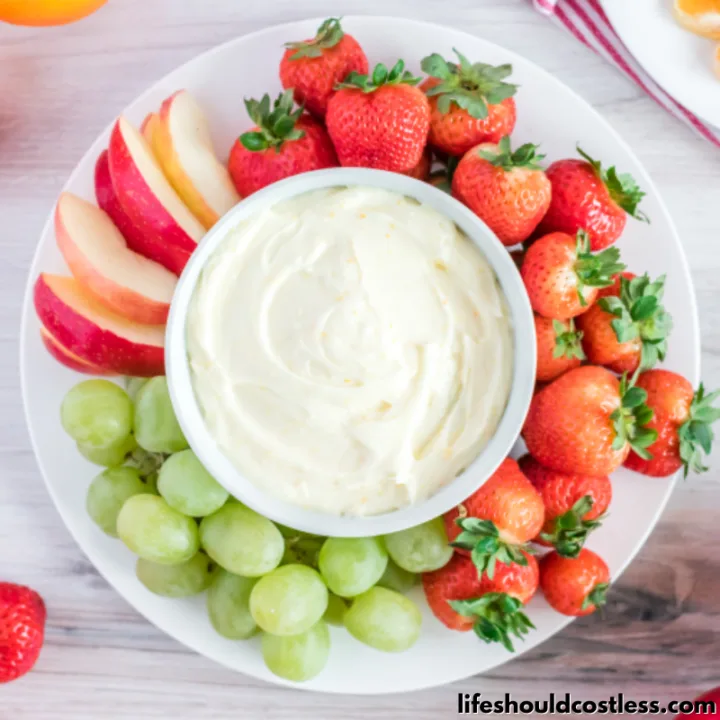 How to follow & support this site
---
Check out my other recipes that you're also going to love:
To see my entire Sweet Tooth section of recipes, go here.
Other sugary-sweet recipes
Appetizers/sides to try
*This recipe was originally shared to this blog on 11/16/2012, at a different URL (http://lifeshouldcostless.com/2012/11/family-recipe-fruit-dip/). It has since been moved here permanently. The post has been/is updated frequently to improve user experience, remain relevant, as well as to add a free printable recipe card and video instruction.