Sometimes I love to break out of the mold a little bit when it comes to an appetizer, so this family favorite marshmallow fluff fruit dip recipe is just the ticket.
That is because it's a sweet appetizer, whereas most of my other appetizer recipes are savory.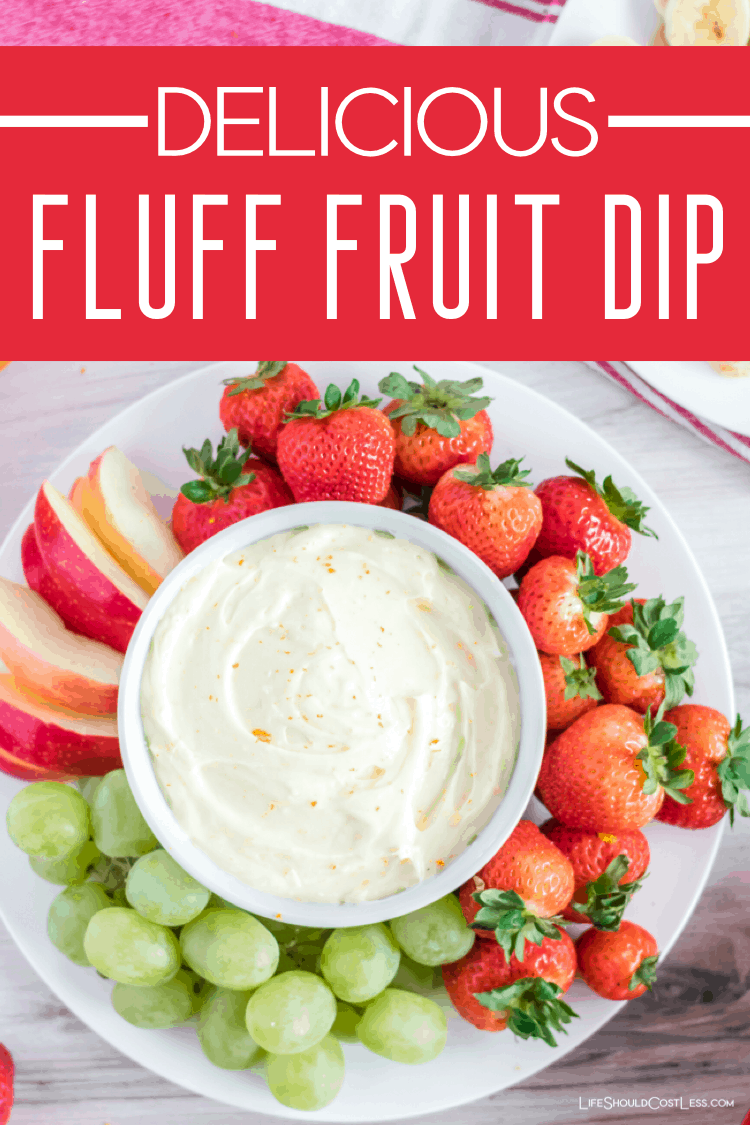 This marshmallow fluff fruit dip is soon to be a family favorite for you too!
I actually originally posted this recipe to this site back in November of 2012, but those were the old days before I even had a camera, or knew what a recipe card was, so today I am sharing with you all the new and improved version.
This recipe is nothing short of a classic, it has been at almost every family gathering that I can remember since I was a kid, and a recipe that withstands the test of time just means that it is REALLY THAT AMAZING!
I'm going to start out by showing you the process of just how simple it is to make this yummy, three ingredient, dip. Then you get to see what we in the industry refer to as "Hero Shots"…which are basically the pictures that get your mouth watering and make you want to run right down to the store to buy the ingredients RIGHT NOW…lol.
**Remember that if you like this recipe to check out my Appetizers Section, as well as my entire recipes section.**
Here we go, here are the three ingredients to this yummy fruit dip all laid out: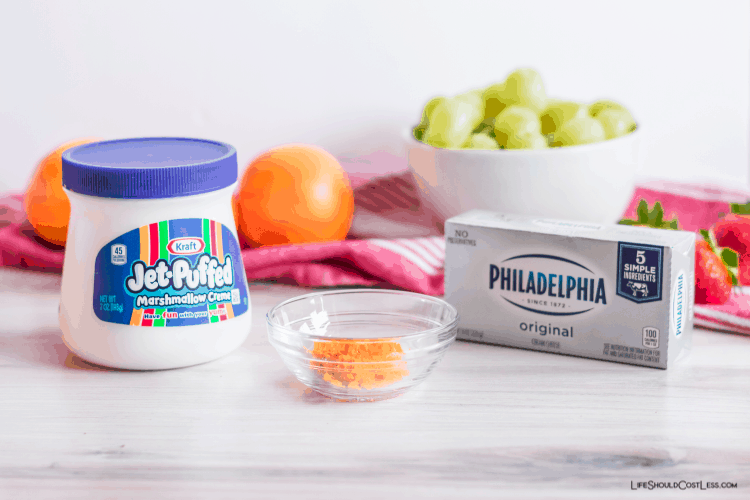 You obviously don't have to buy the name-brand versions of the ingredients… it will be much cheaper to buy the generic, just sayin'.
Here is the process of how to make fruit dip: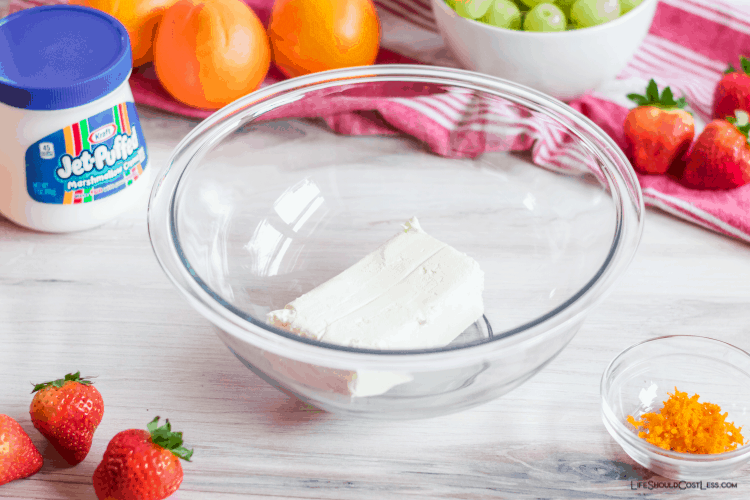 Add the cream cheese to a medium sized bowl. Yes, it may be called "marshmallow fluff fruit dip", but it's actually marshmallow cream cheese fruit dip. Deciding on a title is always a chore, so there ya go…lol.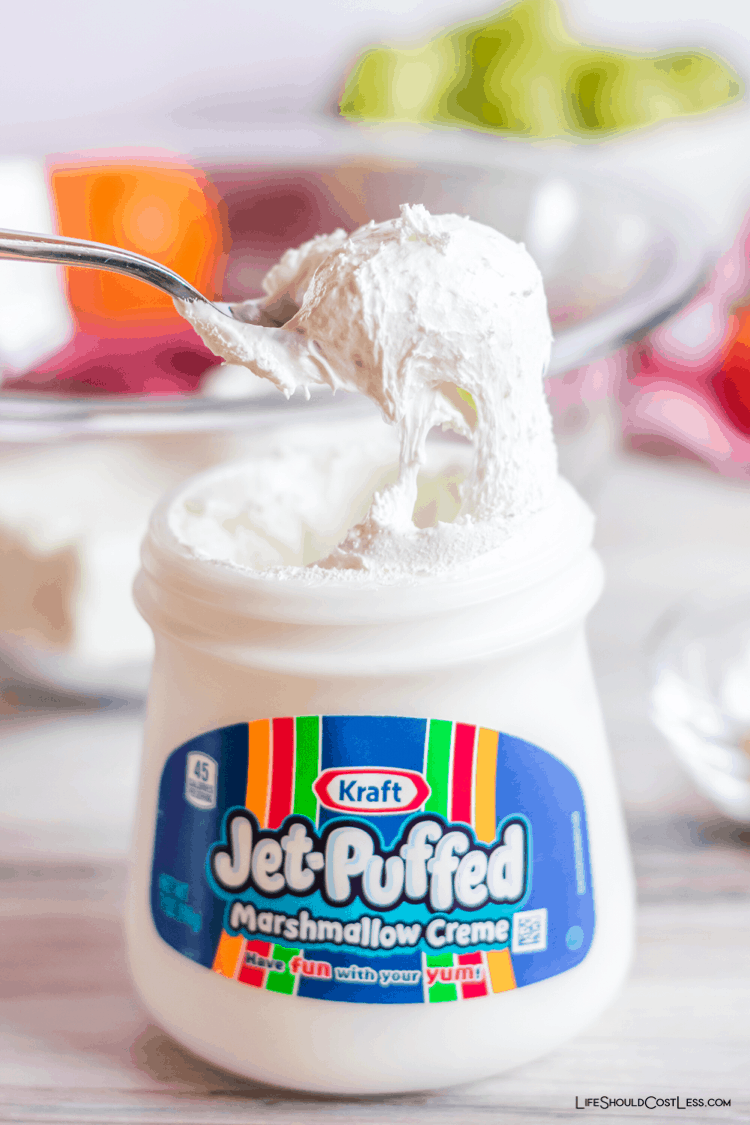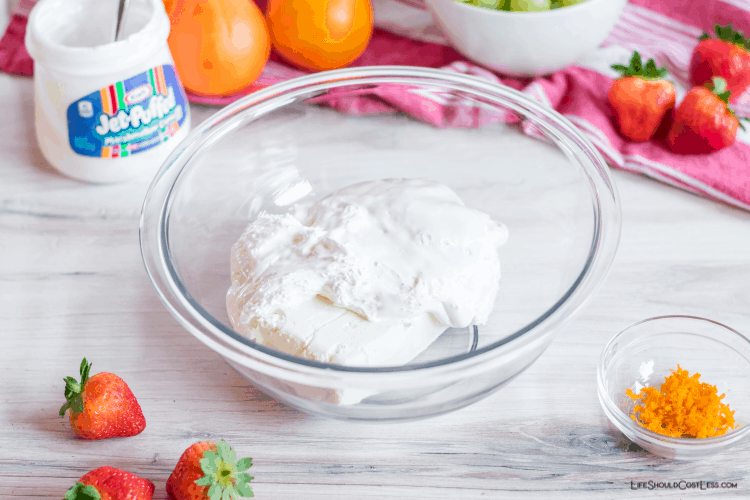 Next add the marshmallow fluff/marshmallow creme.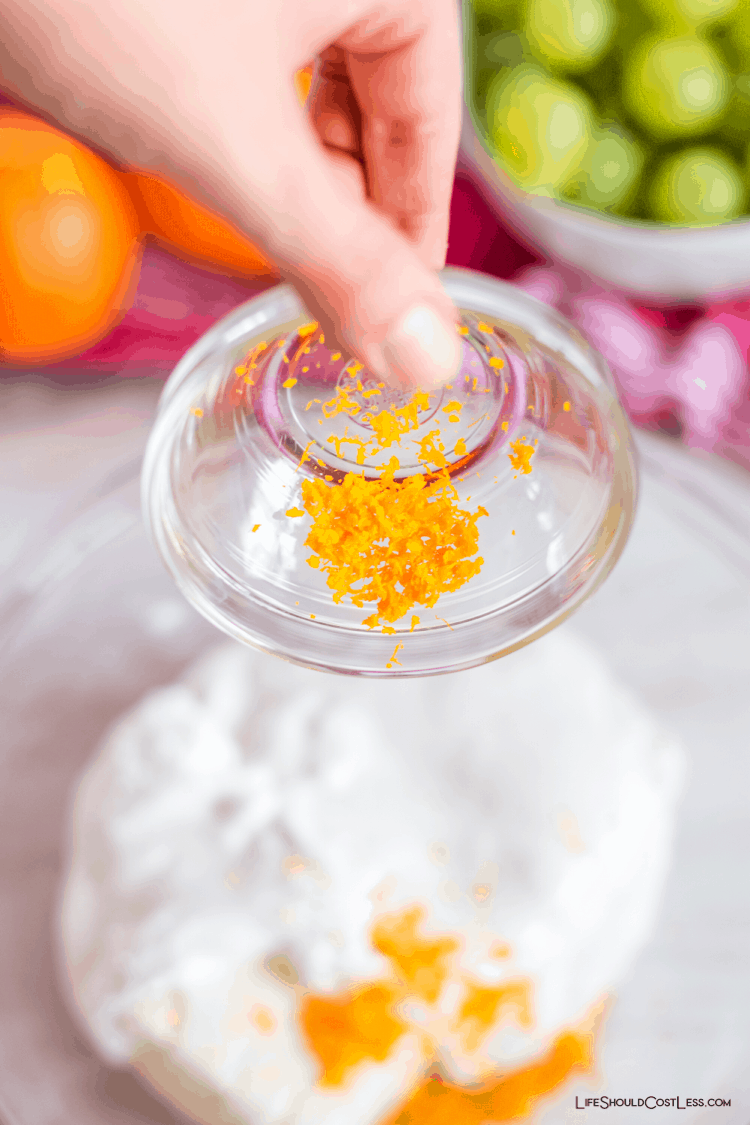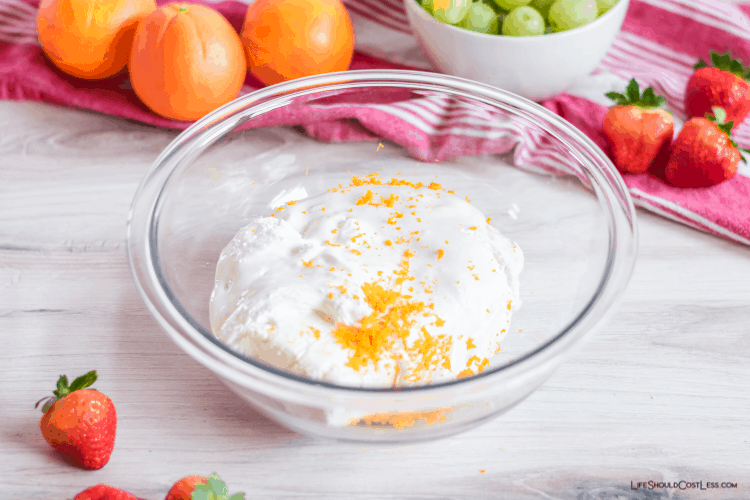 Last, we add the orange zest.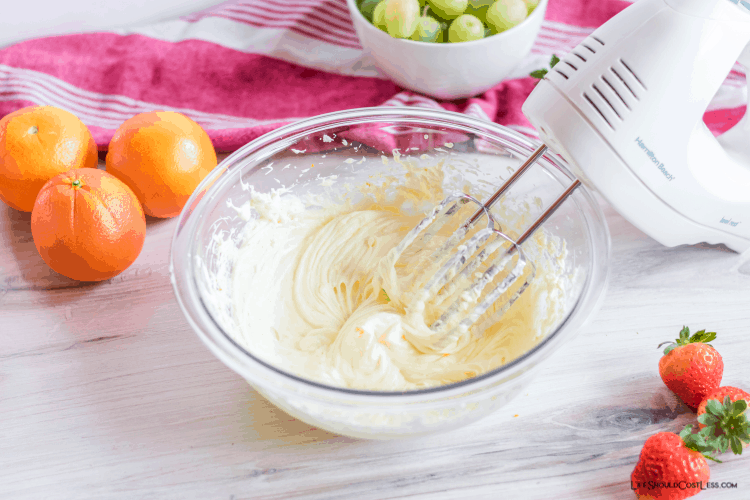 Mix it up! Mix is real good!…ha ha, I'm such a dork.
Here are those "Hero" shots that I told you about earlier… doesn't it look DIVINE?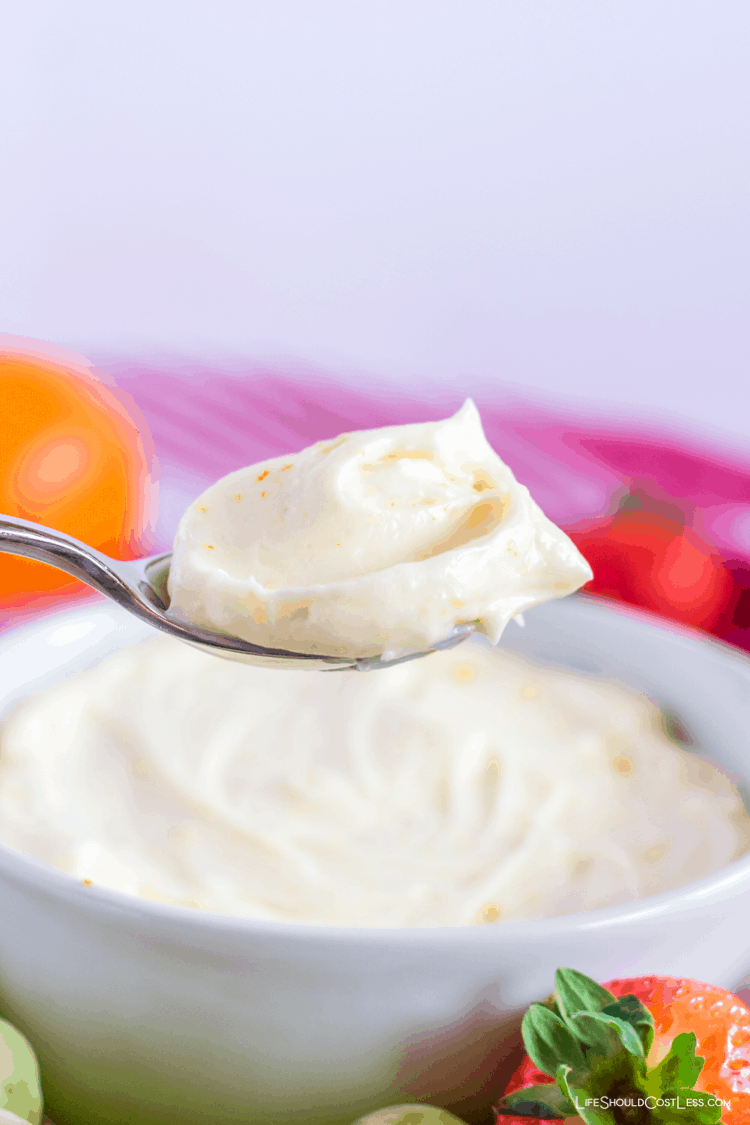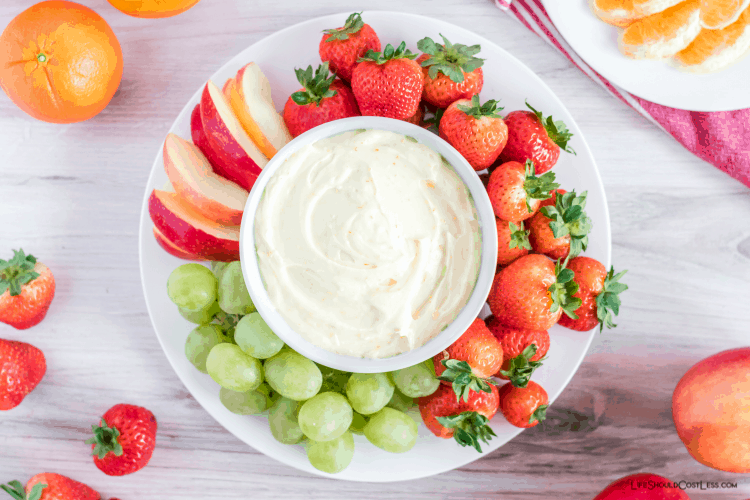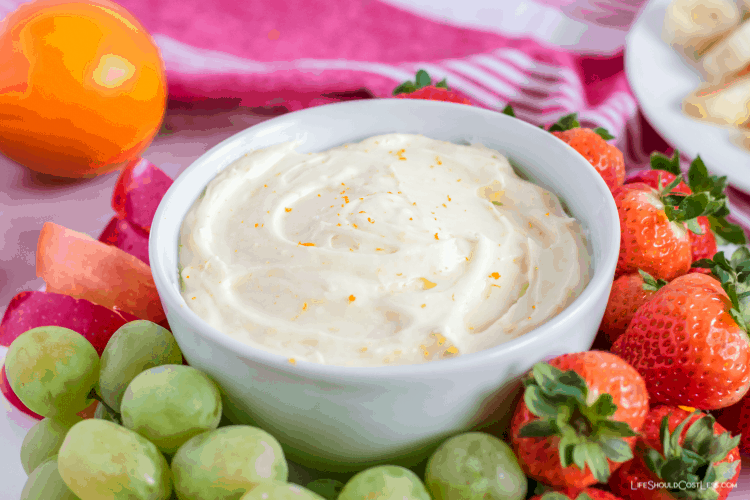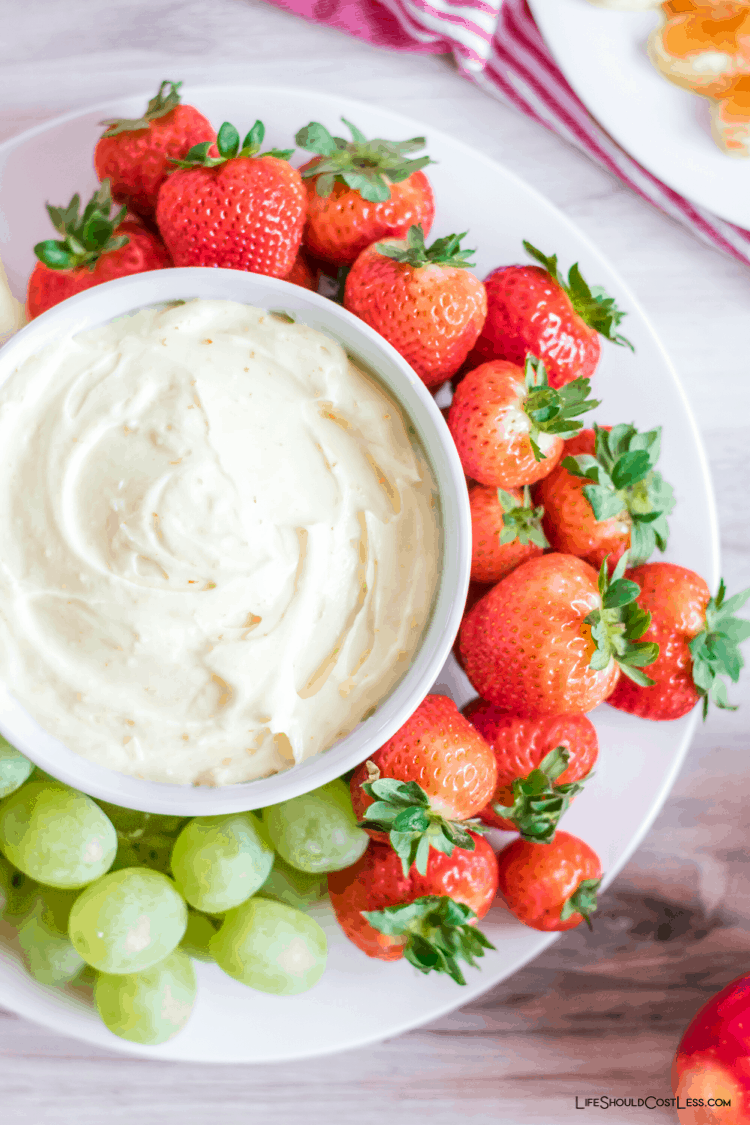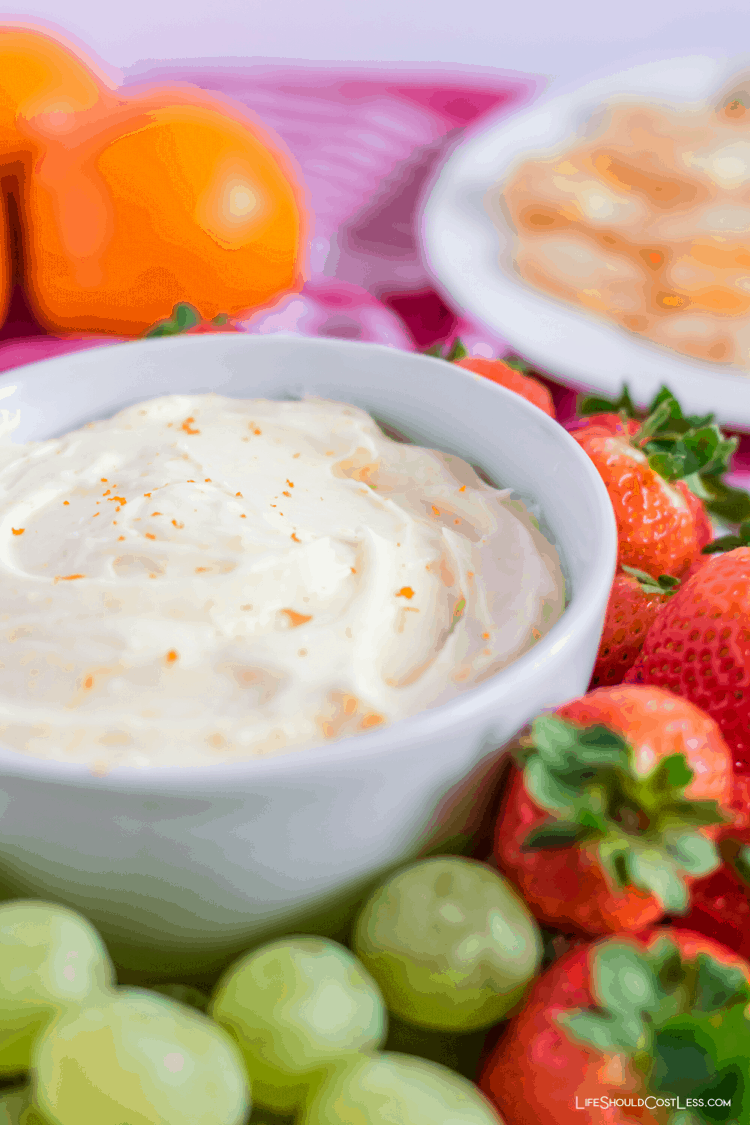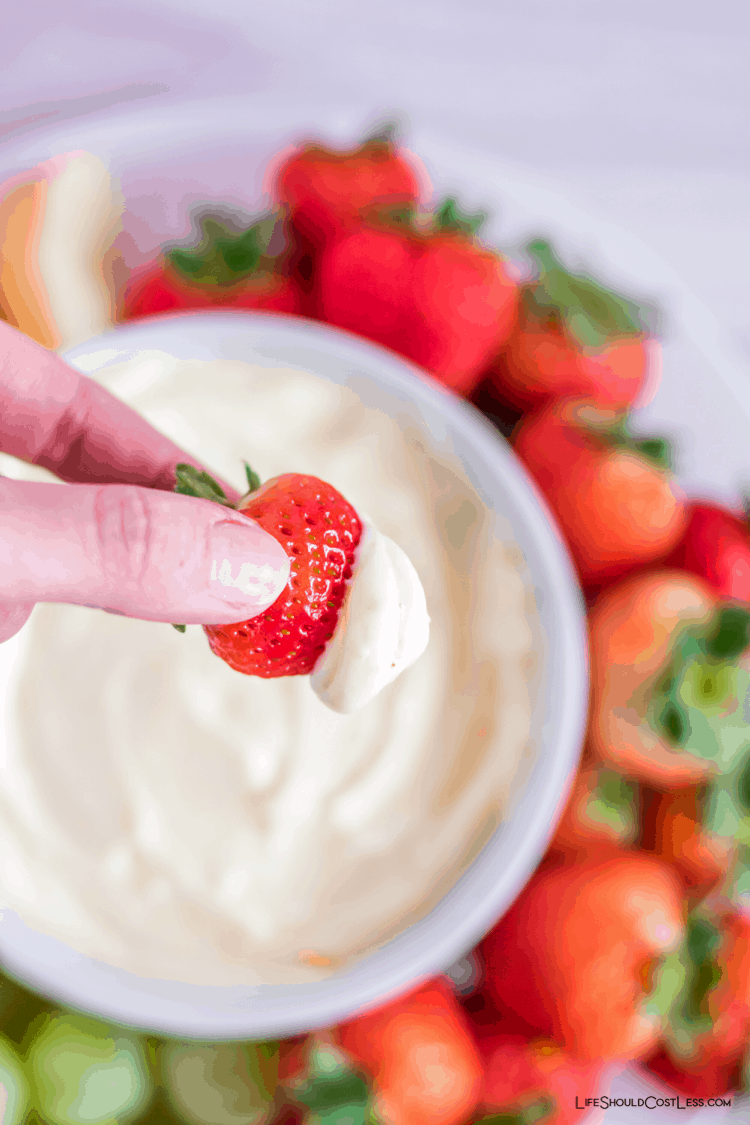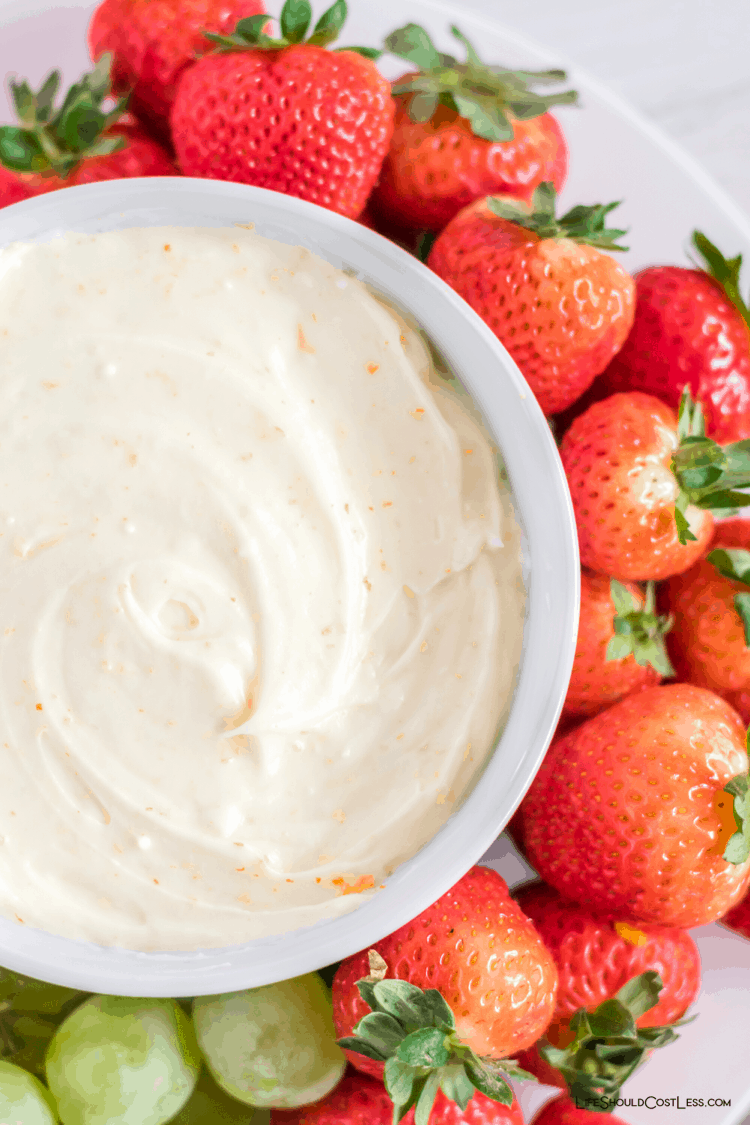 It's so yummy, I wouldn't be shocked if someone tried to lick the screen!
I'll stop teasing you and share the recipe though ;).
Yield: 24
Marshmallow Fluff Fruit Dip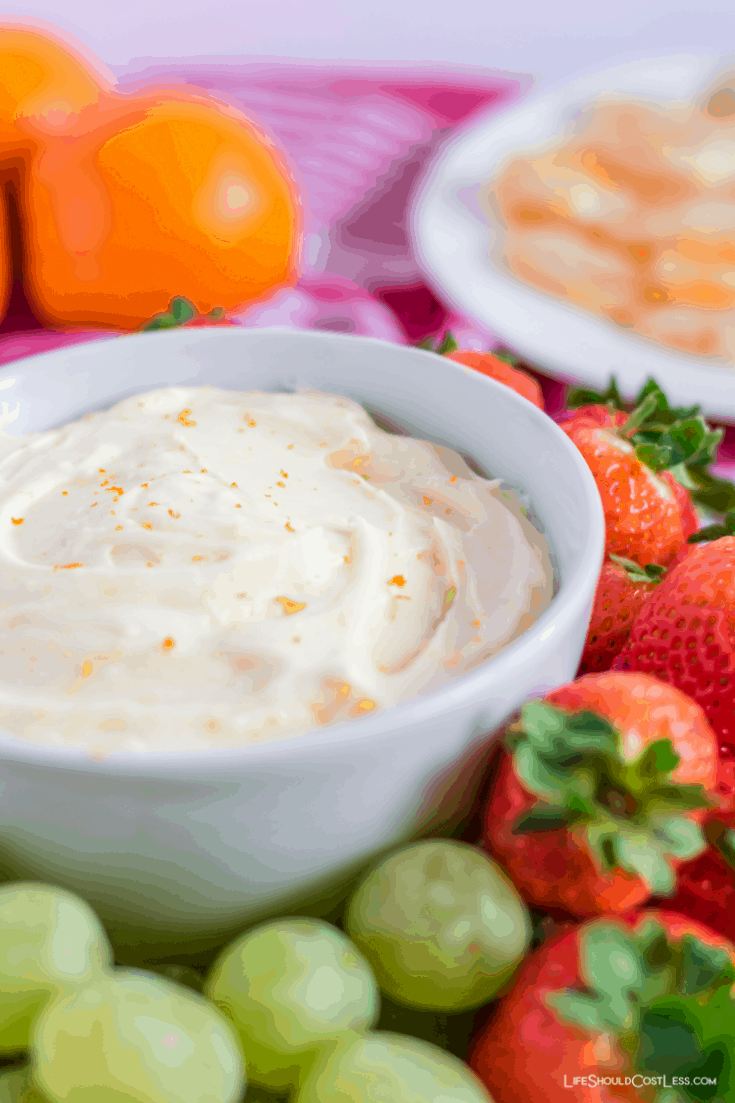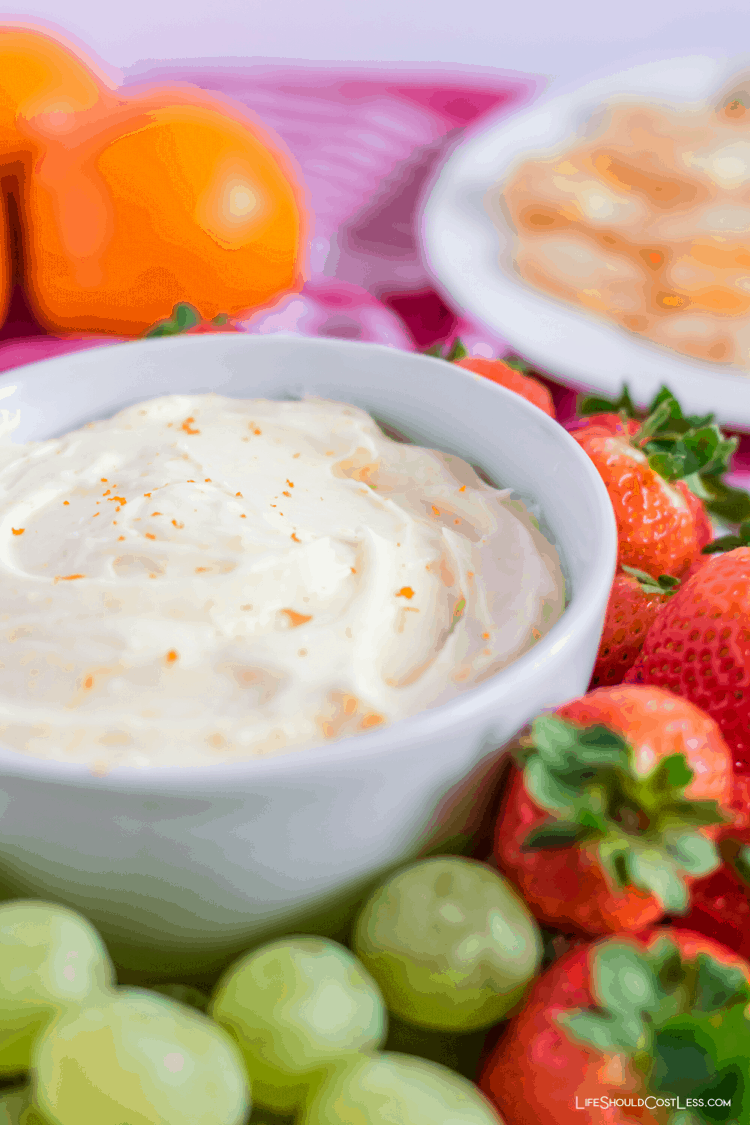 Just three simple ingredients stand between you and this delicious family favorite fruit dip made with marshmallow fluff.
Ingredients
1 (8 oz) Package Cream Cheese
1 (7 oz) Jar Marshmallow Cream
Zest Of One Orange (wash and dry the orange first)
Instructions
Add all the ingredients to a medium mixing bowl. Mix well and that's it! You just mix/beat it until it is a creamy texture.
Serve with your choice of fruit. I like it with oranges and strawberries the best.
We've never had enough leftovers to need to store it (it's that good), but I imagine that it should be good if stored covered in the refrigerator for a few days.
Notes
It is easier to mix if your cream cheese is room temperature.
*Please note that the nutrition information below is not correct, the app didn't pull it over properly...but I so wish it really was fat and calorie free...I'd make it EVERY SINGLE DAY.*
Nutrition Information
Amount Per Serving
Calories

0
Total Fat

0g
Saturated Fat

0g
Trans Fat

0g
Unsaturated Fat

0g
Cholesterol

0mg
Sodium

0mg
Carbohydrates

1g
Fiber

0g
Sugar

0g
Protein

0g
When I make this easy fruit dip recipe, I usually only pair it with strawberries and oranges and that is for two reasons…one is that I'm lazy, and the second is that it's the bare minimum selection of fruit that I need to provide to pull off an amazing appetizer…which I guess saves both time and money too.
So, don't feel bad if you can't afford lots of fancy fruits to serve with this dip…just remember that I do the bare minimum most of the time too AND it still gets rave reviews any and every time I have taken it to a party. Just be prepared to get asked for the recipe.
Thanks so much for stopping by my site! If you liked what you saw, please make sure to share it via social media!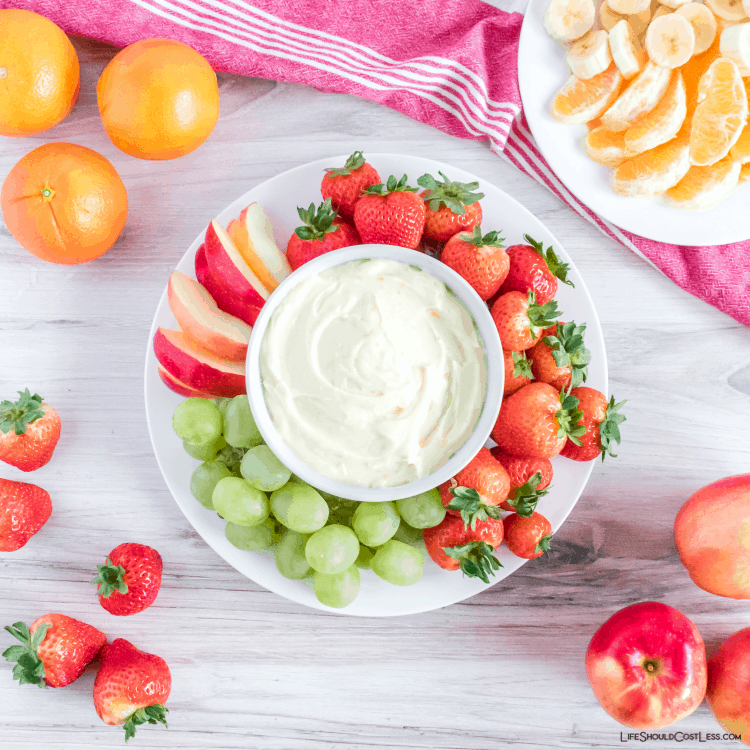 Other ways to show your support are to follow and/or interact with me on Pinterest, Instagram, Facebook, YouTube, or by Subscribing To My Emails List.
If you purchase suggested products through Amazon, the cost to you remains the same, but I make a small commission on everything in your cart. Also, if you ever need to buy it again, you can always come back to my site for the link…just sayin';).
If something was particularly helpful and you would like to donate directly to my site, you can do so via PayPal, here. I'm a single mom of four, so every little bit helps. Thanks Again!~Sarah
For those of you that would like to have some other options of images that you can pin to Pinterest to help you remember this yummy dip, here are a few other choices: