If you're looking for a delicious and simple recipe that's sure to impress your guests at your next gathering, game day party, or potluck, look no further than this easy cream cheese bean dip! With just a few basic ingredients, including canned refried beans and cream cheese, you can whip up a tasty and satisfying dip that's perfect for sharing.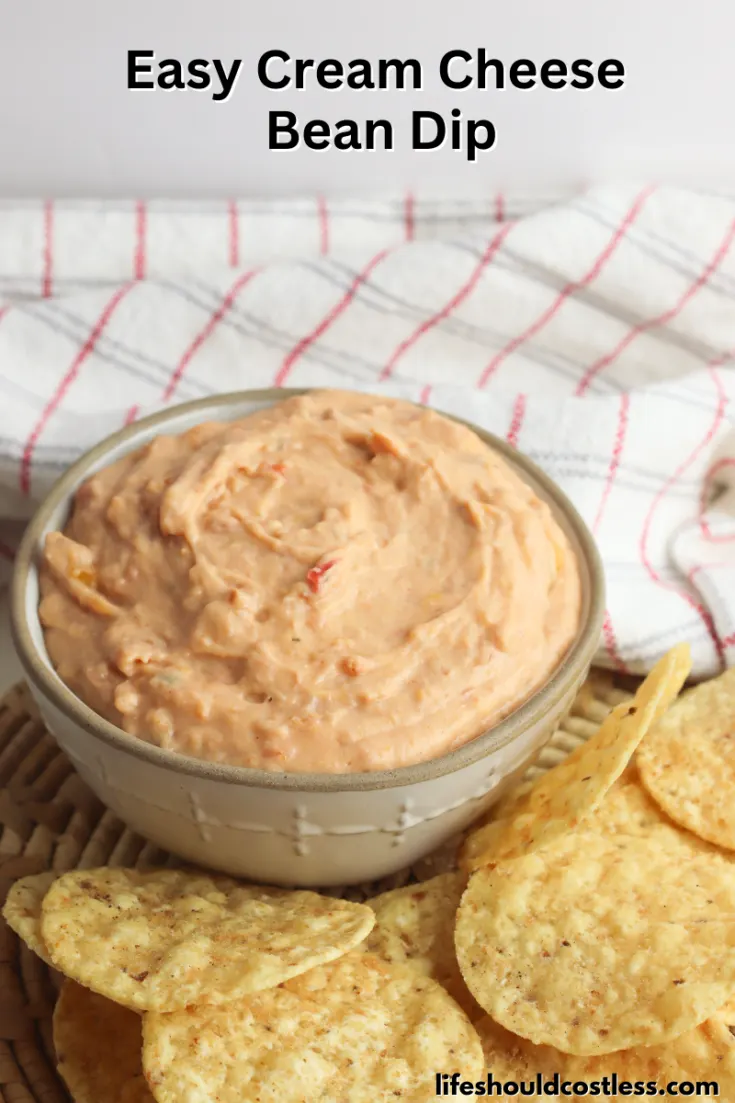 Let's Talk About Bean Dip
Is Bean Dip Just Refried Beans?

No, bean dip is not just refried beans. While refried beans are often used as a base for bean dip, there are many different types of bean dips that can be made using different types of beans and seasonings.

Bean dip can be made from a variety of beans, including black beans, pinto beans, navy beans, and cannellini beans, among others. The beans are usually cooked until soft, then mashed or pureed with other ingredients to create a smooth, creamy dip. Common ingredients in bean dip include spices, herbs, cheese, sour cream, and salsa.

Refried beans can be used as a base for bean dip, but they are typically mixed with other ingredients to create a more complex flavor. For example, a typical refried bean dip might include refried beans, cheese, salsa, and spices, while a black bean dip might include black beans, cilantro, lime juice, and cumin.

So while refried beans can certainly be used to make a delicious bean dip, there are many other ways to create a tasty dip using a variety of beans and seasonings.
The actual history of refried bean dip is a bit murky, but it likely originated in Mexico, where refried beans are a staple food. Refried beans, or frijoles refritos in Spanish, are made by cooking pinto beans until they are very soft, then mashing and frying them with lard or oil until they are creamy and smooth. The resulting beans are often used as a filling for burritos, tacos, and other Mexican dishes, but they can also be used as a dip for tortilla chips.
In the United States, refried bean dip became popular in the 1970s and 80s as Mexican food gained popularity. Today, it's a common appetizer at parties and gatherings, and there are countless variations on the classic recipe. If you'd like to read more about Bean Dip, I suggest you check out what Wikipedia has to say on the topic.
---
How Many People Does This Easy Cheesy Bean Dip Recipe Serve?

This dip is intentionally made for a crowd! It can easily serve up to 10 or so people, making it great for a party. Whether you're hosting game night, heading to a potluck party, or simply enjoying an evening in with friends, this delicious easy cheesy been dip is the perfect snack, plus it's high in protein so it's a double win.
Ingredients List For A Basic Bean Dip With Cream Cheese
To make this easy bean dip with cream cheese, you'll need just a few simple ingredients:
Cream Cheese
Cheddar Cheese
Yep, it's a simple dip recipe, but there are easy ways that you can make it even better.
---
Tips for Making the Best Cheesy Refried Bean Dip
There are many easy ways to dress up a simple refried bean dip recipe to make it more flavorful and interesting…and I am all about giving you a simple basic bean dip recipe that you can adjust to suit your personal tastes. Here are a few ideas to get you started:
Add some spice: If you like your dips with a bit of heat, try adding some diced jalapeños, a pinch of cayenne pepper, or some hot sauce to your refried bean dip. You could also add some diced green chiles for a milder kick.
Top it off: Add some extra flavor and texture by topping your refried bean dip with chopped tomatoes, green onions, black olives, or fresh cilantro.
Add some protein: Make your dip more filling by adding some cooked ground beef, chorizo, or shredded chicken to the mix. This will also give your dip a richer, meatier flavor.
Use different beans: Instead of using traditional refried beans, try using black beans, pinto beans, or even navy beans for a different flavor and texture.
Mix in some different types of cheese: While refried bean dip is already cheesy, you can mix in some additional shredded cheese, such as pepper jack or cotija cheese, for added creaminess and flavor.
Add some acid: A squeeze of lime juice or a splash of vinegar can brighten up the flavors in your refried bean dip and give it a tangy kick.
Switch up your Salsa: Try out different types of salsa until you find one that you love to mix into this recipe.
By trying out one or more of these ideas, you can easily dress up a simple refried bean dip recipe and truly make it your own!
---
What does bean and cream cheese dip look like when it's done?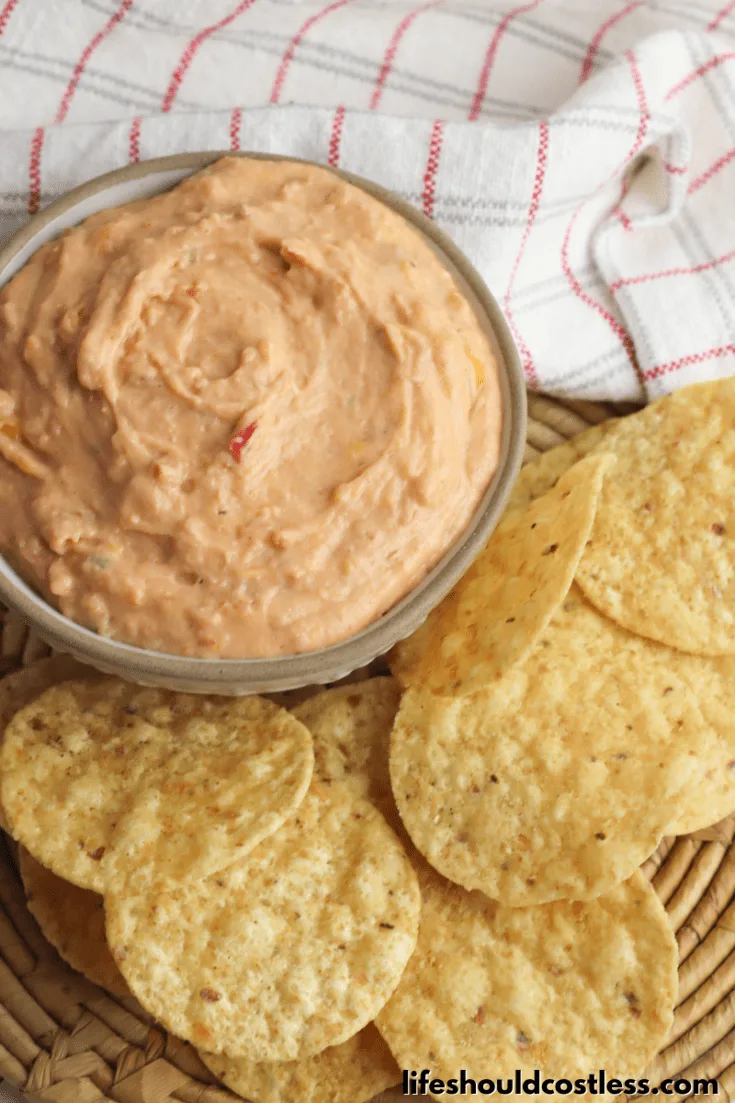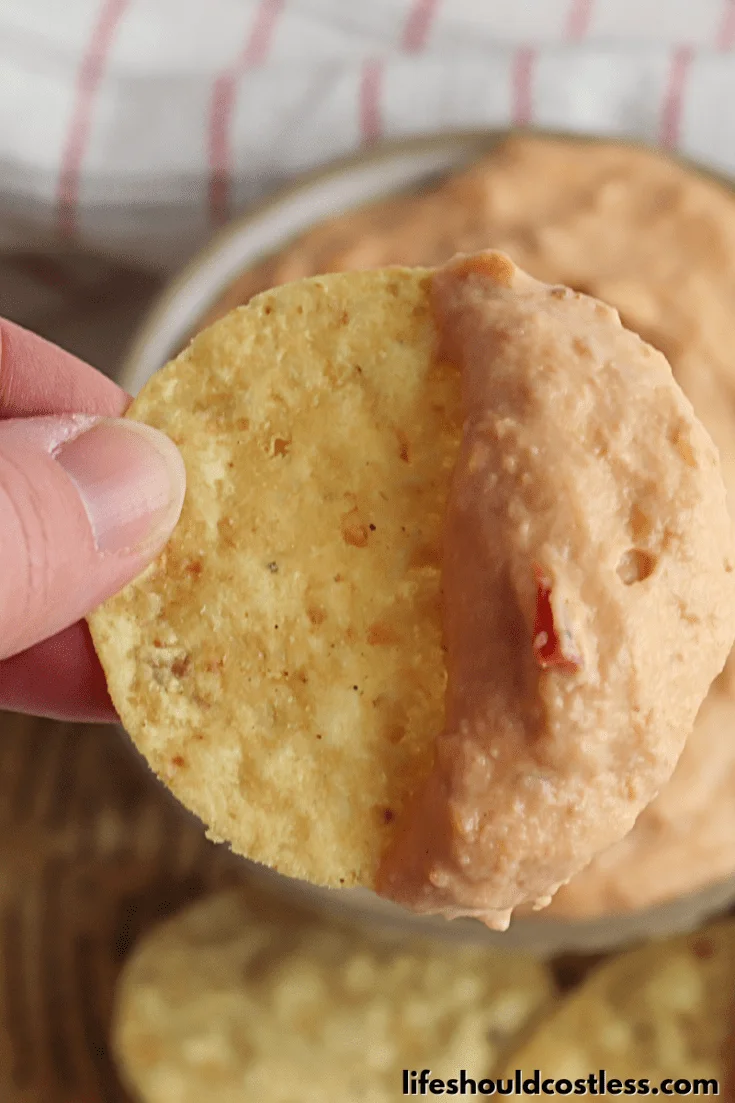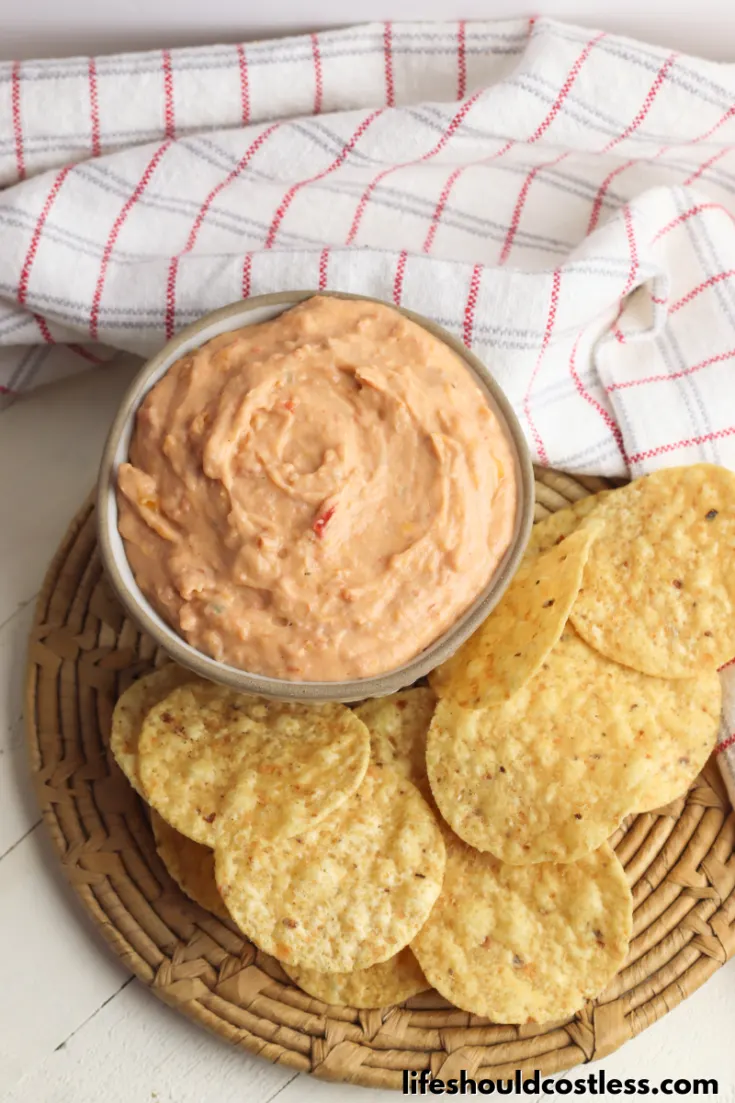 How to Make Bean Dip From Canned Refried Beans (recipe card & video found here)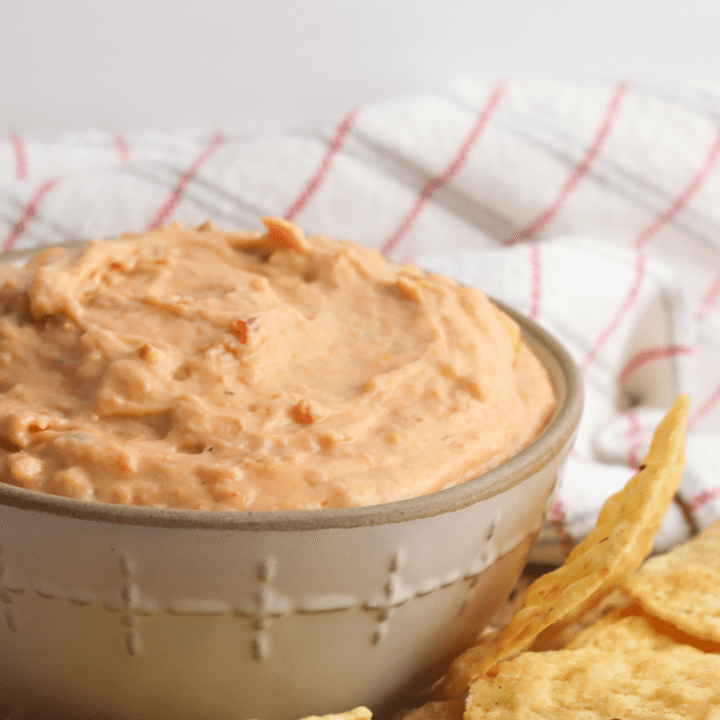 Easy Cream Cheese Bean Dip Recipe
If you're looking for a delicious and simple recipe that's sure to impress your guests at your next gathering, game day party, or potluck, look no further than this easy cream cheese bean dip! With just a few basic ingredients, including canned refried beans and cream cheese, you can whip up a tasty and satisfying dip that's perfect for sharing.
Ingredients
2 (16-ounce) Cans Refried Beans
1 (14.5-ounce) Can Diced Tomatoes With Chilies
4 Ounces Cream Cheese (half a package)
1 (1 oz) Packet Taco Seasoning (dry)
2 Cups Cheddar Cheese (shredded)
Instructions
Preheat oven to 350 degrees Fahrenheit.
Place the refried beans, diced tomatoes with chilies, cream cheese, and taco seasoning in the bowl of a food processor. Blend until smooth and well combined.
Stir in the cheddar cheese, can just use the pulse setting on a food processor.
Spread the bean mixture into a greased casserole baking dish and bake in the oven for 20 minutes, until cheese is melted and bubbly.
If desired scoop into a cute serving bowl and serve with tortilla chips, corn chips, or a platter filled with vegetables. Garnish as desired.
Notes
*You can heat this up in a Slow Cooker by greasing the crock, adding the dip mixture, replace the lid and cook on high for two hours or low for three hours. Add small amounts of water and stir well if it dries out at all and then add your garnishment toppings when ready to serve.
I have found the best way to make any dip is to use a food processor (it's a must have item for a functional kitchen). It helps blend all the ingredients together and makes the dip smooth and creamy after it's blended. But a food processor isn't necessary for this recipe.
If you don't have a food processor, a blender is another good option. A hand mixer would also make it simple to blend all the ingredients together before baking. If all else fails, you can also simply stir the ingredients together with a large spoon by hand of course.
If you are worried about your sodium intake you definitely can use reduced sodium taco seasoning mix as well as any other reduced sodium ingredient you can find.
Nutrition Information
Yield

10
Serving Size

1
Amount Per Serving
Calories

167
Total Fat

13g
Saturated Fat

7g
Trans Fat

0g
Unsaturated Fat

4g
Cholesterol

36mg
Sodium

347mg
Carbohydrates

6g
Fiber

1g
Sugar

1g
Protein

8g
These caloric amounts are automatically estimated by a plugin on my site and should be treated as an estimate only.
It's pretty much just a dump, mix, and bake recipe which is another reason why I love this easy bean and cheese dip so much and it could easily be thrown into a slow cooker if you wanted to too.
There you have it – an easy and delicious recipe for Easy Cream Cheese Bean Dip! Whether you're entertaining guests need a bean dip for super bowl party, or just looking for a quick and tasty snack, this simple bean dip is sure to be a hit. So why not give it a try today!
---
Thanks so much for stopping by my blog and supporting my endeavors to make people's lives a little easier/better/more affordable. If you liked this post, or found it helpful in any way, please make sure to share it with your family, friends, and co-workers via social media…or you could even send them the direct link via email. Whichever way you choose to spread the love, I super appreciate it! ~Sarah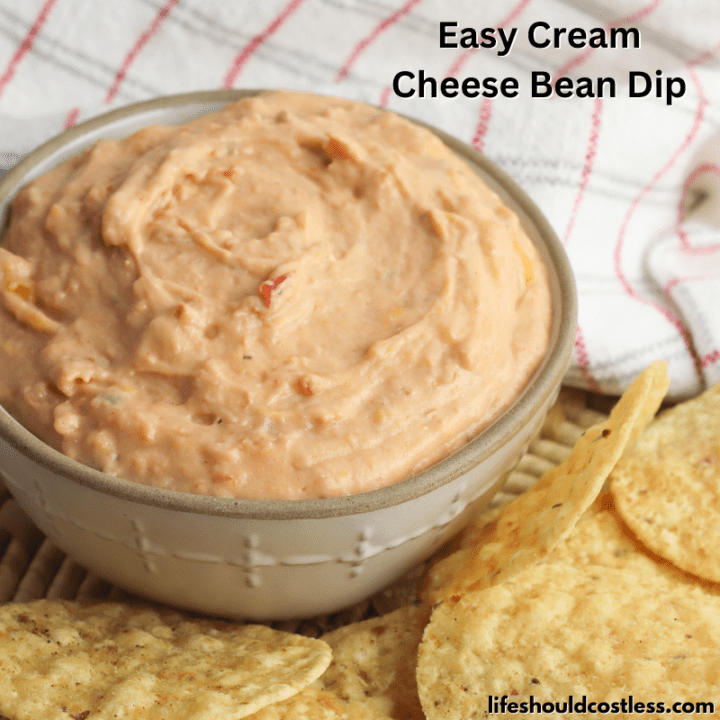 Oh, don't forget to subscribe to my email list (found here). Also, if you would like to learn how to follow along or really show your support for this blog, go here.
---
Other helpful resources:
If you would like to check out my appetizers section of this site, go here. To browse through all of my recipes, go here.
Here are direct links to few of my favorite recipes that you're also going to love:
If you don't like my recipe for easy bean and cheese dip, here are some other yummy bean dip recipes that you should try:
---
*This recipe was originally shared to this blog on December 21, 2019 , and has since been updated to improve user experience, add video instruction, as well as to make it as shareable as possible across the social medias. It will continually be updated to remain relevant and improve user experience.