Easy Cheesy Bean Dip is such a delicious and classic appetizer, but if I had to eat the stuff that comes in a can from the supermarket, I'd rather pass.
Luckily, it's pretty dang easy to make your own delicious bean dip! With only five ingredients, you can make your own Easy Cheesy Bean Dip – all in less than 30 minutes.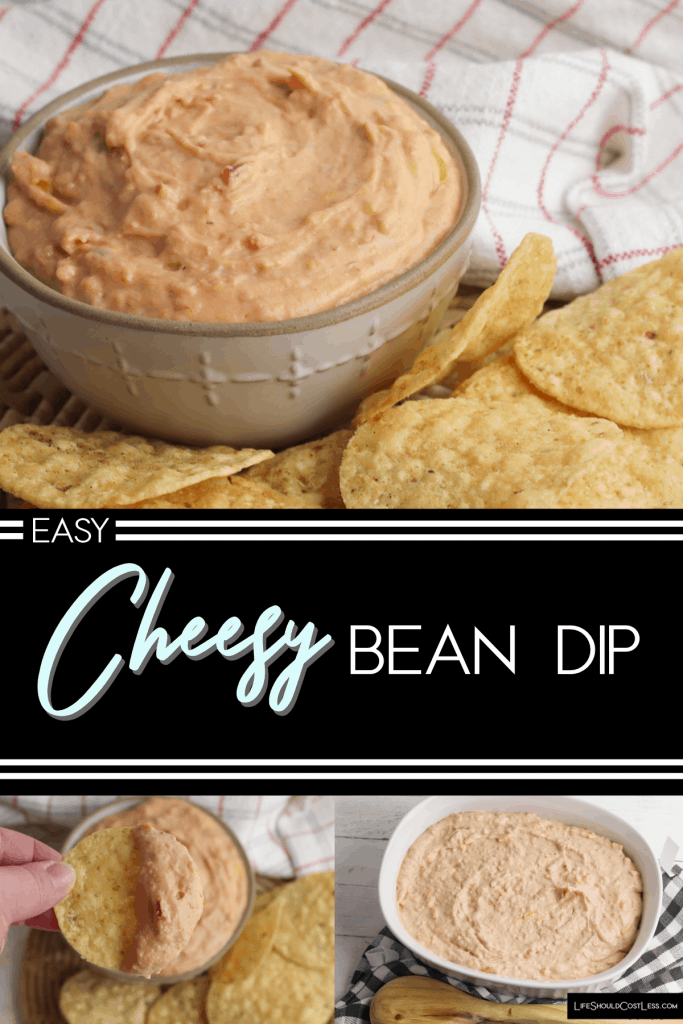 This recipe is perfect for any time that you have a party, or a gathering of any kind for that matter, and it can be served all year round, which is something I love, a recipe that doesn't have to be served at a certain time of year.
Before we dive into the process, I wanted to share with you links to five of my other recipes that you're also going to love:
Now back to learning How to Make Easy Cheesy Bean Dip.
To make your own bean dip, you'll need to start with the most important ingredient – the beans, of course. While you could make your own bean dip using dried beans, in this particular recipe,I would rather make things as easy as possible. That's why this recipe calls for canned refried beans.
They're pretty cheap, and they make this recipe so much easier to make.
The next important ingredient you'll need is cream cheese. On top of making this bean dip extra creamy, cream cheese also helps round up the flavors of this simple party dip. But cream cheese isn't the only cheese in this cheesy dip. You'll also need to add some shredded cheddar cheese to the mix.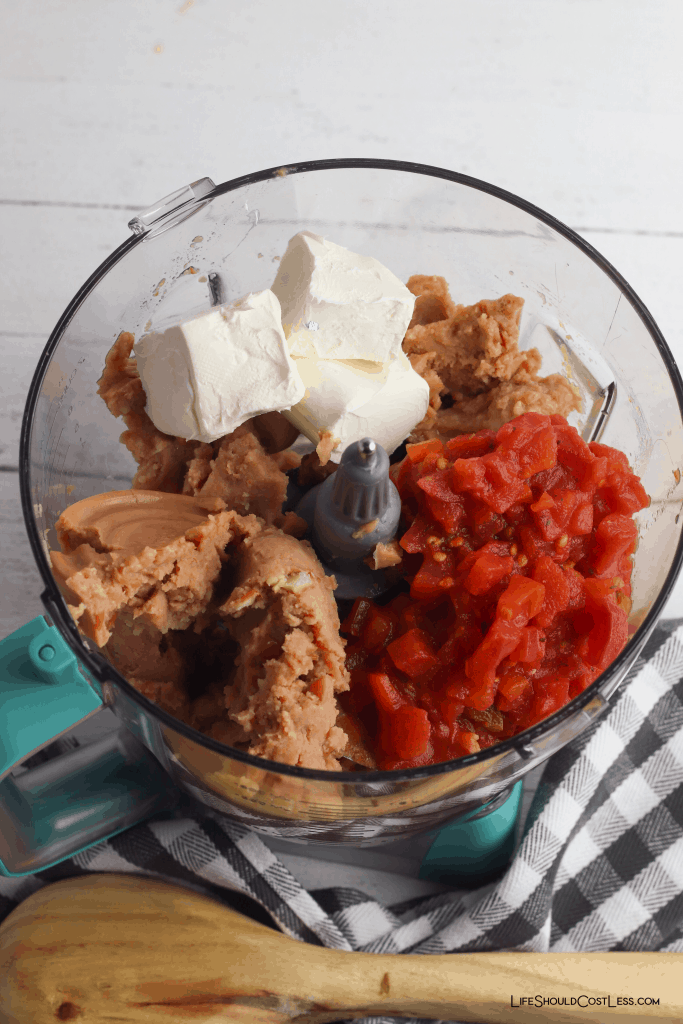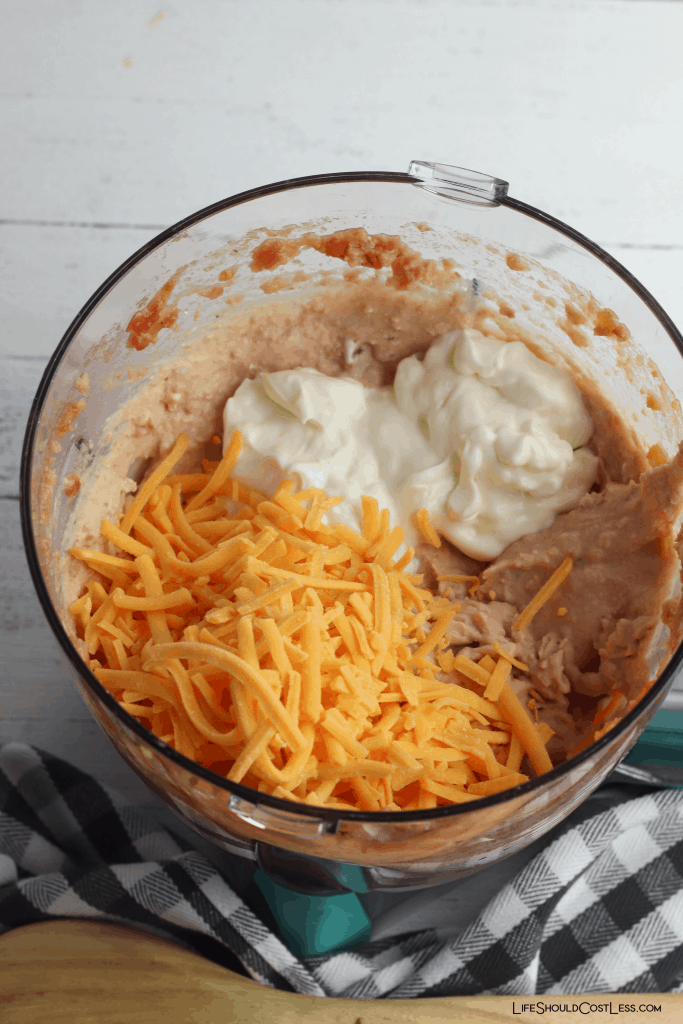 Finally, you'll need the secret ingredients that turns this plain bean dip into a flavorful dip that's perfect for any party – the tomatoes with chilies and taco seasoning. Once you have all the ingredients gathered up, simply toss everything in your food processor and blend until it's nice and smooth.
Scoop the blended bean dip into a baking dish and bake until the cheese is melted and the dip is nice and bubbly.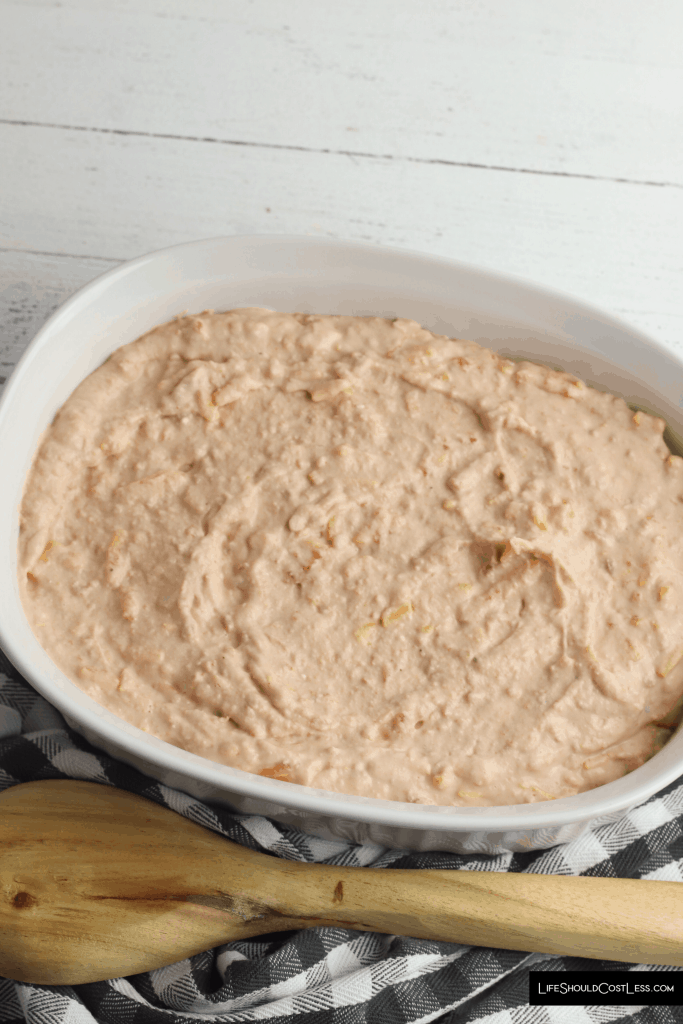 It would also be super simple to throw it into a crock pot or slow cooker at this point too…I'd just do it on High for two hours or low for three before serving…add the toppings just before serving.
This dip tastes amazing as-is, but you can also add a few enhancements to the top like sliced jalapenos, additional shredded cheese, or some spicy salsa. Serve the dip with tortilla chips, corn chips, or even some sliced veggies.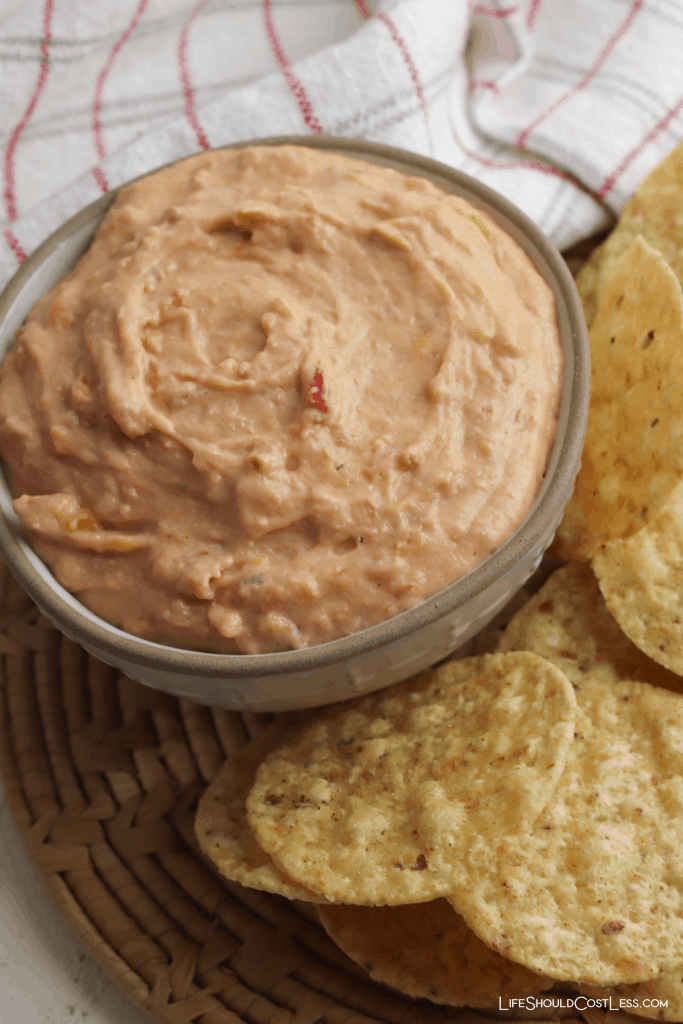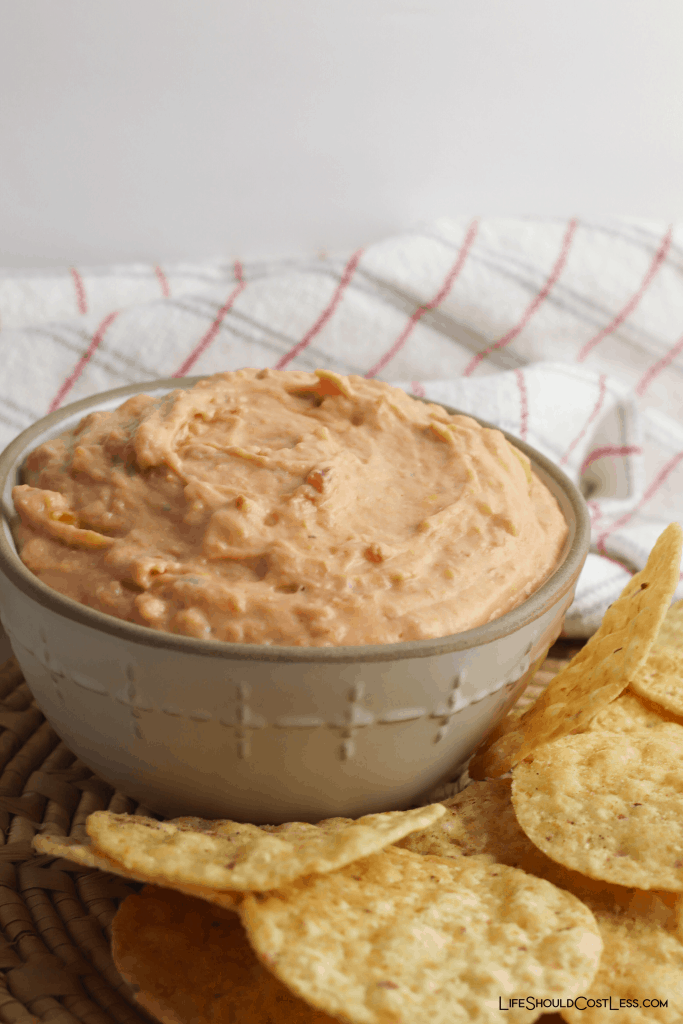 Do I need Special Equipment to Make Bean Dip?

I have found the best way to make any dip is to use a food processor ( a must have item for a functional kitchen). It helps blend all the ingredients together and makes the dip smooth and creamy after it's blended. But a food processor isn't necessary for this recipe.
If you don't have a food processor, a blender is another good option. A hand mixer would also make it simple to blend all the ingredients together before baking. If all else fails, you can also simply stir the ingredients together with a spoon.
How Many People Does This Easy Cheesy Bean Dip Serve?

This dip is intentionally made for a crowd! It can easily serve up to 10 people, making it great for a party. Whether you're hosting game night, heading to a Super Bowl party, or simply enjoying an evening in with friends, this delicious easy cheesy been dip is the perfect snack, plus it's high in protein so it's a double win.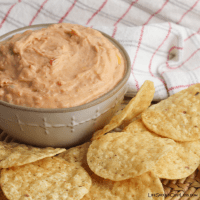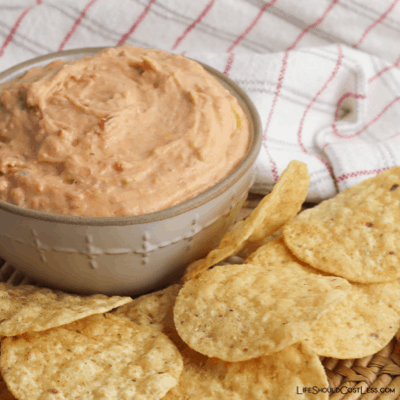 Easy Cheesy Bean Dip
A simple and delicious Bean Dip recipe that is perfect for any gathering or pot luck. The best, easy, appetizer dip ever.
Ingredients
2 (16-ounce) Cans Refried Beans
1 (14.5-ounce) Can Diced Tomatoes With Chilies
4 Ounces Cream Cheese
1 Packet Taco Seasoning (dry)
2 Cups Shredded Cheddar Cheese
Instructions
1. Preheat oven to 350 degrees.
2. Place the refried beans, diced tomatoes with chilies, cream cheese, and taco seasoning in the
bowl of a food processor. Blend until smooth and well combined.
3. Stir in the cheddar cheese.
4. Spread the bean mixture into a baking dish and bake in preheated oven for 20 minutes, until
cheese is melted and bubbly.
5. Top with additional shredded cheese before serving, if desired.
Notes
You can heat this up in a Slow Cooker by greasing the crock, adding the dip mixture, replace the lid and cook on high for two hours or low for three hours. Add toppings when ready to serve.
Nutrition Information
Yield

10
Serving Size

1
Amount Per Serving
Calories

166
Total Fat

12g
Saturated Fat

7g
Trans Fat

0g
Unsaturated Fat

4g
Cholesterol

34mg
Sodium

495mg
Carbohydrates

7g
Fiber

2g
Sugar

2g
Protein

7g
It's pretty much just a dump, mix, and bake recipe which is another reason why I love this dip so much.
Thanks so much for stopping by my site! If you liked what you saw, please make sure to share it via social media!
Other ways to show your support are to follow and/or interact with me on Pinterest, Instagram, Facebook, YouTube, or by Subscribing To My Emails List.
If you purchase suggested products through Amazon, the cost to you remains the same, but I make a small commission on everything in your cart. Also, if you ever need to buy it again, you can always come back to my site for the link…just sayin';).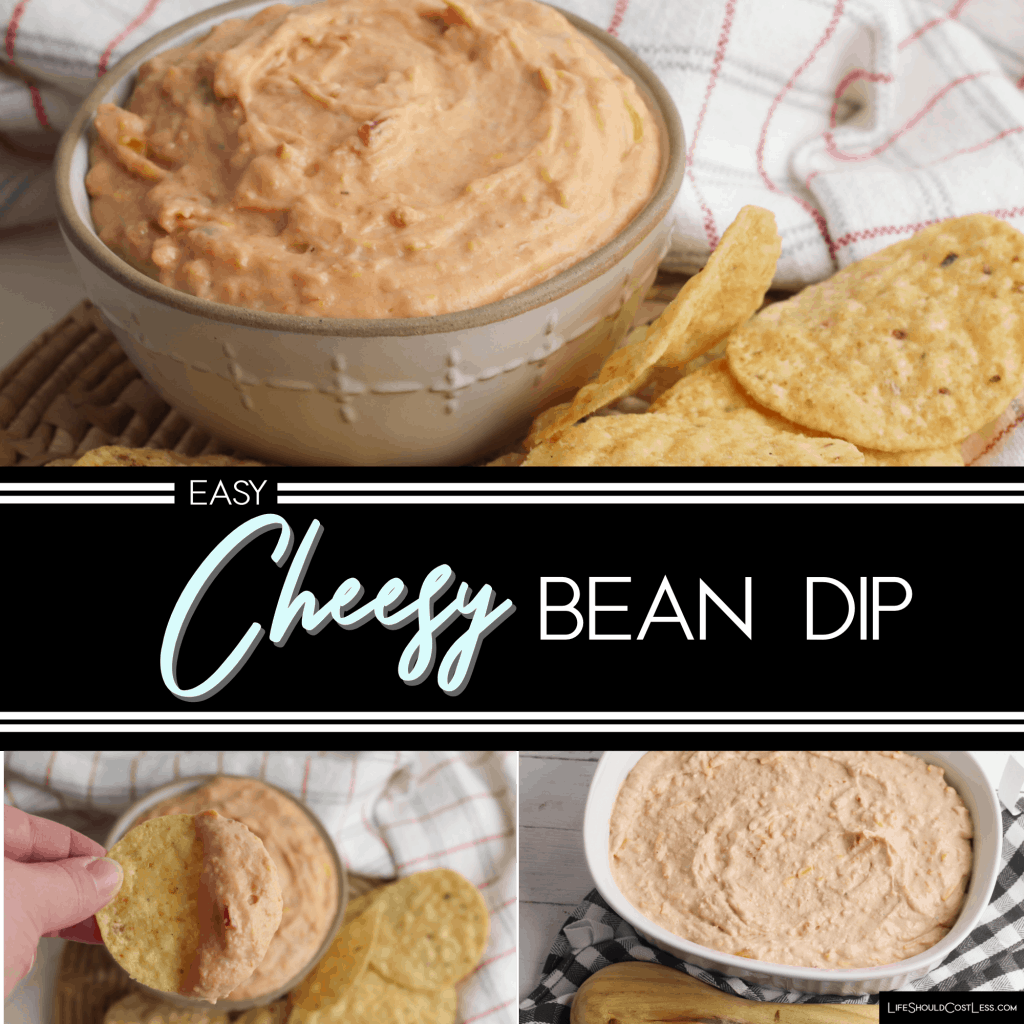 If something was particularly helpful and you would like to donate directly to my site, you can do so via PayPal, here. I'm a single mom of four, so every little bit helps.
P.S. You may also like my Appetizers Section, as well as my Entire Recipes Section.
In case you missed them, here are the links to five of my other recipes that you're also going to LOVE: