Whether you like to use cream cheese in your cooking just for the holidays, or use it in your everyday life, you will love this handy fat-blasting tip that I have to show you all today.

Cream cheese and butter seem to be the main ingredient in most "heavenly"dishes so showing you how to swap cream cheese for the Greek yogurt version will not only help with a reducing the fat content to zero, but it will give everything you make with it a huge punch of protein. Not to mention that it tastes much better than some of the alternatives.
Don't get me wrong, I know that there are lots of good cream cheese options out there, but none of them are both fat-free AND super high in protein…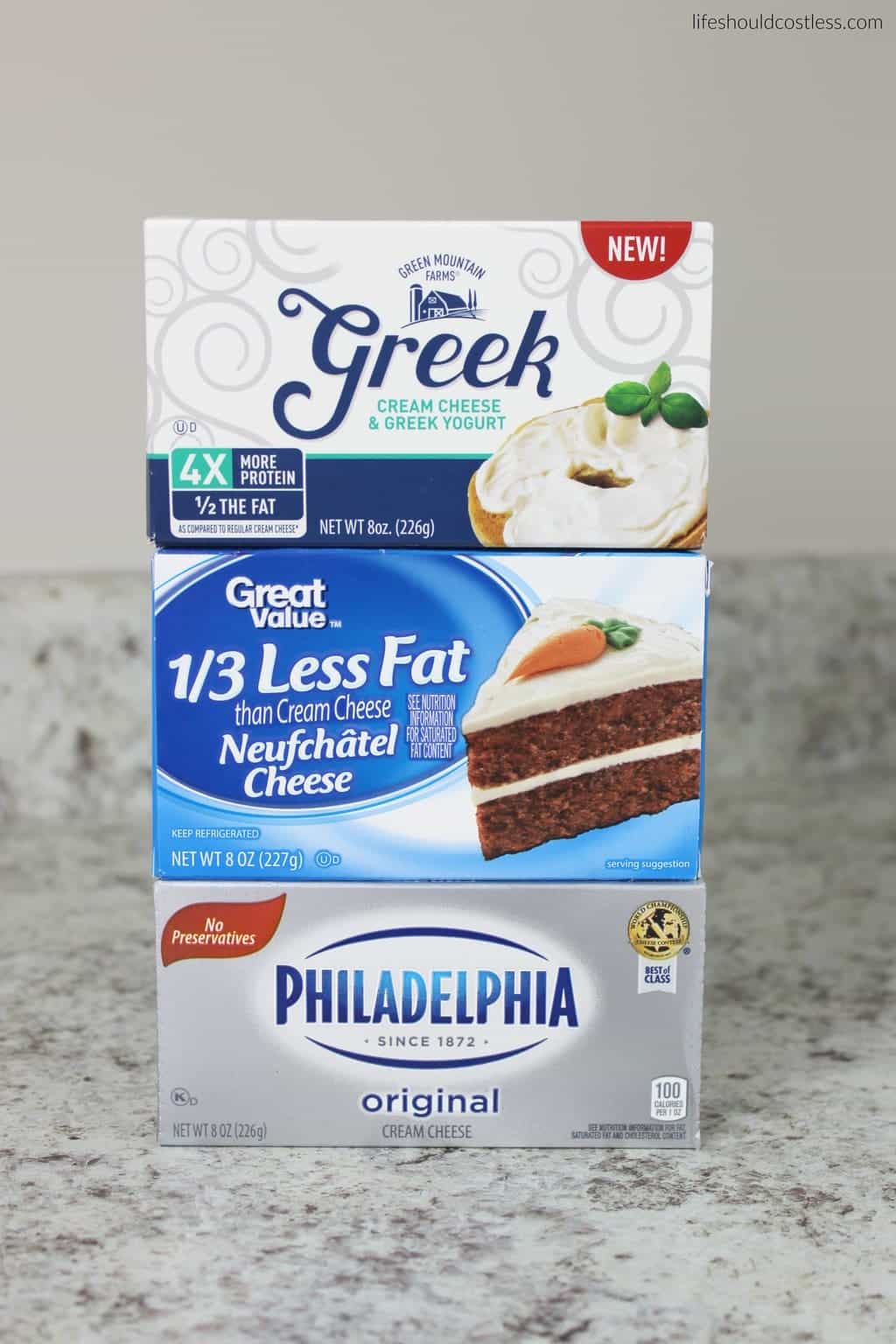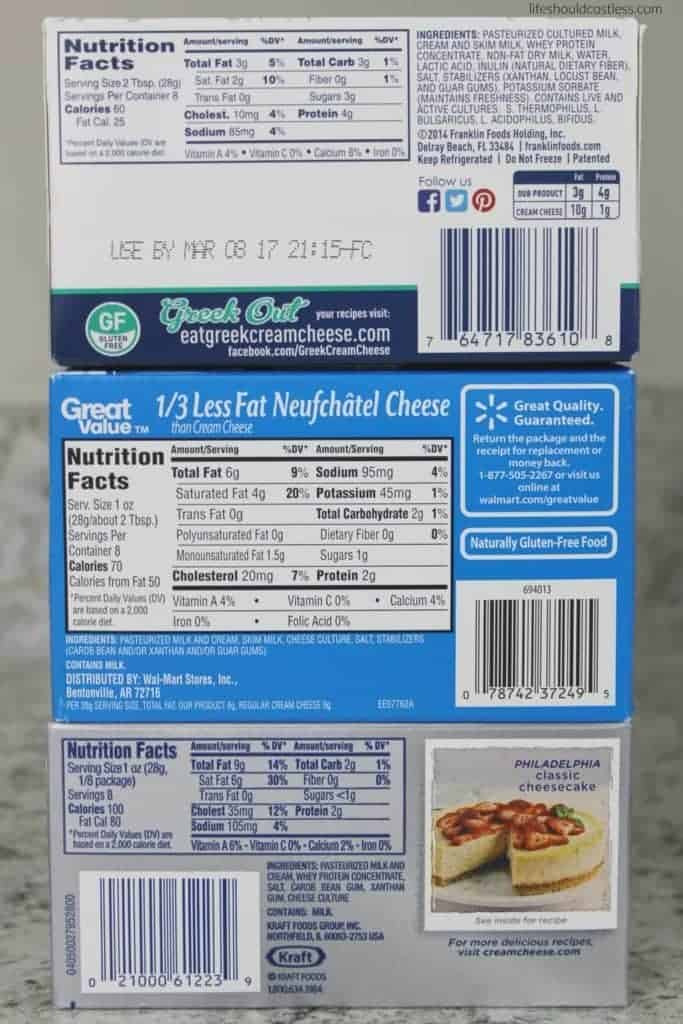 That's why I do it this way.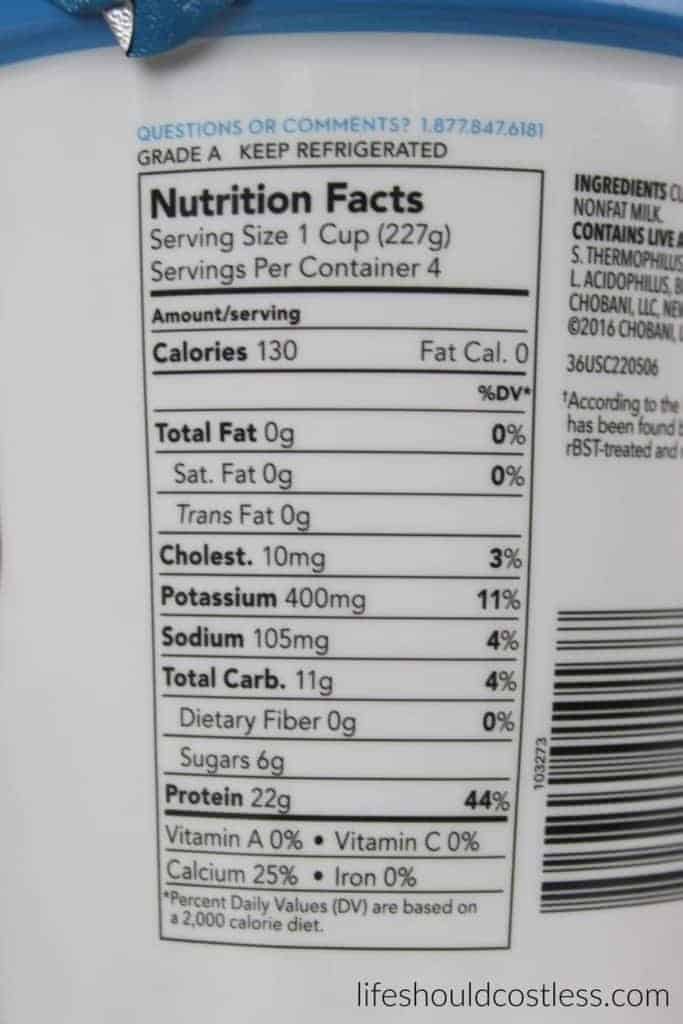 The key to having your Greek style cream cheese taste as good as possible is to make sure that you have bought a type of plain Greek yogurt that does not have a sharp taste to it.
Some brands are kinda tangy and to me, that is a turn-off… I'd rather eat the fattening stuff then to get that yucky zing taste in my mouth.
Anyway, There are two brands of Greek yogurt that I think have minimal sharp taste and those are Chobani and the Costco generic Kirkland Signature. You all are welcome to comment if you know any other brands that don't have a sharp taste. Neither company is paying me to tell you this either, by the way.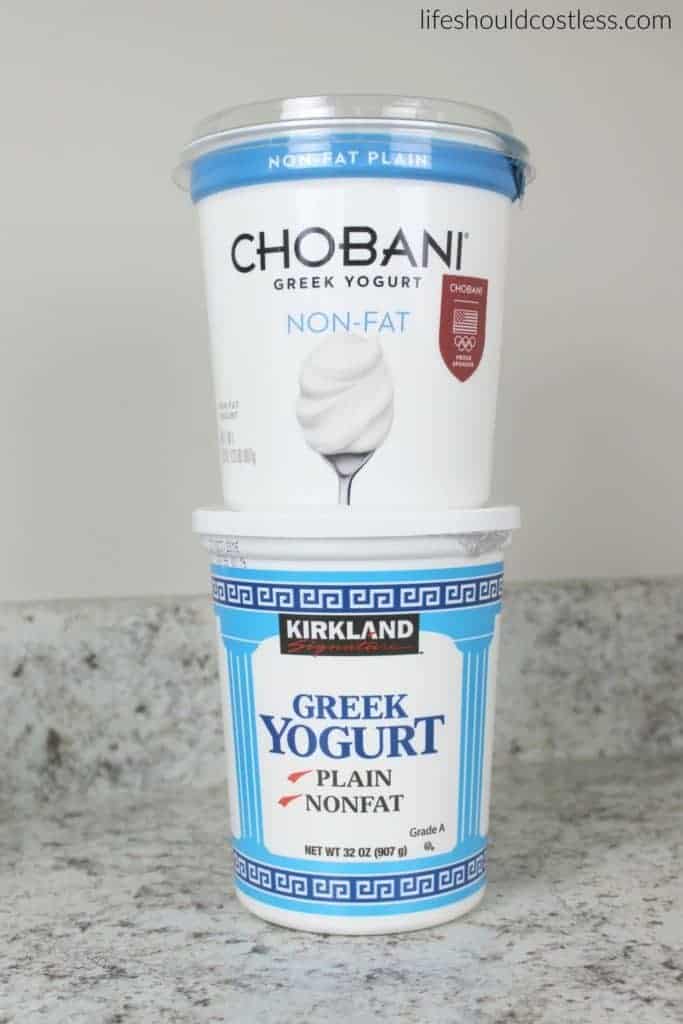 Also, make sure that there are no funky smells going on in your fridge (if that's a problem make sure to read my post "How To Permanently De-stink Your Fridge"), and use air-tight containers for those left-overs or your "cream cheese" will take on whatever smell you've got going on in there.
Now that you know those two things, we can begin the tutorial for How to turn greek yogurt into "cream cheese" :
You will need a medium sized bowl, a fine mesh strainer that will fit inside the bowl but does not touch anywhere close to the bottom of the bowl when placed inside it, coffee filters or cheese cloth, and plan for about 12 hours before you need to have your cream cheese ready to use.
If you're needing to make several cream cheese dishes in the morning, just do this the night before. It takes just a couple of minutes of prep and you'll be good to go.
Place your fine mesh strainer inside the bowl.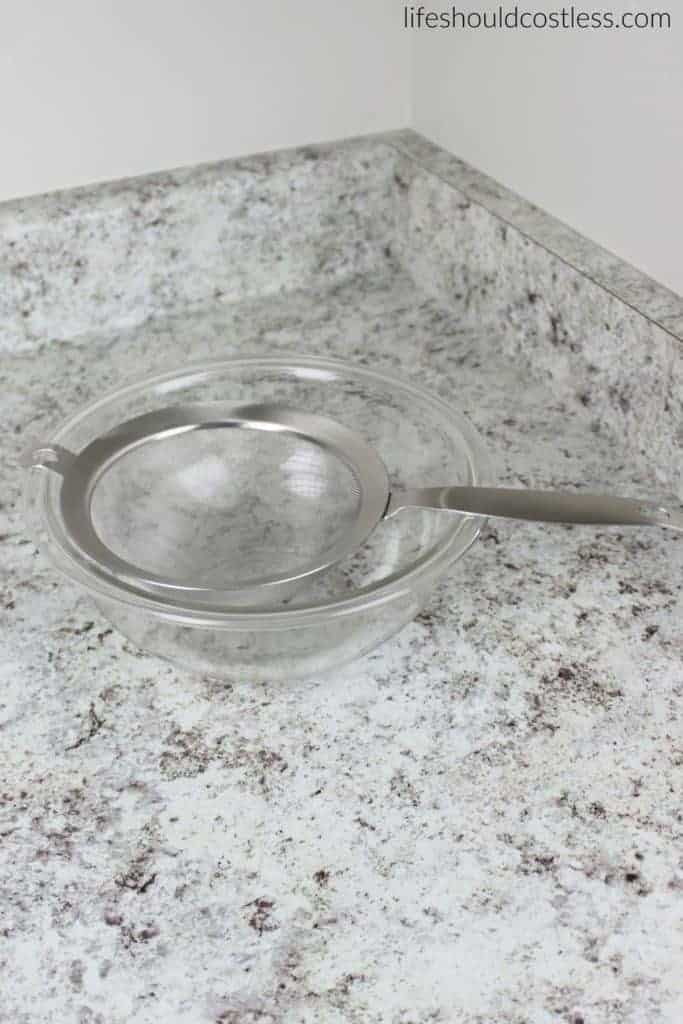 Next, into the strainer add your coffee filter or cheese cloth, I prefer coffee filters because then I feel less badly about tossing them in the trash when I'm done. When I use cheesecloth I always try to wash and reuse it since it's a little more expensive…so the coffee filters are much less of a hassle.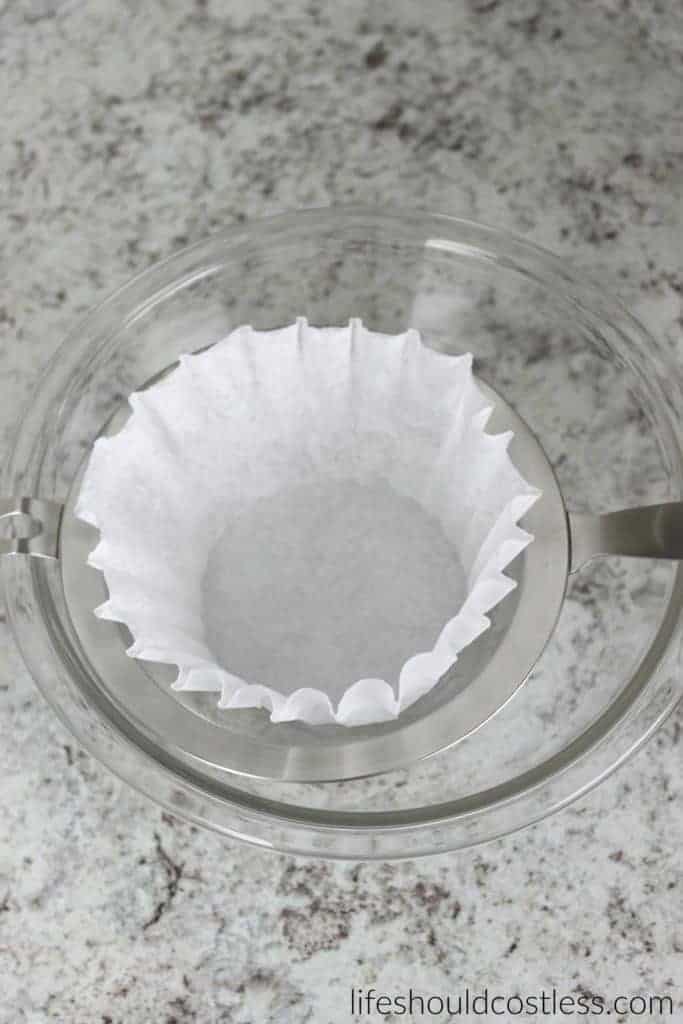 Now you scoop your plain Greek yogurt into the coffee filter.
Before we get too far into this tutorial, I wanted to share with you five of my other posts that you'll also love:
Back to the process of learning How To Turn Greek Yogurt Into "Cream Cheese".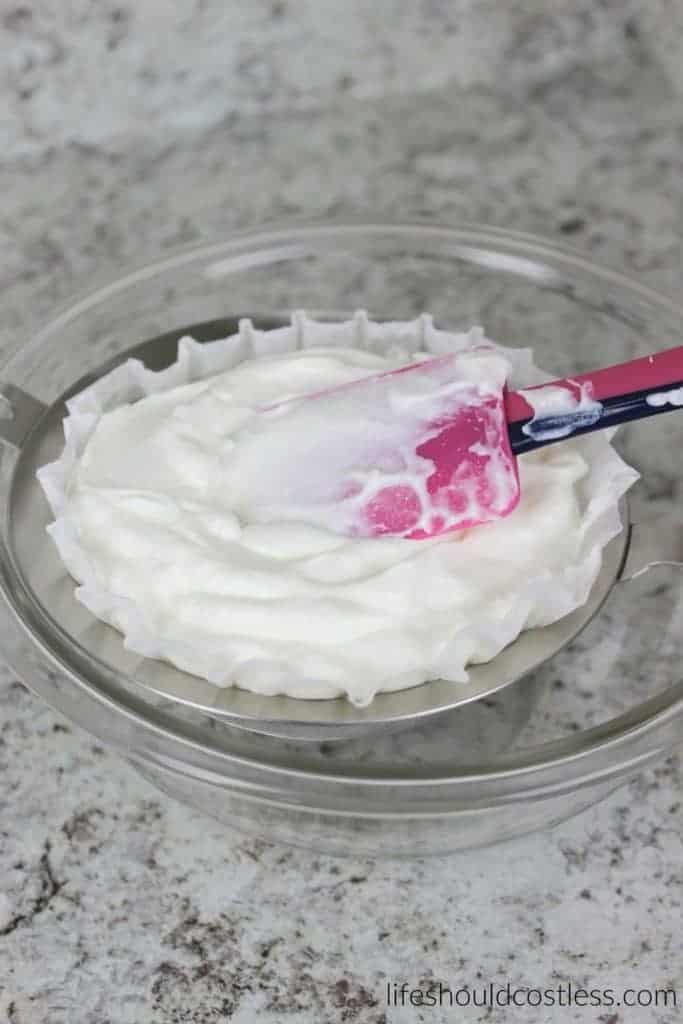 Spread it out evenly and then cover with another coffee filter that has been flattened out.
Please Note: Approximately 2/3rd's of a 32 oz container of yogurt will fit into a single standard sized coffee filter.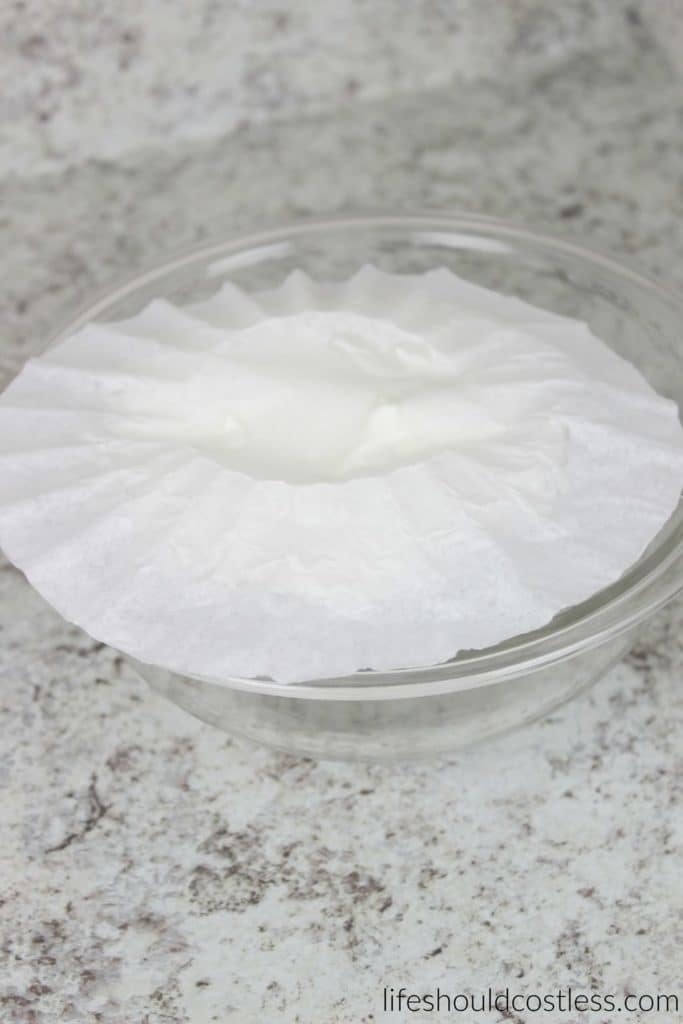 The whole point of this is to have the excess whey in the yogurt drip out into the bowl, because it will give you that creamy and not runny texture that we are looking for. Which means, letting the whey drip takes a good deal of time. You can leave it out on the counter (like any cultured dairy product), but I prefer to set it in the fridge while I let it do its thing.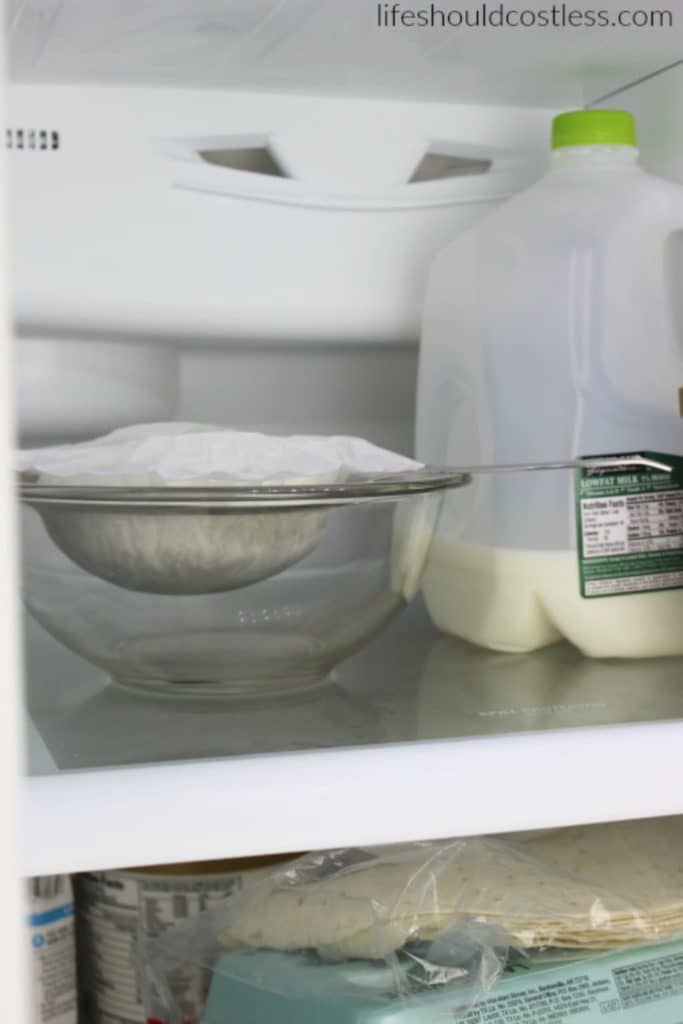 My portion of the prep is done at this point and the rest is the waiting game…which is why it's great to plan ahead and then you won't be waiting for it, it will be ready when you are.
Overnight seems to be enough time, but you can leave it a bit longer than that if you need to.
Here are some shots of what it looks like when it is done.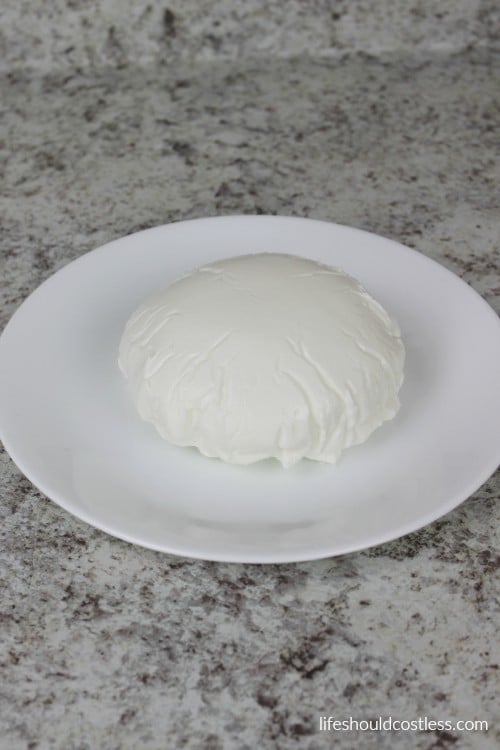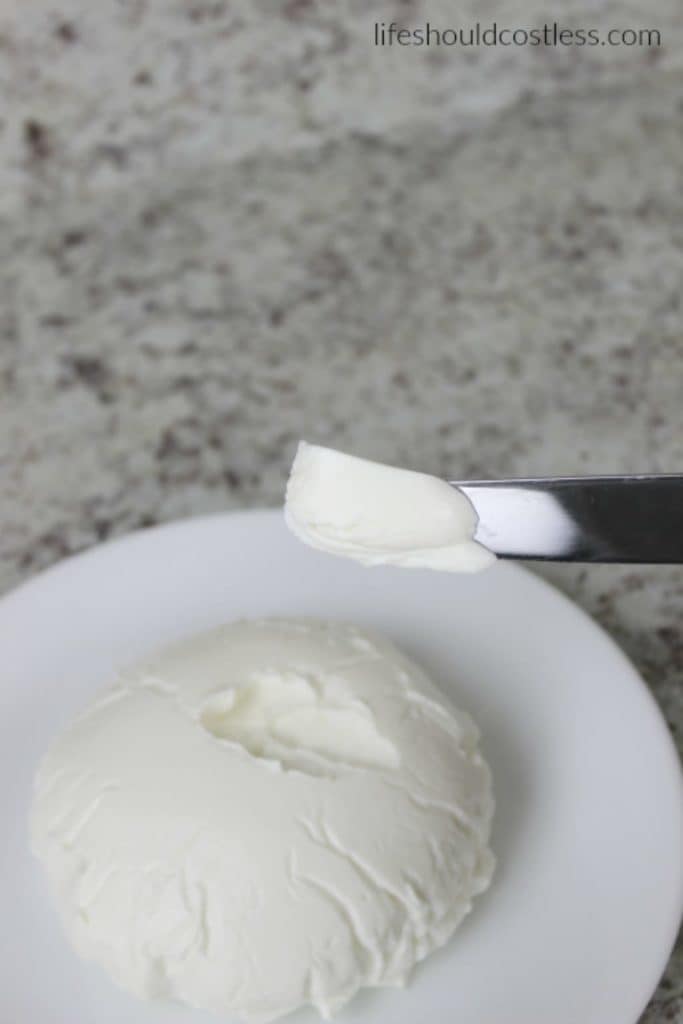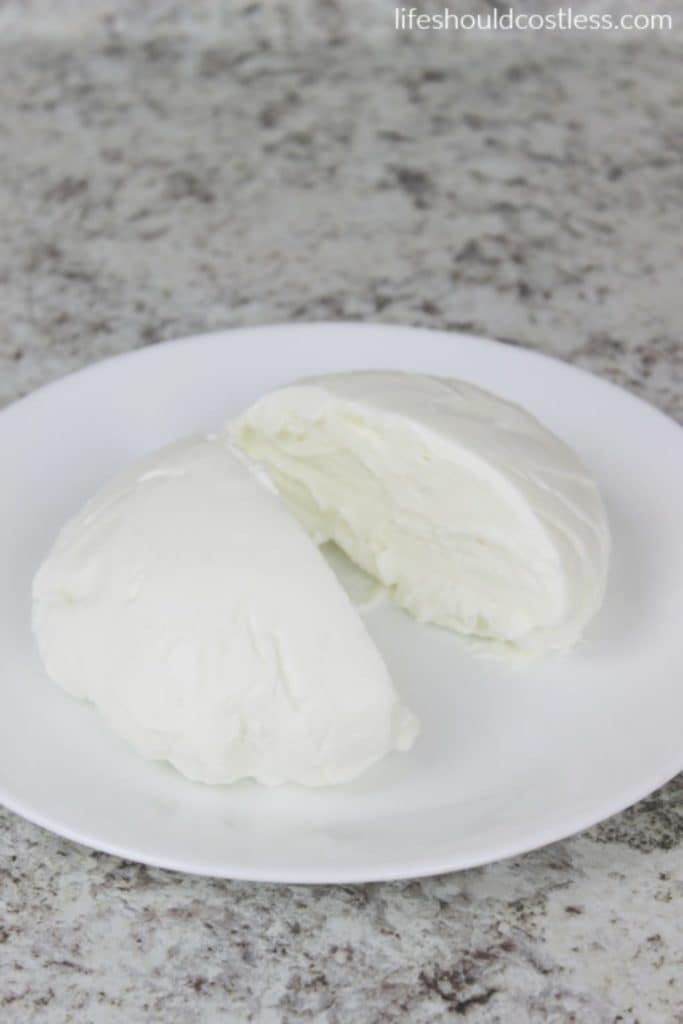 Along with how much whey dripped out. I'm such a dork, but I was curious as to exactly how much excess whey there is in a container of Greek yogurt, and here is the answer for a full 32 oz container of Chobani. No way! That's a ton of whey!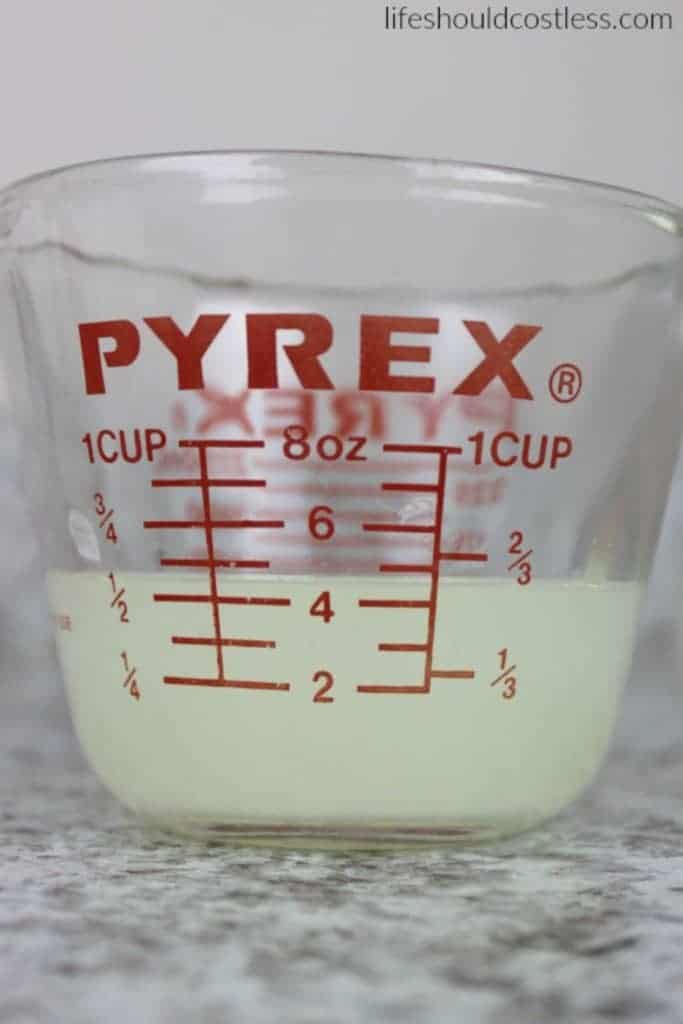 Also, how much "cream cheese" one 32 oz container of Chobani makes. It's about 2.5 cups. Which means that it has around 34-35 grams of protein and 208 calories per cup (8 ounces). Not bad!
Some folks are wondering how much protein gets drained out in the whey and from what I can find, the run-off on yogurt is actually whey acid and for a little more than 1/2 cup of whey acid it is only a little more than one gram of protein that gets taken out…so not much at all. You can look up the nutrition info for whey acid here. *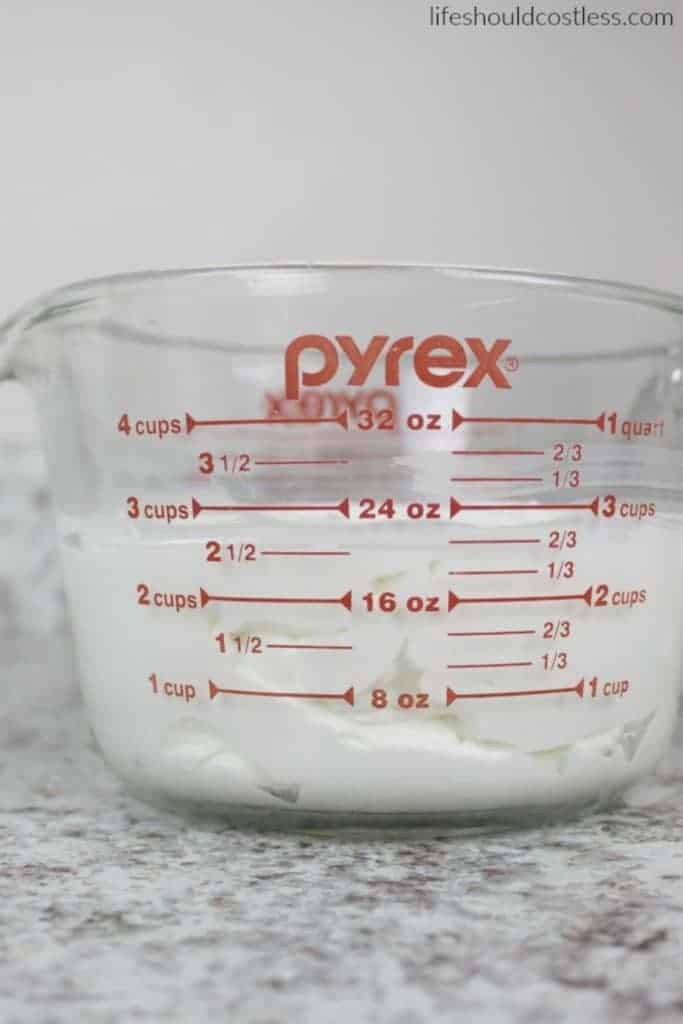 If you need to use it right away, that's great. It's ready to use and should swap out cup for cup in your cream cheese recipes. If you need to just have a bunch ready to go for your baking needs I suggest just re-using your yogurt container but give it a snazzy new label. 😉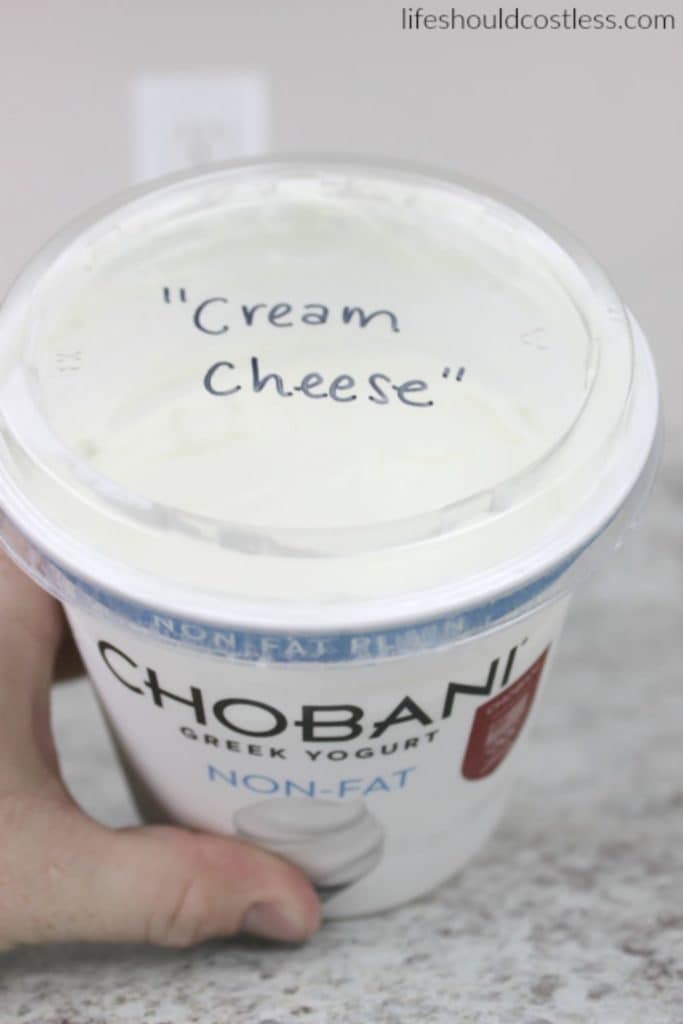 Those of you that have worked with dairy products are probably thinking "yeah, this is common sense", but for those of you that don't have any experience working with cheese cloth for its intended purpose, you are probably thinking "wow, that's pretty handy. There are so many recipes that this information would be useful for"… yes I'm putting words in your mouth but hey… I think it's been pretty handy to know.
I started doing this years ago when I posted my Mom's Favorite Cheeseball, Now Made With Greek Yogurt recipe…a must for your holiday celebration by the way, and decided that this method of "cream cheese" prep needed a tutorial all on its own.
If you are trying to trick your family into eating this instead of regular cream cheese, you could always use a box from regular cream cheese and put some plastic wrap inside and then mold the greek yogurt stuff into it then cover and chill…lol.
I'm always sneaking healthier ingredients into my family's diet so that is what I would do if they were being super pick about it. Hee hee…just ask my dad, I made him a meal recently and waited until he was on his seconds to ask him if he could tell that it was brown rice pasta instead of regular pasta and he couldn't tell a difference.
A great use for this, that you may not have thought of, is to mix a little with some of your favorite flavored jelly to make a delicious protein packed schmear for that morning bagel. It's also the perfect texture for most dip recipes too.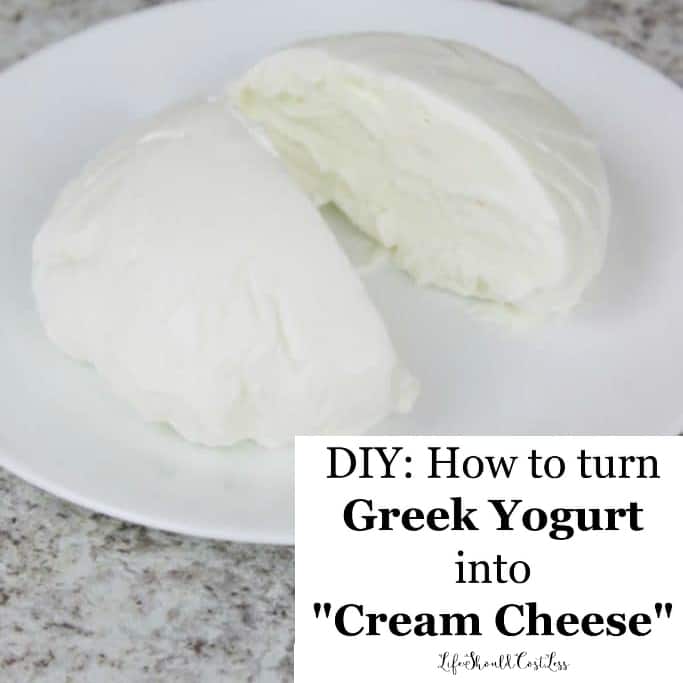 What do you think? Did you try it? Did you like it? Any money saving suggestions on how to make it even more frugally?
Thanks so much for stopping by my blog! Please make sure to comment and share this post with any of your Greek Yogurt loving friends and family via social media. Hoping you have some happy and healthier parties in your future!
Other ways to show your support are to follow and/or interact with me on Pinterest, Instagram, Facebook, YouTube, or by Subscribing To My Email List. If you purchase suggested products through Amazon, the cost to you remains the same, but I make a small commission on everything in your cart.
If something was particularly helpful and you would like to donate directly to the blog, you can do so via PayPal, here. I'm a single mom of four, so every little bit helps. Thanks so much! ~Sarah
P.S. You may also like my entire DIY section, as well as my recipes section.
Here are five other posts that you may want to check out (the pics are links so just click on the one you want to see):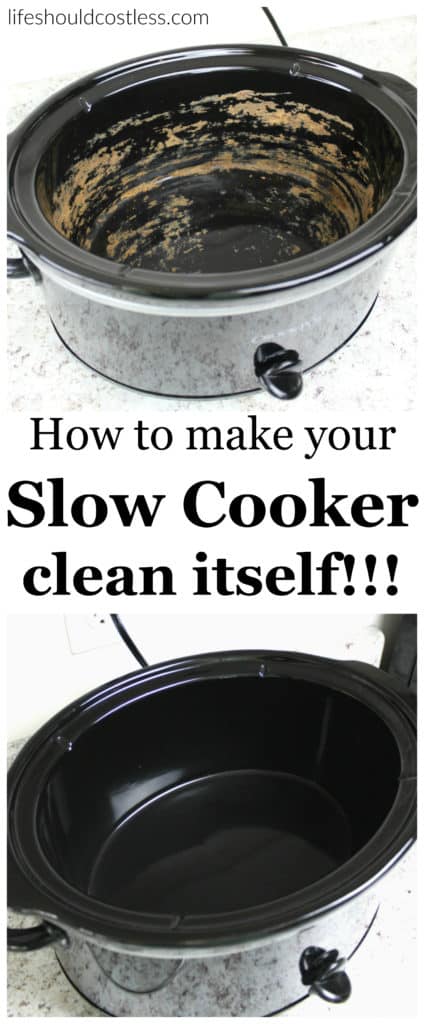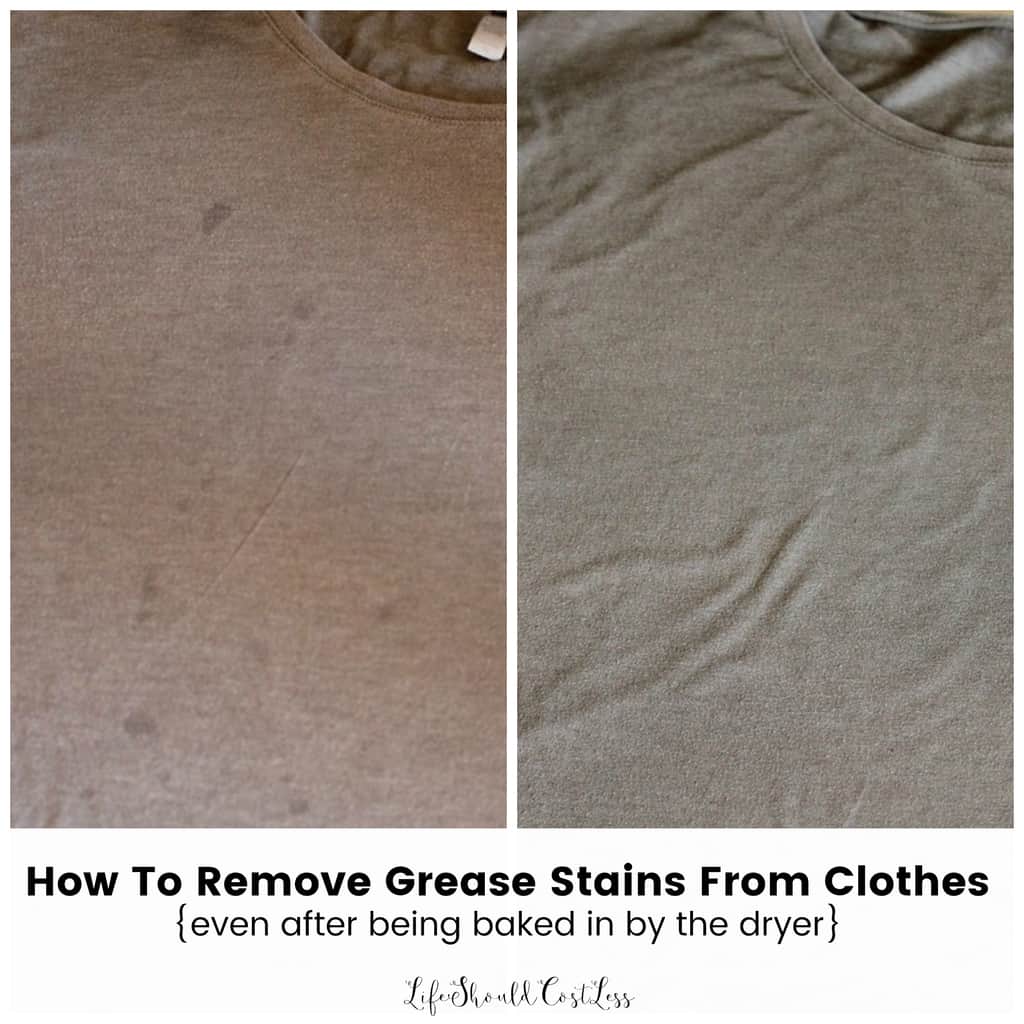 *Reposts: Please note that this idea/post was originally posted to this website on 10/14/2016 but it was in great need of a refresh so it now is more user friendly/shareable.