A healthy protein packed breakfast is one of the most important things that we can do for ourselves to get us, and keep us, on the right track for our fitness goals throughout the day. Which is why I thought it was time to share with you all my personal high fiber healthy protein waffle recipe that is made without protein powder, it only includes ingredients that I consider "real" food.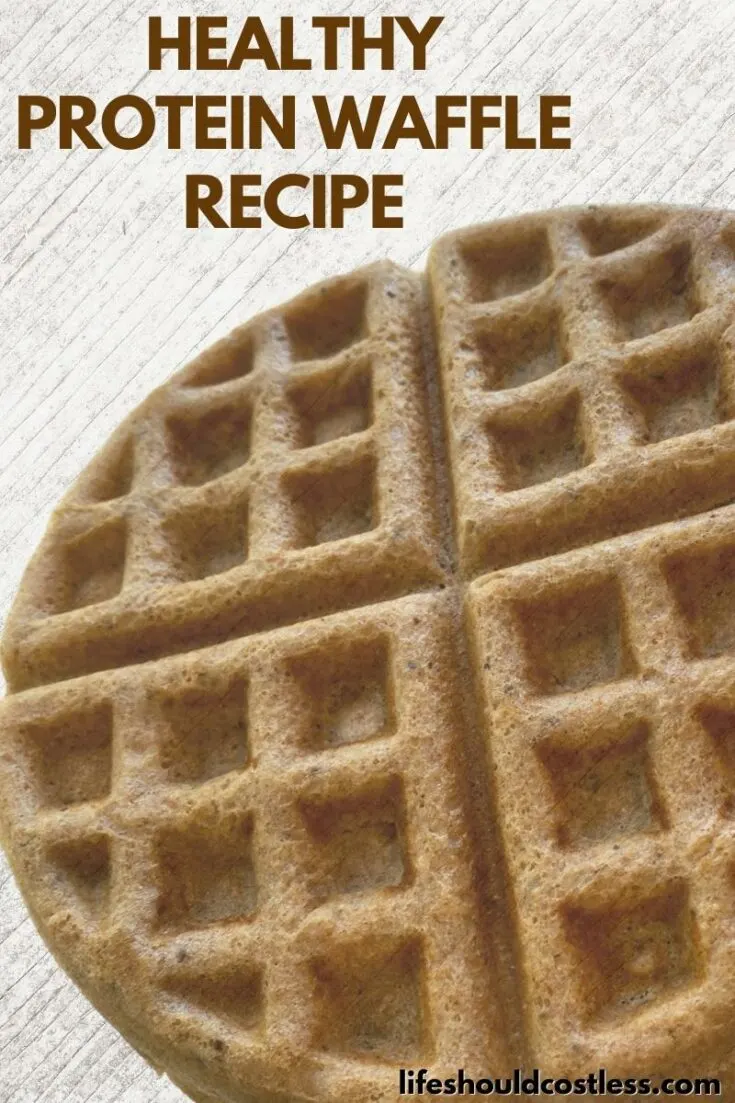 Are waffles healthy?
You may be wondering to yourself, are waffles good for you, or are waffles bad for you in general…and the answer to that very broad question entirely depends on what your personal definition of healthy foods is. My personal opinion about healthy foods is that if it is not processed and has whole grains in it, then yes, I would consider that not only food, but a healthy food.
Do waffles have protein? A typical waffle that you make from a pre-made mix, or find frozen at a grocery store, is full of a lot of processed junky calories that has little to no protein, fiber, or whole grains. So no, I would not consider a typical waffle, along with most toppings, a healthy choice.
However, luckily, these days most grocery stores have a healthier foods section that has some good and, by my definition, healthy waffle options out there (such as Kashi's Protein Power Waffles, and Kodiak Cakes has good options for Protein Power Waffles too).
Keep in mind that these protein waffles are a key ingredient to my breakfast ritual that I do each and every morning, and they keep me on track for hitting all of my fitness goals throughout the day. If you would like to read about my breakfast ritual, go here.
Are protein waffles healthy?
When you're wondering, "are protein waffles good for you", I personally believe that of all the waffles out there, the ones that are full of protein, whole grains, and are high fiber waffles are the most nutritionally dense and will provide you with the best building blocks to starting your day in a good, and physically strong way (remember to always consult your Dr. before altering your diet).
Though, when you're on a budget like I am as a single mom of four, it's just not an option to spend so much money on something that I eat nearly every single day as part of the healthy habits that I developed during my fitness journey (I have lost, and maintained it, over 100 lbs for those of you that are new to my site).
So, the cost of protein waffles alone forced me to create an alternative solution and I adapted my own old waffle recipe to suit my newer nutritional needs, so I thought that I would share with you all my healthy homemade waffles.
Unlike a lot of the high protein waffle recipes out there, this is one of the protein waffles without protein powder, so keep in mind that it is as high protein as I could get it to be naturally without adding some sort of a protein "booster". Luckily, I have found a simple solution to that problem when it comes to what I use instead of a syrup or butter.
Healthy waffle toppings
I have found that the easiest way to undo a little bit of the nutritional benefits of my healthy protein waffle recipe, or any healthy waffles for that matter…is to get carried away with sugary and super high fat toppings like whipped cream, various syrups, butter, and any of the other very high calorie traditional waffle toppings out there.
It would be nice to be able to just eat the waffles plain, and not have any added calories in toppings. But, unfortunately it is really hard to get a waffle down your throat (for lack of a better way to explain it…sorry) without some sort of wetness to lubricate it on its way down.
As someone that counts calories, I tried for a good long while to figure out a solution, to make waffles a little bit more palatable without adding too many extra calories, and the best solution that I could come up with…we'll call it a healthy waffle life hack, was to use Greek Yogurt as my topping.
The great thing about using Greek Yogurt as a healthy waffle topping is that it comes in a bunch of different flavors so you can switch things up, or mix in your own fruit, and there you have it… an even higher protein solution (that's not too heavy on the calories) to the waffle topping dilemma.
Keep in mind that my high protein waffle recipe is a Vanilla waffle…so my favorite type of Greek Yogurt to top these waffles is either blueberry or strawberry.
---
Protein waffle calories?
If you're wondering how many calories there are per healthy waffle, it is going to depend a great deal on which waffle iron you are using and how far this recipe spreads.
My waffle iron is this basic Belgian waffle iron made by Oster and it makes an 8″ round waffle sheet. My recipe makes 9 sheets in my waffle iron (each sheet has four squares), and one serving of this recipe is the equivalent of one sheet of the waffles (or 1/9th of this recipe).
The nutritional info in my recipe card below is based on these measurements, and is calculated using a nutritional app, and should be considered an estimate only.
---
How to make protein waffles:
This is just a simple dump and mix recipe, so if you're looking for a really labor intensive recipe (with gorgeous professional photos), I'm sorry…this is just not it.
Literally, all you do is dump all the ingredients into your medium to large sized mixing bowl: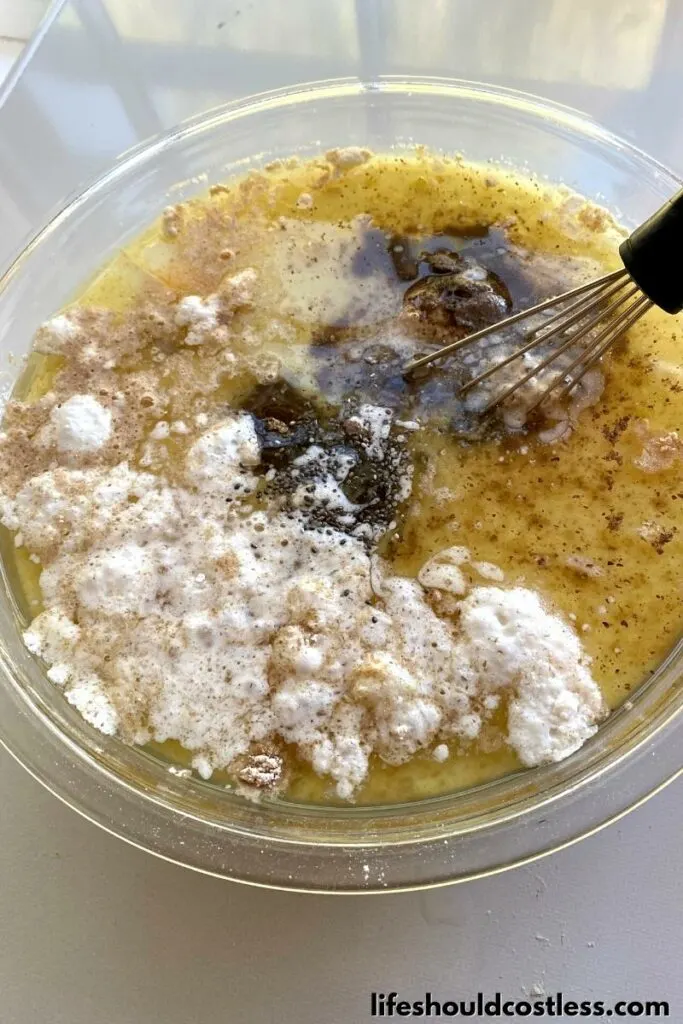 Mix well, I use a whisk: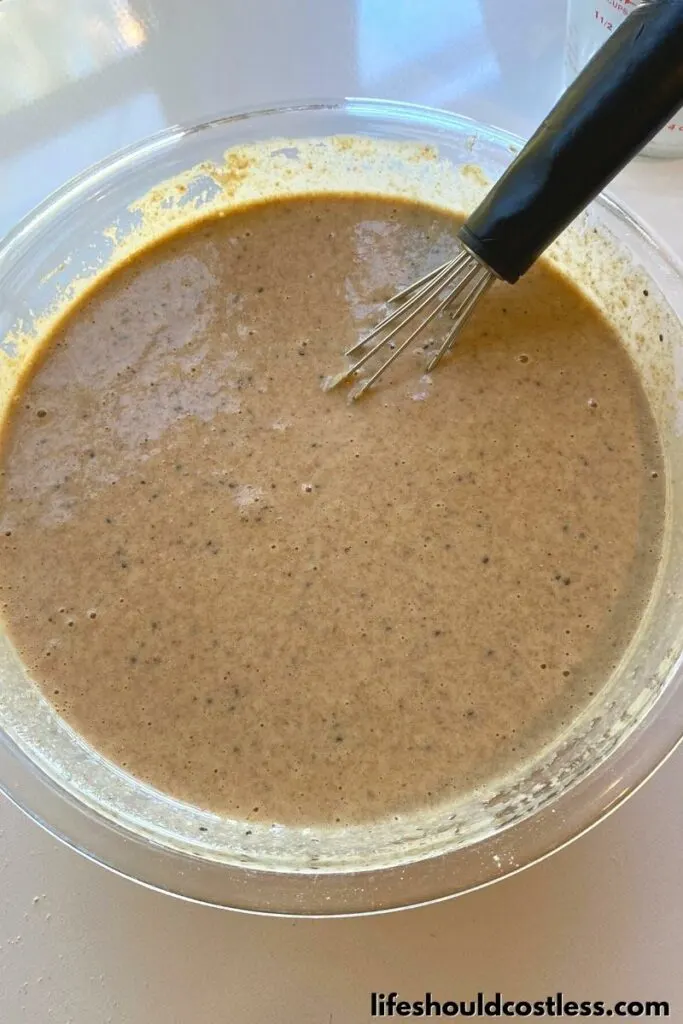 And then let the waffle mixture sit for approximately five minutes, or so, before you start putting them in your waffle iron to cook because it needs a little time to naturally thicken, stir well after it has been sitting.
Then you just cook them in your waffle iron, as long as you prefer yours cooked (more time crunchy waffles and less time for more soft waffles).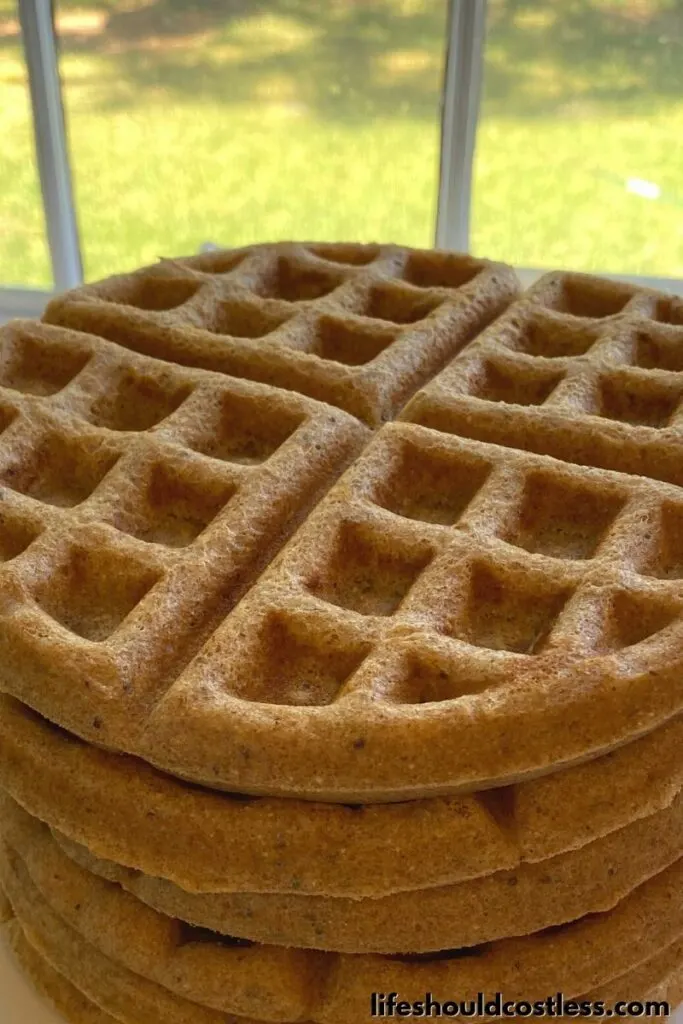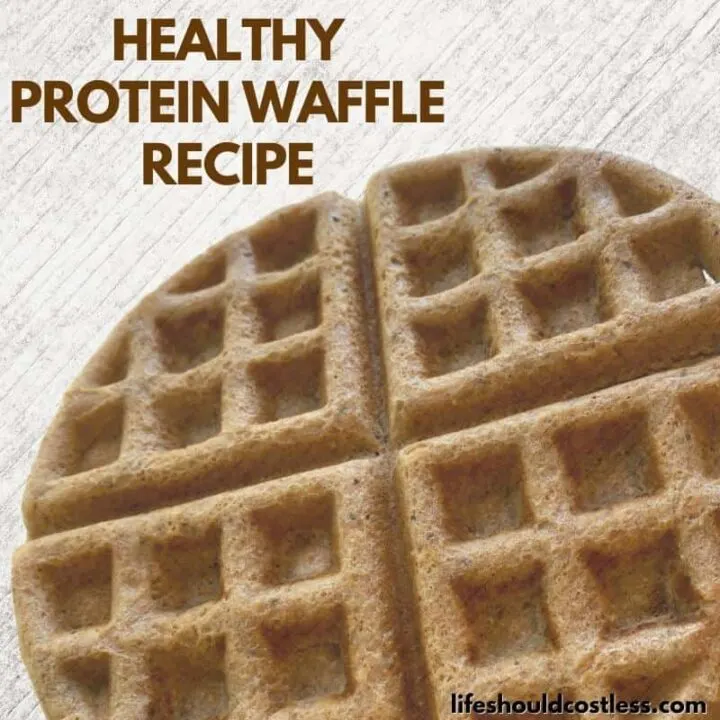 Homemade Protein Waffles
Additional Time:
20 minutes
A healthy, protein packed, breakfast is one of the most important things that we can do for ourselves to get us on the right track for our fitness goals throughout the day. Which is why I thought it was time to share with you all my personal high fiber healthy protein waffle recipe that is made without protein powder, it only includes ingredients that I consider "real" food.
Ingredients
3 & 1/2 Cups Whole Wheat Flour (freshly ground is best)
1/4 Cup Coconut Sugar
2 Tablespoons Baking Powder
4 Large Eggs
3 Cups Milk (1%)
1 Cup Avocado Oil
2 teaspoons Vanilla Extract
2 Tablespoons Flax Meal
2 Tablespoons Chia Seeds
Pinch of Salt
Instructions
Preheat 8" waffle iron to your desired setting.
In a medium to large sized mixing bowl add all the ingredients.
Mix well.
Let sit for five minutes or so to thicken.
Mix well.
Spray waffle iron with your choice of nonstick cooking spray before each time, but add approximately 3/4 Cups mixture to iron. Close it, and allow to cook until your desired level of done.
Put finished waffle on a cooling rack, or serve hot.
Spray waffle iron, and repeat until you have made all of the waffles.
Notes
If you would like to use oat flour instead, it should work just as well and may possibly even increase the protein amount more.
Nutrition Information
Yield

9
Serving Size

1
Amount Per Serving
Calories

400
Total Fat

30g
Saturated Fat

5g
Trans Fat

0g
Unsaturated Fat

24g
Cholesterol

89mg
Sodium

396mg
Carbohydrates

26g
Fiber

3g
Sugar

10g
Protein

9g
These caloric amounts are automatically estimated by a plugin on my site,and should be treated as an estimate only.
Keep in mind that I like to grind my wheat berries for fresh wheat flour right before I make a batch of these waffles, and I use this grinder (that I have been using for years) to do so.
---
One more thing I like to do to help save time and money is to make them ahead and freeze them for later use so I'm not rushing around in the mornings (especially during the busy school/work week)… here's how to do it.
How to make freezer waffles at home:
My favorite thing to do when I make this waffle recipe (though the technique should work with any waffle recipe) is to make all nine sheets of the waffles (following the directions on the recipe card), and put them on a cooling rack after they are done cooking.

Then I let them completely cool to room temperature…then, I split them into single serving size (half sheet or two squares) and I put them in some gallon-sized zip freezer bags.

Once the waffles have frozen, I take out one serving each morning (broken into squares if needed) and either put it in the toaster (just like I would a store-bought freezer waffle), or nuke it in the microwave for about a minute.

This is something that I do as part of my healthy meal prepping for the week, and it saves me so much time not having to make waffles every day… which actually makes it much easier to stick to the healthy breakfast habit because making waffles every day would be a total pain.
---
If you end up not being a fan of my recipe, that is ok. Hopefully you were able to get some other helpful info while you were here.
That's really all I have to share today, so I hope you liked it.
Thanks so much for stopping by my blog and supporting my endeavors to make people's lives a little easier/better/more affordable. If you liked this recipe post, or found it helpful in any way, please make sure to share it with your family, friends, and co-workers via social media…or you could even send them the direct link via email. Whichever way you choose to spread the love, I super appreciate it! ~Sarah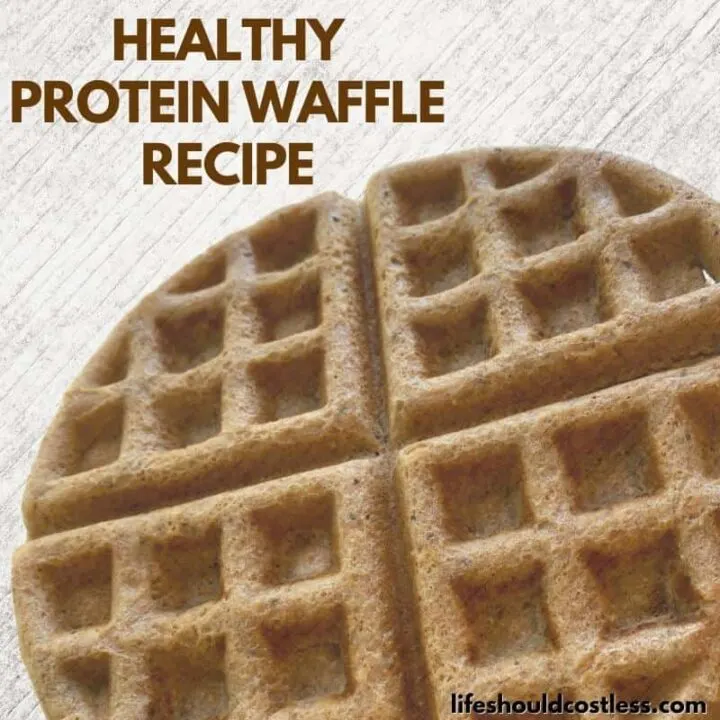 If you would like to subscribe to my email list, go here.
Make sure to follow along via social media, by going here.
If you would like to learn how to really show your support to this site (at no cost to you), go here.
For those of you that would like direct links to some of my other high protein recipes/posts, here you go (you can also check out my entire high protein recipe section found here):
*This recipe was originally shared to this website on August 31st 2011, and has since been re-developed to adjust to my personal nutritional needs, as well as to become more user-friendly, and to add a free printable recipe card. I also wanted to make it become as shareable as possible across the social medias, so it has been tweaked in that way too :).