Learn how you can easily make the best cream cheese ball ever. This simple and delicious family favorite cheese ball recipe is made with cream cheese, mild or medium cheddar cheese, ranch dressing mix, olives, onion, garlic, and is rolled in chopped pecan pieces. It's sure to become your "go-to" cheeseball recipe (with a classic cheeseball recipe) for every holiday, Christmas, or gathering.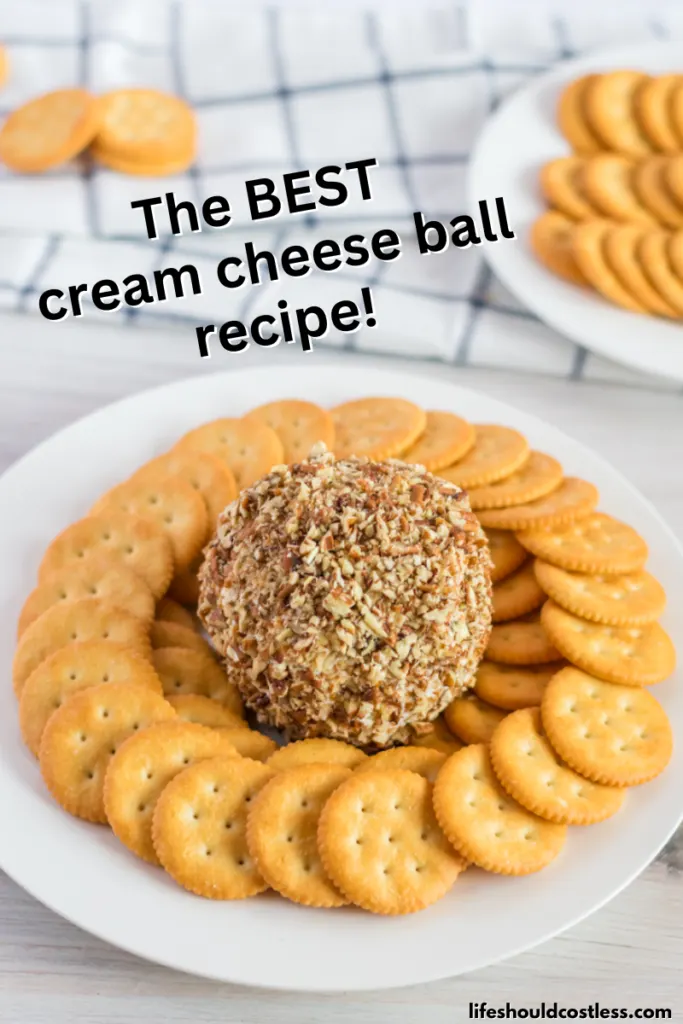 ---
Table of Contents, Skip Ahead To What You're Looking For
About this particular cheeseball recipe:
I'm a bit picky when it comes to liking any cheese ball recipe with cream cheese.
I prefer a savory cheese ball, and am not a fan of anything in them that tastes sweetly funky, like pineapple…the sweetness just makes me want to gag!
Luckily, my mom makes her famous, super yummy cheeseball, that has just the right blend of ranch, garlic, onion, and olives & it always leaves me craving for more.
In fact, back during my "fluffy" days…I could easily polish off half of one of these cheeseballs myself in one sitting…because they are just THAT good!
So, you have been forewarned…lol.
---
Why does this recipe make 3 cheese balls?
Long story short, my family is BIG on both sides and we are also "big" on not wasting leftover ingredients (this recipe uses up a whole can of olives and a whole ranch dressing mix packet).
My mom made this recipe to make three cheese balls because during the holidays she always needed to make enough to take one to her side of the family, one to my dad's side of the family, and then we would keep one at home for just us to enjoy.
---
What to do if you only want to make 1 cream cheese cheese ball
I realize that three cheese balls is just plain going to be too much for many of you…but it is easy to break the recipe down into a single cheese ball if you would like to only make one.
Just look in the notes section of the recipe card, and I break it down into a one cheese ball recipe for you.
---
What ingredients are in a cheeseball with cream cheese?
I find it incredibly helpful, before I even read a recipe card, to take a look at a picture of all of the ingredients that are in a particular recipe to decide if it is even something that I'm going to want to eat in the first place (it saves me a lot of money and waste in not making things that are most likely going to be gross).

So, like any cheeseball with cream cheese, you start out with a base of Cream Cheese, of course.
This particular recipe also includes a ranch dressing mix packet, cheddar cheese, chopped onion, canned chopped olives, garlic, and then is rolled in chopped pecans.

I also find it helpful to see the picture of the ingredients to know exactly what to buy as well.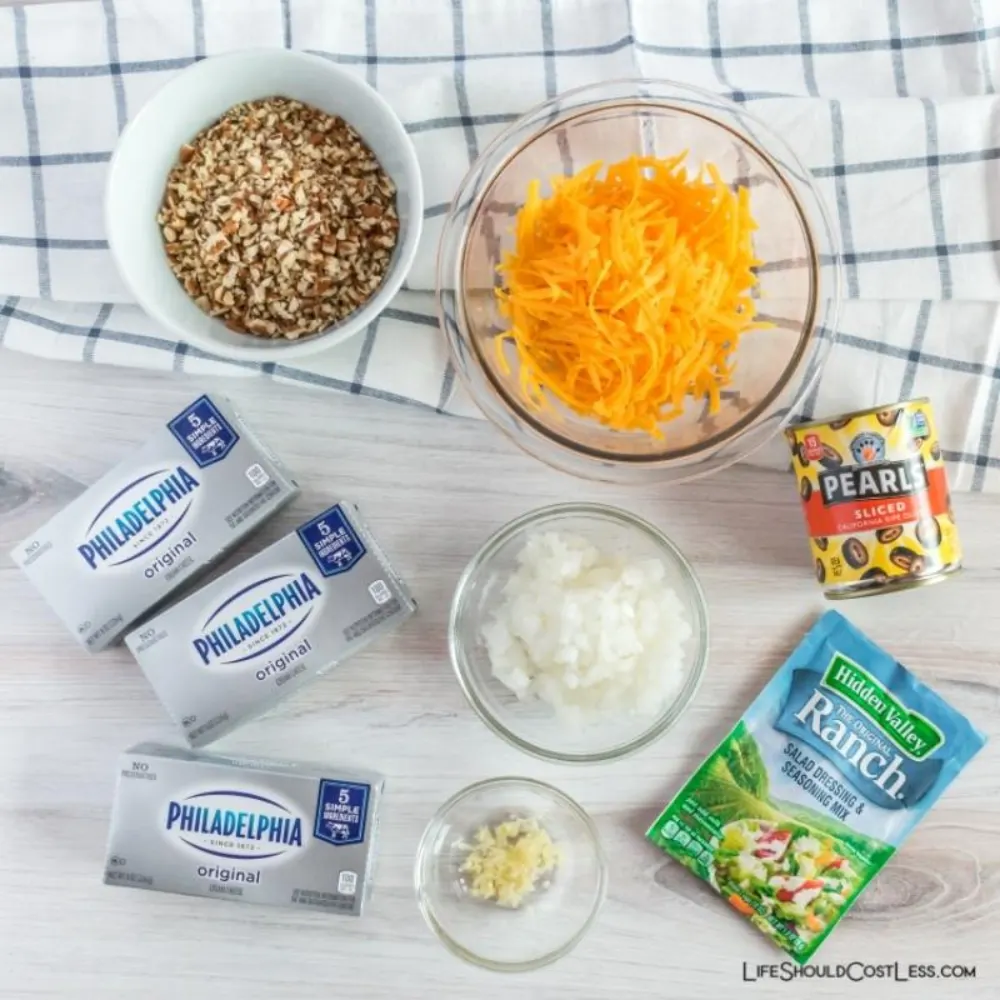 ---
How to save money on this recipe
I'm going to let you in on a little secret… I pretty much only use generic, store-brand, products when I make this myself…yes, you see some name brand things in the photo's…but that's purely for the aesthetics of the images (brand name packaging just looks more professional to work with).
So, please don't look at my pics and feel like you also much only use name brands, because frankly, it pretty much tastes the same using a generic.
Other things you can possibly do to make it as frugally as possible are:
1. Buy your ranch packets in bulk, or buy the bulk cannister of the dry mix and measure it out in ounces.
2. Buy your pecans whole, and in bulk, and chop them yourself.
3. Buy your olives whole, but pitted of course, and slice them yourself.
4. Communicate with your friends or family…if any of them also need a yummy appetizer to take to an event you guys could buy everything in bulk and split the cost.
---
How to make a lower-fat or higher-protein version of this recipe
I use full fat cream cheese when I'm making this for the holidays or a party…because I'm not going to pig out on it by myself if it's being eaten by lots of people.
However, if I want to make this at home for just me and my family, I like to lighten it up a bit because I have little self control when I make it (and people aren't going to be watching me eat it…lol).
If you would like to make the high protein version of this recipe, you can actually replace the cream cheese with greek yogurt if you follow my old tutorial "How To Turn Greek Yogurt Into Cream Cheese"…and just weigh the greek yogurt "cream cheese" to make sure you're using the same number of ounces…doing so it will make it low-fat too.
If you're only looking to lower the fat content, you can swap the cream cheese out for the Neufchatel (1/3 fat) cheese just to save on a few calories.
---
Pro tips for best results
This is such a simple recipe, there's not a lot I can share that will help out…but four things that I like to do and find super helpful are:
1. Get the cream cheese out and allow it to get to room temperature before you start…this will make it much easier to blend with the other ingredients.
2. Use an old school style potato masher to mix it all up…it's SO much easier to do that than to use a spoon.
3. Make sure that you make your cheese ball/s several hours ahead of the time that you are going to need it so that the flavors have plenty of time to blend together.
4. Make sure to grease your hands before you try to form the mixture into balls…the easiest way to do that is to spray them with cooking spray up to your wrist.
Doing all four of those things should help you get the best results possible when making this.
---
Photos of the final product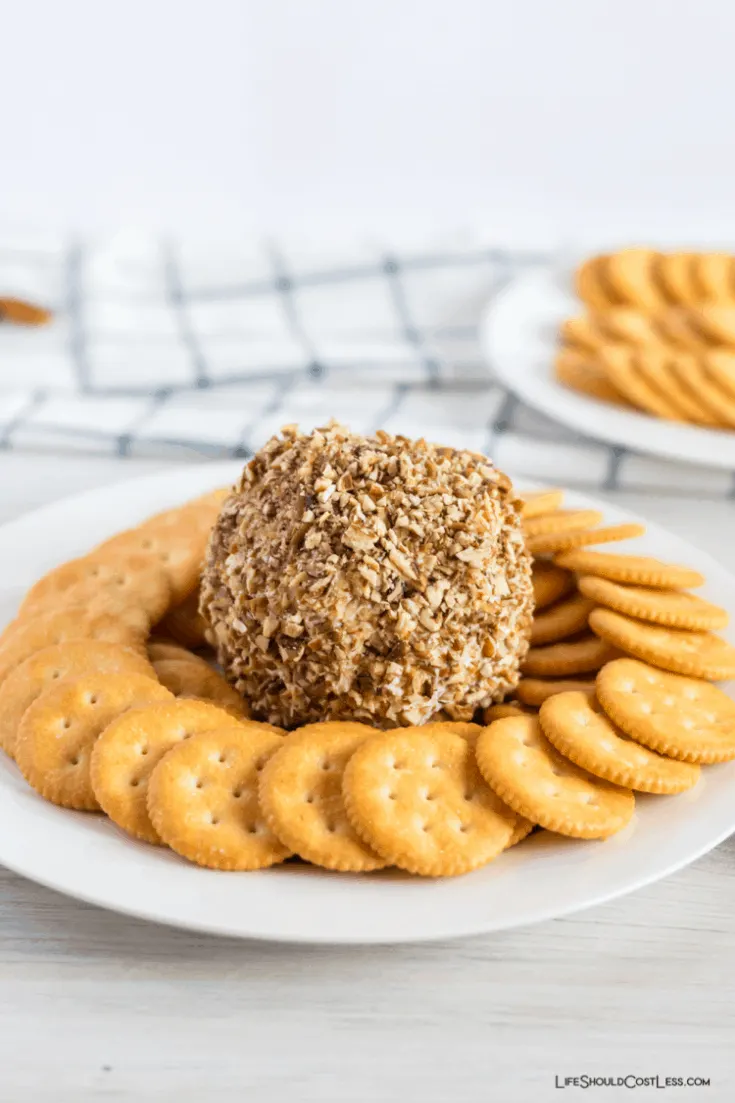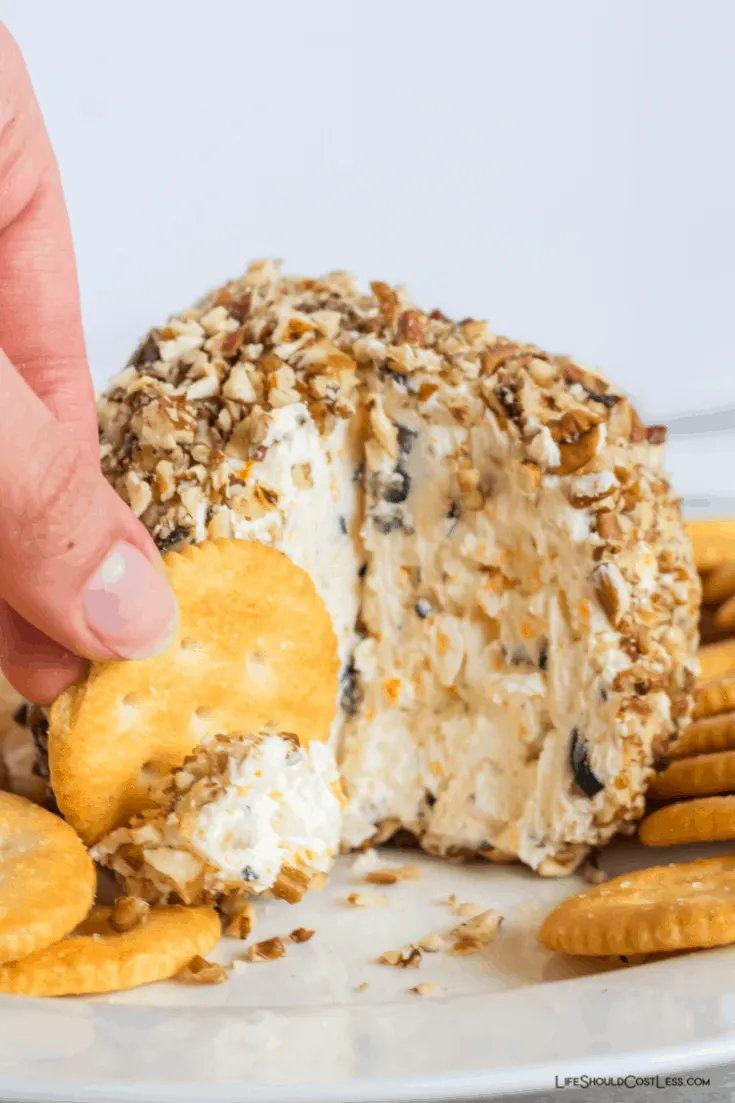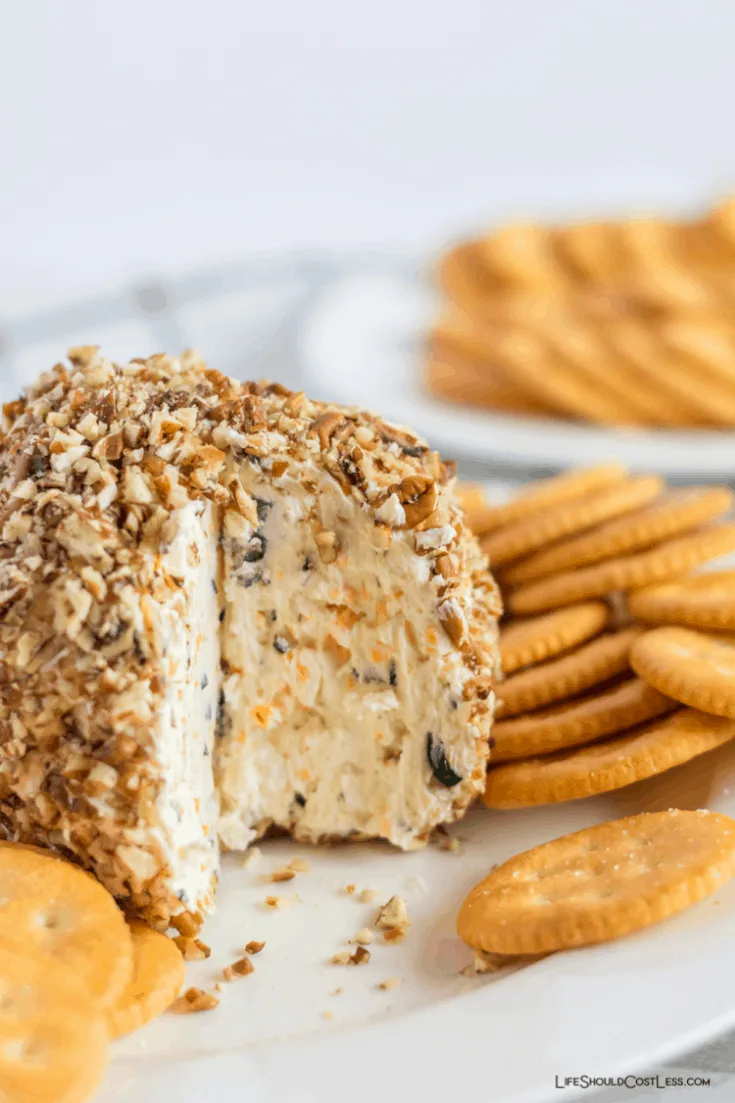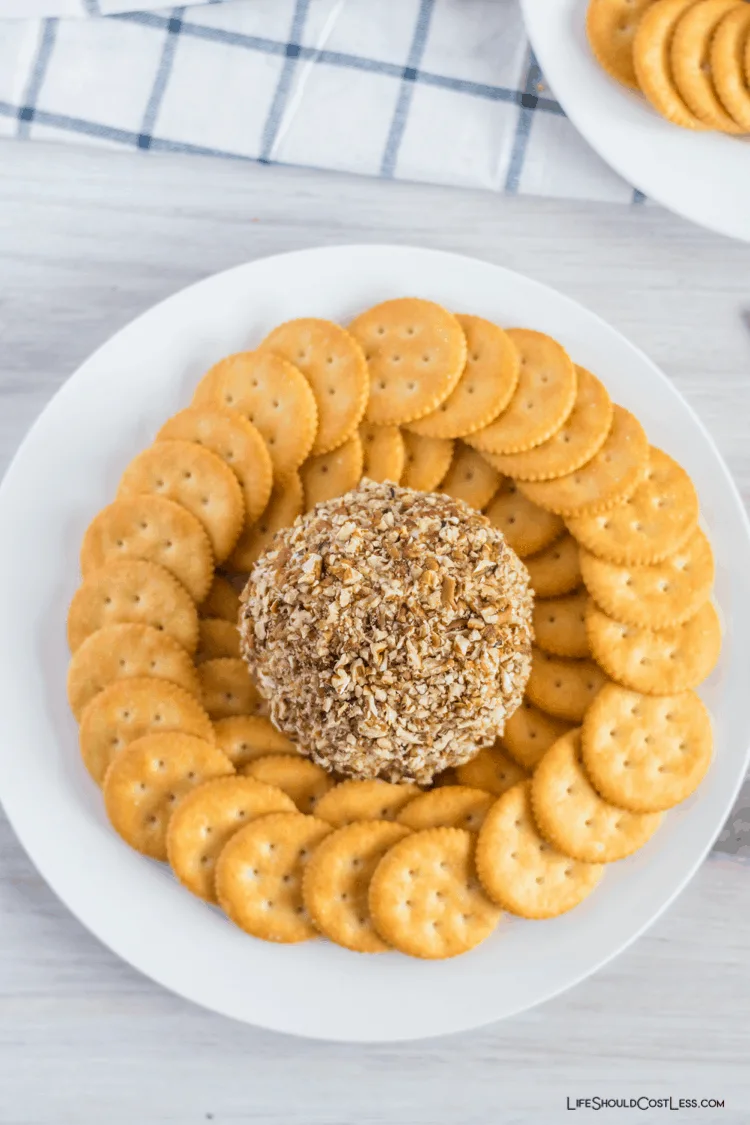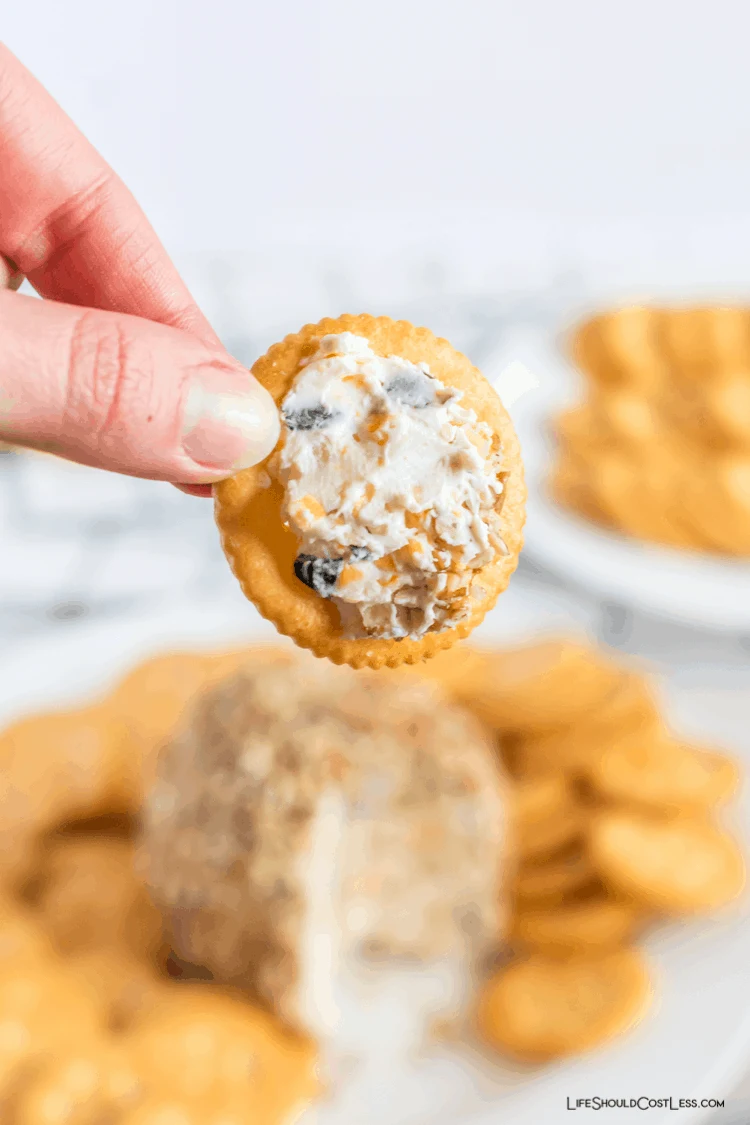 ---
Free printable recipe card for a classic cheeseball found here: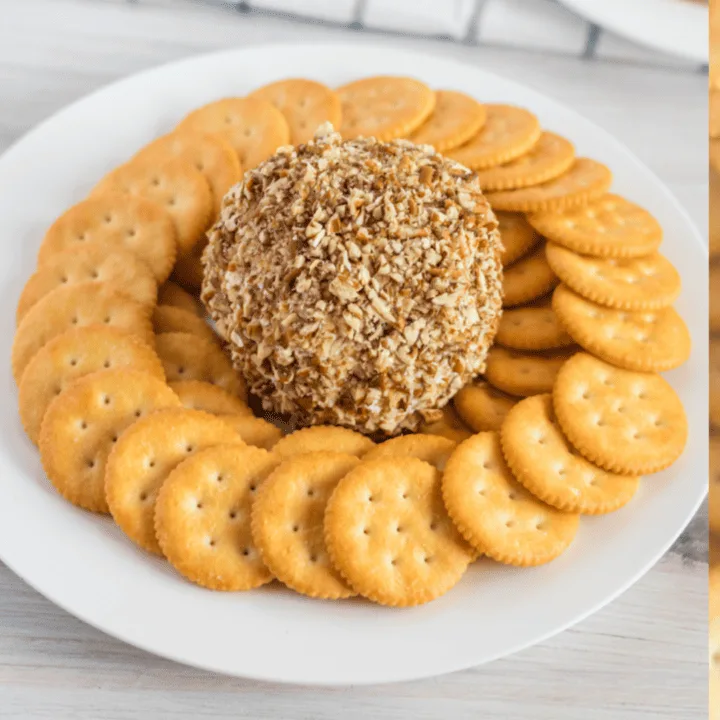 Best Cream Cheese Ball Recipe
Yield:
3 Cheeseballs, 72 Servings
Learn how to make the best classic cheese ball ever. This easy flavorful recipe is made with cream cheese, cheddar cheese, dry ranch dressing mix, olives, onion, garlic, & is rolled in chopped pecans.
Ingredients
3 (8 oz) Packages of Cream Cheese (room temp)
1 & ½ Cups Grated Cheddar Cheese (medium or mild)
1 (1.5 oz) Packet of Ranch Dressing Mix (dry)
1 (6.5 oz) Can Sliced Olives (drained)
1 Tablespoon Minced Garlic
½ Medium Onion (finely chopped)
2 cups Chopped Pecans
Instructions
Add all ingredients, minus the nuts, into a large mixing bowl.
Mix until well incorporated, I like to use a Potato Masher to mix this together, and it does a great job to simplify the process without overmixing.
Separate mixture into three equal-sized balls using your hands (spray hands with cooking spray beforehand).
Roll in chopped nuts, I use pecans. Cover tightly in plastic wrap until ready to serve.
To serve, I like to surround it with Ritz crackers on a fancy serving platter, but it's good with many different kinds of crackers, chips, sliced bread, or even as part of your charcuterie board.
Between serving, keep tightly covered and refrigerated.
Notes
This recipe makes three cheese balls, but could easily be broken down to 1/3rd if you would like to make only one cheese ball.
Here are the ingredient amounts for one cheese ball:
1 (8 oz) package cream cheese
1/2 Cup grated cheddar cheese
2 Tablespoons + 1/2 teaspoon dry ranch dressing mix
scant 2/3rds cup slicedd olives
1 teaspoon minced garlic
scant 1/2 cup chopped onion
2/3 Cups chopped nuts
(follow the directions above for mixing and rolling)
*I personally think that this recipe tastes best a few hours after preparation as the flavors have had time to properly blend.*
**Make sure that you are using some room temperature cream cheese, it's SO much easier to make if it's not super cold.**
***If you have a nut allergy, or would like to see alternative options to roll your cheese ball in, make sure to read what the options are down in the FAQ's section of the article.**
Nutrition Information
Yield

72
Serving Size

1
Amount Per Serving
Calories

27
Total Fat

3g
Saturated Fat

0g
Trans Fat

0g
Unsaturated Fat

2g
Cholesterol

1mg
Sodium

38mg
Carbohydrates

1g
Fiber

0g
Sugar

0g
Protein

1g
These caloric amounts are automatically estimated by a plugin on my site and should be treated as an estimate only. They are estimated at each cheeseball being 24 servings.
---
Cheeseball FAQ's
What is a cheese ball?

If you are new to flavored balls of cheese, I recommend reading up a bit on the history of Cheese Balls.

I was actually a bit surprised by some of the stuff I read when I was gearing up to share this recipe with you all.

Here is a good resource to read about cheeseballs if you find yourself curious about their origins too.
What is a substitute for pecans in a cheese ball?

If you need a substitute for pecans in a cheese ball recipe due to allergies or personal preference, there are several options you can consider. Here are some possible alternatives:

Walnuts: Walnuts have a similar texture and flavor to pecans and can be a suitable replacement. Toasted walnuts can add a delightful nutty crunch to your cheese ball.

Almonds: Sliced or chopped almonds can work well in place of pecans. They have a slightly different flavor profile, but they still provide a pleasant crunch.

Cashews: Cashews are milder in flavor and creamier in texture than pecans, but they can add a unique twist to your cheese ball. You can use chopped or crushed cashews for a different flavor experience.

Hazelnuts: Hazelnuts have a rich, nutty flavor and can be a delicious alternative. Toasted and chopped hazelnuts can complement the creamy cheese ball mixture.

Sunflower Seeds: If you want to avoid nuts altogether, sunflower seeds can be a great nut-free option. They offer a similar crunch and can be a good choice for those with nut allergies.

Breadcrumbs: For a nut-free and gluten-free option, you can use finely ground breadcrumbs or gluten-free breadcrumbs. These won't provide the same nutty flavor or texture but will still help bind the cheese ball and add some structure.

When substituting nuts in a cheese ball recipe, consider your personal taste preferences and any dietary restrictions or allergies.

Experiment with different alternatives to find the one that best suits your needs and complements the flavors in your cheese ball.
How long does a cream cheese ball last?

A cream cheese ball can last for varying amounts of time depending on how it's stored and the ingredients used. Here are some general guidelines:

Refrigeration: When properly stored in an airtight container or wrapped tightly in plastic wrap, a cream cheese ball can last in the refrigerator for about one week. The cold temperature of the fridge helps preserve the freshness and quality of the ingredients.

Freezing: If you need to extend the shelf life of your cream cheese ball, you can freeze it. Wrap the cheese ball tightly in plastic wrap and place it in an airtight container or a freezer-safe bag. It can be stored in the freezer for up to 1 to 2 months. When you're ready to enjoy it, allow it to thaw in the refrigerator fully before serving.

Ingredients: The longevity of your cream cheese ball also depends on the freshness of the ingredients used. If the ingredients you used were already nearing their expiration dates or were not stored properly before making the cheese ball, it may not last as long.

Toppings: If your cream cheese ball has toppings like chopped nuts or herbs, they may lose their freshness and crunch over time. Consider adding these toppings just before serving to maintain their texture and flavor.

Always use your best judgment when assessing the freshness of a cheese ball.

If you notice any signs of spoilage, such as an off smell, changes in color or texture, or mold growth, it's best to discard the cheese ball to ensure food safety.

Additionally, for optimal taste and texture, it's a good practice to consume the cream cheese ball within a reasonable time frame, especially if it contains perishable ingredients like dairy or fresh herbs.
---
Conclusion
In conclusion, if you've been on the hunt for the best cream cheese ball recipe, you've come to the right place.
Our journey through this cherished family recipe has revealed the secret to crafting the ultimate cheeseball.
By blending rich cream cheese with cheddar cheese, zesty minced onions, olives, garlic, and a medley of flavorful seasonings, you're not just making a cheeseball; you're creating a flavor explosion.
The addition of rolling the cheeseball in pecans adds a beautiful finishing touch.
Whether you're planning a family gathering, a holiday celebration, or a simple get-together, these cream cheese balls are a guaranteed hit.
It's a versatile and crowd-pleasing appetizer that will leave your guests clamoring for the recipe.
Share the love and tradition of this yummy cheeseball recipe with cream cheese, featuring these exquisite ingredients, with your friends and family.
Watch it become a beloved staple at your gatherings, just as it has in our family for generations.
Don't hesitate—gather your ingredients, follow the steps, and savor every mouthwatering bite of this incredible creation.
This recipe is not just a dish; it's a memorable experience that brings people together and adds a touch of nostalgia to any occasion. Enjoy!
This is by far the best appetizer on this website, at least that is my personal opinion. I hope you love it as much as I do!
---
Thanks so much for stopping by my blog and supporting my endeavors to make people's lives a little easier/better/more affordable.
If you liked this recipe post, or found it helpful in any way, please make sure to share it with your family, friends, and co-workers via social media.
Or you could even send them the direct link via email. Whichever way you choose to spread the love, I super appreciate it! ~Sarah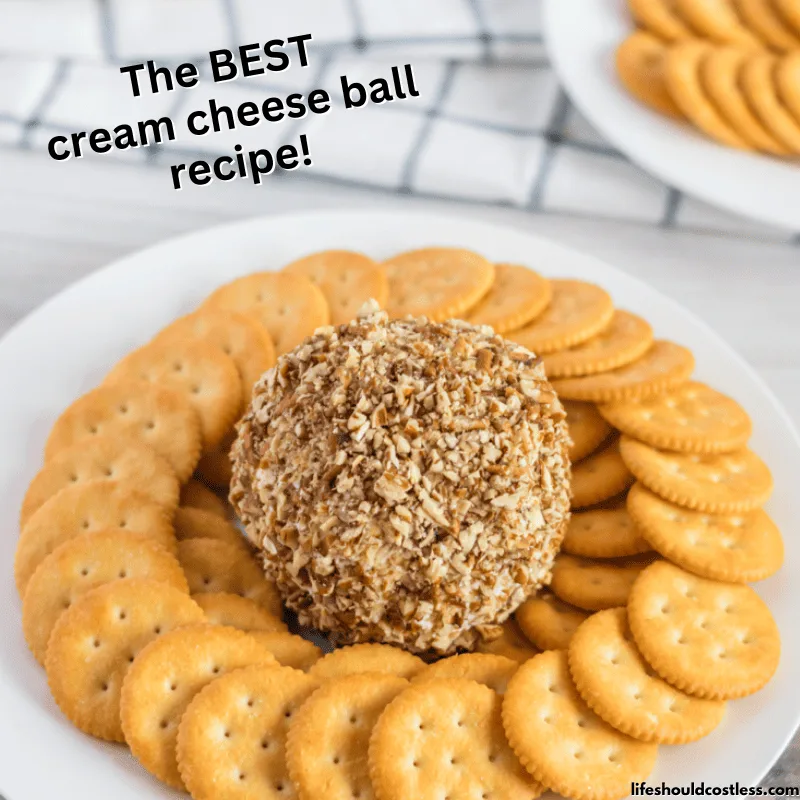 Follow Me
How to follow & support this site
---
---
Check out my other yummy recipes:
Appetizers/sides to try
Various kitchen helpers/tips
---
Other good resources for cheese ball recipes with cream cheese
Maybe you tried it and decided that you don't like my particular version of this recipe. That's totally ok. However, here are some other good cheeseballs you could try instead:
---
*Please note that this recipe article was originally shared to this blog on 11/10/2011, and has since been continually updated to improve user experience, remain relevant, add video instruction, as well as to make it as shareable as possible across the social medias.