Learn how you can easily make the best classic cheeseball recipe ever. This easy and delicious family favorite recipe is made with cream cheese, cheddar cheese, ranch, olives, onion, garlic, & is rolled in chopped pecans.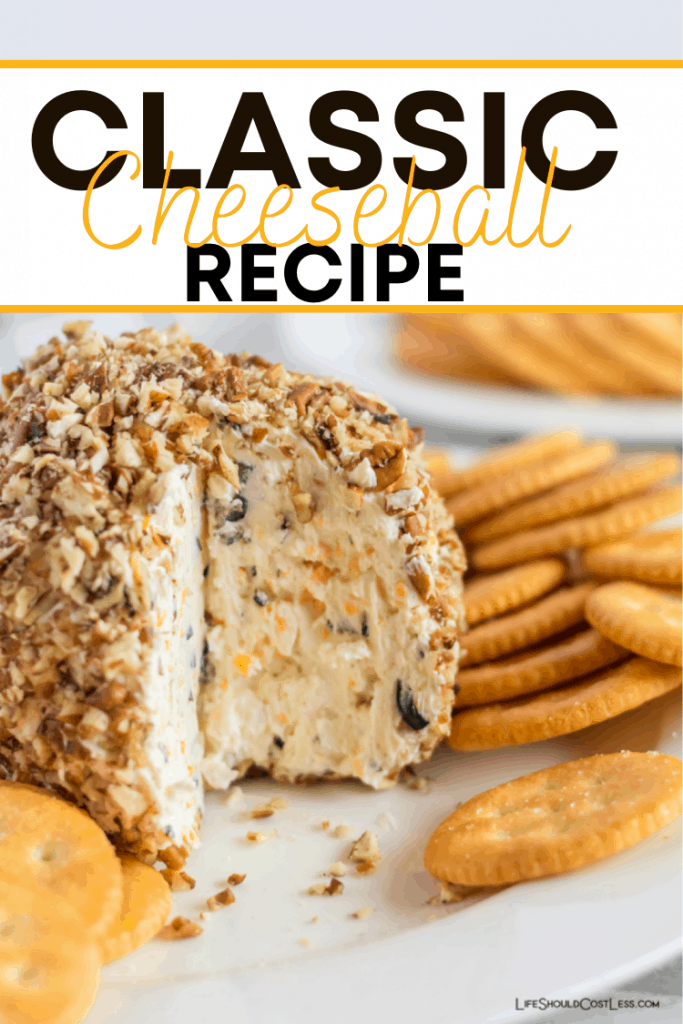 I'm REALLY PICKY when it comes to liking cheeseballs. I don't like anything in them that tastes funky, like pineapple…the sweetness just makes me want to gag!
Luckily, my mom makes her famous, super yummy cheeseball, that has just the right blend of ranch and garlic and always leaves me craving for more.
So, I decided to share mom's fantastic cheeseball recipe with all of you.
How to make a cheeseball:
First I will show you a basic photo tutorial of the easy process, followed by a free printable recipe card.
Here are the still images, and directions, of the process of making these easy & yummy cheeseballs.
The ingredients all laid out…I like to show this first so that you know for sure what to buy. You can certainly use generic products to save money too.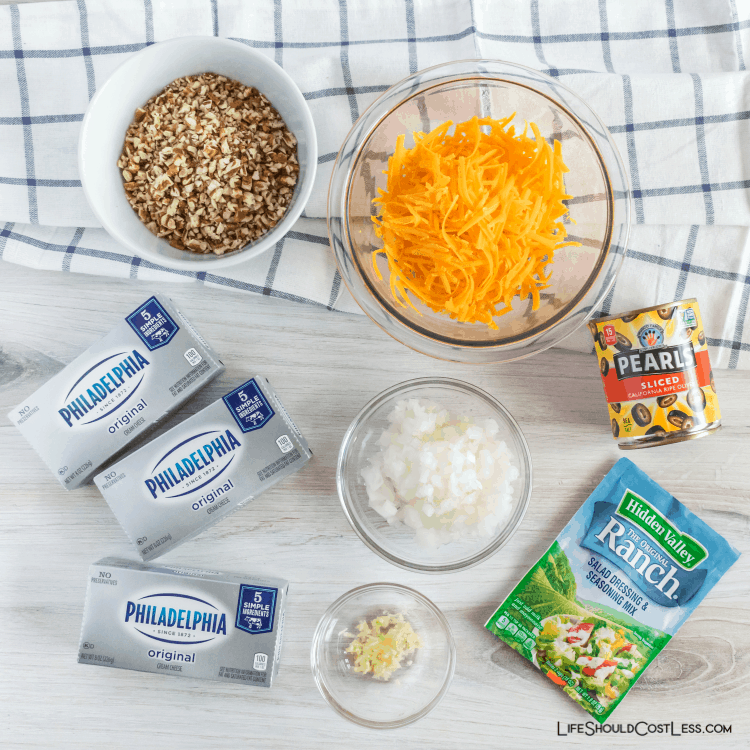 We start out by adding all of the ingredients, minus the nuts, to a medium or large mixing bowl, I use a four-quart bowl, found here.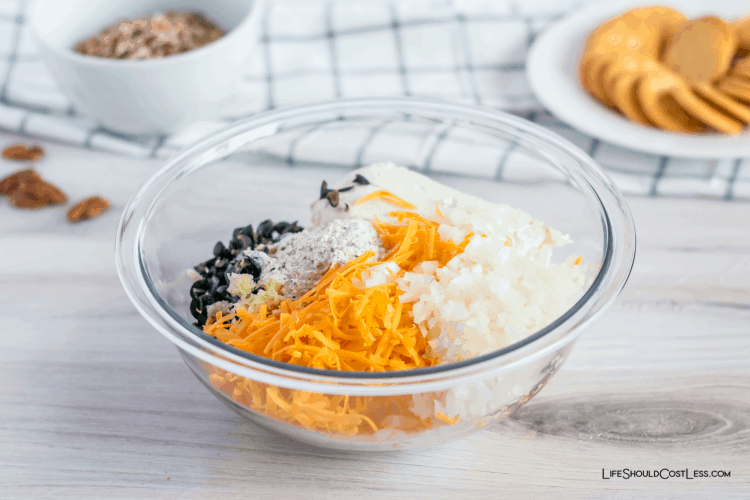 Mix these ingredients well. You can actually mix this in a stand mixer, but I generally prefer to do it by hand and I have found that it is much easier to mix it, using a potato masher, than it is to use a spoon.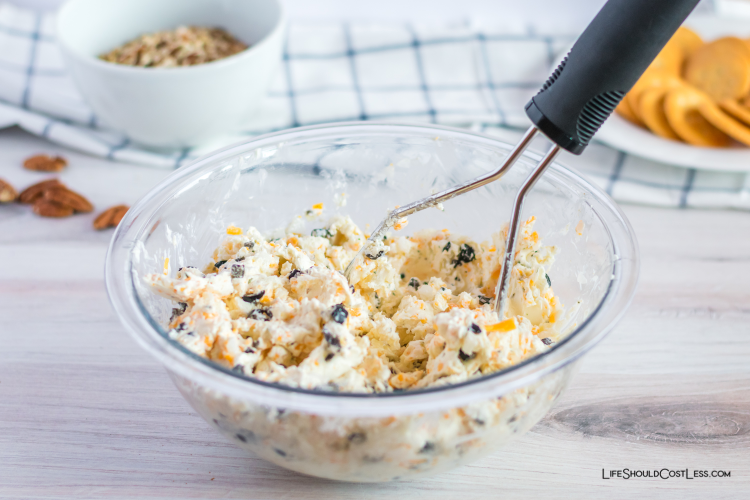 Once you have finished mixing well, divide the mixture into thirds to create three different cheeseballs.
Use your hands (grease them, I usually just spray my hands with cooking spray) to shape the mixture into a ball and roll in a bowl of chopped nuts. I always use pecans, they're my favorite.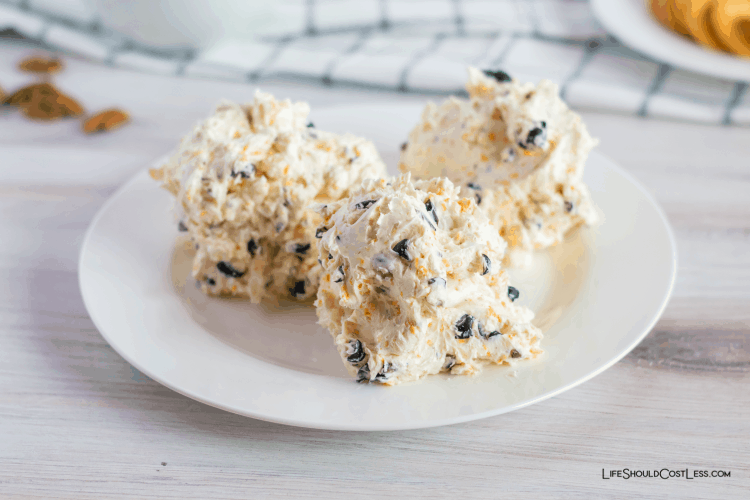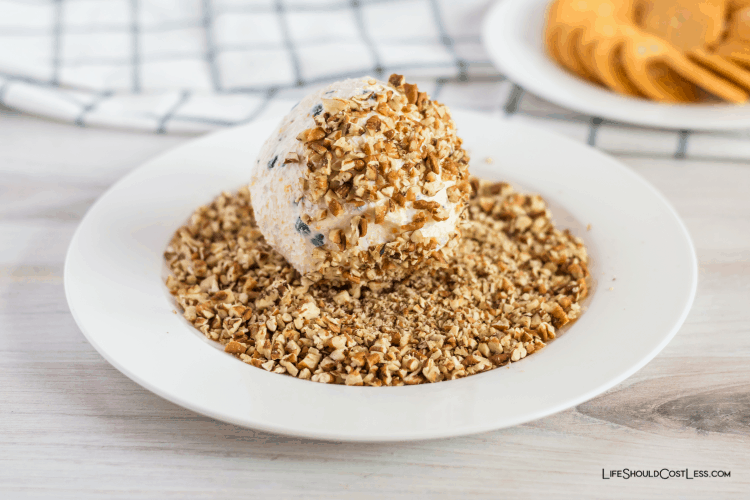 Once you have rolled them in chopped nuts, you can either wrap them in clear plastic wrap, or arrange them on a fancy serving platter with your favorite crackers, totally up to you.
**Remember that if you like this recipe, you're going to want to check out my entire Appetizers section.**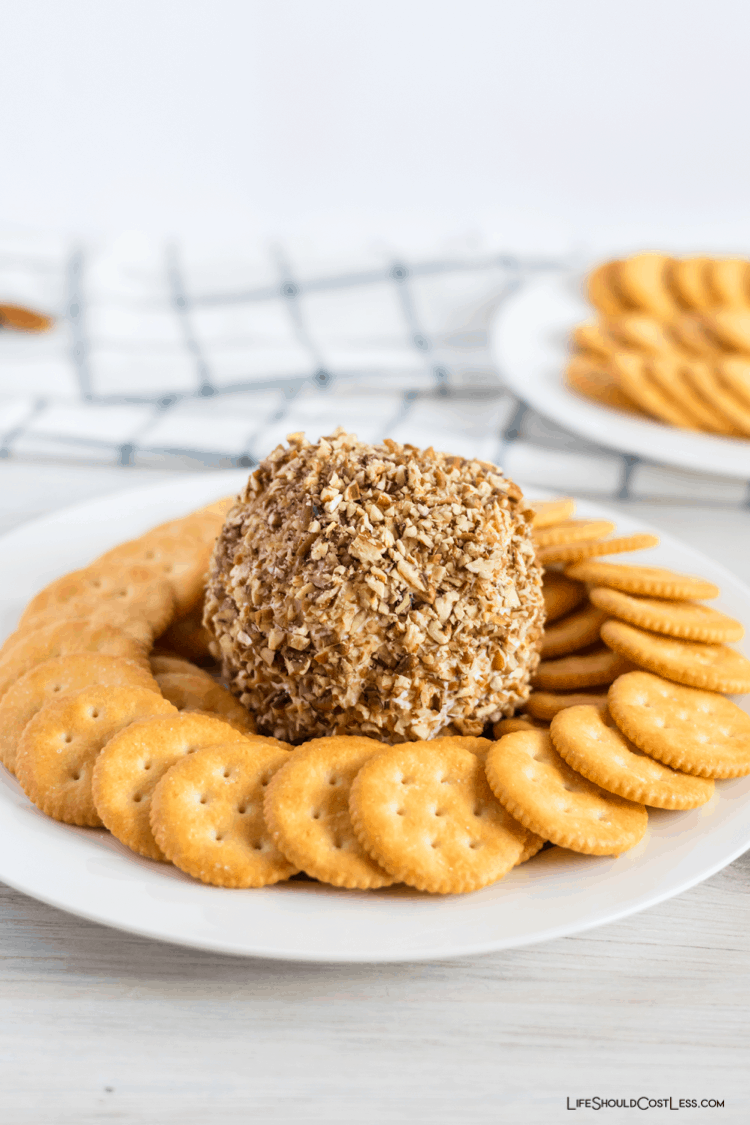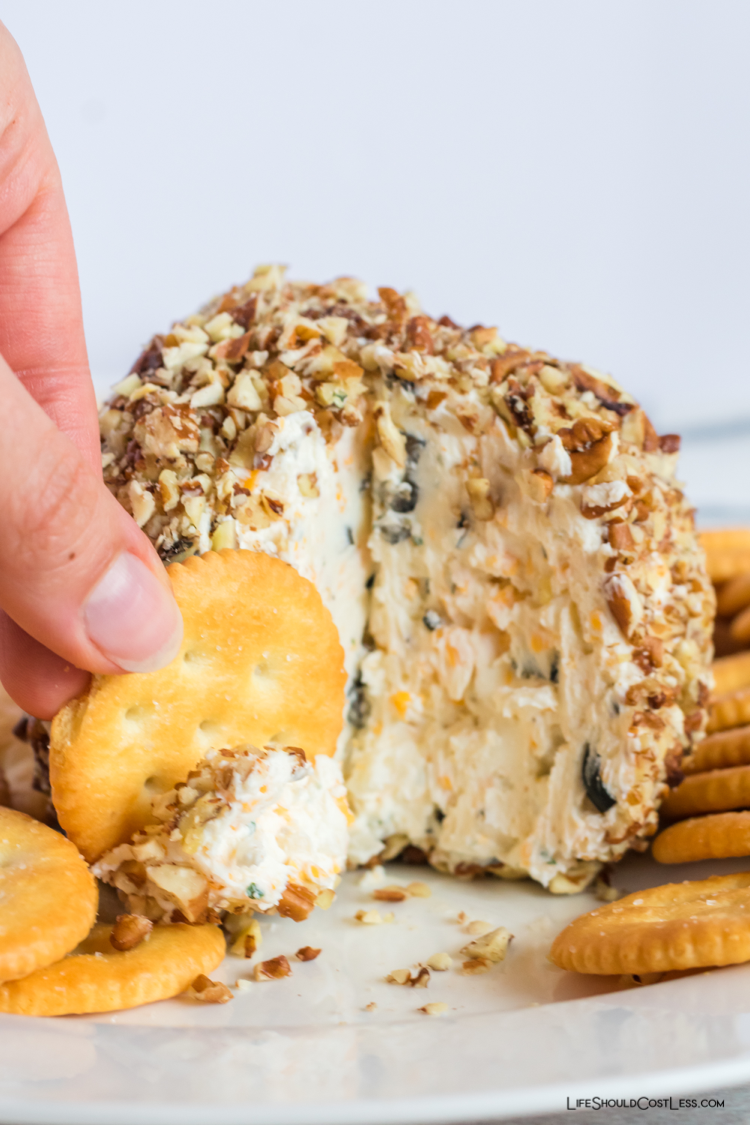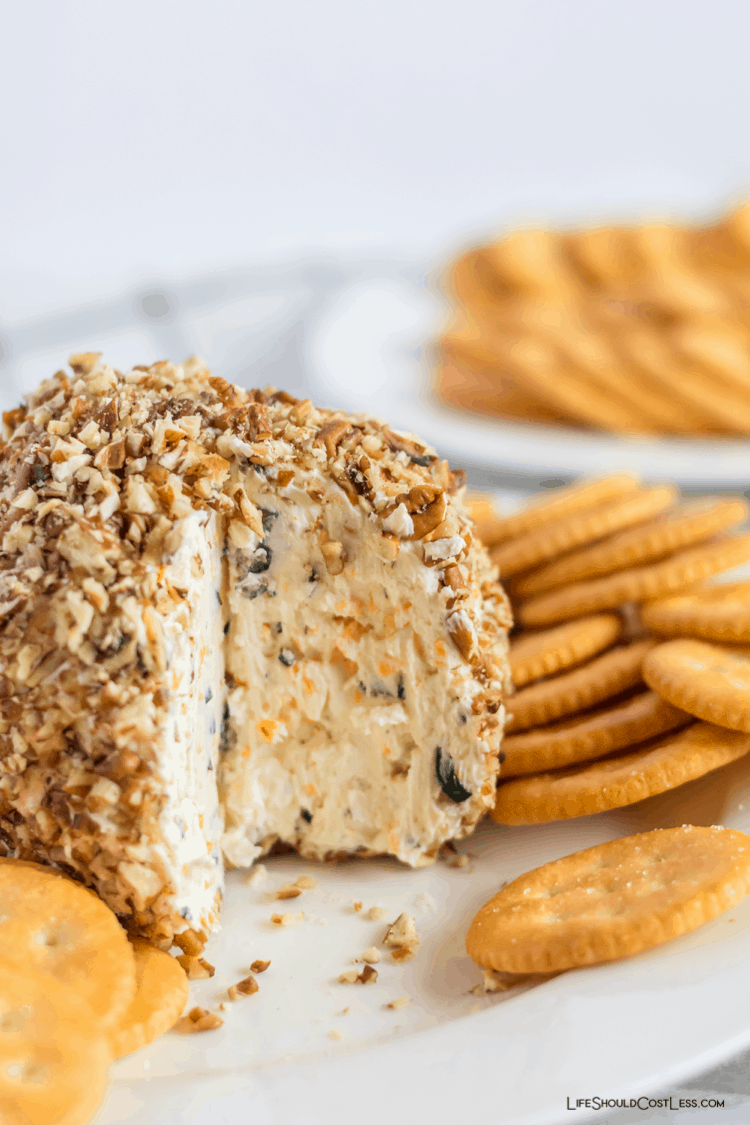 It's the best recipe for cheeseballs ever!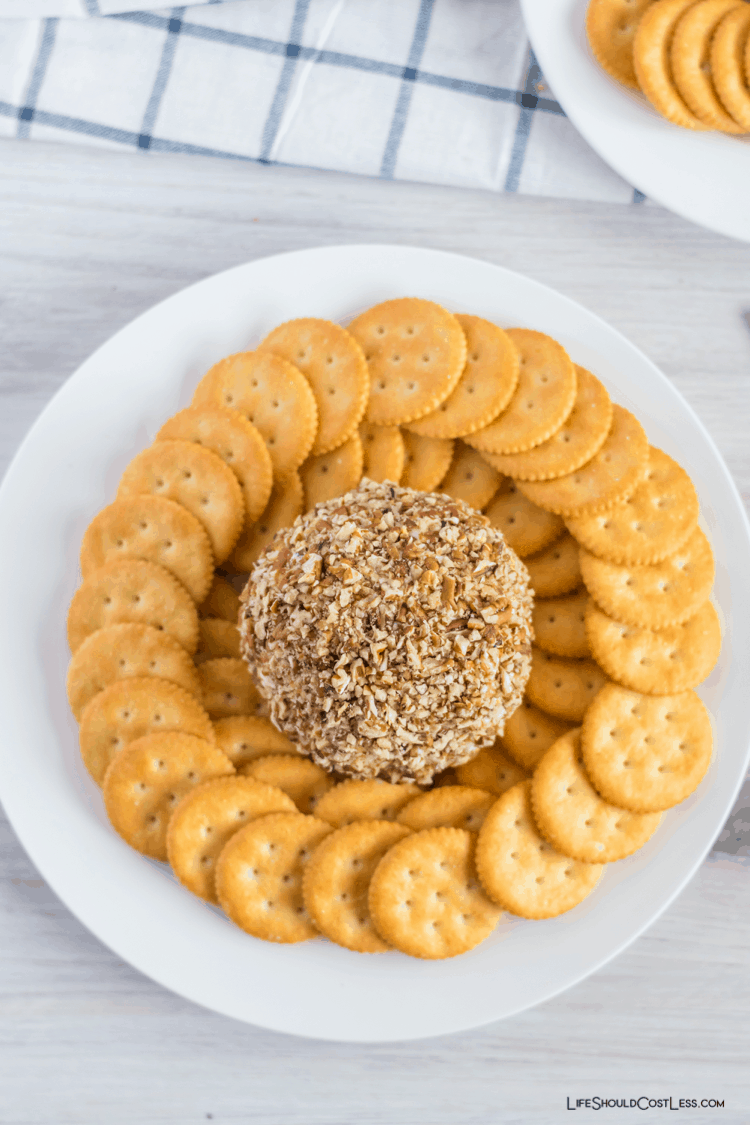 Here we are, finally, the recipe for this yummy classic cheeseball.
Yield: 3 Cheeseballs
The Best Classic Cheeseball Recipe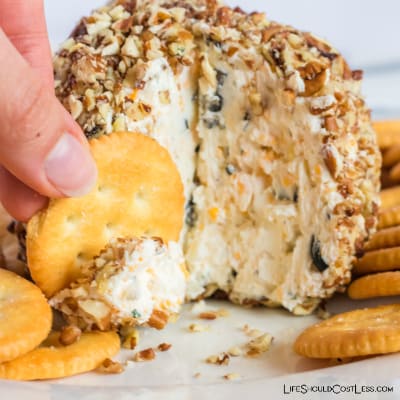 Learn how to make the best cheeseball ever. This easy flavorful recipe is made with cream cheese, cheddar, ranch, olives, onion, garlic, & is rolled in pecans.
Ingredients
3 (8 oz) Packages of Cream Cheese (room temp)
1 & ½ Cups Grated Cheddar Cheese (medium or mild)
1 Packet of Ranch Dressing Mix (dry)
1 (5.7 oz) Can Chopped Olives (drained)
1 Tablespoon Grated Garlic (½ Tablespoon if you sub. with powdered garlic)
½ Medium Onion (finely chopped)
Instructions
Combine all ingredients, minus the nuts, in a large bowl. Mix well, I like to use a Potato Masher to mix this together, and it does a great job to simplify the process.
Separate mixture into three balls using your hands (spray hands with cooking spray beforehand).
Roll in chopped nuts, I use pecans.
Cover in plastic wrap.
I like to serve with ritz crackers on a fancy serving platter, but it's good with many different kinds!
Keep covered and refrigerate!
Notes
This recipe makes three cheeseballs, but could easily be broken down to 1/3rd if you would like to make only one cheeseball.
**I think that it tastes best a few hours after preparation as the flavors have had time to blend.**
I use full fat cream cheese when I'm making this for the holidays or a party…but if I'm just going to make some at home just for my family to munch on, I use the Neufchatel (1/3 fat) cheese just to save on a few calories.
If you would like to make the high protein version of this recipe, you can actually replace the cream cheese with greek yogurt if you follow my old "How To Turn Greek Yogurt Into Cream Cheese" Tutorial… it will make it low-fat too.
This is by far the best appetizer on this website, at least that is my personal opinion. I hope you love it as much as I do!
Thanks so much for stopping by my site! If you liked what you saw, please make sure to share it via social media, or even send the direct link to your family and friends via email. Either way, I super appreciate it!
Oh, don't forget to subscribe to my email list (found here). Also, if you would like to learn how to follow along or really show your support for this blog, go here.
Here are links to five of my other recipe posts that you may also like:
For those of you that would like another option for a "pinnable" image on Pinterest, here you go…thanks again so much for the support!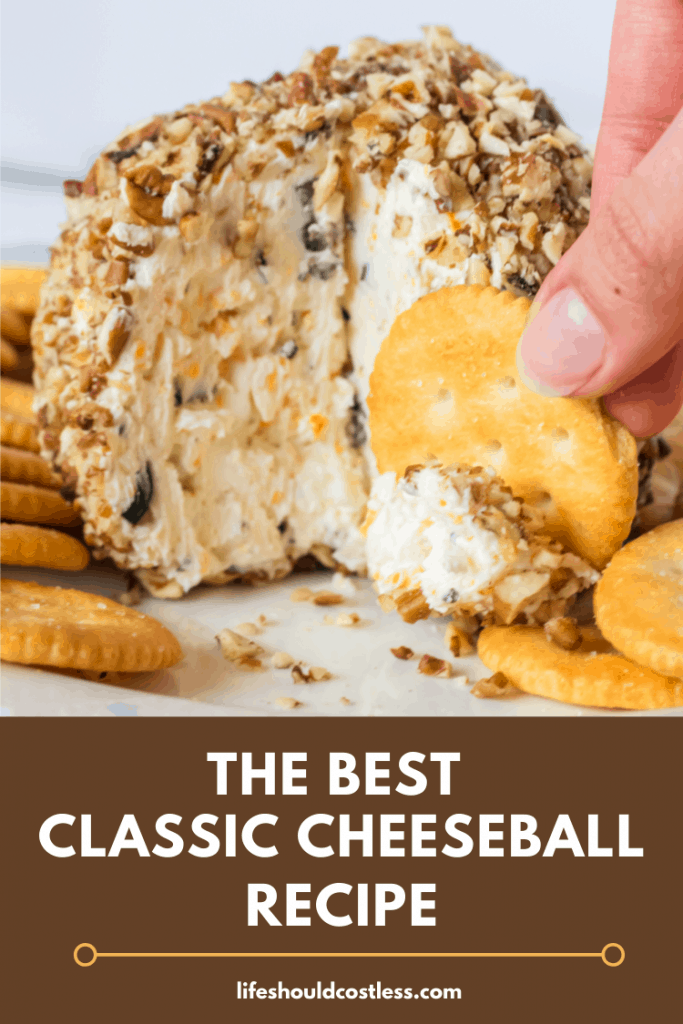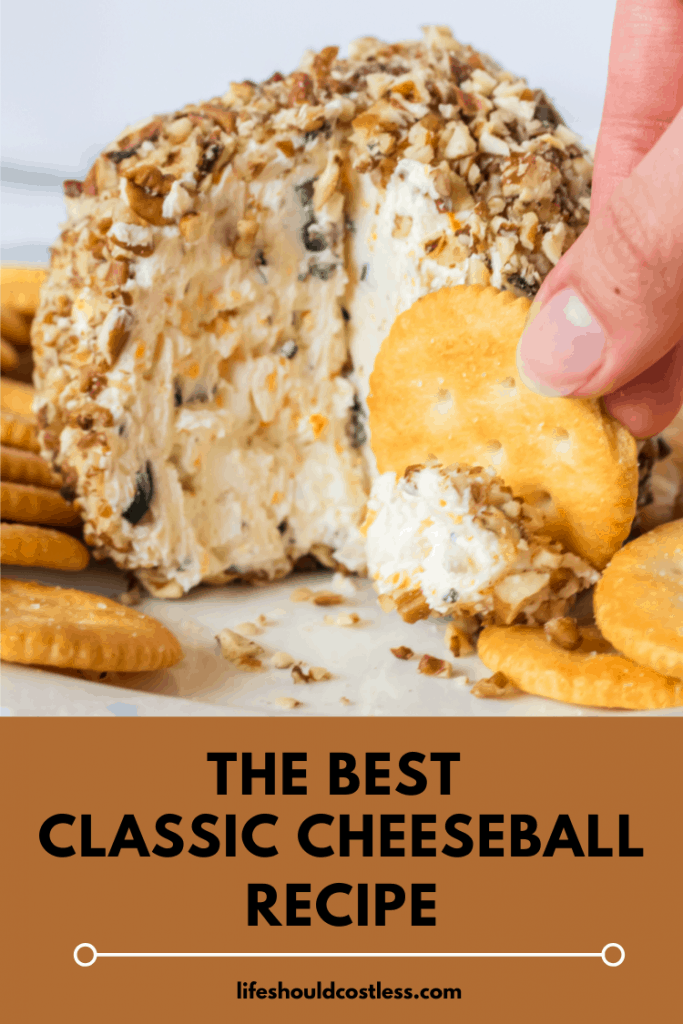 *Update: Please note that this recipe was originally posted to this website on 11/10/2011, but it was in great need of a refresh so it now is more user friendly/shareable and has a free printable recipe card.