Family meal planning is one of the easiest ways to start saving money on your grocery purchases. Check out these seven easy ways to save money just by changing a few things up.
The necessity of preparing dinner for your family every evening is a fact of life, unfortunately…lol. I figured since our kids have to eat every day, we might as well make the best of it!
Instead of stressing over what to cook for dinner, it may be a good idea to learn to simplify it a bit, and make your life easier by meal planning.
Simplifying your life is just one of the many benefits of meal planning.
I may love tasks that make things easier on me (as a single parent to four kids, why wouldn't I…ha ha), but my most favorite benefit of meal planning is that it saves me a significant amount of money!
Don't believe me? Here are seven simple ways family meal planning can save you money too.
What is Family Meal Planning?
Meal planning, in general, is a pretty simple concept. Basically, it involves you sitting down and planning out your family's meals – breakfast, lunch, dinner, and snacks each day for the entire week or month, or however long ahead you are ambitious enough to plan for.
That means making a plan for everything everyone in your family will eat for a given amount of time, and sticking to that plan as the days/weeks progress.
It may sound like a boring task, but taking the time to plan out each meal will save you from having to scramble for dinner ideas later on.
Plus, it will keep your kids from searching the pantry for lunch ideas, only to come to you complaining there's nothing to eat.
No more unnecessary trips to the grocery store to purchase something to cook for dinner (which means less impulse purchases as well and that alone will save you a bundle).
Meal planning also means no more trips to the drive-through when you have no idea what to cook for dinner that night…which is win/win because fast food can get expensive and it's not super healthy.
Why Should You Start Family Meal Planning?
If those simple reasons listed above don't have you convinced yet, I have plenty of other great reasons to start meal planning for your family!
Here are a few of my favorite reasons to consider planning meals for your family on a regular basis:
Meal planning saves you time. While it might take a little more work up front, taking a few minutes, or so, each week to sit down and plan your family's menu will save you tons of time throughout the week.
You won't have to search for a recipe that uses the ingredients you have at home or be forced to head to the grocery store to pick up something to cook.
That's because you'll already know exactly what's for dinner. Plus, you'll have the ingredients right in your kitchen, just waiting to be whipped up into something super tasty.
Planning your meals makes your life easier. If you're constantly stressing about what you're going to feed your family each day, you need a plan.
By laying out your family's meals in advance, you won't have to worry about coming up with food ideas because all the thinking has already been done!
All you need to do is to pull out the ingredients and start cooking.
Meal planning helps your family eat healthier. When you plan out your family's meals, you can start incorporating healthier meal options into their daily routine.
Making your family a fresh lunch and healthy snack each day will ensure they have healthy options easily available to their disposal, instead of reaching for a salty snack or grabbing an unhealthy lunch from the drive-thru.
Meal planning saves you money. This is my favorite reason to start meal planning! Planning your family's meals ahead of time will save you money in the long run because it also incorporates using what you already have on hand so less food goes to waste.
How Planning Can Save You Money
Still not convinced meal planning is right for you? If you're like me and want to live a frugal life, you seriously need to consider meal planning.
It's one of the best ways to save money on groceries.
These seven ways meal planning will save you money are sure to make the idea of meal planning look appealing to you:
You can work with what you already have. As I mentioned a little bit of earlier, coooking with items you already have in your kitchen is one of the best ways to cut back on your grocery spending.
When you meal plan, you can take inventory of everything you already have at home to come up with meal ideas that use the food in your pantry and freezer.
Creating a meal plan based on the food you already have will reduce the amount of new food you need to buy at the grocery store, as well as it will reduce waste of spoiled food that would not have gotten used up as quickly otherwise.
Start by taking an inventory of what you already have at home (taking note of expiration dates and plan accordingly), then come up with recipes that use those ingredients.
Add any extra items you don't have to your shopping list and head to the store to get what you need for your meals this week….see, easy peasy!
Meal planning makes creating a grocery list so much easier. After looking at what you already have at home, you'll probably need a few additional items to make the recipes on your meal plan.
Making a list of everything you need at the store is one of the best ways to save money. Since you already know exactly what you'll be cooking and exactly what you need to make each of those meals, you'll be more likely to stick to your shopping list and avoid impulse purchases.
You can plan your meals around sales. Shopping sales at your grocery store is a great way to save money.
When you meal plan, it gives you time to check the sales and use those deals as part of your meal plan. Check out the sales (on your grocery store's website or in their weekly/monthly circular print out) on more expensive items, like meat and fresh produce, then think about ways you can use the food on sale to create budget-friendly meals for your family that week.
Planning your meals reduces the amount of shopping trips you take. How many times have you decided to make something for dinner only to see that you're missing an ingredient?
If you head to the grocery store to purchase that missing item, you're more likely to make additional purchases, too.
That means you're probably spending a great deal more than you need to on your groceries every week because those "little extras" add up fast.
But if you create a plan and make a list, there won't be a need to make those extra grocery trips and unnecessary purchases.
You won't be forced to eat out when you can't find something to eat at home. When you can't come up with a dinner idea with the food you have at home, what do you do?
Often, we head to our favorite restaurant or drive-thru to grab dinner when we can't come up with something to cook, but if there is a plan in place, there's no need to spend that extra money on take-out.
Planning allows you to make use of leftovers. Since you'll be cooking at home more often, you'll probably have plenty of leftovers to enjoy throughout the week too.
Make the most of those leftovers by planning them as lunches during the week. Or add a leftover night to your weekly plan and let everyone in the family pick their favorite leftovers to enjoy.
Not only does this cut back on the amount of meals you need to prepare, it also helps your family reduce your food waste each week…plus it helps you not have to cook as much if you make sure to make enough to have leftovers.
Meal plans help you stock your kitchen. Once you get the hang of planning meals for your family, you'll probably start seeing a pattern of common ingredients you use on a regular basis.
Those patterns allow you start creating a stockpile of often-used ingredients. Purchasing those ingredients when they're on sale is a great way to save money on the food your family enjoys eating.
Then, you'll always have what you need to make your favorite dishes on hand and ready to be incorporated into your next meal plan.
Well, those are really all the reasons that I can think of that you should consider doing some family meal planning… but I'm sure there are even more great benefits.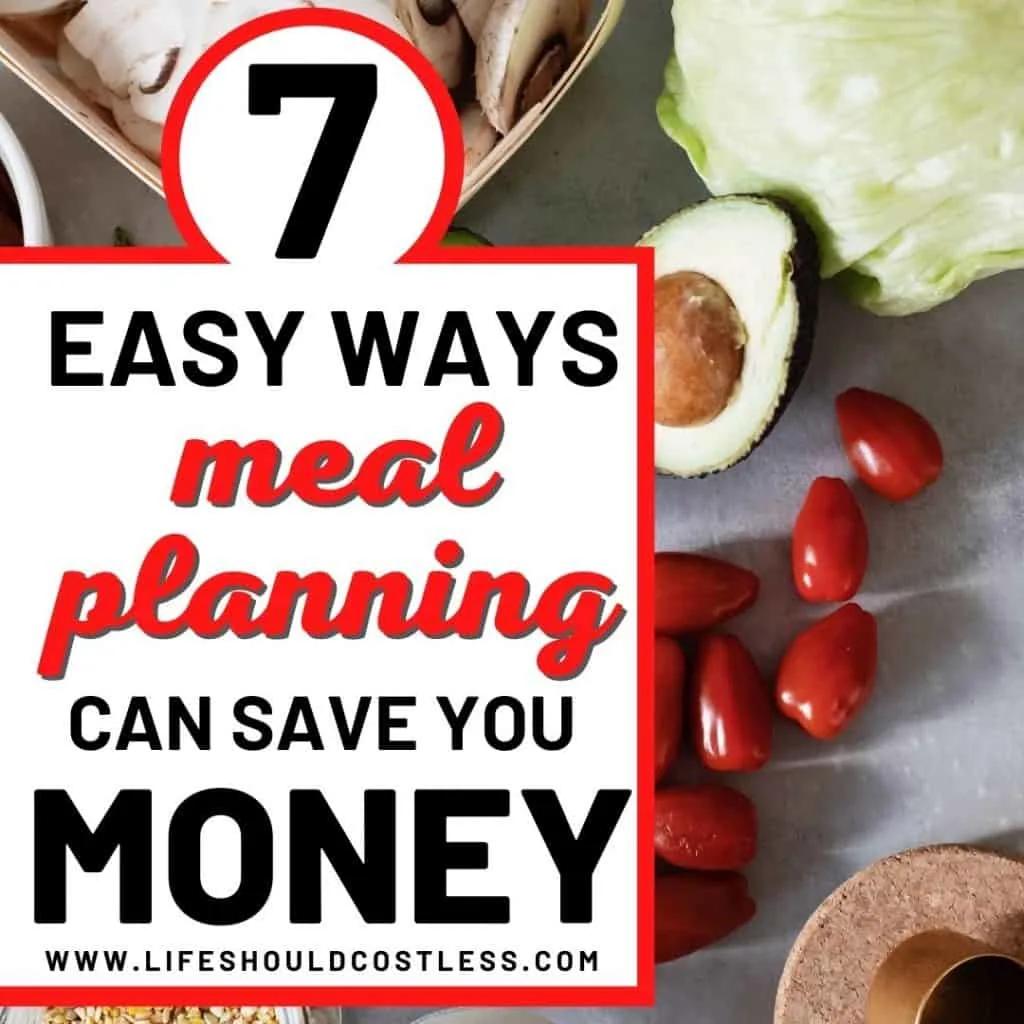 Thanks so much for stopping by my blog and for the support! Please make sure to share this post via social media if you found it helpful. Thanks again. ~Sarah
If you would like to subscribe to my email list, go here.
Make sure to follow along via social media, by going here.
If you would like to learn how to really show your support to this site (at no cost to you), go here.
If you would like to check out other posts in my "Money Saving Tips" category, go here.
Here are several of my other posts that you're going to want to see too: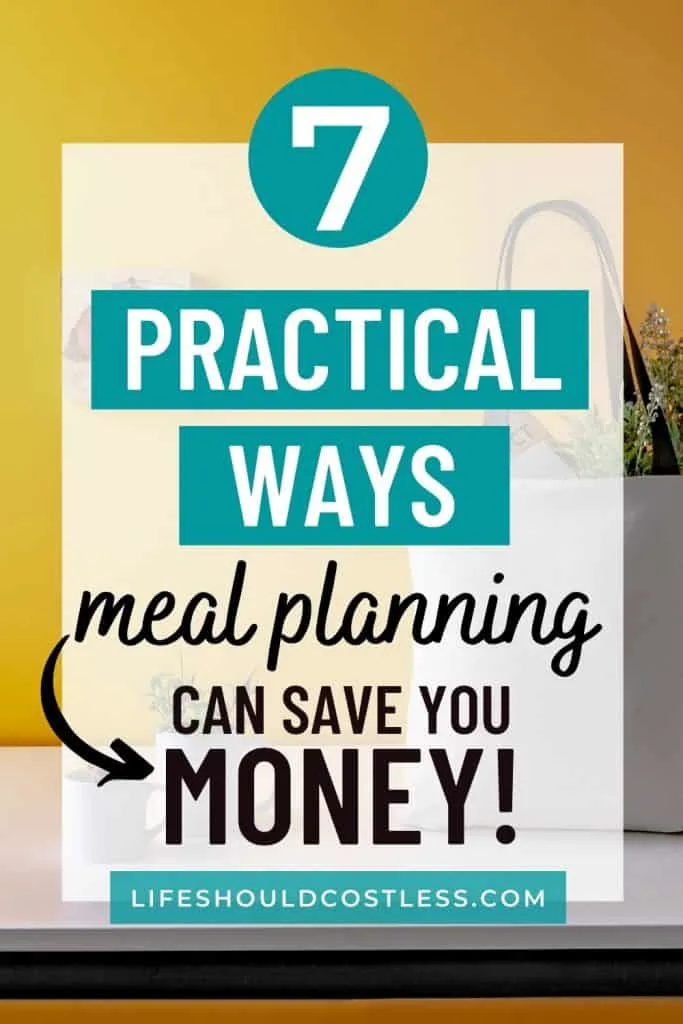 *This post was originally shared to this website on December 3, 2020 and has since been updated.