The how's and why's of making any desired type of rice using chicken stock or chicken broth instead of water. This method will work when cooking in any of your favorite cooking machines or appliances whether it be cooking it on the stovetop, in a slow cooker/Crock Pot, or even in an Instant Pot. Here's all you need to know about Chicken Stock Rice.
Nearly everyone that I know wants to find out how they can up their cooking game, but also do so with as little effort as possible.
The tip that I have to share with you all today is easily one of the best and easiest habits that you can add to your cooking repertoire to really improve on all of your meals that you make that include rice.
Keep in mind that this cooking tip can easily be used for pretty much any type of rice that you can think of including, instant, minute, jasmine, white, brown, or any other "fancy" type of rice that you may be wanting to make.
This rice improvement is actually one tip that is more from the depression era as it was handed down to my mother from my Great Aunt.
This particular Aunt was an amazing cook that specialized in old-timey farmhouse recipes so I think it's safe to say that we should also follow Aunt Alice's lead & make our rice as flavorful as possible without breaking the bank or needing lots of different, costly, ingredients.
Can you substitute chicken broth for water when making rice?
You sure can make rice with chicken stock, it's very simple but all you need to know is the proper stock to rice ratio to get the best results possible when you are boiling rice in chicken broth.
Also, it may be a good idea to keep in mind that when you swap water for chicken stock/broth you may not need to use as much salt as chicken stock or any type of chicken base is generally a little bit higher in sodium.
How to cook rice with chicken broth:
Whether you call it chicken broth/ or stock/ or even use a chicken base the same advice applies, and it works the same regardless of how you are preparing your rice.
Whether it be making it in a slow cooker, an instant pressure cooker, or even on the stove top.
Basically all that you do is read on the package about how much water is to be used for cooking or boiling while preparing your particular type of rice.
Then, it's completely up to you how flavorful you would like your rice to be, thus how much broth to use.
How much chicken broth for one cup of rice?
A good rule of thumb is to swap out, or substitute, the water for chicken stock/broth on a cup for cup basis.
For example, if the recipe calls for one cup of water, you replace it with one cup of chicken broth.
Though you can get by with less if you do not have that much chicken broth available to you, but still want to add a bit of pizazz to your meal.
If you don't have a recipe handy, how to do this with basic white rice, here is a free printable recipe card: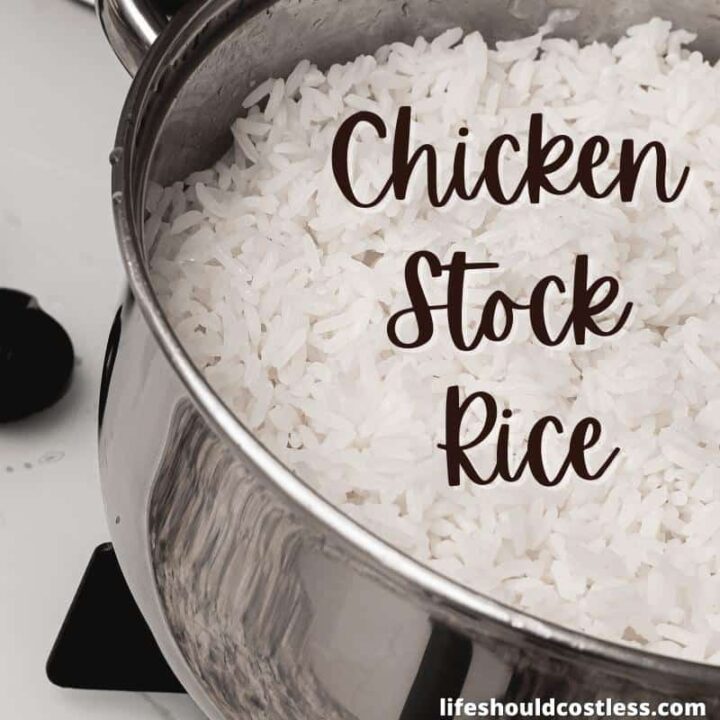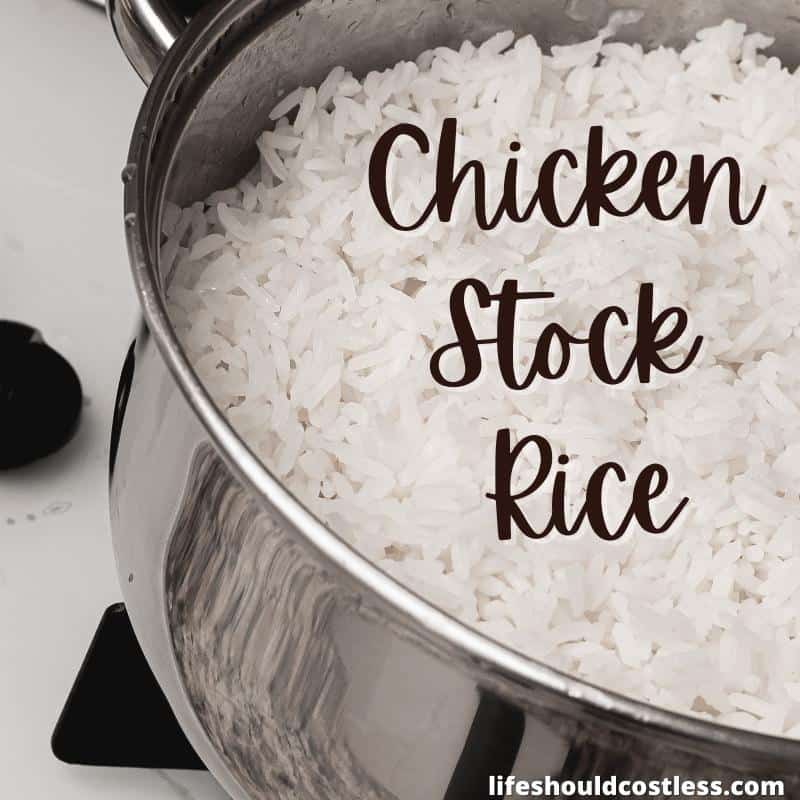 Chicken Broth Rice Recipe
Ingredients
1 Cup White Rice
2 cups Chicken Broth/Stock
1 Tablespoon Butter (optional)
Instructions
How to cook rice with chicken broth:
Gather the ingredients.
Rinse the rice until water is clear (using a colander or fine mesh strainer).
In a medium saucepan, bring the Chicken Broth to a boil. Then add the rinsed and drained rice. Stir well with a high heat utensil.
Reduce the heat to low, cover with a lid, and let it simmer for about 20 minutes. Check the rice after 15-ish minutes to see if all the broth/stock has evaporated. If it has, the rice is ready. If not, replace the lid and let the rice simmer an additional 5 minutes.
Sometimes you may need to add either more water or more broth to the simmering pan in order to get the rice to your desired texture.
Once it is nice and fluffy, it is ready to serve.
Nutrition Information
Yield

6
Serving Size

1
Amount Per Serving
Calories

71
Total Fat

3g
Saturated Fat

1g
Trans Fat

0g
Unsaturated Fat

1g
Cholesterol

8mg
Sodium

381mg
Carbohydrates

9g
Fiber

0g
Sugar

1g
Protein

2g
These caloric amounts are automatically estimated by a plugin on my site and should be treated as an estimate only.
There you have it! A simple and cheap way to make your rice taste so much better!
Just swap out that water for broth (such as Swanson Chicken Broth) and before long you are going to have lots of people asking you how you get your rice so moist and full of flavor.
---
Thanks so much for stopping by my blog and supporting my endeavors to make people's lives a little easier/better/more affordable.
If you liked this post, or found it helpful in any way, please make sure to share it with your family, friends, and co-workers via social media.
Or you could even send them the direct link via email. Whichever way you choose to spread the love, I super appreciate it! ~Sarah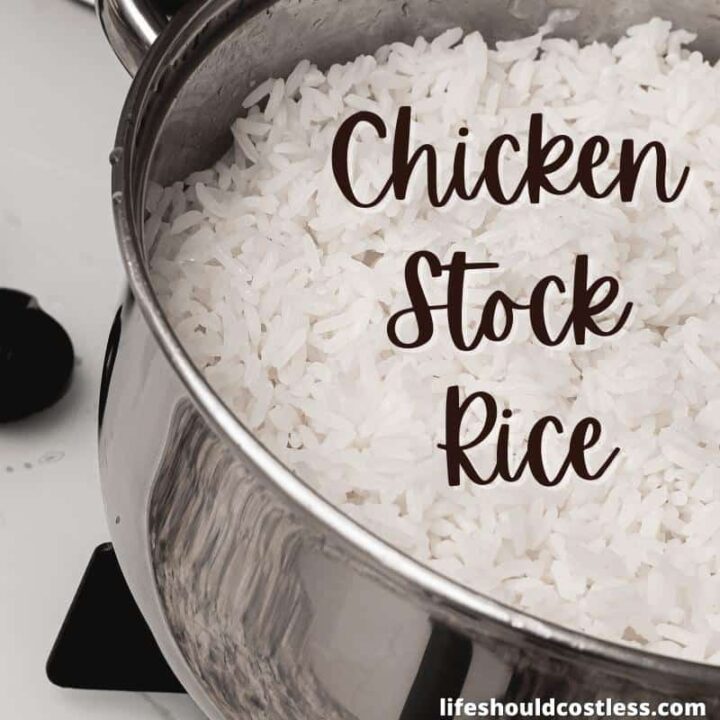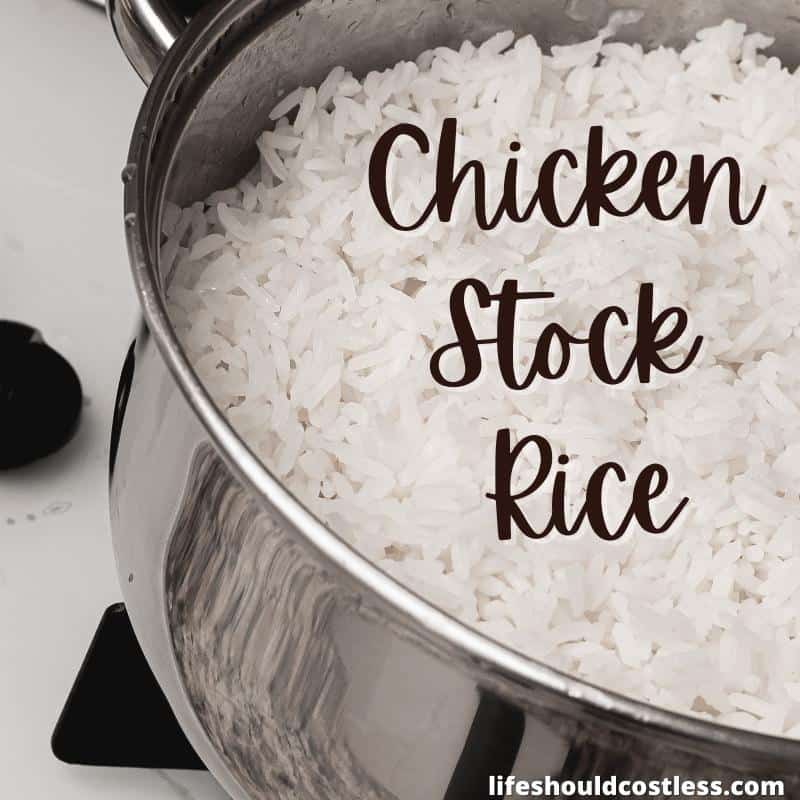 Follow Me
If you would like to subscribe to my email list, go here.
Make sure to follow along via social media, by going here.
If you would like to learn how to really show your support to this site (at no cost to you), go here.
If you would like to check out my entire recipes section on this blog, go here.
Here are links to several of my other cooking posts that you're also going to love:
*This food-related article was originally published to this website on 07/14/2022, and has since been updated to improve user experience, remain as relevant as possible, and to be socially shareable.