Learn how you can make this easy and delicious homemade spicy ranch dressing that only takes a couple of minutes to make. My favorite part of this dressing is that it is low-fat, high-protein, low calorie…and you can have zero guilt when you drench your salad or rice-bowl in this delicious Chipotle Ranch Dressing.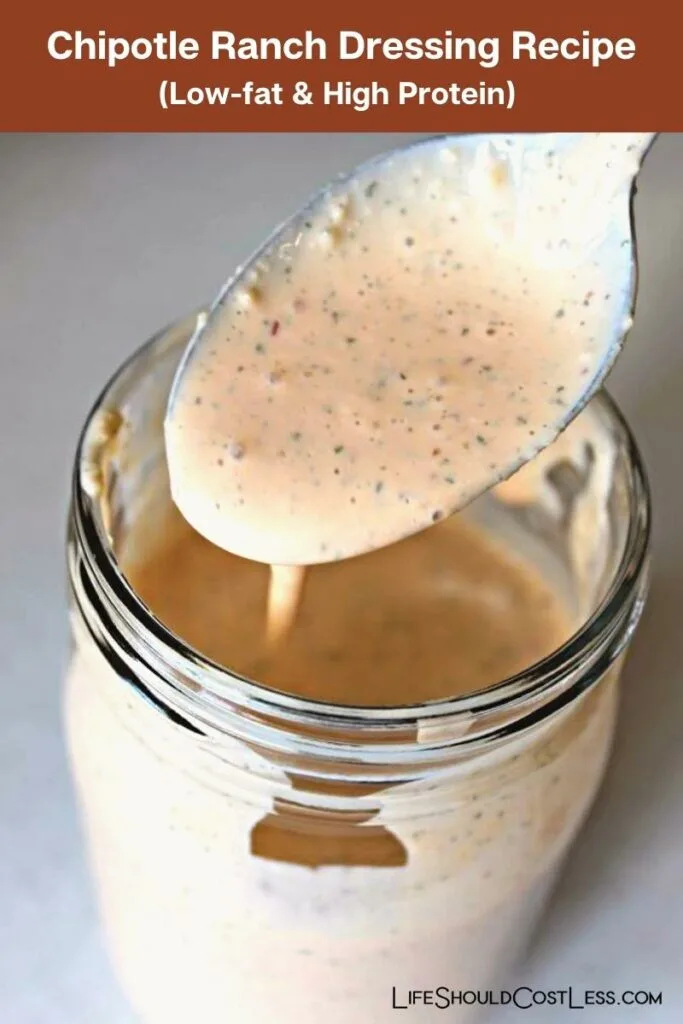 If you're new to my site, you may not know that I have fought binge eating disorder and lost well over 100 pounds and maintained that weight loss…
So, this is one of those recipes that I recommend to help you keep on track with your fitness goals, because it may be on the healthier side…as far as salad dressings, or sauces, go…but it doesn't lack in flavor or spicy kick in any way.
Finding a low-fat/fat-free, low calorie but high-protein dressing that you love can sometimes be a bit of a challenge… that was the case when I was looking to find a yummy chipotle sauce dressing made with Greek Yogurt…
I tried several different recipes that I had found online and I just plain wasn't happy with any of them… so I did what I always do in the kitchen and I played with several recipes until I had developed a new one that I actually like.
It took a lot of fiddling around with ingredients, & combining aspects I like from several different recipes, I am now sharing my "go-to" recipe for
As you view this recipe, please excuse my mediocre (at best) photography skills…I do my best but I am in no way a professional, nor does this single mama of four have the budget to hire one.
I only share my favorite recipes ever, so please don't skip past it because I failed to capture just how yummy it is.
Easy Greek Yogurt Spicy Ranch Dressing
I think that if you've tried other Chipotle Sauce recipes that are made with Greek Yogurt, you will like this one the best.
It makes a bit less than a cup of dressing, and can be easily multiplied to make as much of it as you need. I usually double it and then leave it (tightly covered) in the fridge for up to a week or so.
How to make Homemade Spicy Chipotle Ranch Dressing With Greek Yogurt: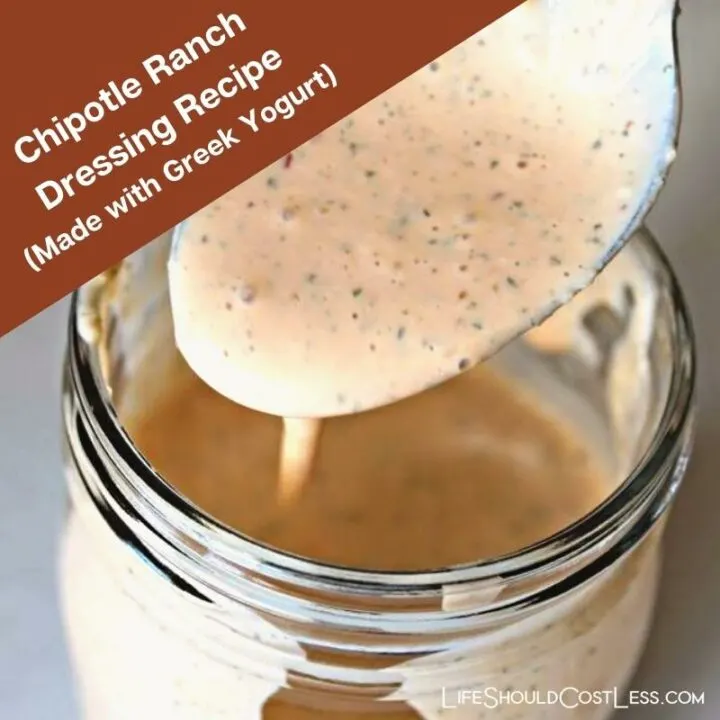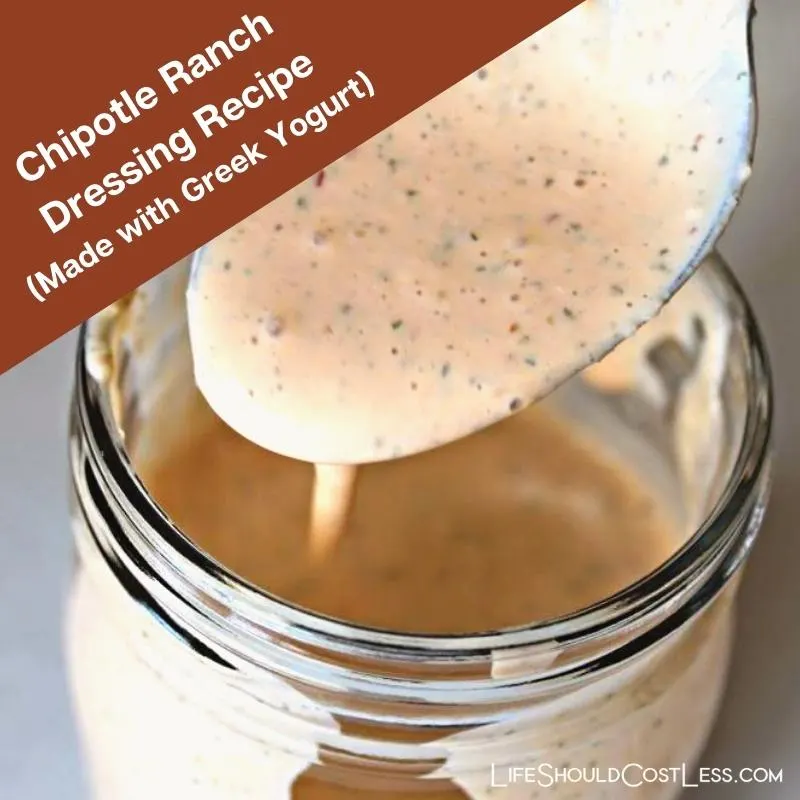 Chipotle Ranch Dressing Recipe (low fat & high protein with greek yogurt)
Ingredients
2/3 Cup Plain Greek Yogurt
2 Tablespoons Milk
*1-1.5 Tablespoons Ranch Dressing Mix (dry)
1 teaspoon Dijon Mustard
**Chipotle Peppers in Adobo Sauce
Instructions
Add all ingredients to blender, and blend until smooth.
Cover tightly and store for up to one week.
Allow flavors to blend several hours before serving.
Stir before each use.
Notes
* How much ranch dressing mix you use is up to you and your personal preference on just how "Ranchy" you want it to taste. I always start with 1 Tablespoon and then taste it after I have blended it and then add more as needed.
**Chipotle Peppers are HOT! If you've never worked with them before (or are a bit of a weenie when it comes to spice), I suggest starting out with a piece of pepper that is no larger than a small marble, blend it, taste it, and add more to your desired level of heat. The cans of peppers have many whole peppers in them. I store the left-over peppers in an airtight container in the freezer and then just let it thaw out each time I need to use more. One can lasts me several months. Oh, and these can be found in the Latin Foods section at most grocery stores.
It really is a simple recipe…I'm a lazy cook. My goal, when developing any recipe, is to get it simplified to a point that it takes me the least amount of effort as possible without skimping on flavor.
Which is why this recipe calls for a dry ranch dressing mix (the kind in a packet) instead of having us all measure out all the herbs and spices ourselves.
Anyway, I hope you love this recipe as much as I do. I know the photography is lacking, but honestly, how much direction does a person need to throw a few ingredients in a blender…lol.
That's all I have to share with you guys today. If you'd like to see more of my high-protein recipes, make sure to check out that section of my blog here.
Thanks so much for stopping by my site and for sticking around to support me! If you liked this recipe, please make sure to share it via social media.
Or you could even send the direct link to your friends/family/co-workers through email or something…however you choose to spread the love, I super appreciate the help. ~Sarah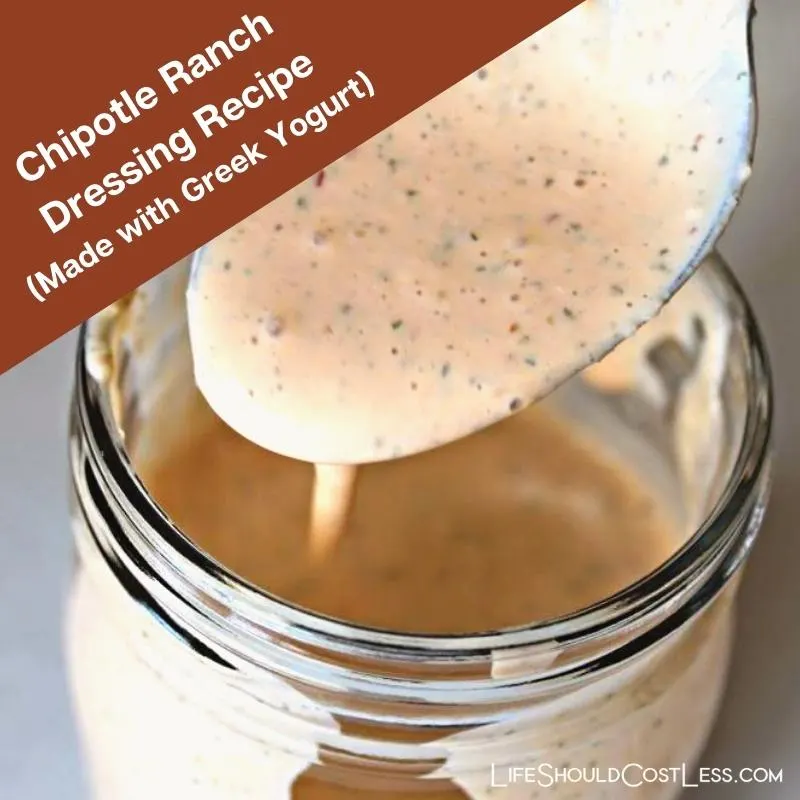 How to follow & support this site
---
Here are links to several of my other yummy recipes:
For those of you that would like the option of another "pinnable" image to share on Pinterest, here you go. Thanks again for the support!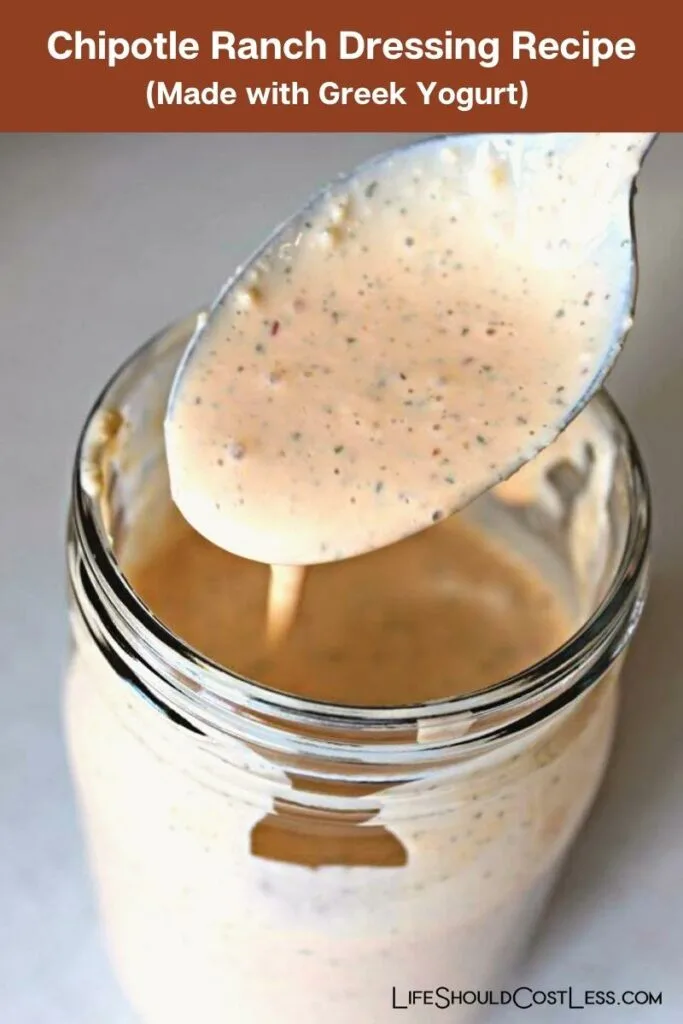 *Please note that this recipe was originally posted to this website on June 28th 2014, and has since been updated to add a video tutorial, a free printable recipe card, as well as to improve the user experience in general.