Have you ever tried a Banana Nut Sheet Cake before? If not, then I am here to tell you that you are definitely missing out. Sour cream banana cake has a taste like banana bread, a texture more like carrot cake, and has a deliciously creamy sour cream vanilla frosting which makes the flavors taste even better. It is heavenly to say the least, and one of my favorite cakes ever.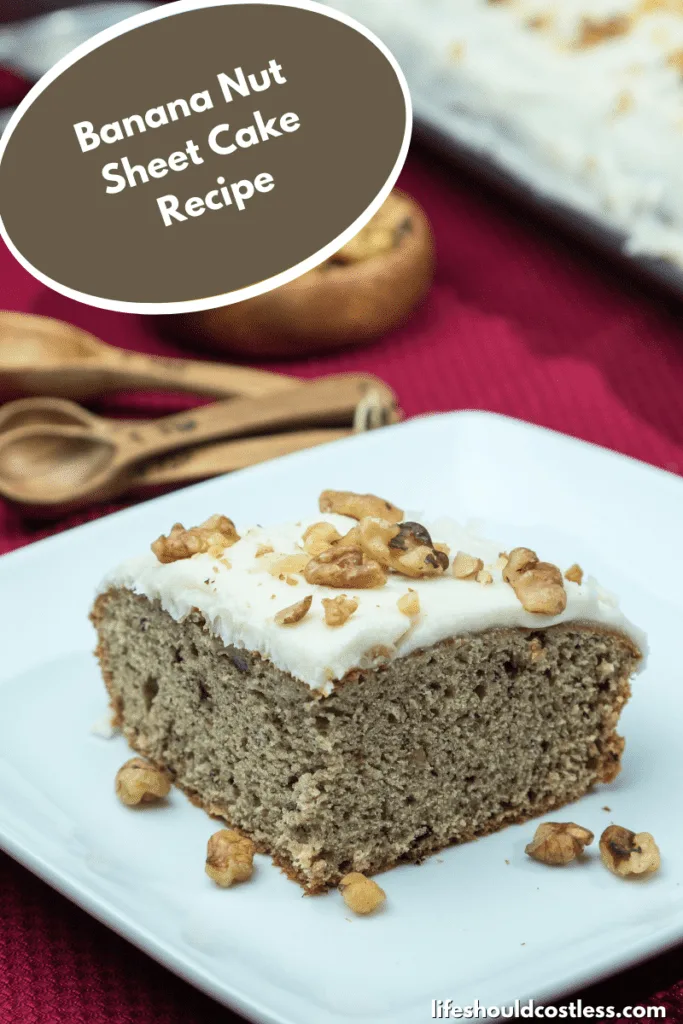 Table of Contents, Skip Ahead To What You're Looking For
Best Banana Cake Origin
I don't know about you, but whenever I try a new recipe, I like to know where it came from.
My mom has been making this delightfully moist Banana Nut Cake for a while now, and like me, my mom likes to fiddle with recipes until they taste just right.
Mom got the original recipe out of some old church cookbook (the local women at their church put out a cookbook every few years) and of course, mom found a recipe she loved and then changed it up to make it just a little bit yummier.
---
Pro-Tips:
*My mom says that any time she has bananas that are getting over-ripened she tosses them into a freezer safe bag and puts them in the freezer and just keeps adding to the bag until she has ten or eleven of them to make this because it's one of her favorite dessert recipes with banana.
Once there are enough frozen bananas she will defrost them, and make a batch of this banana cake recipe when the family gets together for Sunday dinner.
**Always use full fat sour cream when making a recipe for a sour cream cake, it turns out SO MUCH BETTER!
---
Banana Cake Recipe With Sour Cream Ingredients List
I am going to break the ingredients lists into two sections so that you can easily see what ingredients are in the cake alone, and then below that I will list the ingredients for the frosting recipe that goes with it.
Cake Ingredients List:
Sugar
Large Eggs
Butter
Overripened Bananas
Vanilla Extract
Full Fat Sour Cream
Flour
Baking Soda
Salt
Walnuts Or Pecans (your choice on which kind of nut)
Frosting Ingredients List:
Powdered Sugar
Butter
Vanilla Extract
Milk
Full Fat Sour Cream
---
How many servings does this recipe make?
This easy recipe banana cake, makes an entire half sheet pan, which means that it's enough to feed a crowd, but you could also probably easily half the recipe and bake it in a 9×13″ pan/casserole dish if you so desire.
When you are making cakes in a sheet pan it is completely up to you how many servings you get out of it because you are in charge of the portion sizes.
I typically like to cut it so that I am getting 54 servings out of this half sheet cake.
However, I found a handy sheet pan serving guide that is super helpful in determining how you want to cut your cake, and you can find that here.
It basically tells you how wide to cut the pieces to get however many servings you desire out of whichever sized sheet cake you make.
Of course I gotta add a few of the final shots of this yummy cake to get your mouth watering…lol.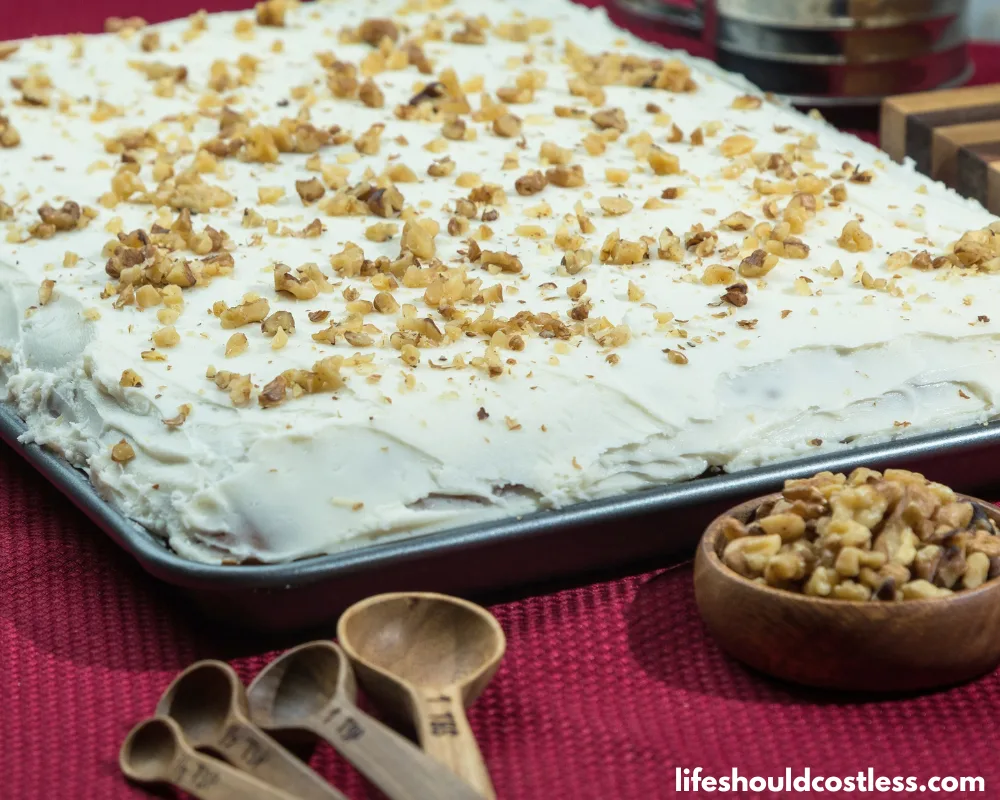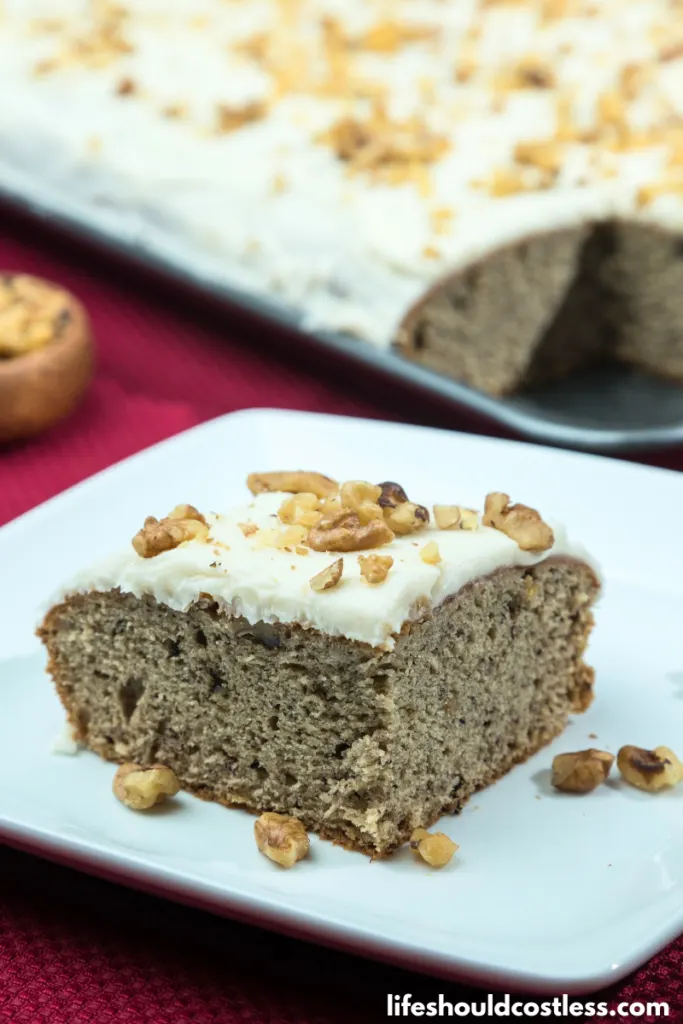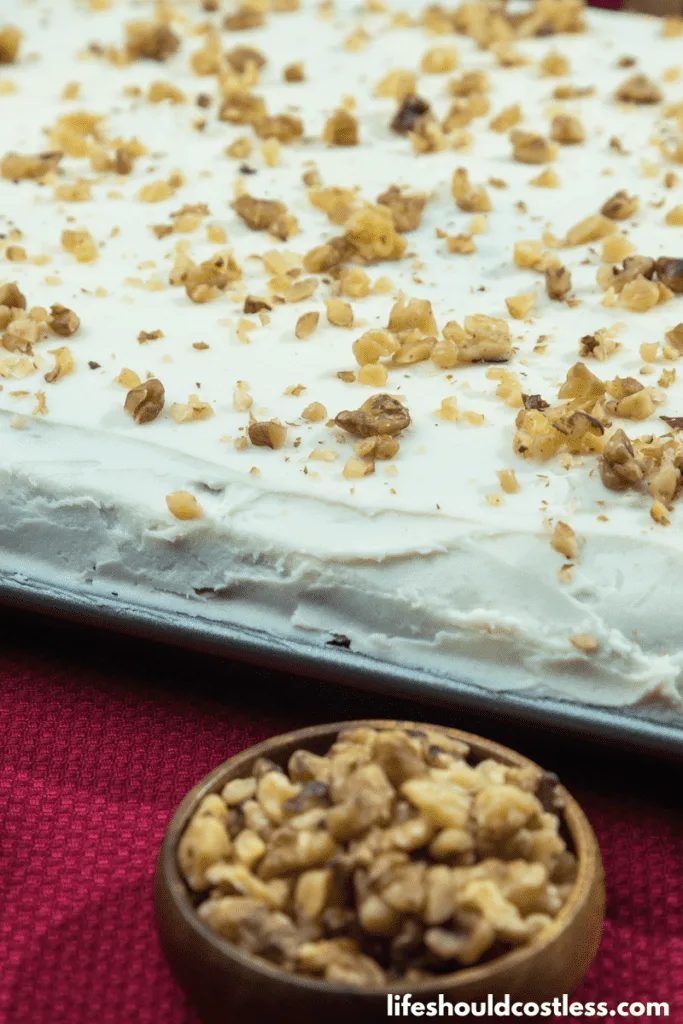 How to make Banana Cake (recipe card and video found here)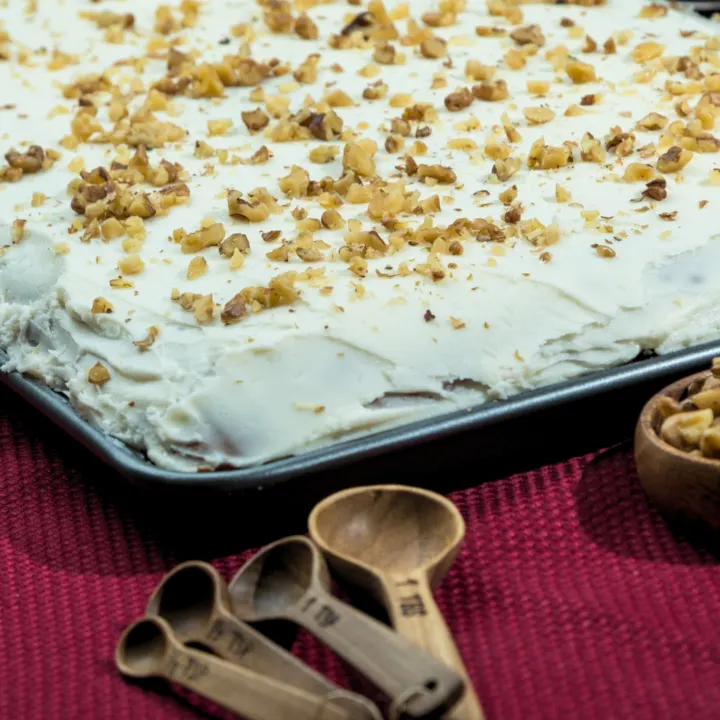 Banana Cake With Sour Cream Recipe
This Banana Cake easy recipe is moist & delicious and makes enough cake to feed a crowd.
Ingredients
Cake Ingredients:
3 Cups Sugar
6 Eggs
1 & 1/2 Cups Butter (melted)
10-11 Overripe Bananas (medium sized)
2 Tablespoons Vanilla Extract
¼ Cup Full Fat Sour Cream
6 Cups Flour
1 Tablespoon Baking Soda
¾ teaspoon Salt
1 Cup Walnuts Or Pecans (chopped, plus extra for garnishment)
Frosting Ingredients:
2 Pounds Powdered Sugar
1 Cup Butter (melted)
1 Tablespoon + 1 teaspoon Vanilla Extract
¼ Cup Milk
¼ Cup Full Fat Sour Cream
Instructions
Directions to make cake (preheat oven to 375 degrees F):
In a large bowl, at least four quarts, add your bananas and mash well.
Then add the Sugar, Butter, Eggs, Vanilla, and Sour Cream to the bowl. Mix well.
In a separate, medium sized bowl, whisk together the Flour, Baking Soda, And Salt (feel free to sift them together if you prefer to do it that way).
Gradually add, and mix, the dry mixture into the wet mixture and stir until well incorporated.
Then add the chopped nuts and mix well.
Spoon into a prepared half sheet pan or extra large cake pan ( prepared as in a greased and floured sheet pan, or covered with non-stick foil). Bake for forty minutes to one hour, or until toothpick in center of cake comes out clean.
When cake is finished baking, set it on top of a cooling rack and allow it to cool completely while preparing frosting.
Directions to make frosting: Place all ingredients in a large mixing bowl and stir on low until the powdered sugar is completely mixed in. Then beat on medium to high, with a hand mixer, until it is creamy.
Frost the cooled cake and garnish with any additional chopped nuts if you so desire by sprinkling them on evenly. Cut, serve, and enjoy!
Notes
Both the frosting, and the cake itself are large batch so make sure that you are preparing both in a bowl that is at least four quarts in size.
This sour cream vanilla frosting actually also tastes amazing on carrot cake and cinnamon rolls too!
If you really want the flavors to pop make sure you are using the full fat option on all the ingredients. Also, if you swap out the Vanilla Extract for Vanilla Bean Powder make sure to use half as much as called for, but it makes it taste AMAZING!
Nutrition Information
Yield

54
Serving Size

1
Amount Per Serving
Calories

261
Total Fat

8g
Saturated Fat

4g
Trans Fat

0g
Unsaturated Fat

3g
Cholesterol

37mg
Sodium

155mg
Carbohydrates

46g
Fiber

1g
Sugar

32g
Protein

3g
These caloric amounts are automatically estimated by a plugin on my site and should be treated as an estimate only.
So there you have it…a delicious and giant banana cake from scratch to take to any party or pot luck, or just a large gathering.
If you don't particularly want to make a cake with your overripened bananas, you could try my Spiced Banana Bread recipe instead.
Just make sure that if you take this cake to a public gathering to label it that it has nuts in it and you should be good to go.
Otherwise, of course, if you garnished it with chopped nuts that should be pretty self explanatory that it is a nut-allergy risk.
---
FAQ's
What does adding sour cream to a cake do?

Adding sour cream to a cake recipe can have several benefits. Sour cream contains lactic acid, which can help to tenderize the gluten in the cake batter, resulting in a more tender and moist cake.

The acidity in sour cream can also help to activate the baking soda in the recipe, which helps the cake to rise and become lighter in texture.

Additionally, the tangy flavor of sour cream can add a subtle depth of flavor to the cake, enhancing the overall taste of the dessert.

However, it's important to note that adding too much sour cream can affect the balance of the other ingredients in the cakes with sour cream recipe, so it's important to follow the instructions carefully.

Pro-tip, always use full fat sour cream for cake to get best results.
Does adding sour cream to cake change the taste?

Yes, adding sour cream to cake can change its taste by adding a subtle tangy flavor to the cake. The tangy taste of sour cream is not overpowering and blends well with the sweetness of the cake. This can add an extra layer of flavor and complexity to the cake, making it more delicious and interesting.

The addition of sour cream can also create a moist and tender texture in the cake, which can enhance the overall taste experience.

However, the extent to which the sour cream flavor is noticeable depends on the amount of sour cream used in the recipe, as well as the other ingredients and flavorings included in the cake.
---
Conclusion
In conclusion, making a Banana Nut Sheet Cake is a delicious and easy way to incorporate ripe bananas into a dessert that is perfect for any occasion.
The recipe for this cake typically includes simple ingredients that can be found in most kitchens, making it a convenient dessert to whip up at any time.
The moist and flavorful cake, combined with the crunchy texture of the nuts, creates a delightful treat that will leave your taste buds satisfied.
Whether you are baking for a family gathering or just looking for a sweet snack, a banana cake recipe with sour cream is a great choice that is sure to please everyone.
---
Thanks so much for stopping by my blog and supporting my endeavors to make people's lives a little easier/better/more affordable.
If you liked this post, or found it helpful in any way, please make sure to share it with your family, friends, and co-workers via social media.
Or you could even send them the direct link via email. Whichever way you choose to spread the love, I super appreciate it! ~Sarah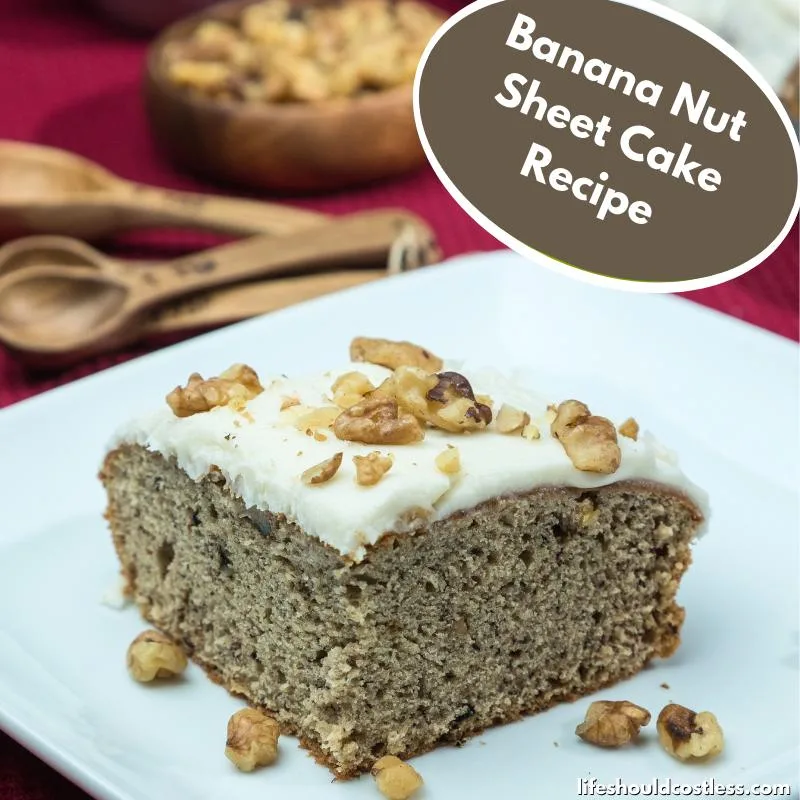 Follow Me
If you would like to subscribe to my email list, go here.
Make sure to follow along via social media, by going here.
If you would like to learn how to really show your support to this site (at no cost to you), go here.
Other Good Recipe Resources
P.S. You may also like my entire Sweet Tooth section as well as my entire recipe section.
Here are a few direct links to some of my other recipes that I know you're going to love:
If you don't like my version of a Best Banana Sheet Cake recipe, here are some other yummy Banana Cake Recipes to try:
*Reposts: Please note that this idea/post was originally posted to this website on 05/02/2018 under a different URL (https://lifeshouldcostless.com/banana-nut-cake-sour-cream-frosting/), but it was in great need of a refresh so it now is more user friendly & has a free printable recipe card.
*Photo credit: Please note that the updated photography was taken by the super talented Asher Swan.
The rest of the images are just old pictures from when I first published this recipe…I have to keep them around so no links get broken, so just disregard them.