My Grandma makes some super AMAZING fudge every year during the holidays, & everyone that has ever tried it very quickly admits that they just cannot get enough of it! I truly mean it when I say that it really is THAT good… the only drawback I have found (beyond it going straight to my thighs and tummy) is that it can be time consuming, & costly to make a batch. I think that is probably why grandma ends up only making it about once a year.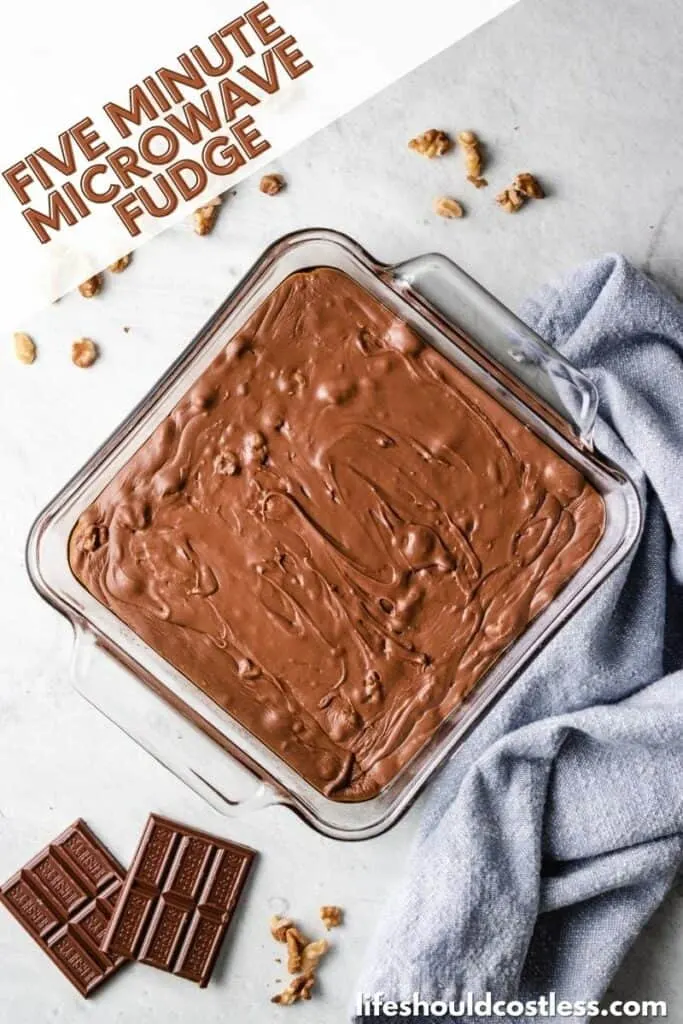 When I started seeing recipes online for small batches of Fudge made in the microwave, I knew then that I wanted to work on adapting my Grandma's yummy chocolate fudge recipe for the microwave too.
My goal with this particular recipe development was that I wanted it to taste as close to exactly the same as possible, but to be able to make the small batch version because the cost of making fudge can sometimes be pretty steep.
Now, the new microwave version of my Grandma Mary's Fudge recipe takes about 1/4th the time and effort to make, and as luck would have it… my attempts in the kitchen were a success, because now we have
Microwave Marshmallow Fudge
Which is an awesome easy fudge recipe that is a small batch and the benefit of a small batch fudge recipe is that it's much easier not to "let oneself go" and eat the whole pan…and, the small batch version costs about 1/3rd as much as the original recipe… which to me, is win/win.
Just look how beautiful and tasty it turned out! At least I think so anyway…;)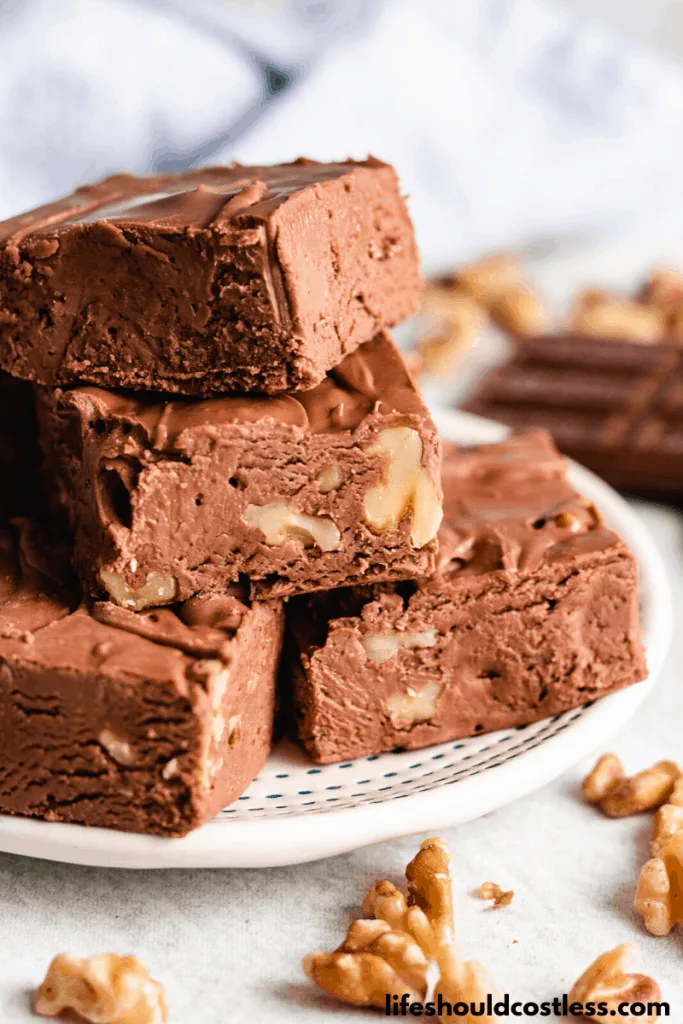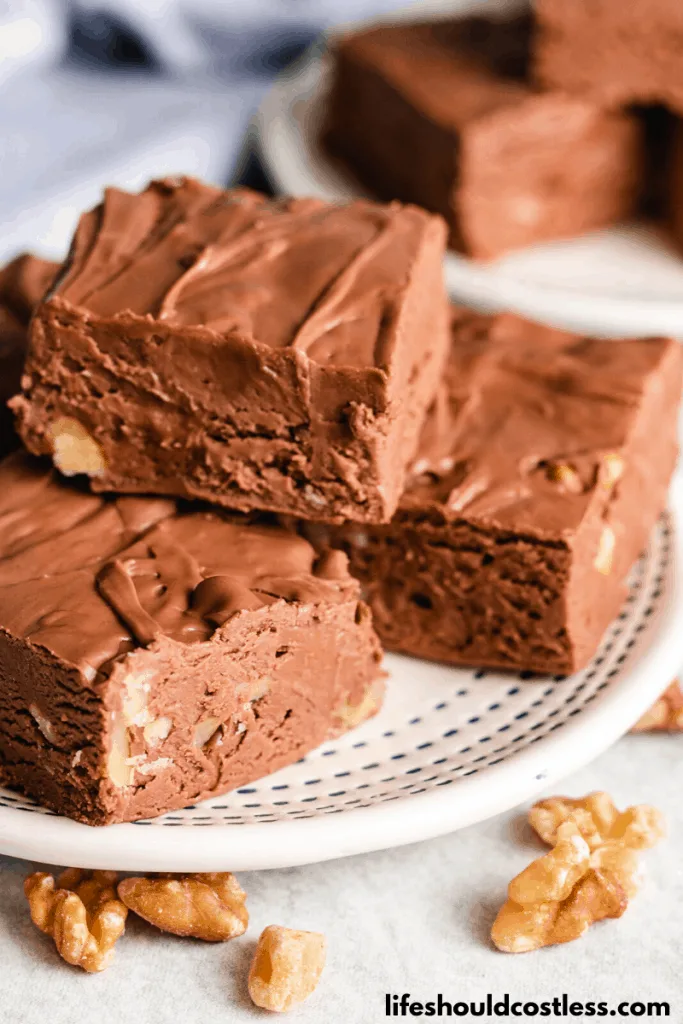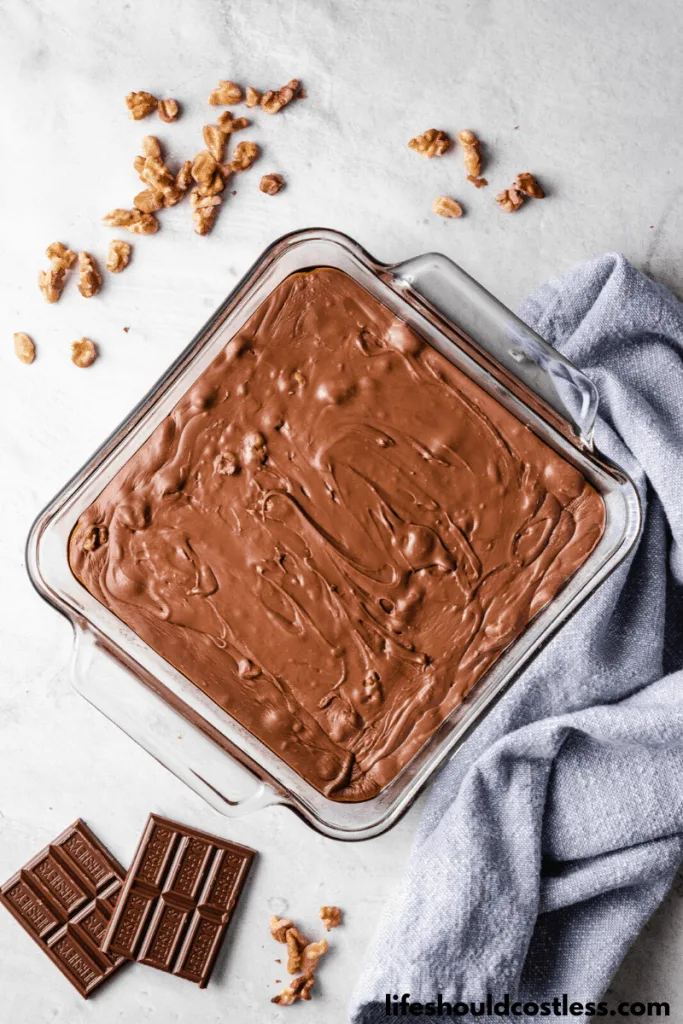 I may be biased, but I think that…
It's the BEST Microwave Fudge Recipe!
I have tried multiple microwave fudge recipes, and was never fully satisfied with any of them… which was what actually fueled my drive for wanting to adapt my grandma's recipe this way… and I am SO glad that I did because…
Grandma Mary's Fudge recipe is divine!
I decided that I wanted to get a video made to show you guys just how simple it is to make this recipe, because I can tell you that it's easy all day long, but seeing the full process of how to make it will show you that I'm not just blowing smoke at you by telling you that.
If you would like to share or embed this video on a website, please also provide a "do follow" link that goes to the accompanying blog post found at: https://lifeshouldcostless.com/five-minute-fudge-grandmas-recipe-adapted-for-the-microwave/
How to make microwave fudge: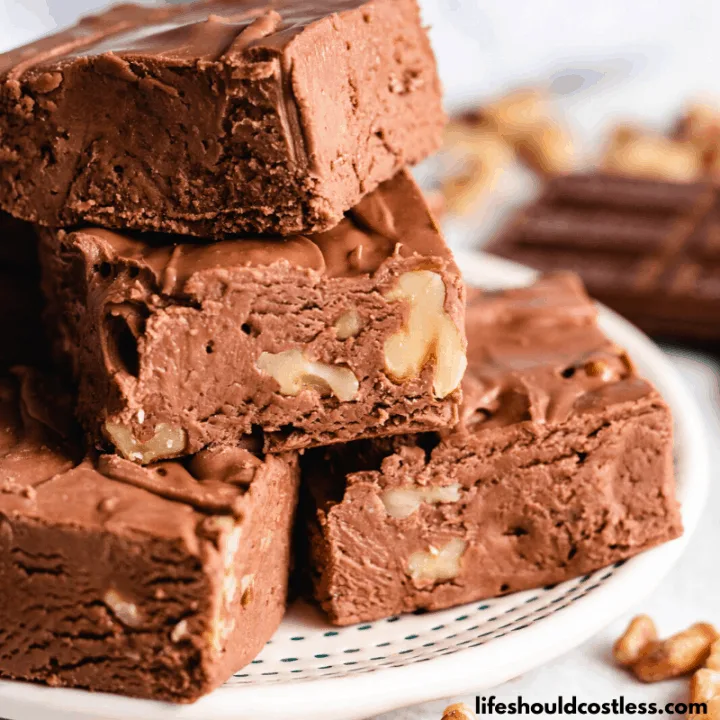 Five Minute Microwave Fudge Recipe
This small batch fudge was based on Grandma's famous recipe. Make the best and simplest microwave fudge recipe ever in five minutes or less.
Ingredients
⅓ Cup Milk
1 (7 oz) Jar Marshmallow Creme
3 Cups Powdered Sugar
1 (11.5 oz) Package Milk Chocolate Chips
2 (1.55 oz) Hershey Bars (broken into small pieces)
½ Cup Walnuts (chopped)
Instructions

How to make easy microwave fudge:
In a large microwave safe bowl add the first three ingredients, mix well.
Add the chocolate, mix well, and microwave for two minutes.
Remove from microwave and mix well.
Add nuts, mix well.
Spread into a greased 8x8" casserole dish. Let cool to room temperature.
Cut and serve.
Notes
For best results, make sure to let your fudge set/ripen at room temperature. Store in an airtight container and try not to eat it all yourself.
Nutrition Information
Yield

12
Serving Size

1
Amount Per Serving
Calories

215
Total Fat

7g
Saturated Fat

3g
Trans Fat

0g
Unsaturated Fat

4g
Cholesterol

4mg
Sodium

15mg
Carbohydrates

37g
Fiber

1g
Sugar

35g
Protein

2g
These caloric amounts are automatically estimated by a plugin on my site and should be treated as such, an estimate.
*Just please remember that the longer you let it sit at room temperature, the better the texture will be.
I'm pretty excited with how close to the real deal this new, smaller batch, faster fudge recipe turned out!
I can't believe that it tastes exactly the same but only takes about one fifth of the time to make and a smaller batch means it costs less to make, so that's a total win for me and you!
If you like this recipe, please make sure to do me a solid and share this post via social media or even send the link to my url to your friends via email. Either way, it really helps allow me to continue to share some of my favorite things and I truly do appreciate it!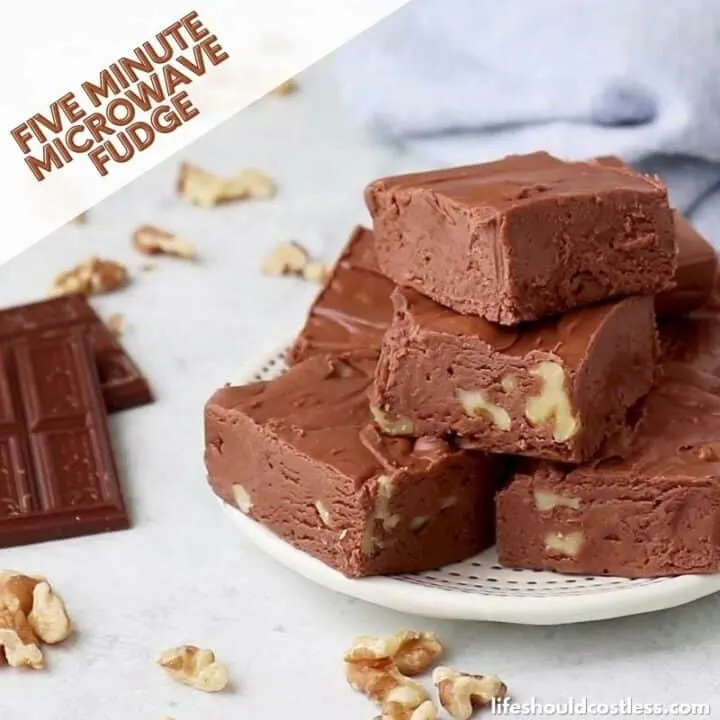 If you would like to subscribe to my email list, go here.
Make sure to follow along via social media, by going here.
If you would like to learn how to really show your support to this site (at no cost to you), go here.
If you would like to check out my entire sweet tooth section, you won't be sorry. You can find that here.
Here are links to several of my other recipes that you're also going to love: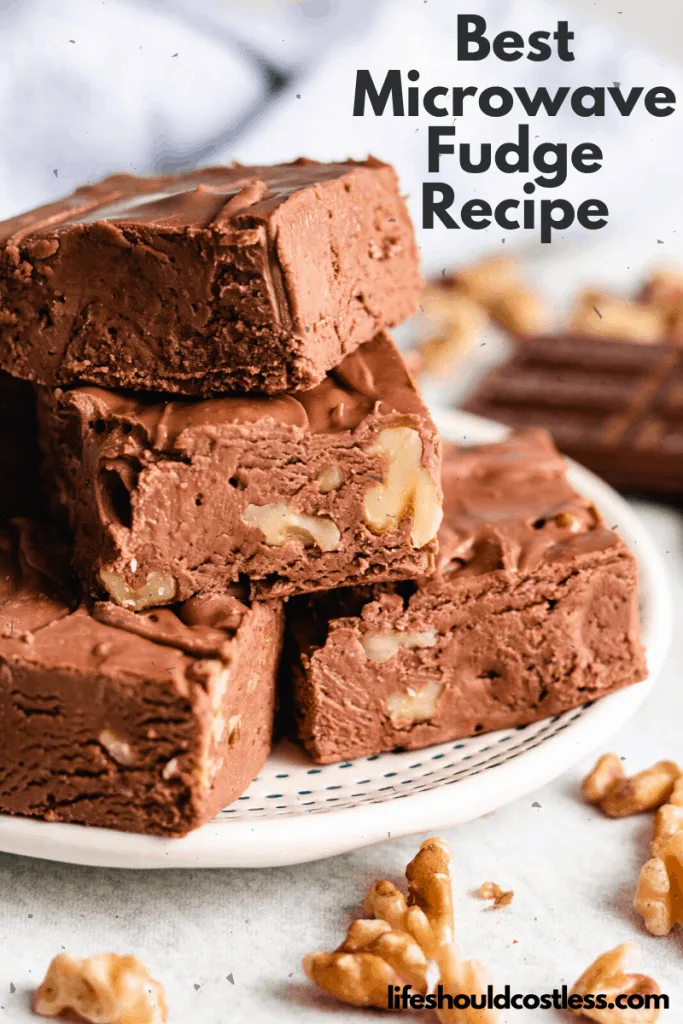 *Please note that this recipe was originally shared to this site on June 1st, 2020 and has since been updated to improve user experience, remain relevant, add a YouTube version of the video, and to stay as shareable as possible on the social medias.