I have decided that the true test to see if I have gotten a recipe just right is to watch my family's reaction when they ask me what we are having for dinner. If there is little excitement, or worse, whining… then I know that I need to keep tweaking the recipe until I get a better reaction.
Well, this particular meal is one that I've been working on and not only were my kids happy about having it for dinner last night, but when I reheated the left-overs for lunch today, they were still pleased that it was what we were eating.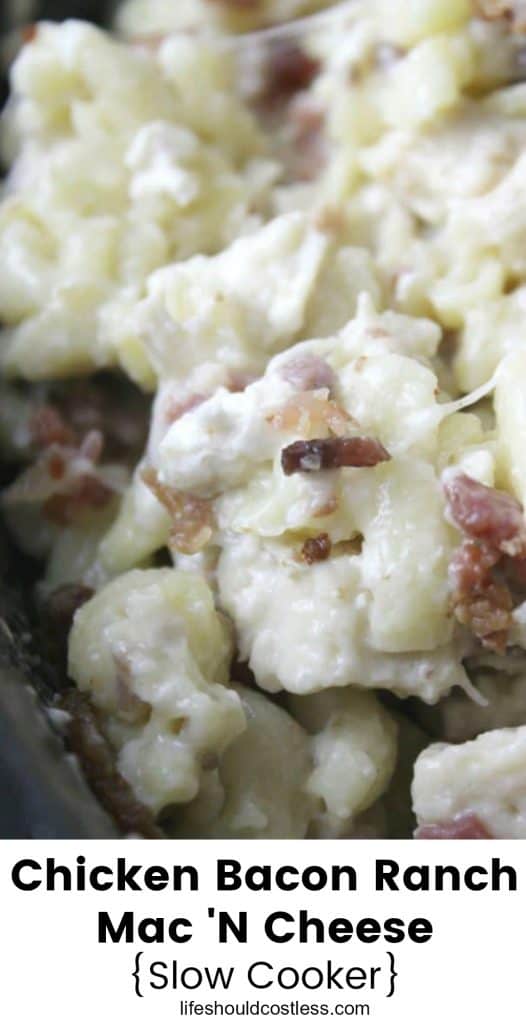 A "family tested" delicious meal is a great thing to have in ones back pocket, but the best part about this recipe is that it is just as easy as two of my other super-simple "one pot" slow cooker recipes (CrockPot Spaghetti and Easy CrockPot Buffalo Chicken Pasta).
These recipes appeal to people because they only take a handful or so minutes of prep, only use one dish (being the slow cooker itself so there are hardly any dishes), and are super tasty!
I'm going to start out by showing you the ingredients, the process, and then share the recipe later on.
The chicken and some water are the only ingredients missing from this picture…everyone knows what a chicken breast looks like so I did not add it. I use Hidden Valley Bacon Flavored Ranch, Kraft Italian Five Cheese Blend, Real Bacon Pieces/Bits, and then whatever Macaroni noodles are on hand.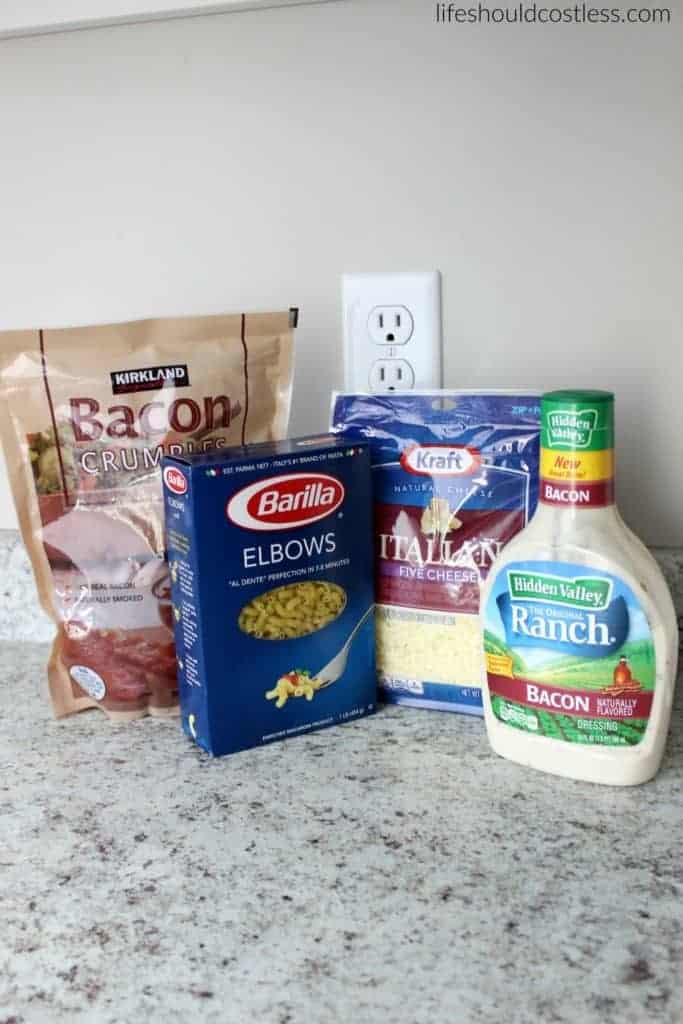 Here goes the process: I start by greasing my Seven Quart CrockPot. Then add the Chicken.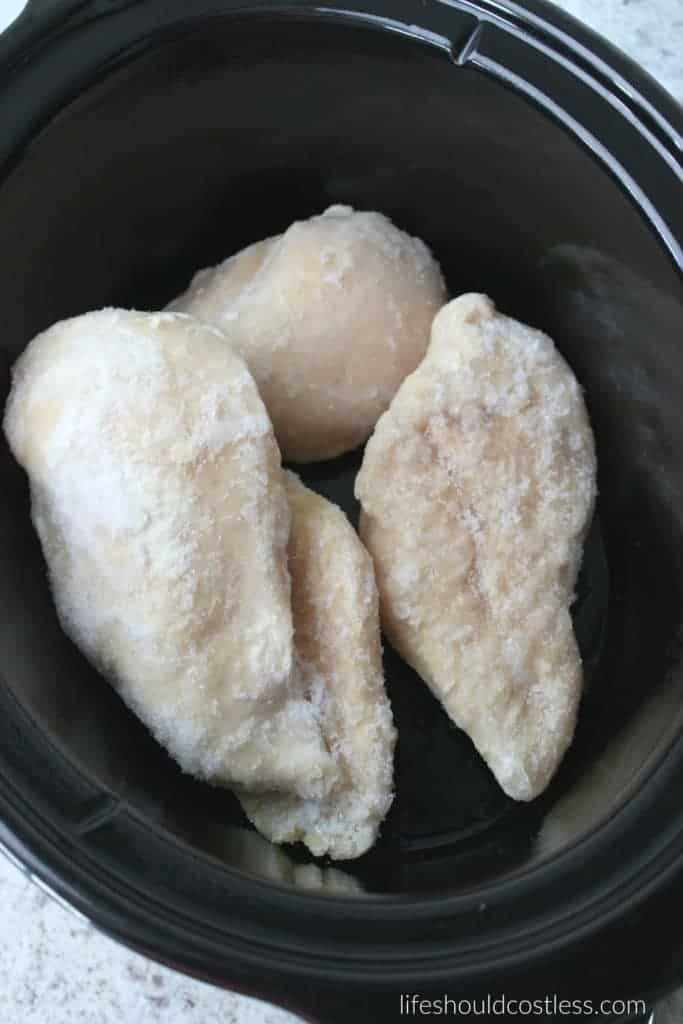 Then the Bacon Flavored Ranch.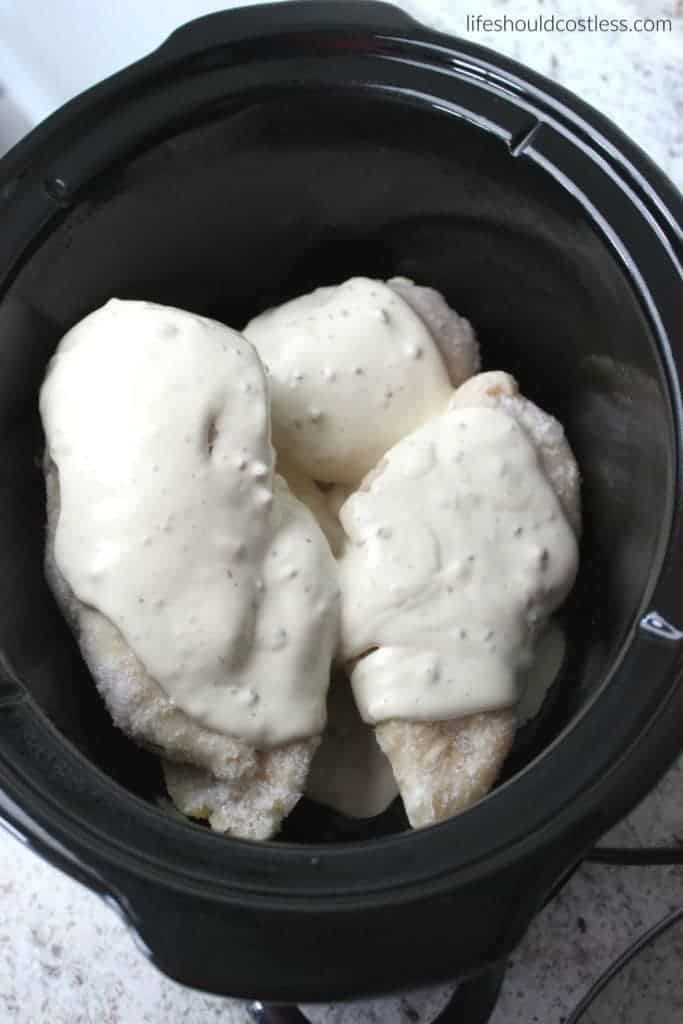 Then the Bacon pieces.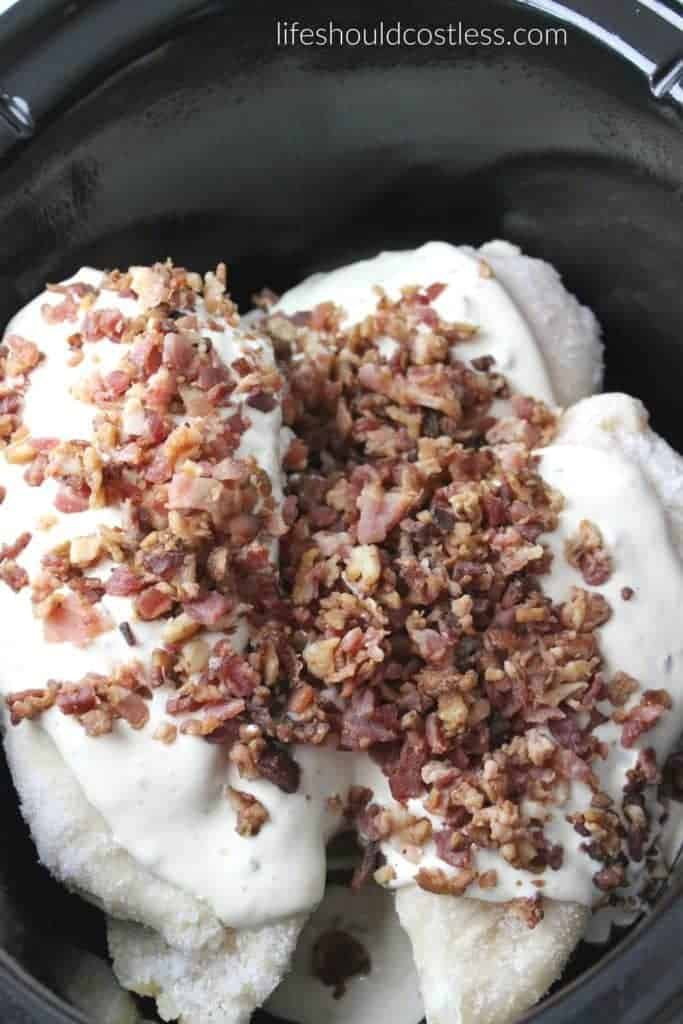 Then cook it until the chicken is done.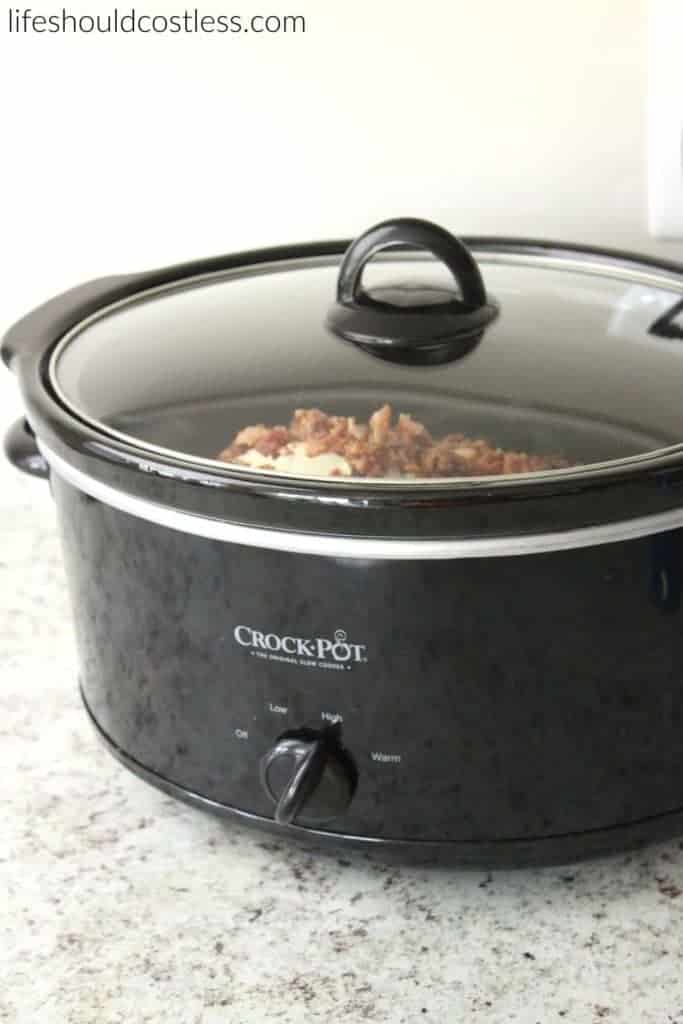 Once the chicken is done cooking, it's time to chunk it up!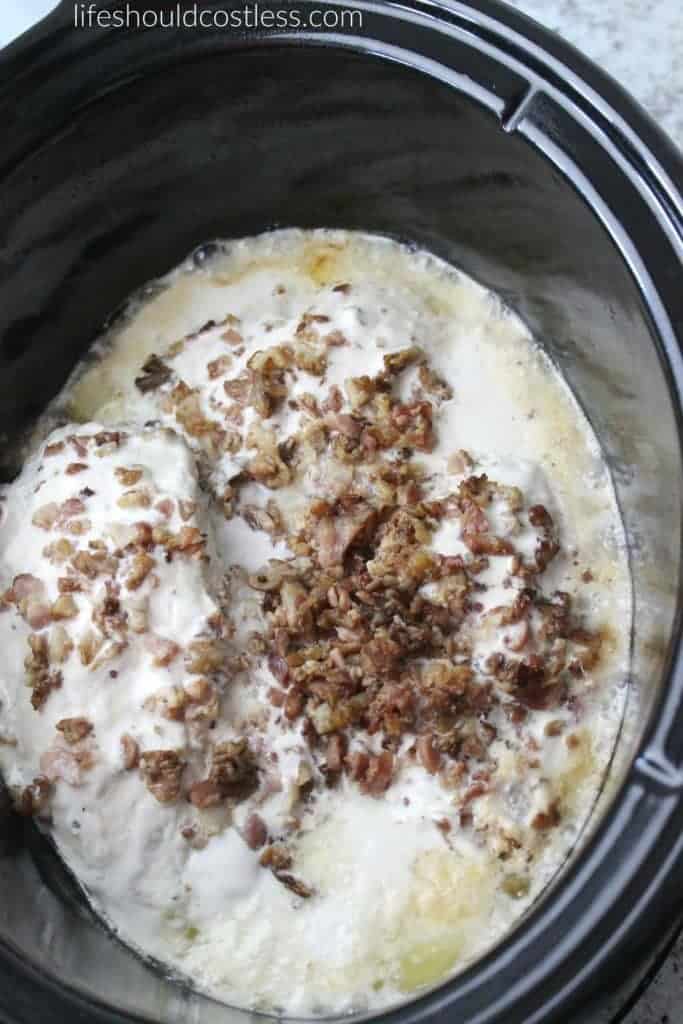 Before I get too far into the process, I wanted to share with you all five links to some of my other awesome recipes that I have shared:
Now back to the process of making Slow Cooker Chicken Bacon Ranch Mac 'N Cheese.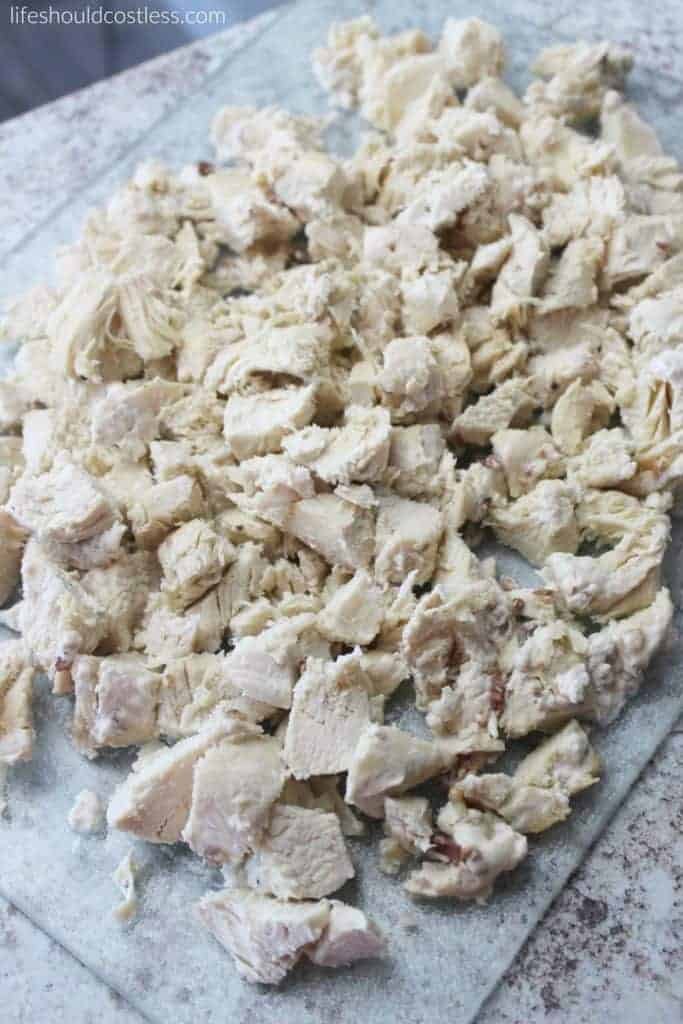 Next I add the Macaroni noodles.
Then the chunked up chicken and the water.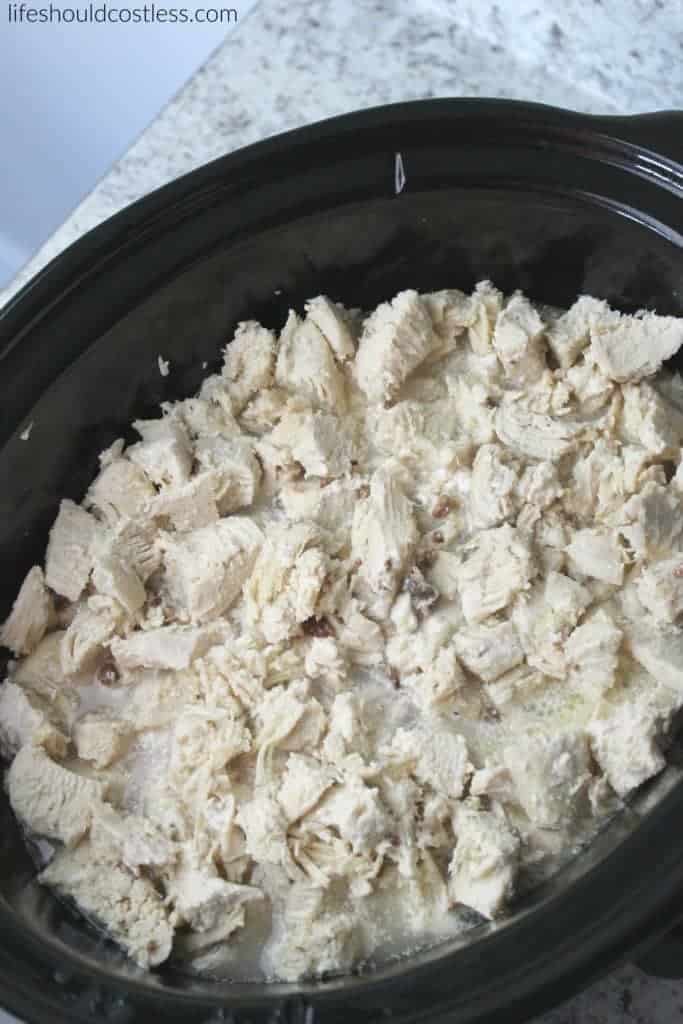 Then the cheese!!! I put the lid back on and let it cook the remaining time.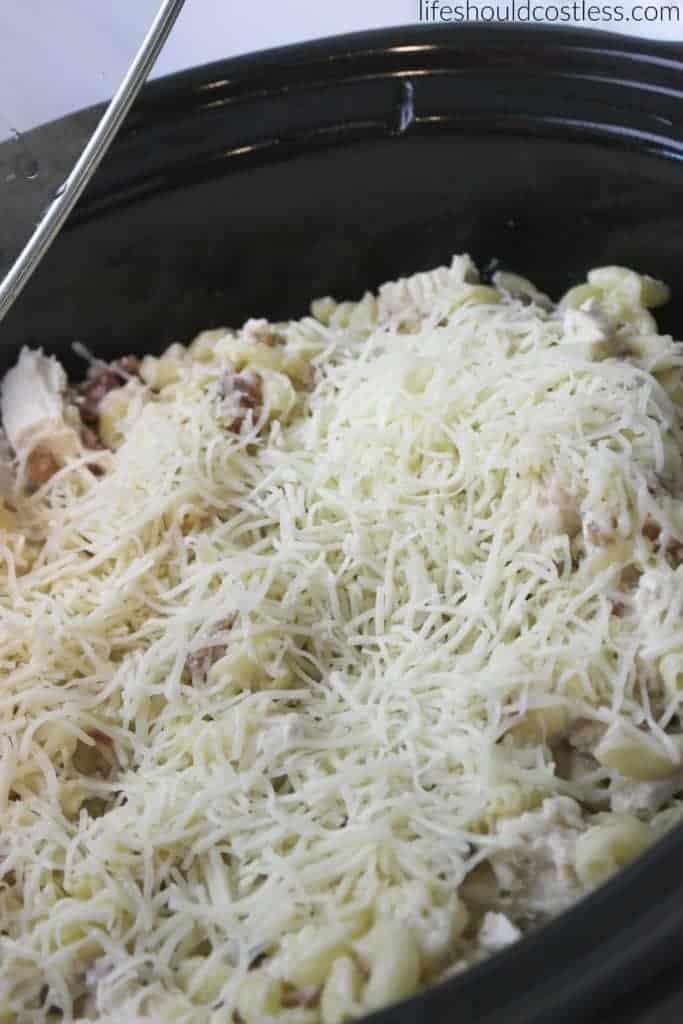 When it's done, it's time to mix it all up and serve!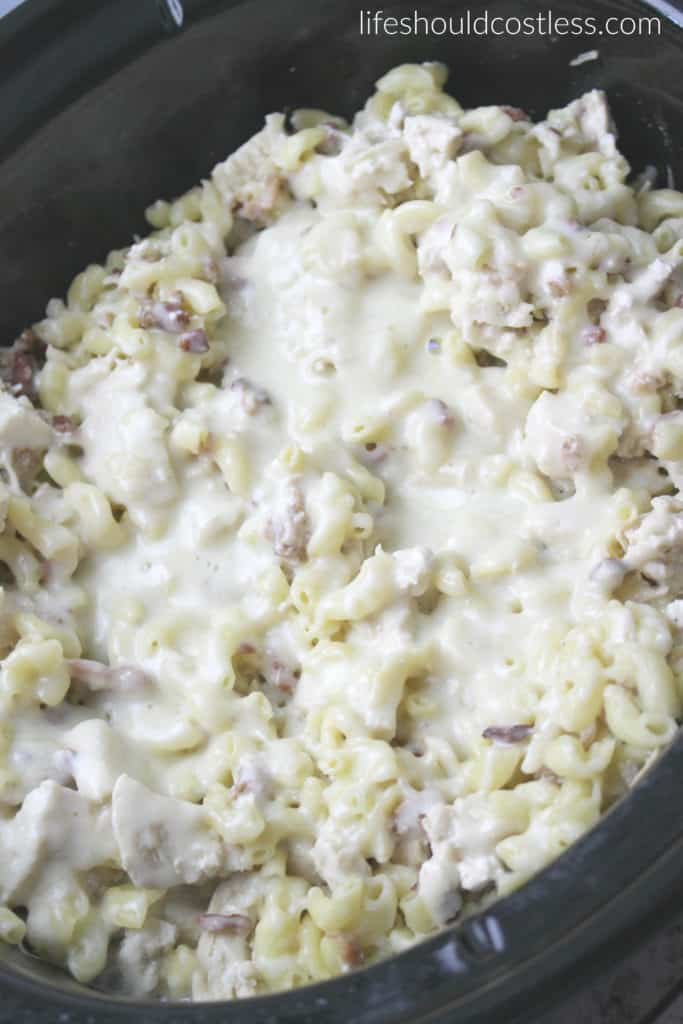 I added a tiny bit more cheese and bacon crumbles to the top to garnish.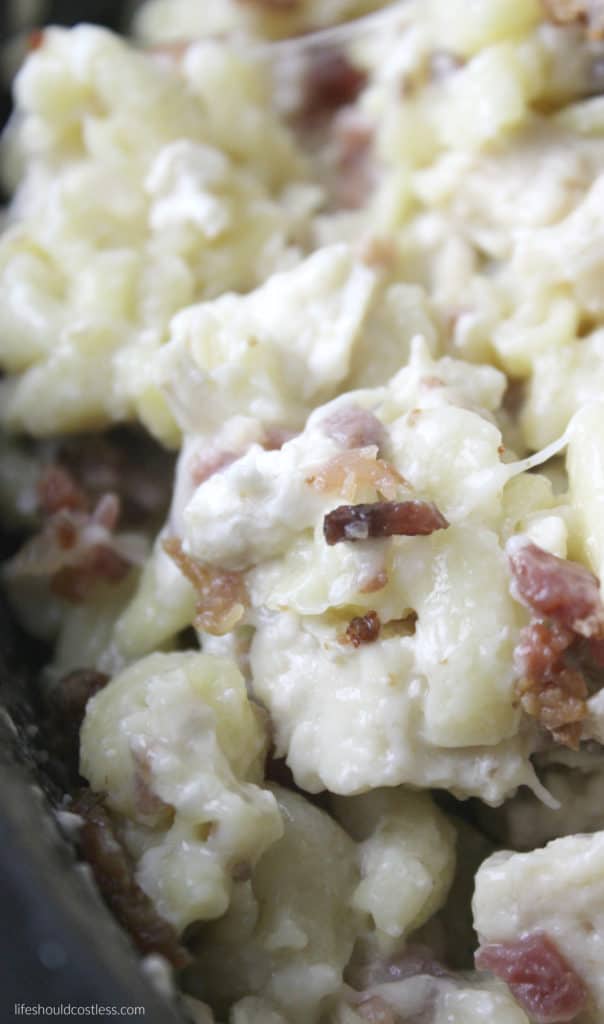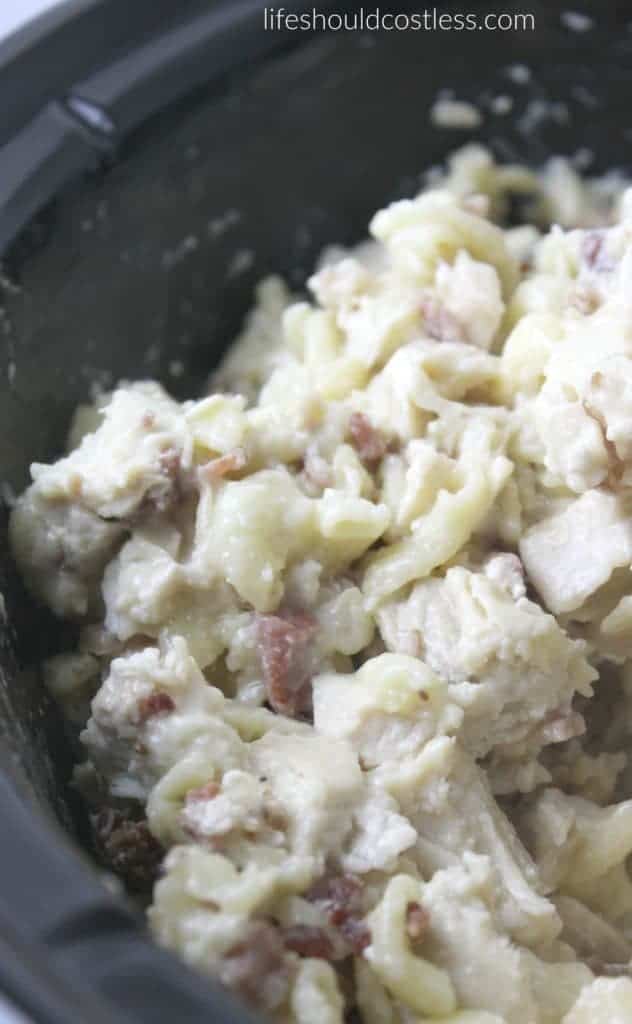 Hungry yet? It's a major comfort food and obviously not very healthy…but it's Oh, so goooood!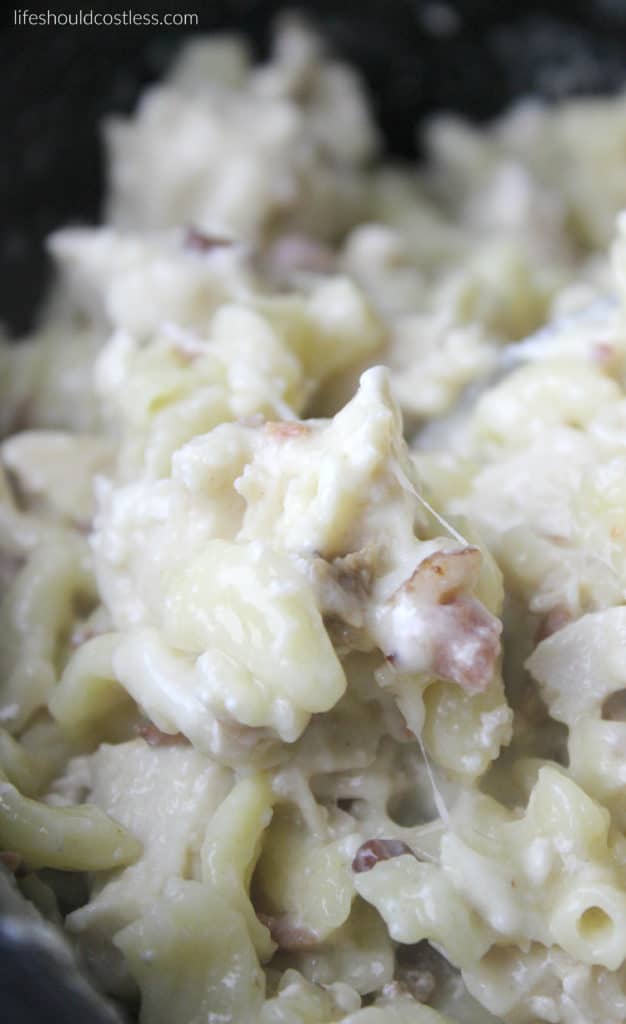 Yield: 12+
Slow Cooker Chicken Bacon Ranch Mac 'N Cheese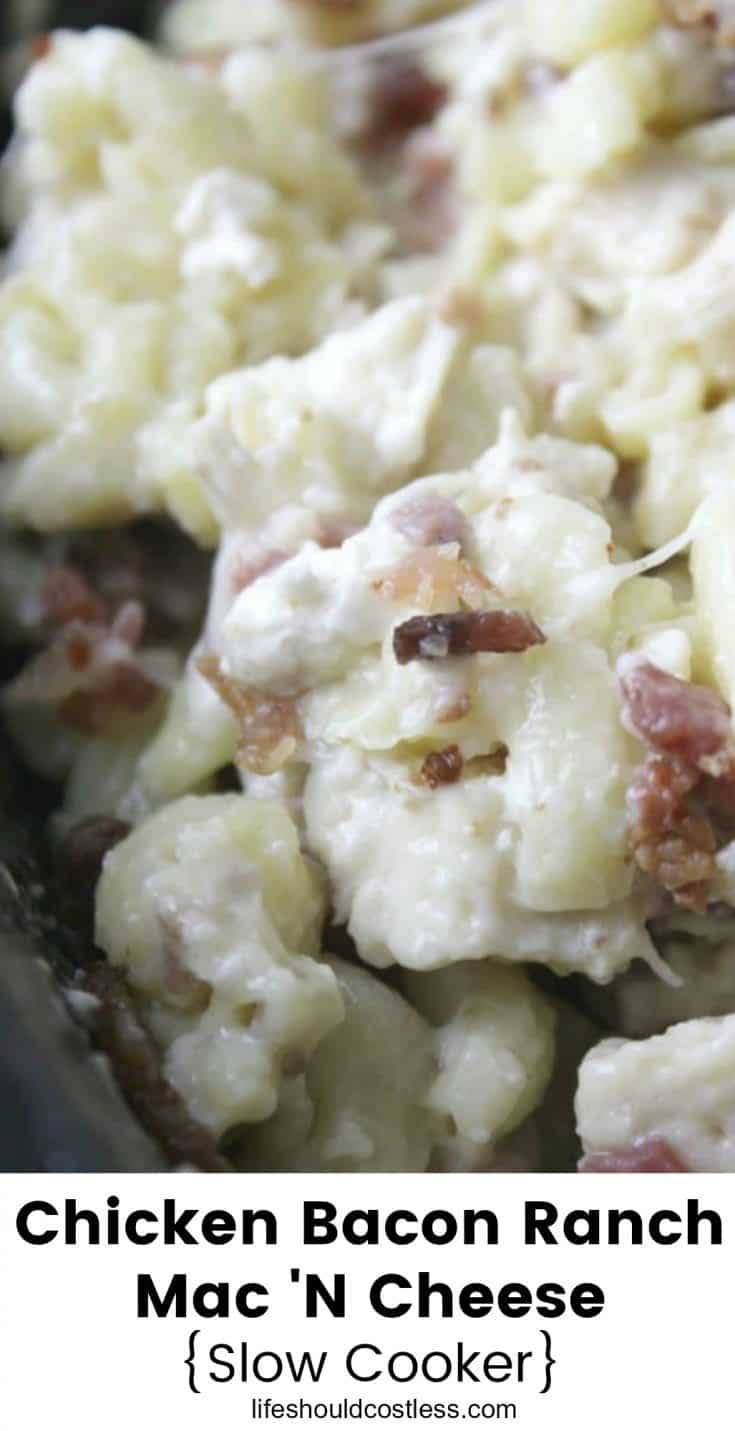 Quick and Easy dinner idea. It's comfort food at its finest. This dish is perfect for those days that you want a home-cooked meal but don't have the time or energy to spend hours cooking.
Total Time
4 hours
10 minutes
Ingredients
4 Large Chicken Breasts
1 C. Bacon Ranch Dressing
½ to 1 C. Real Bacon Bits
1 lb Elbow Macaroni
3 C HOT Water
½ C (4 oz) Kraft Italian Five Cheese (generic Italian cheese blend works too)
Instructions
Grease a 7 quart CrockPot.
Add the Chicken, Bacon Ranch Dressing, and Bacon Pieces. Cover and set on High 4-6 hours, or Low 7-8. You'll know it's ready when the chicken is done.
Remove the chicken and chunk it to your desired size pieces. Add the Macaroni noodles to the bottom of the crock, place the chunked chicken on top, then add the HOT water(must be hot so you don't risk breaking your crock). Replace the lid and let cook for another 30 minutes. Add the cheese. Mix well. Should be ready to serve. Just check that the noodles are soft enough, if not replace the lid and give it a few more minutes to cook.
Notes
Can garnish with extra bacon pieces and cheese.
Occasionally you may need to add more hot water, if so, do it about ½ cup at a time then stir, let it cook a bit more, and check it again. Repeat as necessary.
I hope your family likes it as much as mine does! It's a regular on our dinner meal rotation…and I won't make a meal unless I love it, so that says something. 😉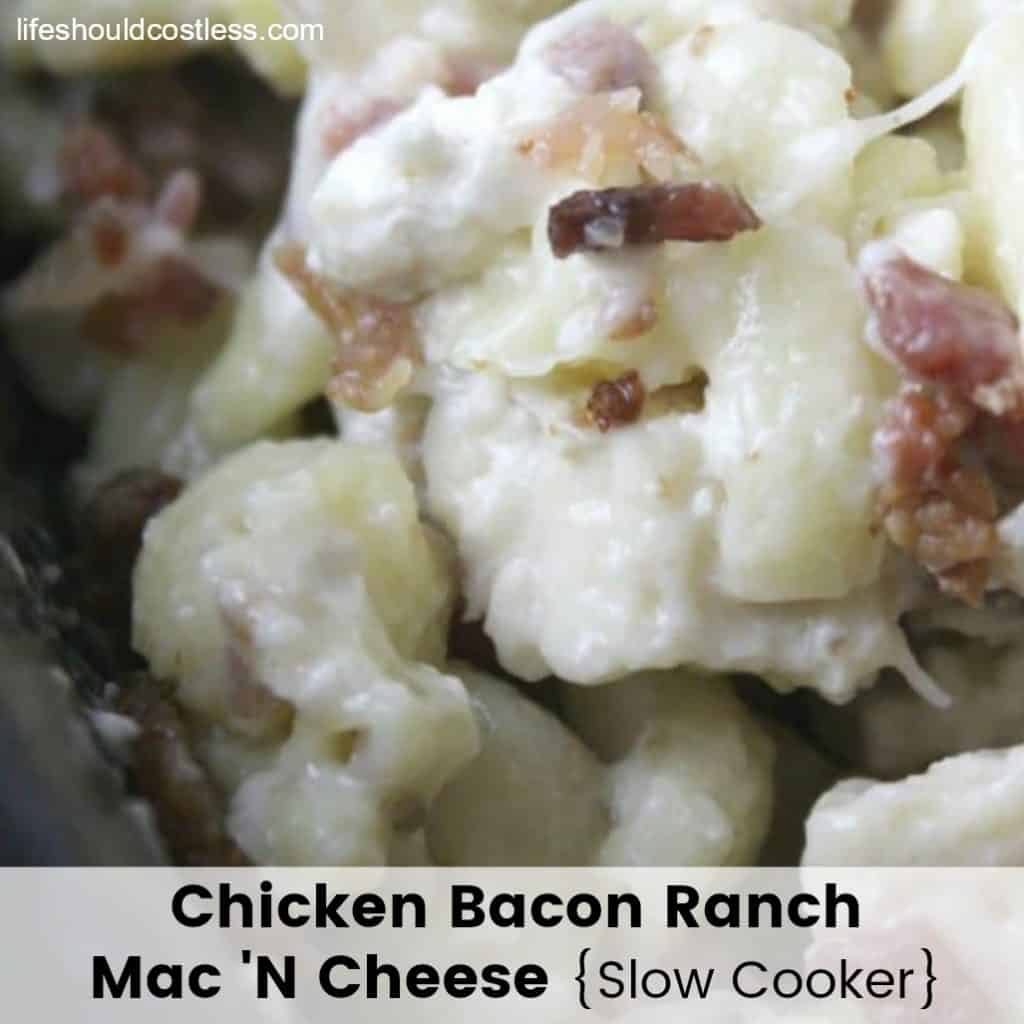 Thanks so much for stopping by my blog! If you liked what you saw, please make sure to share it via social media!
Other ways to show your support are to follow and/or interact with me on Pinterest, Instagram, Facebook, YouTube, or by Subscribing To My Email List. If you purchase suggested products through Amazon, the cost to you remains the same, but I make a small commission on everything in your cart.
If something was particularly helpful and you would like to donate directly to the blog, you can do so via PayPal, here. I'm a single mom of four, so every little bit helps. Thanks so much! ~Sarah
P.S. You may also like my entire Slow Cooker section as well as myRecipes section.
Here are a few linked pics, to some of my other recipes, to check out too: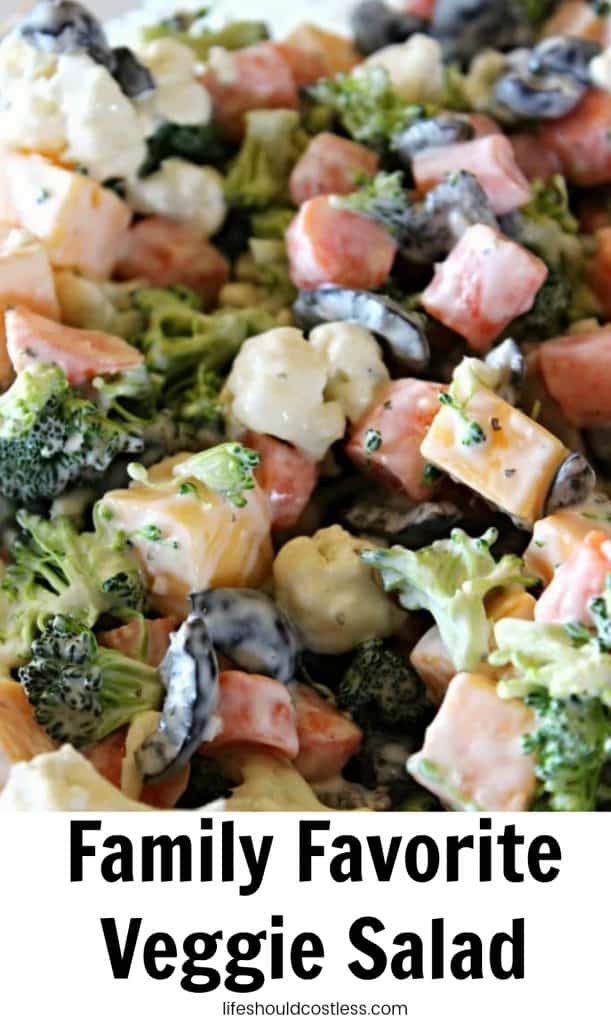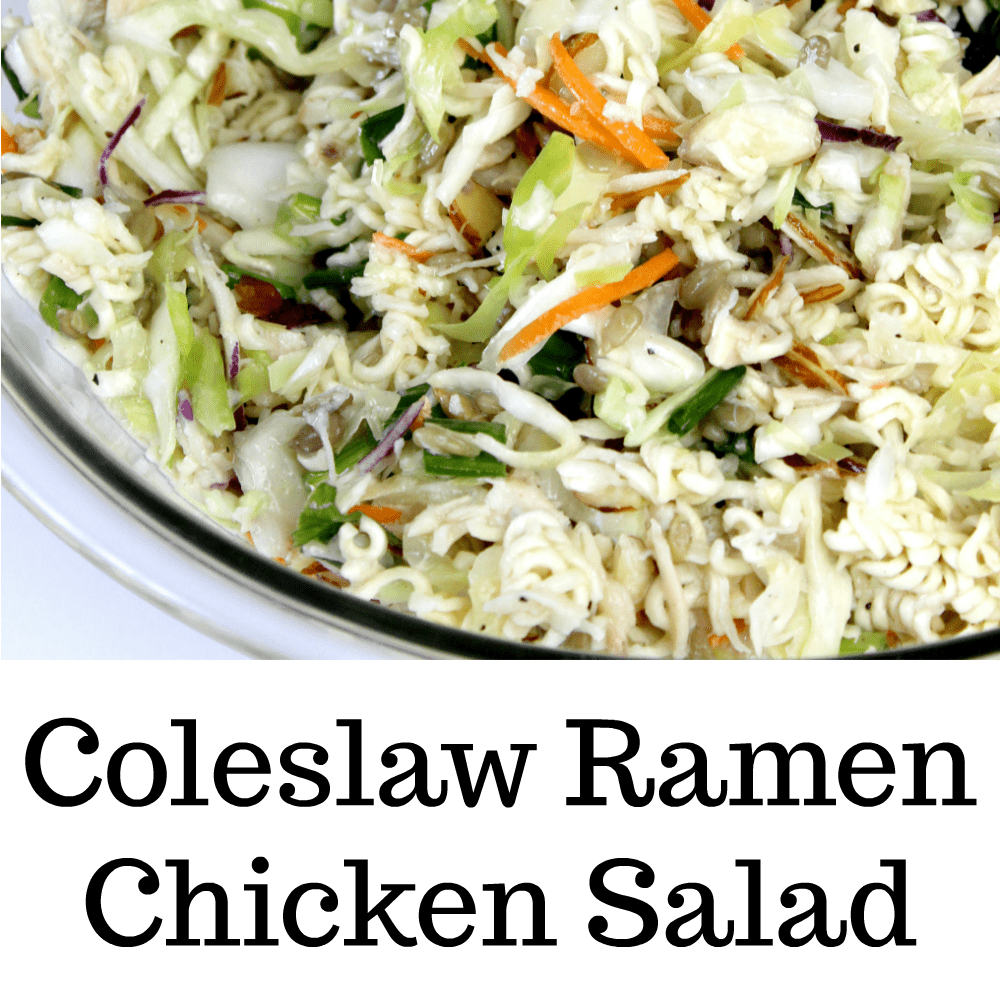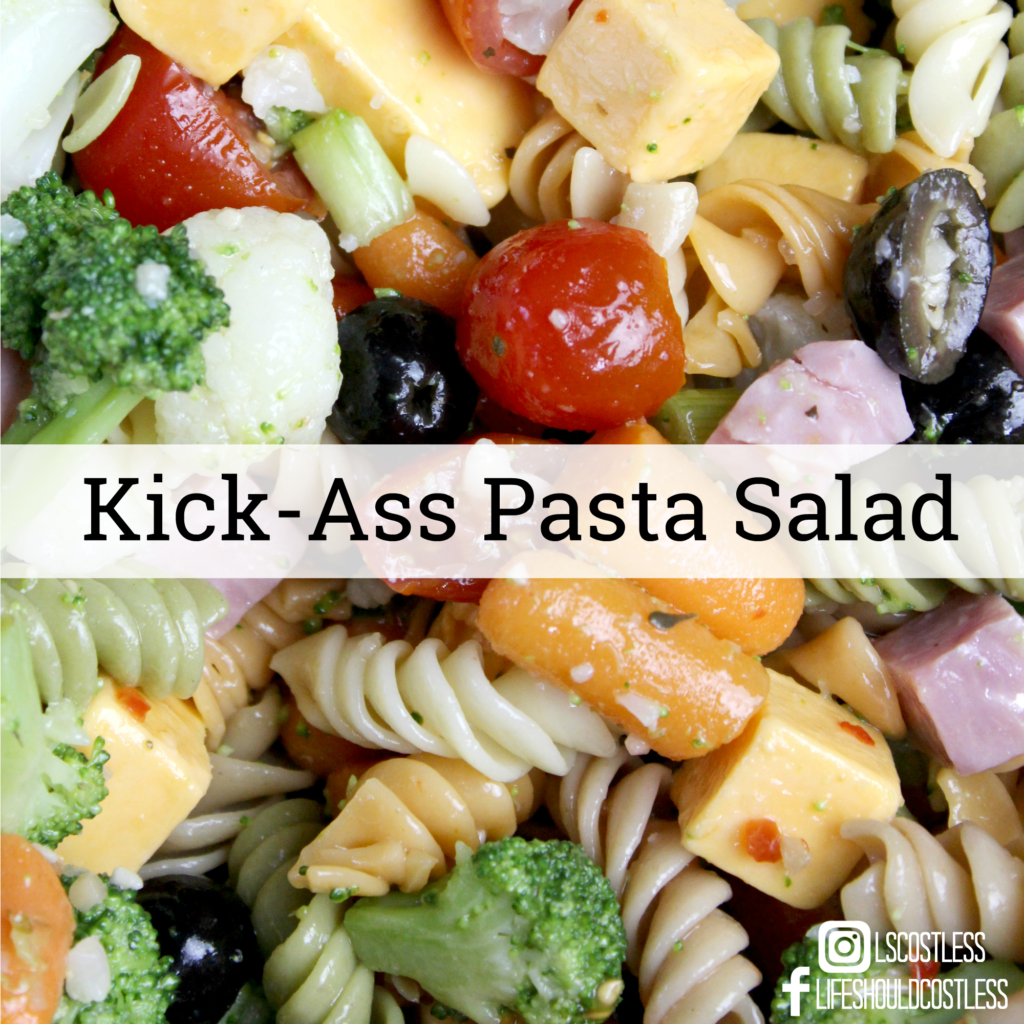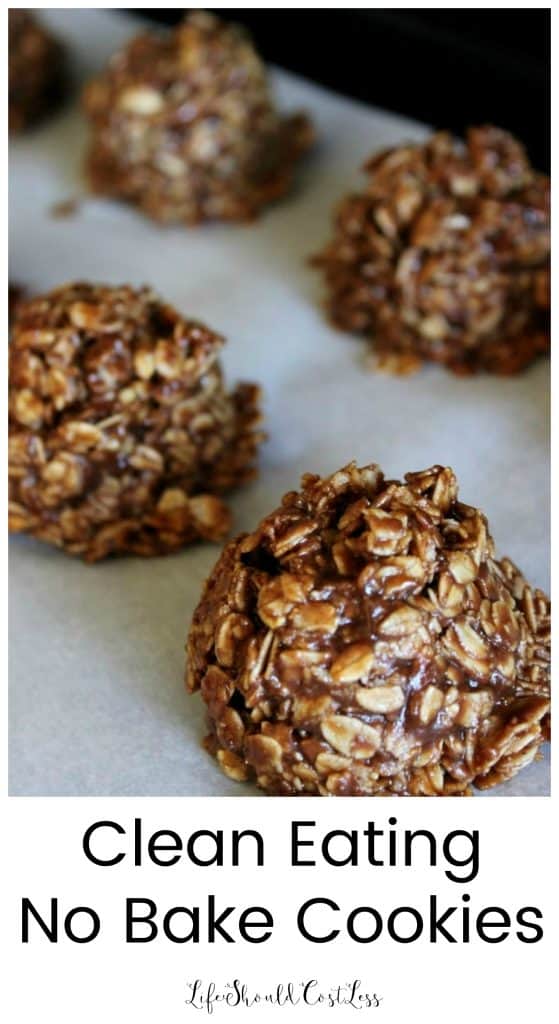 *Reposts: Please note that this idea/post was originally posted to this website on 07/23/2016 but it was in great need of a refresh so it now is more user friendly/shareable and has a free printable recipe card.