This Easy Crock Pot Chicken Alfredo recipe is made with the bottled sauce that you can find at any grocery store, so it ends up not only being a super easy recipe, but also amazingly delicious meal to make. My minimalistic dish is great for those nights that you may not feel like cooking, but also don't want to or can't afford to go the fast food route to feed your family. Put your slow cooker to use, make a yummy simple dinner, and save yourself some precious time in the process.
Time has been scarce around here lately, so I've got another super simple slow cooker recipe for you all. Just like in my Slow Cooker Spaghetti recipe (my most popular recipe of all time), this recipe only takes about five minutes of prep and uses one "pot" so you'll have less dishes. Win/Win!
I don't know about you, but a sink piled high with dishes is my least favorite things these days. So any meal that I can make that cuts down on that particular chore, is a meal that I plan on making as often as I can! It also doesn't hurt that anything Pasta and Chicken are favorites with my family.
Here are some super yummy shots of the final product!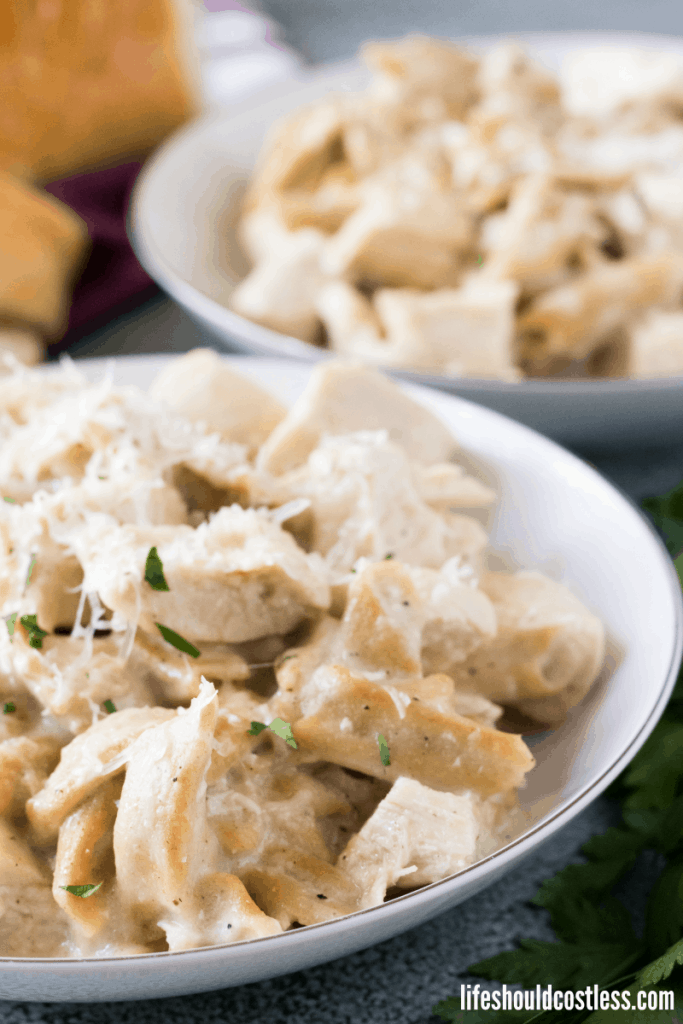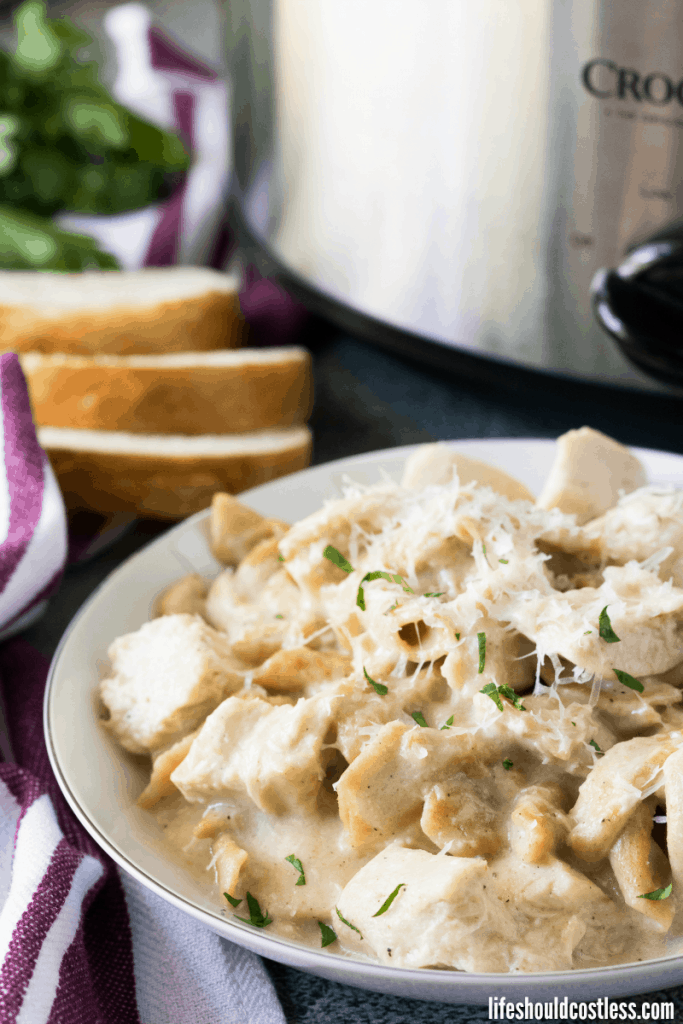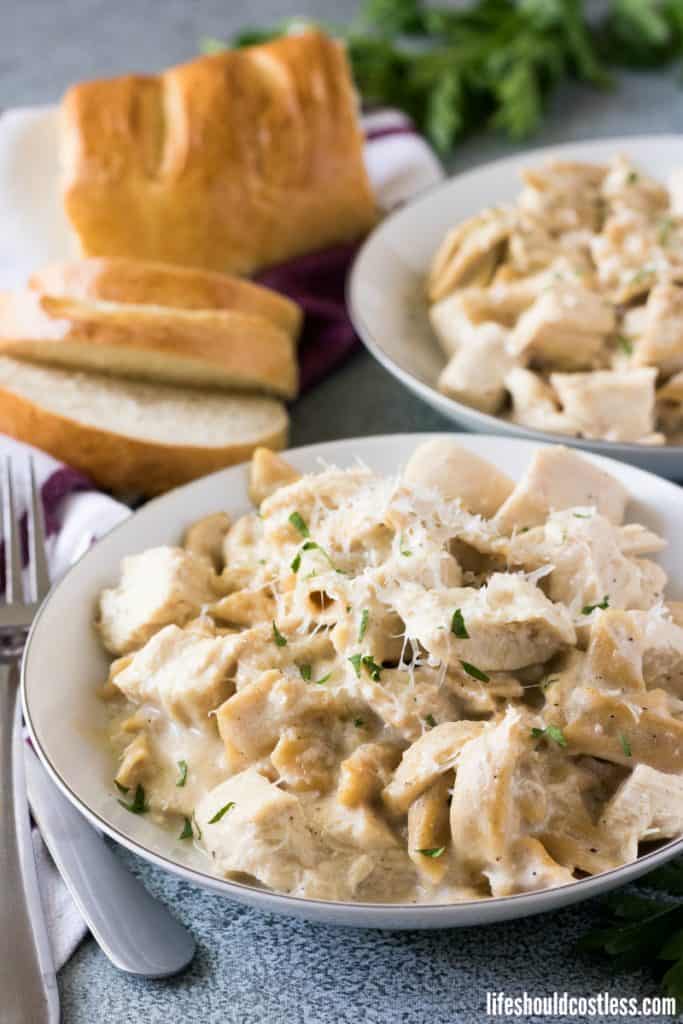 How To Make Chicken Alfredo In A Crock Pot/Slow Cooker
Yield: 8 Servings
Easy Crock Pot Chicken Alfredo
Easy Crock Pot Chicken Alfredo is made with jar sauce, so it's super simple. This recipe is great for those nights that you just plain don't feel like cooking, but also don't want to go the fast food route. Put that slow cooker to use to save yourself some major time and headache.
Cook Time
5 hours
4 seconds
Total Time
5 hours
5 minutes
4 seconds
Ingredients
2 T Extra Virgin Olive Oil (grease it)
4-6 Chicken Breasts (depending on how chickeny you want it)
1 (16.9 oz) Jar Alfredo Sauce
1 (16.9 oz) Jar Water
1 lb Penne Pasta (or pasta of choice)
Instructions
Easy Crock Pot Chicken Alfredo With Jar Sauce:
Use the oil to grease the inside of the crock and up the sides.
Add the Chicken Breasts.
Add the Alfredo Sauce.
Fill the Alfredo Sauce Jar full of water, put the lid back on tightly, give it a good shake and add on top of the Alfredo Sauce.
Put the lid on and cook on LOW 6-7 hours, or HIGH 3-4 hours (I cook it a little longer when using frozen chicken.)
When the time is up/chicken is done, remove the chicken and set aside on a cutting board.
Add a full pound of pasta, I use Whole Wheat Penne. Push the pasta down so it is below the "water line".
Chunk the chicken to your desired size, salt and pepper to taste, then add to the slow cooker and put the lid on.
Continue to cook for one hour stirring every 15-20 minutes. Occasionally an additional half cup of hot water is needed to keep the sauce the right consistency.
Notes
* If it's too runny, leave the lid off for a while and stir every few minutes, this will evaporate any extra liquid. If the pasta hasn't set up, you may need to add more water, stir, put your lid back on and check it again in 15 minutes… this is the basics to cooking pasta in a Slow Cooker.*
This recipe is perfect for a 6 or 7 Quart Slow Cooker.
Nutrition Information
Yield
8
Serving Size
1
Amount Per Serving
Calories

302
Total Fat

10g
Saturated Fat

3g
Trans Fat

0g
Unsaturated Fat

6g
Cholesterol

86mg
Sodium

144mg
Carbohydrates

18g
Fiber

1g
Sugar

0g
Protein

32g
These caloric amounts are automatically estimated by a plugin on my site and should be treated as an estimate only.
It is pretty tasty, and super simple. Like I said before, it's perfect for anyone that needs a break from cooking, but also doesn't want to go the fast food route which will save you some serious money if you add it to your meal planning.
If you liked this recipe, please make sure to share this post with others that might like it too whether it be via social media, or even sending them a link via email…either way I super alppreciate it. Thanks ~Sarah
Oh, don't forget to subscribe to my email list (found here). Also, if you would like to learn how to follow along or really show your support for this blog, go here.
P.S. Make sure to check out my entire slow cooker/ Crock Pot section, found here.
Here are links to a few of my other recipes that you'll also love:
For those of you that would also like another option for a "pinnable" image on Pinterest, here you go…thanks again so much for the support!
*Reposts: Please note that this idea/post was originally posted to this website on 12/26/2015, but it was in great need of a refresh so it now is more user friendly/shareable, has video, and a free printable recipe card.