Easy Crock Pot Chicken Alfredo is made with the jarred Alfredo sauce, so it ends up not only being a super simple recipe, but also can be an amazingly delicious personalized meal to make. Minimalistic in nature, this dish is great for those busy nights that you may not feel like cooking, but also don't particularly want to go the fast food route to feed your family.
Table of Contents, Skip Ahead To What You're Looking For
About this recipe
Put your slow cooker to use, make a yummy easy dinner, and save yourself some precious time in the process with this Crock Pot Chicken Alfredo with jar sauce recipe.
Time has been scarce around here lately, so I've got another super simple slow cooker recipe for you all.
Just like in my Slow Cooker Spaghetti recipe (my most popular recipe of all time), this recipe also only takes about five minutes of prep and uses one "pot" so you'll have less dishes.
I call that a win/win situation and it makes it, to me, one of the best crockpot meals. I don't know about you, but a sink piled high with dishes is my least favorite things these days, especially as a struggling single mom of four.
So any meal that I can make that cuts down on the chore of dishes, is a meal that I plan on making as often as I can!
It also doesn't hurt that anything Pasta and Chicken are favorites with my family.
I have created this recipe in such a way that you can use it as a base recipe and then switch things up to suite your desired tastes.
---
---
Slow Cooker Chicken Alfredo Ingredients List
For those of you that quickly need to check if this recipe will fit your needs or dietary restrictions, here is a list of all the ingredients I make this yummy meal with:
You can easily add Italian Seasoning, Parmesan Cheese, Garlic, Cajun Seasoning, Cream Cheese, or any other "extra's" that you want to make this dish even tastier. You could even garnish it with Parsley.
I am simply providing a base recipe to get you started with making your life a little bit easier.
---
Calories In Crock Pot Chicken Alfredo
As with any recipe, the nutrition data is important to those of us that are counting calories so I here is the estimated breakdown for those of you that are wondering.
Please note that this information was provided by an app on this website and should be used as an estimate only.
This data is for this recipe making eight servings, and only counts the nutrition data for the base recipe…any additional add-ins will need to be adjusted.
---
Photos of the final dish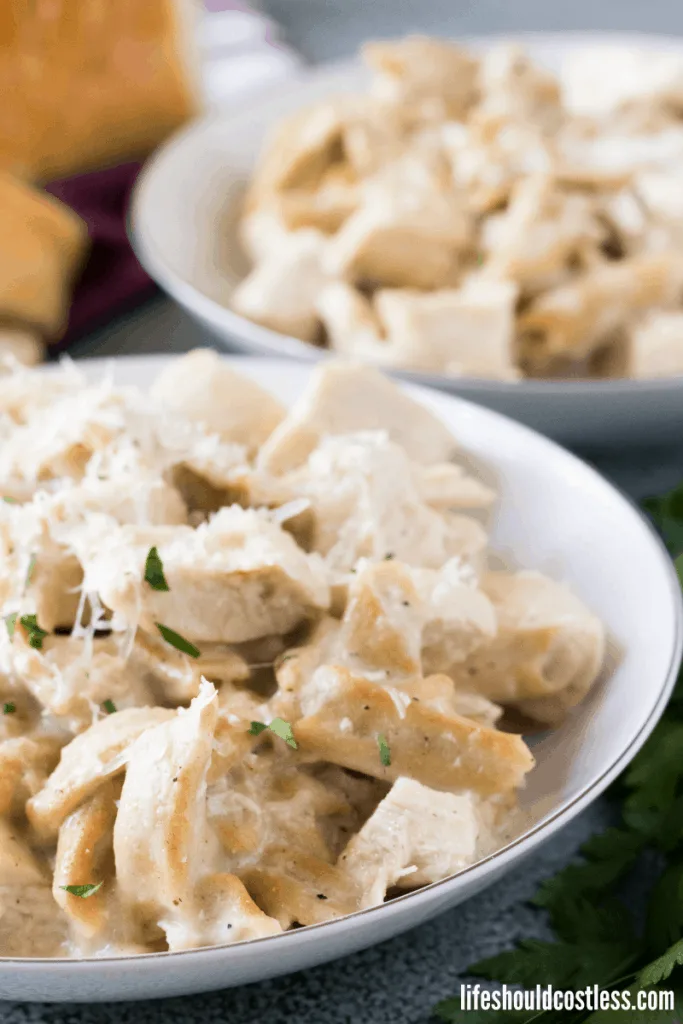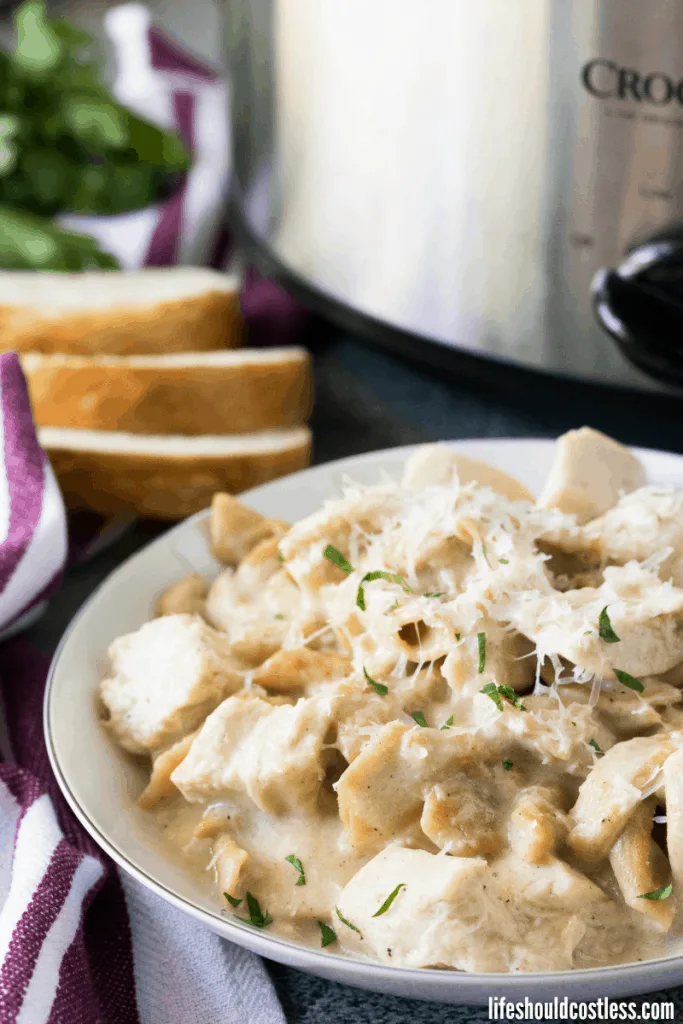 How To Make Chicken Alfredo with jar sauce (video & recipe card):
Easy CrockPot Chicken Alfredo Recipe
Cook Time:
5 hours
4 seconds
Total Time:
5 hours
5 minutes
4 seconds
Easy Crock Pot Chicken Alfredo is made with jar sauce, so it's super simple. This recipe is great for those nights that you just plain don't feel like cooking, but also don't want to go the fast food route. Put that slow cooker to use to save yourself some major time and headache.
Ingredients
2 Tablespoons Extra Virgin Olive Oil
4-6 Boneless Skinless Chicken Breasts
1 (16.9 oz) Jar Alfredo Sauce
16.9 oz Warm Water (use the jar)
1 lb Penne Pasta
Instructions
Easy Crock Pot Chicken Alfredo With Jar Sauce:
Use the Extra Virgin Olive Oil to grease the inside of the crock pot insert (be sure to grease up the sides several inches).
Add the Boneless Skinless Chicken Breasts.
Then add the jarred Alfredo Sauce.
Fill the Alfredo Sauce Jar full of warm/hot water, put the lid back on tightly, give it a good shake and pour on top of the Alfredo Sauce.
Put the lid on the slow cooker and cook on LOW 6-7 hours, or HIGH 3-4 hours (I cook it a little longer when using frozen chicken, see notes.)
When the time is up/chicken is done, remove the chicken and dice into desired size "chunks" on a cutting board.
Add a full pound of pasta of choice, I use Whole Wheat Penne. Push the pasta down so it is below the "water line".
Salt and pepper the chicken to taste, mix well, then add to the slow cooker.
Put the lid on, and continue to cook for one hour, stirring every 15-20 minutes & replacing the lid in between. (Occasionally an additional half cup of hot water is needed to keep the sauce the right consistency).
Once pasta is fully cooked, it's ready to serve. Garnish as desired and enjoy!
Notes
If your sauce seems to be "too runny", leave the lid off (or just crack it so some of the steam can escape) for a while and stir every few minutes, this will evaporate any extra liquid.
*If the pasta hasn't set up when the anticipated time has elapsed, you may need to add more warm/hot water (1/2 cup at a time), stir, put your lid back on and check it again in 15 minutes… this is the basics to cooking pasta in a Slow Cooker.*
This recipe is best suited for (fits in) a six or seven quart slow cooker.
If you are low on boneless chicken breasts, you can use as little as four boneless chicken breasts for this recipe. Just note that the nutritional data will change if doing so (it is calculated using 6 breasts).
You may use either fresh or frozen boneless chicken breasts when making this recipe, however, you will need to add more cook time prior to adding the pasta when using frozen (here is a good resource on how long to cook frozen chicken in a slow cooker).
You can easily make this recipe a little yummier and dress it up by adding Italian Seasoning, Parmesan Cheese, Garlic, Cajun Seasoning, Cream Cheese, or any other "extra's" that you want to make this dish truly your own. I recommend garnishing with fresh parsley.
You may use a larger bottle of Alfredo Sauce if in a pinch, though you may need to use a little bit less water for the pasta.
Nutrition Information
Yield

8
Serving Size

1
Amount Per Serving
Calories

302
Total Fat

10g
Saturated Fat

3g
Trans Fat

0g
Unsaturated Fat

6g
Cholesterol

86mg
Sodium

145mg
Carbohydrates

18g
Fiber

1g
Sugar

0g
Protein

32g
These caloric amounts are automatically estimated by a plugin on my site and should be treated as an estimate only.
---
Conclusion
In conclusion, my Easy Crock Pot Chicken Alfredo offers a delectable solution for busy individuals craving a comforting homemade meal without the hassle.
With its simple preparation and set-and-forget nature, this recipe showcases the perfect harmony between convenience and flavor.
As the tantalizing aroma fills your kitchen and the creamy Alfredo sauce coats tender chicken, you'll marvel at how effortlessly gourmet dining can be achieved.
Embrace the magic of this easy recipe to transform your evenings into moments of culinary delight, proving that a satisfying homemade dinner is just a few simple steps away.
If you would like to try some variations on this recipe, I have suggestions on how to switch it up and make it as yummy as possible down below in the FAQ's).
I can't be the only parent out there that needs meal ideas for those nights that I need a break from cooking, but also doesn't want to go the fast food route which will save you some serious money if you're meal planning.
---
FAQ's
Can I make Crock Pot Fettuccine Alfredo with this recipe?
Yes, you sure can turn this into Chicken Fettuccine Alfredo in the Crock Pot. However, long noodles are a little bit harder to cook in a slow cooker. To solve this issue I suggest breaking the noodles in half first (just like how I do in my CrockPot Spaghetti recipe), and then follow the rest of the directions in the recipe.
Can I omit the chicken and just make Alfredo with Pasta?
In this particular recipe I do not recommend going without the chicken. When chicken cooks in a slow cooker it actually gives off juices that both flavor the dish, as well as it also provides some of the moisture for the pasta.

However, if you must omit the chicken, you may be able to get by with adding some chicken stock towards the end if the noodles don't seem to be wet enough.
How to make jar alfredo sauce taste better?
I will be the first to admit that some pre-made Alfredo Sauces out there are more than a little bit bland.

Luckily it is pretty simple to "Dr" them up and make it a bit more palatable. I suggest trying to add any of the "extra's" that I mentioned higher up in the post (under the ingredients list).

Otherwise, I found a super helpful resource that has a more "in-depth" list of ideas over at southernhomeexpress.com, and I suggest you check there if you need more options to make that sauce taste better.
---
Thanks so much for stopping by my blog and supporting my endeavors to make people's lives a little easier/better/more affordable. If you liked this post, or found it helpful in any way, please make sure to share it with your family, friends, and co-workers via social media.
Or you could even send them the direct link via email. Whichever way you choose to spread the love, I super appreciate it! ~Sarah
Follow Me
---
Check out my other slow cooker posts
Otherwise, here are direct links to several of my other slow cooker related posts that you're also going to love:
Other good resources for lazy chicken alfredo
Maybe you don't like my version of this recipe…if that's the case, here are some other good reputable resources that you could try instead:
---
*Please note that this recipe was originally shared to this blog on December 26th, 2015, and has since been updated to improve user experience, add video instruction and a free printable recipe card, as well as to make it as shareable as possible across the social medias. It will be continually updated to remain relevant and user friendly.
**Please note that I do try my hardest to provide factual, but easy to understand, information about each topic. If you notice a discrepancy in my methods, facts, or see something that you deem "misinformation/incorrect" please make sure to notify me about it. I would prefer that you send me an email with a link to a more reputable resource on that subject, so that I can correct it as soon as possible. Thanks so much for helping this site become the best that it can be!