I love me a good tater tot casserole (who doesn't) and this one does not disappoint! It has a bit of a Shepherd's Pie feel to it…which I jokingly say to myself that it's "shepherds pie-esque"… I know, I'm such a dork sometimes.
This is such a hearty meal that it's perfect for the colder months. I realized the other day that I hadn't shared one of my original recipes in a while, so I thought that I would share my personal recipe for Tater Tot casserole with you.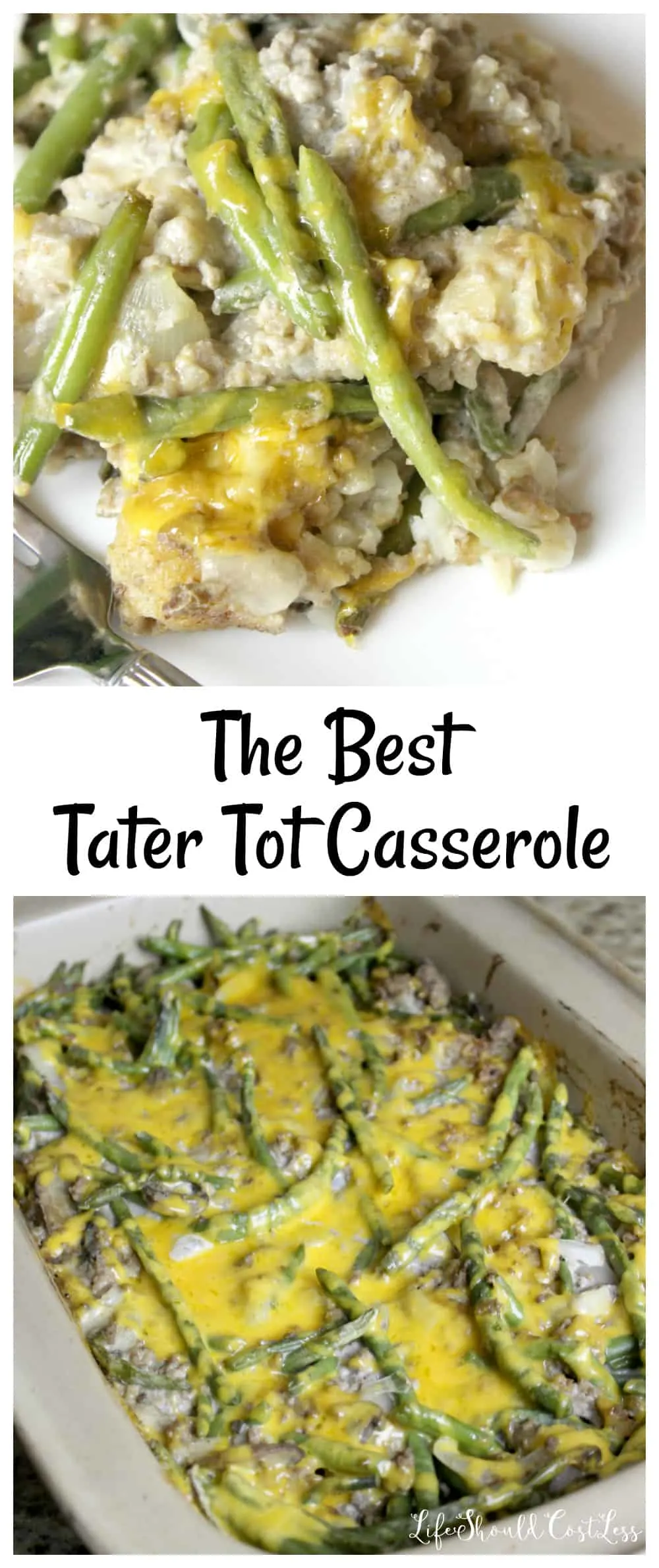 My kids are sometimes picky about eating their vegetables so I like to hide them in the main dish so that it tricks them into eating them…aren't I just a mean and sneaky mom…? Lol. Oh well, at least I know they are at least getting some of the nutrition that their growing bodies need.
Anyway, I got the recipe, that I based it on, from Linda Millet in the good 'ol family cookbook. Let's just jump right in and I will show you guys how to make it and then the recipe card is down towards the bottom of the post.
Here are all of the ingredients laid out.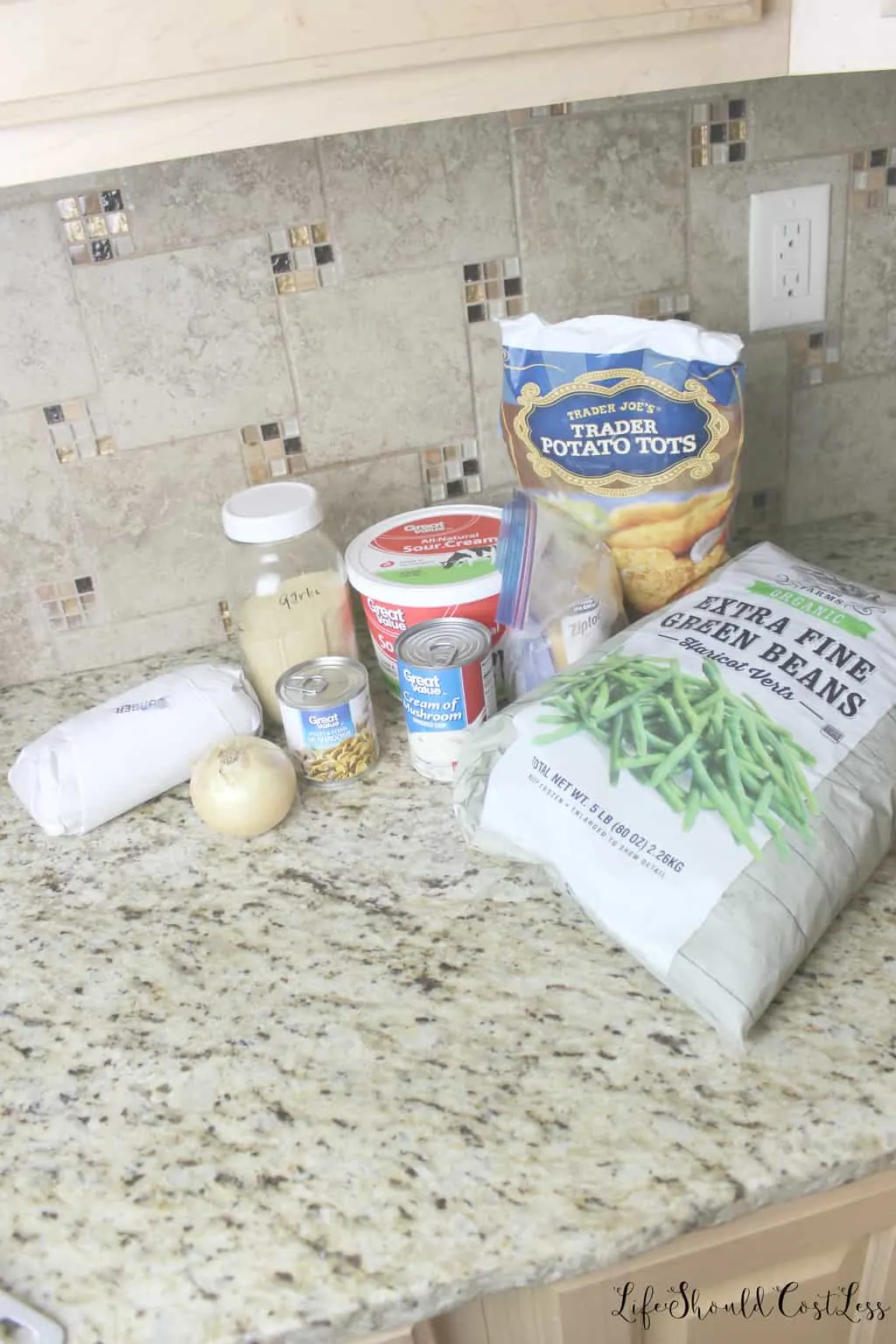 You start out by browning and chunking up the ground beef.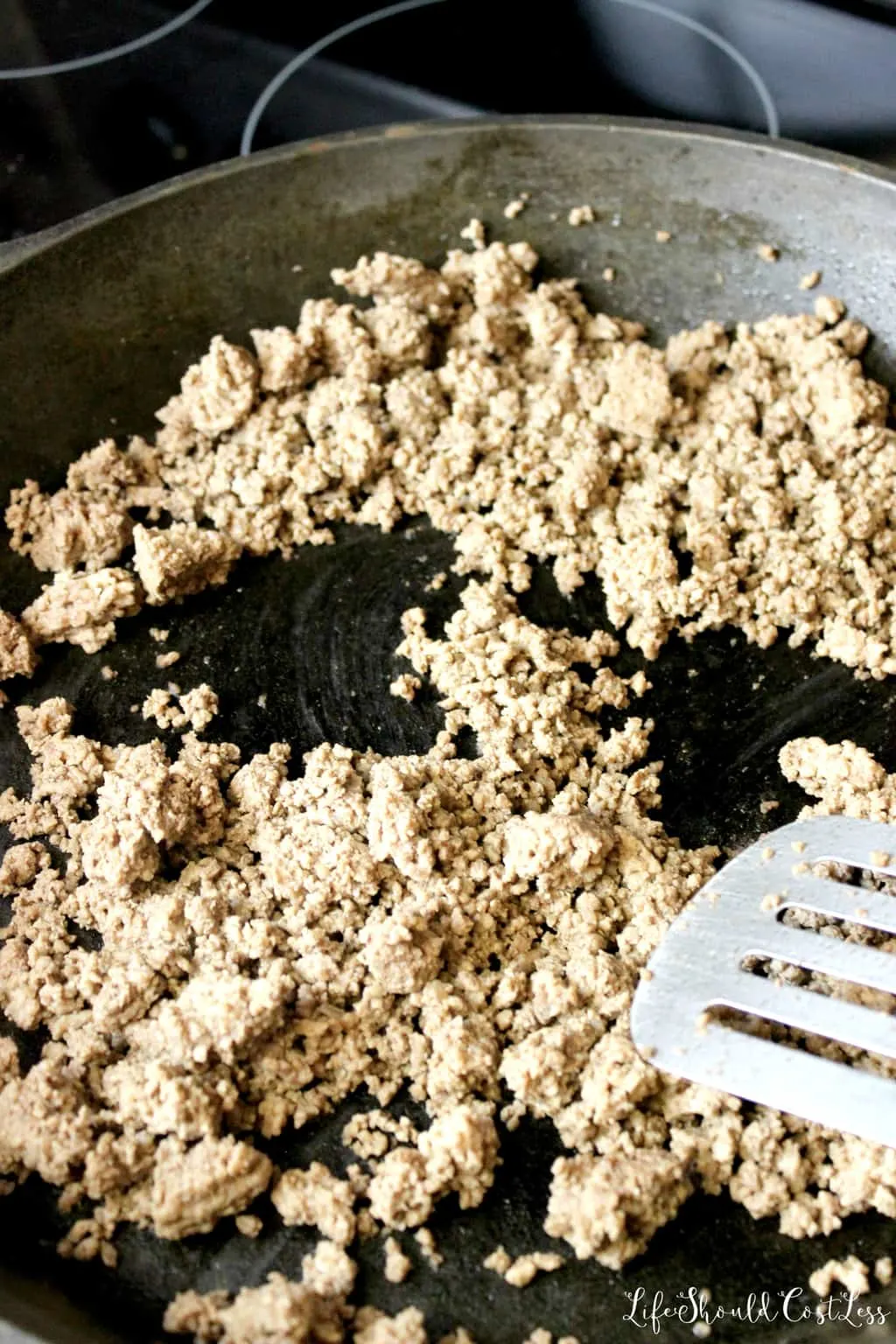 Then add the mushrooms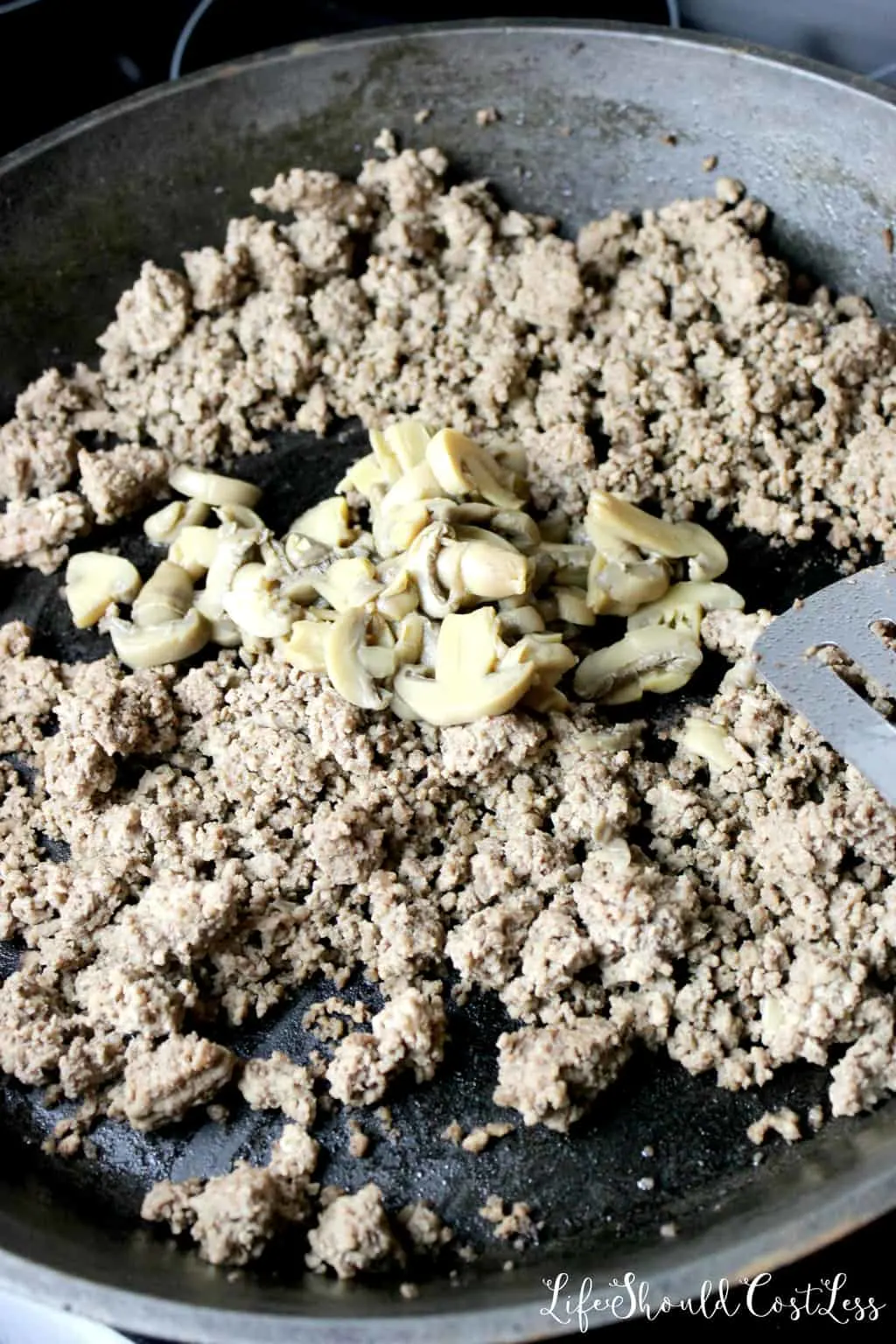 Slice your onion.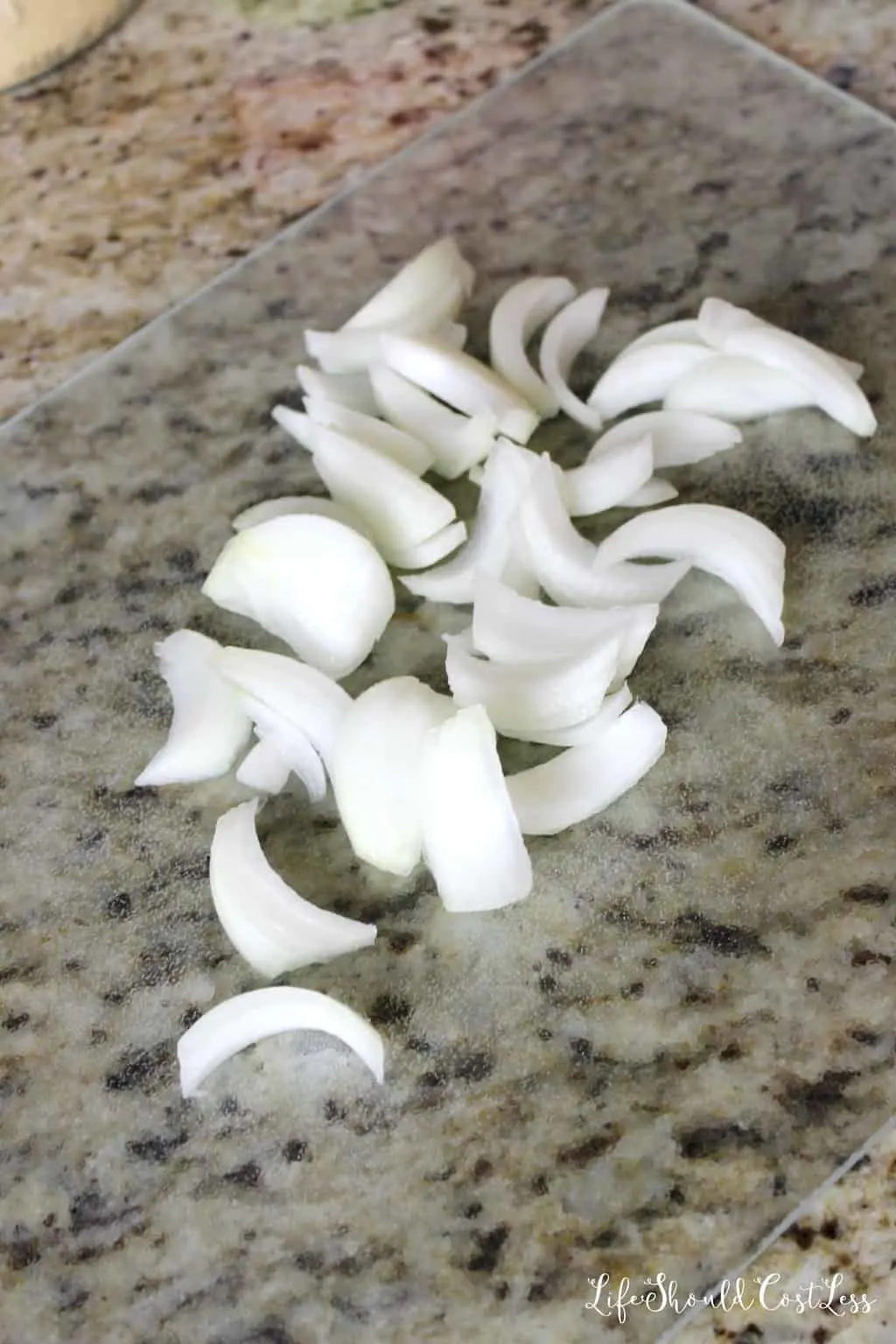 Then add them and a little water to keep the meat moist while the onions cook.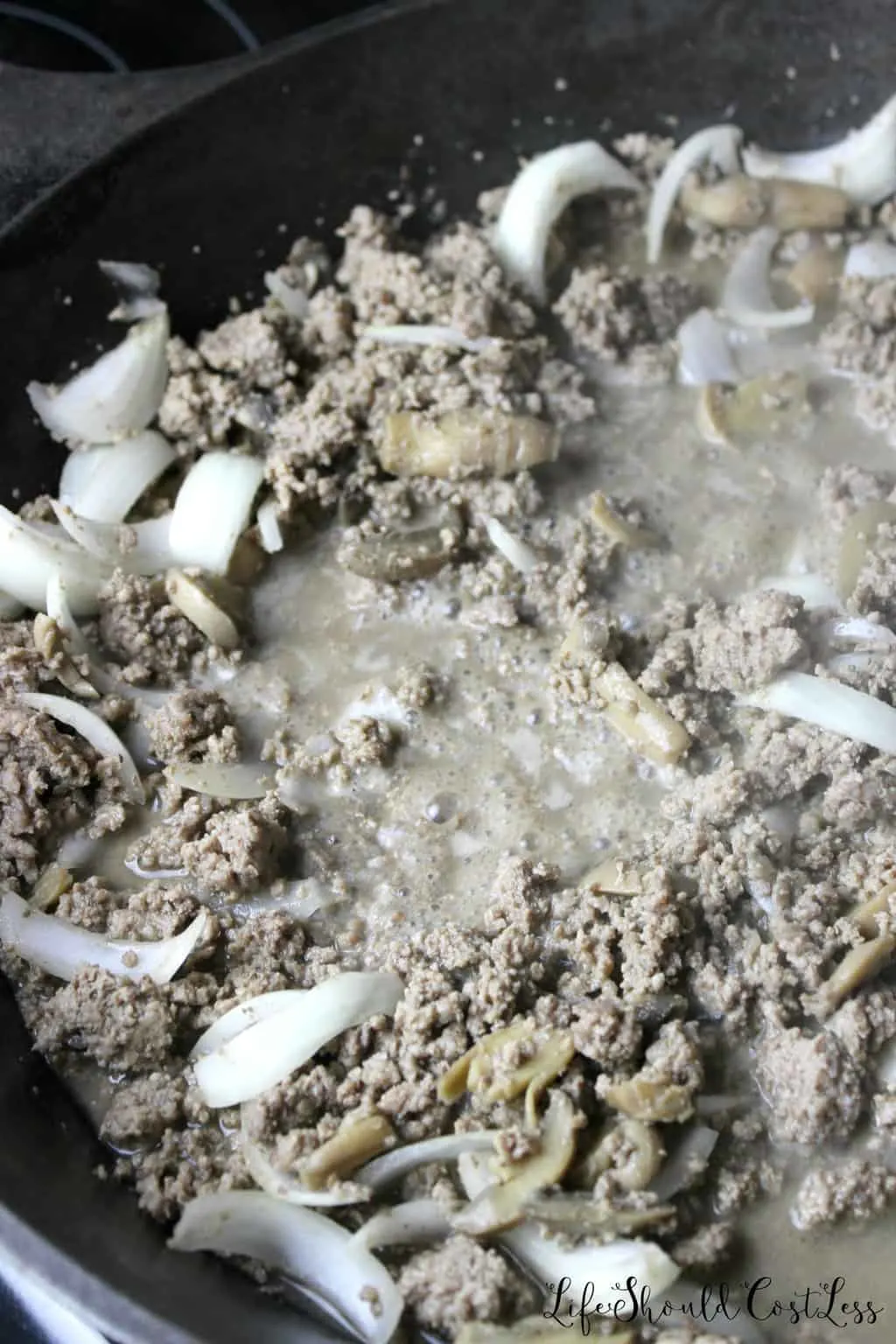 Next add your greenbeans… I use frozen so they have to cook a little.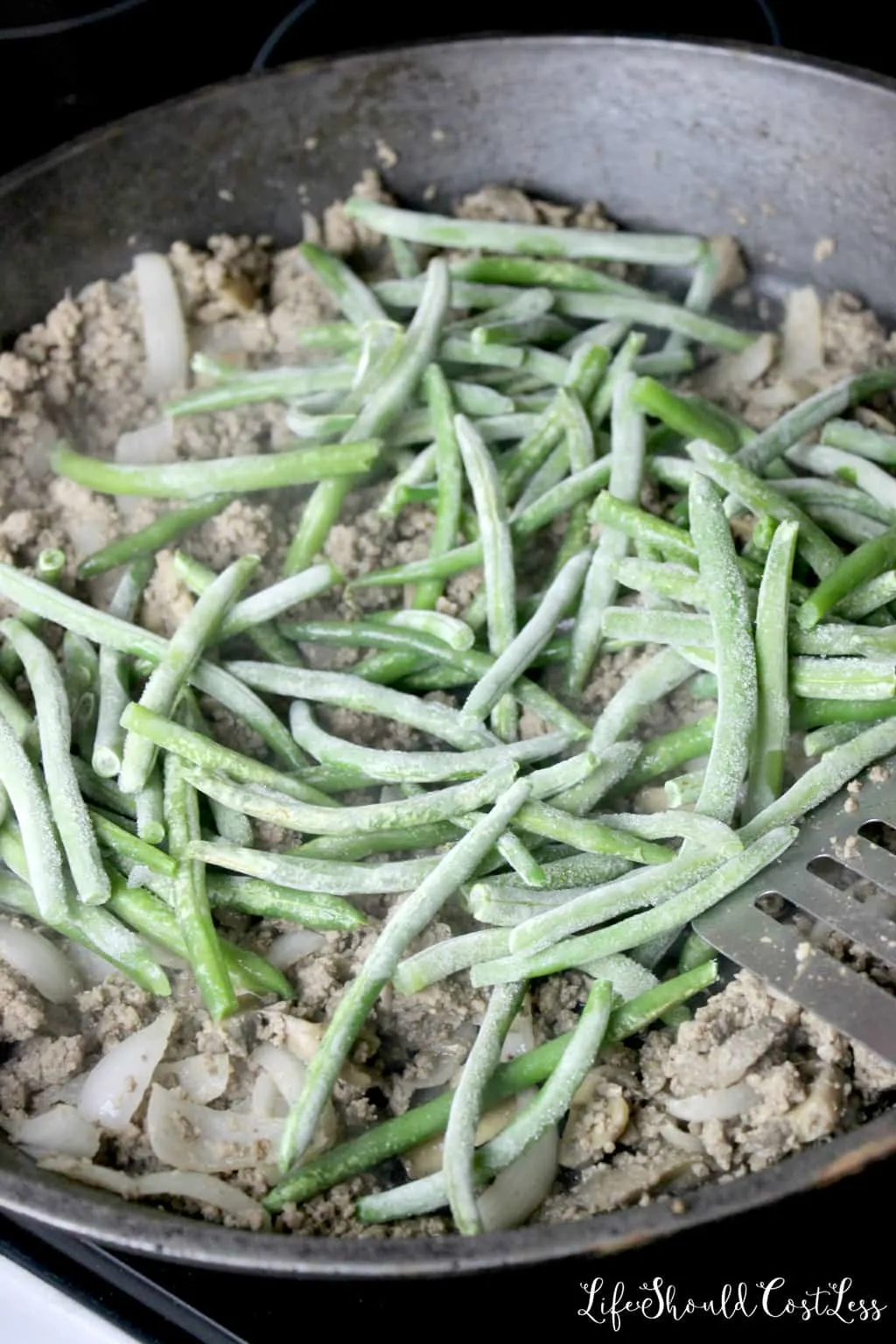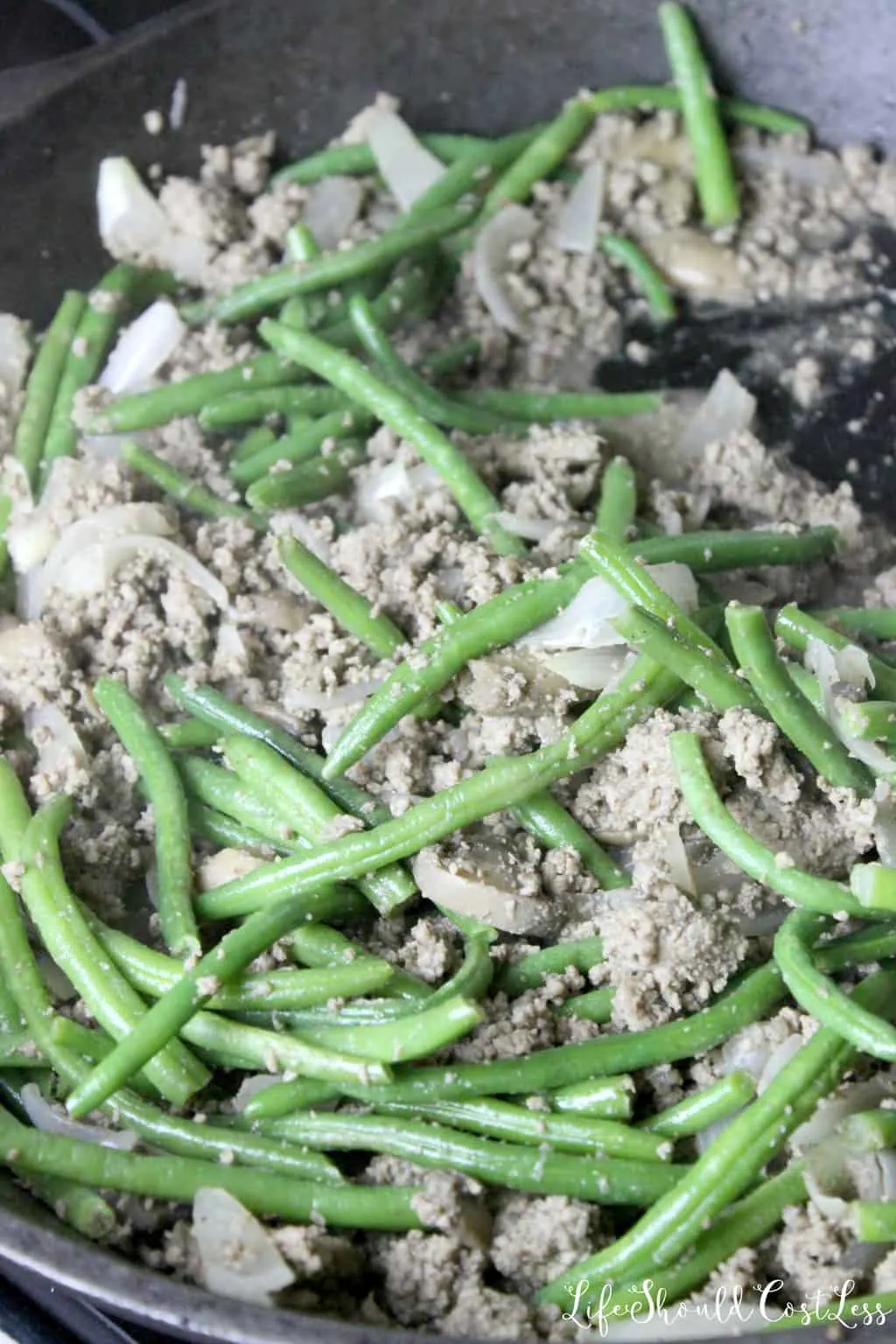 Next add your sour cream, cream of mushroom soup, and water.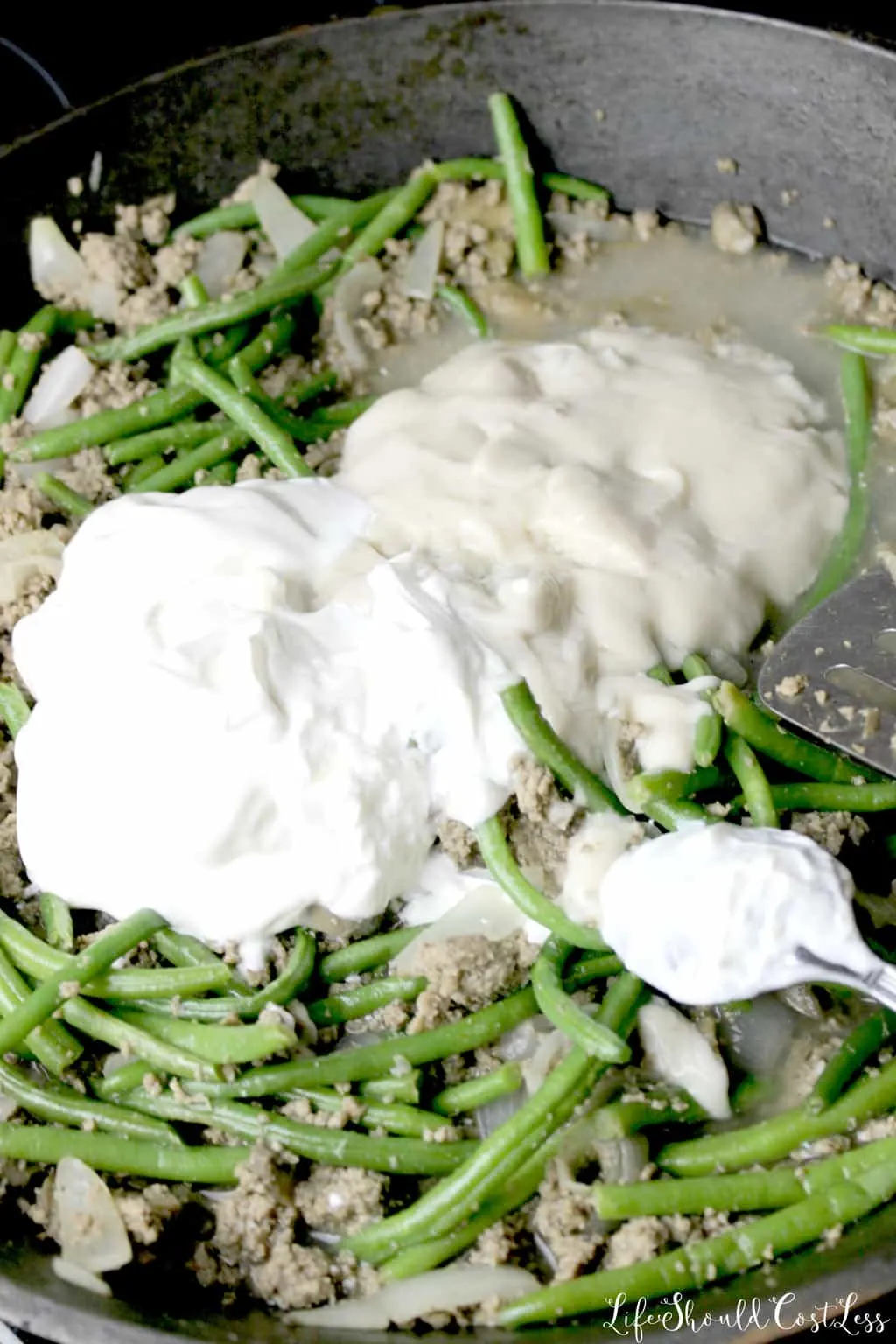 Mix well.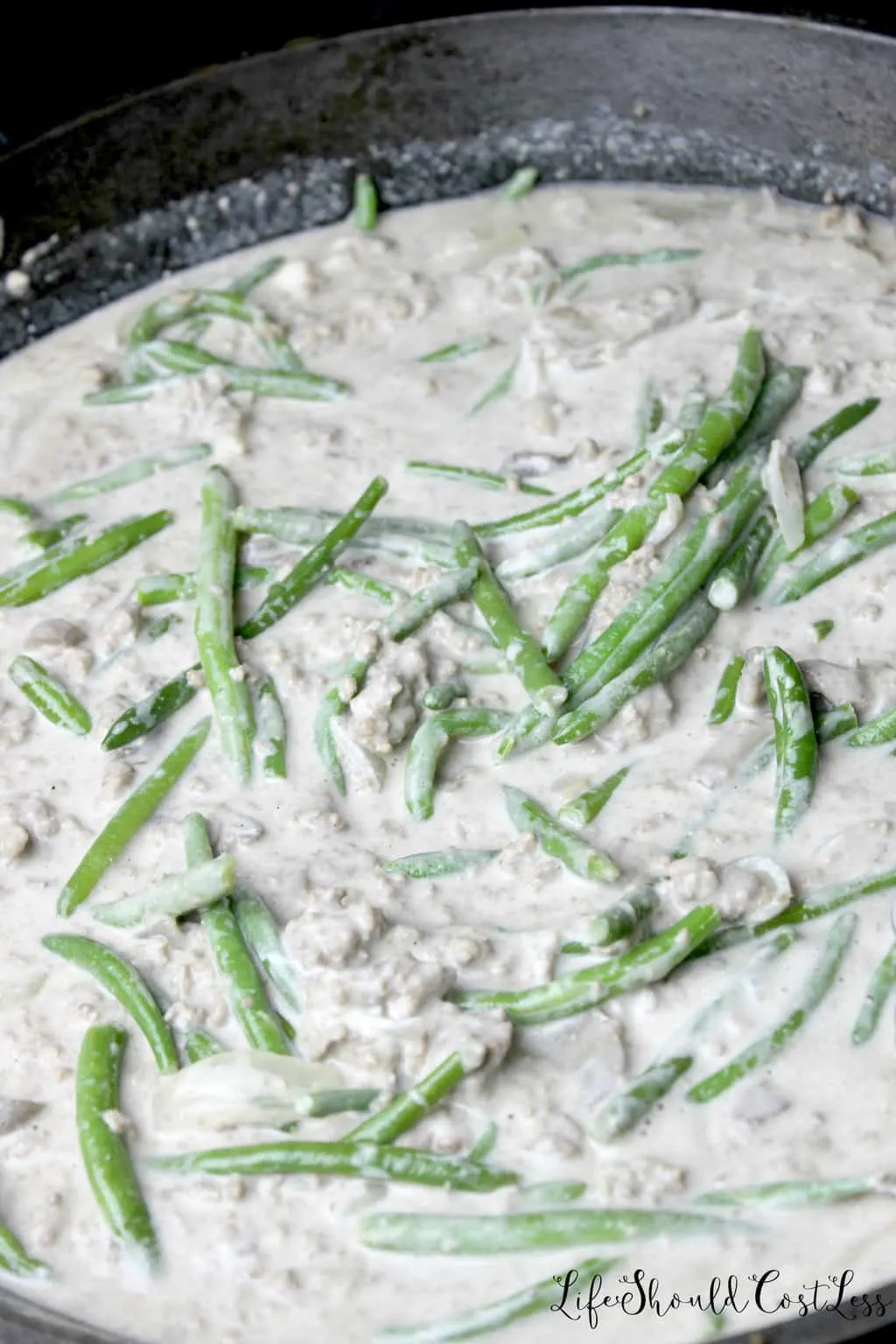 In a large greased casserole dish, add your tots.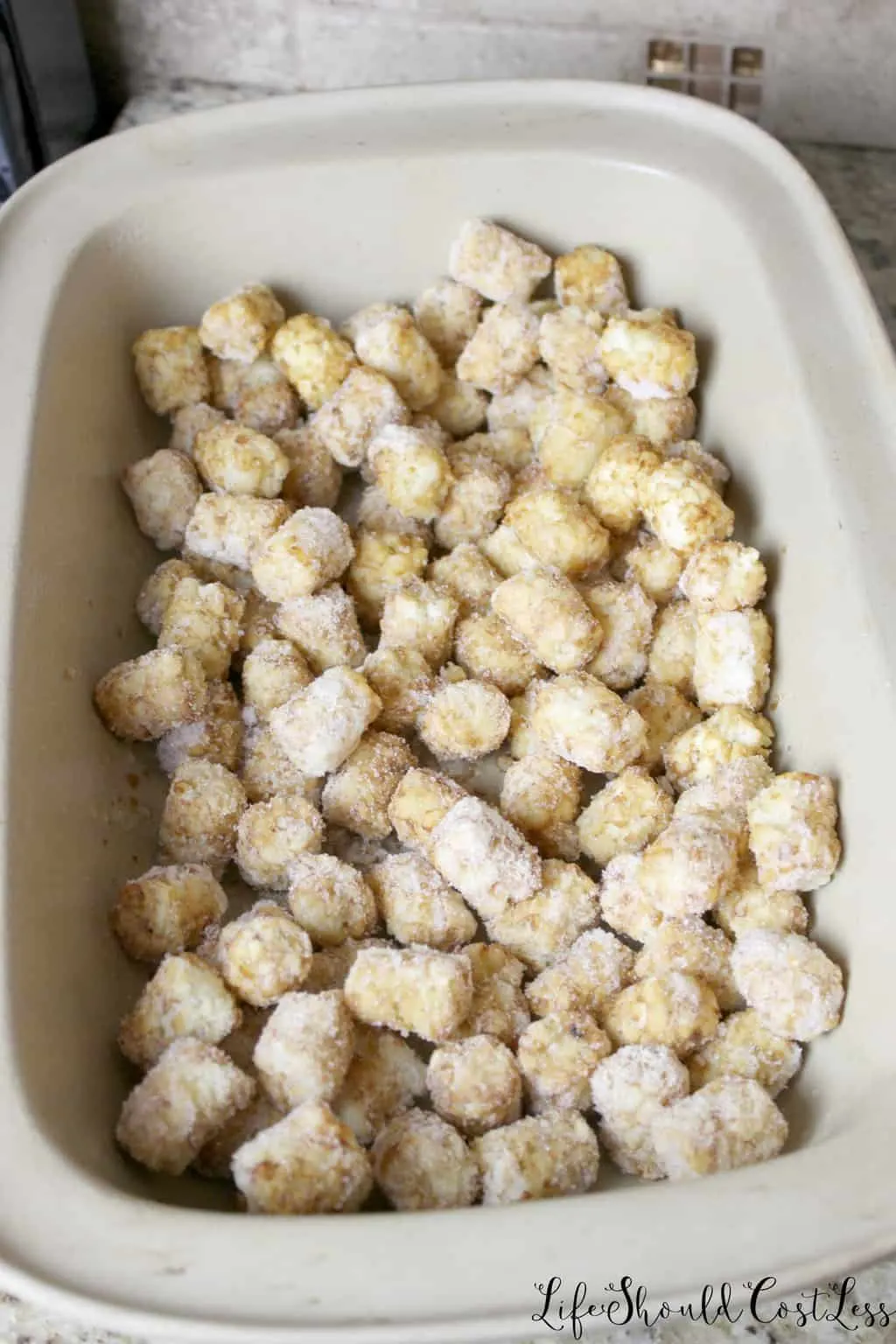 Then evenly spread the meat mixture on top. Put in the oven.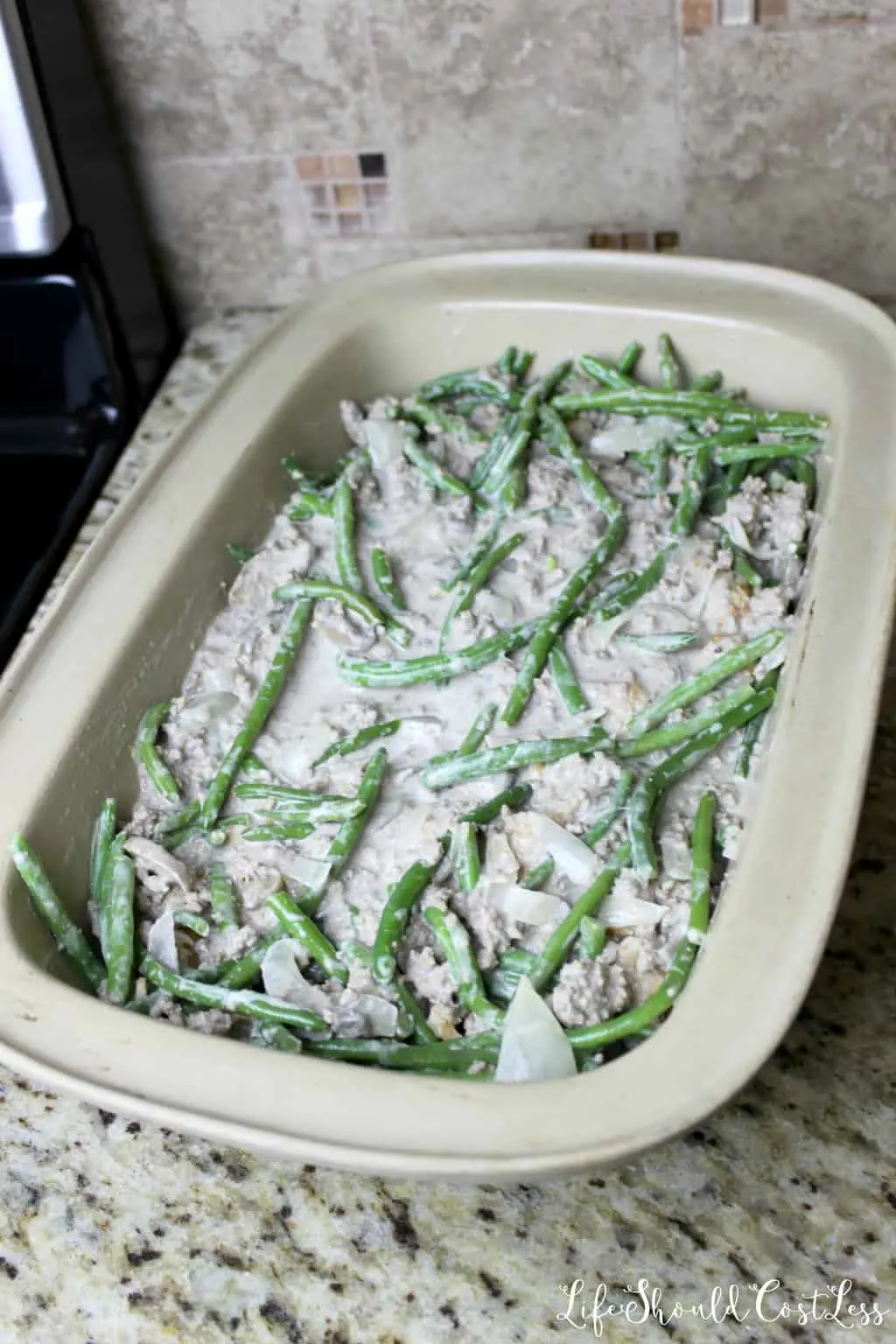 When it's done, it's ready to add the cheese.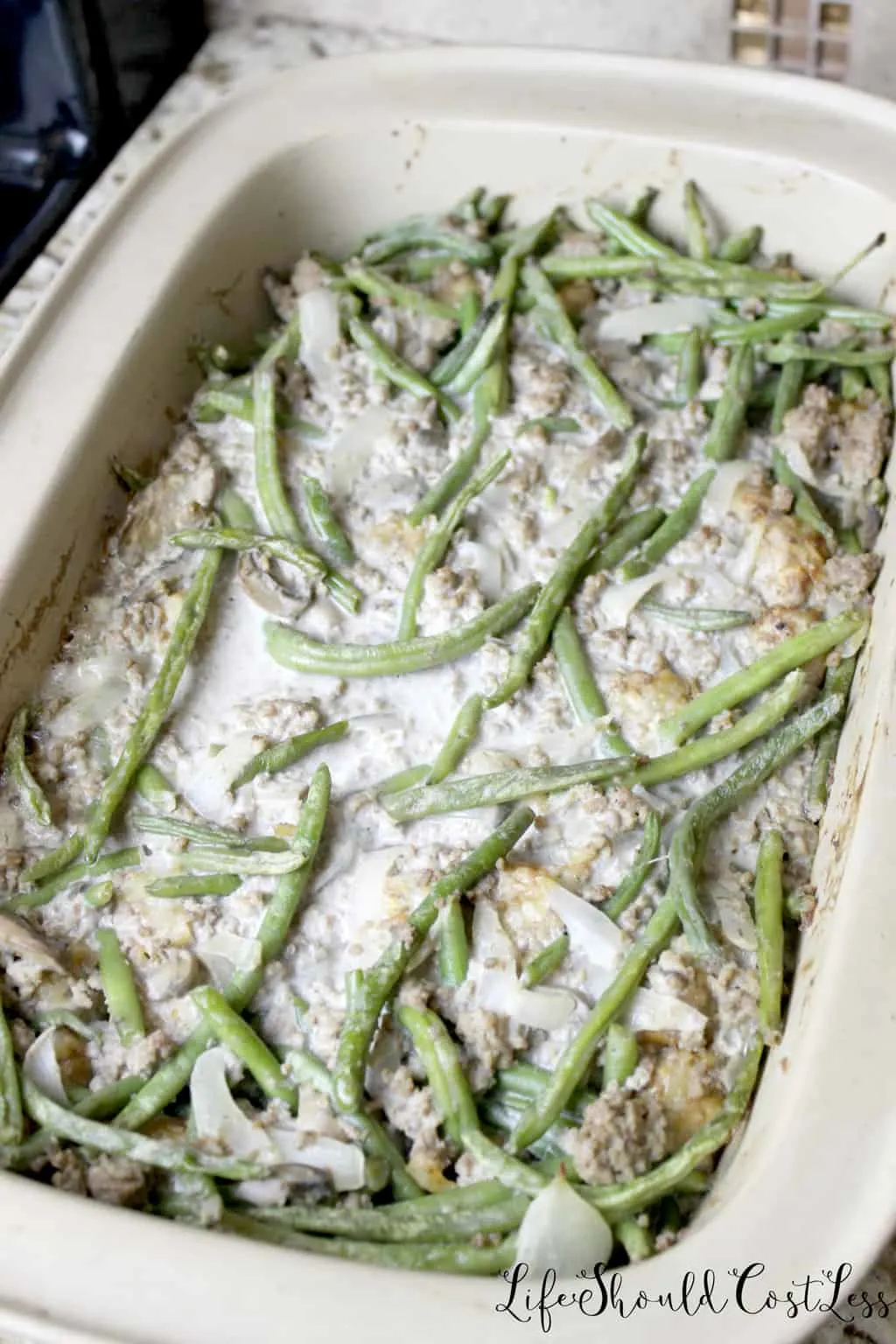 Spread it evenly.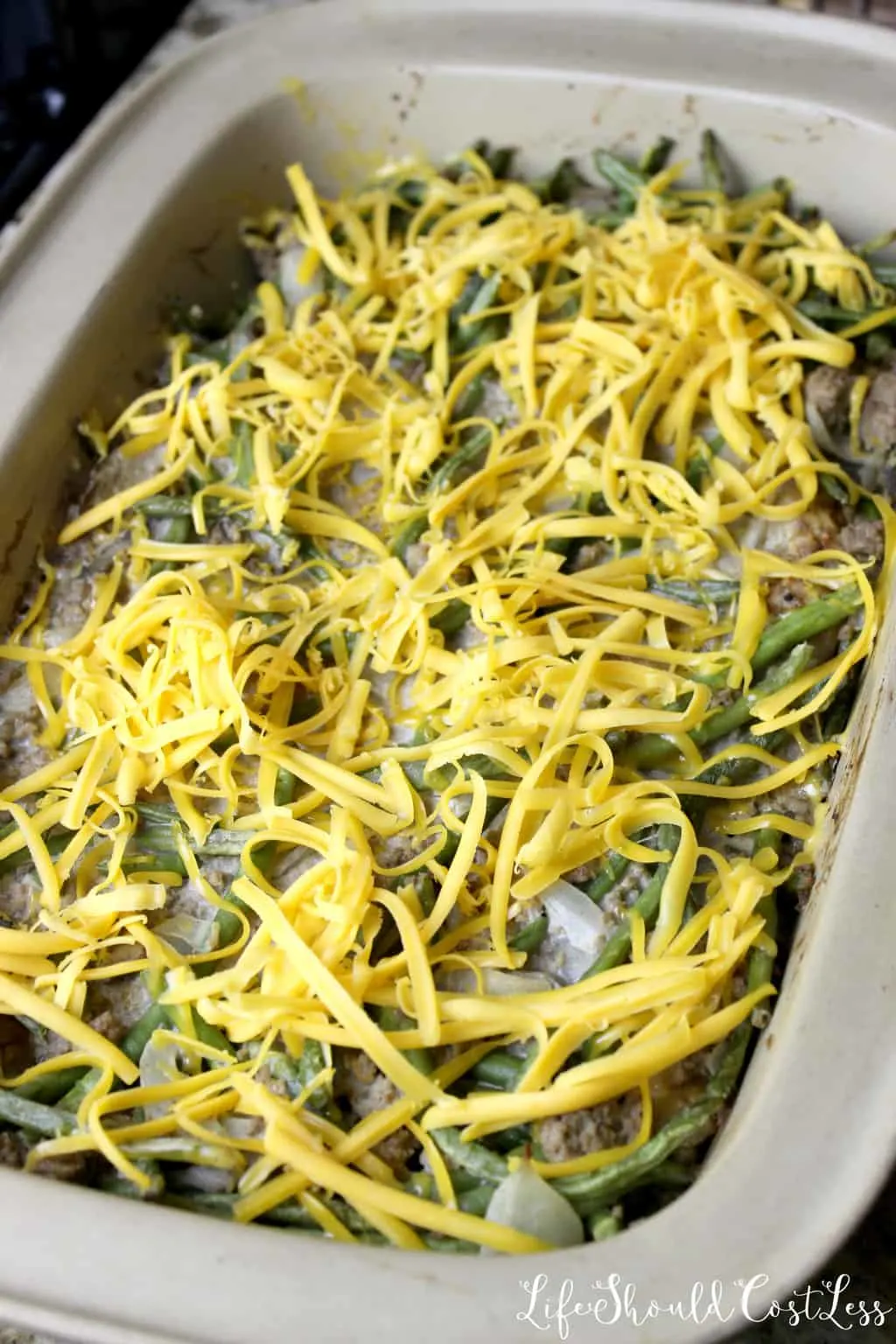 Put it back in the oven for five minutes and it comes out gooey and delicious!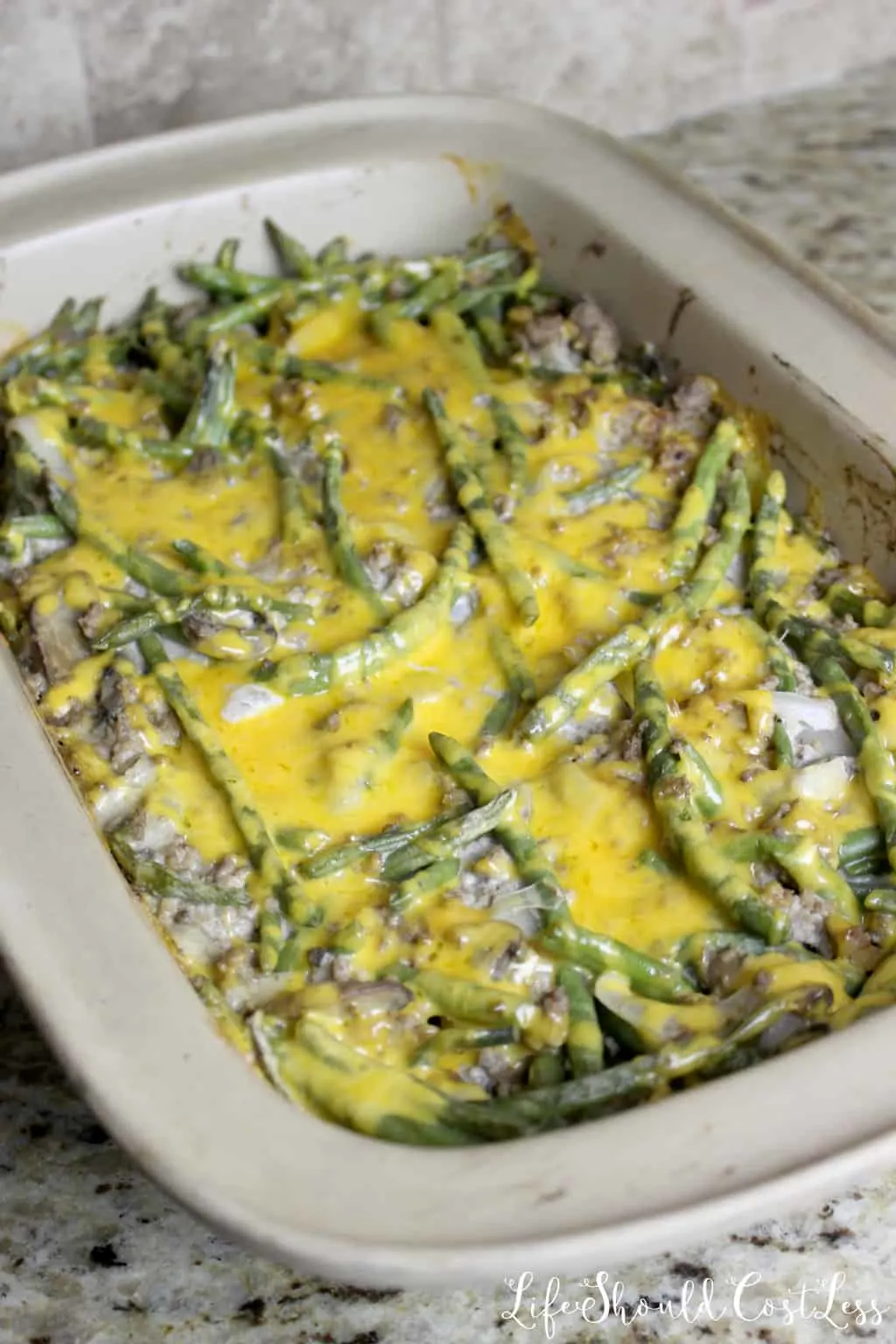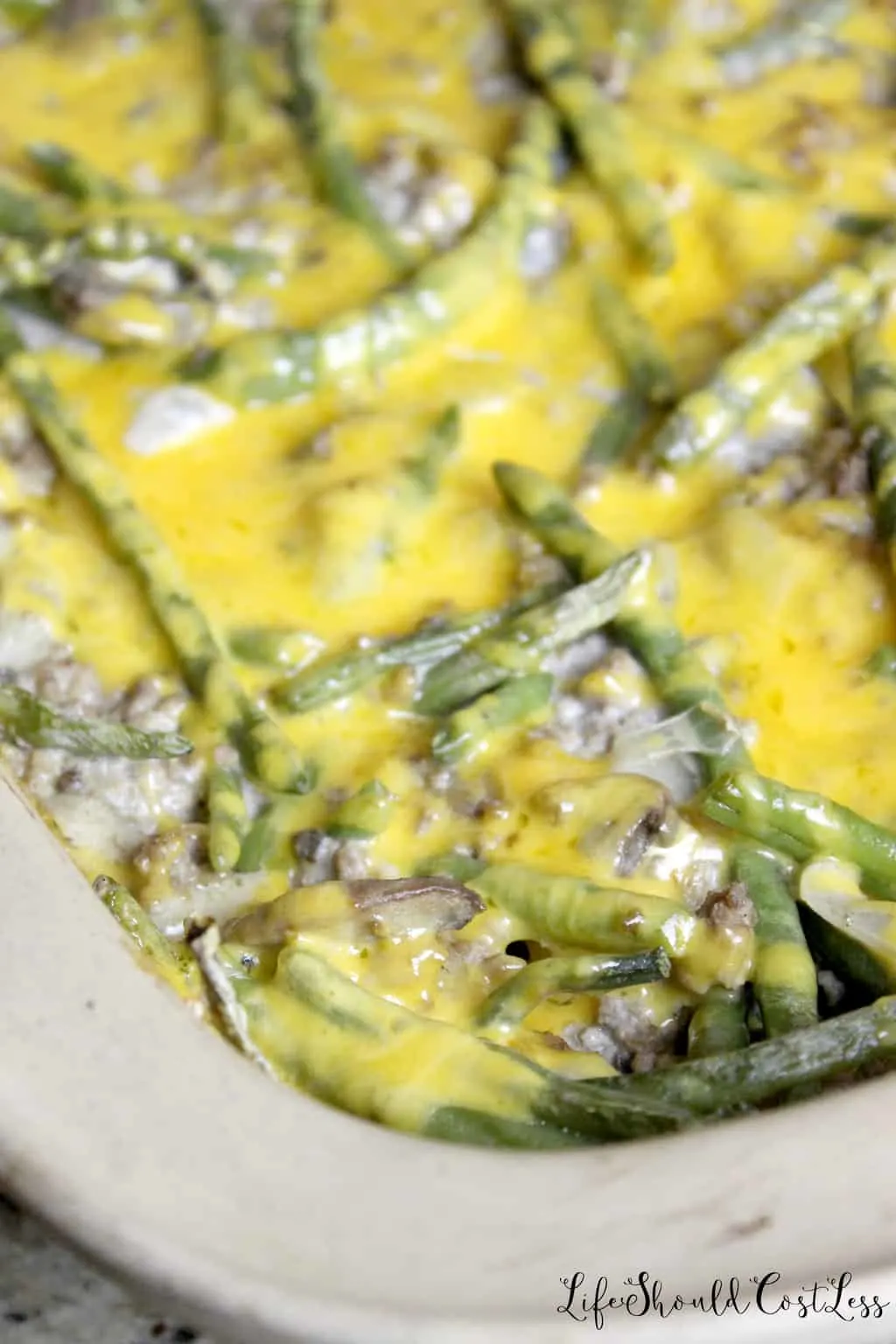 I like to wait a few minutes to serve and usually pair it with a nice green salad.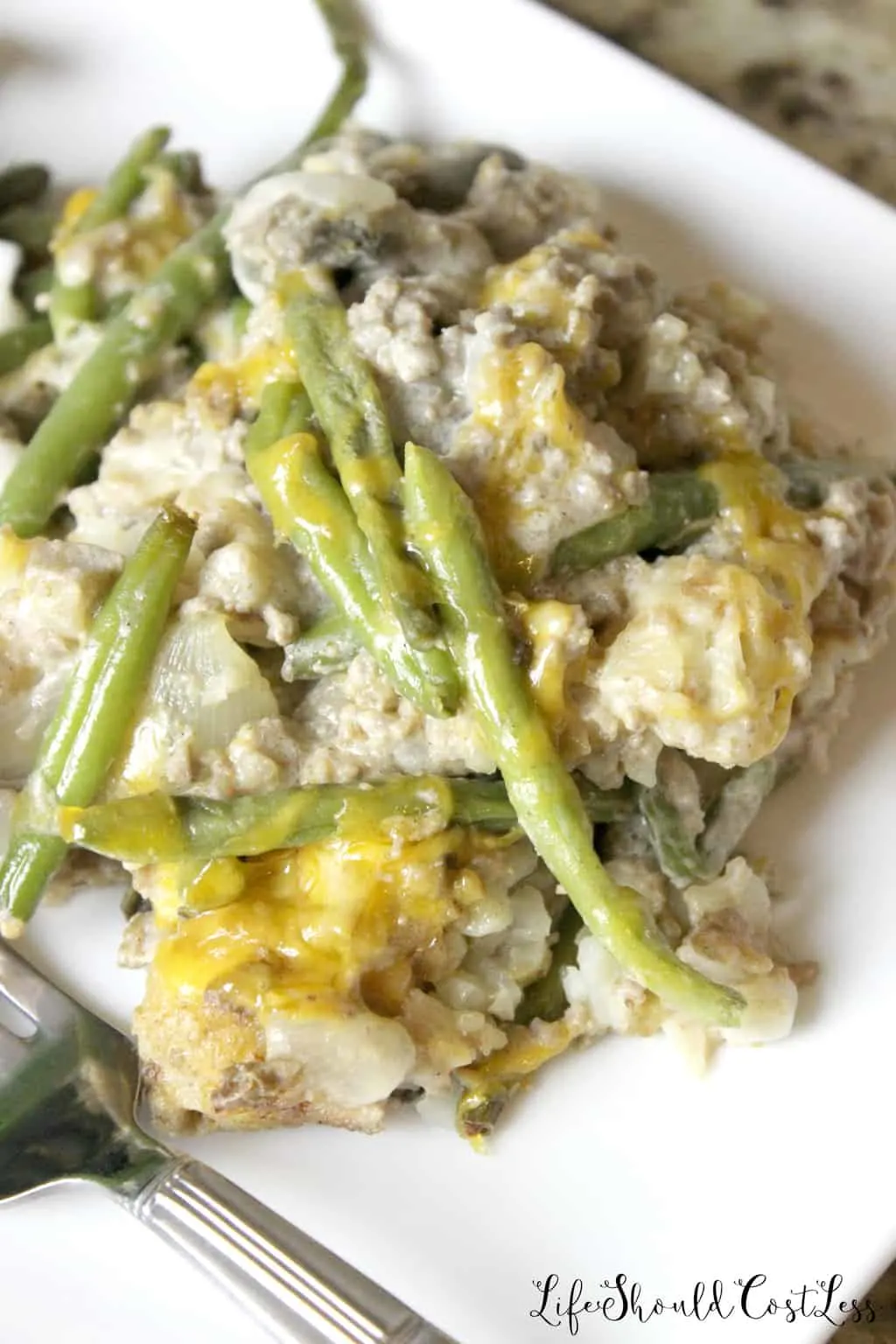 The Best Tater Tot Casserole
Author:
LifeShouldCostLess.com
Ingredients
1 LB Hamburger (browned)
1 Onion (chopped)
1 Can Mushrooms (drained)
1 tsp Garlic Granules
½ tsp Salt
1 Cup Sour Cream
1 Can Cream Of Mushroom Soup
1 Cup Water
4 to 5 cups Green Beans
2 LB Bag of Tater Tots
1&1/2 to 2 Cups Cheddar Cheese (grated)
Salt & Pepper to Taste
Instructions
In a large pan, brown and chunk the hamburger.
Then add the mushrooms, onion, garlic, and salt. Cook (medium heat) until the onions are translucent. Add water as needed to keep the meat moist while the onions are cooking.
Then add the sour cream, cream of mushroom, water, and green beans. Stir well. If using frozen green beans cook for a couple of minutes until they are pliable.
Grease a large, deep, casserole dish and line the bottom with tater tots.
Pour the meat mixture evenly over the tater tots.
Bake at 350 degrees for 40 minutes, uncovered, or until the center bubbles.
Add Grated Cheese and return to oven for 5 minutes.
Remove from oven and let sit for five to ten minutes before serving.
What do you guys think? Tasty right? We are crazy about it at my house! I forgot to mention that you could just mix everything into your skillet and throw your skillet in the oven (if it's oven safe), so that you have less dishes when you make it. Score!
If you loved this recipe please make sure to share it via social media and don't forget to subscribe to my email list so that you never miss a post! Also, you always have the option of donating to the site directly through my PayPal account, which you can find that here. Thank you so much for helping me support my kids. ~Sarah
P.S. If you want to check out my other dinner recipes, make sure to go here.
*This recipe was originally shared to this website in 2018 and will be updated as I have time.
*Hey there, thanks for stopping by my website. This article is super old, so it has been archived as I no longer update it…so proceed if you wish…but it is definitely not my best work. Please stop by my home page, here, and see some of my better content. Thanks! ~Sarah*