Looking for an easy but delicious way to satisfy your craving for a cheesy, chicken-filled delight? Look no further than the best chicken bake recipe out there, it's a Copycat recipe for the Costco Chicken Bake (well…I mean more how they were before Costco cut down on the quality in recent years). This classic comfort food is sure to become a regular staple in your home meal rotation.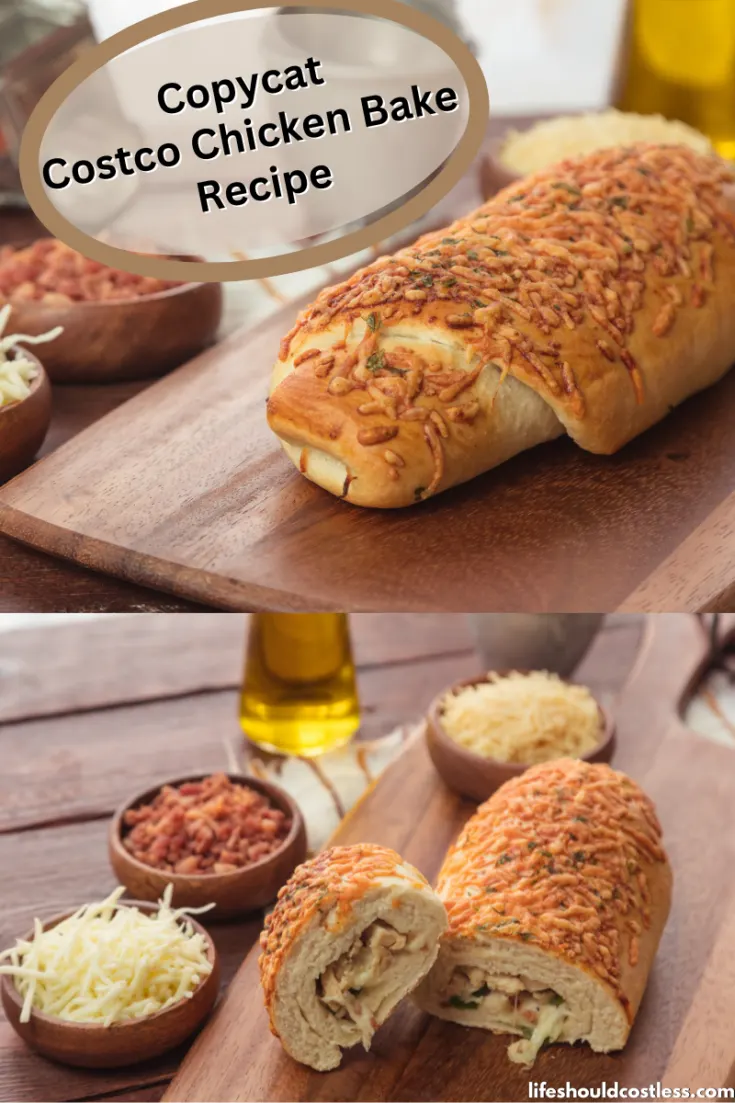 Table of Contents, Skip Ahead To What You're Looking For
What is a chicken bake?
Before I show you how to make one of the most delicious and filling chicken bake meals…I thought it may be a good idea to introduce to you what they even are…because I realize that some of you haven't tried one yet.
A chicken bake is a savory dish that typically features grilled boneless chicken, a blend of cheeses, a sauce, some vegetables/herbs, and other flavorful ingredients wrapped or baked in bread.
This versatile dish can take many forms, & I have actually heard that it has many different names including chicken melts, chicken wraps, and even chicken bread bakes…whatever you call it may just be what the locals call it in the area that you are.
One very popular version of the dish is the chicken bake Costco has at the food court (I'm totally griping here, but I am referring to the ones that Costco made before 2020…they were much larger, more flavorful, and just plain super tasty…the new ones they make actually kind of suck…lol).
The original chicken bakes Costco made (also referred to as a Kirkland chicken bake) featured juicy grilled chicken, crispy bacon, gooey cheese, & Caesar dressing wrapped in a warm bread dough. It's also topped with some yummy cheese that is baked right into the bread.
That is what I'm going to teach you how to make today!
---
To see all of my main dish recipes, go here.
---
Where did this easy chicken bakes recipe come from?
How did I get this knock-off recipe for the original Costco Chicken Bakes you may be wondering? There is this amazing website (recipegoldmine.com) that I have been using off and on for many many years and I found it by searching for some of her CopyCat restaurant recipes.
Anyway, that is where I found this recipe (I got her permission to share this with you all too) and you can check out her post for this recipe by going here.
Sometimes that page doesn't load properly so make sure to try again if you really want to see it…also stick around her really cool site and check out some of the other neat recipes on there.
I very nearly always tweak every single recipe that gets put in front of me, to make it even better, but this one I am of course leaving as is because it is already PERFECTION.
The only thing that I changed is making it more user friendly because the original recipe lists all of the ingredients in ounces and I don't know about you, but my American brain has a hard enough time working in a kitchen with several little ones underfoot.
So, when it comes time to actually bake, I need a recipe to be as simplified as possible so that my multi-tasking brain doesn't mess it up.
---
What's In A Costco Chicken Bake?
Chicken Bakes Ingredients List: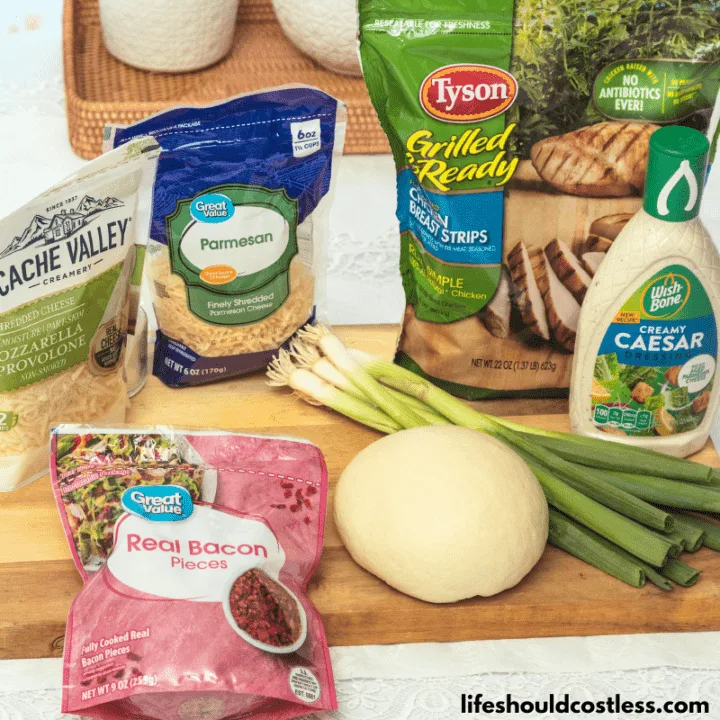 To make this version of an easy chicken bake recipe you will need:
Green Onion
Pre-Made Pizza Dough / Rhodes Dinner Rolls
Caesar Dressing
Real Bacon Pieces
Grilled Chicken
Parmesan Cheese
Mozzarella / Provolone Cheese Blend
This is definitely the simplified way to make these…but you can always make your own dough, grill your own chicken, and cook your own bacon if you have the time, budget, or would prefer to do so.
I hope that answers your questions if you were wondering what is in the chicken bake at Costco…lol.
---
How to make Chicken Bake? (Printable Recipe Card & Video Found Here)
Now get ready to drool because here are some yummy shots to get you even more excited to try making them yourself at home.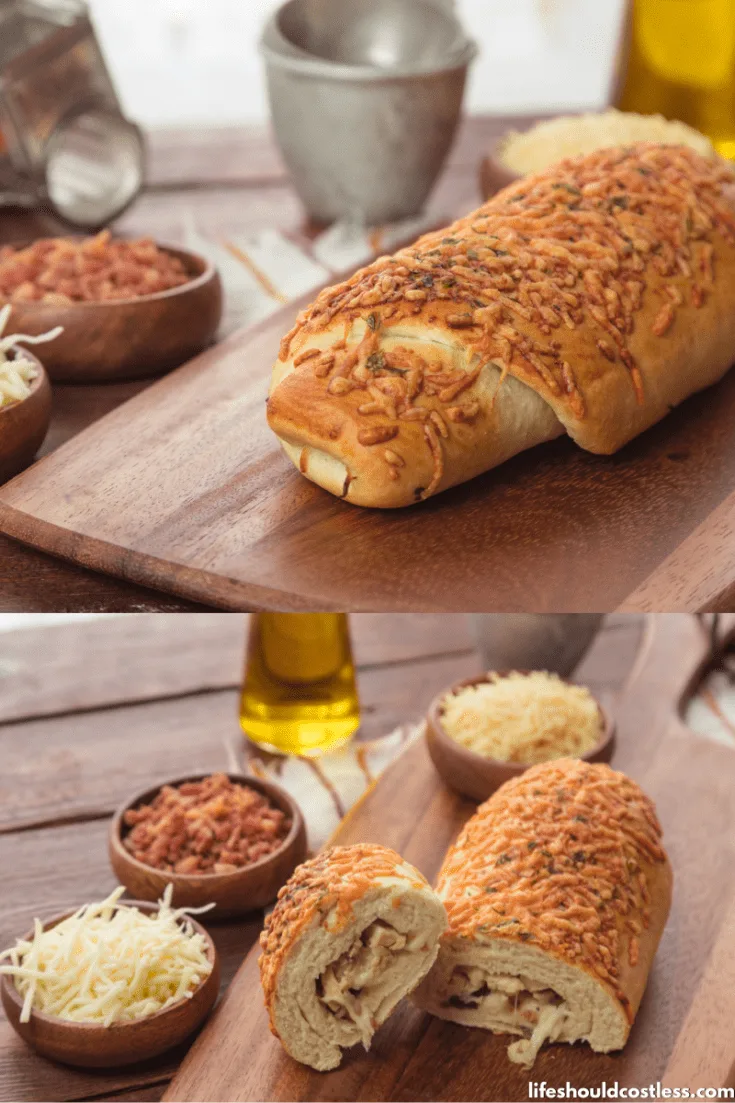 ---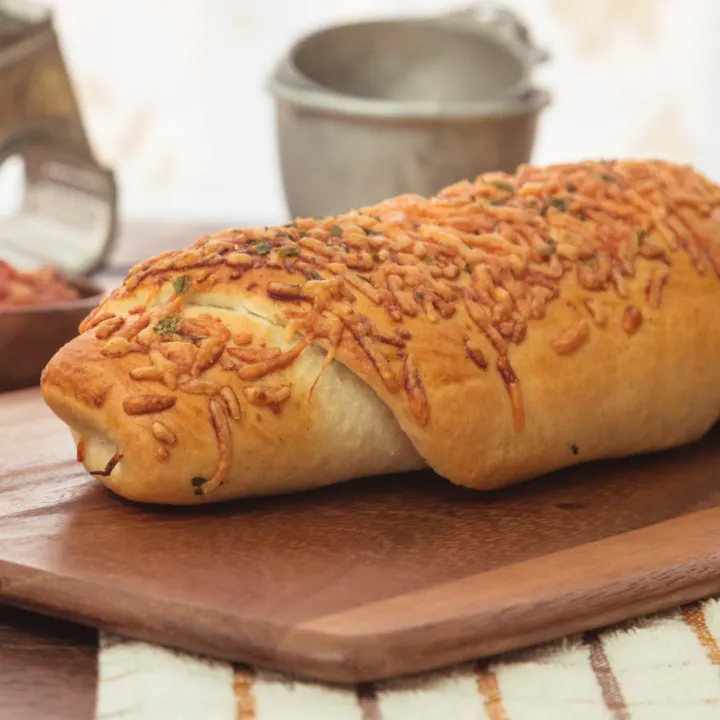 Costco Chicken Bakes Recipe
This recipe lists the amounts of ingredients needed for each individual chicken bake. It can easily be multiplied to however many chicken bakes you desire.
Ingredients
½ Cup Pizza Dough (or the dough for 4.5 Rhodes Rolls)
¾ Cups Grilled, Seasoned, & Chopped Boneless Chicken Breast
⅓ Cup Mozzarella/Provolone Blend Shredded Cheese
2 Tablespoons + 1 teaspoon Bacon Crumbles
¼ Cup Green Onion (washed and chopped)
2 Tablespoons Caesar Dressing (plus a little more for marinating chicken)
2 & ½ Tablespoons Grated Parmesan Cheese
Instructions
How to assemble a chicken bake/wrap:
*If using frozen dough, set out of freezer one hour or so prior to assembling chicken bakes.*
Pre-marinate the grilled and sliced chicken breast in a small amount of Caesar dressing prior to assembly. This is easy to do by placing it in a bowl, drizzling it with Caesar dressing, and mixing well. Cover and refrigerate until you are ready to use it.
Preheat oven to 400 Degrees Fahrenheit.
Using a clean floured surface, roll out,, or press dough into a large rectangle, or as close to a rectangle as you can get (it will be easier to stretch it out once it has heavy ingredients on top of it).
Spread the Caesar dressing on the dough with a basting brush. Add the previously marinated chicken on top, then layer the mozzarella / provolone cheese blend, sliced green onion, and chopped bacon pieces.
Wrap the dough around the ingredients like a burrito (you can watch this tutorial if you need to know how to do that). Placing the seam of the dough on the bottom, set the uncooked chicken bake on a parchment paper lined baking sheet pan. Baste the top with more Caesar dressing, and sprinkle it with parmesan cheese (and any other desired toppings).
Bake for 15-18 minutes, or until golden brown. Allow to cool a bit and it's ready to serve. Enjoy!
Notes
You can typically fit two chicken bakes per half sheet pan if you place them on a slant. Keep in mind that the dough does puff up quite a bit in the baking process.
The recipe calls for pizza dough, but the Rhodes premade rolls are quick and do the trick, so I recommend just using roll-dough unless you are trying to restrict your sugar intake. I do even tell you exactly how many roles you're going to need to use per bake if you use the roll-dough.
A good rule of thumb, so that you will know that they are done, is to check and see when they are a beautiful golden brown along the edges... and your whole house smells heavenly at that point too!
The do not consider the caloric estimation on the bottom of this recipe card to be accurate for this particular recipe (it autopopulates from an app on my website), further below in the post (in the FAQ's section) I have a link to the best resource that I could find to provide more accurate nutritional data for a Costco Chicken Bake dupe recipe.
You can use as much dough as you prefer in your chicken bake ,to make it as thick as you would like, but I do not recommend going below the 1/2 cup mark. That is because it's too hard to work with the dough when you're wrapping it too thinly, and then as they bake the filling ingredients may seep out.
Nutrition Information
Serving Size

1
Amount Per Serving
Calories

1028
Total Fat

54g
Saturated Fat

20g
Trans Fat

0g
Unsaturated Fat

30g
Cholesterol

211mg
Sodium

1613mg
Carbohydrates

57g
Fiber

3g
Sugar

4g
Protein

75g
These caloric amounts are automatically estimated by a plugin on my site.
If you're like me…because I was beyond skeptical that it was really going to taste like the chicken bread bakes at Costco, you've probably been skeptical too, until you bite into one.
Holy Canoli! When I bit into my first one of these bad boys my eyes just about bugged out of my head because I knew without a doubt that it tastes just like the actual recipe…which is beyond AWESOME!
My only complaint is that they are a little on the time consuming side to make, which means that I reserve making them for the weekends when I have a little bit more time for meal prep.
*Please note that the bulk of the updated photography for this post was provided by the super-talented Asher Swan Photography.
---
Chicken Bake Variations
BBQ Chicken Bake:
For a sweet and tangy twist on the classic chicken bake, try making a BBQ chicken bake. To make this variation, cook some chicken breast in a skillet and then cut it into bite-sized pieces.
Mix the chicken with your favorite BBQ sauce and shredded cheese, and then wrap it in dough. Bake in the oven until golden brown and enjoy.
Pizza Flavored Bake
To turn this recipe into a pizza flavored bake you could easily swap out the chicken for your desired pizza meats, swap the ceasar dressing for marinara sauce, and then use mozzarella cheese instead of the cheese blend.
Philly Cheese Steak Bread Bake
You can turn this into a Philly Cheese Steak melty bread bake by prepping your steak as you normally would for a Philly Cheese Steak sandwich.
Use provolone cheese, sauteed onions and green peppers, and desired sauce. This sauce can be a simple mixture of beef broth, Worcestershire sauce, and soy sauce, or a creamy cheese sauce made with cream cheese, sour cream, and milk.
---
Chicken Bake Recipe FAQ's
Is Costco Chicken Bake Healthy?

Everyone has a different definition about what is and what isn't a healthy meal…I would say that Costco Chicken Bakes are moderately healthy as they have a very good amount of protein in them, but there are also some junky ingredients in there too.

However, if you would like to make them a bit healthier I would say to make some dough from scratch and use a whole grain flour to do so.
---
Conclusion
In conclusion, the best chicken bake recipe is a tasty and versatile dish that can be enjoyed in a variety of forms….plus, you can switch it up however you want it.
With its combination of juicy grilled chicken, melty cheese, bacon crumbles, and flavorful toppings and sauces, a chicken bakes are a filling and satisfying meal that's perfect for any occasion.
So why not try out some of the best easy chicken bakes recipe today and enjoy a delicious and comforting meal that's sure to please!
---
Thanks so much for stopping by my blog and supporting my endeavors to make people's lives a little easier/better.
If you liked this recipe post, or found it helpful in any way, please make sure to share it with your family, friends, and co-workers via social media…
Or you could even send them the direct link via email. Whichever way you choose to spread the love, I super appreciate it! ~Sarah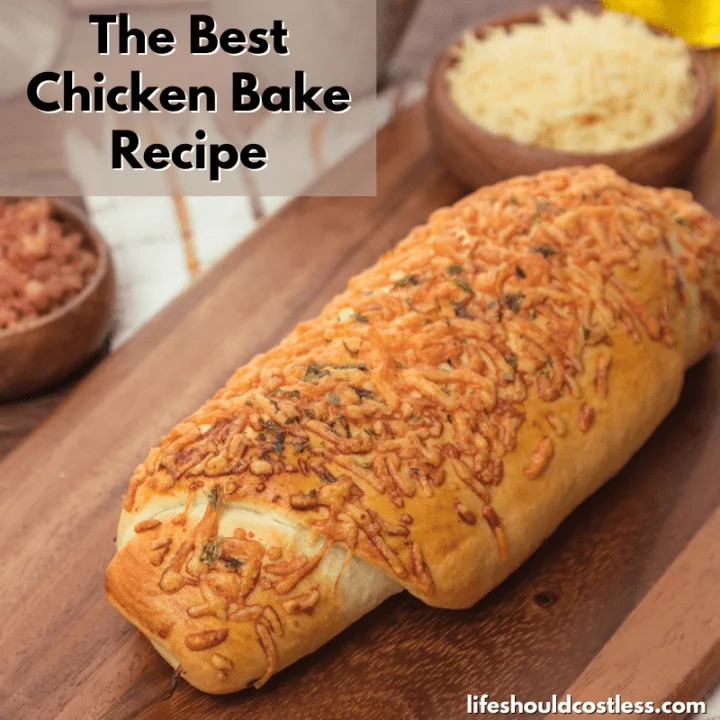 How to follow & support this site
---
---
Check out my other related posts
To see all of my main dish recipes, go here.
Here are direct links to some of my most popular recipes that you're definitely going to want to try:
Other main dish recipes
Other Recipe Chicken Bake/Chicken Bread Bake Recipes To Try:
*Please note that this recipe was originally shared to this website on 09/20/2018, but it was in great need of a refresher, so it now is more user friendly/shareable, has a free printable recipe card, better photography all around, and now Video! This post will continually be updated to remain relevant.
**The following are just old images from the post that I have to keep around so that no links get broken: