If you have ever been fortunate enough to try the Chicken Bakes at Costco, you know just how incredibly tasty they are (YUM!)…and if you are anything like me, you probably crave them quite often. Years ago, I decided I wanted to try to make them at home, and was lucky enough to discover the recipe to make a homemade chicken bake. This is the legit real recipe for the Costco Chicken Bake, not just a knockoff copycat recipe.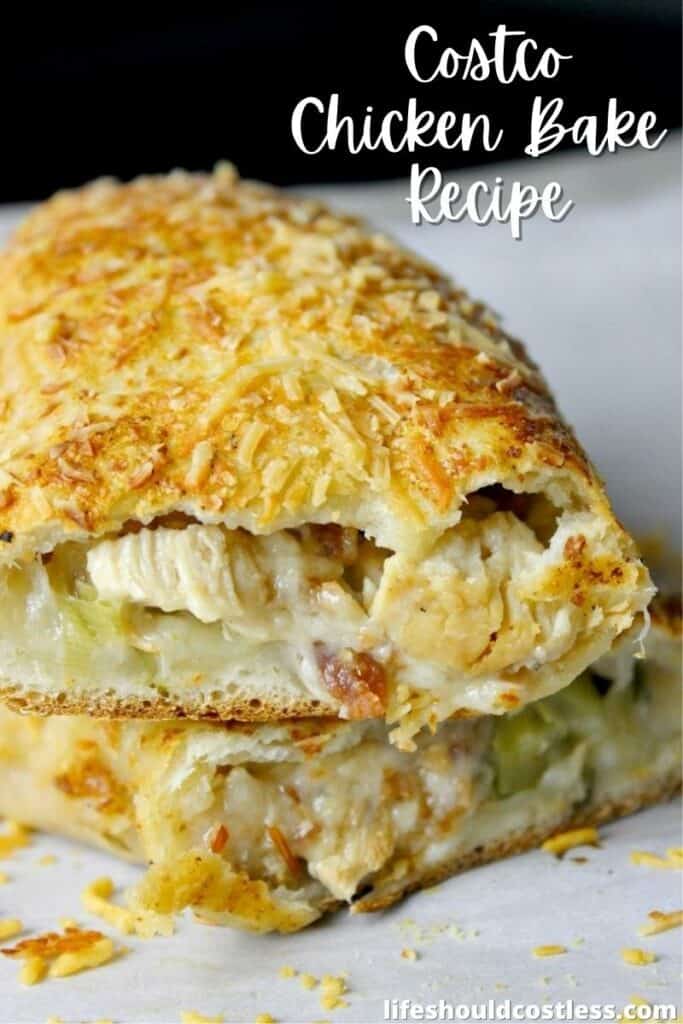 Have you ever taken a trip to Costco just so that you could enjoy the chicken, bacon, and cheesy goodness that is eating a delicious Costco Chicken Bake (over at the food court)? I have on multiple occasions actually…lol. So I'm sure you can imagine my joy in finding out how to make them.
Where can I find a recipe for Costco Chicken Bake?
It's what I searched high and low for and finally came upon the actual Costco Chicken Bake recipe one day while surfing the internet…I had to do some serious digging to find it too.
I know that Costco also has the option of buying their Chicken Bakes pre-made and frozen so that you can enjoy them at home, but you just can't beat them fresh and right out of the oven in my opinion.
The Kirkland Chicken Bake is one of my favorites because they taste so dang good, but unfortunately for me, there is no Costco anywhere near me, nor do I have the freezer space to buy them premade in bulk… so I was so excited that now I can make them myself at home anytime I get a craving now.
It's hard not to day dream about a chicken bake, especially since there is Costco bacon involved. Who doesn't daydream about bacon? If you don't there may be something seriously wrong with you…
I think that the best thing about this recipe is that you can make one, or make a dozen of them, you can effortlessly do the math to suite your needs to make chicken bake recipes easy peasy.
I'm sorry, I am totally rambling (like we food bloggers pretty much always do…lol), so please don't take offense to my 4 am, up writing before the kids scramble my thoughts, silly writing…Just trying to get you as pumped as I am to eat them.
I have to tell you guys…this isn't the only recipe out there claiming to be the real deal Costco Chicken Bake, but the majority of the recipes for them that are floating around the internet are just peoples best guess about what is in them and some of them have been fairly close to this recipe, most are only missing a couple of ingredients, but what they don't have is this one crucial little thing and that is the recipe source of Costco Wholesale themselves, thus, meaning that all the other recipes out there that are claiming to be for a Costco Chicken Bake are actually just a cheap knock-off version of the actual real deal.
How did I get this "actual" recipe you may be wondering? There is this amazing website (recipegoldmine.com) that I have been using off and on for the past several years and I found it by searching for some of her CopyCat restaurant recipes.
Anyway, that is where I found this recipe (I got her permission to share this with you all too) and you can check out her post for this recipe by going here. Sometimes that page doesn't load properly so make sure to try again if you really want to see it…also stick around her really cool site and check out some of the other neat recipes on there.
I very nearly always tweak every single recipe that gets put in front of me, to make it even better, but this one I am of course leaving as is because it is already PERFECTION.
The only thing that I am changing is making it more user friendly because the original recipe lists all of the ingredients in ounces and I don't know about you, but my American brain has a hard enough time working in a kitchen with several little ones underfoot, so when it comes time to actually bake, I need the recipe to be as simplified as possible so that my multi-tasking brain doesn't mess it up.
So, I used my super handy kitchen scale (you need to buy one if you don't have one yet, I got mine here a few years ago and it has been a wonderful kitchen tool) to measure everything out so that I could tell you all exactly how many cups, or Tablespoons or whatever the measurement is in order to help all the other multi-taskers out there get a much better result when making their own Costco Chicken Bakes at home.
You're probably thinking, "enough already Sarah, show us the stinking recipe"…
Lol and like always, I am actually going to start out giving you guys a little tutorial of the process of making them (both still images/and a video), which is especially helpful if you have never had one or if you just plain need a little more guidance, and then I will have the recipe listed down at the bottom of the post.
---
So here goes the still photo tutorial:
*I apologize in advance for my mediocre photography skills… I hire out recipes as often as I can, and this is one that it just wasn't an option… so I did the best that I could with my limited skills.*
First we start off my rolling out the dough, the recipe calls for pizza dough, but the Rhodes premade rolls are quick and do the trick, so I recommend just using roll-dough unless you are trying to restrict your sugar intake. I do even tell you exactly how many roles you're going to need to use per bake if you use the roll-dough.
How to make Chicken Bake?
I rolled out my dough, on a (clean) floured surface, and attempted to make it the largest rectangle I could. Don't get discouraged if yours is kinda tiny, it gets easier to tug the dough and stretch it out once you have added other ingredients on top.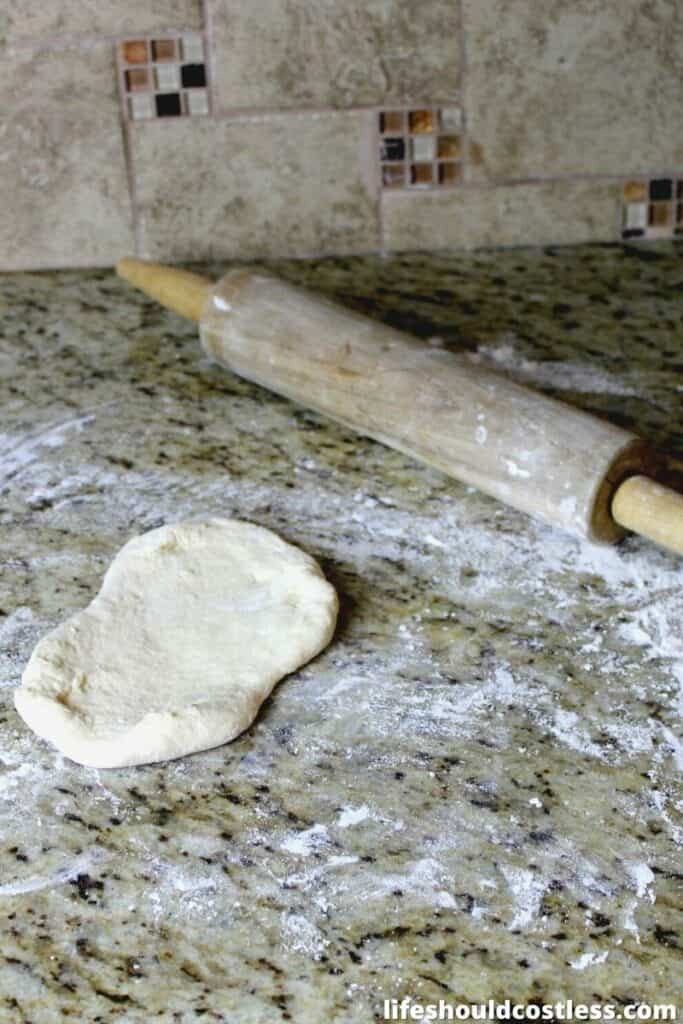 Next I added the Caesar dressing.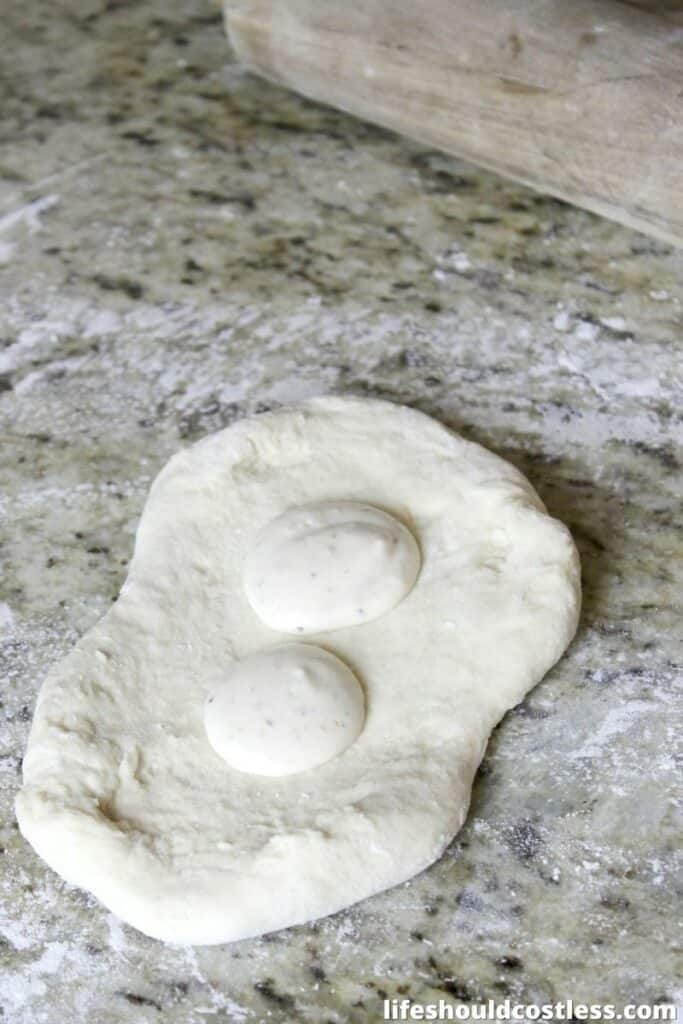 And used a basting brush to spread the dressing all over.
The recipe says to pre-marinate the grilled chicken in a small amount of Caesar dressing. I found it easiest to do that by adding the chicken and the dressing to a ziploc style bag…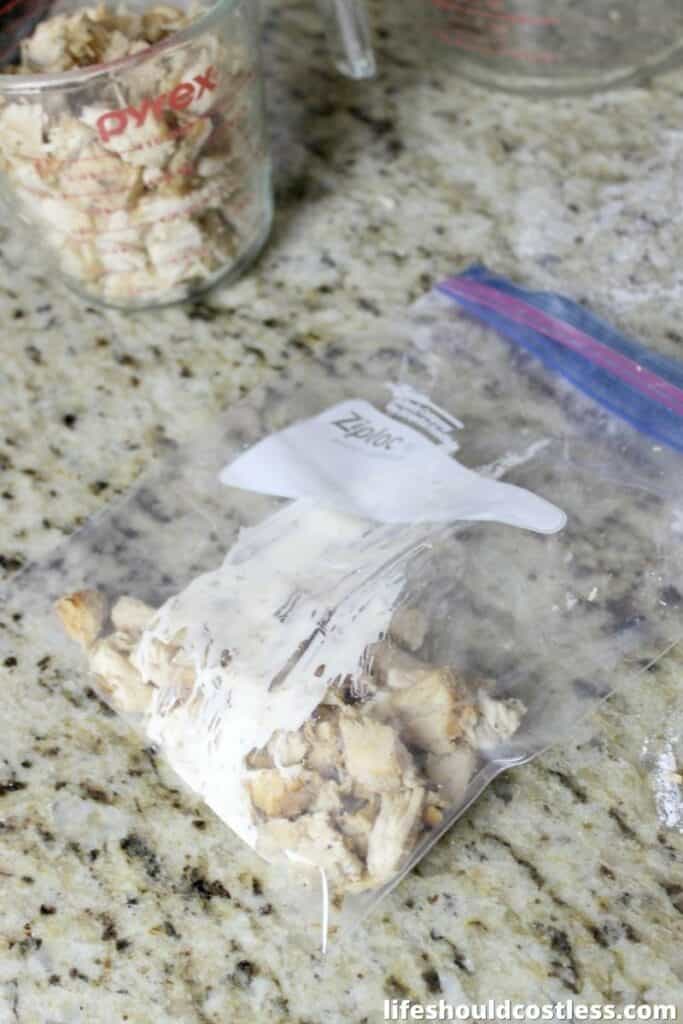 Zipping it shut and giving it a good shake.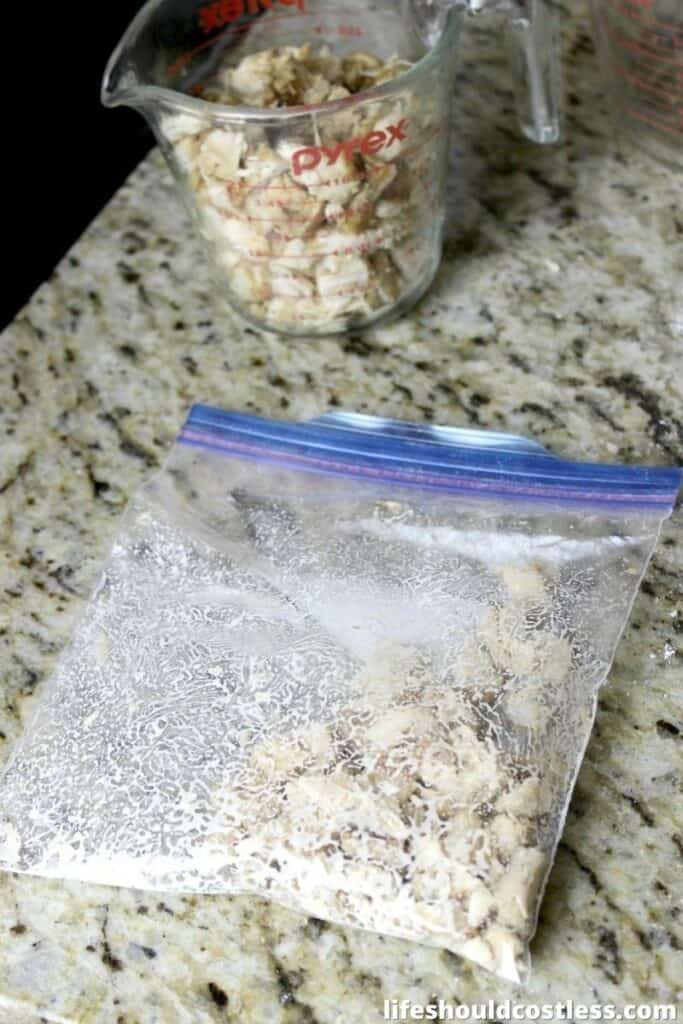 I then added that in a neat row over the dough/caesar dressing. It gets easier to tug the dough the more ingredients that you add on top, I guess the weight helps it stay put and stretch…just thought I would mention that if you're feeling discouraged, keep going, the dough will soon become easier to work with.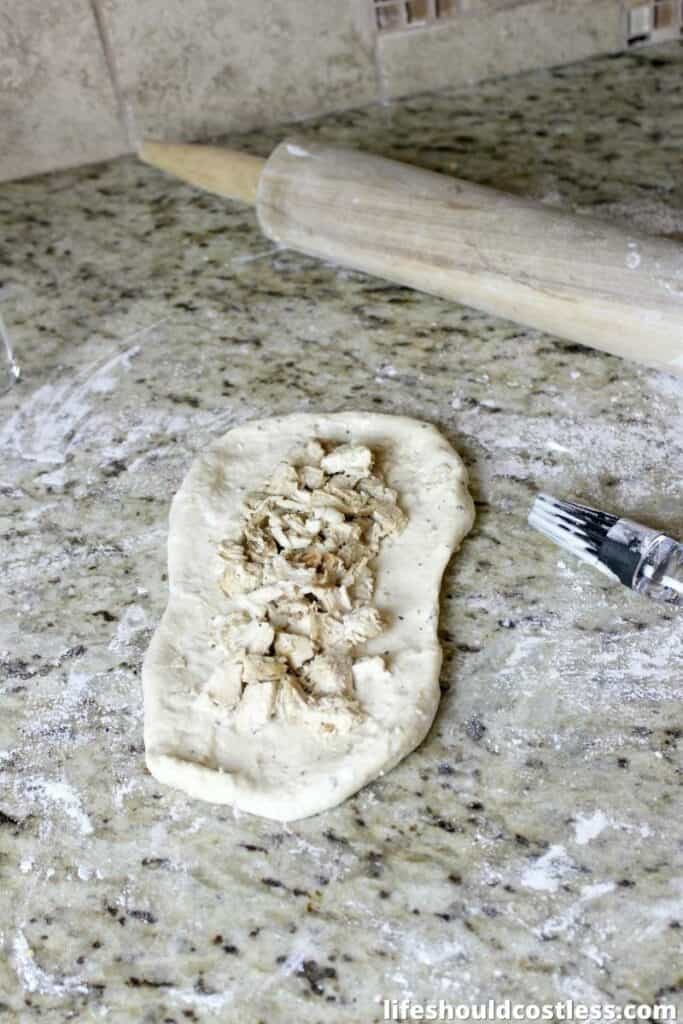 Next it was time to add the Mozzarella/Provolone blend of grated cheese.
Then the bacon crumbles.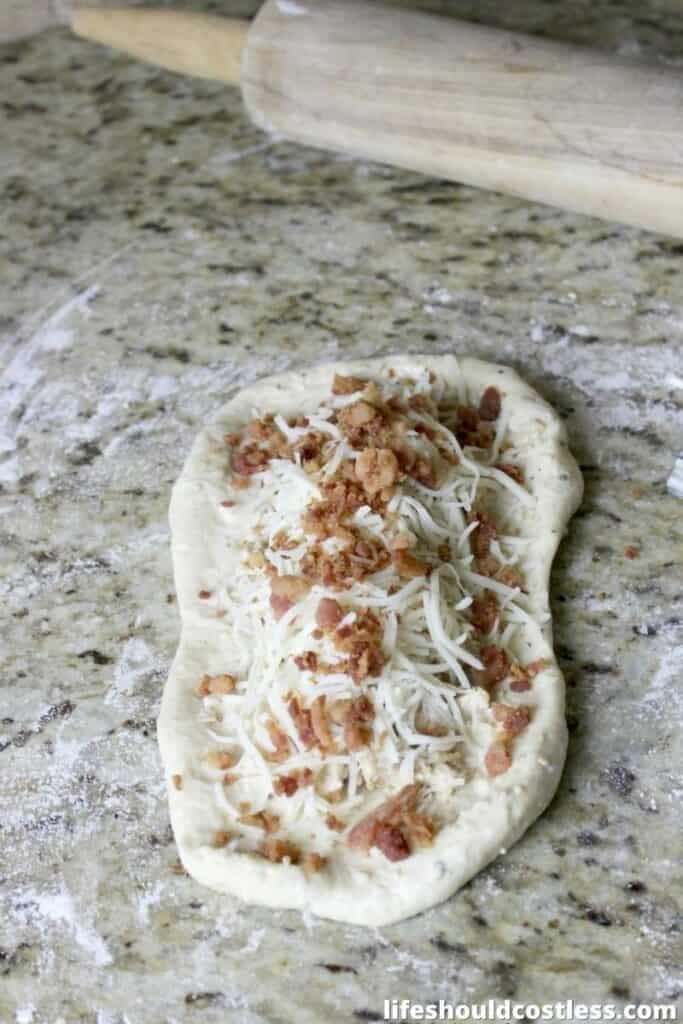 Next, I added the green onions. I cut mine kinda big because I am lazy, but you can always cut your green onions however big or small that you want to slice them…lol.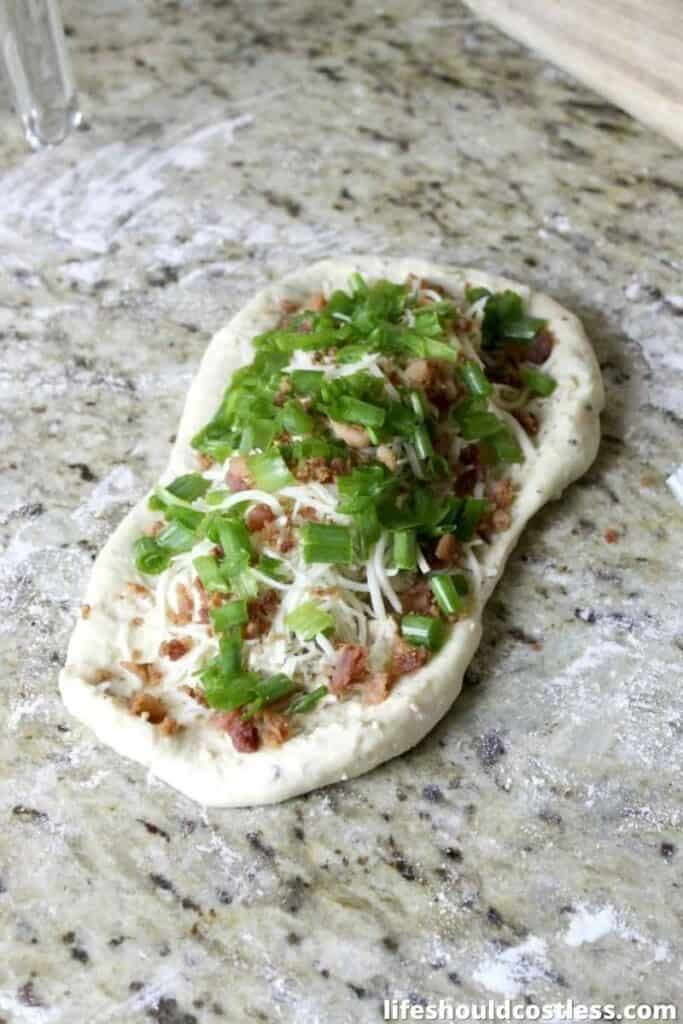 Next I took one long edge of the dough and folded it across the toppings.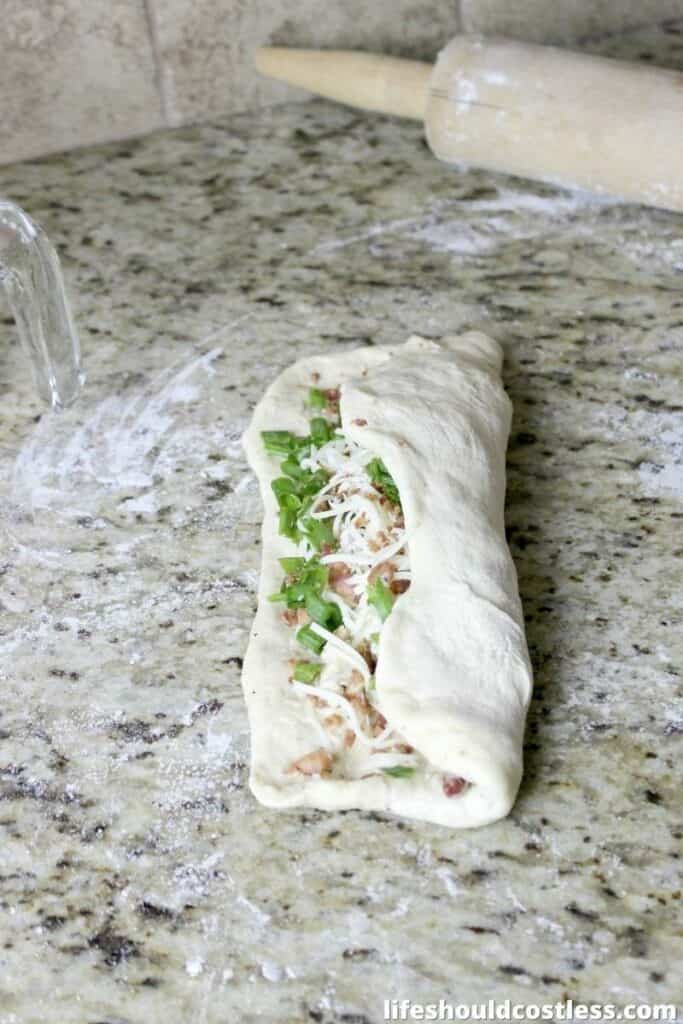 Then I pulled the dough from the other long side and connected the two dough sides by pinching it together to create a "seal". I then rolled it a little bit to lengthen it and get it into the right shape.
How to cook chicken bake:
The rest of the tutorial is for those of you that specifically need help with the cooking instructions.
Next, I placed each bake on a parchment paper lined cookie sheet (some people refer to them as a half sheet pan). These chicken bakes puff up quite a bit as they cook so only two fit per sheet and I laid them slanted to make it work.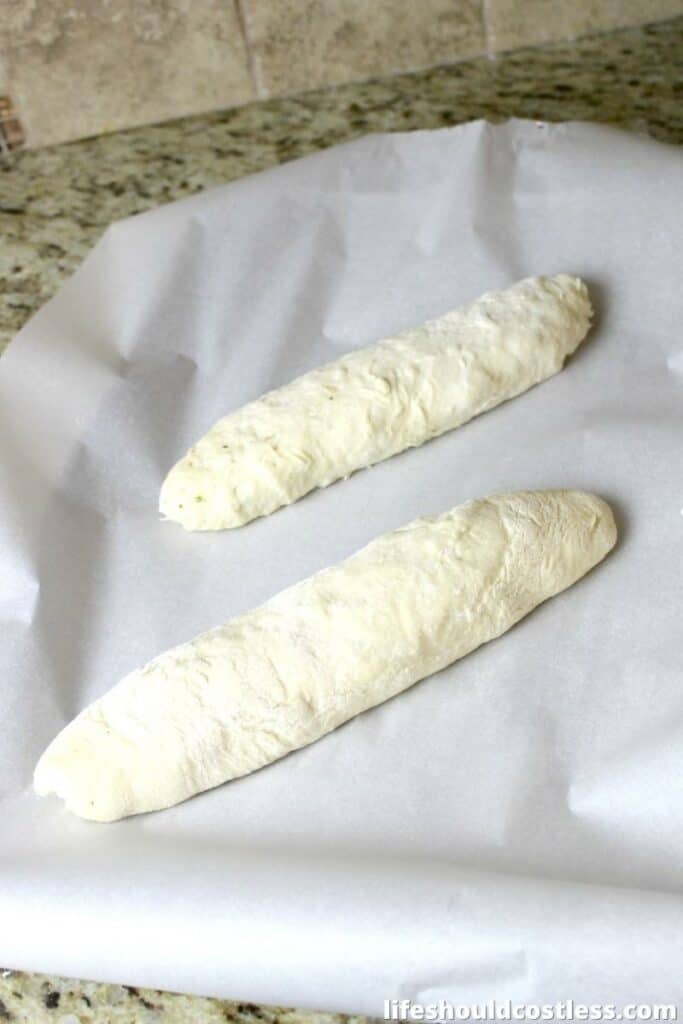 Next I added a line of Caesar Dressing to each uncooked chicken bake.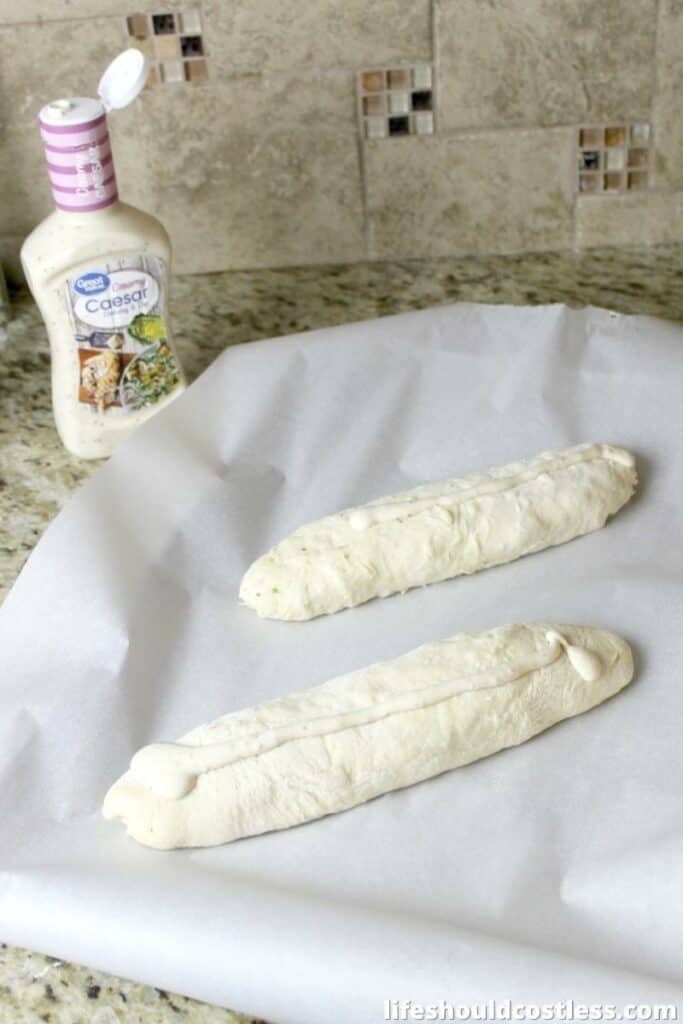 Then I spread out the Caesar dressing and basically just slathered the top of the whole bake with my baster brush.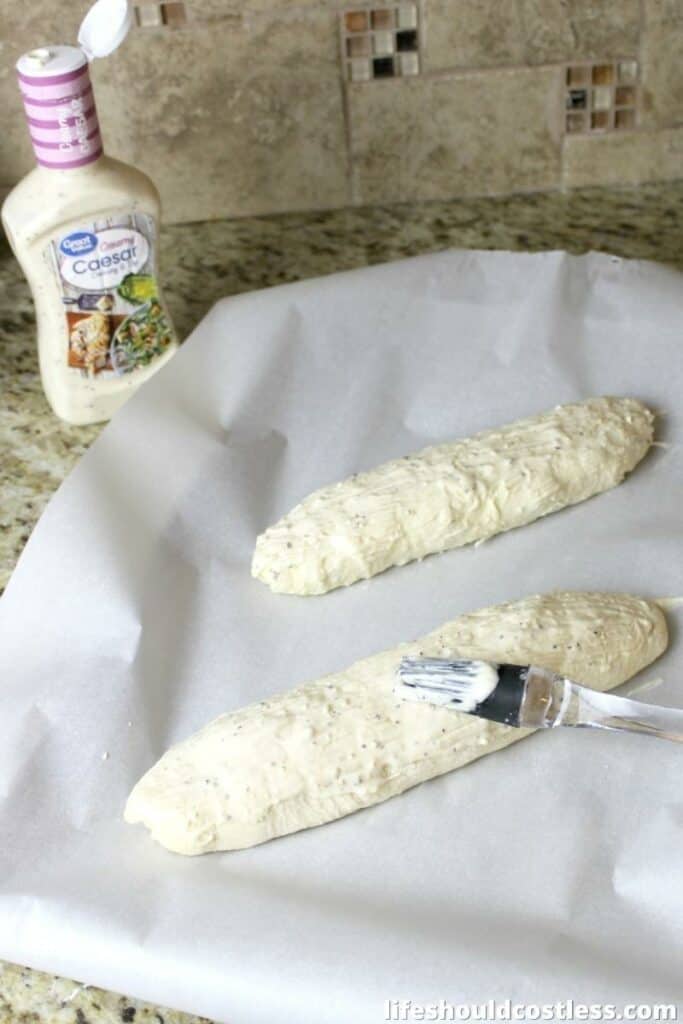 Then sprinkled on the grated parmesan cheese.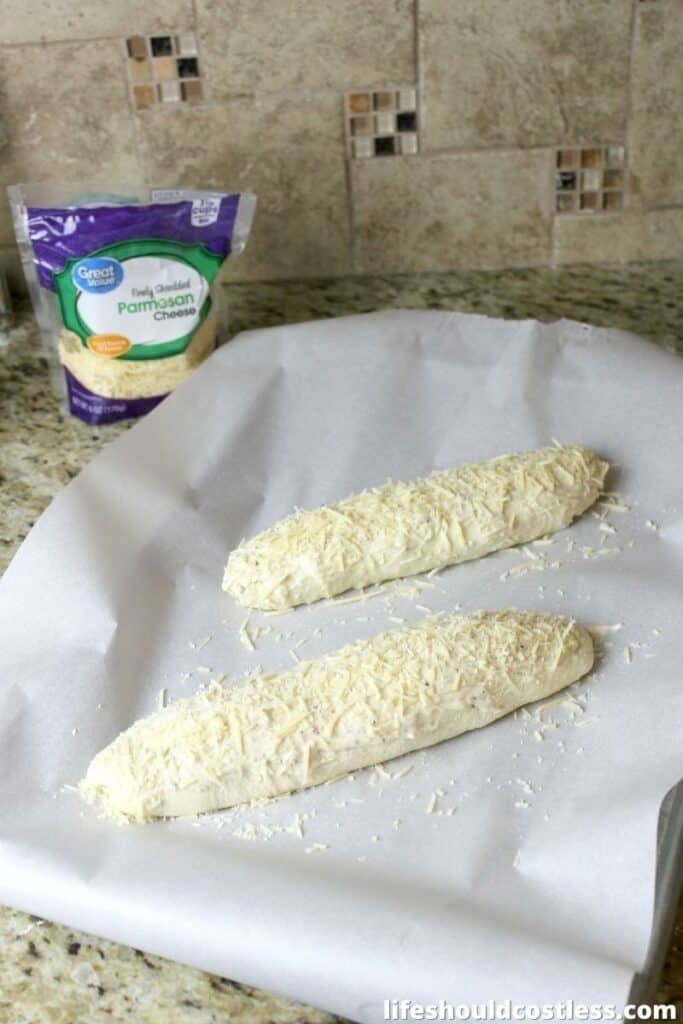 Now the homemade Costco Chicken Bakes were ready to go into my pre-heated oven (the temp is found in the free recipe card below).
A good rule of thumb, so that you will know that they are done, is to check and see when they are a beautiful golden brown along the edges… and your whole house smells heavenly at that point too!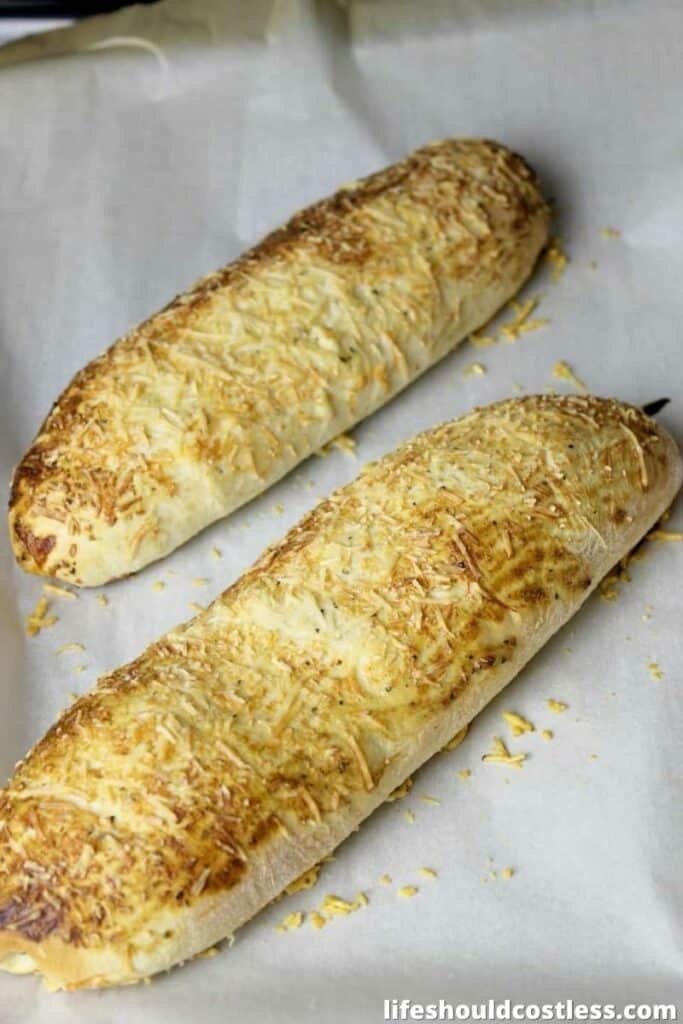 Now get ready to drool because I'm about to show you some yummy shots to get you even more excited to try making them yourself at home.
This first shot is by far my favorite shot of how the chicken bakes turned out…they just look so stinkin' tasty.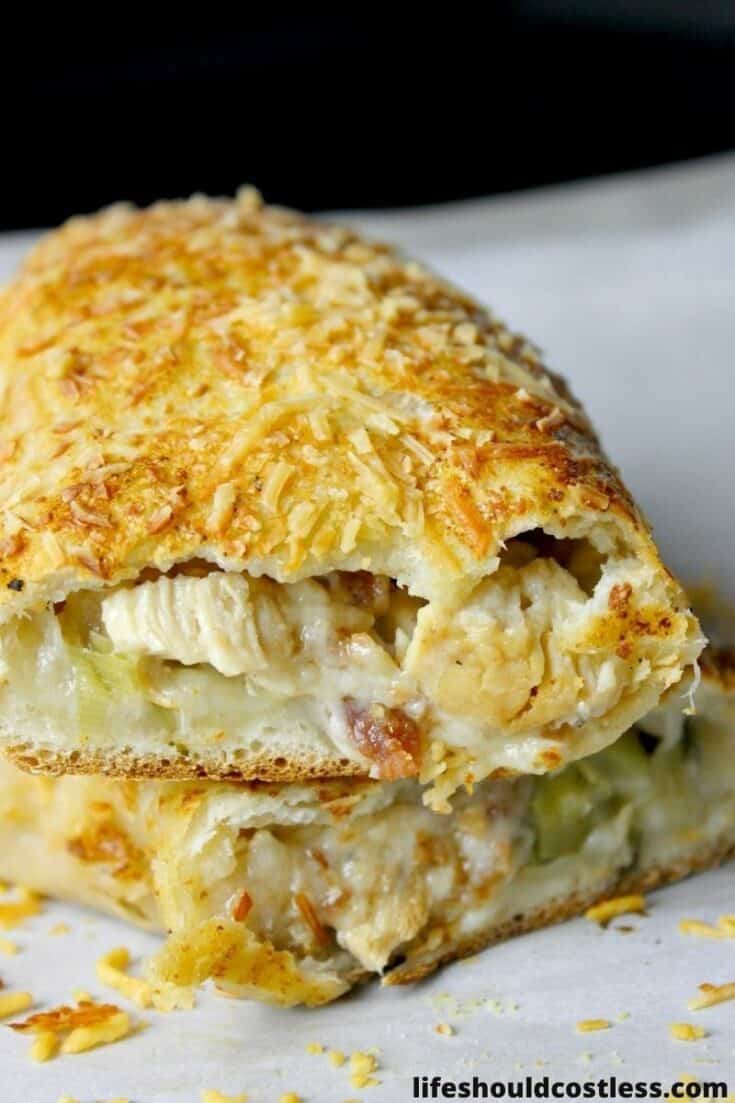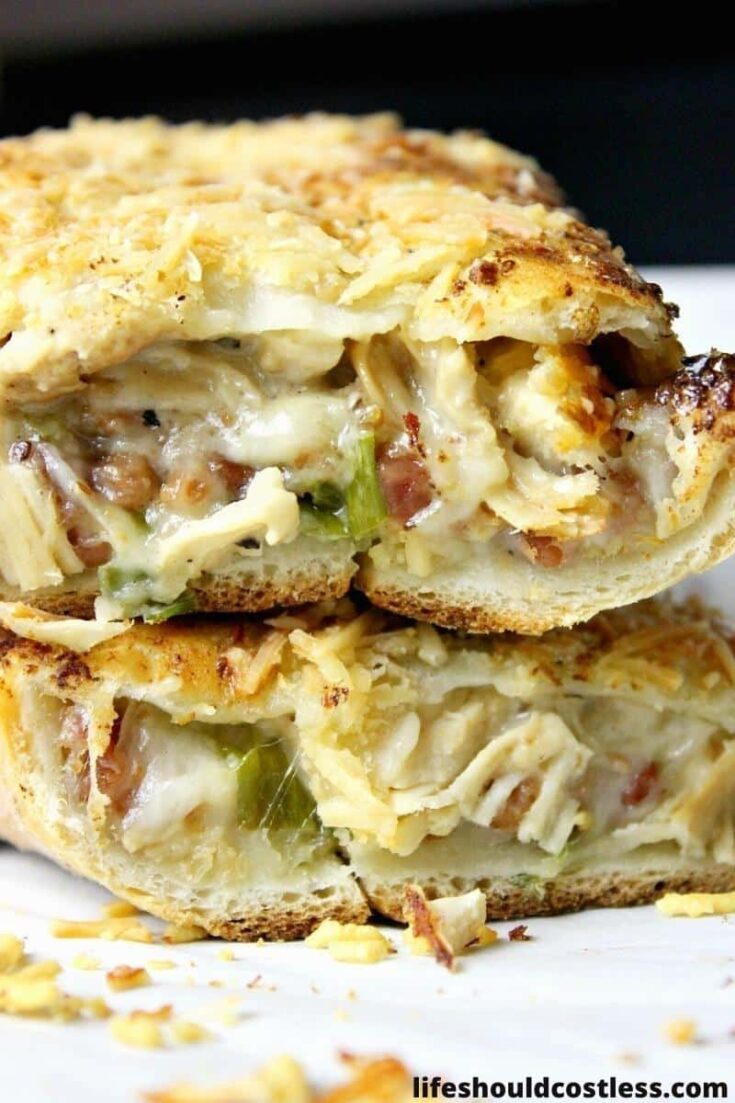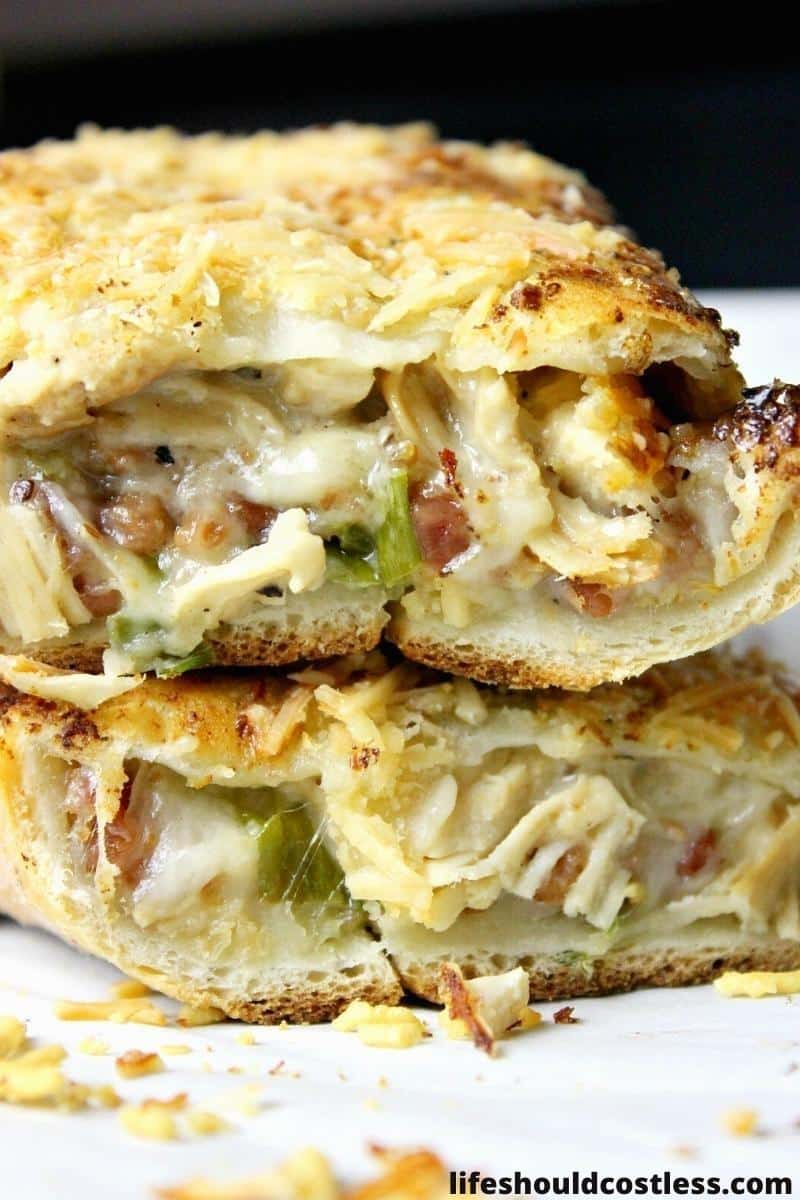 I bet that you probably haven't inspected the guts of a Costco Chicken Bake this closely before…lol. And what tasty "guts" they are.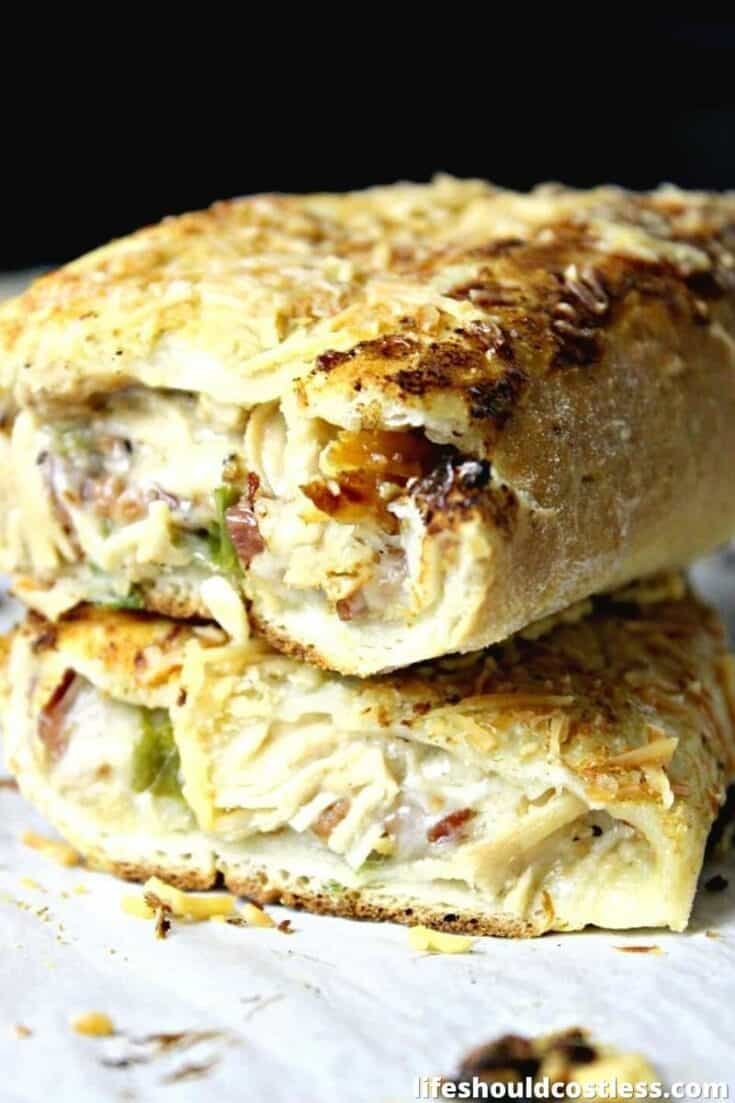 How long are Costco Chicken Bakes good for?
When it comes to cooked meat…I always err on the side of caution…so I personally think that these should stay good and fresh (if tightly covered and kept cold) in a refrigerator for up to five days. I would also take it an extra step and make sure that you reheat them properly to get the best experience when it comes to leftovers.
---
Here is the recipe card directly as it is from the recipegoldmine site, which is I'm assuming, how she got it from Costco.
Remember how I mentioned earlier that the ingredients are listed in ounces, which made me get out my kitchen scale so below the first recipe card I will add another recipe card but list everything out in cups/tablespoons for you all…basically just super simplified.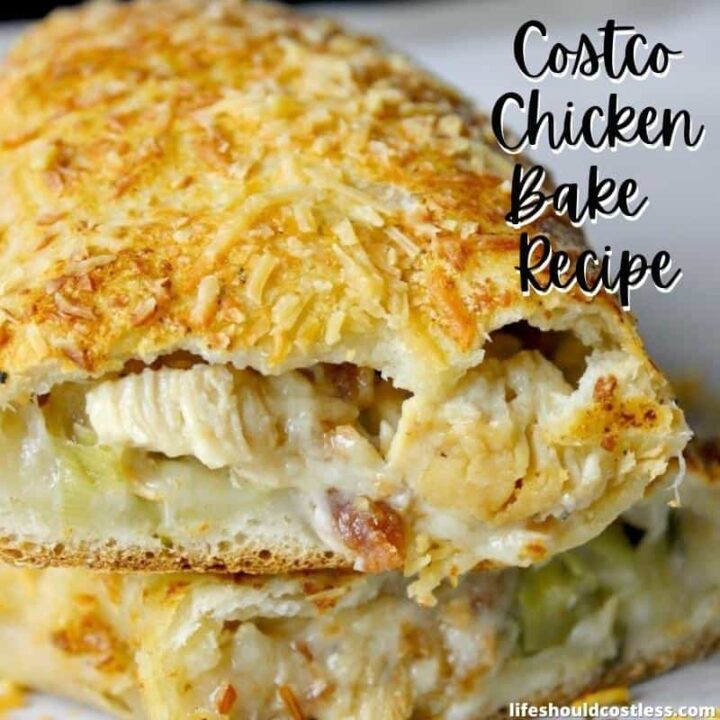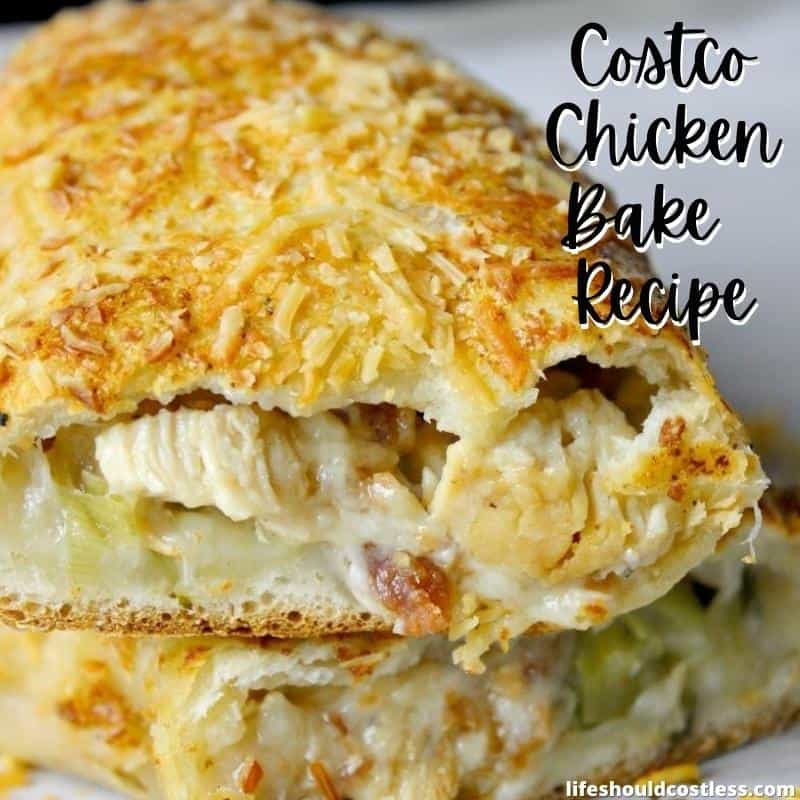 Costco Chicken Bake Recipe
The original recipe from Costco for the Chicken Bake's that they sell in their food court and in the frozen section.
Ingredients
6 Ounces Pizza Dough
4 Ounces Grilled, Sliced and Seasoned White Chicken Breast
1 Ounce Mozzarella-Provolone Blended Shredded Cheese
½ Ounce Cooked And Chopped Bacon
½ Ounce Chopped Green Onion
1 Ounce Caesar Dressing (per bake)
½ Ounce Parmesan Cheese
Instructions
How to make a Costco Chicken Bake at Home:
Pre-marinate the grilled and sliced chicken breast in a small amount of Caesar dressing prior to assembly.
Cut pizza dough into a 6-ounce piece. Roll out or press dough into a 7 x 5-inch rectangle.
Spread Caesar dressing on dough piece with a basting brush.
Add marinated chicken to dough piece, along the 5-inch border.
Cover chicken with mozzarella, green onion and chopped bacon.
Pull the 5-inch border over the ingredients and roll tightly. Do not fold the ends in. The bake will continue to grow in length as you roll it out.
Finished bake should be approximately 11 x 2 inches.
Brush top of bake with Caesar dressing, and dredge in shredded Parmesan.
Bake until an internal temperature of 165 degrees F is reached.
Yield: 1 serving
Source: Recipe Goldmine, &Costco Wholesale
Notes
Can fit two Chicken Bakes per half sheet pan if you place them on a slant.
Here is the recipe card with the measurements that I converted from ounces…the simplified version.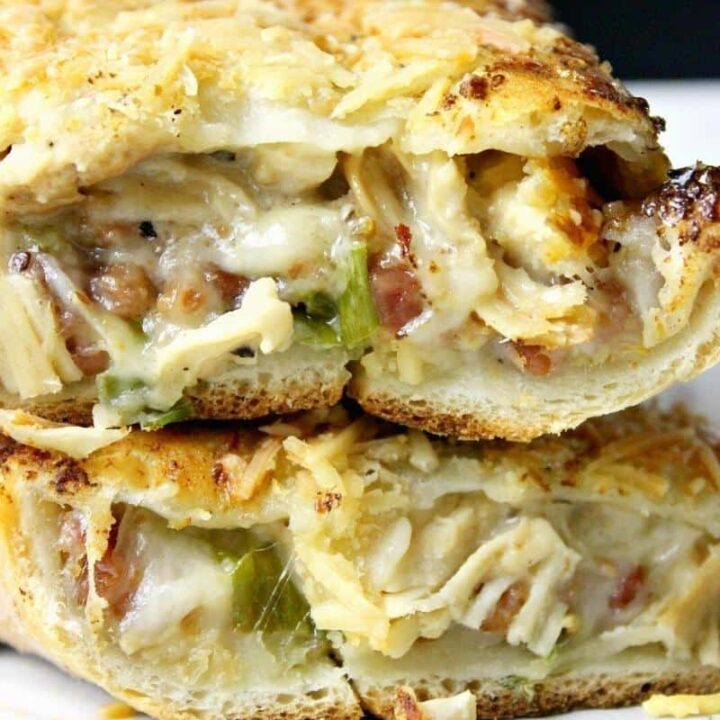 Homemade Chicken Bake
Costco Chicken Bake Recipe simplified into cups/ounces.
Ingredients
½ Cup Pizza Dough (or the dough for 4.5 Rhodes Rolls)
¾ Cups Grilled, Seasoned, & Chopped Boneless Chicken Breast
⅓ Cup Mozzarella/Provolone Blend Shredded Cheese
2 Tablespoons + 1 teaspoon Bacon Crumbles
¼ Cup Green Onion
2 Tablespoons Caesar Dressing (plus a little more for marinating chicken)
2 & ½ Tablespoons Grated Parmesan Cheese
Instructions
Copycat Costco Chicken Bake, How to make:
If using frozen dough, set out of freezer one hour prior to assembling chicken bakes.
Pre-marinate the grilled and sliced chicken breast in a small amount of Caesar dressing prior to assembly.
Preheat oven to 400 Degrees Fahrenheit.
Use a floured surface and roll out or press dough into a 7 x 5-inch rectangle, or as close as you can get. It will be easier to stretch it out once it has heavy ingredients on top of it..
Spread Caesar dressing on dough piece with a basting brush.
Add marinated chicken to dough piece, along the 5-inch border.
Cover chicken with mozzarella, green onion and chopped bacon.
Pull the 5-inch border over the ingredients and roll tightly. Do not fold the ends in. The bake will continue to grow in length as you roll it out.
Finished bake should be approximately 11 x 2 inches.
Brush top of bake with Caesar dressing, and dredge in shredded Parmesan.
Bake for 15-18 minutes or until golden brown.
Notes
Can fit two chicken bakes per half sheet pan if you place them on a slant.
Nutrition Information
Yield

1
Serving Size

1
Amount Per Serving
Calories

1028
Total Fat

54g
Saturated Fat

20g
Trans Fat

0g
Unsaturated Fat

30g
Cholesterol

211mg
Sodium

1613mg
Carbohydrates

57g
Fiber

3g
Sugar

4g
Protein

75g
These caloric amounts are automatically estimated by a plugin on my site.
If you're like me…because I was beyond skeptical that it was real, you've probably been skeptical that this is the actual legit recipe for the Costco Chicken Bake, until you bite into one.
Holy Canoli! When I bit into my first one of these bad boys my eyes just about bugged out of my head because I knew without a doubt that it's the real deal, the actual recipe…which is beyond AWESOME!
My only complaint is that they are a little on the time consuming side to make, which means that I reserve making them for the weekends when I have a little bit more time to make them.
I don't usually get all too excited to post recipes, but this one is easily the most excited that I have ever gotten over a recipe that I have blogged about. I'm so excited to share it with the world and see what y'all have to say.
If you would like the Youtube version of the tutorial video to share/embed…here is the link.
---
Thanks so much for stopping by my blog and supporting my endeavors to make people's lives a little easier/better. If you liked this recipe post, or found it helpful in any way, please make sure to share it with your family, friends, and co-workers via social media…or you could even send them the direct link via email. Whichever way you choose to spread the love, I super appreciate it! ~Sarah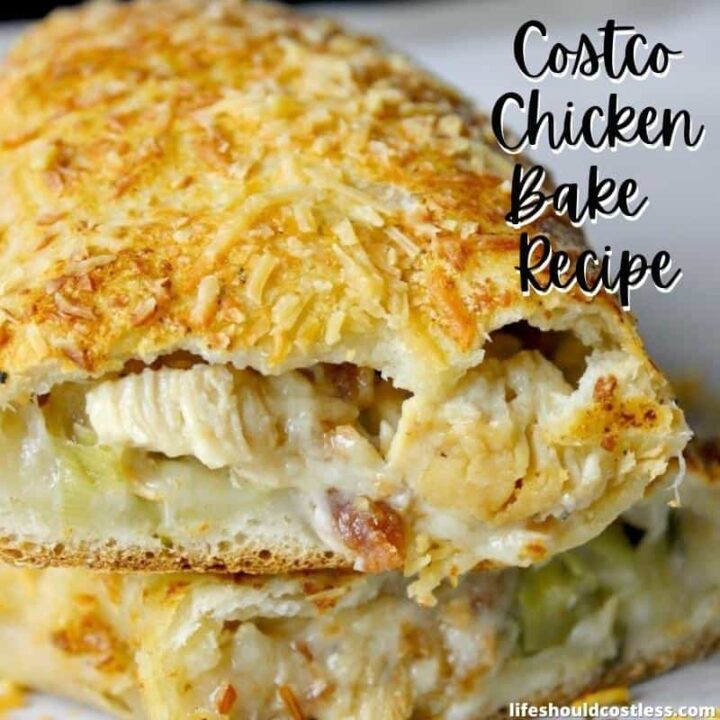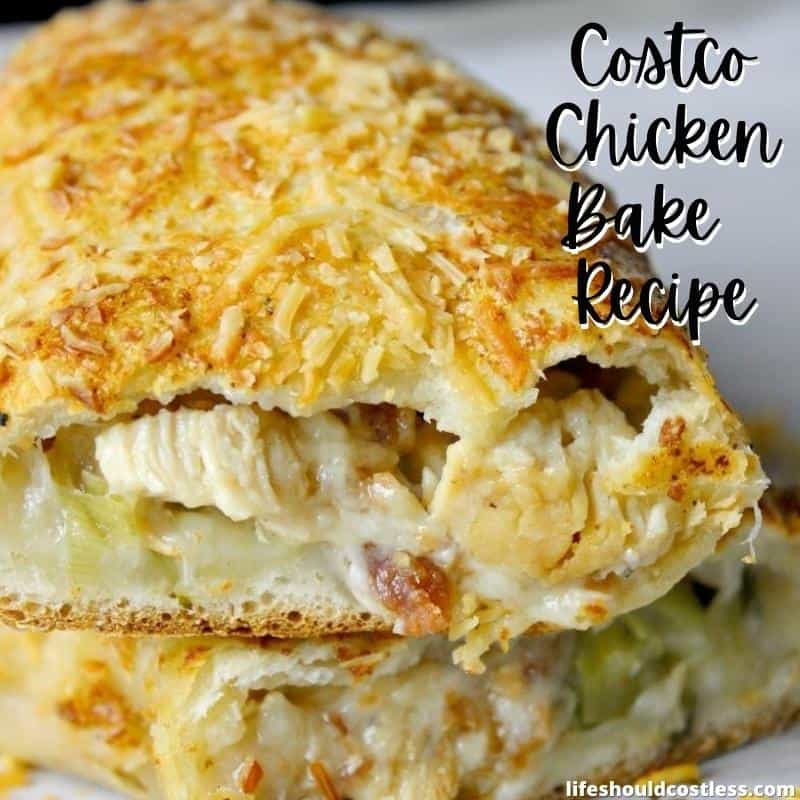 Oh, don't forget to subscribe to my email list (found here). Also, if you would like to learn how to follow along or really show your support for this blog, go here.
P.S. Some other recipes that you may like would be to check out my section for Main Dishes… They're all super yummy (I literally don't post a recipe unless I LOVE IT) so you shouldn't be disappointed by any of them. Have a lovely day!
Here are several of my other recipes that you'll also love:
For those of you that would also like another option for a "pinnable" image on Pinterest, or a different shape to share elsewhere, here you go…thanks again so much for the support!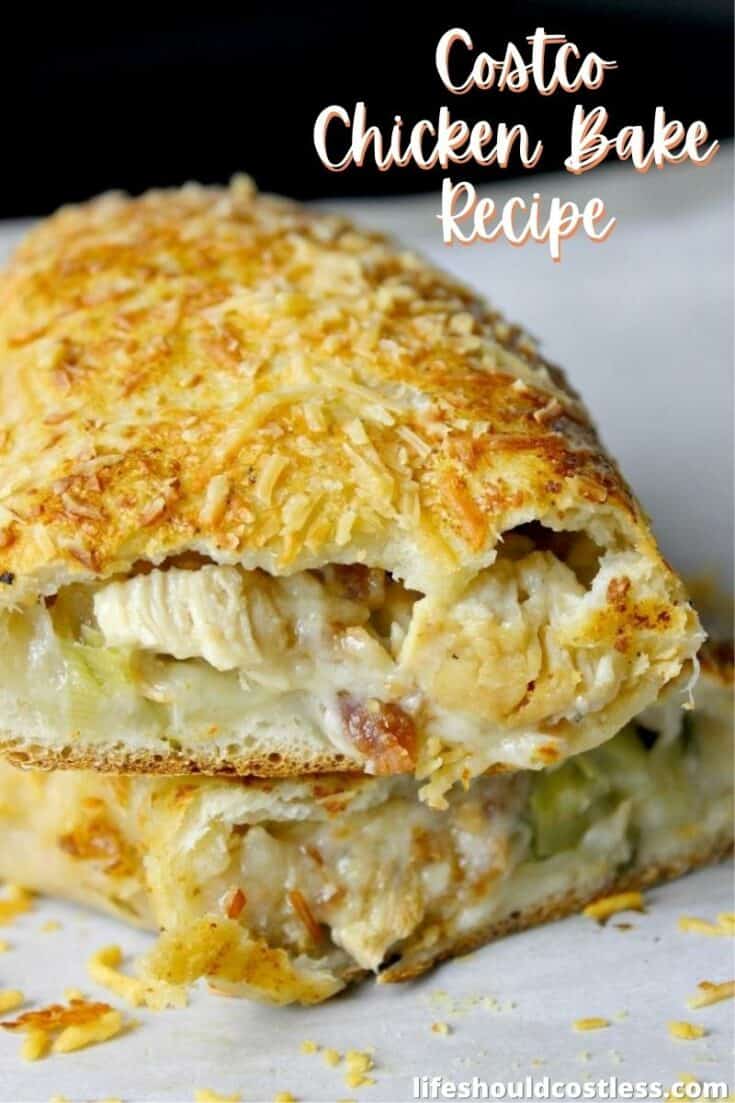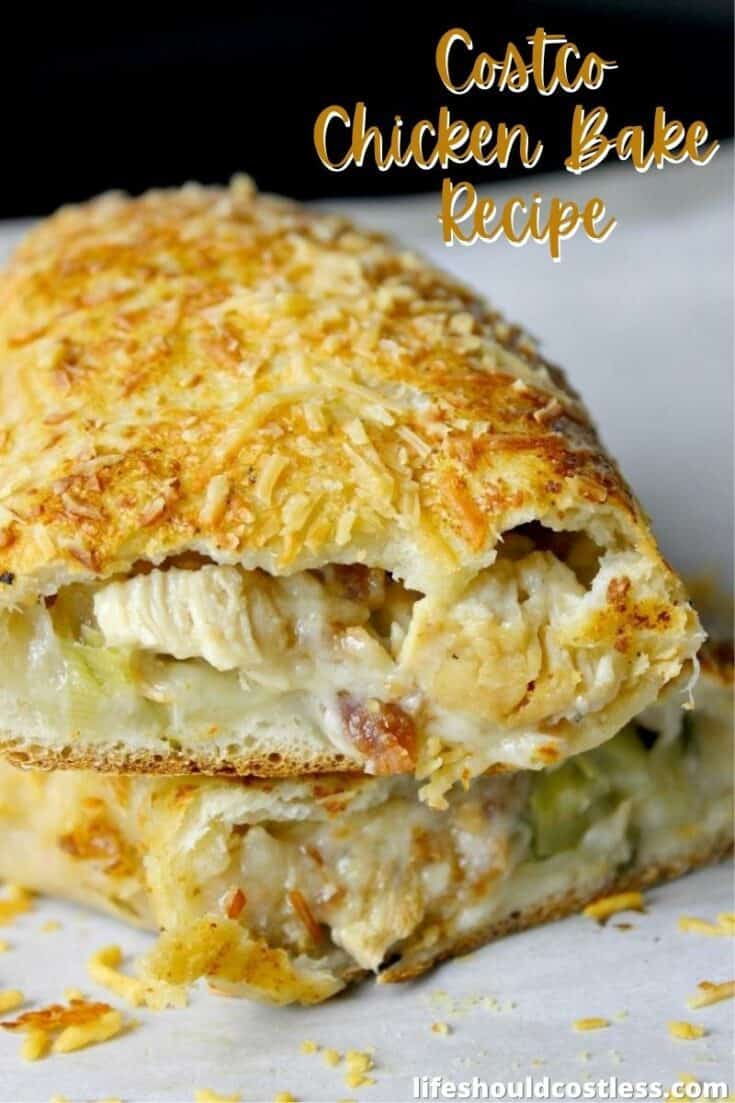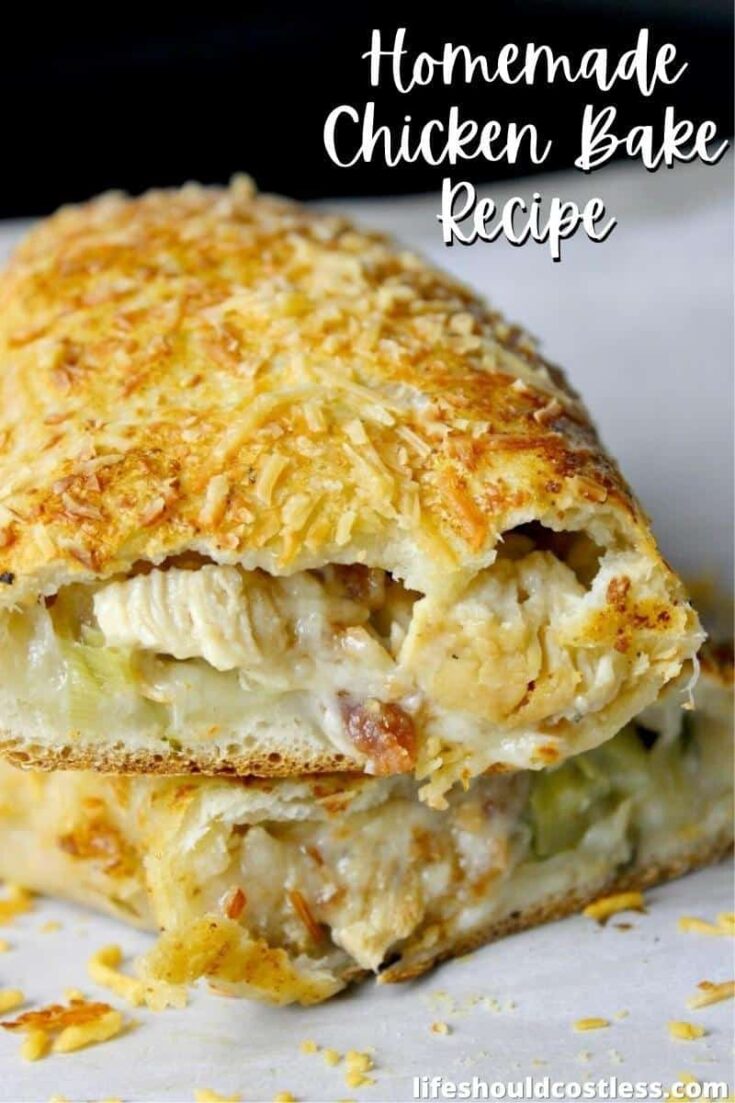 *Calories in a Costco Chicken Bake?
For those of you wondering what the nutritional info is, or if you're just plain wondering what the calories are per chicken bake… unfortunately the autogenerated calculator that pops up automatically in my recipe cards just plain didn't seem accurate to me…so I'm sorry that I can't provide it to you. I will suggest that you head over to Costco.com (or even go to the food court and ask an employee) and see what they have to say about it… it should be pretty dang close to the actual product.
**Please note that this recipe was originally posted to this website on 09/20/2018, but it was in great need of a refresher, so it now is more user friendly/shareable and has a free printable recipe card, or two in this case…and a video tutorial as well.