There is nothing quite like a good tuna sandwich, especially when it's melted and toasted to perfection. This classic comfort food is a staple for many, and with good reason. It's quick, easy, and delicious, making it the perfect lunch or dinner option for busy individuals. Today, I'm excited to share with you my favorite easy tuna sandwich melt recipe. With just a few simple ingredients and a little bit of prep, you can enjoy a tasty and satisfying meal in less than twenty minutes. So, whether you're a tuna sandwich lover or just looking for a new recipe to try, read on to discover how to make my favorite simple meal for yourself.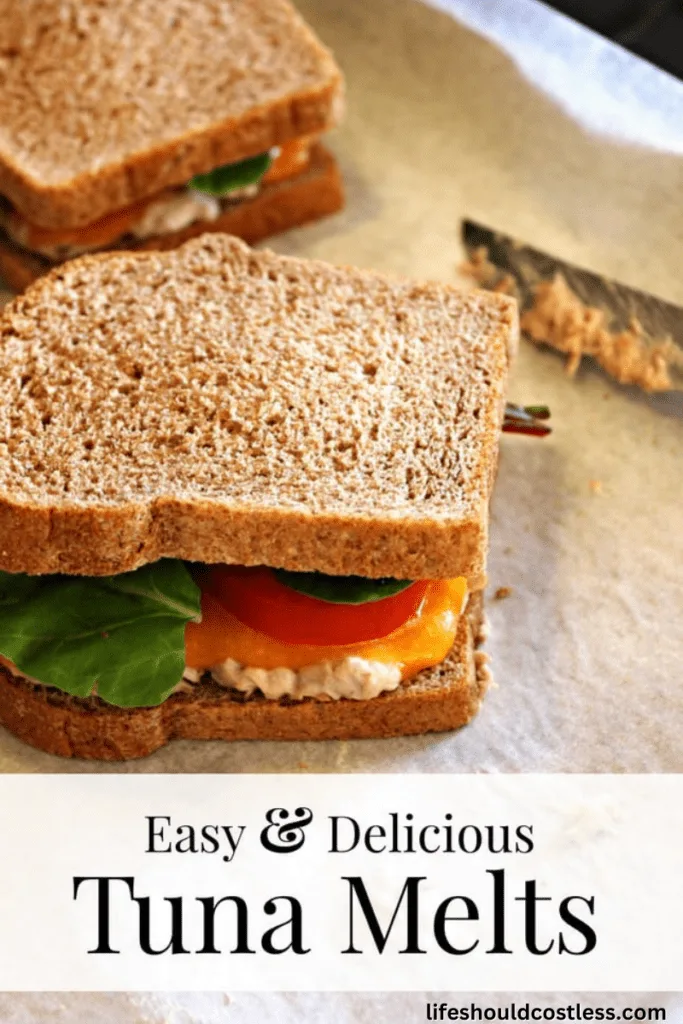 Table of Contents, Skip Ahead To What You're Looking For
What is a tuna melt sandwich?
A typical recipe for tuna melt sandwich is a hot sandwich that typically consists of tuna salad, cheese, and bread, which is grilled or toasted until the cheese is melted and bubbly. The actual origins of the tuna melt are somewhat unclear, but it is believed to have originated in the United States in the 1950s or 1960s.
Some credit its creation to a restaurant in San Francisco, while others believe it was first served in a diner in New York City. Regardless of its origins, the tuna melt has since become a popular sandwich option in diners and cafes across the United States.
If you would like to read more about what Wikipedia has to say about Tuna Melts, go here.
---
Easy Tuna Melts Recipe Ingredients List
When I say that this recipe is easy…I mean just that. It's really just a matter of learning how to throw it all together to make it taste super melty and toasted and taste just right. The ingredients for this easy recipe for tuna melt are:
Sliced Bread Of Choice
Tuna Fish Prepared With Mayo
Cheddar Cheese Slices
Tomato Slices
Lettuce Or Greens Of Choice
Like I said, this basic recipe is super easy…but there are some other yummy ways that you can try to make them once you get the easy recipe for a tuna melt sandwich down.
Tuna Melt Variations To Try
There are many variations you can do with a tuna melt to switch up the flavor and add some excitement to this classic sandwich. Here are a few yummy ideas:
Avocado tuna melt: Mash some ripe avocado into your tuna salad mixture for added creaminess and a boost of healthy fats. Top with cheese and grill as usual.
Greek tuna melt: Mix chopped olives, feta cheese, and diced tomatoes into your tuna salad mixture. Top with mozzarella cheese and grill on whole grain bread for a Greek twist on the classic melt.
Bacon and tomato tuna melt: Add crispy bacon and juicy slices of tomato to your tuna melt for a delicious and hearty twist.
Jalapeño popper tuna melt: Mix diced jalapeños, cream cheese, and cheddar cheese into your tuna salad mixture. Top with more cheese and grill on sourdough bread for a spicy and cheesy treat.
Pizza tuna melt: Mix marinara sauce, Italian seasoning, and mozzarella cheese into your tuna salad mixture. Top with more cheese and grill on garlic bread for a pizza-inspired tuna melt.
These are just a few of my ideas, but the possibilities are endless when it comes to customizing your recipes for tuna sandwich. Just remember to have fun experimenting with different ingredients and flavor combinations, and write them down so that you don't forget what you did if you come up with something super yummy!
Note: Make sure to adjust cooking time and temperature depending on the added ingredients to prevent the sandwich from burning or drying out.
---
Tips To Make Tuna Melt Taste Even Better
If you want to take your tuna melt to the next level and make it even more delicious, here are some tips for making it taste even better when making it in the oven:
Toast your bread before assembling the sandwich: Toasting your bread beforehand will give your sandwich a crispy texture and prevent it from getting soggy.
Mix in some herbs and spices: Adding some herbs and spices, such as dill, parsley, or garlic powder, can elevate the flavor of your tuna salad mixture and give your sandwich an extra kick.
Use high-quality cheese: Choosing a high-quality cheese can make a big difference in the taste of your tuna melt. Consider using freshly grated cheese, such as cheddar or gruyere, for a richer and more flavorful sandwich.
Add some texture with veggies: Chopped vegetables like celery, onions, and bell peppers can add a nice crunch to your tuna melt, while also boosting the nutritional value of your sandwich.
Try different types of bread: Experimenting with different types of bread, such as sourdough, rye, or whole-grain bread, can add some variety and flavor to your tuna melt.
Broil your sandwich for a few extra minutes: After assembling your sandwich, broil it in the oven for a few extra minutes until the cheese is melted and bubbly. This will give your sandwich a golden brown and crispy crust.
By following these tips, you can make your tuna melt even more delicious and enjoyable. Have fun experimenting with different flavors and ingredients to find the perfect combination for your taste buds!
---
How To Make A Tuna Melt In Oven (recipe card found here)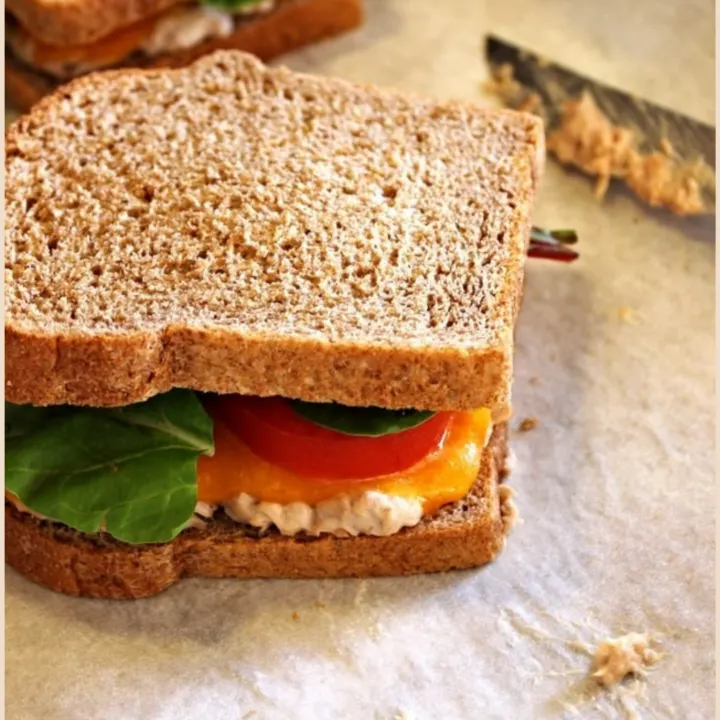 Easy Tuna Melt Recipe Sandwich
Additional Time:
10 minutes
Learn to make one of the more basic easy tuna melt recipes with just a few simple ingredients.
Ingredients
Sliced Bread Of Choice
Prepared Tuna Fish (with mayo)
Cheddar Cheese Slices
Tomato Slices
Lettuce
Instructions
How to make a tuna melt in the oven: Preheat your oven to about 450°F, it doesn't have to be exact, it's just to melt the cheese. On a parchment paper lined baking sheet, lay out your bread. You're going to want to put the sandwich tops on the pan too so that they get a little toasted.
Next, prepare (I drain it and mix mine with mayo) and spread out some tuna fish on half of the bread slices.
Next, you add the cheddar cheese slices on top of the tuna.
Put the baking sheet in the oven until the cheese has melted. It usually takes about five minutes.
While that is baking, prepare your tomatoes and lettuce. All you do is wash, dry, and slice the tomatoes and wash, dry, and cut the lettuce.
When the cheese has melted, remove the baking sheet from the oven. Add your tomatoes, lettuce, and top piece of bread (that is now toast…I guess). It's ready to serve!
Notes
This recipe is intended to be a base recipe that you can change up however you like to your desired preference. Please refer to rest of post for lots of flavor variation ideas as well as what foods are yummy to pair with this dish.
As a parent, my favorite thing about these particular sandwiches is that they are very hearty, especially if you use a whole grain bread. So, I usually make them as a quick and fairly healthy dinner when I'm short on time or just plain don't feel like cooking.
As a busy single momma, I love making them because start to finish it only takes about twenty minutes to make them, including the time to pre-heat the oven. They are also great on the dinner menu rotation any time of year.
---
Homemade Tuna Melt FAQ's
What cheese goes with tuna?

When it comes to choosing cheese to pair with tuna, there are several options that work well. Here are some popular choices:
Cheddar cheese: This is a classic choice that goes well with the flavors of tuna. It's a good option for those who prefer a sharper taste.
Swiss cheese: This cheese has a nutty and slightly sweet flavor that pairs well with tuna.
Provolone cheese: This cheese has a mild and creamy taste that complements the flavor of tuna without overpowering it.
Mozzarella cheese: This cheese is a good choice for those who prefer a milder flavor. It has a smooth and mild taste that pairs well with tuna.
Pepper jack cheese: This cheese adds a spicy kick to the tuna melt and goes well with the flavor of tuna.
Ultimately, the choice of cheese comes down to personal preference. You can experiment with different types of cheese to find the one that you like best.
What to have with tuna melts?

Tuna melts are a delicious and satisfying meal on their own, but if you want to make it into a full meal or add some variety, there are plenty of sides that pair well with it. Here are some ideas:
French fries or sweet potato fries: A classic choice that complements the hearty flavors of the tuna melt.
Garden salad or Caesar salad: A refreshing and healthy side that provides a contrast to the warm and cheesy sandwich.
Soup: A warm bowl of soup, such as tomato soup or vegetable soup, is a comforting and satisfying addition to a tuna melt meal.
Chips and salsa or guacamole: A great option for those who prefer something light and crunchy on the side.
Coleslaw: A creamy and tangy coleslaw is a classic side dish that pairs well with the tuna melt.
Roasted vegetables: Roasted broccoli, zucchini, or asparagus provide a nutritious and flavorful side to complement the tuna melt.
Ultimately, the side dish choice depends on personal preference and the occasion. You can experiment with different sides to find the perfect pairing for your tuna melt meal.
---
Conclusion
In conclusion, making an easy tuna sandwich melt recipe is a great way to enjoy a classic comfort food. With just a few simple ingredients, you can create a delicious and satisfying meal in no time. Whether you prefer a classic tuna melt or want to try out some of the tasty variations, the possibilities are endless.
Pair your tuna melt with your favorite sides to make it into a full meal and enjoy the tasty combination of flavors. So, next time you're looking for a quick and easy meal idea, give this tuna melt recipe sandwich a try and enjoy the deliciousness!
---
Thanks so much for stopping by my blog and supporting my endeavors to make people's lives a little easier/better/more affordable. If you liked this post, or found it helpful in any way, please make sure to share it with your family, friends, and co-workers via social media…or you could even send them the direct link via email. Whichever way you choose to spread the love, I super appreciate it! ~Sarah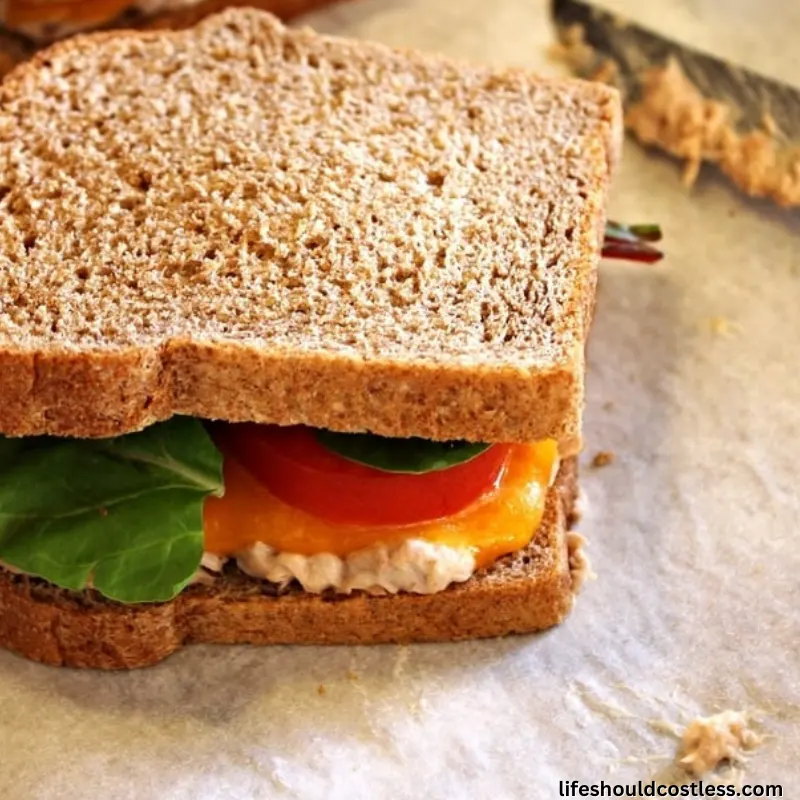 If you would like to subscribe to my email list, go here.
Make sure to follow along via social media, by going here.
If you would like to learn how to really show your support to this site (at no cost to you), go here.
Other Options For Tuna Melt Recipe Sandwich
If you don't particularly like my recipe for this dish, that's totally ok… here are some other great recipes for a tuna melt that you may also want to try:
If you would like to check out my entire main dish section, go here.
Here are direct links to several of my other posts that you may also find helpful:
*This recipe post was originally shared to this website on 03/11/2015, and has since been updated to improve user experience, remain relevant, as well as to become as shareable as possible across the social medias.