This simple, buy yummy, meal is perfect for those crazy busy weeknights that you really only have enough time or energy to throw a quick meal together and call it good. My Chicken Alfredo Pizza on French Bread only takes a few minutes to make, & five to ten minutes to cook, leaving you with the rest of your evening to enjoy.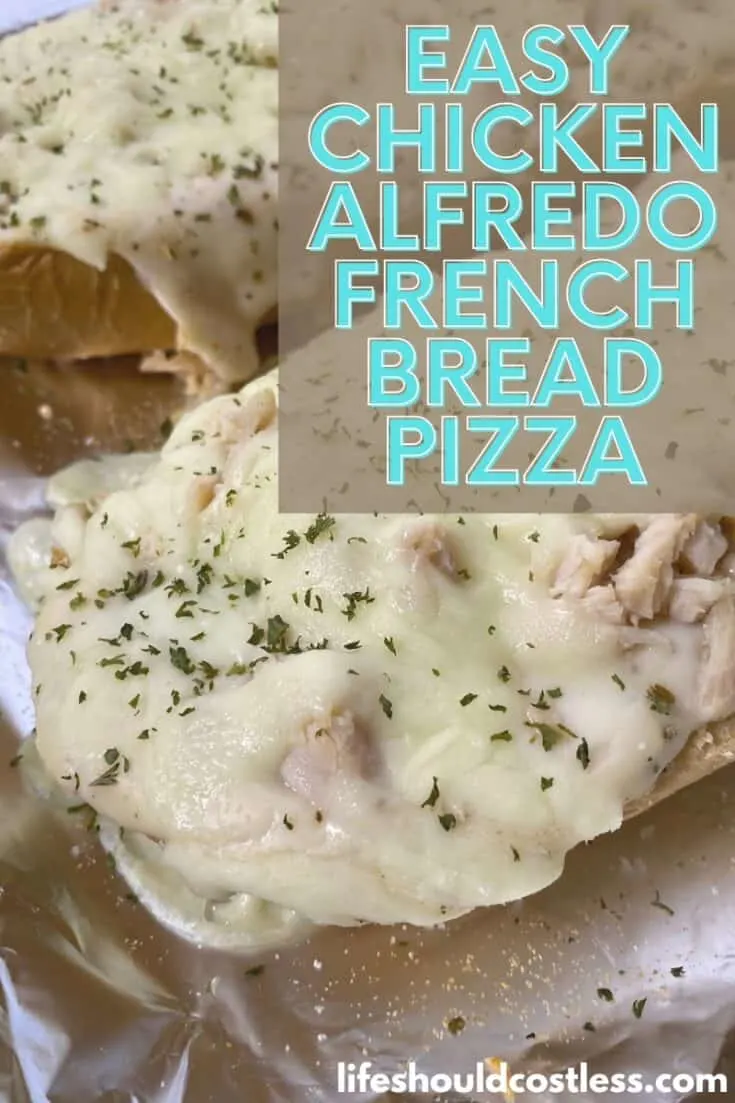 My kids are big fans of this simple recipe that I have been making for the last few months…so I thought that it was time to share this total time-saver recipe with you all too.
The best part is, that this recipe is so easy that it can easily be made by an older kid with little to no supervision, and they feel like they conquered the world making dinner for the family.
If you decide that you want the flavors of Chicken and Alfredo but maybe don't want to make pizza, you should try my Easy Crock Pot Chicken Alfredo recipe instead.
As you view this recipe, please excuse my mediocre (at best) photography skills…I do my best but I am in no way a professional, nor does this single mama of four have the budget to hire one.
I only share my favorite recipes ever, so please don't skip past it because I failed to capture just how yummy it is.
---
---
Table of Contents, Skip Ahead To What You're Looking For
How to make French Bread Pizza With Alfredo Sauce:
Here is a cheesy YouTube video of how to make this yummy pizza. If you would like to share just the video on how to make this simple meal, please make sure to include a "do-follow" link to this blog post on webpages. Thanks!
---
Here are the answers to a couple of questions that people often have when making an Alfredo Sauce Pizza:
Can you use Alfredo Sauce for pizza?
When wondering whether or not you can use a jar of alfredo sauce instead of a red tomato sauce for a topping when making pizza at home…the answer is yes!

You totally can, and it can make for a very yummy, albeit somewhat fattening, sauce on pizza.

Alfredo sauce on pizza typically tastes best when paired with chicken, a white cheese such as mozzarella or an Italian blend, and then you can easily fancy it up further by adding bacon crumbles/bits, spinach, or even artichokes would be yummy.

I personally recommend adding a dusting of Italian seasoning and garlic powder to really give it a more authentic Italian flavorful kick.

It's also a good idea, when using jar sauce Alfredo sauce to heat it up a little bit before adding your cheese. I suggest spreading it on your crust (in this case french bread), and then popping it into the oven for about five minutes before you put your other toppings on.
What is the best bread for French Bread Pizza?
Simply put, the best bread that you can use for a French Bread Pizza is a homemade version (this one is my favorite homemade French Bread recipe)…or you can use a pre-made mix to make your French Bread Fresh in a bread machine, at home.

However, if making your French Bread for your pizza is not an option, most any French Bread from a local grocery store will do.

I prefer the French Bread at Smith's (which is the Kroger of this side of the country), but when I'm in a pinch even the French Bread at Walmart will stay make a super tasty and filling pizza.
What is the best cheese for Alfredo Pizza?
Mozzarella cheese is typically the best inexpensive option when it comes to picking a cheese for topping a pizza, but when you are trying to broaden your search for flavor, you may want to try an Italian Five Cheese blend such as this one from Kraft foods.

Most grocery stores do have their own version, so if you're looking for a generic it should have the word "Italian" in the title.
Recipe Card Found Here
Now, on to the free printable recipe card to make it yourself at home!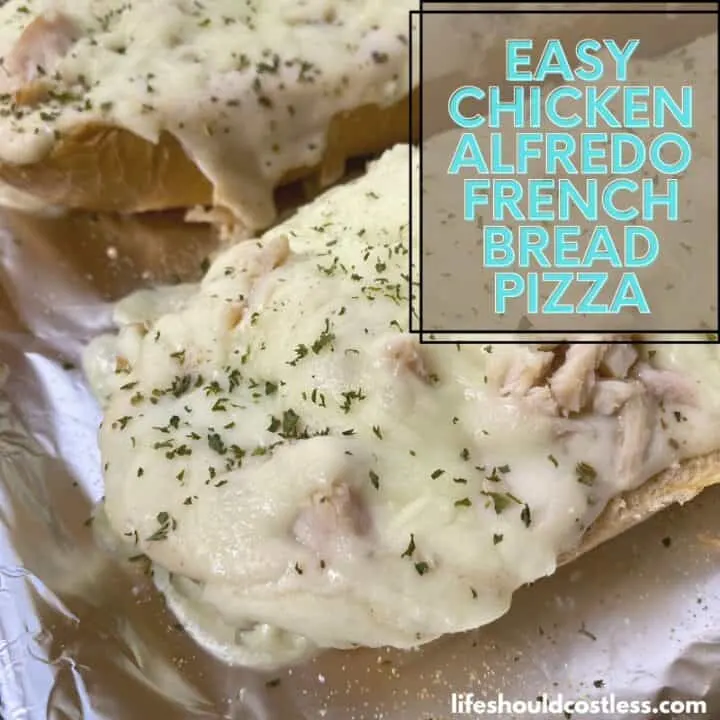 French Bread Chicken Alfredo Pizza Recipe
This is the perfect meal for those crazy busy weeknights that you really only have enough time or energy to throw a quick meal together and call it good. This Chicken Alfredo Pizza on French Bread only takes a few minutes to make, and five to ten minutes to cook, leaving you with the rest of your evening to enjoy.
Ingredients
1 Loaf French Bread (cut in half long ways)
1 (22 oz) Jar Alfredo Sauce
Italian Seasoning & garlic powder (optional)
2-3 Cups Mozzarella Cheese (shredded)
1 (12.5 oz) Can Of Chicken (drained)
Instructions
Preheat Oven to 350 degrees F.
Using a half-sheet pan (or cookie sheet), spray it with cooking spray or line it with foil.
Cut the French Bread in half (long ways), and place both slices, open side up, on the prepared pan.
Next, open the jar of Alfredo Sauce and, using a spoon or spatula, spread half of the sauce onto each piece of French Bread. Spread evenly.
Then, (optional) dust each side of the French Bread with a little bit of Italian Seasoning and Garlic Powder.
Spread, evenly, your desired amount of cheese onto each side of bread.
Now, open your can of Chicken, drain it, and spread half of the can onto each side of the French Bread halves. (you could easily use pre-grilled chicken for this part).
Pop it into the oven for approximately 5-10 minutes (until cheese has melted).
Remove from oven, cut into slices, and enjoy.
Notes
I like to pop this into the oven with just the sauce on the French Bread halves for a few minutes and then proceed with adding the toppings. Otherwise the sauce may not be as warm as you would like it to be.
This recipe pairs well with a green salad as your vegetable.
Nutrition Information
Yield

8
Serving Size

1
Amount Per Serving
Calories

346
Total Fat

15g
Saturated Fat

8g
Trans Fat

0g
Unsaturated Fat

6g
Cholesterol

52mg
Sodium

701mg
Carbohydrates

33g
Fiber

2g
Sugar

3g
Protein

19g
These caloric amounts are automatically estimated by a plugin on my site and should be treated as an estimate only.
Like I said, this Chicken Alfredo Pizza recipe on French Bread with jar sauce is so very simple…you could easily make it even yummier by adding bacon crumbles, or spinach, or even artichoke hearts.
However, this single momma likes to keep it as budget-friendly and easy as possible, which is why I showed you how I make it as-is. It super won't hurt my feelings if you just use my recipe as a "base" and top it however your little heart, and budget, desires!
---
Thanks so much for stopping by my blog and supporting my endeavors to make people's lives a little easier/better/more affordable.
If you liked this recipe post, or found it helpful in any way, please make sure to share it with your family, friends, and co-workers via social media.
Or you could even send them the direct link via email. Whichever way you choose to spread the love, I super appreciate it! ~Sarah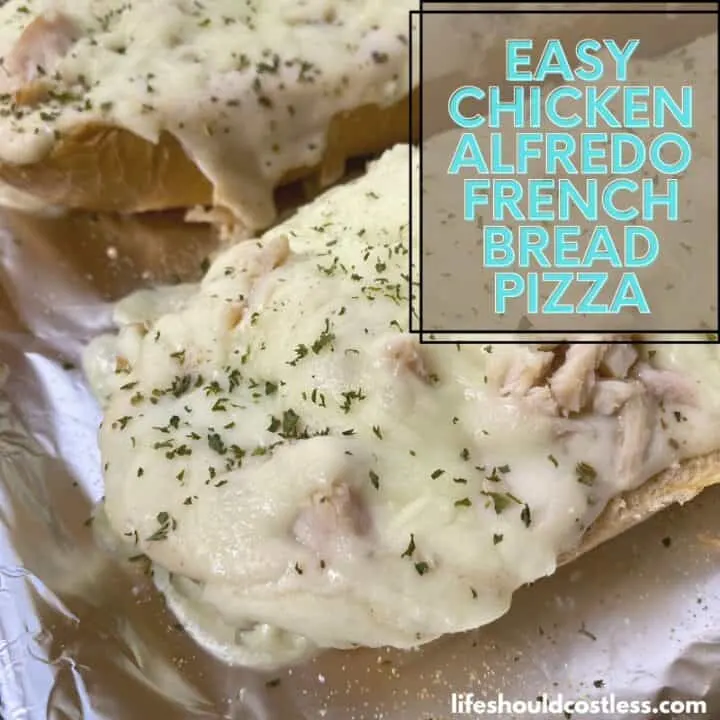 How to follow & support this site
---
Check out my other related posts
Here are links to several of my other recipes that you're also going to like:
Other main dish recipes
*Please note that this recipe article was originally published to this website on 11/11/2022, and will continually be updated to remain relevant, improve user experience, as well as to increase share-ability across the social medias.