If you like both red sauce enchilada's and easy meals with minimal prep, this meal is just the ticket for dinner. It only takes about twenty minutes to throw it together, literally most of the ingredients you just dump and mix…the kind of recipe that I love on a busy day. Plus, it's tasty enough that we never have leftovers.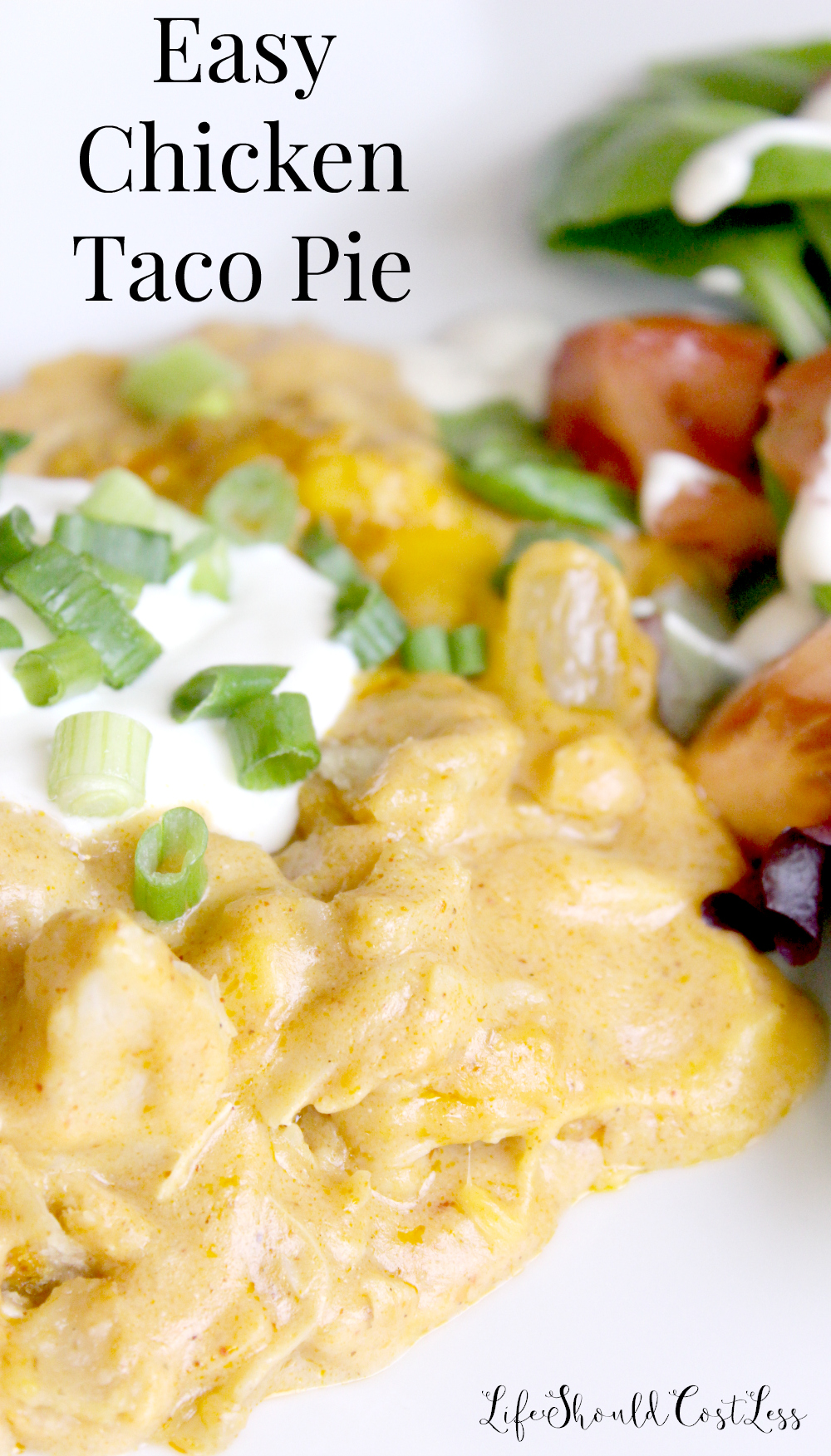 This is a recipe that I got from my mom, she has made several versions of this over the years, but this one is my favorite version so far.
Let's just dive right in and I'll show you pics of the process and give a little direction.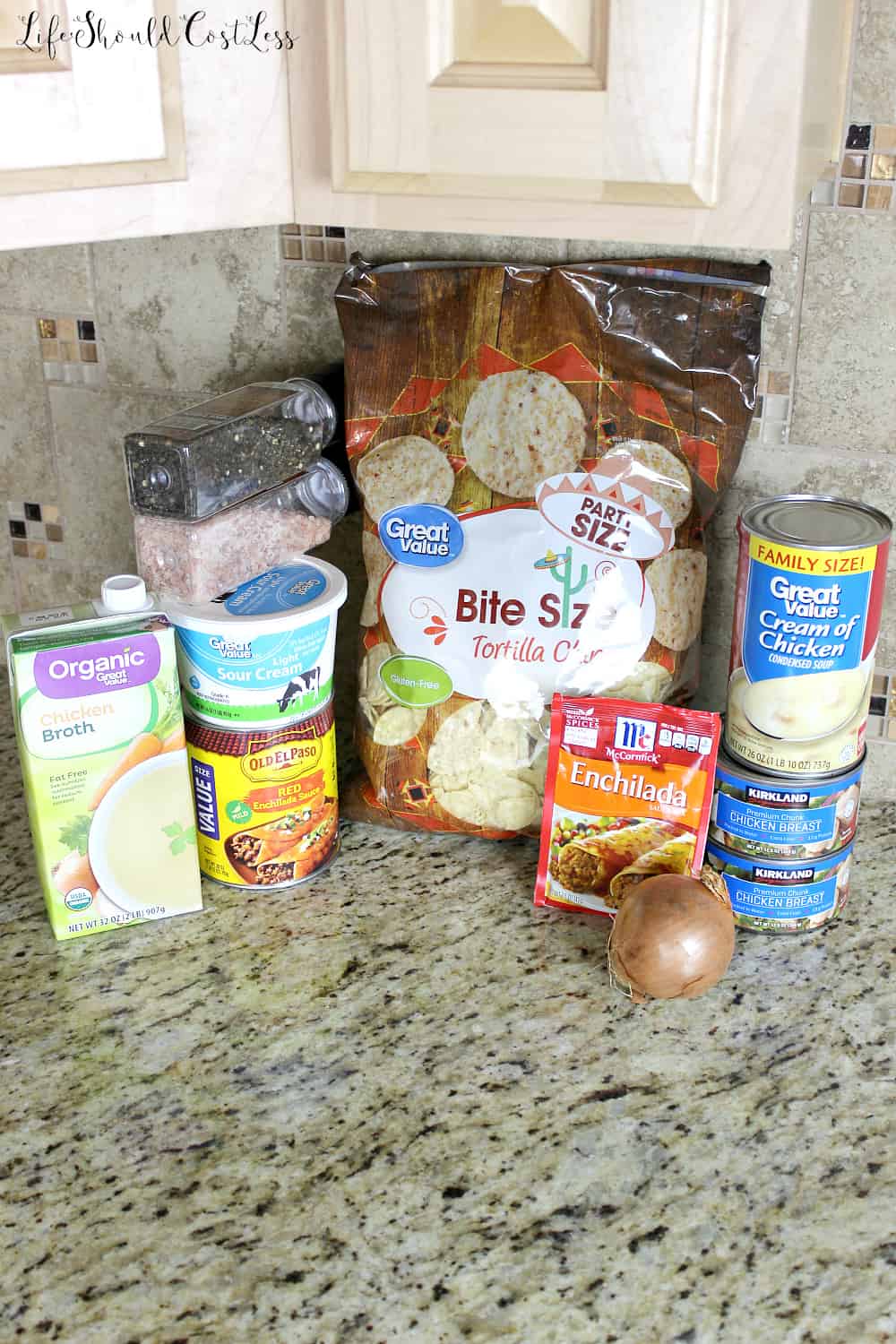 This is the ingredients, minus the shredded cheese that goes on top…I totally forgot to put it in the picture.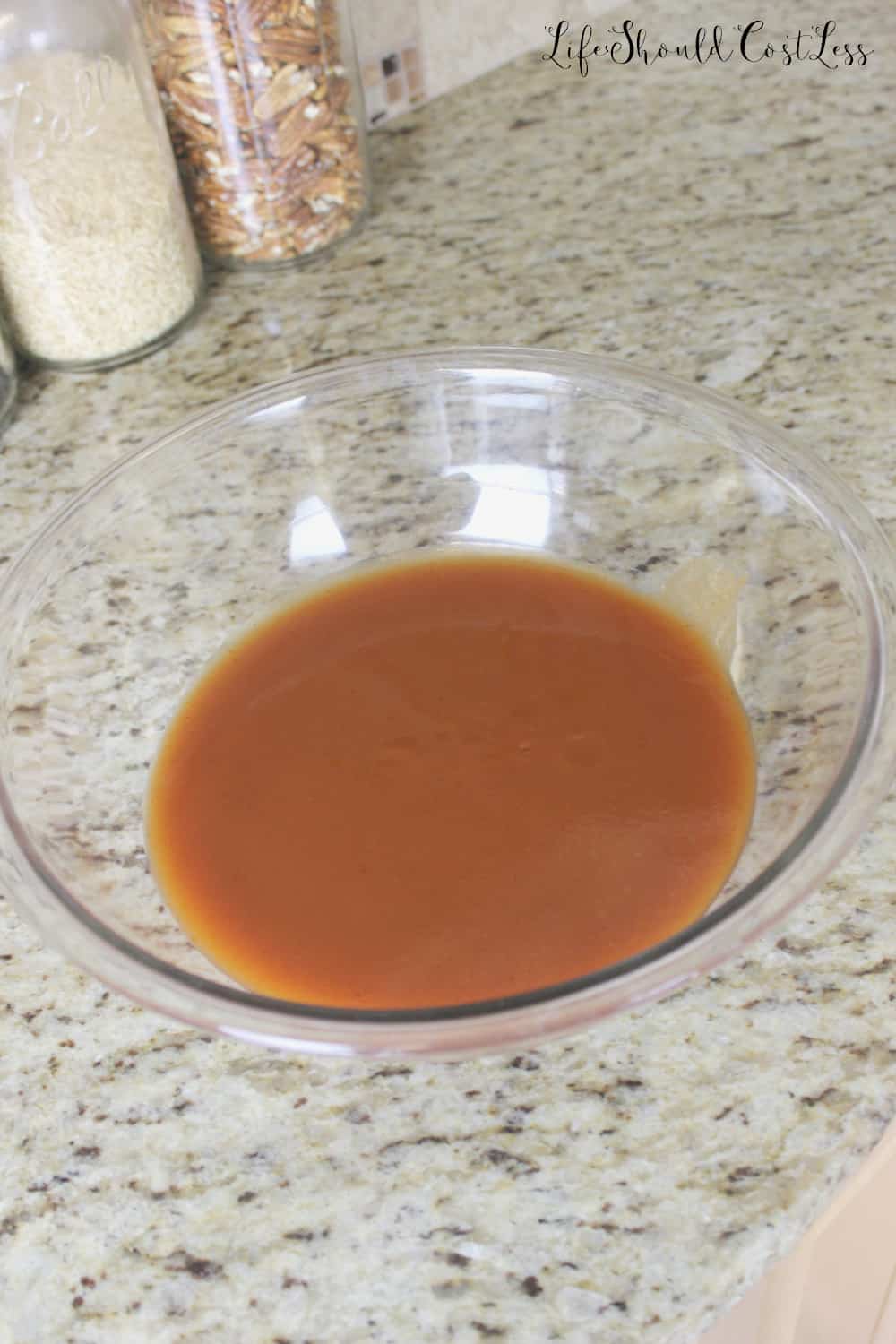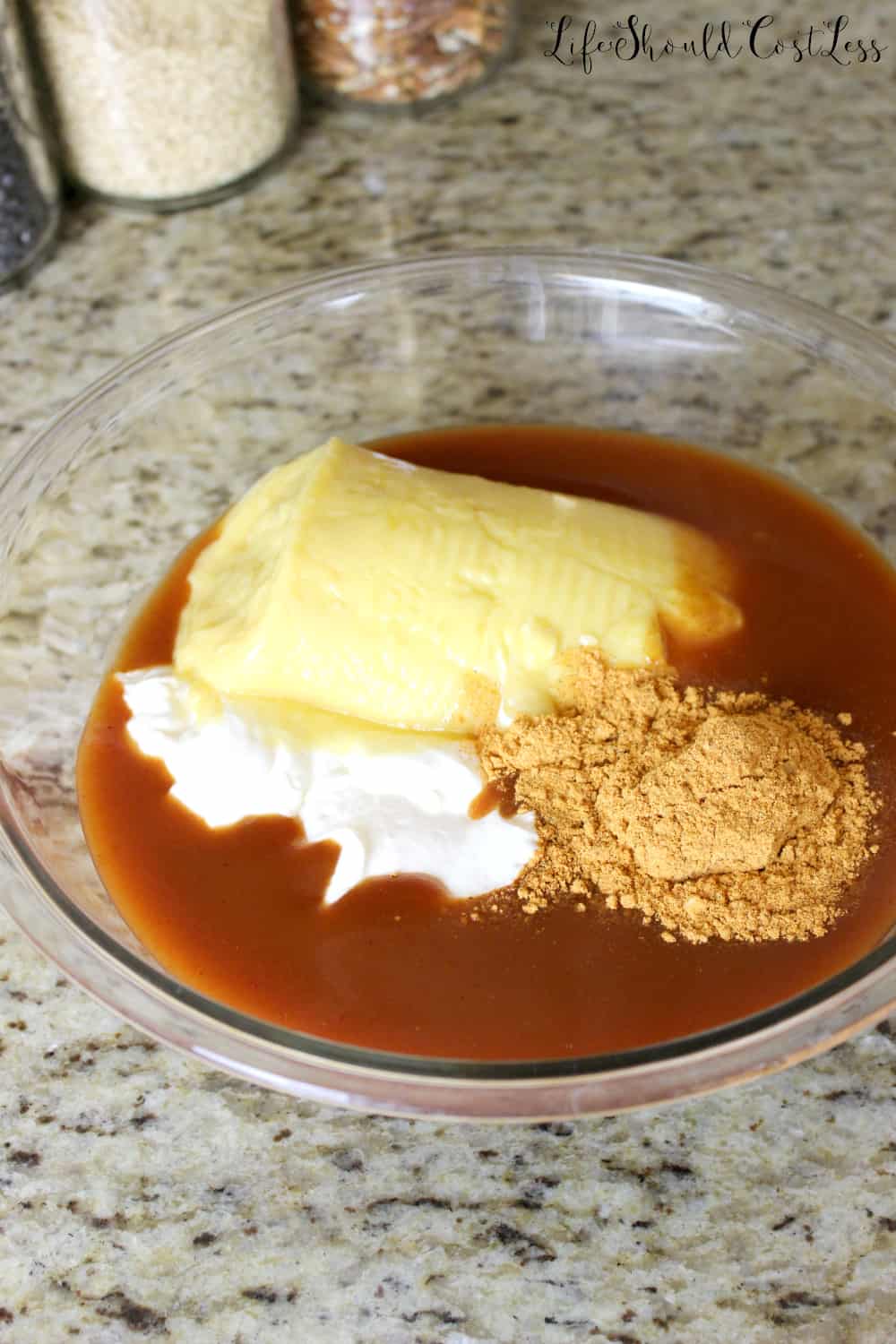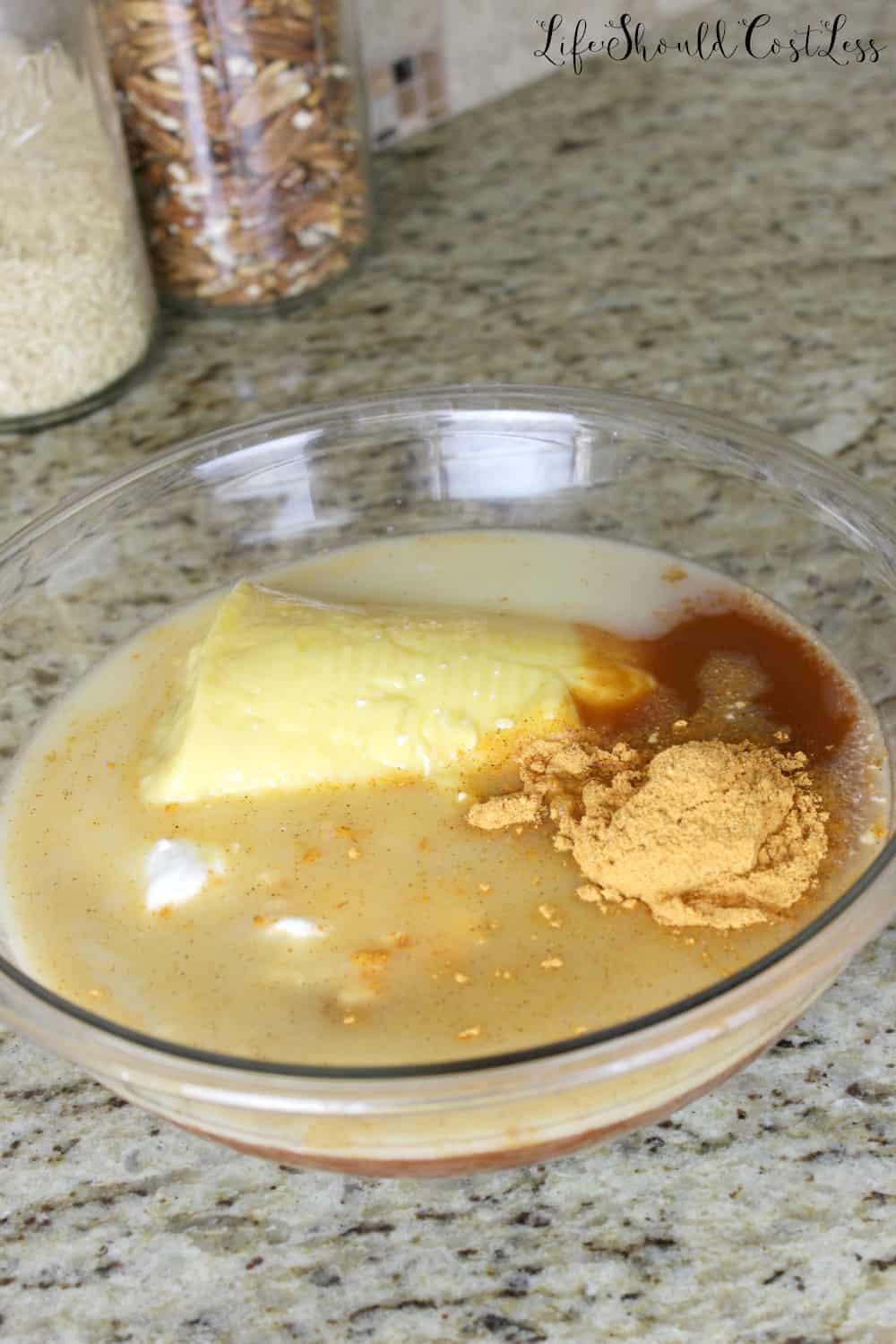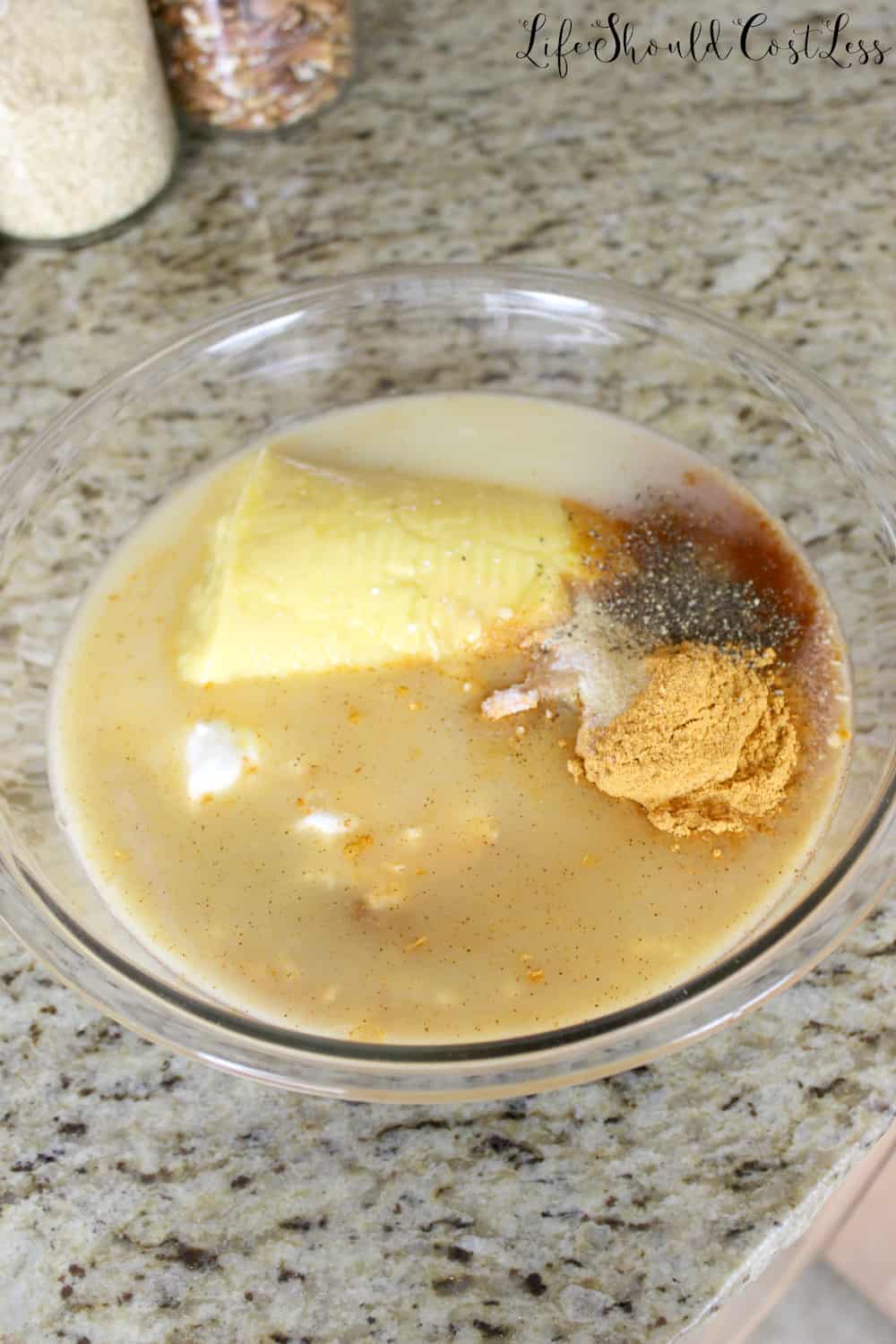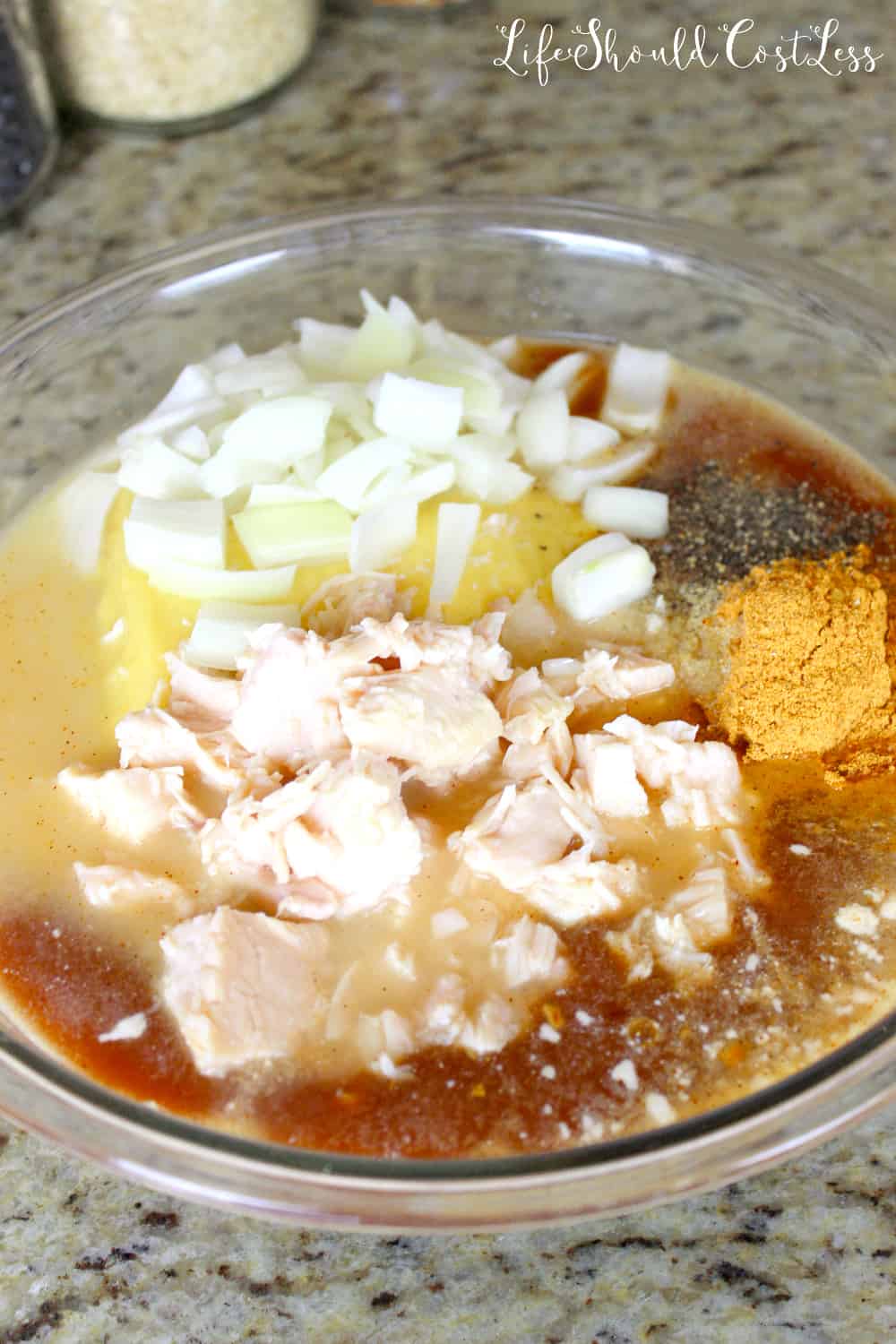 Like I said before, you literally just dump most of the ingredients in…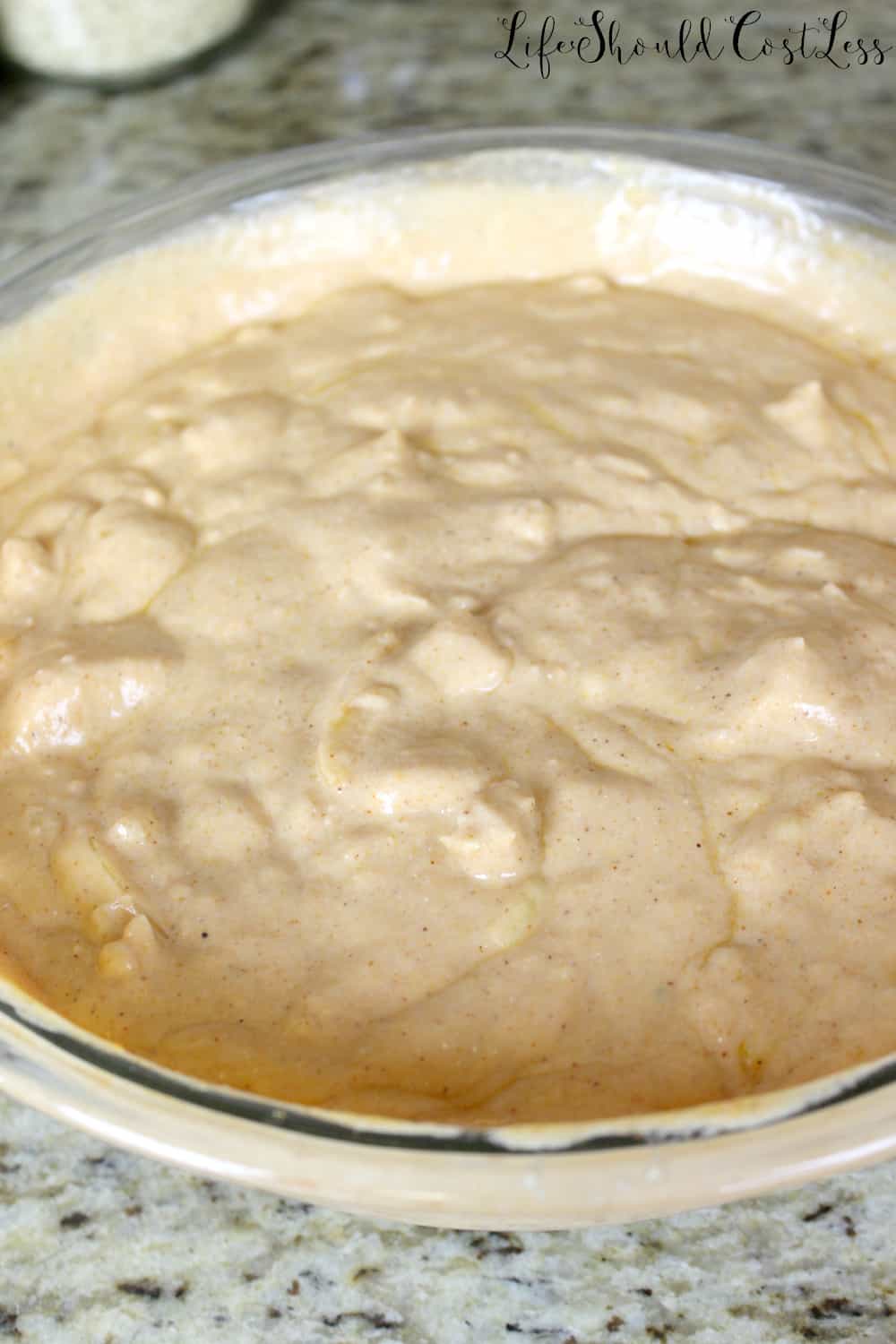 And mix well…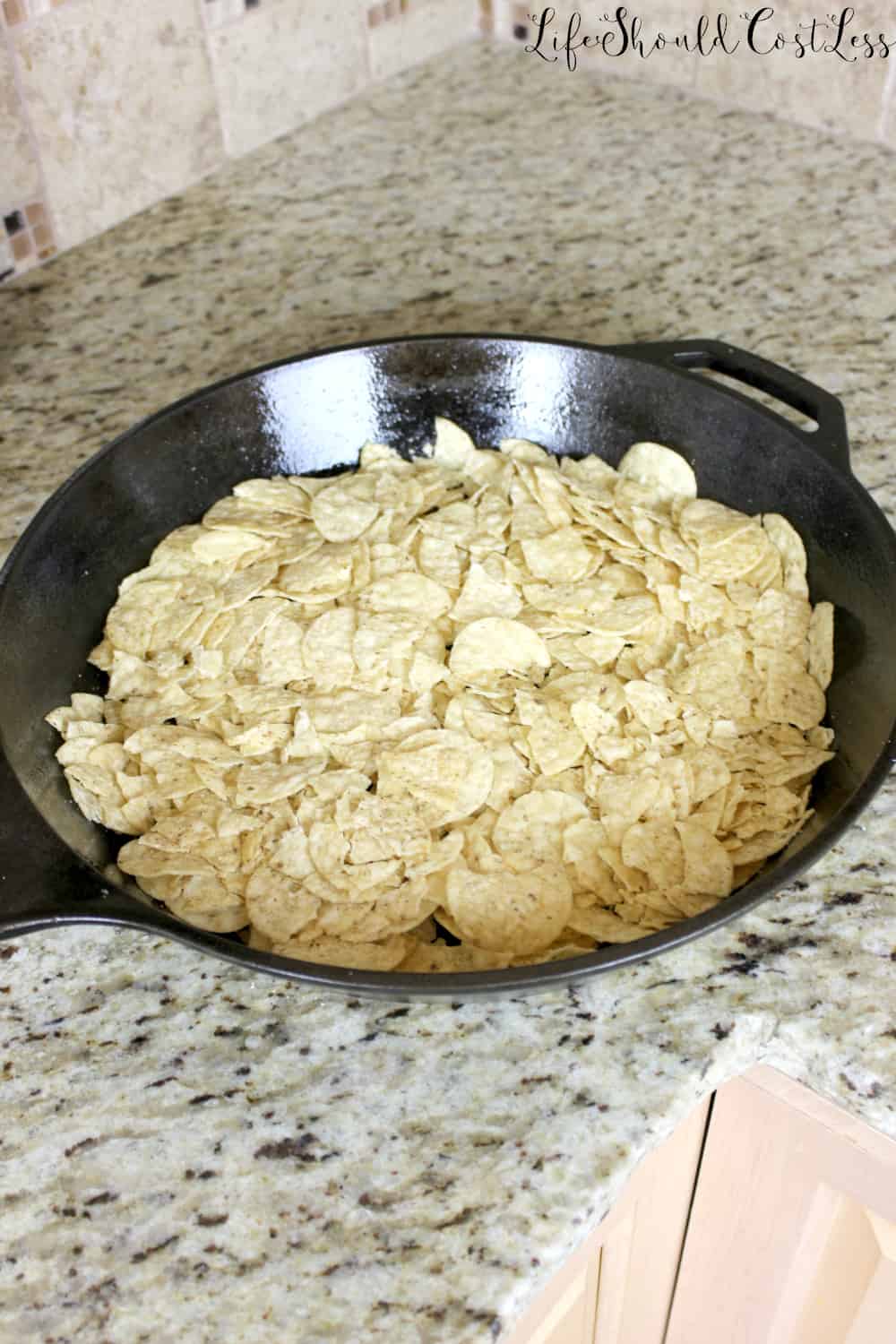 I don't have an oversized casserole dish like my mom's, so I use my 15″ Cast Iron skillet. This is the skillet greased and with slightly broken chips in the bottom.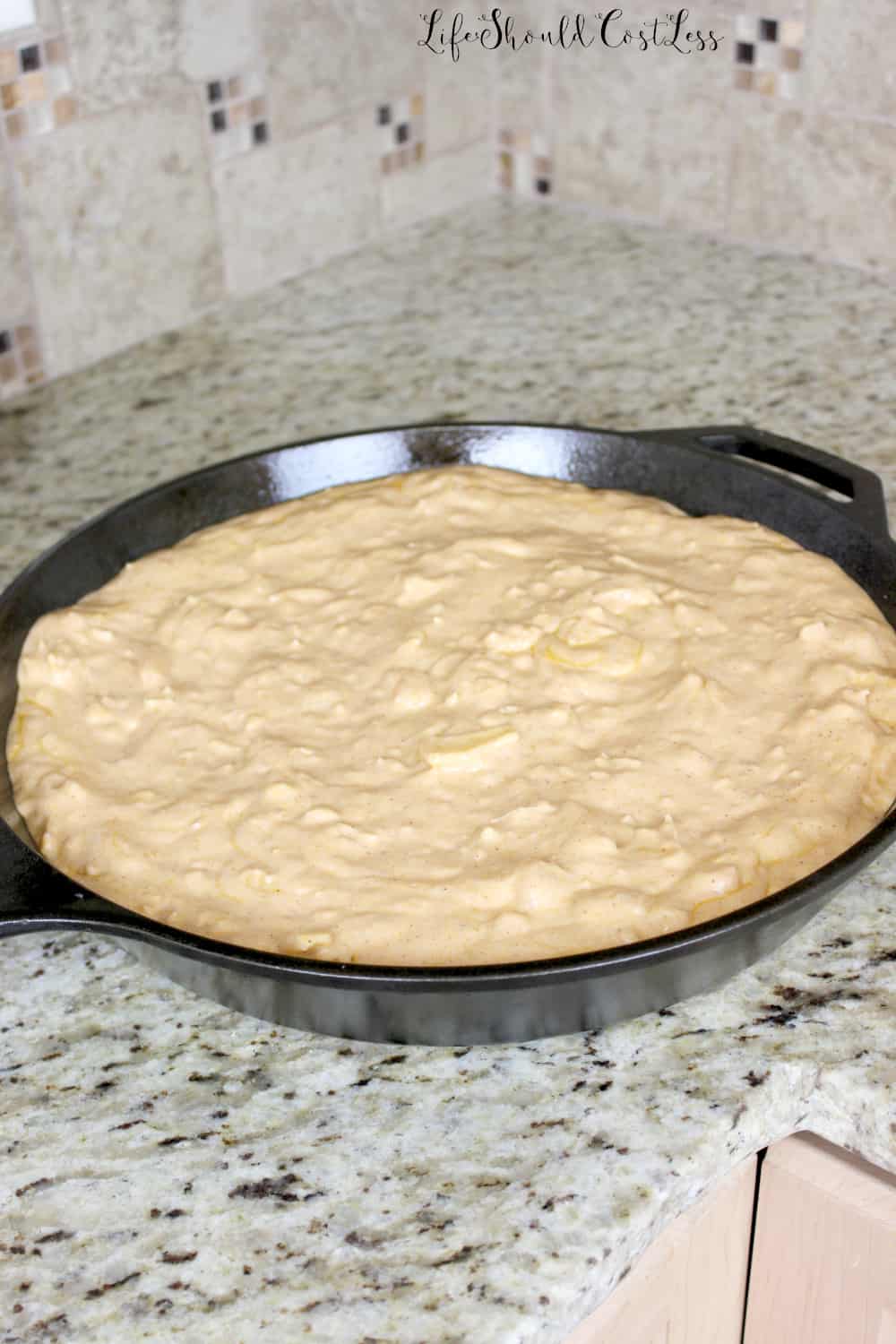 All you do is pour the mixture over the chips and spread evenly.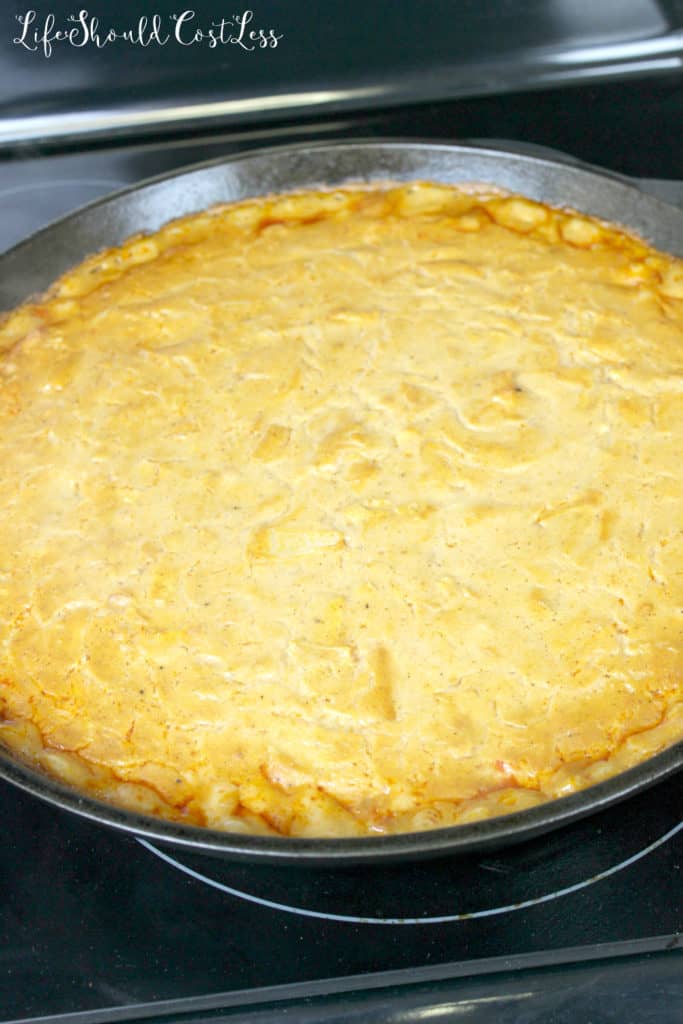 This is how it looks once it has been in the oven, uncovered, for an hour.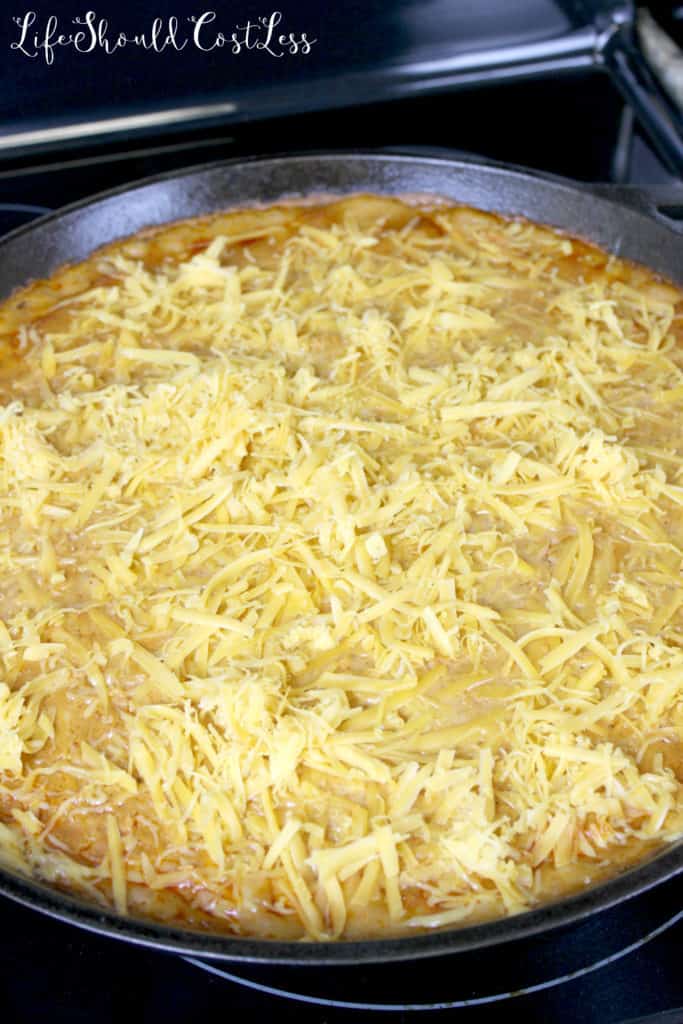 Then with added cheddar cheese.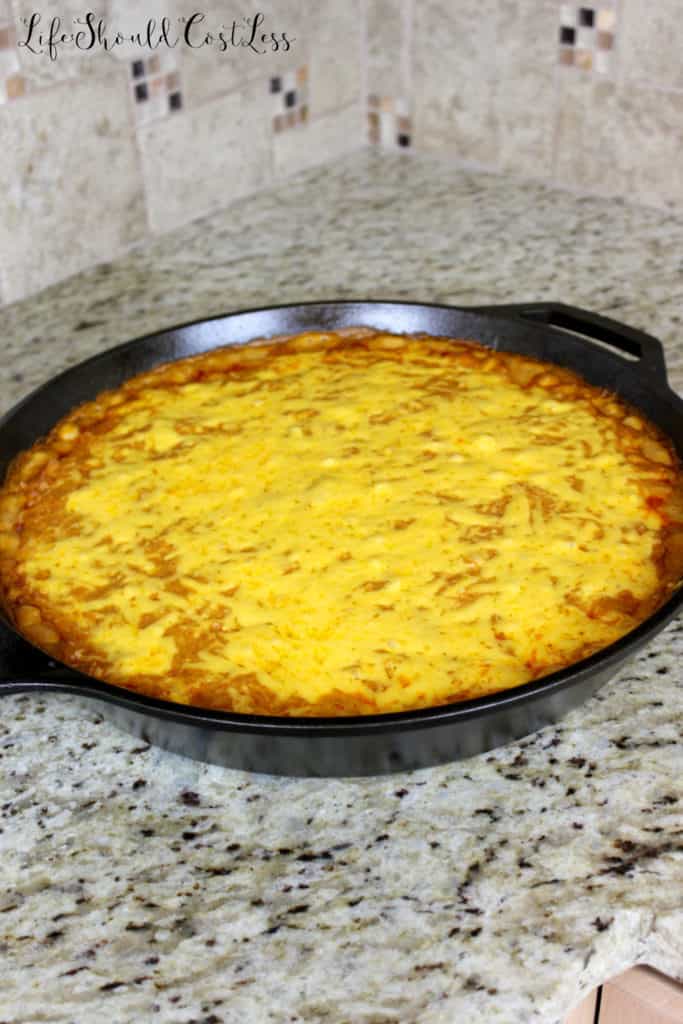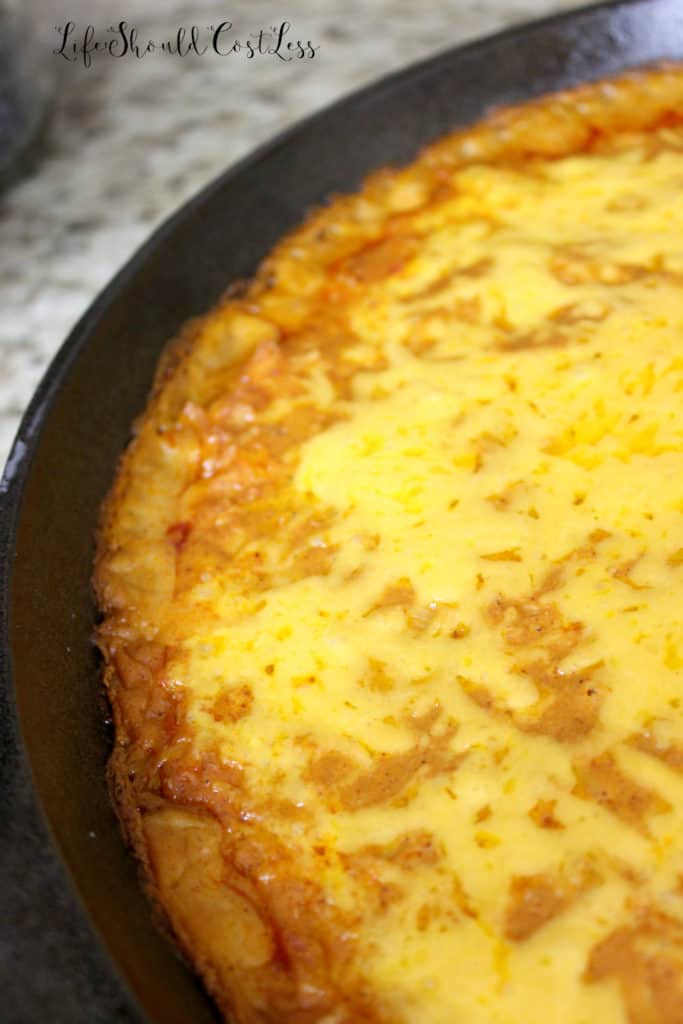 Now what it looks like once the cheese has been melted.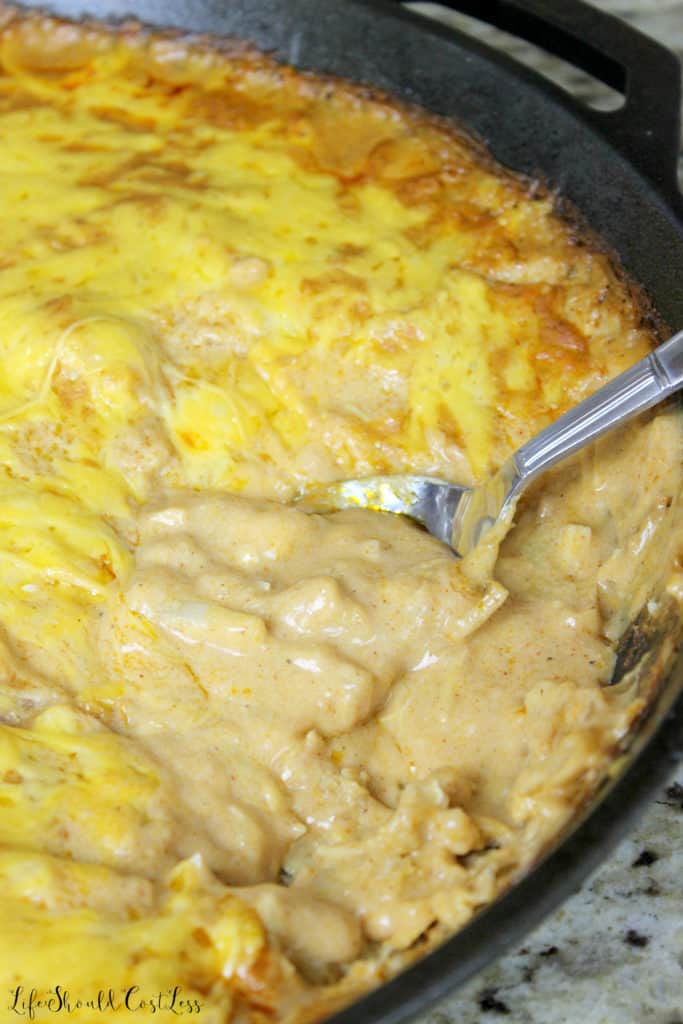 I like to let it cool for ten minutes or so and then dish out… it's delicious served with a dollop of sour cream and a sprinkle of chives. I pair it with a nice green salad.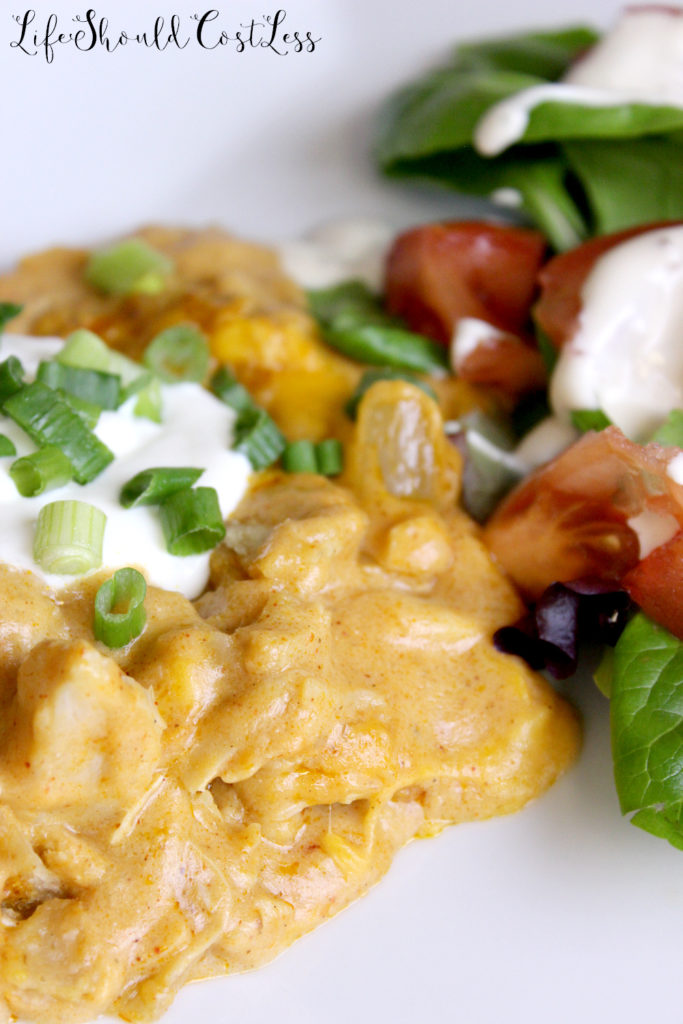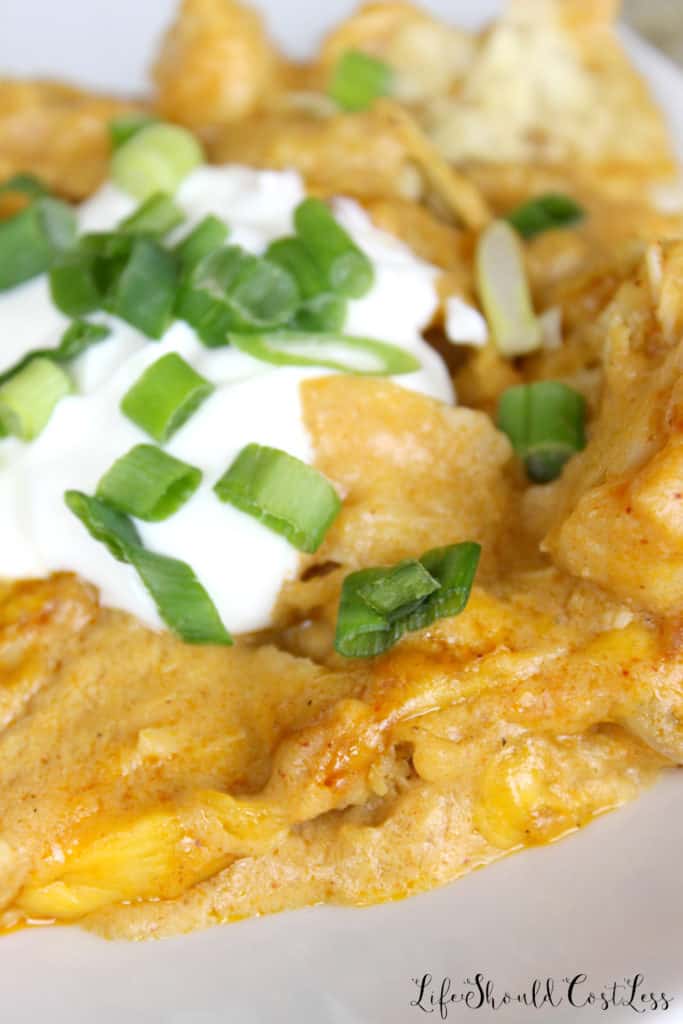 Chicken Taco Pie
Author:
LifeShouldCostLess.com / Teresa
Ingredients
1 (28 oz) Can Red Enchilada Sauce
1 (1.5 oz) Packet Enchilada Sauce Mix (dry)
1 (16 oz) Tub Sour Cream
1 (26 oz) Can Cream Of Chicken Soup
1 C Chicken Broth
1 T Dried Minced Garlic
½ tsp Salt
1 tsp Pepper
2 (12.5 oz) Cans Chicken (drained)
1 Small Onion (chopped)
1 Bag Tortilla Chips (not family or party size)
2 C Cheddar Cheese (shredded)
Instructions
Preheat oven to 375 degrees.
In a large bowl combine all ingredients except the chips and shredded cheese. Mix well and set aside.
In an XL greased casserole dish, or 15" Cast Iron Skillet, add the entire bag of chips and crush them slightly, evenly pour chicken mixture over the chips and bake, uncovered, for about 60 minutes depending on the oven. Will know it's done when it bubbles in the center. Remove from oven.
Cover with grated cheese, and return to oven until cheese is melted.
Let cool ten minutes and serve.
Notes
This recipe is meant to feed a large family of 7+ but it could easily be halved by buying the smaller cans of cream of chicken and enchilada sauce and then just halving the rest of the ingredients. I would make it in a 9x13" Casserole dish if making a half batch.

If you would like to drain the cans of chicken and use the liquid that you drained, that can be used towards the 1 C chicken broth that is called for in the recipe.
Side-note on the recipe: If I have time, I like to make my Enchilada Sauce and Cream of Chicken from scratch to make this meal a little healthier. I use this recipe for the enchilada sauce, and this one for the Cream of Chicken Soup.
Anyway, it's a delicious meal for sure and makes enough to feed a crowd… which is what my house is lately, totally crowded…
Thanks so much for stopping by my site! Please make sure to share this recipe via social media if you like it. You may also want to check out my twenty minute meals section for some other delicious and easy dinner ideas. ~Sarah