The first time I heard of this meal, I'll be honest, I thought is sounded super gross. So I'm glad I was at a friends house when I tried it, otherwise I don't think I would have even sampled the dish. The flavors go together much better than I had anticipated! I was actually surprised at how much I liked it and then found myself craving it just a couple of weeks later. Needless to say, it's been on our meal rotation ever since. It's SO YUMMY! You've gotta try it at least once. Even if, like me, you are skeptical of the sound of it.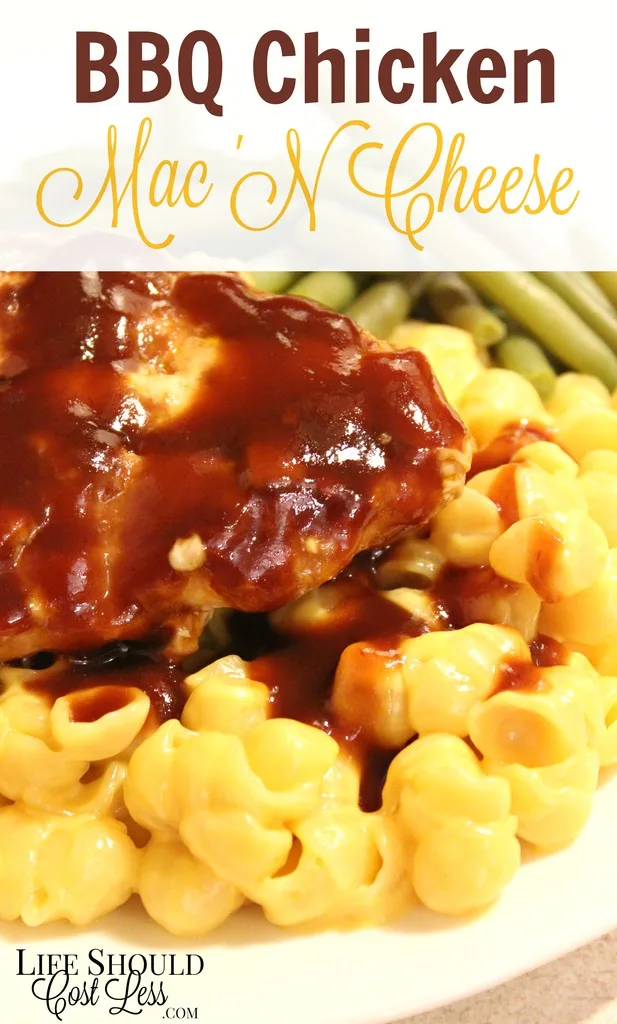 Plus, I always make extra BBQ Chicken so that we can have BBQ Chicken sandwiches the next day so this simple meal actually becomes two meals. Score!
*Hey there, thanks for stopping by my website. This article is super old, so it has been archived as I no longer update it…so proceed if you wish…but it is definitely not my best work. Please stop by my home page, here, and see some of my better content. Thanks! ~Sarah*
Yes, I know those are not Macaroni noodles in the picture… I was out of them and was not about to drive a half hour to Costco to get the kind we use just so that my pictures turned out just right…sorry, not sorry…I'm a busy mom so I'm making due with what I had. It tastes exactly the same, so if shells are all you have, you can use them too.
*Don't forget to read all the way to the bottom to see some of my other easy slow cooker recipes.*
Picture time!: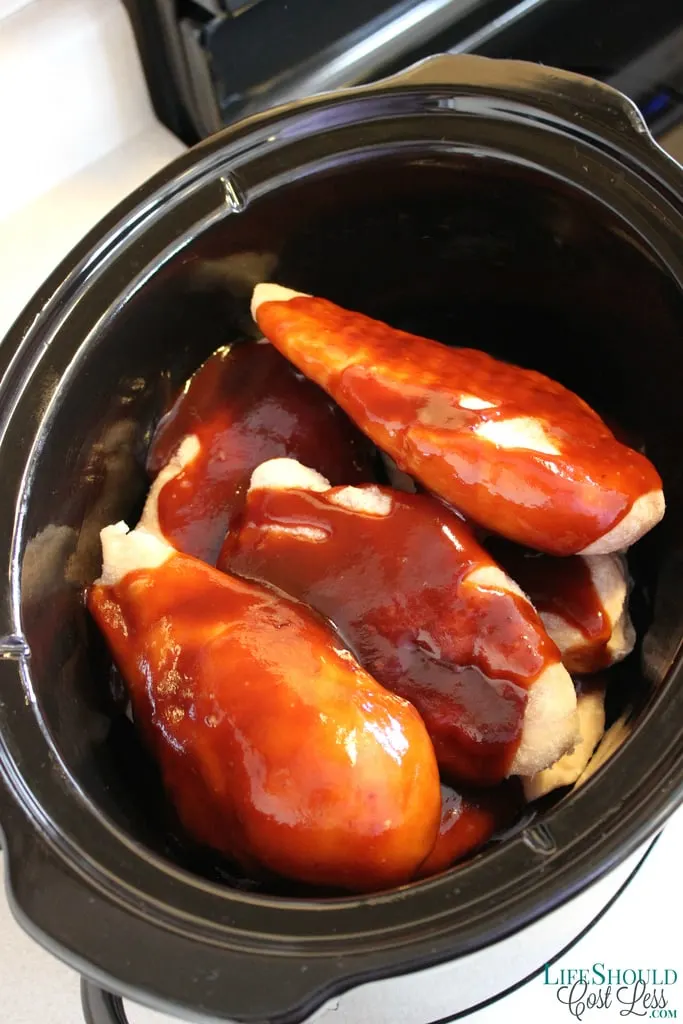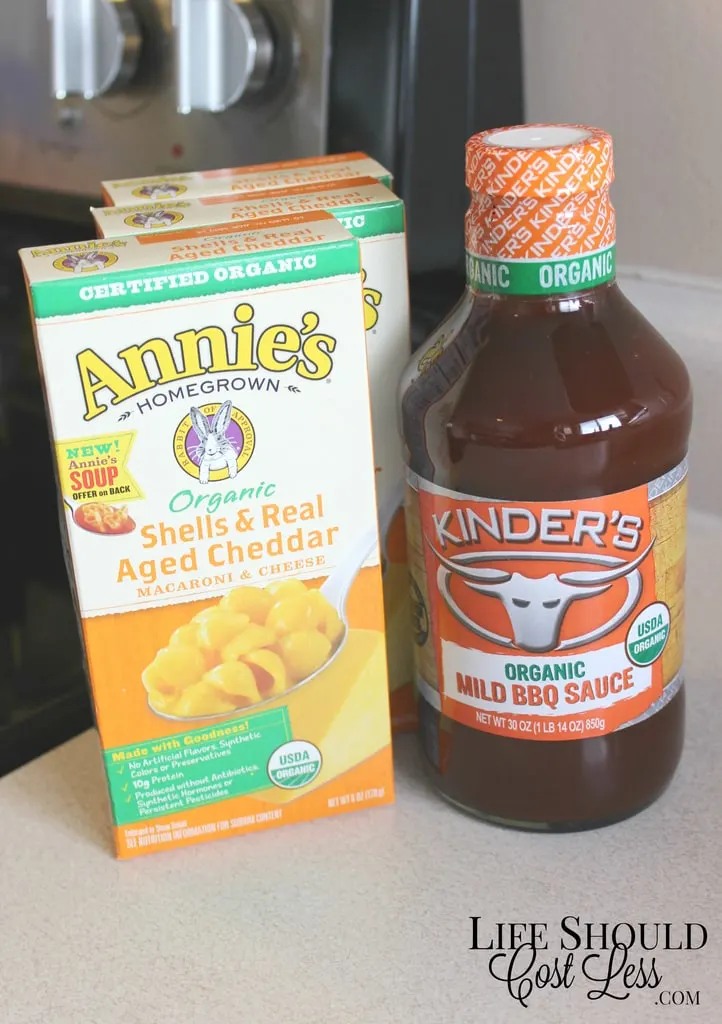 These are the brands that I am currently using, you can find both at Costco or the Pasta
here
and the BBQ Sauce
here.
This Kinder's BBQ sauce is the first organic kind I've tried that actually tastes good, so you need to try it if you've had the same problem not finding a good organic option.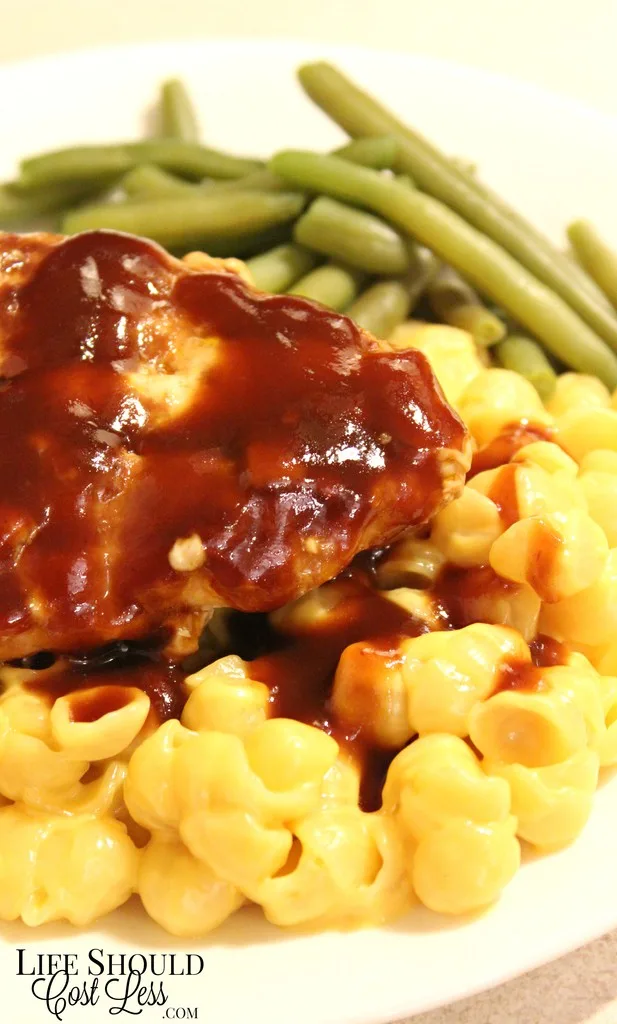 BBQ Chicken Mac 'N Cheese
Author:
LifeShouldCostLess.com
Ingredients
Two T Extra Virgin Olive Oil
6-10 Large Chicken Breasts
Half a Large Bottle of BBQ Sauce (15 oz or so depending on your preference)
3 Boxes of Prepared Mac and Cheese
Instructions
Grease the crock with the olive oil.
Add the chicken and BBQ sauce.
Cover and cook on High for 4 to 5 hours or on low 7 to 8 hours.
The last hour it's cooking I prepare 3 boxes of Mac 'N Cheese and get some green beans (or other vegetable) on to boil or steam.
When the Chicken is done it's ready to serve! I think it tastes best to put your pasta on the plate first. Your chicken on top of it, and then to drizzle more BBQ sauce on top!
Notes
I like to make enough BBQ Chicken so that I can make BBQ Chicken Sandwiches the next day for lunch. I just take the crock from the fridge and put it on High for about an hour before we're ready to eat. Remove the chicken, shred it, mix it back in and you're ready for the next meal.

*If I used less chicken breasts sometimes there is a little too much sauce for that much chicken and so I leave the CrockPot on High and take the lid off for a while (stirring occasionally) until some of the liquid has evaporated making it my desired consistency.*
Sorry to only have put up two or three posts this month, for those of you that aren't following me on Facebook you may be wondering what's up and I am currently slowing down while we are in the process of moving and will pick it back up in full force once we are settled in in about a month. As usual, if you liked this post please send the link to your friends, share it on Facebook or Pinterest or all of the above. Thanks for reading. ~Sarah
You may also like (the pictures are links):