I can't remember how I originally got grease all over one of my most favorite t-shirts, but I haven't been able to wear it since then and somehow I just kept forgetting that I needed to treat the stains so it ended up going through the wash (including the dryer) around four or five times. Oops!
Well, when I finally remembered that I needed to treat it, I also remembered that I hadn't shown you my handy and super EASY laundry trick yet. So today just happens to be your lucky day, because I finally remembered to do it!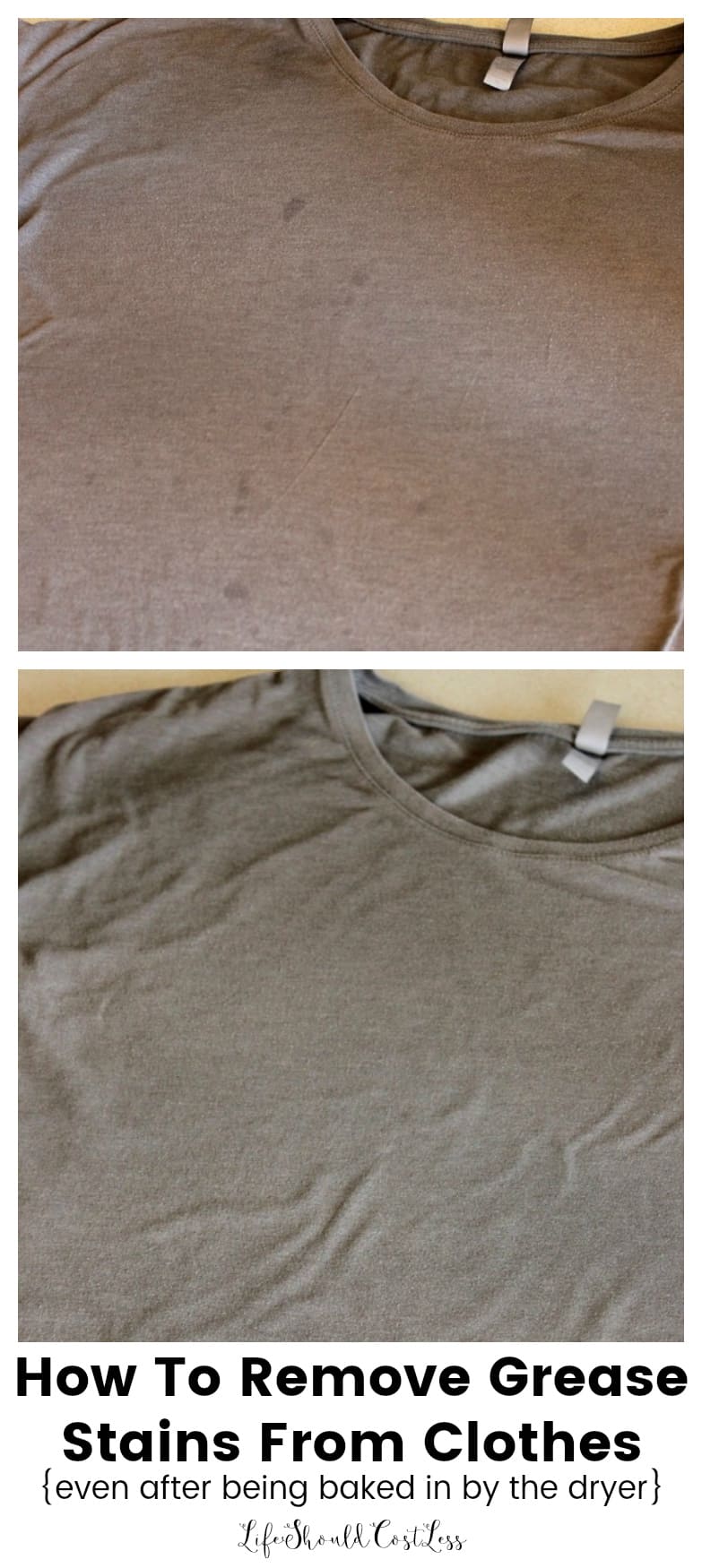 Not only had this shirt been through the wash a few times(oops), but when I went to take the before pics I couldn't get a decent shot of how bad the grease stains were with all the wrinkles…I ended up having to iron it…and even doing that this method STILL got all the stains out.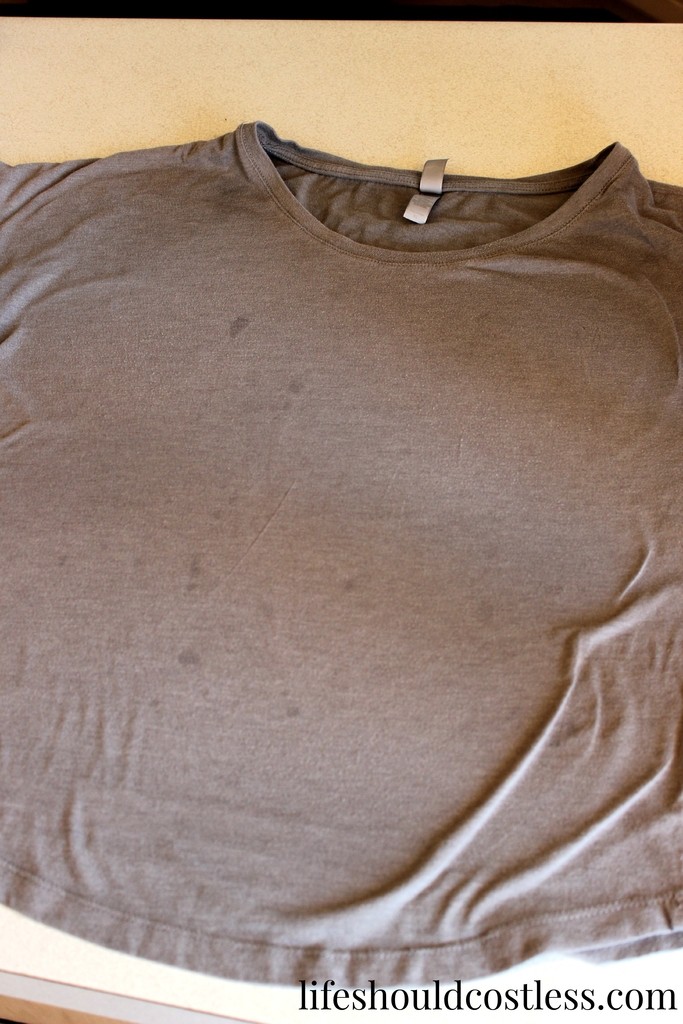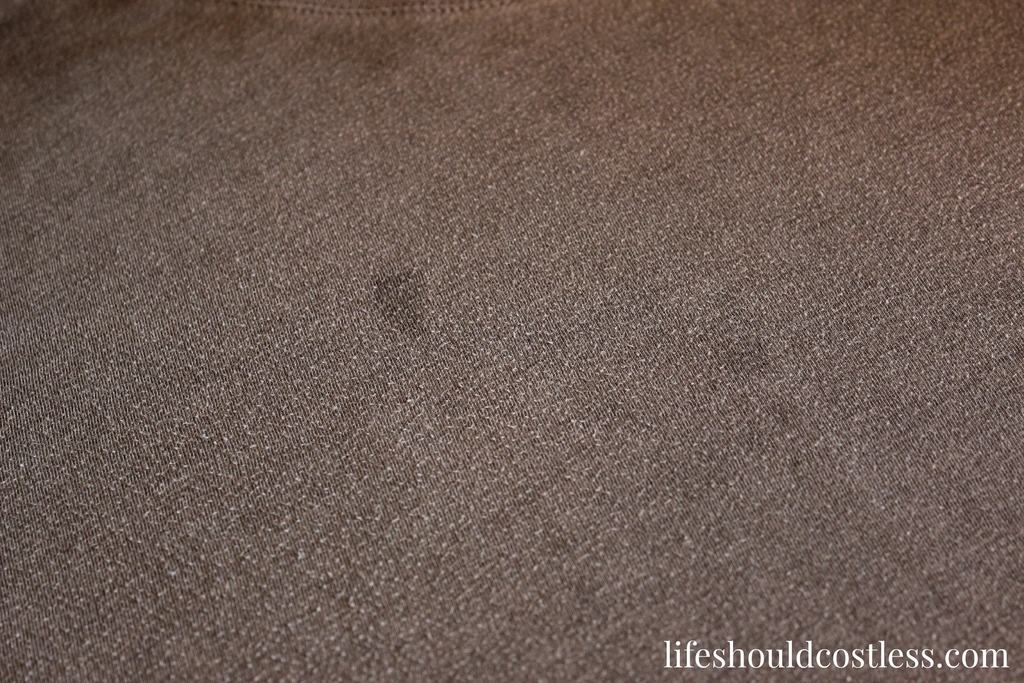 First thing you do is identify all of the stains on your fabric. Then you take a little Dr Bronner's Sal Suds, which can be found on Amazon here, (can sometimes also find it in health food stores) and cover each of the grease stains.
If you're not familiar with Dr Bronner's Sal Suds, I also have shared why it's the best multi-purpose cleaning product that I have ever tried, and you can find that post here.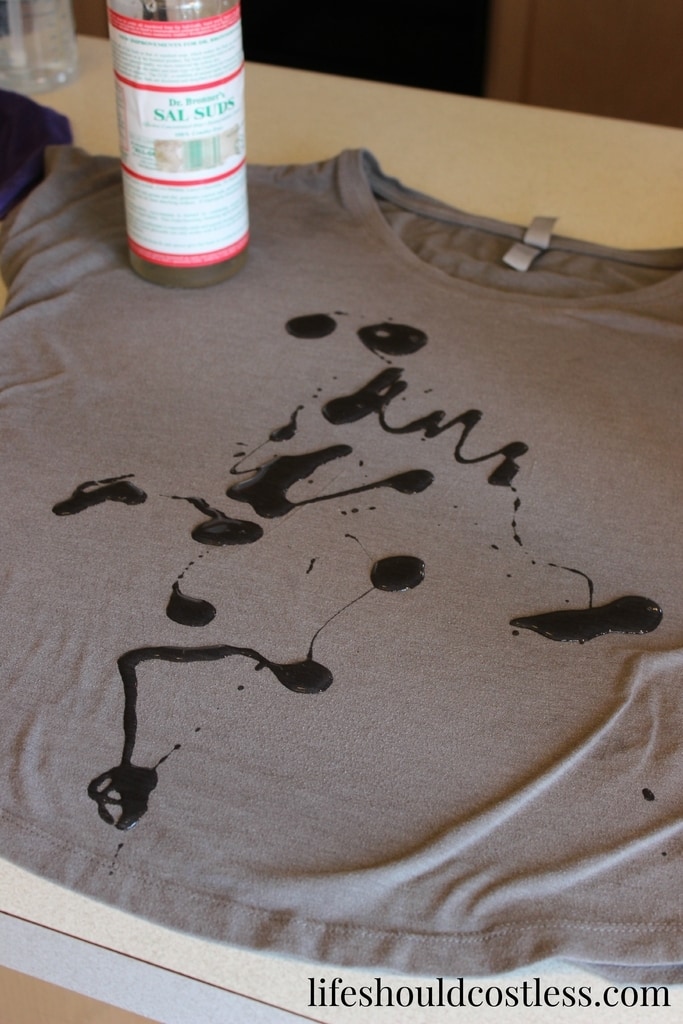 After you identify the stains, apply and rub in your Sal Suds and make sure that it has completely saturated to the other side of the fabric. Sometimes this also means adding a little Sal Suds inside of the fabric. Also, if the fabric has a bit more texture to it, you can gently brush it in with a tooth brush.
Before we get too far into the process, I wanted to share with you all a few links to some of my other awesome tips:
Now back to the process of How To Remove Grease Stains From Clothes, Even When It's Been Baked In By The Dryer.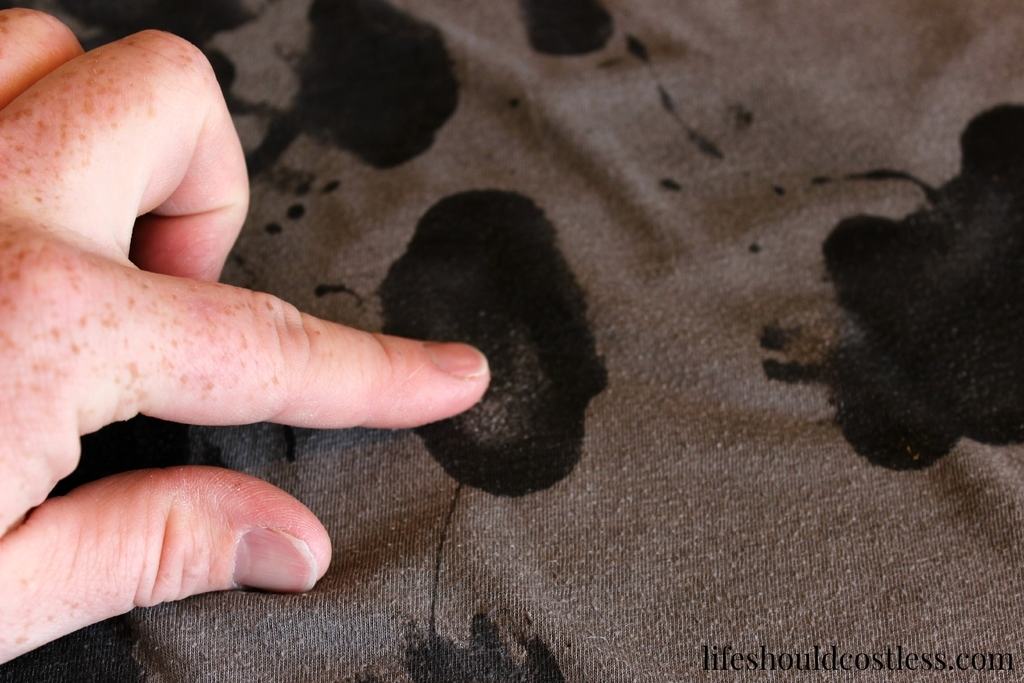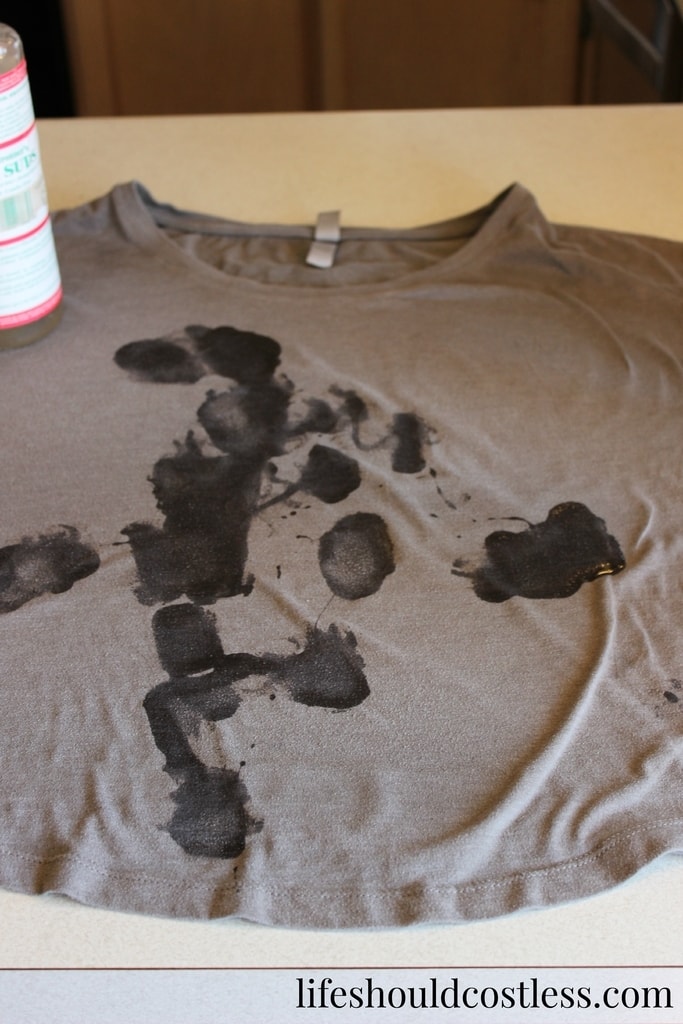 At this point, it's ready to just soak, soak, soak, but I take an extra step and use my Sal Suds spray bottle (I did a post about My Favorite Multipurpose Cleaner, and you can find that here) to saturate the rest of the shirt in case I missed a spot.
My Sal Suds spray bottle is just a standard spray bottle, filled almost to the top with water and then you add about a teaspoon, or a little less, of Sal Suds.
*Make sure if you're using Sal Suds to add the product in at the end or else it will suds up to a point that you can't fill the bottle without it overflowing,*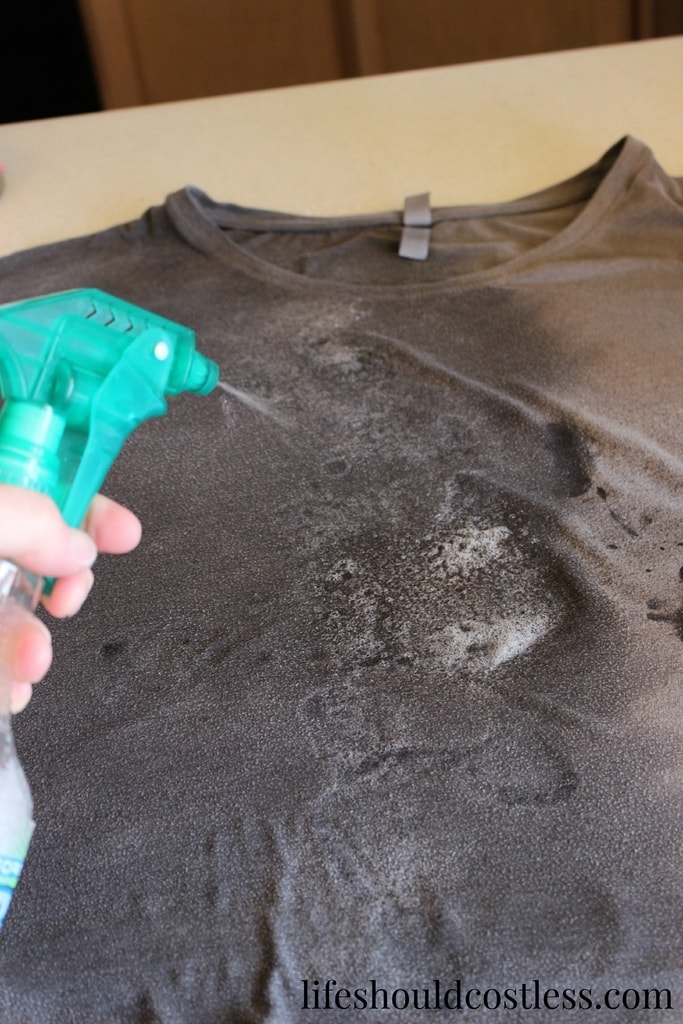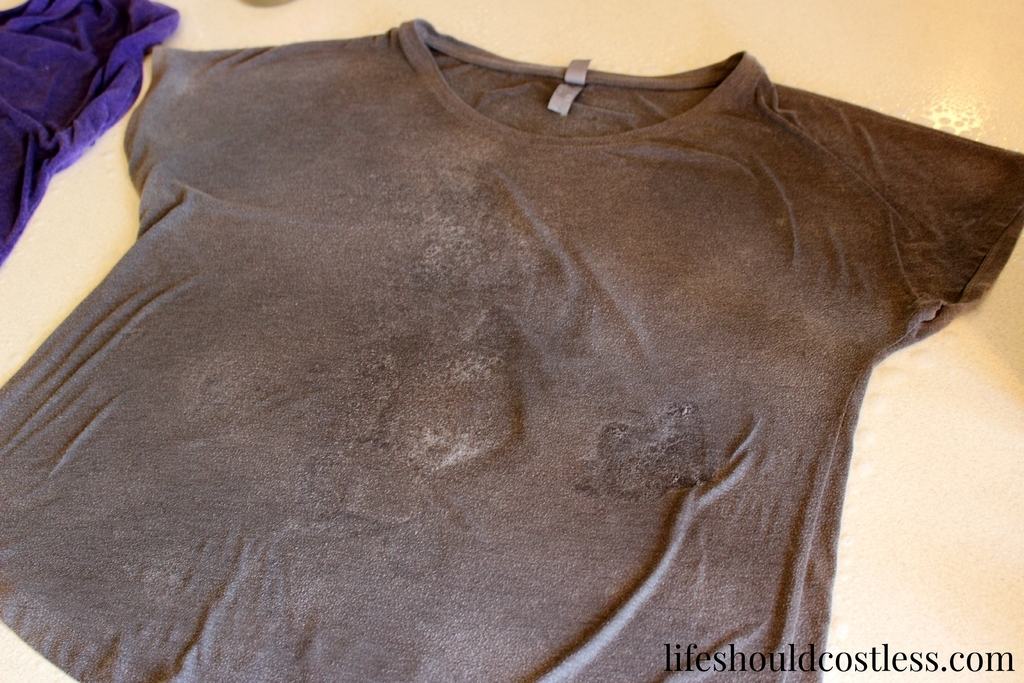 I like to roll up the clothes that I pre-treat into a roll and then just make sure to put it somewhere so it won't dry out while it is soaking. For this example, I used a Gallon Ziploc Bag so it would be easy for you all to see. Though putting it at the bottom of a pile of laundry or in a diaper pail would work too. Whichever is easiest for you.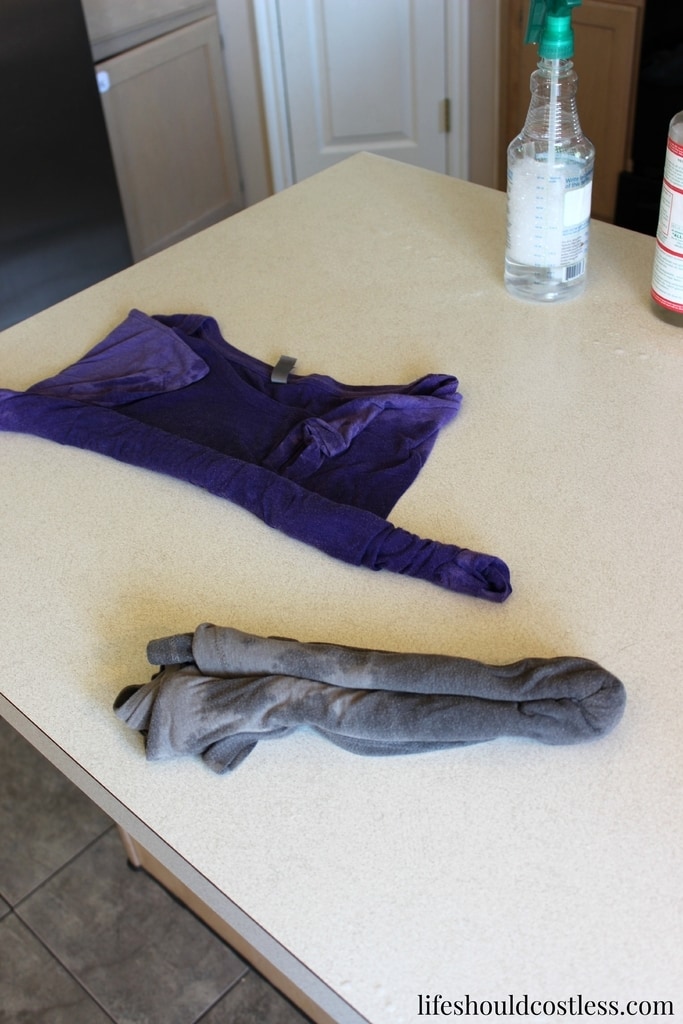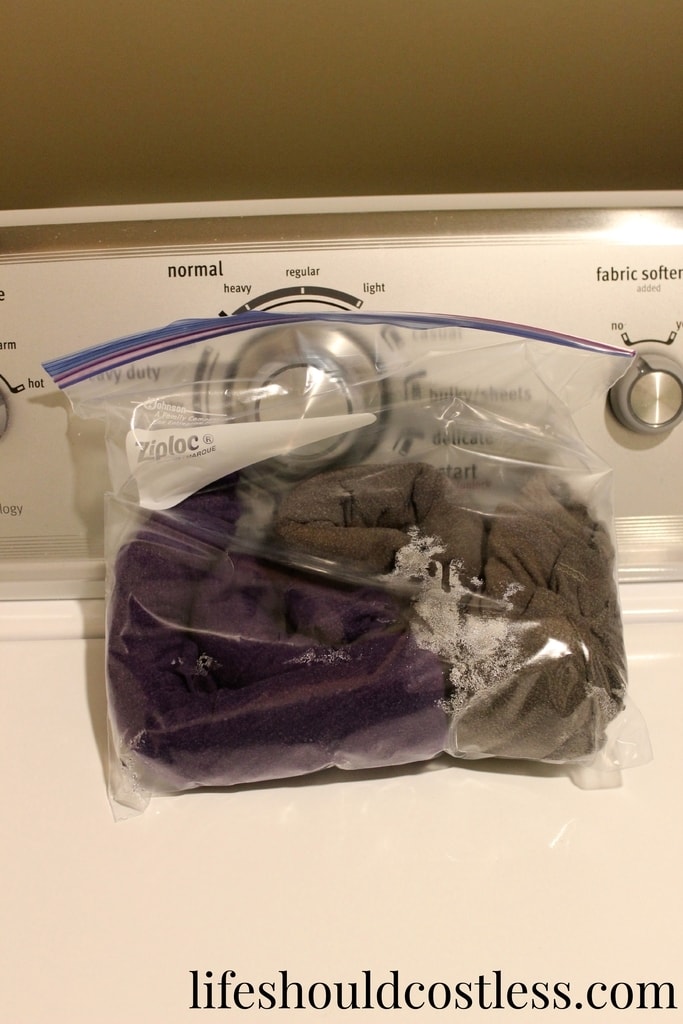 The Sal Suds needs time to do its thing, so I let it soak overnight.
Though if you don't have that kind of time, I suggest letting it soak at least four hours.
Then toss it in the wash like normal, but make sure to select the extra rinse cycle to rinse out the extra suds… I mean if the product has the word "suds" in the title… they mean it, so rinse thoroughly.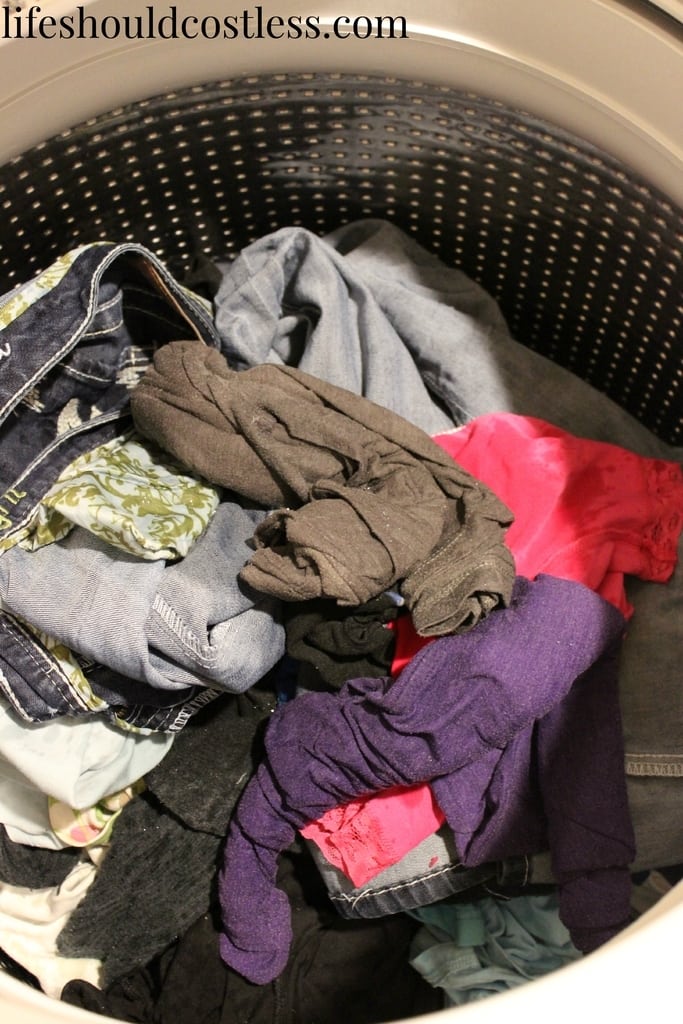 And there you have it, good as new!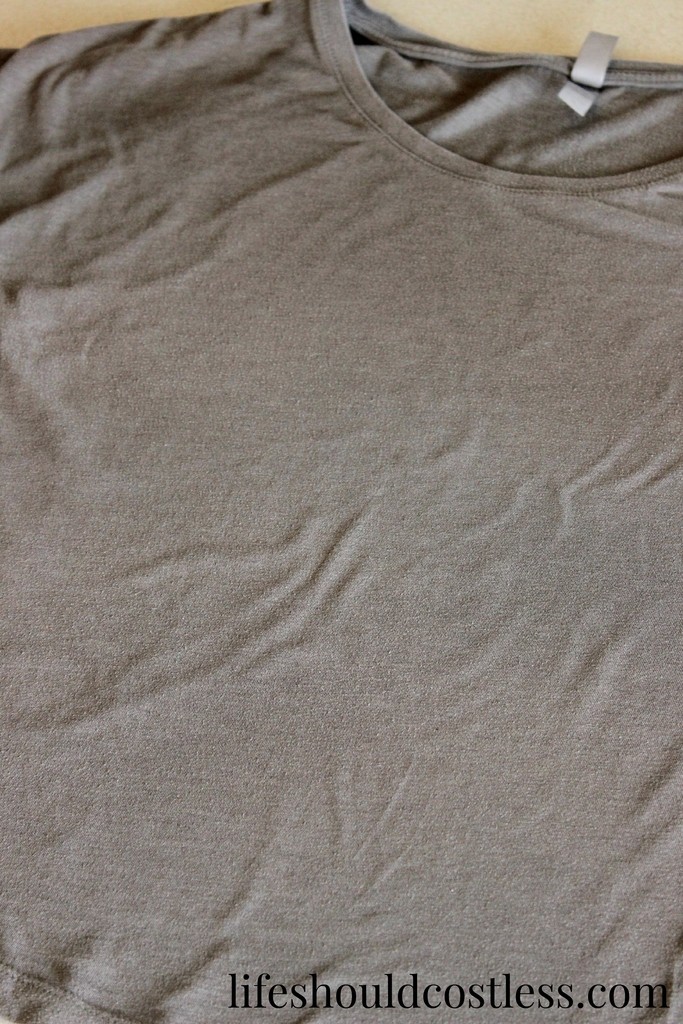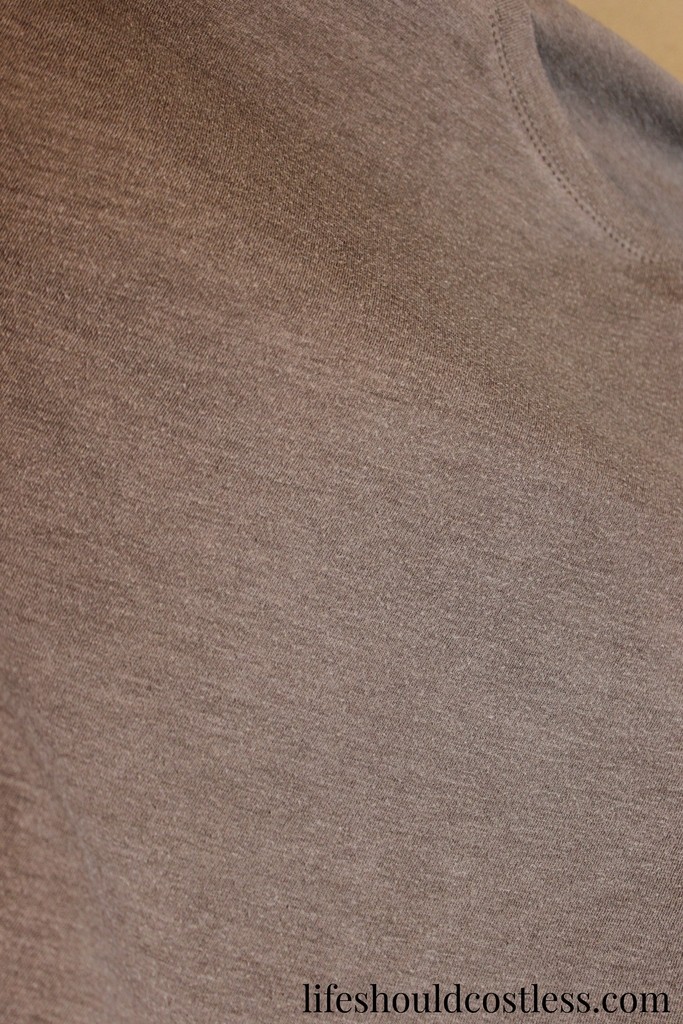 Yes, it's the same exact shirt in the before and after shots. It's just hard to match the lighting when you are taking the before pictures in the afternoon and the after pictures the next morning.
Even if you don't love Sal Suds the way that I do for all of my cleaning, it's still pretty handy to have around to treat stains. Just remember that it's ultra concentrated so a little goes a long way.
In case you missed the links throughout the post on where to get Sal Suds, you can find it here. I buy it by the gallon because I use it so much and recommend you doing the same thing if you decide that you too cannot live without it,but it's always a good idea to try out a little bottle first and see what you think.
Thanks so much for stopping by my blog! If you liked what you saw, please make sure to share it via social media!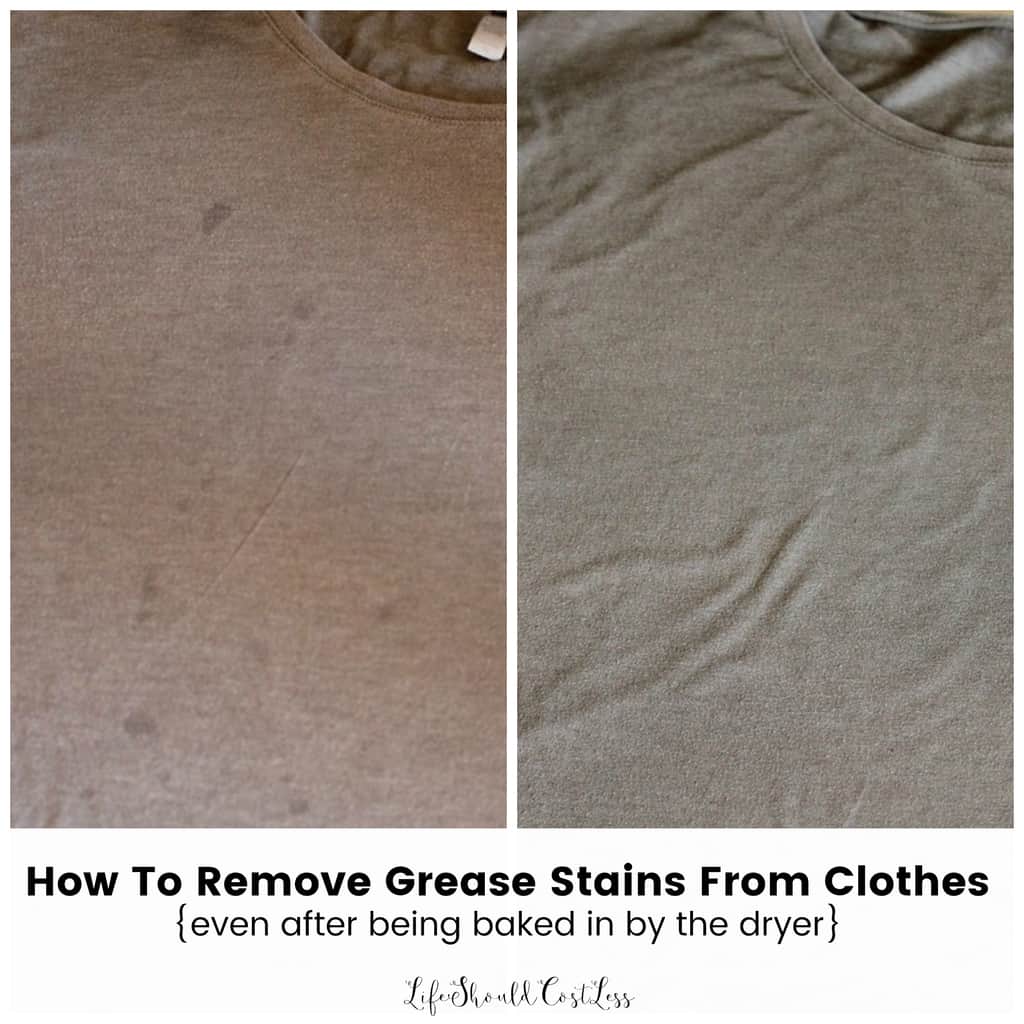 Other ways to show your support are to follow and/or interact with me on Pinterest, Instagram, Facebook, YouTube, or by Subscribing To My Email List. If you purchase suggested products through Amazon, the cost to you remains the same, but I make a small commission on everything in your cart.
If something was particularly helpful and you would like to donate directly to the blog, you can do so via PayPal, here. I'm a single mom of four, so every little bit helps. Thanks so much! ~Sarah
P.S. You may also like my entire Cleaning section as well as my DIY section.
Here are some linked pics, from some of my other popular posts, that you may also want to check out(just click the picture and it will take you to the post you want to see).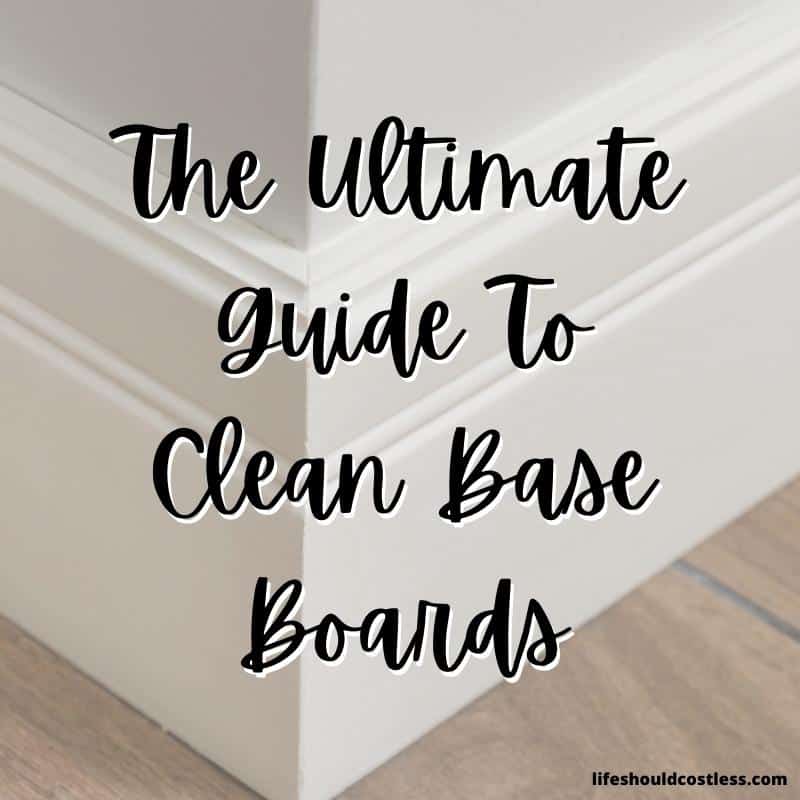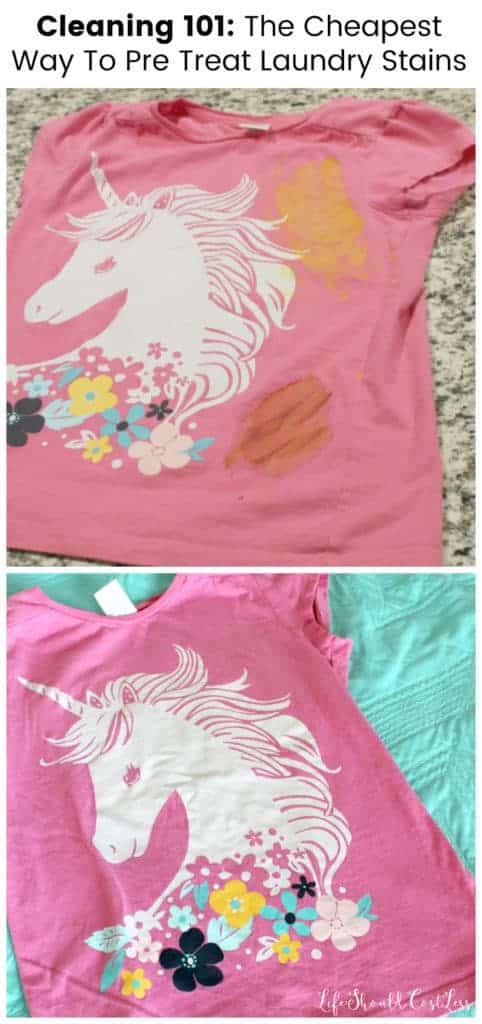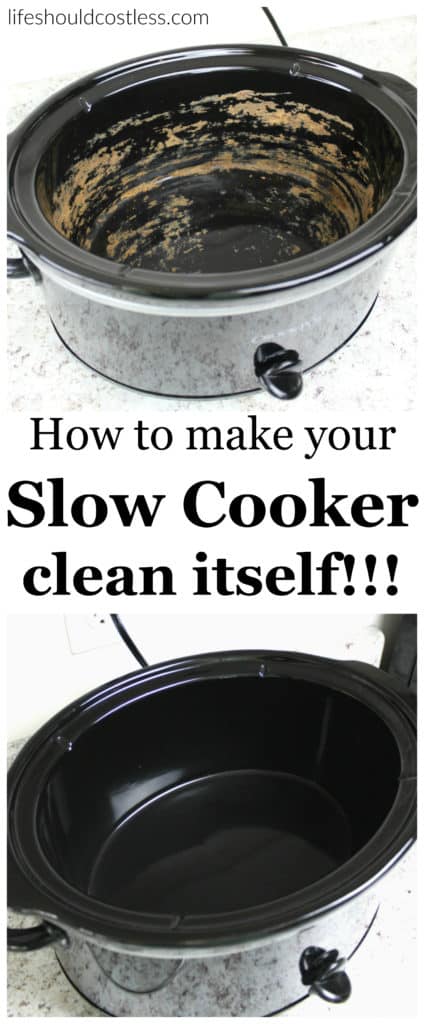 *Reposts: Please note that this idea/post was originally shared on this website on 09/16/2015 but it was in great need of a refresh so it now is more user friendly/shareable.