I love the look of hardwood floors! But while they may look beautiful in your home, they can sometimes require quite a bit of maintenance to ensure they remain looking amazing for years to come. Although you can find a variety of commercial cleaning products that claim to clean and protect your hardwood floors, these cleaning products are often filled with harmful chemicals. One of the best ways to clean your hardwood floors is actually the most natural – vinegar. So, the next time your hardwood floors need cleaning, skip the chemical-filled cleaners and use vinegar instead! Here is how to clean hardwood floors with vinegar.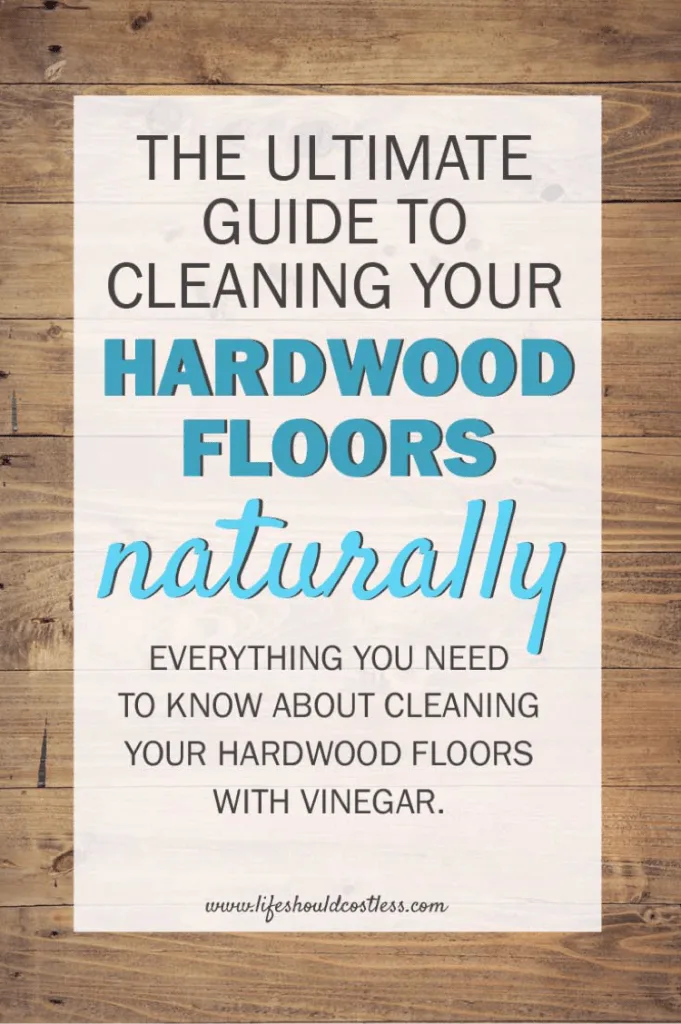 Table of Contents, Skip Ahead To What You're Looking For
Why Clean Hardwood Floors with Vinegar
Cleaning your hardwood floors with commercial cleaning products can leave an unwanted film on your beautiful wood floors.
On top of that film, dirt and debris can build up making your floors look worn and dull. However, vinegar leaves a clean finish on your floor, in addition to a streak-free shine.
That's why vinegar is the best way to clean your hardwood.
This opinion is a little controversial. Many say that vinegar is too acidic to clean hardwood floors.
But you'll see in my recipe below that the vinegar is diluted by water, making it perfectly safe for cleaning anything in your home – including your hardwood floors. On top of being safe, vinegar is also natural and non-toxic.
That means it's better for your family and for the environment than store-bought floor cleaners. It's also a way more frugal purchase. You can buy a gallon of white vinegar for less than the cost of one bottle of commercial wood floor cleaner.
What Kind of Vinegar Should I Use?
If you have taken a look at the baking aisle to find vinegar for cleaning your hardwood floors, you may be a bit confused about which type of vinegar to buy. Red wine vinegar and balsamic vinegar are both great for cooking, but not for cleaning.
Never use either of those types of vinegar for cleaning.
Instead, grab distilled white vinegar . This is the ideal type of vinegar to use when cleaning – especially if you're cleaning your floors.
You can also purchase cleaning vinegar, which is specially formulated for cleaning with a higher concentration of acid. In a pinch, apple cider vinegar would also work for cleaning hardwood floors with vinegar.
The Best Mop for Hardwood Floors
Since hardwood floors should only be damp-mopped, it's important to choose the right mop for your floors. There are a couple of types of mops that work well for mopping hardwood floors, including:
Microfiber mop and bucket. A mop and bucket system is a classic way to mop the floors. But to avoid damage to your floors, fully wringing out the mop before cleaning is essential. If you plan to use a traditional mop and bucket, a microfiber mop and a bucket with a built-in wringer is your best bet. Microfiber mops have electrostatic properties that help attract dirt and grime without the need for harsh chemical cleaners.
Refillable spray mop. Another great way to avoid damage to your floor when mopping is to use a refillable spray mop to clean your floors. These handy mops allow you to fill the tank with your own cleaning solution – like water and vinegar. A simple push of a button will spray the floor with a mist of cleaner. Using a microfiber pad attached to the mop, you can easily mop away the solution and avoid the need for a bucket of water altogether. Just make sure to swap out the mop pad for a fresh one as often as needed.
Preparing Your Hardwood Floors
Before you learn how to clean hardwood floors with vinegar, you should take a few steps to prepare your floors for cleaning. The most important thing you should do to prepare your floors for mopping is to remove all of the debris from the floor. There are two ways you can do this:
Vacuum. Vacuuming your hardwood floors is a simple way to remove debris from the surface. Set your vacuum to clean hard floors, then vacuum away all the dirt and debris. Then, use your hose attachment to clean around the edges of the room and under furniture.
Dry mop. Using a dry mop, like a Swiffer, is another easy way to remove debris from the floor. To dry mop your floor, attach a dry mopping pad to your mop and dust the floor. You may need to remove the dry mop pad and replace it with a clean one halfway through cleaning depending on the size of the room and the amount of debris on the floor.
Removing debris from the floor before mopping is especially important when you clean hardwood floors with vinegar. Debris, like dirt, can cause scratches in the wood if it's left on the floor while you mop. So be sure to thoroughly clean the floors to prevent damage as you're mopping.
How to Clean Hardwood Floors with Vinegar
To clean your hardwood floors using vinegar, start by filling a bucket with one gallon of hot water. Then, add one cup of distilled white vinegar.
To freshen the mixture and reduce the vinegar smell, mix in a few drops of essential oil. The oil will make the mixture smell more inviting and help cut through grease and grime on your floors ( I recommend orange or lemon essential oil). Mix the ingredients together, then use one of these three cleaning methods:
Traditional mop. One of the most popular ways to clean hardwood floors with vinegar is mopping. After mixing your solution, dip the mop into the bucket and wring it out well. To avoid washing your hardwood floors with too much water, it's best to wring the mop out until it's damp, not wet. Taking the time to do this after each dip in the bucket will help prevent water damage to your hardwood floors. After wringing your mop, work the mop in an "S" pattern over your floors to prevent dirt from spreading as you mop. Continue dipping and wringing your mop as you move across the room. And after you finish mopping a room, dump the dirty water out and start with fresh water in the next room.
By hand. If you're worried about water damage to your hardwood floors, you can also clean your floors by hand with a cloth. This method will help ensure you don't saturate your floors with water because you'll have more control over the amount of water in the cloth. To clean your floors by hand, use a lint-free cloth, like a flour sack towel. Dip the cloth into the water and wring it out completely. Then, run the cloth over the floor in an "S" pattern similar to the mopping method. Use the cloth to scrub away stuck-on messes and clean the edges of the floors with more precision than using a mop.
Spray mop. Another simple way to clean your hardwood floors with vinegar is by using a refillable spray mop. If you're doing a simple clean-up job or touching up your hardwood floors throughout the week, this is a great cleaning method. To use a spray mop, mix 2 cups warm water with 3 teaspoons of vinegar. Pour the mixture into your mop and spray the floor with the solution. Then, wipe it away with a microfiber mopping pad.
That's all my tips for cleaning wood floors with white vinegar.
In the past, I did share a little tutorial on how I cleaned my wood floors at the time, and it does have a video to go with it, so if you would like to actually watch the way that I used to clean my wood floors, with vinegar, you can go here to see it. My technique hasn't changed much over the years, so it's more than worth watching.
**Don't forget, that if you liked this post, to check out my entire cleaning section.**
Thanks so much for stopping by my site! If you liked what you saw, please make sure to share it via social media!
Other ways to show your support are to follow and/or interact with me on Pinterest, Instagram, Facebook, YouTube, or by Subscribing To My Emails List.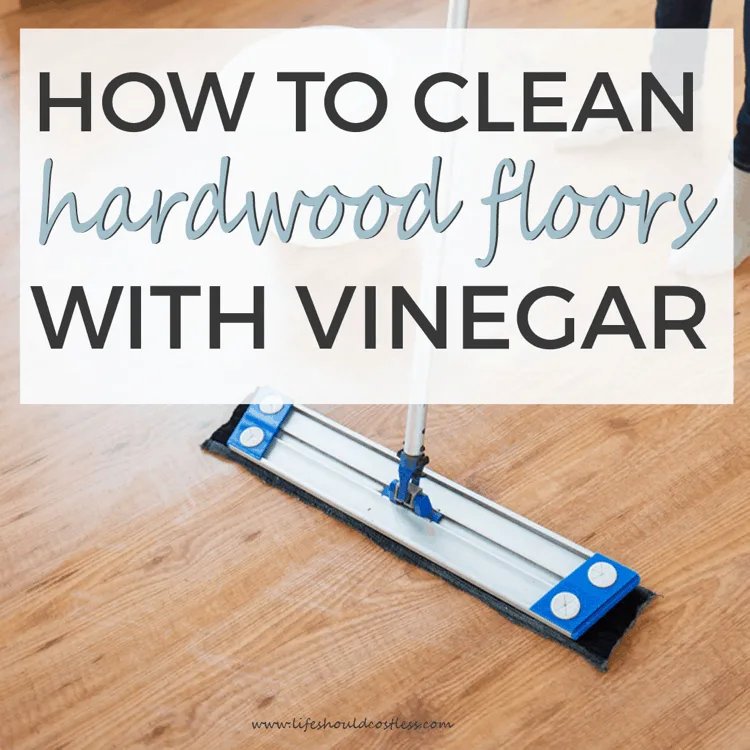 If you purchase suggested products through Amazon, the cost to you remains the same, but I make a small commission on everything in your cart. Also, if you ever need to buy it again, you can always come back to my site for the link…just sayin';).
If something was particularly helpful and you would like to donate directly to my site, you can do so via PayPal, here. I'm a single mom of four, so every little bit helps. Thanks again!~Sarah
Here are links to several of my other posts that you may also like:
For those of you that would like another option for a "pinnable" image to pin to pinterest, here you go. Thanks so much for sharing!