If you have been following me over the course of my many years of blogging, you have probably heard me mention Dr Bronner's Sal Suds ( a multipurpose/ all purpose cleaning product) at least a few times. The stuff is AMAZING and not only am I hooked on it to clean my entire house, but I also got my sister hooked on it too. Both of us have been using it for years (now for well over a decade and a half) to keep our homes sparkling clean and grease-free.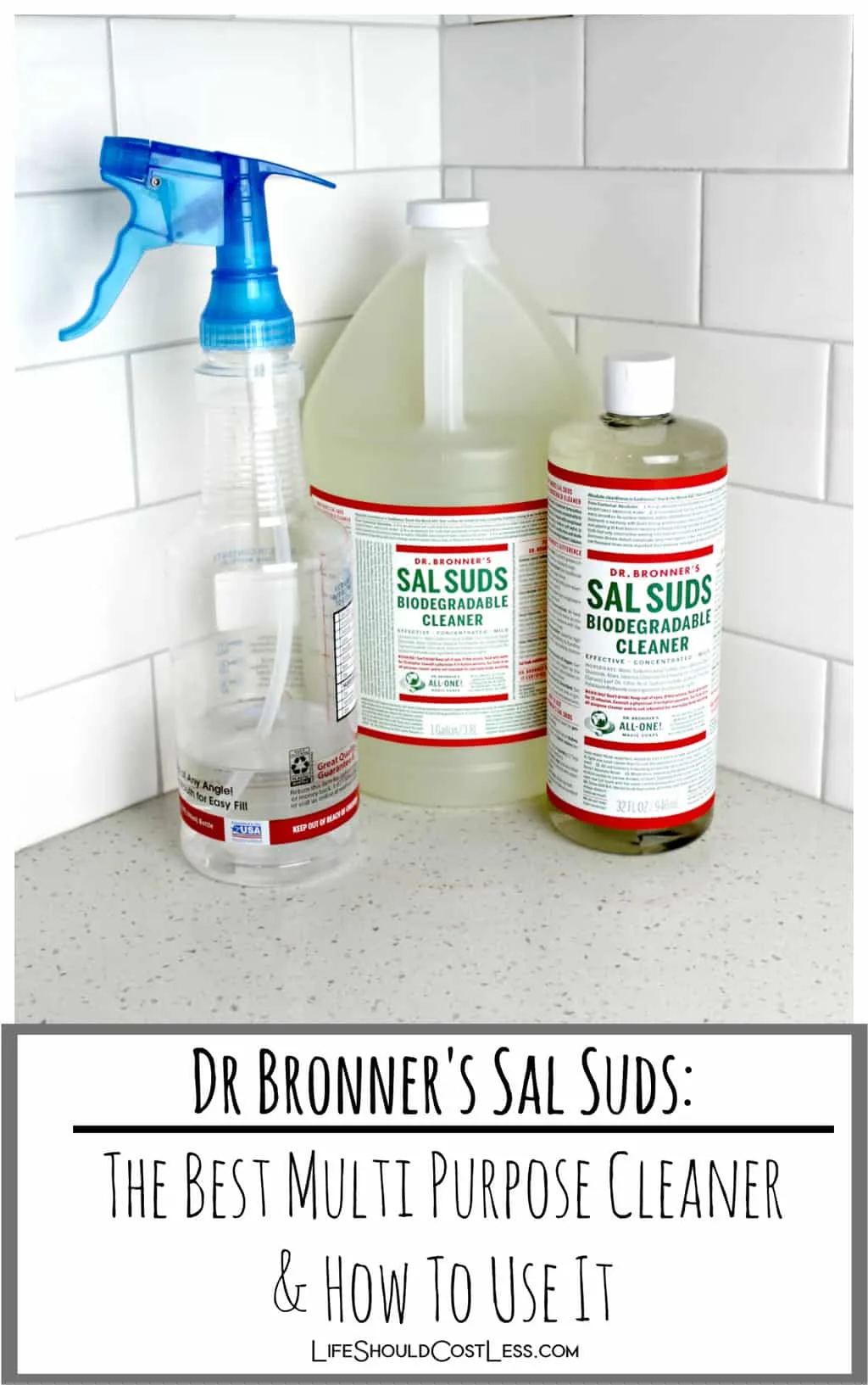 *Please note that if you go to purchase this product, you're probably initially going to think it's super expensive…but keep in mind that this stuff is super ultra concentrated, so it is going to last you a good LONG while unless you are using way too much of it…at least in my opinion and experience after many years of use.*
Now I want to tell you a little bit about how I discovered Dr Bronner's Sal Suds in the first place.
I am all about simplifying my life as much as possible, which is what fueled the search for a better cleaning product.
I was in love the day that I found Pledge Multi-Surface Cleaner. It's pretty versatile (but gets expensive) and I didn't think that I'd ever find something that I liked even more.
Boy was I wrong!
I had been searching for terms on the internet like "what is the best all purpose/multi purpose cleaner"…and couldn't find something that I liked very much…
I happened to stumble across Sal Suds when I was cruising one of my favorite blogs, & I can tell you that I am never going back to any other cleaner. It costs a fraction of my old favorite, so that's a big selling point right there.
**Warning: Be prepared to clear up a ton of space under your kitchen or utility sink when you throw away all your other cleaning products. Plus, it's good to have as few harsh chemicals in the home as possible. :)**
Before I go into just how versatile Dr Bronner's Sal Suds really is, I wanted to share with you some free printable instructions on how to mix it for use in a spray bottle, as well as some simple directions on how to use it when you're doing regular "bucket of soapy water" cleaning.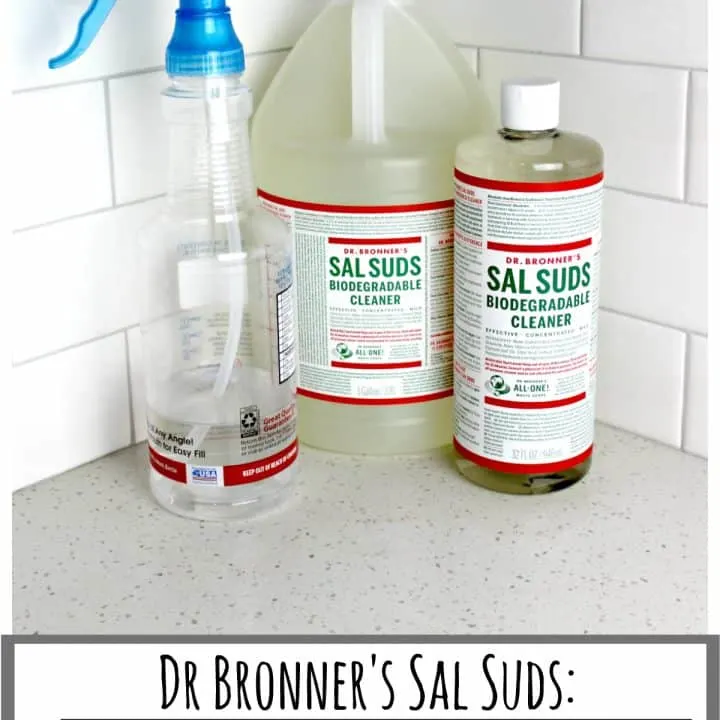 How To Use Dr Bronner's Sal Suds Multi-Purpose Cleaning Solution
Printable instructions for how to properly dilute Dr Bronner's Sal Suds for cleaning purposes in the home.
Materials
Dr Bronner's Sal Suds Biodegradable Cleaner
Water
Instructions
For "Soap And Water" Cleaning in a bucket: Add 1 & 1/2 Teaspoons Sal Suds per gallon of water for general household cleaning.
For Use in a spray bottle: Fill the spray bottle until it is almost full with water. Add anywhere from a couple of drops to 1 Tablespoon of Sal Suds depending on how strong you need it to be. I generally use about five drops per 32 oz.
To Wash Dishes By Hand: Add 1 & 1/2 Teaspoons Sal Suds per sink full of dirty dishes.
For A Soft Scrub: Mix it with baking soda to form a paste.
For laundry detergent: Use Two Tablespoons per load, or 1 Tablespoon per load for a high efficiency washing machine.
Notes
* Sal Suds loses its effectiveness if it is used in conjunction with Vinegar. Make sure to use one or the other when cleaning. *
Make sure to use a new spray bottle when using it in a spray bottle, so that you aren't "mixing chemicals".
For extra heavy jobs, dilute it by half.
Always put the water in your spray bottle first and then the Sal Suds or it'll be a bubbly mess.
Is it really that versatile? Here's how I use it:
Using it in a spray Bottle…
To clean couches and carpet stains, I spray it directly on, wait about fifteen to 30 seconds, scrub with a wet rag or wet scrub brush. Then wipe it clean with a fresh towel.
I spray a bit into a rag and wipe down electronics.
Use it for the entire interior of a car (glass, dashboard, even the seats).
I use it as dish soap, just spray the dishes.
I use it in my most popular cleaning tip, The Painless Way To Wash Walls…it's an excellent wall-cleaning solution.
It's AWESOME for streak free windows. It will even remove crayon with minimal elbow grease.
I use it like Clorox Anywhere Hard Surface Spray In the fridge, for the kids toys, both inside and outside my George Foreman Grill(when it's cold so I don't burn myself) & on any hard surface you can think of. (I doubt that it completely disinfects, but I love the results I get)
I like to spritz a bit on the exterior of my cupboards, wait a few seconds and then wipe it off…best thing I've found to clean the cupboards because it cuts grease.
I use it to pre-treat my laundry stains… here's a little tutorial I did that will teach you How To Remove Grease Stains From Clothes Even If It Has Been Baked In By The Dryer. It will even get rid of dried blood stains.


Other ways I use Sal Suds that are not in a spray bottle:
I use 1&1/2 teaspoons in a bucket or sink full of water and use it to mop my floors.
I use it as a detergent in my carpet shampooer…Sal Suds crazy concentrated though, so make sure to read the instructions how to do so, found here, or it will be a sudsy mess.
Use it straight for laundry or dish detergent (it can get expensive doing this though, so make sure to buy in bulk by the gallon if you do use it this way).
My sister said that she has had success by putting some (undiluted) on a permanent marker stain that was on the carpet, left it over night, added water and scrubbed it a little the next morning (use a fresh towel to wipe it up) and the marker was gone.
These are just a few of the ways that you can use it! Make sure to comment with any other ways that you have found success using Dr Bronner's Sal Suds.
I strongly suggest that the first time you use it, you buy either a 16 or a 32 oz Bottle of Sal Suds to start out with to see if you even like it.
Plus, if you do like it, you'll have the smaller container to refill when you start buying it by the gallon to save money by buying in bulk.
If you're too impatient to buy it online, it is available at most health food stores (but it's almost always cheaper to buy it on Amazon even compared to buying it directly from the company that makes it)… just one of my little tips.
Also, when you're first using it try not to go too crazy and use way more than necessary. My sister and I both went through our first bottle probably 10 times faster than necessary(just because we loved it so much).
Some bonus reasons I like Dr Bronner's Sal Suds in general:
It has no additives! I'm allergic to random scents, dyes, and brighteners but Sal Suds does not contain any of these things.
It's Biodegradable!
It's certified Animal Compassionate and Vegan.
It contains no synthetic preservatives.
It is scented with pure essential oils (spruce and fir).
It's an effective grease cutter, yet it's mild, it has the same pH level as standard soap.
My love letter about my favorite multi-purpose cleaning product is finally over, ha ha…and guess what? This was definitely not a paid ad…I just love it THAT much!
Thanks so much for stopping by my blog! If you liked what you saw, please make sure to share it via social media, or even send family/friends the direct link via email…either way I super appreciate it!
Other ways to show your support are to follow and/or interact with me on Pinterest, Instagram, Facebook, YouTube, or by Subscribing To My Emails List.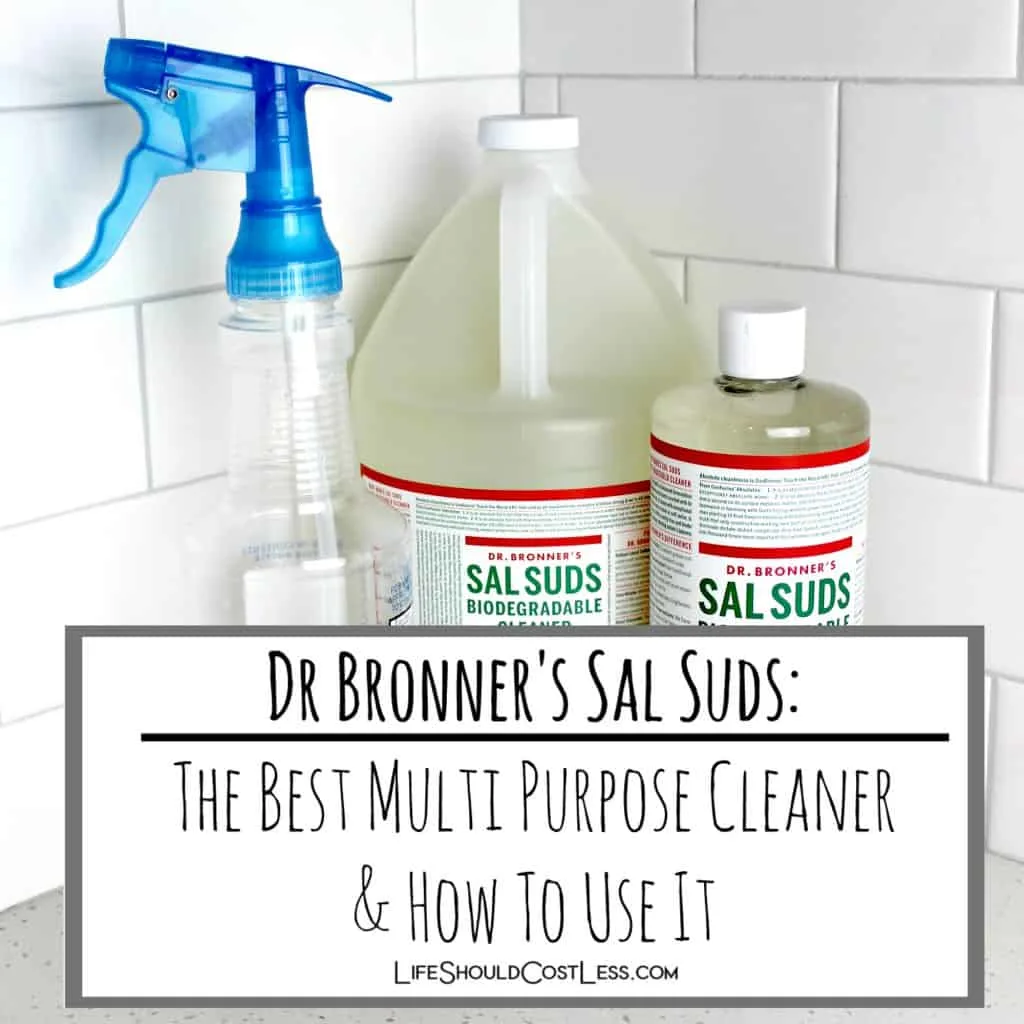 If you purchase suggested products through Amazon, the cost to you remains the same, but I make a small commission on everything in your cart. Also, if you ever need to buy it again, you can always come back to my site for the link…just sayin';).
If something was particularly helpful and you would like to donate directly to my site, you can do so via PayPal, here. I'm a single mom of four, so every little bit helps.
P.S. You may also want to check out my entire Cleaning section.
Here are five of my other posts that you may also like(the pics are links):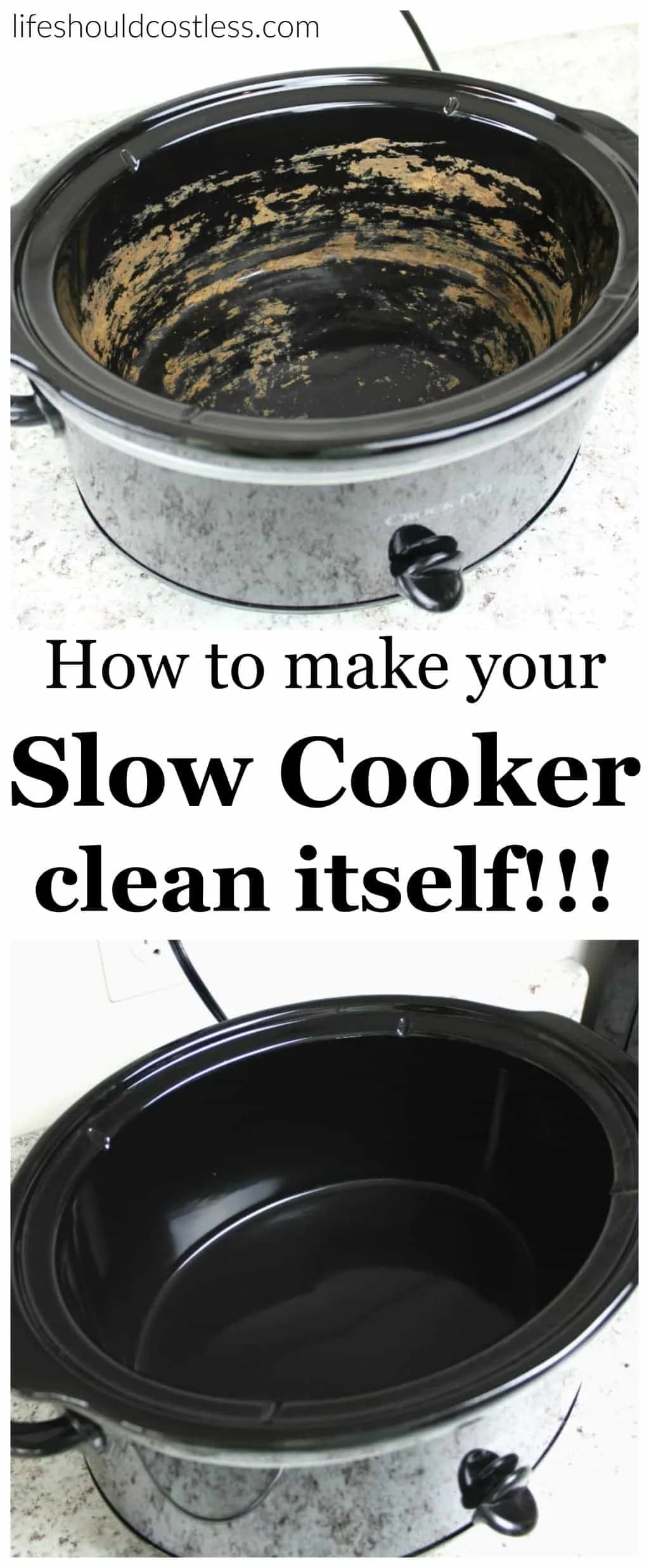 *Notice of reposting: This article was originally published to this website on October 24th 2011, but it was in great need of a refresh, so it now has new images, is more user-friendly, and has a free printable "How To" card.