When I posted my detergent recipe for both clothing and dishes I guess I thought that most people knew about Dr. Bronner's Sal-Suds and how it is the best, most versatile (and inexpensive as it is super concentrated) cleaning product you will ever find. But, from some of the feedback that I've gotten, I've determined that Sal Suds deserves a post of its own.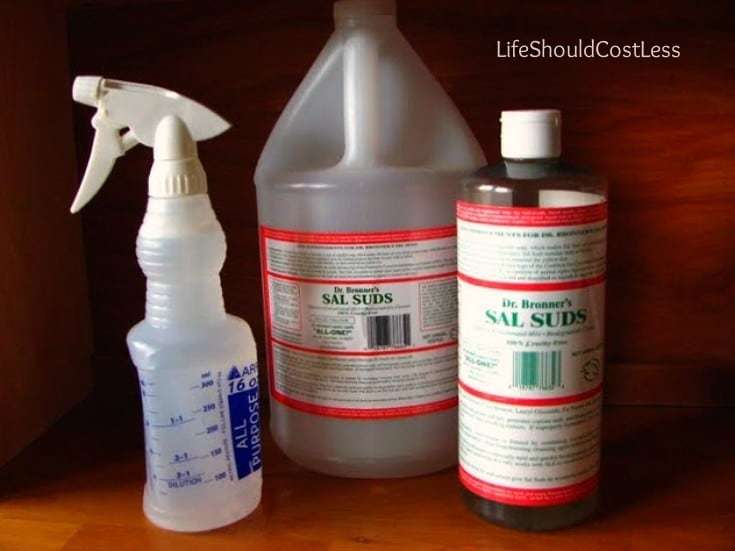 My Spray Bottle(keep by the kitchen sink), 32 oz bottle (keep under the sink), and gallon (which I keep in the laundry area).
I'm all about simplifying life, which is what fueled the search for a better cleaning product. I was in love the day that I found Pledge Multi-Surface Cleaner. It's pretty versatile (but gets expensive) and I didn't think that I'd ever find something that I liked even more. Boy was I wrong. I stumbled across Sal Suds when I was cruising one of my favorite blogs, and I am never going back to any other cleaner. It costs a fraction of my old favorite, so that's a big selling point right there. **Warning:Be prepared to clear up a ton of space under the sink when you throw away all your other cleaning products.(plus, it's good to have as few harsh chemicals in the home as possible)**




Is it really that versatile? Here's how I use it:


All you have to do to start is fill a NEW(for safety reasons) spray bottle with water and then add anywhere from a couple drops of Sal Suds to 1 Tablespoon of it (depending on how strong you need it to be). That's it. Away you go cleaning your whole house.
I use it as dish soap, just spray the dishes.




For microfiber couches or carpet stains.




Use it for the entire interior of a car (glass, dashboard, even the seats).

It's AWESOME for streak free windows (even crayon with minimal elbow grease).




I use it like Clorox Anywhere(In the fridge, kids toys, George Forman grill(when it's cold so I don't burn myself) & on anything you can think of).




I spray a bit into a rag and wipe down electronics.




I like to spritz a bit on the exterior of my cupboards, wait a few seconds and then wipe it off…best thing I've found to clean the cupboards because it cuts grease.

I spritz a bit on laundry stains. It's works great to pre-treat the laundry(even dried blood).




I use a tsp or so in a bucket of water to mop my floors with.




You can use it as a detergent for a Steam Cleaner (go here for directions).




You can use it straight for dish and laundry detergent (but it gets expensive that way which is why I came up with my recipe w/it as the main ingredient).

My sister said that she put some (undiluted) on a permanent marker stain that was on the carpet, left it over night, scrubbed it a little the next morning and the marker was gone.
These are just a few of the ways you can use it. I strongly suggest buying a 16 or 32 oz bottle
to start with to see if you like it. Plus, if you do like it, you'll have the smaller container to refill when you start buying it by the gallon.
If you're too impatient to buy it online, it is available at most health food stores (but it's almost always cheaper to buy it on Amazon even compared to buying it directly from the company that makes it). Just a tip. Also, when you're first using it try not to go too crazy and use way more than necessary. My sister and I both went through our first bottle probably 10 times faster than necessary(just because we loved it so much).


*Never use it directly with vinegar as it reduces the effectiveness of Sal Suds (per Lisa Bronner's advice).


*Always put the water in your spray bottle first and then the Sal Suds or it'll be a bubbly mess.