I LOVE the way that tile looks in a house, but I have always preferred vinyl because it is so much easier to clean…but I may just have to change that opinion because I just found the easiest way to clean grout that I have ever heard of, and the best part is that it is cheap and chemical free. That to me is a win/win…hello, a cheap and non-toxic way to clean grout, it is more than worth sharing with all of my readers too.

When I bought my cottage a few of months ago, I was pretty overwhelmed at the thought of needing to defunk the grout of so much tile…I'd say that my house is about 60% or more tile which equates to about 900-1000 sq ft of tile. Oy vey! My back was already aching at the thought of having to scrub for hours upon hours to get the grout back to looking good again. Luckily, I asked my followers on Facebook, for suggestions and I tried most of them one by one and I was still about ready to give up and just hire it out… until I remembered a suggestion that was offered by my friend, and long-time follower, Courtney Stransky. She suggested that she had heard of people using straight boiling water and so I gave it a shot as my last resort before hiring a cleaning service.
Of course the best tip was the last one I tried, because I just didn't think that something as simple as water could work, but hey, if I could successfully and easily kill ants with water (read that post here), then why can't it be used as the ultimate cleaning tool? Anyway, I thought I would give you guys a little tutorial and offer you some tips that I've discovered while cleaning my grout this way.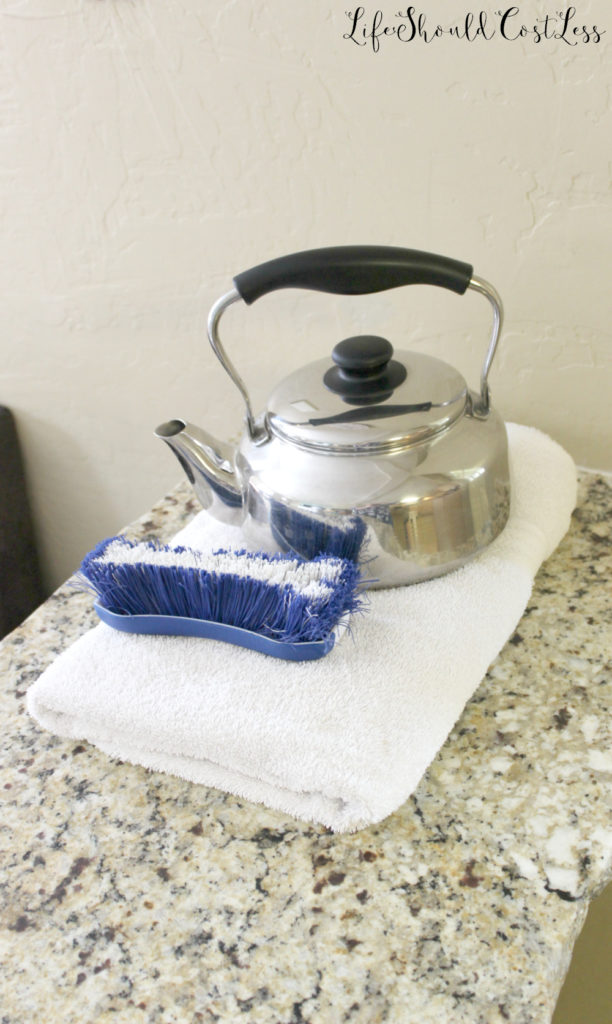 To start, all you need is a towel, a kettle full of water, and a scrub brush! Really, that's all you're going to need. One full kettle and one towel should be enough to do a small room or hallway.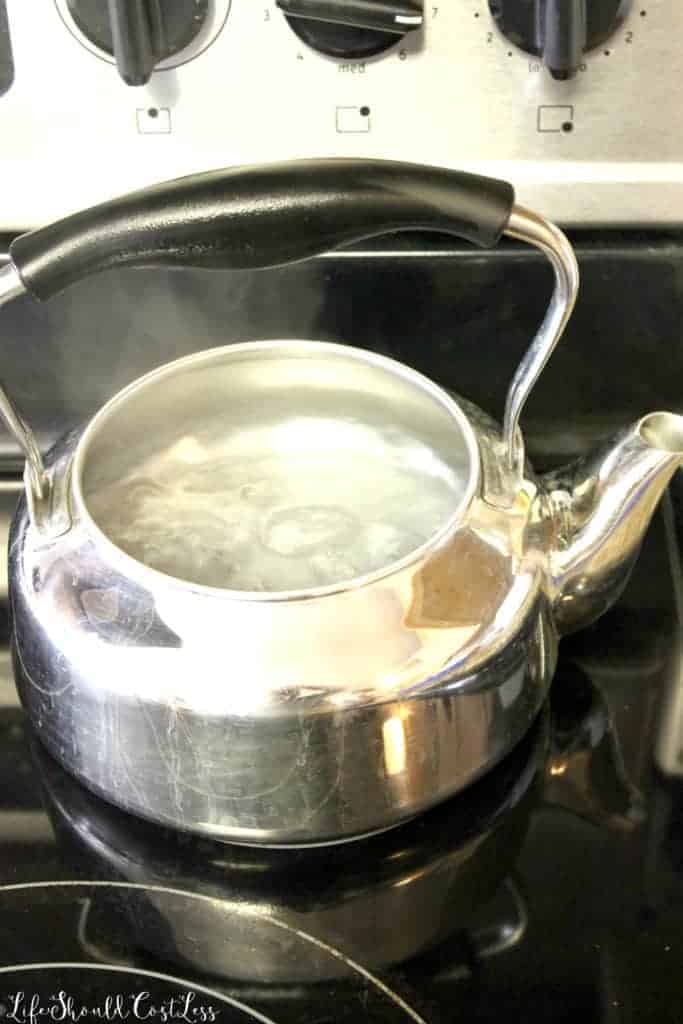 Set your water on to boil and you need to get it to a rolling boil to get the best results.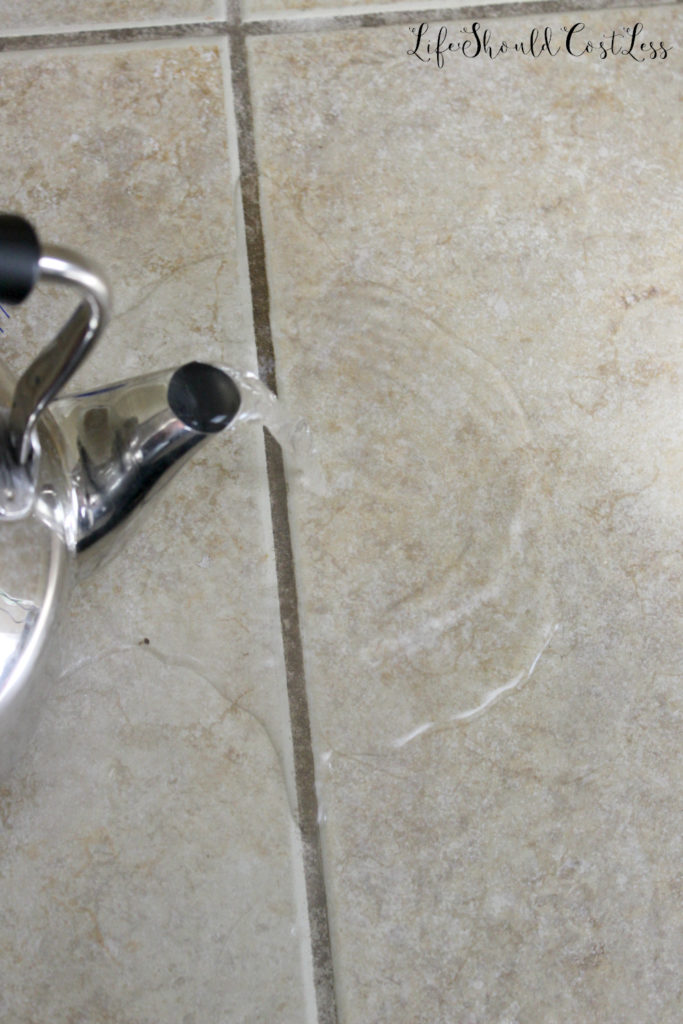 Pour a generous amount along the grout lines, I poured a bit more that you'd really need in that picture above, but that was so you could actually see the water when I took the picture.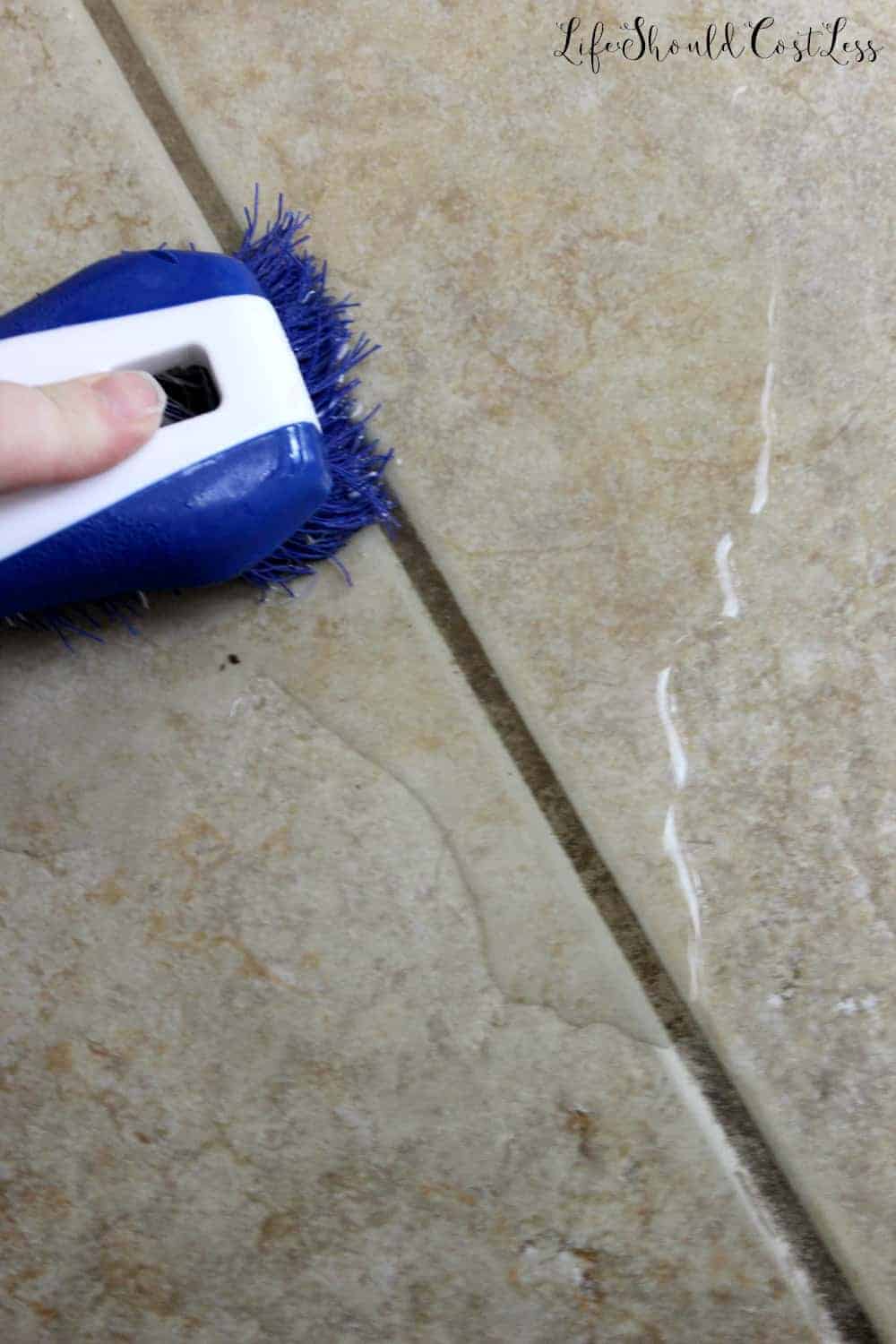 Then take a scrub brush and gently scrub in a circular motion along the grout line. The key to this working it to work quickly so that you are scrubbing while the water is still very hot, as the heat tends to release the grime with minimal elbow grease. Work 6-10″ at a time, scrub and move on. That may sound like it would take forever, but it goes really quickly.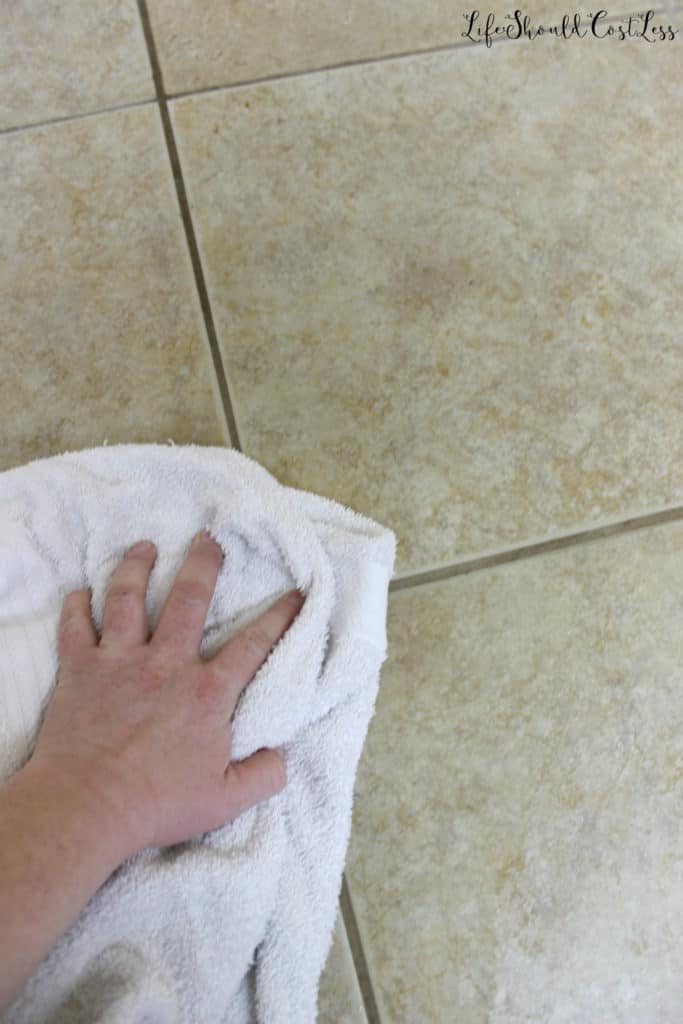 When you are done scrubbing a section, use a towel and wipe up the water along the grout lines.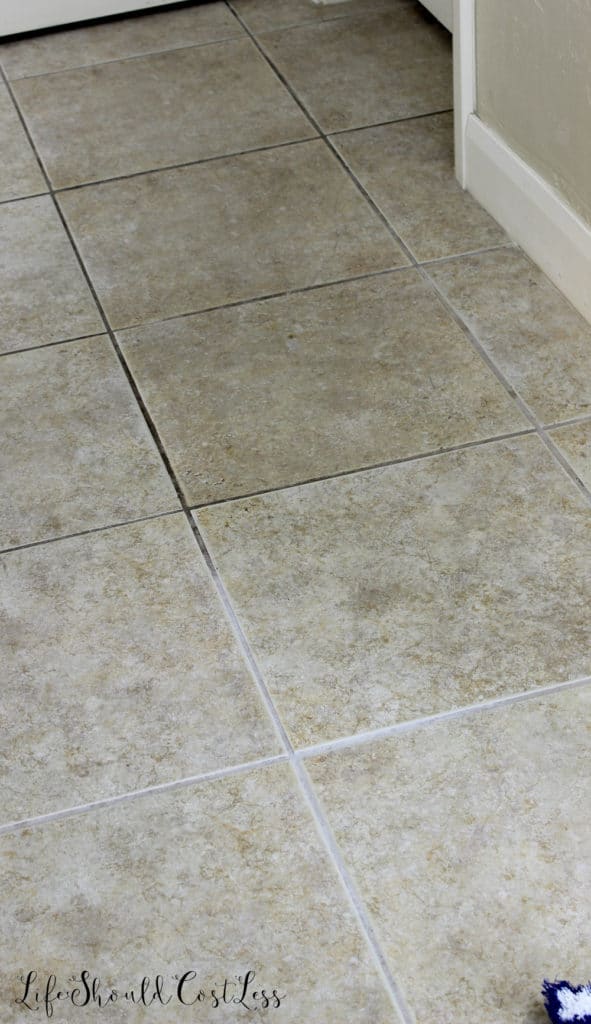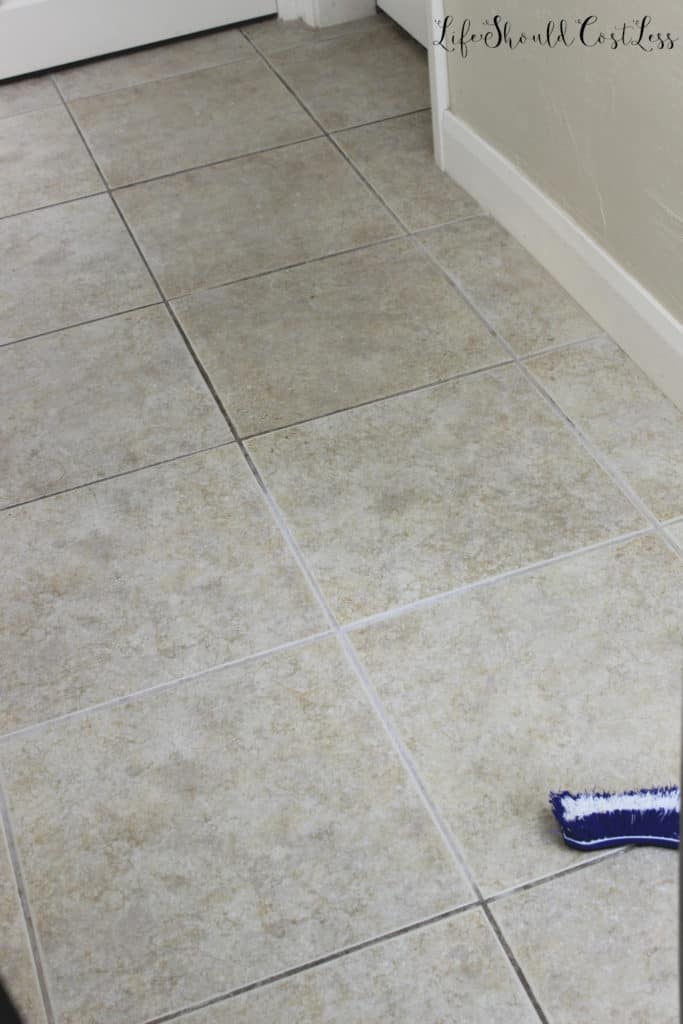 To show you how big of a difference it is making as I go, I let this section dry, after I cleaned it, so that you all could get the full effect…isn't that nuts? I think it's quite an insane difference and I can hardly believe that it was virtually free to get it looking so good.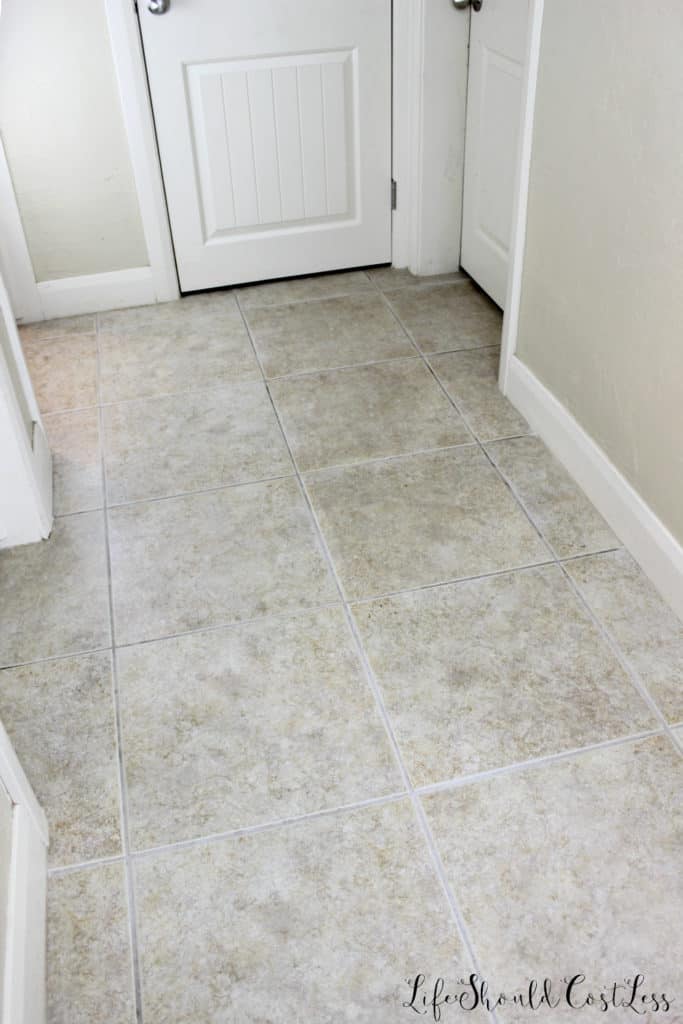 I did the whole hallway floor once and wasn't completely happy with it, so I did it again the next day.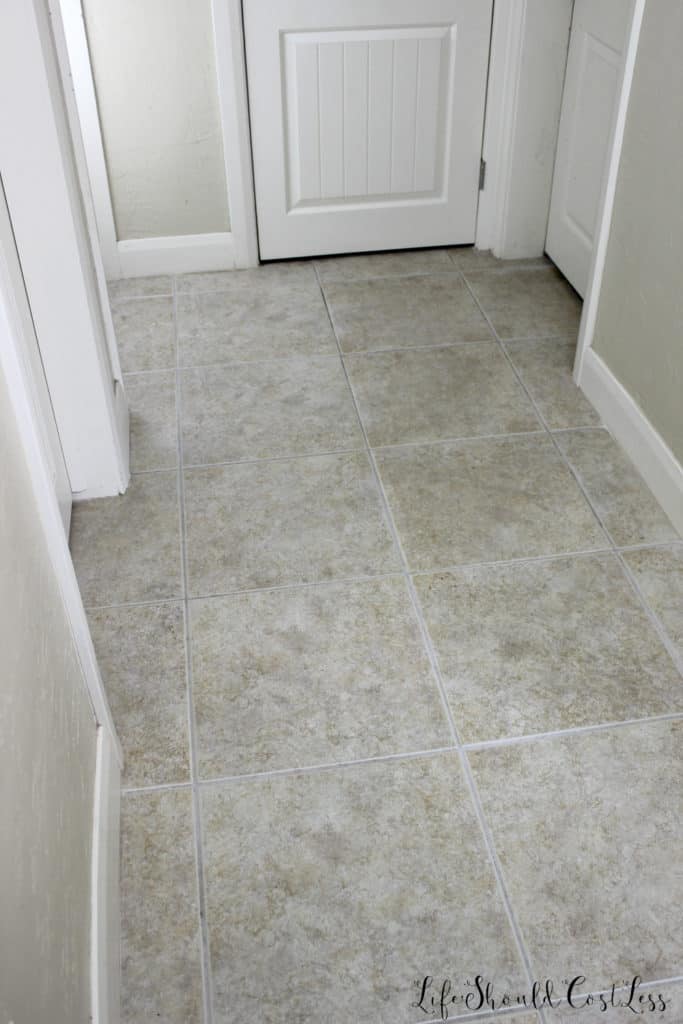 Was WAY HAPPIER with the way it looks after doing it twice. This section of my hallway only took about 8-10 minutes each time I did it… like I said before, it goes quickly. So that you don't have to scroll all the way back up to the top to see the before and after again,  I thought I would show you them side  by side so you can see just how big of a difference it really makes using water alone.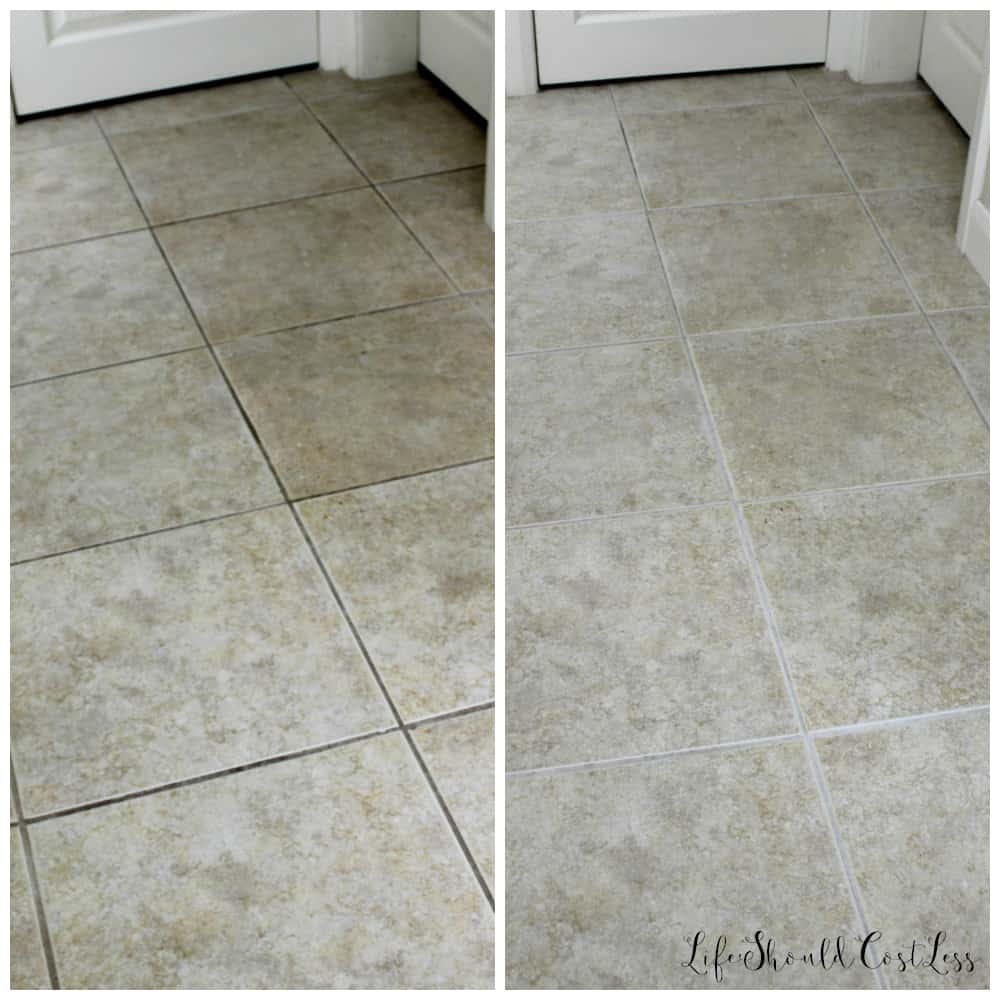 I am so grateful to have found a way of cleaning grout that doesn't leave me practically crippled the next day because I spend maybe 1/4th as much time scrubbing on the floor as I did with every other cleaning method that I've heard of. I have a bad back so the less time I spend on the floor on my hands and knees, the better.
*A few things to note before you get started on your own floors. *Be careful not to burn yourself…that may be common sense, but I thought that I would throw that out there. Also, I do not recommend doing this to tile that is damaged or has grout that it cracking, as the water could seep down and damage your floors further. Please only do this to tile that is in good shape. I personally think that grout, in a home that gets cleaned regularly, should really only need to be deep cleaned to this level once or twice per year and I would just spot clean the grout in between those deep cleanings and mop normally in between. I think that sometimes we go overboard on cleaning and it can wear things out long before they should have, so I am basically just recommending that it be done on an as needed basis, not as part of your regular daily or monthly cleaning routine. That's about all I have to say on the matter, so take my advice or leave it, but that is my two cents.
Thanks so much for stopping by my website! If you loved this post, please make sure to subscribe to my email list as well as share this post with any of your friends/family that would find it helpful. ~Sarah
P.S. I have many years worth of cleaning posts on this site, some of which have been featured on some huge websites, so stop here to see what other awesome cleaning tips you have been missing in your life! I try to find chemical-free or easy ways to do everything, so it is more than worth your time to do some blog browsing. You may even run into a few delicious recipes to try while you are at it.
*Update 02/14/2018 Just thought I'd mention that if you're worried about damaging your tile by doing this, then either attempt it in an inconspicuous "test" area of tile, before you do your whole floor, or just don't do it. I personally have had great results and no damage to my tile and I started cleaning my grout this way, in sections, two months ago.